Kaz Sushi Bistro (Washington, DC)
Kaz Sushi Bistro
1915 I St NW, Washington, DC 20006
202.530.5500
www.kazsushibistro.com
Mon 09/26/2011, 07:20p-10:30p

Over the course of my numerous business trips out to the DC area, I'd failed to enjoy me some sushi, even once, thanks to the various dietary constraints of my traveling companions. This time, however, I made it a point to convene a like-minded group of coworkers to hit up the best sushi in the City, the choices of "best" being Makoto, Sushi Taro, or Kaz Sushi Bistro according to most diners. We obviously visited the latter selection, which isn't even necessarily a traditional sushi bar, but rather, a "bistro" of sorts that features Chef/Owner Kaz Okochi's European-inflected "freestyle Japanese cuisine."
About the Chef
: Kazuhiro Okochi hails from the city of Nagoya, Japan. Somewhat surprisingly, he started out studying fine art, in
Oklahoma
of all places, but after finishing his degree in 1982, returned home to Japan to pursue his interest in cooking at Osaka's Tsuji Culinary Institute. Here, in addition to honing his skills in Japanese cookery (including the art of sushi and even
fugu
preparation), Okochi was also exposed to French cuisine, which he instantly fell in love with. In 1988, he relocated to Washington to take up a position at Sushiko, DC's first ever sushi bar (founded 1976). During his stint there as Executive Chef, he was able to experiment with melding Western flavors with traditional Japanese cuisine.
On April 14th, 1999, the Chef debuted his long-awaited first restaurant, Kaz Sushi Bistro, in Downtown DC. The eatery was a smash hit almost from the start, quickly becoming one of the City's hottest dining destinations and thrusting Okochi into the upper echelon of DC area chefs. As such, he helped kick-start the DC Chefs' Club in 2002, following the death of the legendary Jean-Louis Palladin the previous year (other members include Jeff Buben, Roberto Donna, Todd Gray, Ris Lacoste, and
Michel Richard
). In 2009, Okochi started Masa 14, a Latin-Asian fusion restaurant opened in partnership with Richard Sandoval (of
Zengo
fame) and helmed by Chef de Cuisine Antonio Burrell. His latest venture, is Oh Fish, a casual build-your-own maki sushi place inspired by Subway (yes, seriously!).

Inside, things are fairly subdued. You'll want to grab a seat right in front of Kaz at his small six-seater sushi bar.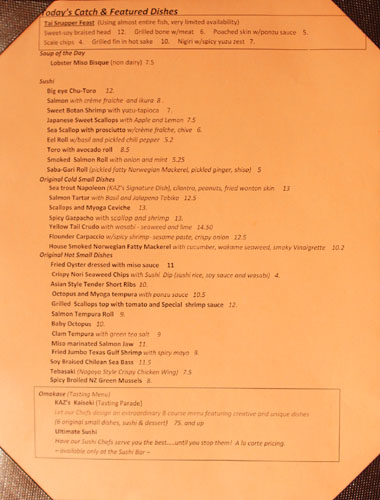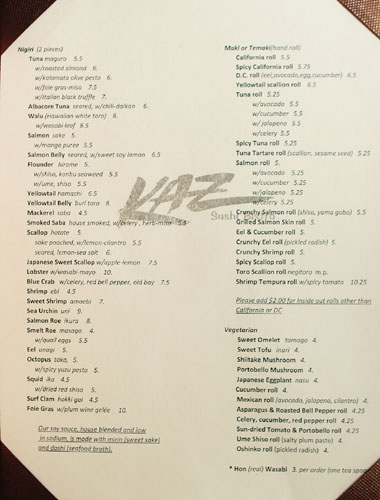 Kaz Sushi Bistro's menu features a large selection of both
nigirizushi
and rolls, as well as a good assortment of small plates. Of course, there's also an omakase option in the form of "Kaz's Kaiseki," though we opted for the "Ultimate Sushi," in which the Chef dishes out the best cuts of sushi until you beg for mercy. Click for larger versions.





To drink, we're talking about a nice selection of sakes, a smattering of wines, beer, and various sundry items. Click for larger versions.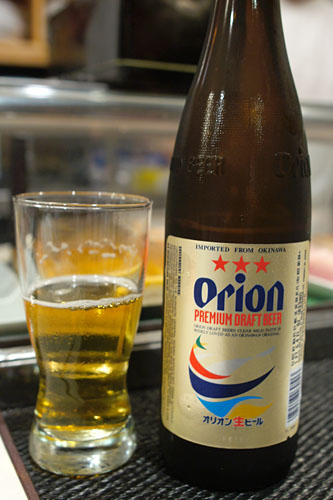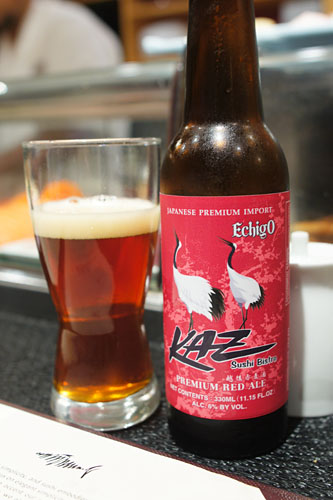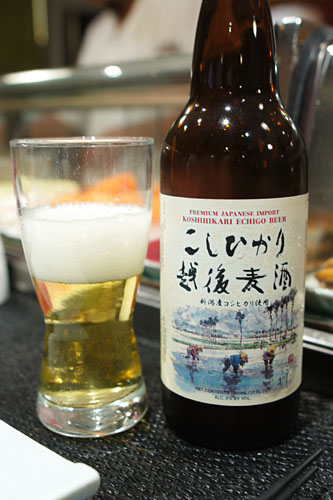 A trio of
biru
to begin:
Orion Premium Draft [$11]
,
Kaz Premium Red Ale [$11]
(specially made for the restaurant by Echigo microbrewery in Niigata), and
Echigo Koshihikari [$12]
.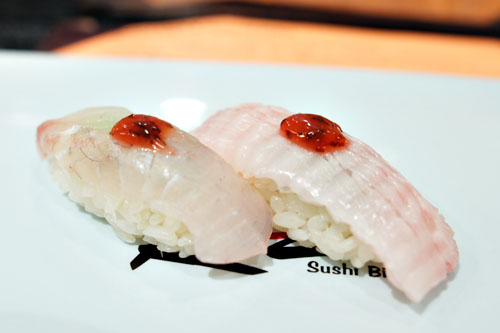 1: Flounder [$5.50]
| with Ume and Shiso
Flounder, in two forms, greeted us as the first course. The first, on the left, was your typical cut of
hirame
, and showed off a delicately fishy relish that worked well with the tart, tangy, and minty notes from the ume-shiso combination. The second piece, however, was flounder fin, otherwise known as
engawa
, which had a much chewier consistency.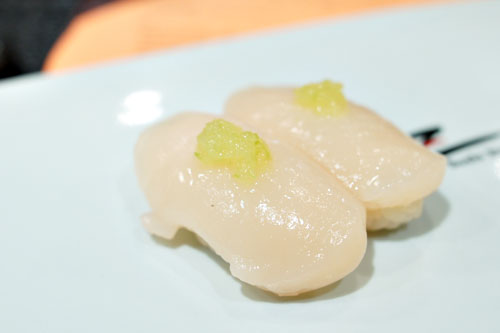 2: Japanese Sweet Scallops [$7.50]
| with Apple and Lemon
Raw Japanese scallops were paired with a commixture of apple and lemon, the tangy smack of which seemed to heighten the mollusks' inherent brine initially. The midpalate, however, more forcefully conveyed the creaminess of the
hotategai
, and the bite was finished with a pleasant, countervailing burn from the wasabi.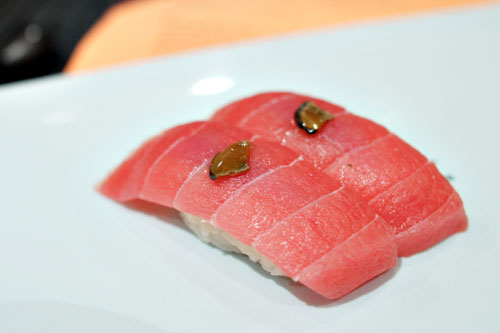 3: Tuna [$7.50]
| with Italian Black Truffle
Tuna, though normally a somewhat boring sushi fish, managed to be one of my favorite courses of the evening thanks to the truffle. The subtle, somewhat lush taste of the
maguro
actually went pretty much perfectly with the earthy, heady essence of the
toryufu
, which, surprisingly, didn't overpower the fish at all.
4: Walu (Hawaiian White Toro) [$8.50]
| with Wasabi Leaf
Next up was a relative rarity in the sushi scene: escolar, a.k.a. butterfish, ono, waloo, or white tuna. It was delightful, a tasty mix of creamy, sweet, and yes,
buttery
flavors that worked well with the slight piquancy from the wasabi leaf. Another favorite.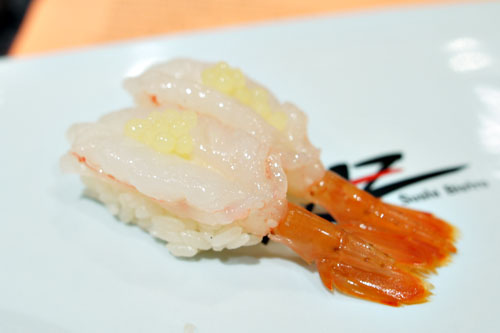 5: Sweet Botan Shrimp [$7.00]
| with Yuzu-Tapioca
Sweet shrimp were delectable--fresh, snappy, and wonderfully crisp. They easily stood alone, but were deftly amped up by the sour smack of the yuzu as well.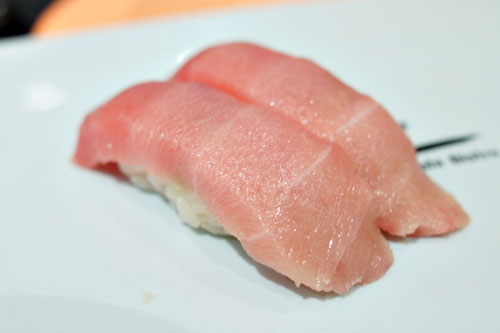 6: Big Eye Chu-Toro [$12.00]
Chu-toro
, meanwhile, was one of the better versions that I've had. The fish was super melty and fatty, with a dare I say
unctuous
character and a great bit of sweetness on the close. Very nice--no accoutrements needed here.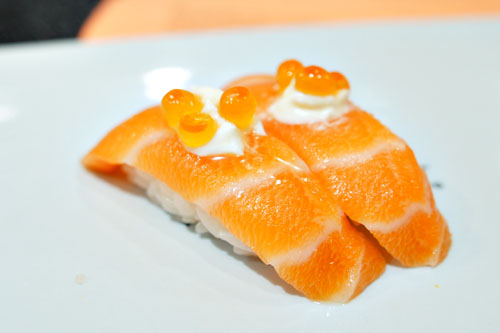 7: Salmon [$8.00]
| with Crème Fraiche and Ikura
Salmon, usually a ho-hum fish, was superb too. It had a lovely creaminess to it that paired beautifully with the lush, lactic tang of the crème fraiche, while the salmon roe served to brighten up the bite a bit.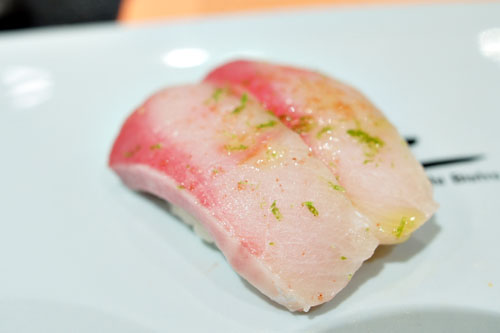 8: Yellowtail [$6.50]
| with Olive Oil and Sea Salt
Yellowtail was nicely fatty, and kicked up a notch by the weight of the olive oil. At the same time though, the lime zest and sea salt provided sharp, offsetting flavors that balanced out the dish gorgeously.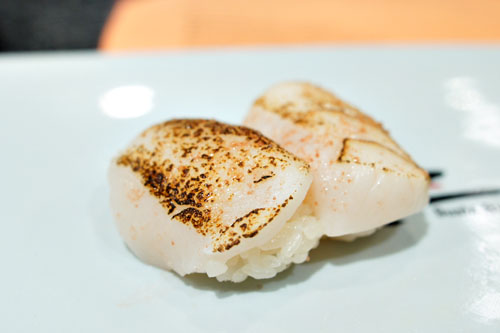 9: Scallop [$6.00]
| Seared, with Lemon and Sea Salt
Our next preparation of scallop, meanwhile, really showed off the natural creaminess and salinity of the bivalve. I loved the tanginess of the lemon and salt combo, as well as the focused heat from the wasabi. Yum.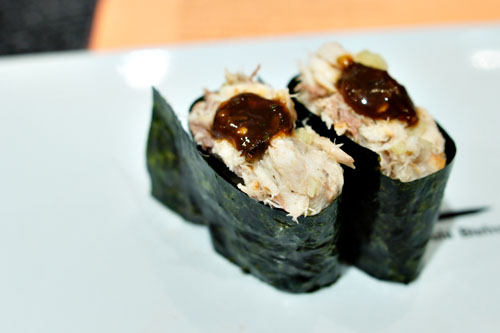 10: Smoked Saba [$5.50]
| House Smoked, with Celery and Herb-Miso
An unconventional presentation of mackerel, one that expertly conveyed the smoky, fishy essence of the
saba
while moderating it with the sweetness of miso and the astringent zest of celery.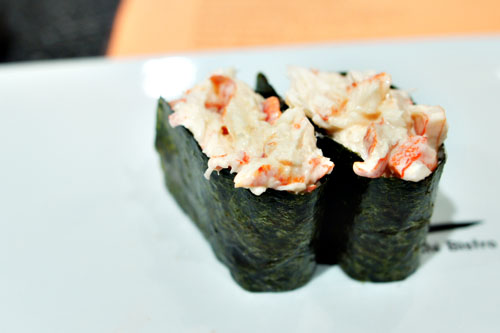 11: Lobster [$10.00]
| with Wasabi-Mayo
Lobster was snappy, supple, and sweet, pairing perfectly with the creamy mayo all while the wasabi provided undertones of spiciness to the mix. Absolutely delicious--think of it as a lobster roll in sushi form!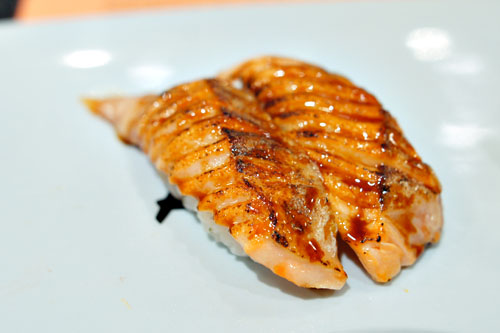 12: Salmon Belly [$6.50]
| Seared, with Sweet Soy and Lemon
Salmon belly was arguably the most decadent piece of sushi all night, with the palpable fattiness of the fish playing off the sugary soy, bitter char, and tangy lemon beautifully.
13: Foie Gras [$10.00]
| with Plum Wine Gelée
I believe that this was the first time that I'd had foie gras in sushi form, and I'm happy to report that it worked out quite well. The plum wine gelée, fortunately, wasn't overwhelming at all, and actually paired wonderfully with the liver-y essence of the foie.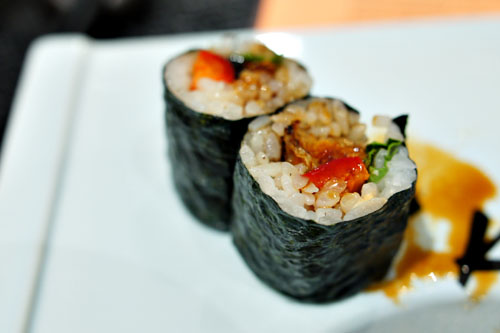 14: Eel Roll [$5.25]
| with Basil and Pickled Chili Pepper
A masterful variation on the classic sushi presentation of eel. I quite enjoyed how the fish was elevated by the fragrant, heady heat of the pepper and basil combination, making for an almost Thai-inspired taste.
15: Yamaimo [$4.50]
| with Ume and Shiso
We ended our gauntlet of sushi with a version incorporating
yamaimo
. The mountain yam was mucilaginous in consistency, with a crisp, tangy, and slightly saccharine flavor that was nicely set off by the ume and shiso. A refreshing change of pace.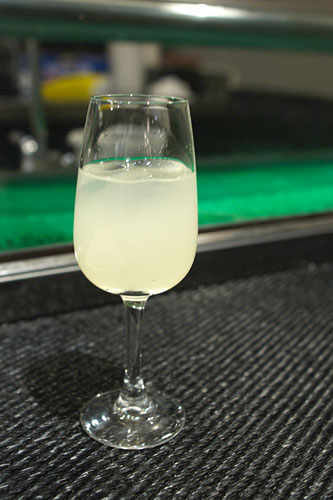 16: Yuzu Sake
A complementary yuzu sake was provided at the end of the meal, reminding us of a Japanese version of Limoncello! It also made me think of the yuzu juice that's served as the conclusion of meals at
Sushi Zo
.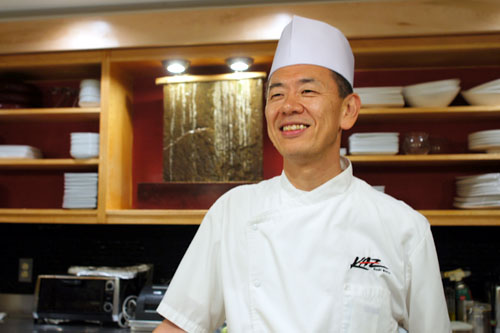 Chef Kazuhiro "Kaz" Okochi.
Going in to this meal, I was a tad concerned that Okochi's use of Western flourishes would seem trite and uncalled for. Fortunately though, that was not the case. The Chef was able to elevate the classic sushi experience with his incorporation of non-traditional ingredients. The various cuts of seafood were enhanced, accented by the various accompaniments, but their inherent, natural character was never lost or overshadowed, and most importantly, the food was almost universally delicious. Best sushi in DC? I can believe it.