San Shi Go (Newport Beach, CA)
San Shi Go Sushi & Asian
205 Main St, Newport Beach, CA 92661
949.673.3724
www.okidokirestaurant.com/345-newport-beach.html
Fri 09/23/2011, 06:30p-09:25p

Over the course of the past few months, I've been trying to hit up some of the more notable sushi joints in OC (e.g.
Ikko
,
Nana San
, and
Shibucho
), and my latest stop brought me to San Shi Go on Newport's famed Balboa Peninsula. The name translates to "3-4-5" in Japanese, and the restaurant is actually part of a mini-chain, along with the original San Shi Go in Laguna Beach (which has been around for over 20 years) and three izakaya-style Oki Doki eateries in Costa Mesa (next door to
Anjin
), Tustin, and Osaka, Japan.


San Shi Go's menu features all your usual sushi selections, as well as a good number of cooked appetizers (more than what's shown above), though we opted for their omakase tasting, priced at $100 per person. Click for larger versions.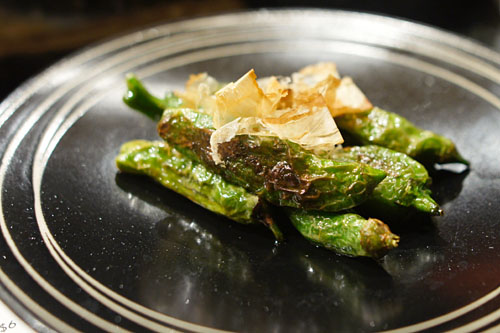 1: Shishito Peppers
We began with a plate of blistered shishitos topped with
katsuobushi
. It was actually a pleasant start to the meal, and one of the better preparations of the peppers that I've had. I enjoyed the subtle, sweet heat of the shishitos, and how they were nicely accented by the umami-rich essence of the bonito shavings.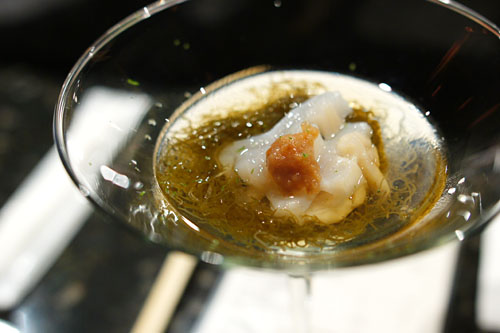 2: Giant Clam with Mozuku
Up next were slices of geoduck sashimi, topped with plum sauce and yuzu zest, in a bath of vinegar and
mozuku
(a type of seaweed). I quite liked the crisp, clean salinity of the
mirugai
, and how that played with the saccharine, tangy, gelatinous character of its various accompaniments.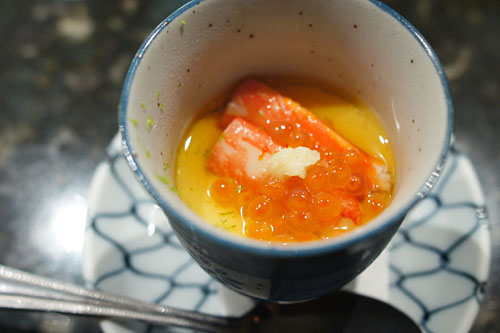 3: Crab Chawanmushi
A
chawanmushi
of crab, salmon roe, ginger, and yuzu was delectable, easily one of the better versions that I've had in recent memory. The combination of sweet, salty
kani
and lush egg was spot on, with the crab deftly highlighted. At the same time, I really appreciated the counterpoint of brine imparted by the
ikura
.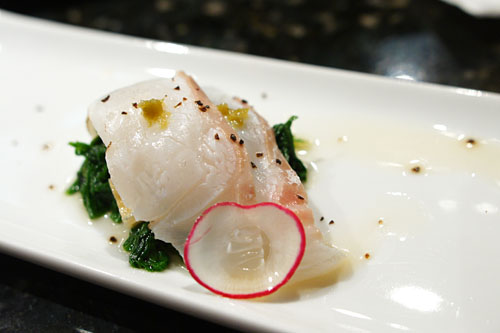 4: Red Snapper Sashimi
Two slices of beautiful snapper sashimi served as topping to a mound of
shungiku
(Garland chrysanthemum), dried tofu, and
shimeji
. The fish itself was top notch, with a remarkably delicate taste adroitly amped up a notch by the inclusion of tangy
yuzukosho
. Meanwhile, the greens and tofu served to temper and ground the dish.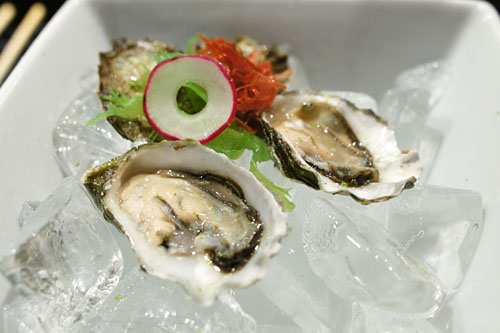 5: Kumamoto Oysters
Next up was an appearance by my favorite type of oyster, done up here with French rock salt and lemon. It was a classic set of flavors that showed off the inherent nature of the Kumamotos nicely. I especially enjoyed slurping them down with a bit of the included seaweed.
6: Momotaro Tomatoes with Shrimp
Ever since having them at
Totoraku
, I've been enamored with
momotaro
tomatoes. Here, they were paired with raw shrimp, shiso, and some sort of fried topping. The tomatoes themselves were unabashedly sweet, succulent, and wonderful as expected, and they actually linked up beautifully with the fresh, snappy shrimp and minty shiso. The icing on the cake here were the little fried bits, which lent a lovely crunchy and saltiness to the fray.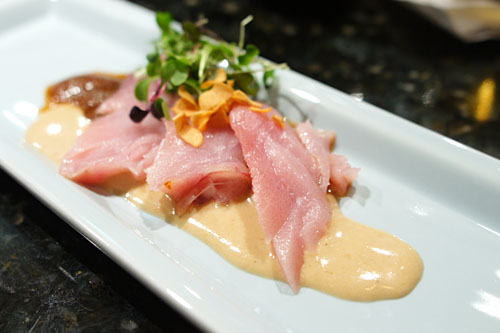 7: Albacore Sashimi
At Japanese restaurants, albacore tends to be presented in seared form, so it was great to see it completely raw here, served with a sesame dressing, onion, and fried garlic. I was afraid that the sesame would be overpowering, but it actually went swimmingly with the creamy, lush fish, serving as a piquant contrast to the albacore's mild ocean-y relish. I also quite liked the garlic chips, which mixed things up texturally and added a further layer of savoriness to things.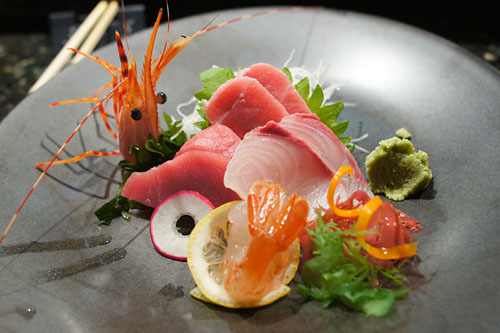 8: Sashimi Selection
Time for sashimi. A shrimp was dispatched right before us, its head still twitching on the plate. Not surprisingly, the
amaebi
was bracingly fresh, with a wonderfully crunchy consistency and a slightly metallic finish. Amberjack, meanwhile, was creamy, with a nice bit of bite and a subtle flavor perfectly accented by a dollop of wasabi. Next up was bluefin tuna, which was undeniably lush and surprisingly flavorful for mere
maguro
. Finally, we had
toro
, which was expectedly fatty, melt-y even, but with a slightly tendonous consistency.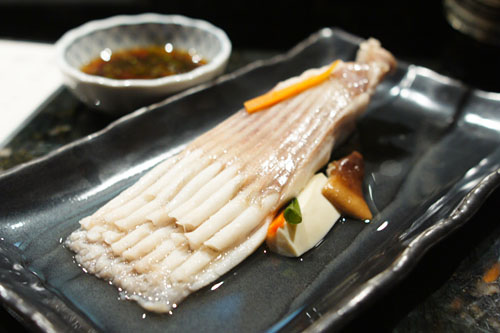 9: Skate Wing Sakamushi
Skate wing arrived prepared in a
sakamushi
manner--meaning steamed in sake and rock salt for 12 minutes--and was accompanied by ponzu, radish, and chili. The fish was super soft, almost a bit gelatinous even, and had a slight ocean-y flavor augmented by a bit of sake flair. It was quite mild and indistinctive alone, and thus the tangy paired ponzu was key in bringing out its flavor.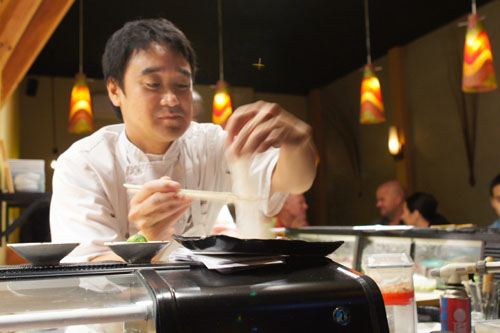 Our
itamae
, Shogo-san, stripping the skate wing bare.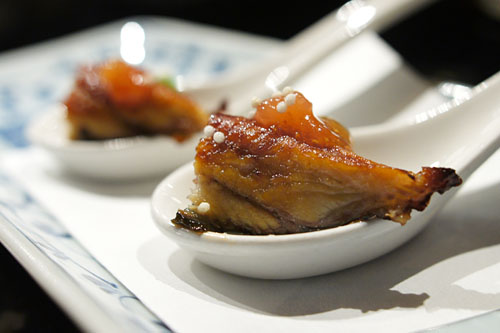 10: Freshwater Eel
A non-traditional preparation of
unagi
included avocado and fig jam. It actually worked for the most part, with the fig complementing the inherent sweetness of the eel nicely.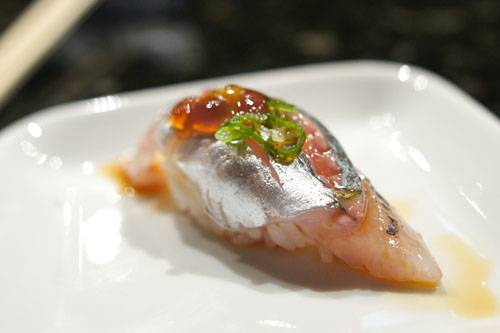 Spanish Mackerel [$5.50]
A supplemental course of
aji
showed off the fishy nature of the mackerel in concert with salmon roe gorgeously, all moderated by the astringency of scallion.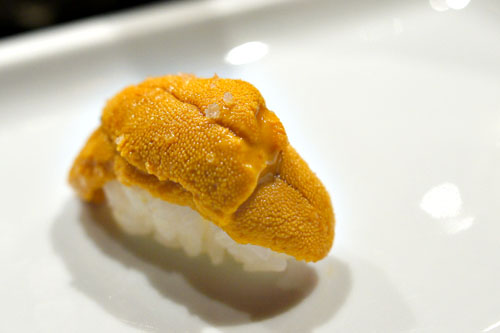 Sea Urchin [$8.00]
An extra dish of sea urchin roe came to us not from Santa Barbara, but from San Diego. The uni was stupendous, with a perfect consistency (like a cat's tongue) and wonderful sweet brine that was perfectly balanced by a sprinkle of rock salt.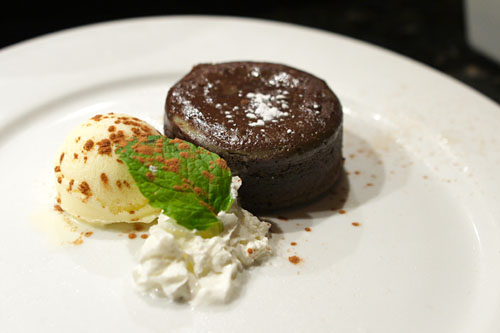 11a: Melted Chocolate Cake w/ Mascarpone Cheese Ice Cream
For dessert, we were given our choice of items from the standard menu. Shogo-san recommended the molten chocolate cake, and it certainly wasn't a bad version of the now clichéd dessert, with a nice counterpoint in the form of mascarpone ice cream.
11b: Sesame Ice Cream
Goma no aisukurimu
, meanwhile, was much more interesting, with an intense note of black sesame that I was rather fond of. Reminded me of Chinese
tangyuan
!
Given San Shi Go's location and prototypical Newport crowd, I was a bit apprehensive going in. However, the kitchen really delivered, serving up a serious, and delicious suite of dishes that belied the restaurant's environs. I'd say that San Shi Go more than holds its own with Orange County's best, and I'd love to go back and experience a more sushi-intensive menu next time.