Ben's Chili Bowl (Washington, DC)
Ben's Chili Bowl
1213 U St NW, Washington DC, 20009
202.667.0909
www.benschilibowl.com
Thu 09/29/2011, 08:10p-8:50p

This time around, my travels to the nation's capital brought me to none other than Ben's Chili Bowl, perhaps the most iconic restaurant in all of DC. Housed in the space of a former silent movie house (Minnehaha Theater), Ben's is the brainchild of Trinidadian native Mahaboob Ben Ali and Virginia Rollins. The couple debuted the eatery on August 22th, 1958, and were married just weeks later. The Bowl soon became a neighborhood favorite, but the restaurant's fortunes waned in the wake of the 1968 race riots following the assassination of Martin Luther King Jr.
The surrounding area fell into decline, but was later revitalized and gentrified after the completion of a Metro Green Line station across the street from Ben's. Since then, the restaurant has witnessed steady growth, and in 2008, Ben's even opened an outpost at the nearby Nationals Park baseball stadium. Ali, however, would pass away on October 7th, 2009 at the age of 82, his death being mourned by many across the city, and the country. The Chili Bowl is now run by sons Kamal and Nizam, who debuted a more formal eatery, Ben's Next Door, in 2009.

The interior retains much of its 1950's charm, and indeed, a good portion of the furnishings and fixtures date from that era. Orders are placed at the counter, but food is brought to your table (think Carl's Jr). Diners can sit in the main dining area pictured above, or in a smaller room in the back.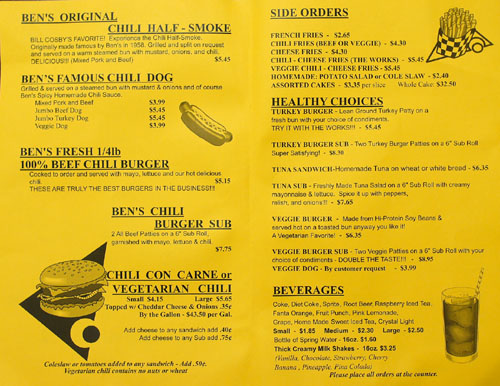 Ben's Chili Bowl's menu is actually fairly varied, but not surprisingly, you'll probably want to stick with something that has chili on it. Click for a larger version.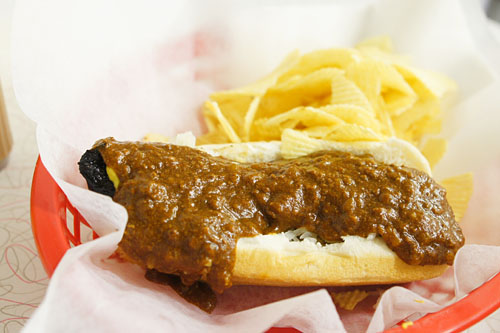 Ben's Original Chili Half-Smoke [$5.45]
We began with the item that started it all, Ben's signature Chili Half-Smoke. Known famously as Bill Cosby's favorite dish (as well as what president-elect Barack Obama ordered during
his visit
with mayor Adrian Fenty back in 2009), it's a quarter-pound half-beef/half-pork smoked sausage that's grilled and served on a warm steamed bun with mustard, onion, and of course, spicy housemade pork/beef chili. It was pretty much all that you'd want from a chili dog. The combination of pork and beef made for a more interesting eating experience, with a somewhat more complex meatiness highlighted by just the right amount of smoke. The chili, meanwhile, added further layers of richness to the dog, while the onion and mustard providing some offsetting flavors.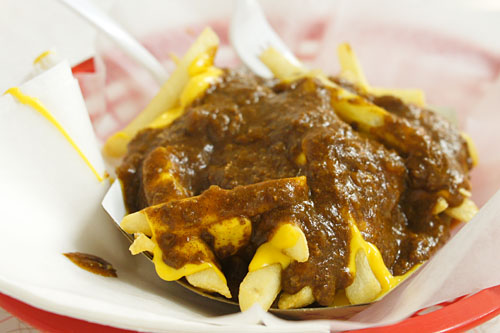 Chili-Cheese Fries (The Works) [$5.45]
I'm a sucker for chili-cheese fries (my favorite is still at
Volcano Burger
), so this was another must-order. It's hard to screw up fries, chili, and nacho cheese, and certainly, this was all about that simple, straightforward, satisfying goodness. Yum.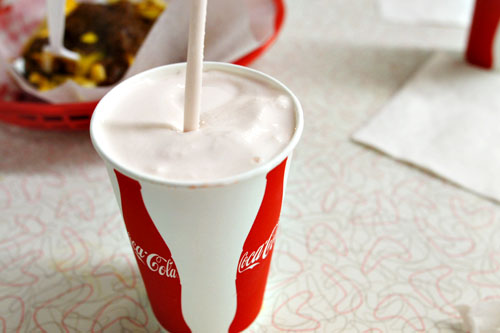 Thick Creamy Milk Shake - 16oz [$3.25]
| Strawberry
Ben's is also known for its thick-ass shakes, available in vanilla, chocolate, cherry banana, pineapple, and piña colada flavors. I went with strawberry this time around, and had no complaints. This was a classic milkshake experience, with a delectably sweet berry relish backed by the luscious, creamy weight of ice cream.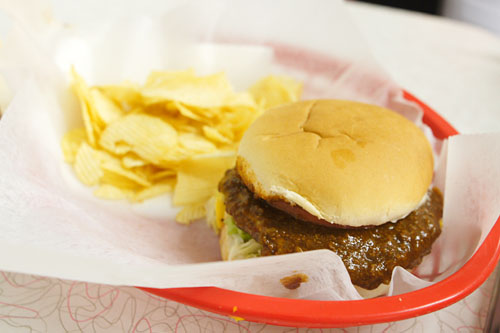 Ben's Fresh 1/4lb 100% Beef Chili Burger [$5.15]
We ended with Ben's 100% ground beef burger, cooked to order and topped with mayo, lettuce, and more of that famous chili. The burger patty itself was fairly humdrum--nothing to write home about really. The key was, naturally, the chili, which really amped up the flavors at play while tying everything together.
I came into Ben's expecting some tasty "drunk food," so to speak, and that's pretty much exactly what I got. The cooking is certainly nothing revolutionary, but for what it is, I couldn't complain. If you're in town, definitely try to swing by for a little taste of history, in chili form.