Gordon Ramsay at The London (West Hollywood, CA) [2]
Gordon Ramsay at The London
1020 N San Vicente Blvd, West Hollywood, CA 90069
310.358.7788
www.thelondonwesthollywood.com/gordon_ramsay/
Sat 09/17/2011, 06:30p-12:00a

I was honestly a bit surprised that
Gordon Ramsay at The London
managed to survive this long. Set in the space of the hotel's former Franco-Russian dining room, GR quietly debuted in May 2008, but never really caught on, perhaps because Ramsay himself was rarely ever there. Gordo, for his part, doesn't seem to be all that focused on running restaurants at this point, instead being absorbed in starring in his various TV shows and cavorting around with a
preggers Posh Spice
at
Gjelina
. Ramsay sightings are on the rise, of course, because the Chef actually moved to LA in March, taking up residence in a
$18.8 million mansion
in Bel Air, despite his well-publicized and substantial financial woes. Such woes forced Ramsay to
sell his stake
in the eponymous WeHo restaurant in 2009, though he remains as a consultant and "Chef Patron." More problems followed the fire sale. In February 2010, Andy Cook, the opening Chef, left and returned to London to work at Ramsay's Savoy Grill, leaving the eatery in the hands of Executive CdC Josh Emett and Head Chef Harutaka Kishi. Unfortunately, both Emett and Haru Kishi left earlier this year, so the kitchen is now the charge of Chef de Cuisine Anthony Keene.
About the Chef
: Keene is a hotel restaurant kind of guy, having spent 15 years with the Ritz-Carlton chain, including a stint at the company's outpost in Laguna Niguel. He then worked at the Paradise Valley Country Club before taking on the Executive Chef role at Ojai Valley Inn & Spa in 2001. 2003 saw the Chef move to the Little Palm Island Resort in the Florida keys, and in 2005, he moved to Casa Marina in Key West. In 2006, Keene packed up and headed to California, landing at Carmel Valley Ranch, where he served as Director of Culinary Operations. That position lasted until 2009, and last year, in the wake of Andy Cook's departure, he relocated to SoCal to become Gordon Ramsay's new Chef de Cuisine.



The interior space (and indeed, the entire hotel's transformation from the Wyndham Bel Age) was overseen by
David Collins
--a somewhat discordant array of beige, pastels, and gilded shades that border on gaudy. The restaurant features two main dining rooms, flanking a bar/lounge area, seating around 110 guests together (along with five private rooms). As of October 2009, the dining room out front serves double duty as Boxwood Cafe by Gordon Ramsay, a casual eatery that was modeled after the now-defunct original at the Berkeley Hotel in Knightsbridge, London.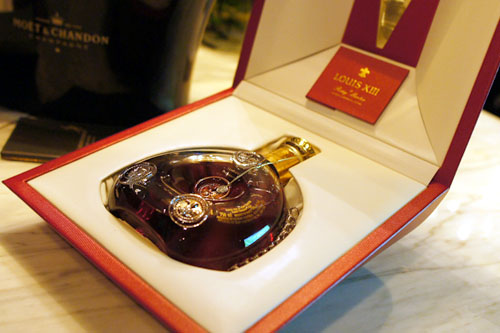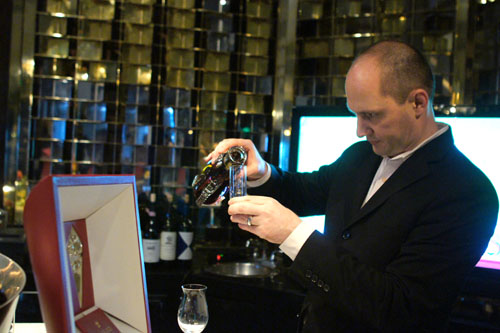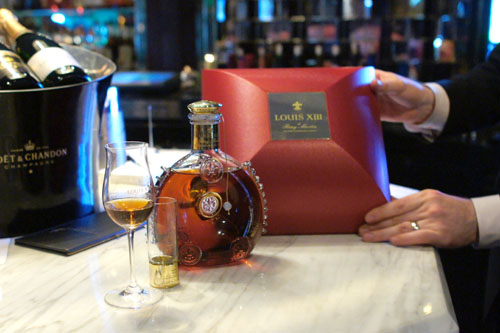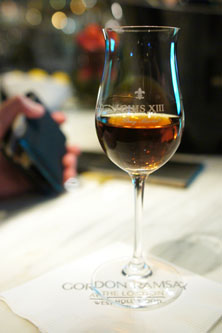 Oh yes we did. While waiting for our party to gather, we took up residence at the bar and decided to try Remy Martin's Louis XIII cognac for the first time. It's a blend of hundreds, if not thousands of brandies, many over 100 years old, resulting in an intoxicating nose redolent of citrus, spice, caramel, and sherry. Tasting it, I noted similar flavors on the palate, with the spiciness and herbaceous character becoming more apparent, though it was a bit harsher than I would've liked. Overall, a very good cognac, though not quite worth the $300 per 2oz pour. An interesting note: the bottle of Louis XIII on display in the bar is a fake, filled with cola to thwart would-be thieves.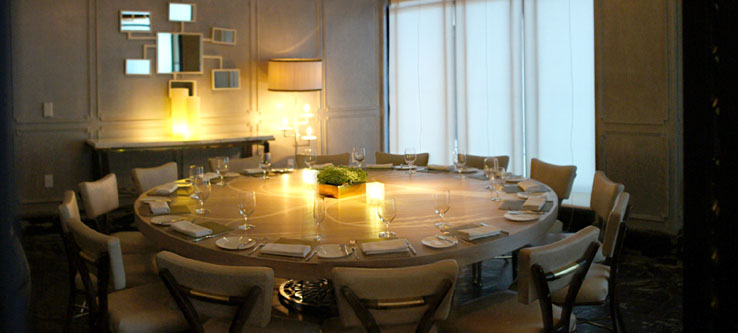 Our private dining room out front.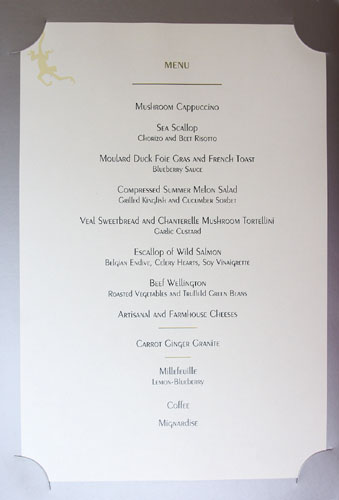 À la carte is always an option at GRaTLWH, and an eight-course Chef's Tasting Menu is offered at $120 per person, but since we were seating in a private room, we opted for a custom 10-course menu at $140pp. We requested a wine pairing, but disappointingly, we were told that such a thing would not be possible unless the entire table participated. We had a party of 14, so that was never going to happen; we ended up just choosing a few wines by the glass--not a good start to the meal. Click for a larger version.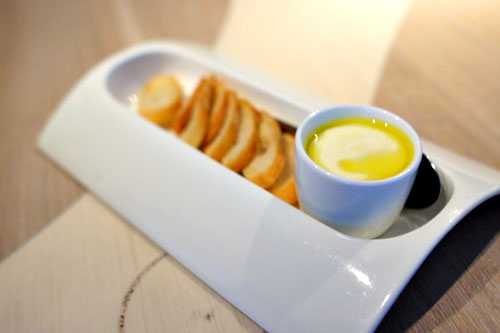 Crisp bits of bread came accompanied by a delectable mascarpone-ricotta mousse laced with olive oil and truffle oil. The earthy essence of the truffle actually worked quite well with the lush, creamy cheese, making for a perfect complement to the crusty baguette.
The bread, meanwhile, was also much appreciated--crunchy and crusty on the exterior, yet light and fluffy inside. Butter was superb as well.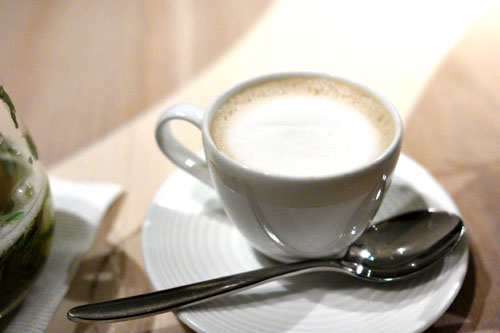 1: Mushroom Cappuccino
Our first proper course brought us a "cappuccino" of chanterelle mushroom with a milk foam. I rather liked it, finding the heady earthiness of the mushroom hearty and satisfying.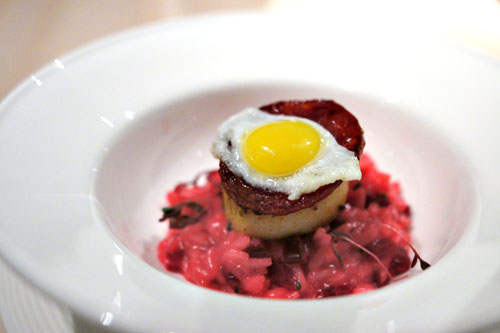 2: Sea Scallop
| Chorizo and Beet Risotto
A singular scallop arrived deftly cooked, still slightly rare, with a nice sear and tasty salinity. I was a bit concerned about the beet, but it actually wasn't bad here, contributing a subtle sweetness that paired well with the bivalve. My concern was the chorizo, which had rather strong spicy/savory notes that tended to overwhelm the scallop.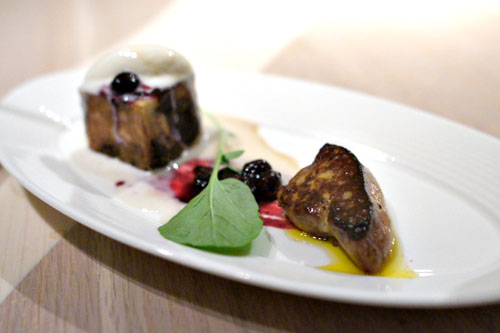 3: Moulard Duck Foie Gras and French Toast
| Blueberry Sauce
Regular readers will know that I'm not a fan of overly sweet, fruity foie gras, and unfortunately, this was a good example of that bane. The liver itself was properly seared, but the French toast resulted in a sort of "heavy on heavy" effect here, which was compounded by the overt saccharine flavors of the brandied cherries and smoked vanilla ice cream.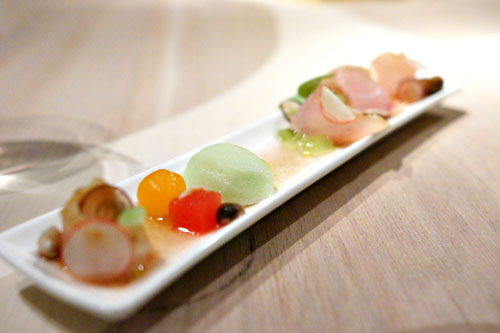 4: Compressed Summer Melon Salad
| Grilled Kingfish and Cucumber Sorbet
The meal really started to go downhill at this point. Here, the problem was that any semblance of fish was lost. Texturally, the kingfish crudo was there, but it had virtually no flavor. Anything that it did have was drowned out by the pomegranate vinaigrette and various cuts of fruit. This just lacked any sort of punch, and really failed to grab my interest at all.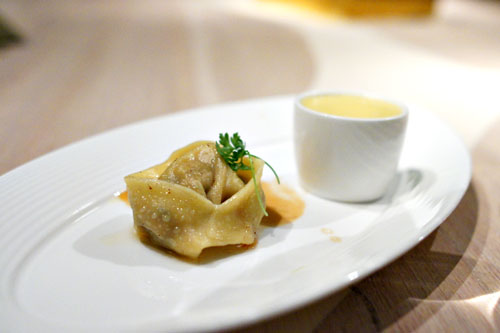 5: Veal Sweetbread and Chanterelle Mushroom Tortellini
| Garlic Custard
I was quite looking forward to this course, but again, I was let down. Sweetbreads usually have a rich, deep flavor, but what I tasted here was insipid: just a bit of the mushroom, and that's it. I looked for salvation in the garlic custard flan; it was far from flavorless, instead verging on being heavy-handed.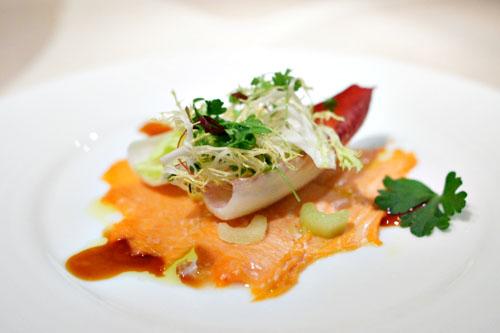 6: Escallop of Wild Salmon
| Belgian Endive, Celery Hearts, Soy Vinaigrette
Now we go from bad to worse. Next up was the lowlight of the meal and quite possibly the worst salmon dish that I've ever had. This fish itself was dry, dull, and tasted almost nothing like salmon--none of that brine, that creaminess, that fattiness that I wanted. The soy vinaigrette, meanwhile, I found overwhelmingly sweet, and the combination of endive and celery made for a strange overarching bitterness that was just unsettling. A failure on all fronts really. Of all the fantastic ways to prepare salmon,
why the hell would you do something like this?
It boggles the mind.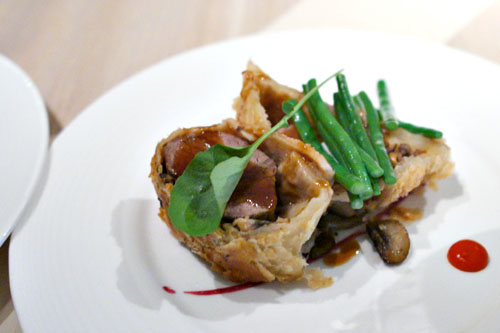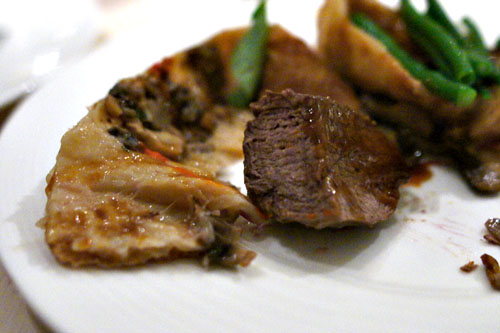 7: Beef Wellington
| Roasted Vegetables and Truffled Green Beans
Almost as disappointing as the salmon was the beef Wellington, which, ironically, is one of the dishes that Gordon Ramsay is best known for. We requested the meat be cooked medium-rare, but as you can see, it was
nowhere near that temperature
, making for beef that was tough, dry, and flavor-free. Indeed, it's been a while since I've had a piece of beef this horrendously overcooked; I actually sent it back,
and I never send things back
. One saving grace: the haricots verts were actually quite tasty.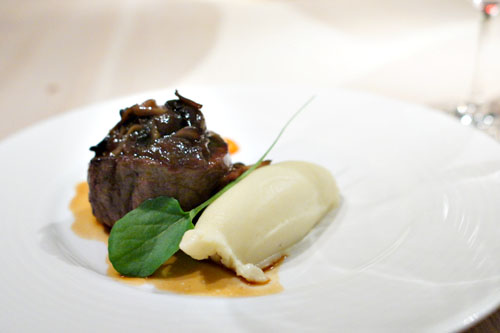 Châteaubriand
| Red Onion Marmalade, Mushrooms, Potato Purée
Given the atrociousness of the previous course, our servers brought out plates of filet mignon and a couple bottles of wine to try to redeem the meal (and I give them credit for the effort). This was a competent preparation of beef, and was cooked to a medium-ish temperature. The pairing of mashed potatoes and chanterelles, though, was rather trite, and I did find the onion marmalade a bit too sweet. Nevertheless, an improvement on the Wellington.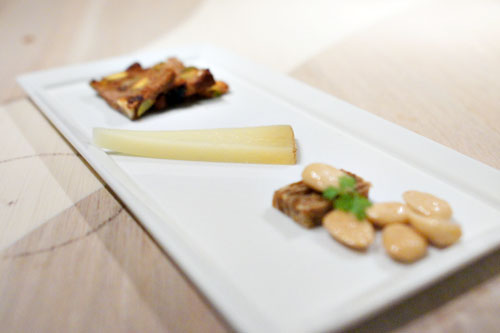 8: Artisanal and Farmhouse Cheeses
Manchego, a Spanish sheep's milk cheese, arrived to the table along with toasted fruit bread, fig cake, and nuts. The cheese was as it should be: relatively mild, with a slight butteriness and a mild tang. Not bad, merely uninspired.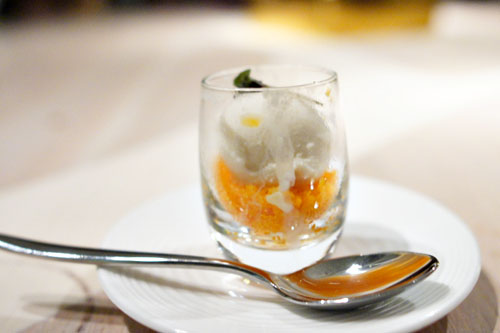 9: Carrot Ginger Granite
A pre-dessert of carrot and ginger was actually quite effective, delivering a refreshing jolt to the palate. As one of my dining companions stated: "it woke me back up."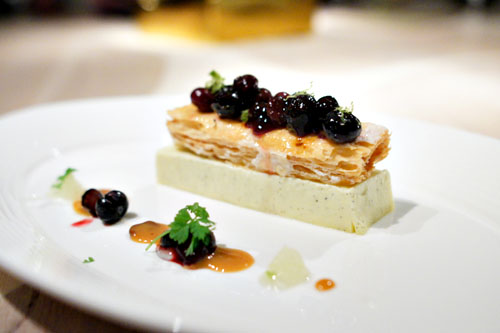 10: Millefeuille
| Lemon-Blueberry
Our last course, the mille-feuille, managed to be my favorite course of the evening, and not just because nearly everything else was lackluster; this was genuinely delicious. Lemon custard was light and delicate, with a vanilla-tinged essence that worked beautifully in concert with the sugary blueberry compote. At the same time, the pastry added a delightfully ethereal crunchiness to the fray that just tied everything together. At least the Pastry Chef seems to know what (s)he's doing.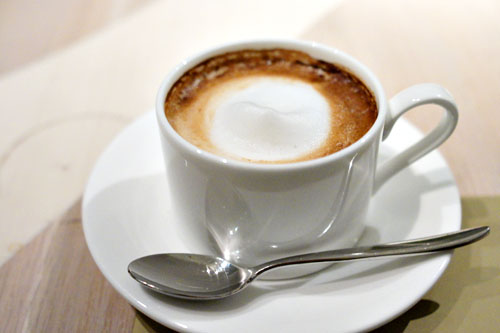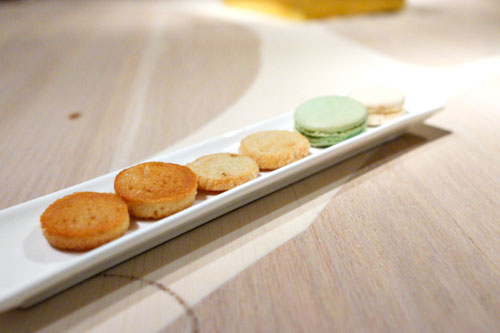 To close out the meal: cappuccino and various mignardises (lemon-ginger cookies, madeleines, and lemon and pistachio macarons).
Given my subpar experience here
last time
, I really wanted this meal to knock it out of the park. Sadly, that hope couldn't have been further from the truth. I previously wrote, somewhat facetiously, that Ramsay should be cautious with this restaurant, lest it turn into a potential subject for his TV show
Kitchen Nightmares
. That admonishment was prescient, unfortunately, as there were some serious problems here. Many of the dishes were ill-conceived, while others were merely ill-executed; service, meanwhile, had its highs and lows. It's been a while since I've had a dinner fall this flat--lacking in finesse, lacking in refinement, channeling your stereotypical "hotel food." Really, this meal did a disservice to the Gordon Ramsay name, and I hope, for the restaurant's sake, that somebody's going to step in and put an end to this comedy of errors before it's too late. I wouldn't count on Ramsay though; seems like he's already abandoned ship, gallivanting around with David Beckham these days and talking about
launching a British pub
. I can't believe I'm yearning for the return of Diaghilev.