Kajitsu (New York, NY)
Kajitsu Restaurant
414 E 9th St, New York, NY 10009
212.228.4873
www.kajitsunyc.com
Sat 10/01/2011, 05:50p-08:30p

Following lunch at the famed
Katz's Deli
, I had pretty much the polar opposite for dinner at Kajitsu (Japanese for "fine day" or "day of celebration" I'm told), a restaurant that features
shojin ryori
cuisine, a type of cookery developed in concert with the tenets of Zen Buddhism. The food is largely vegetarian, vegan even, in order to keep with the Buddhist belief of non-violence, and is oft regarded as the foundation of the kaiseki style of Japanese haute cooking. Joining me this evening was former LA food blogger Aaron of
Destination Eats
(who'd relocated to NYC for law school).
About the Chef
: As a boy growing up in Japan, Chef Masato Nishihara first became enamored with cooking after making his first sunny-side up egg. He did not attend culinary school, but rather learned his craft through apprenticeship. Nishihara spent ten years at the three Michelin-starred Kitcho in Kyoto, one of of the country's most acclaimed kaiseki restaurants. There, he was mentored by Yoshinori Ishii, who later left to work at Morimoto in New York and who's currently heading the kitchens at Umu in London. Nishihara became well versed in traditional kaiseki cuisine, and also gained knowledge in Japanese tea ceremony, flower arrangement, and antique Japanese dishware, all key parts of a kaiseki meal.
Following his tenure at Kitcho, the Chef took over the kitchens at Tohma, a soba-based kaiseki restaurant in Nagano (a city known for its high quality buckwheat noodles). Here, Nishihara mastered the art of soba under the tutelage of master noodle maker Masakatsu Hizume. When Shuichiro Kobori of noted Japanese
fu
(wheat gluten--a major part of Buddhist cuisine) producer FuKa decided to debut Kajitsu, he called upon Nishihara, and the Chef moved to New York to open the restaurant in March 2009. Nishihara himself is not vegetarian, nor Buddhist, but what he aims to do here at Kajitsu is expand the horizons of
shojin
cuisine using his background in
kaiseki ryori
and the incorporation of non-traditional, Western ingredients. Recently, he was recognized for his efforts by Michelin, which awarded Kajitsu two stars in its latest guide.

The subterranean space in the East Village formerly held Ebisu, another Japanese restaurant. A sliding glass door reveals a monochromatic, minimalist, wood-soaked dining room, seating up to 28 diners. There are a number of small tables, but I'd recommend sitting at the zelkova wood dining counter.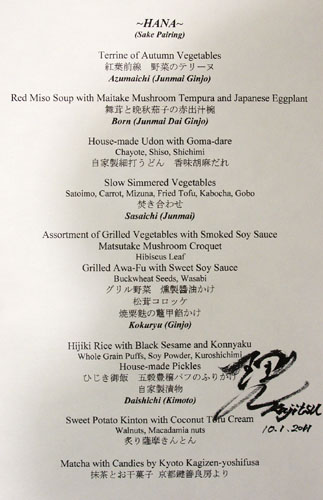 Kajitsu's menu changes monthly in order to highlight the season's best ingredients. In addition to a smattering of à la carte items, there's a four-course "Kaze" menu offered at $50 plus $29 for sake pairing, or the "Hana" menu at $70 plus $34. In addition, given that it's autumn, there was also the option of a special matsutake mushroom menu at $100 per person (which must be ordered in advance). Click for a larger version.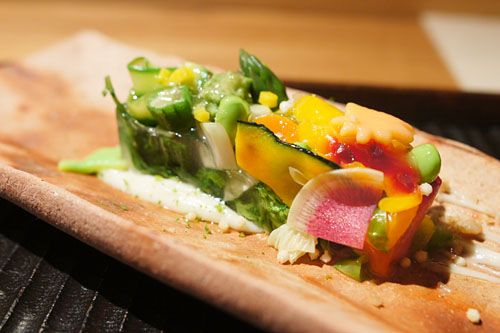 1: Terrine of Autumn Vegetables
| Chestnut crumbs
Azumaichi (Junmai Ginjo)
We began with a terrine of fall vegetables, set in gelatin, grounded by parsnip purée, and laced with chestnut crumbles. The dish was pretty astonishing, with each and every vegetable distinct and bursting with freshness, all balanced by the relatively heavy nature of the parsnip (an unusual ingredient in Japanese cookery). The ordering of produce in the terrine was meant to evoke the changing foliage of Japan as you traverse the country from north to south, and the transitions between tastes and textures was absolutely delightful. A Japanese
gargouillou
, if you will.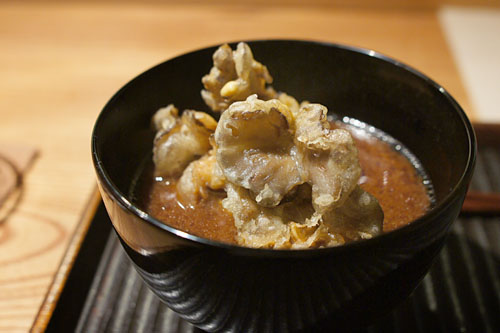 2: Red Miso Soup with Maitake Mushroom Tempura and Japanese Eggplant
Born (Junmai Dai Ginjo)
A red miso soup combined tempura'd maitake, mitsuba stem, yellow mustard, and Japanese eggplant. There were loads of umami flavors abound here with the mushrooms and the miso, but this was nicely moderated by an overarching tanginess, and I appreciated the countervailing
nasu
eggplant as well. Texturally, I loved the meaty snap of the maitake paired with the crispness of its tempura batter, though the 'shrooms did get soggy toward the end of the bowl.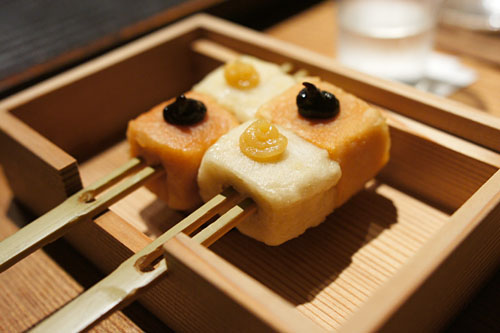 Supplement: Grilled Nama-Fu with Miso [$9.00]
Next up was a supplemental course featuring raw wheat gluten (
nama-fu
) imported from the 250-year-old Kyoto shop run by Kajitsu's owner. Four blocks were presented, the white millet flavored and the orange pumpkin flavored. The
nama-fu
was mochi-like in consistency, with a mild relish accented by the sweet, savory smack of its miso topping. My concern here was that the two types were rather similar to each other, and I had a hard time telling them apart.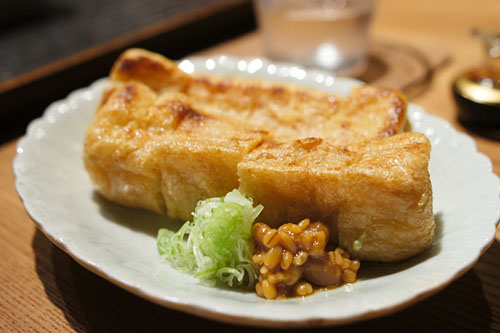 Supplement: Aburi-Age (Fried Tofu) [$6.00]
Our second add-on was a dish of
aburaage
, or fried tofu. The texture on these was spot on perfect: light and airy on the inside, yet delightfully crisp on the outside. They showed off a very delicate tofu flavor that was superbly amped up by the inclusion of scallion and soy sauce. I also enjoyed the included miso-barley, and the dish was great with a dash of piquant
shichimi togarashi
as well.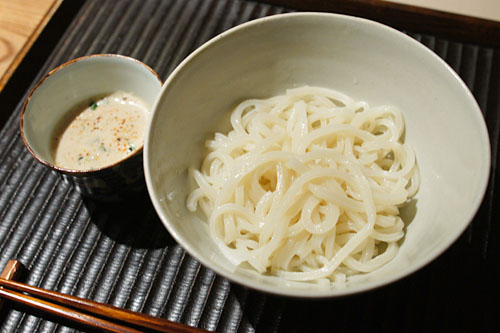 3: House-made Udon with Goma-dare
| Chayote, Shiso, Shichimi
Nishihara is well-known for his soba making skills, but it looks like he can whip up a mean udon as well. The noodles themselves were obviously subtle in savor, and possessed a delightfully supple, yet chewy consistency. The key, thus, was the wonderful
goma-dare
, basically a sesame seed dipping sauce kicked up a notch by the inclusion of
shichimi
. We were instructed to dip the noodles into the
goma-dare
, similar to how you'd eat soba. The combination of mild noodle and piquant sauce was superb.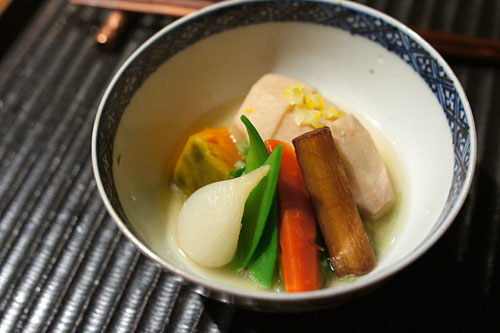 4: Slow Simmered Vegetables
| Satoimo, Carrot, Mizuna, Fried Tofu, Kabocha, Gobo
Sasaichi (Junmai)
Various vegetables were cooked separately for optimal doneness, then presented together as a medley, dressed in a light soy broth. I appreciated the restrained, vegetal bitterness at play here, as well as the unique characteristics of each ingredient. The taro (
satoimo
) was especially enjoyable.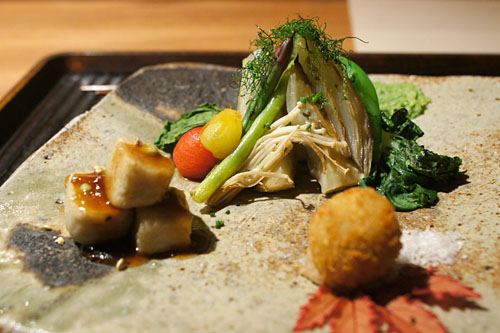 5a: Assortment of Grilled Vegetables with Smoked Soy Sauce
5b: Matsutake Mushroom Croquet
| Hibiscus Leaf
5c: Grilled Awa-Fu with Sweet Soy Sauce
| Buckwheat Seeds, Wasabi
Kokuryu (Ginjo)
For our "main" course, a mound of veggies was grilled to absolute perfection, their astringent, smoky flavors coming to the fore flawlessly. I particularly enjoyed the sweet succulence of the tomatoes. Grilled cubes of
fu
were paired with wasabi and sweet soy, and the two accoutrements worked beautifully in balancing out the comparatively monolithic essence of the wheat gluten. Perhaps the star of the show here, though, was that matsutake croquette, with its flawless texture and almost ethereal earthy mushroom flair. Everything was tasty, though I'm not sure if all the items needed to be presented together as one course.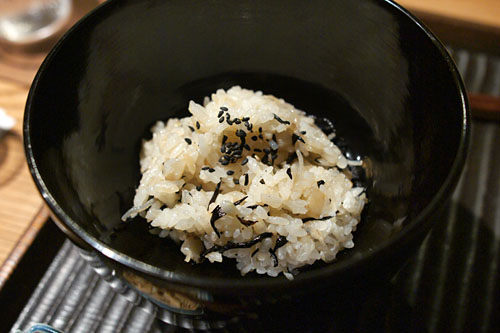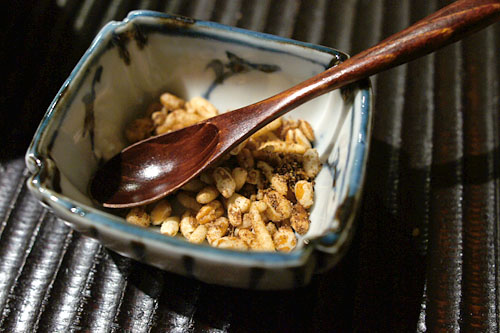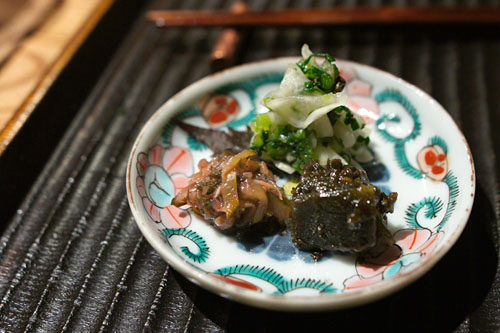 6a: Hijiki Rice with Black Sesame and Konnyaku
| Whole Grain Puffs, Soy Powder, Kuroshichimi
6b: House-made Pickles
Daishichi (Kimoto)
The
gohan
course brought us a sticky, satisfying bowl of rice, topped with
hijiki
seaweed,
kurogoma
black sesame, and puffed rice. There were great umami flavors here that were deftly tempered by the rice, and I loved the crunch of the rice puffs as well. The pickles, meanwhile, added further layers of complexity with their tart, tangy tastes.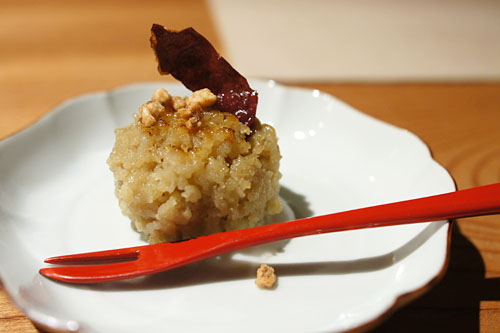 7: Sweet Potato Kinton with Coconut Tofu Cream
| Walnuts, Macadamia nuts
A type of
wagashi
(traditional Japanese confectionery), a
kinton
is a classic treat typically made with chestnut and sweet potato. Nishihara's version, though, utilized macadamia and walnut, and the result was fantastic. I loved the sweet potato base of the dessert, and how it paired with the sugariness of the coconut and the earthy relish of the nuts. Lovely textures, too.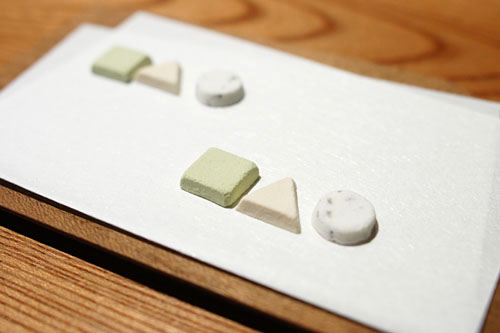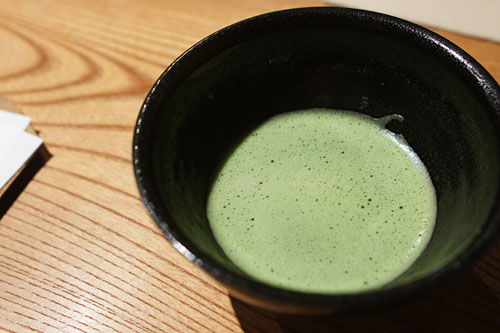 8: Matcha with Candies by Kyoto Kagizen-yoshifusa
We ended with the meal with "mignardises" (flavors of green tea, plain, shiso) from legendary Kyoto dessert shop Kagizen Yoshifusa. The ephemeral sweetness of the candies was well matched by the astringency of the matcha, which Nishihara prepares for you by hand at the end of the meal, à la
Urasawa
.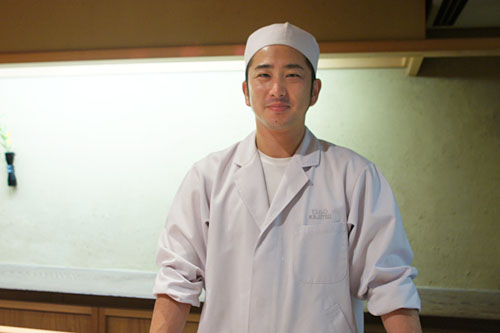 Chef Masato Nishihara, quite youthful in appearance.
All in all, a very enjoyable, and somewhat eye-opening meal. This, along with
Ubuntu
, represents the most memorable vegetarian/vegan cooking that I've experienced. The attention to detail, the care used to prepare the food was second to none, and I didn't miss the meat at all. Flavors were undeniably clean and focused, subtle and refined in their presentation. The food was anything but in-your-face, perfect for quiet contemplation and making for an experience that had a little magic to it.