Joe's Restaurant (Los Angeles, CA) [3]
Joe's Restaurant
1023 Abbot Kinney Blvd, Venice, CA 90291
310.399.5811
www.joesrestaurant.com
Thu 09/15/2011, 07:00p-11:00p

In the notoriously fickle world of restaurants, 20 years is a long time, and thus it's quite an accomplishment that Joe's in Venice has lasted two decades. Indeed, Joe's could be viewed as the O.G. A.K. eatery, the precursor to the
Gjelinas
and
Tasting Kitchens
that now line the famed thoroughfare. An Ohio native, Joseph Miller opened his eponymous restaurant in September 1991, after graduating from the Culinary Institute of America at Hyde Park and making his way across a number of LA's top places at the time: La Toque,
Patina
, L'Orangerie, and most importantly, Café Katsu. His goal was to create an accessible Cal-French eatery, and in that regard, Joe's has been a resounding success.
The restaurant has also served as an incubator of talent of sorts, having helped launched the careers of LA chefs Michael Bryant (Courtyard Brasserie at Palihouse), Josef Centeno (
Lazy Ox Canteen
), Josiah Citrin (
Mélisse
), Joshua Gil (Supper Liberation Front), Mark Gold (Eva), Rory Herrmann (
Bouchon
), Andrew Kirschner (Tar & Roses), Raphael Lunetta (JiRaffe), and Jason Travi (ex-
Fraîche
). The current top toque is Chef de Cuisine Kris Tominaga, who came to Joe's from the legendary L'Espalier in Boston. He's joined by his Sous Chef Greg Zanotti, as well as Pastry Chefs Courtney Reed and Glenn Lara.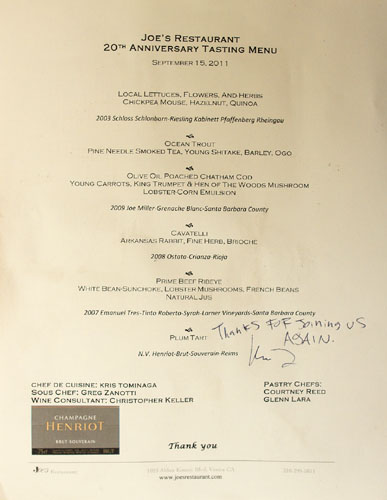 In lieu of the standard menu, we were provided a special six-course 20th Anniversary Tasting Menu, replete with beverage pairings from Wine Consultant Christopher Keller. Click for larger versions.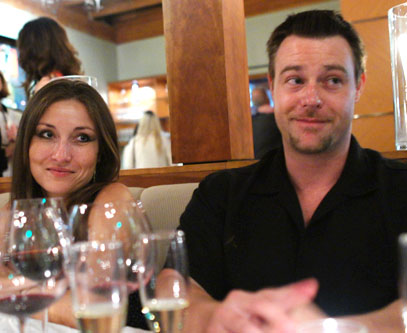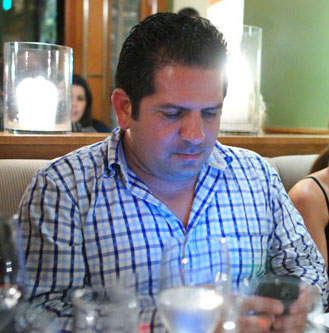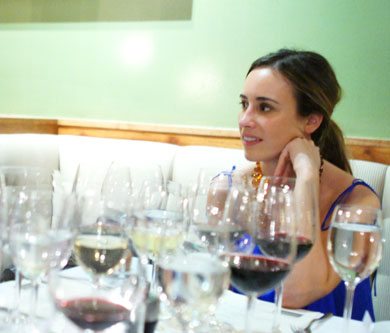 In addition to all the friends and family present, I was also joined by Carole Dixon from
NBC's The Feast
, Jenn Garbee from
LA Weekly's Squid Ink
, Hadley Tomicki from
Grubstreet
, Bill Esparza of
Street Gourmet LA
, Kat Odell and Yolanda Evans from
Eater LA
, Esther Tseng of
e*star LA
, Mika Takeuchi of
Food Fashionista
, and Daniel Djang of
Thirsty in LA
.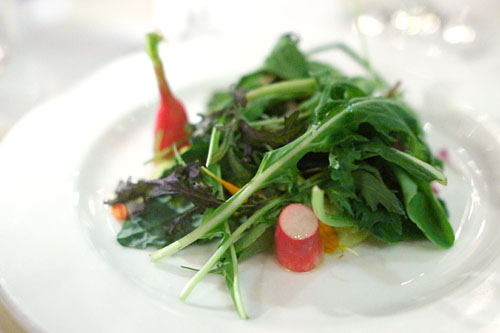 1: Local Lettuces, Flowers, and Herbs
| Chickpea Mousse, Hazelnut, Quinoa
2003 Schloss Schlonborn-Riesling Kabinett Pfaffenberg Rheingau
Our first course was definitely a case of a dish tasting better than it looked. I liked the creamy weight imparted by the chickpea paste here, and how that played off the tangy, astringent greens, while the quinoa and hazelnut added a delightful crunch to the mix.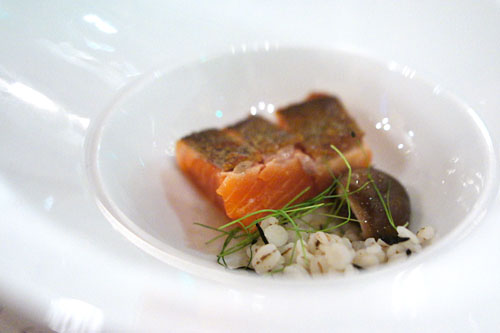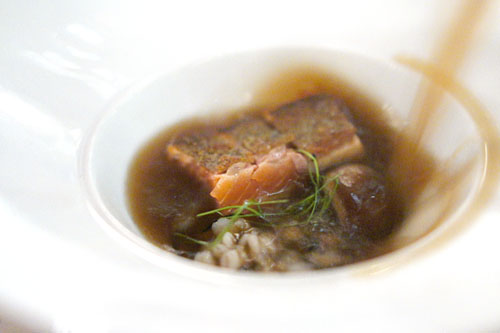 2: Ocean Trout
| Pine Needle Smoked Tea, Young Shiitake, Barley, Ogo
2009 Joe Miller-Grenache Blanc-Santa Barbara County
Ocean trout was absolutely superb, fantastically creamy and supple in consistency, with a wonderfully savory crisp skin and bursting with smoky brine. The fish was deftly augmented by the smoked tea and umami-laced shiitake, while the barley served to temper the dish. My favorite course of the meal.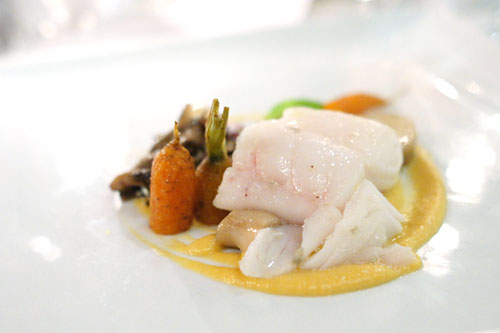 3: Olive Oil Poached Chatham Cod
| Young Carrots, King Trumpet & Hen of the Woods Mushroom, Lobster-Corn Emulsion
2009 Joe Miller-Grenache Blanc-Santa Barbara County
Cod was unbelievably tender, breaking apart at the slightest touch. The fish was fairly mild in savor, and thus was adroitly amped up by the earthy mushrooms, while the carrots added a bright crispness to the fray. The lobster-corn emulsion, meanwhile, served to tie everything together, though I wanted a tad less sweetness in it.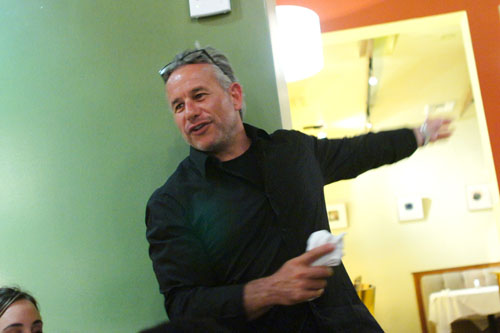 Taking advantage of a brief respite before the rabbit course, chefs Hans Rockenwagner and Raphael Lunetta took the opportunity to say a few words about Chef Miller. Interestingly, Rockenwagner was also a fixture on Abbot Kinney in the early years and used to own the building next door, which he later sold to Miller to aid in the restaurant's expansion. Other chefs present this evening included
Josiah Citrin
, Josh Gil, and
Walter Manzke
.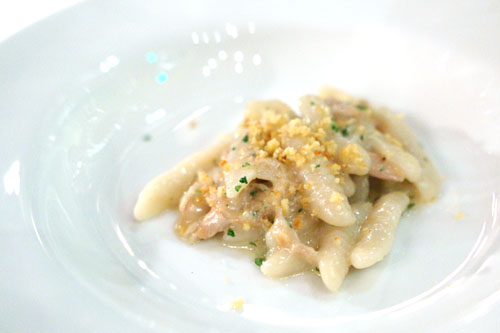 4: Cavatelli
| Arkansas Rabbit, Fines Herbes, Brioche
2008 Ostata-Crianza-Rioja
A straightforward but satisfying pasta course was up next. Cavatelli showed off a pleasing consistency, and served as a fitting base for the rich, heady flavor of the rabbit. The herbs, meanwhile, contributed some levity to things, and the brioche breadcrumbs added a slight overarching crunchiness that helped break up some of the textural uniformity.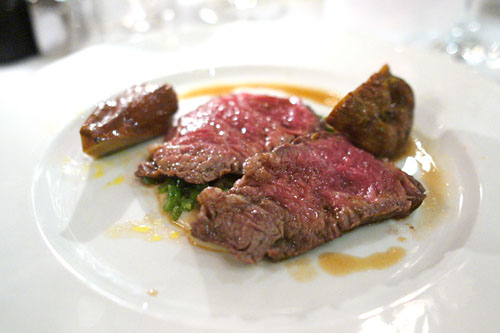 5: Prime Beef Ribeye
| White Bean-Sunchoke, Lobster Mushrooms, French Beans, Natural Jus
2007 Emanuel Tres-Tinto Roberto-Syrah-Larner Vineyards-Santa Barbara County
Our final savory course brought us a cut of rib eye. My concern here was that the meat was sliced too thin, resulting in a texture and consistency that was a bit off. Taste-wise though, things were on point, with the steak showing off a prototypical bovine relish that was nicely augmented by a sharp salinity from the lobster mushrooms.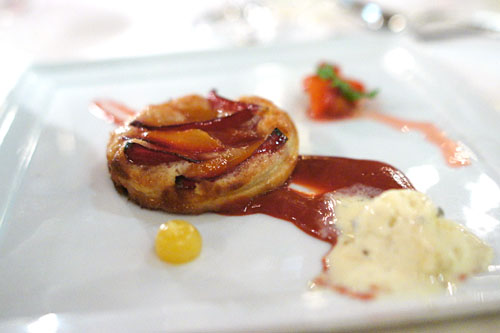 6: Plum Tart
N.V. Henriot-Brut-Souverain-Reims
A plum tart closed out the meal, conveying a keen mix of sweet, fruity flavors that went beautifully with a slight pepperiness in the dessert.
To continue the anniversary celebration, Chef Miller announced his plans to have 12 guest chefs cook at the restaurant each month over the next year or so. Starting in November, a different chef (many of which have cooked at Joe's) will prepare a multi-course dinner, with part of proceeds going toward a new charity each time. Here's the roster so far: November is
Walter Manzke
; December welcomes
Josiah Citrin
; January brings us
Trey Foshee
; February features
Jason Knibb
; March presents
Andrew Kirschner
; April highlights
Dan Barber
; and May salutes
Mark Gold
.