n/naka (Los Angeles, CA) [2]
n/naka "Foie Gras Menu"
3455 Overland Ave, Los Angeles, CA 90034
310.836.6252
www.n-naka.com
Tue 06/26/2012, 09:25p-12:30a

With the impending foie gras ban looming upon us, dinners featuring the luxurious but controversial ingredient have begun popping up left and right. Hell, I'd even gone to a couple myself at
The Royce
and
Melisse
. However, as far as I know, n/naka is the first Japanese eatery to attempt such a feat, which isn't too surprising given that foie doesn't play a huge part in Asian culinary tradition. I was quite smitten by Chef Niki Nakayama's precise, nuanced cooking during my
last visit
to her Culver City-adjacent restaurant, so I was eager to see how she would fold the liver into her eminently seasonal,
kaiseki
-inspired aesthetic.

Inside, things haven't changed much at all since last time (though the wine cellar is now brimming); the space is still subdued, tranquil, just about the perfect environment to enjoy the subtleties of Nakayama's cooking.
As for the menu, n/naka usually presents a nine-course Chef's Tasting at $110 plus $55 for wine, as well as a Vegetarian Tasting for the same cost. Diners may also step up to the Modern Kaiseki at $165 plus $85, and our special foie gras menu was basically a variation of that menu: a 12-courser ringing in at $180, with an additional $85 for some superb beverage pairings by new Sommelier Jeffery Stivers (
Saddle Peak Lodge
, Crustacean,
Melisse
,
Patina
).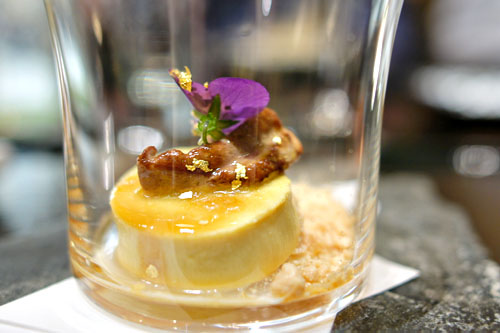 1: Saki Zuke (A pairing of something common and something unique)
| Custard of Organic Farm-fresh Jidori Chicken Egg and Hudson Valley Foie Gras topped with Seared Foie Gras on a Bed of Shredded Foie Gras, a Sauce of Balsamic Foie Gras Jus and a Flower of Pansy, Gold Leaf
French Sparkling Wine, Domaine Rossier "Cuvee Jean Philippe", Blanquette de Limoux, France 2010
We began with a case of
4 foies 1 cup
, with the ingredient presented in four different ways. What struck me first was the temperature contrast between the seared liver and the cool, creamy custard. I also appreciated how the smoky, umami-laden foie was accented by the sweet, spicy smack of the balsamic, and how the egg served to temper the sheer heft of the dish. A promising start to the meal.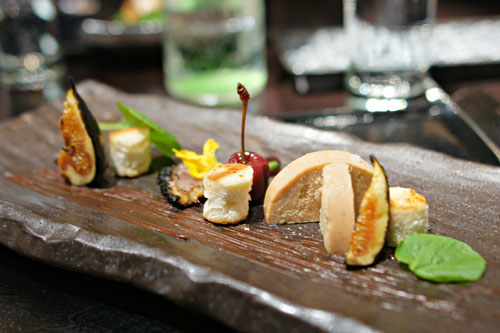 2: Zensai (Main seasonal ingredient presented as an appetizer)
| Torchon of Hudson Valley Foie Gras served with Seared Unagi (Freshwater Eel), Cylinders of Brioche, Brûléed Black Mission Figs, Roasted Bing Cherries, a Sweep of Bittersweet Chocolate and a Sauce of Cabernet Sauvignon and Bing Cherries and Gelée of Sanbaizu, Leaf of Cress
Late Harvest Sauvignon Blanc/Semillon, Maldonado Family Vineyards, Napa, CA 2010
Next up was a perfectly on point presentation of foie gras torchon, classic in essence, and excellent when taken with the sweetish cylinders of brioche. An accoutrement of fruit--figs and cherries--fortunately did not render the dish overly saccharine, but instead formed a fitting foil to the earthy relish of the liver, as did the zing of the cress and vinegar-y
sanbaizu
. The most surprising thing here, though, was the roasted eel, which had a deft combination of sweet and savory flavors that actually melded well with the foie. What I liked about the course was that you didn't have to get everything in one bite necessarily; rather, all the various combinations just made sense in isolation.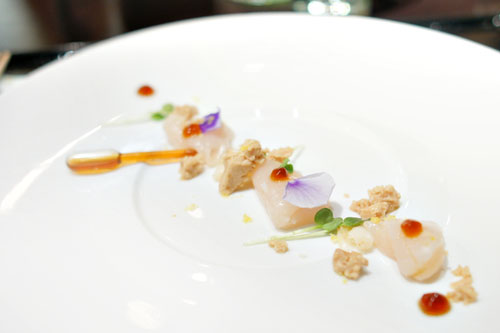 3: Modern Zukuri (A modern interpretation of sashimi)
| Hokkaido Diver Scallop with Hudson Valley Foie Gras Crumbles, Shaved Zest of Fresh Yuzu, garnished with leaves of Baby Red-veined Sorrel from Niki's Garden and Sprouts of Daikon and Drops of Ponzu Reduction
Pinot Blanc, Dopff and Irion, Alsace, France 2007
Sashimi of Hokkaido
hotategai
was presented in glorious fashion, with the scallops arriving remarkably fresh, supple, and delicate, delicious alone, yet beautifully accompanied by the sour bits of yuzu and the piquant taste of ponzu (
en pipette
). Those classically Japanese accompaniments worked flawlessly, but the key here was that foie gras, which added a wonderful heft to the scallop without overwhelming it. A masterful use of the liver as an accent piece.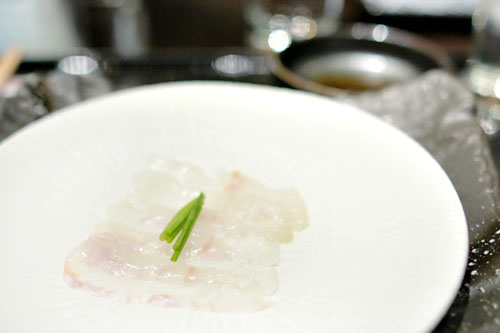 4: Otsukuri (Traditional Sashimi)
| Live Hirame (Halibut) from Jeju, Korea, thinly sliced with Chive and a Sauce of Foie Gras Ponzu
Shichida Junmai Ginjo, Tenzen Brewery, Saga, Japan
Delicate, translucent slices of
hirame
were as expected: light, mild, fresh, with a subtle bite and snap. The crux of the dish, thus, was the accompanying bowl of foie gras-infused ponzu, which might've been the best rendition of the sauce that I've ever had. Its combination of earthy, liver-y essence and tart, citric zest was pretty amazing, adding an incredible depth to the fish that, when eaten in concert with the chive, made for some just perfect bites. Humorously, at the conclusion of the course, we all eagerly supped up the remaining liquid!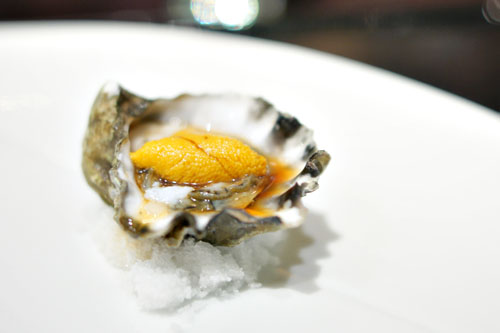 5: Palate Cleanser
| On the Half Shell, Kumamoto Oyster with Fresh Uni (Sea Urchin) from Santa Barbara with Ponzu
Serving as an intermezzo of sorts was a singular Kumamoto, unabashedly salty and tasting of the ocean, to which a dollop of uni provided a perfectly sweet, luscious counter. Ponzu, meanwhile, offered up an overarching, integrating tanginess to the course, which finished long and lingering with the briny bite of the oyster.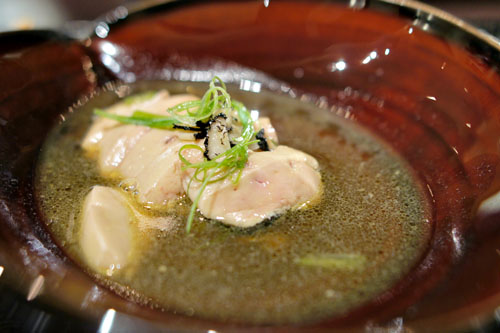 6: Mushimono (Steamed dish)
| Black Abalone from Monterey and Hudson Valley Foie Gras poached in Dashi and served with the Poaching Liquid and Scallions
Kerner Valle Isarco, Abbazia di Novacello, Alto Adige, Italy 2010
Nakayama's
mushimono
was obviously another highlight of the meal. The liver itself was poached to a wonderfully soft, silken, melt-in-your-mouth consistency, with a remarkably delicate, subtle foie gras flavor that worked gorgeously with the hearty, heady, umami-laden broth, tinged with just a touch of scallion tang. To that, shards of truffle added an earthy, enveloping veil, punctuating the foie keenly, while perfectly-cooked slices of
awabi
provided an almost unbelievably satisfying texture contrast. An expertly crafted course, with an
Urasawa
level of luxury and finesse.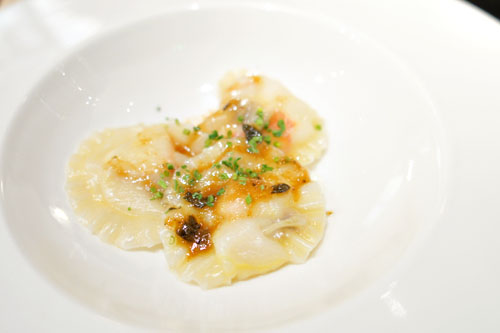 7: Shiizakana (Not bound by tradition, the Chef's choice dish)
| Ravioli stuffed with Diver Scallops from Hokkaido, Japan, Maine Lobster Tail and Hudson Valley Foie Gras with a Sauce of Yuzu Brown Butter Sage
Greco di Tufo, Villa Mathilde, Campania, Italy 2010
The Chef is somewhat known for her pasta courses, and here she presented a commendable version of ravioli. I really appreciated the snap and crunch of the still slightly rare lobster, which I found sweet and saline in flavor, and deftly accented by the sour pricks of yuzu, all while brown butter and sage added a certain gravity to the dish.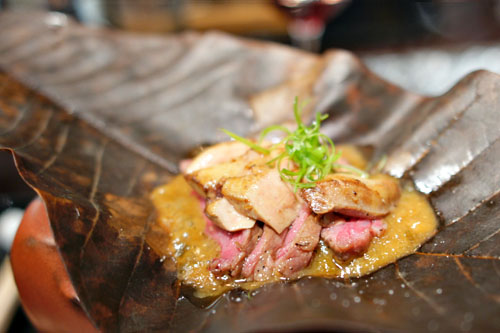 8: Niku (Meat Course)
| Beef Houbayaki - American Wagyu Beef Ribeye Steak topped with Seared Hudson Valley Foie Gras, Scallions on a Sauce of Sweet Red Miso, on a Magnolia Leaf that sits on top of Charcoal
Pinot Noir, Au Bon Climat "La Bauge Au Dessus", Santa Maria Valley, CA 2007
Houbayaki
is a method of grilling meat on top of a magnolia leaf, and is a dish that I'd only had previously at
Urasawa
. The version here was arguably better. The beef itself I found immensely tender, fatty, and flavorful, with a delectable smokiness. I was skeptical at first about the
akamiso
, fearing that it'd overpower the meat, but it actually imparted a rather enjoyable sweetness to the steak. The foie was also spot on, with a fantastically firm, yet yielding consistency and a forceful, yet subdued taste that went swimmingly against its topping of scallion.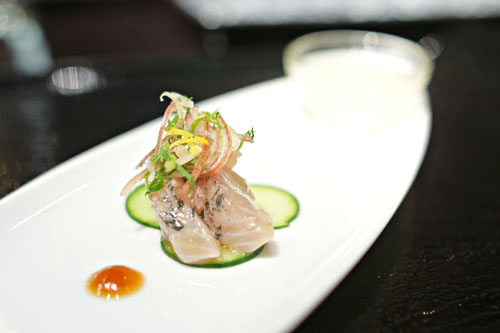 9: Sunomono (Vinegared Salad)
| Wild Aji (Spanish Mackerel) with Baby Cucumber, Myoga, Shiso, and Ponzu Reduction, served with Yuzu Omoi
Two cuts of wild mackerel were just what I wanted: fishy, but in a good way, with a lovely bit of chew. To that, a mixture of vegetables added a light, bright, refreshing zestiness that worked as a remarkable counter to the fish. Delish.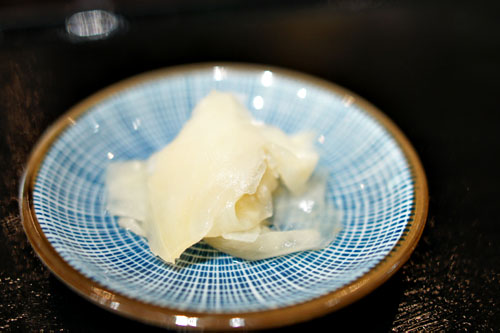 When the
gari
(excellent here) comes out, you can bet that sushi follows.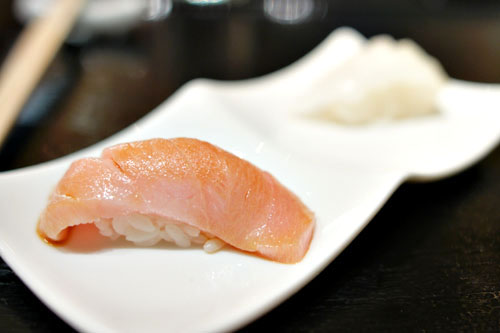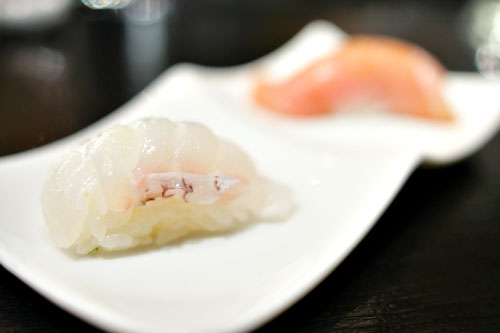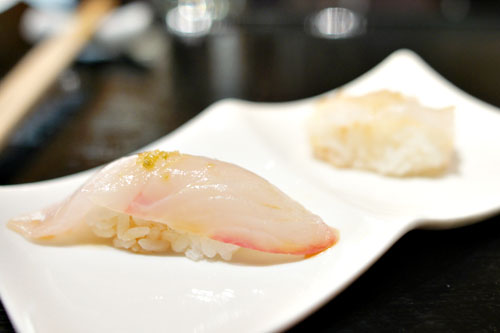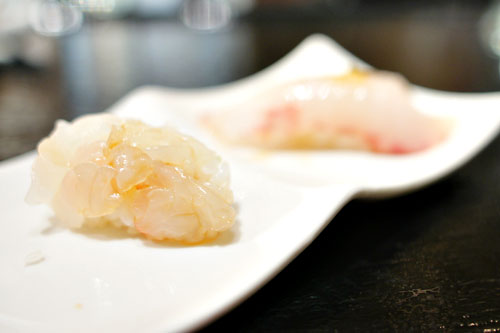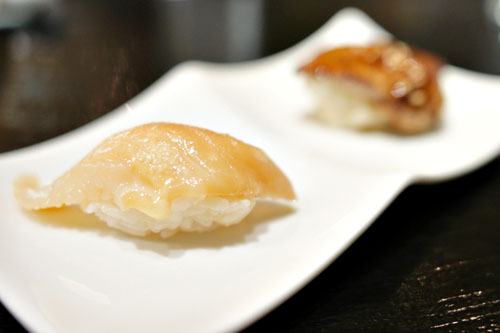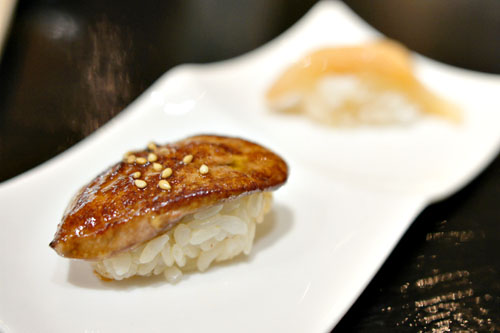 10: Shokuji One (Rice Dish - Sushi)
| Tai (Japanese Snapper), Chu-toro of Big Eye Tuna, Shima Aji (Striped Jack), Amaebi (Sweet Shrimp), Aoyagi (Surf Clam), Seared Hudson Valley Foie Gras topped with a Balsamic Foie Gras Jus Reduction
Shichida Yamahai Karakuchi Junmai, Tenzen Brewery, Saga, Japan
And here we were able to enjoy our sushi sextet. I began with the toro, and it was excellent, a quintessential expression of the lush, oily, fatty fish. The red snapper--so fresh, so clean--was also delightful. What was even better, though, was that shima aji, which had a topping of
yuzukosho
that I loved. Sweet shrimp, meanwhile, showed off an absolutely lovely texture, and its taste was prototypically sweet and briny, though not nearly as much as the surf clam. Finishing things off was a mouthwatering foie gras sushi, which conveyed an almost unagi-like sweetness that was utterly balanced by the
shari
.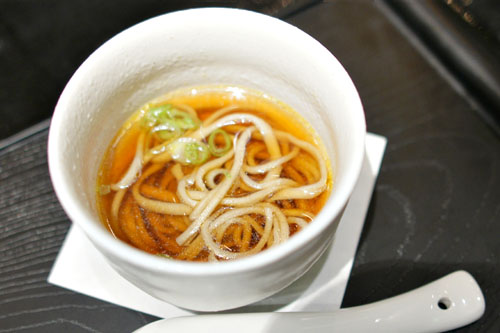 11: Shokuji Two (Rice Dish - Soba)
| Buckwheat Noodles in Traditional Soba Broth with Scallions and Jus of Foie Gras
Soba noodles were simple yet profound, with a great
al dente
bite and wonderfully accented by the savory depth of the umami-rich broth, amped up by the heady essence of foie gras. I wanted a bigger bowl!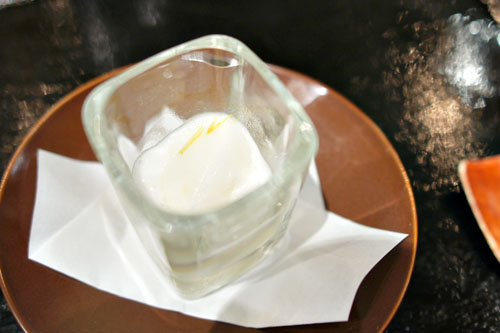 12: Palate Cleanser
| Sorbet of Lemon, Lemon Zest
A palate cleanser of lemon sorbet and lemon zest was just what you'd expect: a bracing, citric jolt to the palate--very fitting given the weight of all the preceding courses.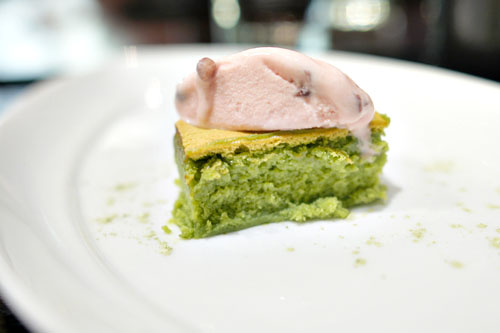 12: Mizumono (Seasonal Dessert)
| Flourless White Chocolate and Green Tea Cake with Red Azuki Bean Ice Cream; Hojicha tea
Muscat de Beaumes de Venise, Delas, Rhone Valley, France 2010
Finally, we had dessert, which underscored the astringency of green tea, playing it against the lip smacking sugariness of red azuki bean. It was a classic combo of bitter and sweet flavors, one that left me wanting more.
This was an impressive showing, without a doubt the strongest foie gras-centric dinner that I've had to date. Nakayama did a wonderful job in displaying the various facets of foie, with the ingredient performing flawlessly as the star of the show, as well as a supporting player on the plate. There was tremendous restraint and balance in the food, making for an undeniably cohesive, coherent meal, with constant ebb and flows and a palpable complexity. I've been following Chef Nakayama for a while now, and it's fantastic to see how her cuisine has progressed over time, becoming now much more confident, self-assured, and of course,
delicious
. It's cooking that warrants another visit to try the regular
kaiseki
menu.