Lotus of Siam (Las Vegas, NV)
Lotus of Siam Restaurant
953 E Sahara Ave, Las Vegas, NV 89109
702.735.3033
www.lotusofsiamlv.com or www.saipinchutima.com
Thu 09/20/2012, 11:30a-01:10p

To kick off this latest Las Vegas food trip, we headed over to the legendary Lotus of Siam, arguably the best Thai restaurant in the country, located in arguably the saddest looking strip mall in the country (having Adult Day Care next door doesn't add to the appeal). Lotus is helmed by Chef Saipin Chutima, while her husband Suchay "Bill" Chutima runs the business side of things, and has made quite a name for itself for the quality and authenticity of the cooking within, especially with regard to the restaurant's specialty of Northern Thai dishes.
A bit of history
: Growing up in Chiang Mai as a child, Chef Saipin initially wanted to work in cosmetology, but was forcefully thrust into the world of cooking at the age of five by her grandmother Tha, one of the best cooks in her village. This apprenticeship went on until Tha had to retire, but by that point, Saipin had already fallen in love with the craft. At age 14, she was taken under the wing of Suchay's grandmother Anocha and his mother Pensi, both of whom were also respected cooks. Three years later, Saipin met Suchay, who happened to be hanging around in the kitchen at the time, and instantly developed a fondness for him.
Suchay's father Chatchuwan was an important figure in the finance world at the time, and hosted people from all over the globe in Chiang Mai. As such, the young Suchay was introduced to the cooking of some of Thailand's best kitchens, and became enamored with the restaurant business. He went on to attend Payap College, graduating at age 20 with a bachelor's degree in personnel administration, then went on to work with his father. After a few years, he yearned to branch out on his own, and thus applied to Columbia University in 1979, with a goal of attaining an MBA. Upon being accepted, Suchay moved to the US and began learning English, but soon thereafter, he was informed by the INS that he was in the country illegally. His dreams were shattered, and he was forced to take odd jobs to scrape by, moving to California in 1981 before finally receiving his green card in the early 1990's.
In 1987, following Anocha's passing, Saipin and Suchay were married, and the new couple took up residence in Southern California; note that the two had not seen each other for seven years by that point. Their first daughter, Pennapa "Penny" Chutima, was born soon after (she helps run the FOH, and has also dabbled in modeling/acting). In November 1994, Saipin and Suchay's dream of opening a restaurant was realized when they took over Renu Nakorn in Norwalk (originally opened by Luxkana Sreewarom back in 1985), firmly establishing the place as one of the premier Thai eateries in all of SoCal. In 1999, sensing more opportunity in the desert, the Chutimas sold the business to their friends Pharchumporn Shonkeaw and Umpa Sripetwannadee (who are still going strong there today) and used the proceeds to purchase Lotus of Siam in Las Vegas (which had actually been around since 1986). Saipin's acclaim increased ever more in Sin City, with Jonathan Gold famously deeming Lotus the best Thai restaurant in the country in his piece for
Gourmet
magazine. They then celebrated the birth of their second daughter Sabrina Chutima, and in 2008, Saipin was nominated by James Beard for their "Best Chef: Southwest" award, an honor that would be repeated in 2010 (with the win finally coming in 2011).
Also in 2010, the Chutimas partnered with former Wall Street options trader-turned-wine enthusiast-
cum
-restarateur-slash-world class bridge player (yes, all of those dashes) Roy Welland to bring Lotus of Siam to New York. The joint venture debuted in November, housed in the space that once held Welland's restaurants Cru and Washington Park. It was met with mixed reviews, with many criticizing the outpost for its higher prices, shortened menu, and less robust flavors. As such, Saipin and Suchay pulled out of the partnership in January 2011 after only two months. The restaurant was then rechristened merely "Lotus," but ended up shuttering this past May.

Inside, the restaurant is divided into two distinct spaces: an older area surrounding the buffet, and a larger, more contemporary room replete with bar and wine cellar (pictured above).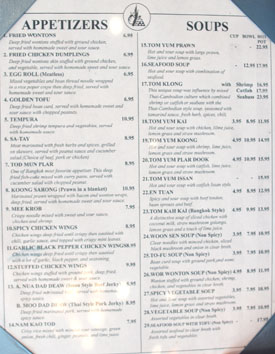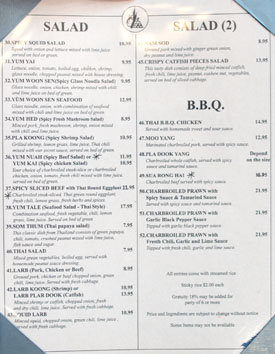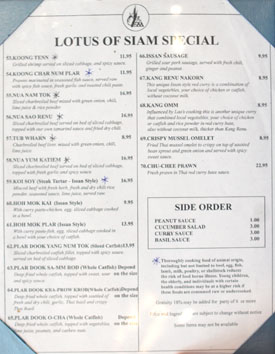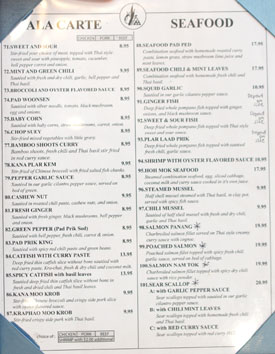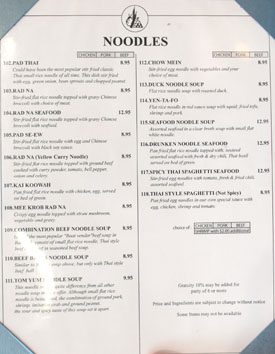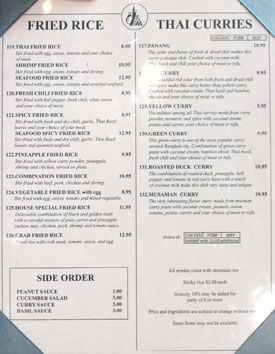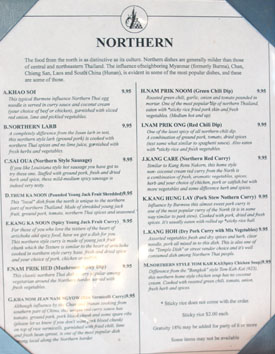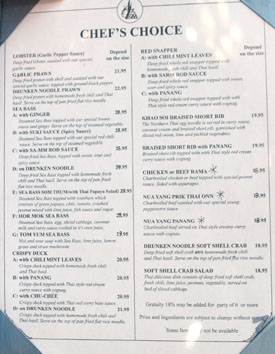 Lotus of Siam's menu is vast, featuring well over 100 dishes to choose from. The key, thus, is knowing which to order, and which to avoid (e.g. why on Earth would you order the chop suey?). All your favorites are here, but you'd be missing out if you just stuck with pad Thai and fried rice, as the real action lies with the more unique items hailing from the northern (and northeastern) parts of the country. Note that the restaurant also offers a lunch buffet, but I'd definitely skip that and go à la carte. Also worthy of mention is Lotus' wine list, assembled by former Sommelier Bank Atcharawan (who left recently to open his own place,
Chada
), which is probably the best of any Thai eatery in the world (I mean, how many offer multiple bottles of DRC?). It features the lengthiest selection of Riesling that I've seen from
any
type of restaurant, and is also a
Wine Spectator
Best of Award of Excellence winner. Click for larger versions.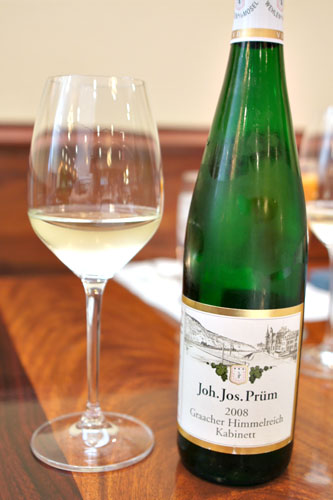 Given the depth and breadth of Lotus' wine list, we'd be remiss if we didn't try some Riesling, the first of which was the
JJ Prum Graacher Himmelreich Kabinett, Mosel 2008 [$35]
. It was pretty wonderful, everything that I love about a Kabinett: sweet, yet vivacious and acidic, with juicy floral and stone fruit notes, accented by a touch of petrol character. Light, bright, and refreshing--a joy to drink.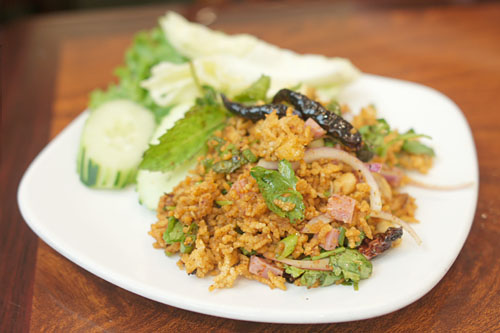 Nam Kao Tod [$7.95]
| Crispy rice mixed with minced sour sausage, green onion, fresh chili, ginger, peanuts, and lime juice.
We began with a Laotian-inspired item that's one of the most oft recommended at the restaurant. The
nam kao tod
is basically a dish of toasted rice mixed in with a bevy of other ingredients, the
sai krok isaan
being particularly notable. It was delicious, probably my favorite item of the meal, with a mouth-watering mix of sour and spicy flavors perfectly moderated by the crisp bits of rice, onion, and herbs, all while the lettuce added a crunchy counterpoint to the course. Overall, a beautifully integrated dish--a must try.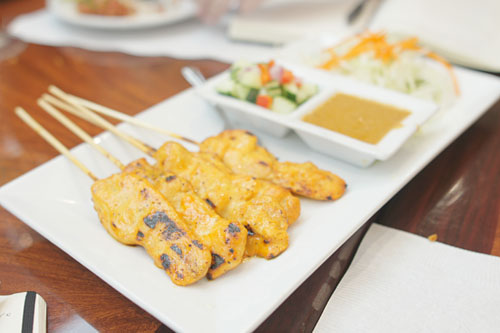 Sa-Tay [$8.95]
| Meat marinated with fresh herbs and spices, grilled on skewers, served with peanut sauce and cucumber salad. (Choice of beef, pork or chicken)
Outside of pad Thai, satay is undoubtedly the most ubiquitous of Thai dishes. I'm usually not terribly excited about the item (one of my dining companions ordered it), but the version here was on point: tender and succulent, with a subtle sweetness balanced by a touch of bitter char. It was definitely one of the strongest preparations that I've had, and I even appreciated the accompanying peanut sauce, as well as the tangy cucumbers in particular.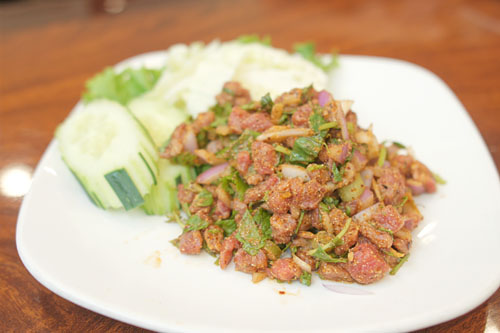 Koi Soy (Steak Tartar - Issan Style) [$16.95]
| Minced beef with fresh herb, fresh and dry chili rice powder, seasoned sauce, lime juice, served raw.
Next up was what amounted to a Thai steak tartare, featuring supple, yet springy cuts of beef, deftly accented by a dash of spice and balanced by a delightful herbaceousness. The rice powder was a nice touch, too, providing a complexity and moderating element to things.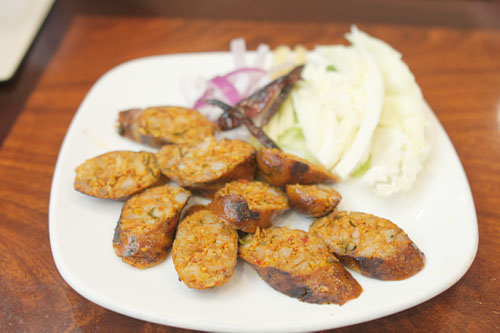 Sai Oua (Northern Style Sausage) [$9.95]
| If you like Louisiana style hot sausage you have got to try these one. Stuffed with ground pork, fresh and dried herb and spice, these mild-medium spicy sausage is indeed very testy.
I'm quite the tubed meat fiend, so Lotus' presentation of the Chiang Mai varietal was definitely a must-order. It was everything that I expected and wanted: gritty in consistency, with intense, heady, pork-y flavors counterbalanced by a lovely herbaceous flair and imbued with a creeping bit of spice. Delectable alone, and even better when eaten with the paired lettuce, ginger, and onion.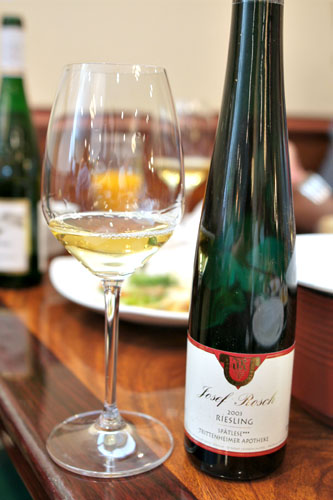 Our next wine was something with a bit more age: the
Josef Rosch Trittenheimer Apotheke 2003 [$40]
. This was a much more intense tipple, with a more viscous body and sweeter, honeyed essence, along with greater depth and gravity. If anything, I would've liked a touch more countervailing acidity.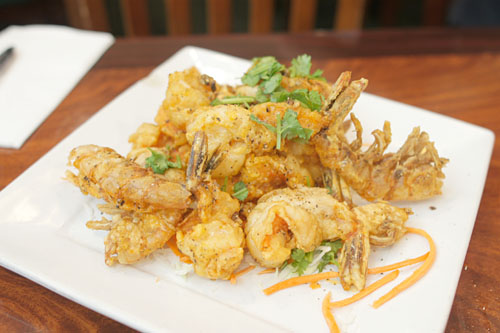 Garlic Prawn [$21.95]
| Deep fried prawn with shell and sautéed with our special garlic sauce, topped with ground black pepper.
Prawns were tasty, wonderfully crisp and loaded with a great touch of brine that really conveyed the true essence of the crustacean. I also appreciated the pepper and garlic notes present, but I would've liked the prawns a touch less cooked.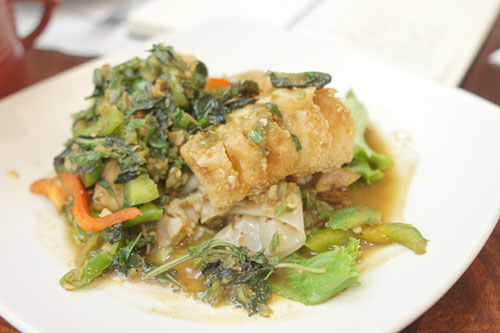 Sea Bass with Drunken Noodle [$29.95]
| Deep fried Sea Bass topped with homemade fresh chili and Thai basil. Serve on the top of pan fried flat rice noodle.
Here was basically what amounted to
pad kee mao
topped with fried sea bass. The fish itself was on point, crispy on the outside, yet with a tender, tasty interior that really put the bass on center stage. The Chinese-influenced noodles were enjoyable as well, with a wonderfully aromatic basil component and lingering spice that paired admirably with the fish.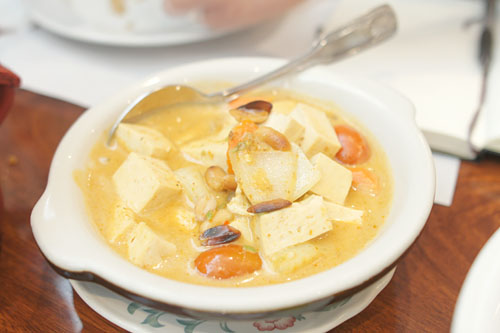 Musaman Curry [$10.95]
| The very interesting flavor curry made from musman curry paste with coconut cream, peanuts, onion, tomato, potato, carrot and your choice of meat or tofu.
Lotus' Massaman curry was a solid version of the dish, with a complex, multifaceted flavor profile--redolent of coconut--that worked surprisingly well with the tofu. I especially appreciated the hearty chunks of potato present.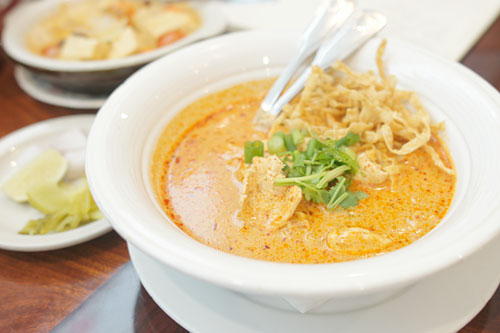 Khao Soi [$9.95]
| This typical Burmese influence Northern Thai egg noodle is served in curry sauce and coconut cream (your choice of beef or chicken), garnished with sliced red onion, lime and pickled vegetables.
The
khao soi
was another great dish, and a must-try if you're in the mood for noodles. I loved the sweet-spicy base to the dish, which melded beautifully with the snappy, fettucine-like noodles. Perhaps my favorite element here, though, was the use of pickles, which provided a perfect crunch and tartness to the course. I will say, though, that the chicken here wasn't really necessary; the dish easily stood alone
sans
meat.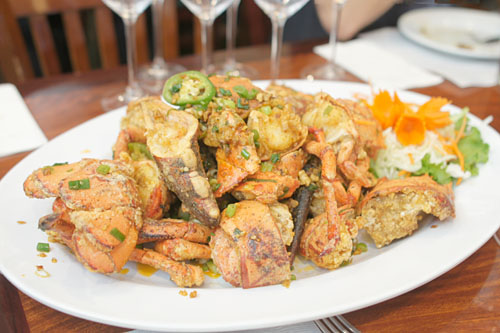 Lobster (Garlic Pepper Sauce) [$135.00/MP]
| Deep fried lobster, sautéed with our special garlic sauce.
Clearly, our
pièce de résistance
of the meal was this massive five-pound lobster, probably the largest specimen that I'd ever eaten. It sort of reminded me of a Chinese-style preparation, with a rich, deep, garlicky character tarted up by the inclusion of scallion. However, the flesh of the lobster was a bit too tough in places, a result of the sheer size of the crustacean I'm sure, and not all the flavor really permeated the meat.
A lot of people claim that Lotus of Siam is the best Thai restaurant in the country. Now, I'm not confident enough to make that declaration, but I can say that I can see where they're coming from. There was some really good cooking going on here; for the most part, the food was eminently balanced, complex, vibrant, unique, and perhaps most importantly, delicious. It's the type of place that I'd really love to have back in SoCal, but I guess I'll have to "settle" for Renu Nakorn. However, what I will say is that you really have to know what to order. I would definitely focus on the Northern or Isan fare, and forego the rookie mistake of ordering the typical stuff unless you
really
want to have you pad Thai--it'll make for a better meal.