Campanile (Los Angeles, CA)
Campanile Restaurant
624 S La Brea Ave, Los Angeles, CA 90036
323.938.1447
www.campanilerestaurant.com
Mon 10/29/2012, 07:30p-10:05p

If we're talking about old-line eateries in Los Angeles, it's no doubt that Mark Peel's Campanile would be one that comes to mind immediately. Since opening in 1989, the restaurant has become a sort of training ground to a generation of LA chefs and a second home to countless diners. As such, I think we were all surprised to hear in September that the place was closing down after 23 years of business, the victim of an expiring lease. Many are bemoaning the loss of Campanile, though just as seemingly many are indifferent, pointing out that the restaurant's faded in recent years, especially with the departure of Nancy Silverton. No matter which side you're on, it's clear that Campanile stands as one of LA's most iconic restaurants, and thus a visit was absolutely necessary before the place left us for good.
About the Chef
: A California native, Chef Peel was raised throughout various parts of the Golden State, and got his first restaurant job in high school, washing dishes at a place in the small town of Healdsburg in Sonoma Valley (known these days mostly for being the former home of the acclaimed
Cyrus
). He eventually transitioned into a cooking position there, and by the time he graduated, had worked at a number of local eateries. Peel attended the University of California at Santa Barbara, studying history, but soon left and enrolled in the hotel and restaurant management program at the California State Polytechnic University at Pomona. During his tenure there, he landed a job peeling vegetables at Wolfgang Puck's legendary Ma Maison (where Wolf first made a name for himself in the 70's), and, as part of the training there, was sent to France to
stage
at two Michelin three-star places: the longstanding La Tour d'Argent, as well as Roger Vergé's Le Moulin de Mougins (where Daniel Boulud worked early on).
In 1979, Peel became a Sous Chef at Michael McCarty's seminal Michael's in Santa Monica. Though he was married at the time, it was here where he would meet future wife Nancy Silverton, who started as a cashier before moving to pastry. Following, Peel cooked for a year at Alice Waters'
Chez Panisse
in Berkeley, and, in 1982, became the opening chef for Wolfgang Puck's groundbreaking
Spago
. Silverton moved to Spago during this period as well, and the two were soon married (and would later have three kids together). The couple left in 1985 and spent six months revamping Warner LeRoy's Maxwell's Plum in New York, then returned to LA. Back home, the duo then decided to set up shop in a historic building owned by Nancy's father, Larry Silverton. Larry was also a partner in the business, as was former Wine Director Manfred Krankl, who left some years later to start the Sine Qua Non winery (he was replaced by Claudio Blotta, of
Cooks County
fame); interestingly, he was also the husband of Nancy's sister Gail, who owns
Gelato Bar
(their son Nikolas Krankl heads up Single Origin Coffee at
Short Order
, and their other son Andreas Krankl used to run Press Panini).
In January 1989, Peel and Silverton launched La Brea Bakery in the space, with Campanile debuting six months later. The restaurant was a rousing success, garnering a "Best New Chef" nomination from
Food & Wine
that same year; Peel was also nominated for James Beard's "Best American Chef" in 1990, 1995, and 1996. In 1994, the husband-and-wife team wrote their first cookbook:
Mark Peel and Nancy Silverton at Home
, which was followed up by
The Food of Campanile
in 1997. 2001 saw a Beard nom for "Outstanding Restaurant," and also marked a turning point for La Brea Bakery, which was sold to Irish firm IAWS Group for $55 million. Peel also became a partner in
Jar
, Suzanne Tracht's modern chophouse (Tracht once worked as Campanile's CdC), but would divest his stake in 2004. The couple, however, would end up divorcing in 2005, with Silverton soon selling off her stake in the restaurant. Peel, for his part, remarried not too long after to vlogger
Daphne Brogdon
. With his ex-wife out of the way, he partnered with Campanile's GM Jay Perrin and took over the old Oasis Mediterranean Bar & Restaurant space on La Brea, with plans to open a wine bar there. However, by 2009, that idea had morphed into a mixology-centric concept named Glass and Mirrors.
During this period, Peel also competed on
Top Chef Masters
, eventually losing out to Anita Lo in a Neil Patrick Harris-inspired challenge, and released a new cookbook called
New Classic Family Dinners
. In October 2009, he purchased The Point, a casual lunch spot in Culver City, from Beacon's Kazuto Matsusaka and his wife Vicki Fan, who'd opened the place in 2007. It never really took off, though, and ended up shuttering in early 2011, reportedly the result of a
botched Groupon deal
(it has since reopened under new management). Glass and Mirrors, meanwhile, transformed into The Tar Pit, bowing in December that year as a sort of 40's supper club concept, with cocktails by Audrey Saunders of Pegu Club in NYC. Things, however, didn't work out quite as expected, with Saunders leaving abruptly in February 2010;
Marcos Tello
was rumored to take over, but that never came to fruition (instead, they nabbed David Kupchinsky). The situation was not helped by a
less-than-stellar review
from LAist's Lindsay William-Ross, which ignited a veritable shitstorm on the Interwebs, with both Mr. and Mrs. Peel
colorfully
chiming on the discourse.
Things weren't all bad though. In October 2010, Peel made an appearance as a guest judge on
Hell's Kitchen
alongside buxom "elite food blogger on
Yelp
"
Libby Rego
, the lovable Sophie Gayot, and some guy from Nobu (talk about a motley crew). Then, the following May, he announced that Campanile was going to part of the new remodel going on at LAX. In February this year, Peel collaborated on a dinner with
Roy Choi
entitled "Let's Fuck Things Up!" (seriously, that was the name). Perhaps they "fucked things up" too badly though, as The Tar Pit ended up closing in March, with Campanile biting the bullet not long after. The reason for the shutter was supposedly the expiring lease. But, remember that the building's landlord is still Nancy's father Larry Silverton, and word on the street is that he still had an axe to grind with Peel over the divorce.

Campanile sits in a historic building built in 1929 for film legend Charlie Chaplin. He never occupied the site, however, since he supposedly lost the structure in his divorce to his 16-year-old second wife Lita Grey, who he married to avoid statutory rape charges after knocking her up(!). After Larry Silverton purchased the 10,000 square-foot space in the late 80's, it was remodeled by architect Josh Schweitzer to its current form, encompassing multiple dining spaces, a pastry kitchen, a wine cellar, two private dining rooms, and even an outside patio. In the early days, Peel and Silverton even used to live in a small apartment on the third floor.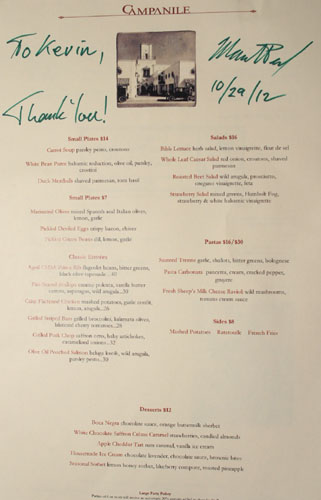 Campanile's menu is fairly compact, featuring the traditional setup of appetizers and mains--no "small plates meant for sharing" here. They also do lunch, brunch, a Grilled Cheese Night on Thursdays (Campanile helped popularize that trend), as well as a "Social House" happy hour menu on weekdays. To drink, think classic cocktails, a smattering of beers, and a great Cali-centric wine list overseen by General Manager and Sommelier Johann Drolshagen. Click for larger versions.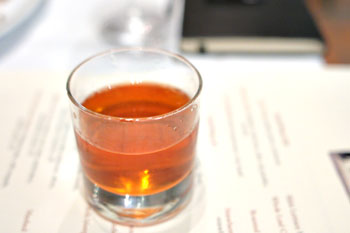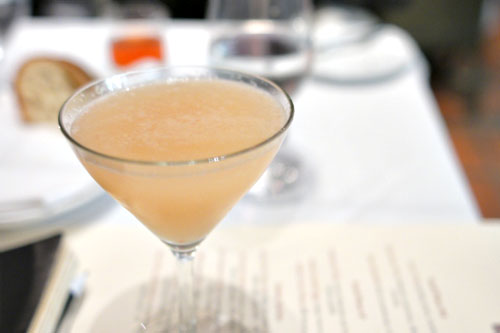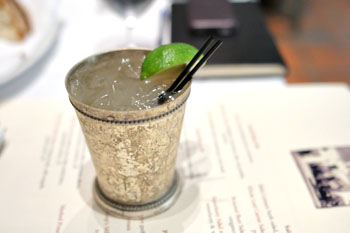 Sazerac [$12.00]
| rye whiskey, cognac, peychaud bitters, absinthe rinse
Pancho Victoria [$12.00]
| reposado tequila, fresh grapefruit juice, fresh lime juice, kaffir lime-ginger syrup, float of lagavulin
Moscow Mule [$12.00]
| vodka, ginger beer, lime
To wet our whistles, we went with cocktails to begin. First was Campanile's version of the Sazerac, classic in essence, with a tasty interplay between the duo of liquor and the bitterness imparted by the Peychaud's. Even better was the Pancho Victoria, which I found rather delicious. I loved its mix of sweet, sour, and boozy flavors, perfectly integrated under a smoky, peaty veil of Lagavulin scotch--
very
nice. The Moscow Mule was also delectable: very traditional in preparation, yet wonderfully refreshing and effervescent, with the brightness of ginger melding well over the tang of lime. Overall, we had a strong trio here.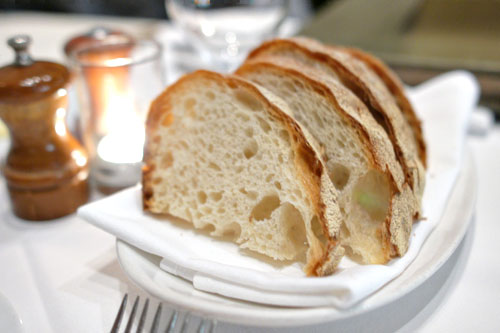 You'd expect bread ostensibly produced at the world-famous La Brea Bakery to be stellar, but what we were served here was merely ho-hum. Overly hard butter did not improve the situation.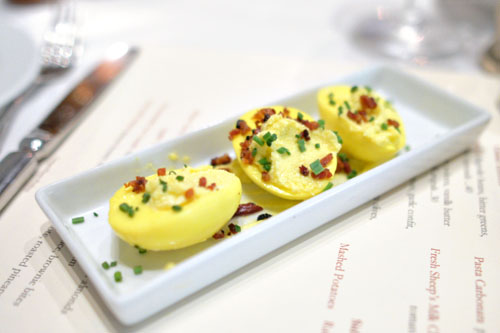 Pickled Deviled Eggs [$7.00]
| crispy bacon, chives
Deviled eggs were enjoyable, with a subtle tanginess from the pickling process to counteract the lushness of the yolk. Great touch of salt from the bacon, too.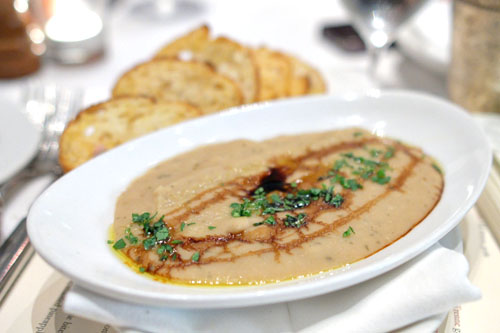 White Bean Puree [$14.00]
| balsamic reduction, olive oil, parsley, crostini
A purée of bean was hearty and satisfying (especially when taken with the crisp bits of bread), but disturbingly reminiscent of a plate of refried beans. I wanted more acidity, more brightness in the dish to offset the sheer heft of the white bean.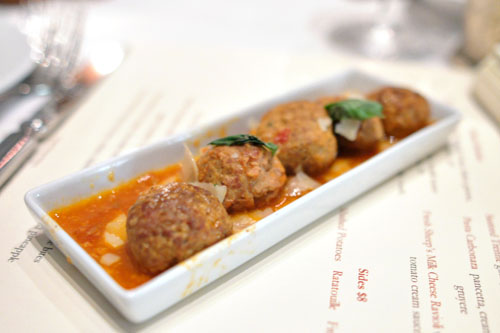 Duck Meatballs [$14.00]
| shaved parmesan, torn basil
Meatballs were on point: soft, yet slightly gritty in consistency, with the rich, savory taste of duck on proud display, perked up by just a kick of piquancy.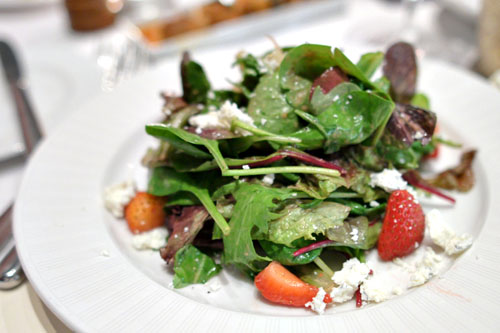 Strawberry Salad [$16.00]
| mixed greens, Humboldt Fog, strawberry & white balsamic vinaigrette
The strawberry salad was a pleasant surprise. The greens and onions here worked flawlessly with the tangy vinaigrette dressing, while the goat cheese added a palpable weight and creaminess to the dish. All that was then deftly complemented by an undercurrent of sugary strawberry.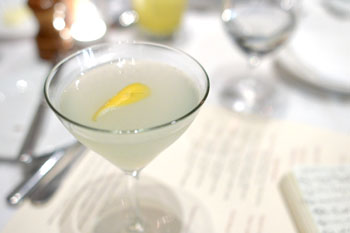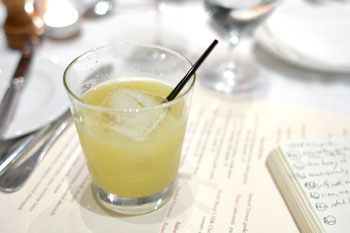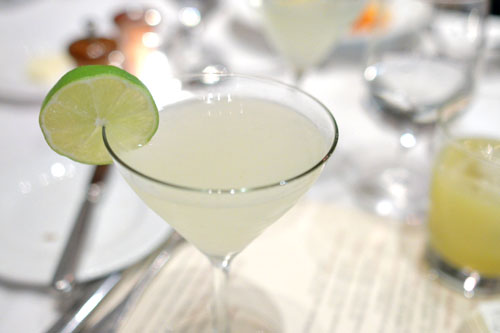 Aviation [$12.00]
| plymouth gin, maraschino liqueur, fresh lemon juice, simple syrup, crème de violette
Viva La Raza [$12.00]
| passion fruit, agave nectar, lime juice, jalapeño tequila
Alexandria's Sour [$12.00]
| kaffir lime syrup, vodka, pressed lemon, topped with champagne
Our second round of cocktails started with the Aviation, and old school concoction made pretty much by the book here, resulting in an almost bracingly sour drink with a hint of bitterness; I would've liked more of the violet to have shown through though. The Viva La Raza was probably the best of the threesome, with a lovely sweetness up front leading to a lingering heat on the close, all mediated over a marked base of agave and tequila. Finally, we had Alexandria's Sour, with its smart interplay between the tangy citrus and vodka, all with the sparkling wine adding a great touch of levity to the mix.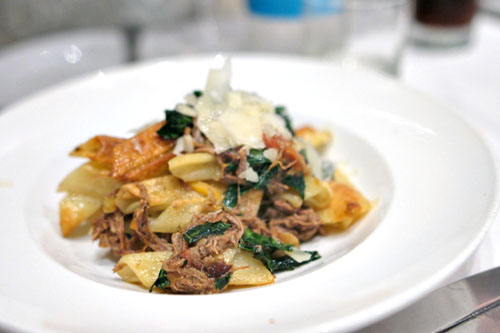 Sauteed Trenne [$16.00]
| garlic, shallots, bitter greens, bolognese
Moving on to pastas now, the trenne was a clear highlight of the meal. First off, the deep, dark flavors of the ragù were spot on and immensely comforting, with a luxuriousness that was perfectly tempered by the astringency of the greenery on the plate. At the same time, the trenne itself was superb, with a firm, almost crisp consistency that I adored. Clearly, the winning dish amongst the pastas.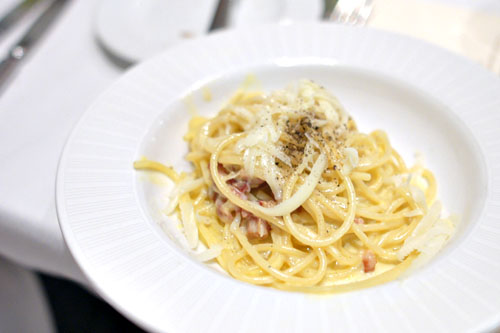 Pasta Carbonara [$16.00]
| pancetta, cream, cracked pepper, gruyere
The carbonara, meanwhile, was also quite delicious, with a classic mix of salty, cheesy, and peppery flavors, all bound together by a wonderfully firm base of
al dente
spaghetti. This one was easy to like.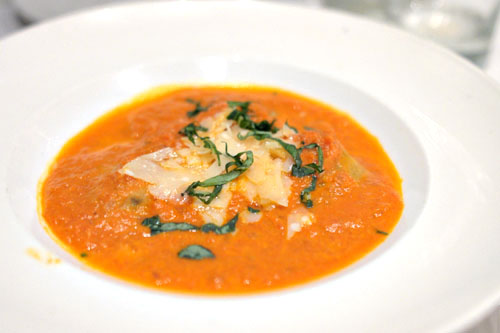 Fresh Sheep's Milk Cheese Ravioli [$16.00]
| wild mushrooms, tomato cream sauce
The ravioli, finally, was the least interesting of the pastas. The tangy tomato sauce made sense here, moderated by the weight of the cheese, but I really would've liked to have tasted more from the mushroom.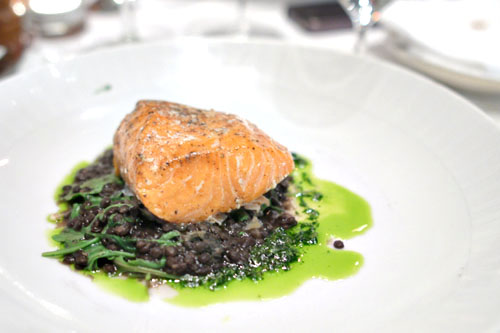 Olive Oil Poached Salmon [$30.00]
| beluga lentils, wild arugula, parsley pesto
And now, the mains: Kicking things off was one of the best cooked salmon dishes that I've had in recent memory. The fish itself was faultless really, tender, fatty and slightly rare in temperature, with a wonderful salinity that just worked gorgeously with the bitterness of the arugula. I also enjoyed the beluga lentils, which lent an earthy heft to the plate that serving as a fitting counterpoint to the salmon. Definitely a favorite of the evening.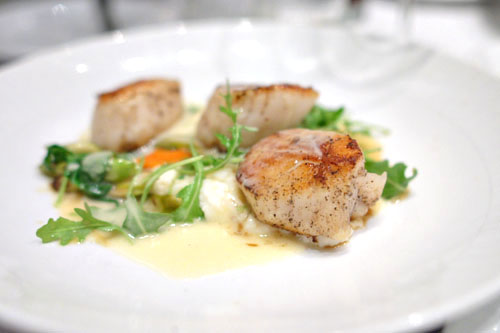 Pan-Seared Scallops [$30.00]
| creamy polenta, vanilla butter carrots, asparagus, wild arugula
Scallops arrived perfectly cooked: supple and springy in bite, nicely caramelized, and with a great mix of sweet and salty flavors. They were enjoyable alone, but unfortunately, the vanilla notes present in the dish really didn't jive with me. I found the ingredient rather overwhelming, and would've liked the asparagus and arugula to have offset it more.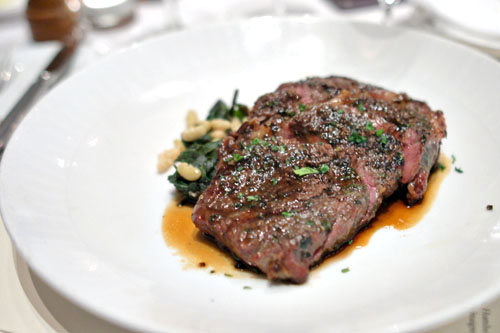 Aged USDA Prime Rib [$40.00]
| flageolet beans, bitter greens, black olive tapenade
Up next was a straightforward steak, though I think we were all expecting an actual
Lawry's
-style prime rib. Nevertheless, the beef was pretty delicious, showing off plenty of bovine flavors and a lovely touch of char bitterness. I even liked the beans and greens as well, which worked wonders in moderating the potency of the rib eye. However, I
would
have liked the meat a bit rarer, though.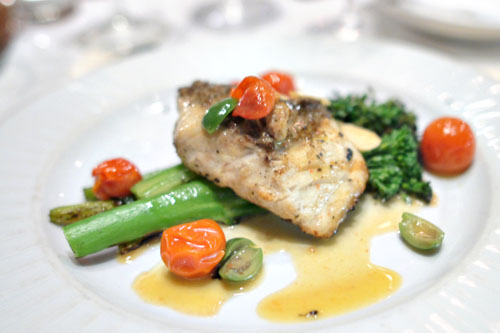 Grilled Striped Bass [$28.00]
| grilled broccolini, kalamata olives, blistered cherry tomatoes
The savory section of our meal ended on a strong note with this sea bass. I found the fish firm, yet moist, with a great char and loads of mouth-watering, briny flavors. As such, the veggies here did an admirable job in really providing a bright, juicy, crunchy counter to the fish. Yum.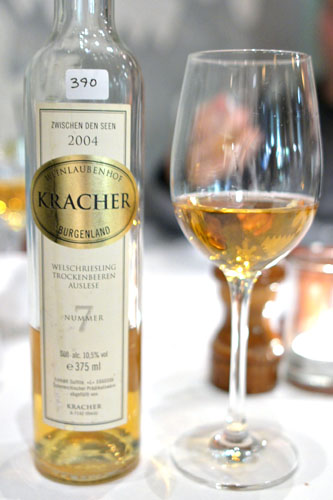 To pair with the desserts, we ordered up a bottle of
Trockenbeerenauslese
, specifically the
Welschriesling 'Zwischen Den Seen,' TBA #7, Kracher, 2004 [$136]
from famed winemaker Alois Kracher. Unsurprisingly, it was pretty much everything that you'd want in a dessert wine, with all the expected notes of stonefruit and honey on the palate, balanced by a touch of spice and light acidity. Delish.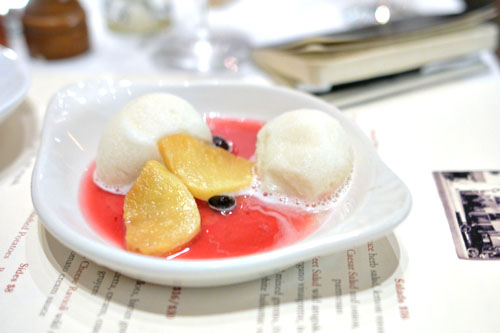 Seasonal Sorbet [$12.00]
| lemon honey sorbet, blueberry compote, roasted pineapple
We ended up ordering all five of Campanile's desserts, and I began with the lightest of the quintet. The sorbet was pretty straightforward, nothing really to write home about, with a bright, bracing, lemon-y tartness from the sorbet tempered by the sugary combo of pineapple and blueberry.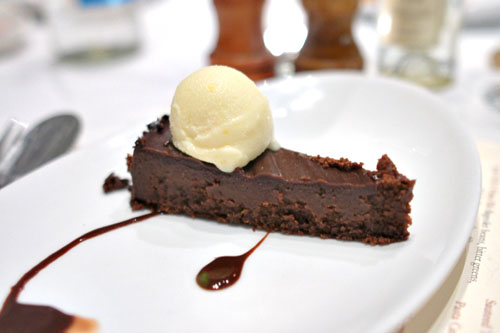 Boca Negra [$12.00]
| chocolate sauce, orange buttermilk sherbet
This "black mouth" cake was more to my liking: super rich, and almost ridiculously dense, an unmitigated expression of chocolate only partly softened out by the tart-ish, citrus-y sherbet.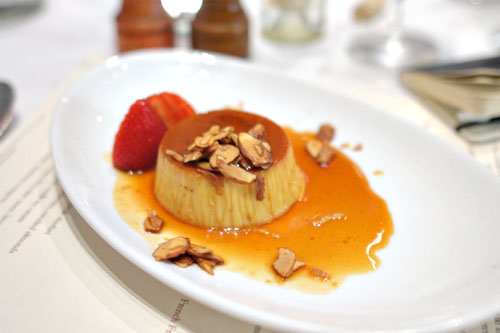 White Chocolate Saffron Crème Caramel [$12.00]
| strawberries, candied almonds
Campanile's interpretation of flan was also quite effective, subtle in essence, with an eggy, nutty relish and hint of saffron that made perfect sense with the overtly saccharine nature of the caramel sauce here.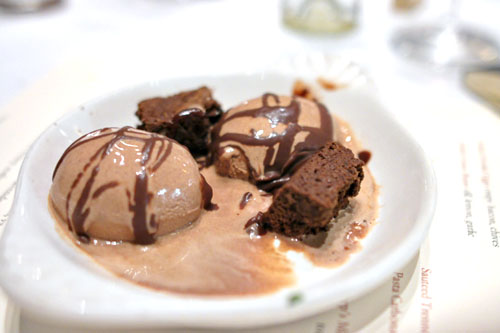 Housemade Ice Cream [$12.00]
| chocolate lavender, chocolate sauce, brownie bites
A relatively simple presentation of chocolate ice cream was bumped up a notch by the incorporation of lavender, which lent a much appreciated floral character to the dessert. Nice textural contrast from the brownie bites, too.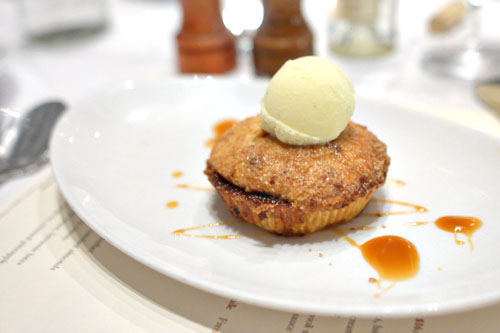 Apple Cheddar Tart [$12.00]
| rum caramel, vanilla ice cream
Last up was a pretty interesting take on an apple tart. The fruity sweetness of apple was certainly there, augmented by the rum and caramel, but the crux of the dish was the cheddar, which lent a lovely savoriness to the course that I rather enjoyed. The ice cream, of course, was a natural accompaniment as well.
And there you have it: the penultimate evening of dining at Campanile. As for the food, it was actually quite solid. Sure, it wasn't the most cutting-edge cooking around, but the flavors were there, the plates hearty and satisfying, and certainly, based on this dinner, there's no obvious reason why the place needed to shutter. Nevertheless, Campanile closed for good on October 31st, going out in grand fashion with a "Black & White Masquerade" on Halloween, which offered up unlimited food and drink all for the price of an $89 ticket. Say what you will, but Campanile will be missed by many an Angeleno. Mark Peel has stated that he'd like to reopen the restaurant somewhere else, but in the near term, remember that the LAX outpost is supposed to break ground next February, and the flagship La Brea Bakery store will eventually be relocated as well.
As for what's next with the building, it's being taken over by none other than Walter Manzke (late of Wildflour Cafe + Bakery in Manila and
Milo & Olive
Stateside), who's housing his long-awaited Republique there with Bill Chait's backing. The restaurant is slated to debut on June 1st next year, and will be split into two sections: a casual café and a more formal component. The former will serve all-day, turning into a wine bar at night, while the latter will be bistronomic in concept, with more limited seating and a more ambitious menu. In addition, Margarita Manzke will be running her own shop in the old La Brea Bakery, selling pastries and other sundry items. It's definitely something worth looking forward to, and I'm sure it'll do this storied space proud.