Ootoro Sushi (Walnut, CA)
Otoro Sushi
1569 Fairway Dr, Walnut, CA 91789
909.598.8299
www.ootorosushi.com
Sat 11/10/2012, 7:10p-10:00p
Upon cursory glance, Ootoro doesn't have much going for it. It's Taiwanese-owned, has a generic-slash-cheesy name, and is located in
Walnut
of all places (along with the nearby Rowland Heights and Diamond Bar, a suburban haven for upper-middle-class Asian families not exactly known for its culinary merits). In fact, the Chef/Owner, Kai Wei "Kurt" Chen, also operates a sister restaurant (yes, with his sister) called Toros Sushi: Japanese Fusion Seafood in Alhambra, which isn't terribly well-regarded. Ootoro opened in May, and I would've never visited had it not been for the cajoling of reader and regular Paul Lee, head of operations at
Hing Wa Lee
jewelers next door, whom I got to know at a recent
pop-up dinner at Marcona
(after an initial meeting at
Plate by Plate
).
As for Ootoro's menu, it's definitely
omakase
-focused, which is a good sign. Three levels are offered, at $95.89, $75.89, and $58.89, and there's also a limited à la carte selection with some dishes that are not to be missed (such as the decadent
kamatoro
, which I'd only had at
Urasawa
before). Tonight, we enjoyed a custom tasting that sort of blended the two options. A more reasonably priced lunch menu is also offered (I hear the
chirashizushi
is what to get). To drink, there's a pretty decent list of sakes, along with a handful of your typical Japanese beers, as well as a wine list replete with some pricey bottles...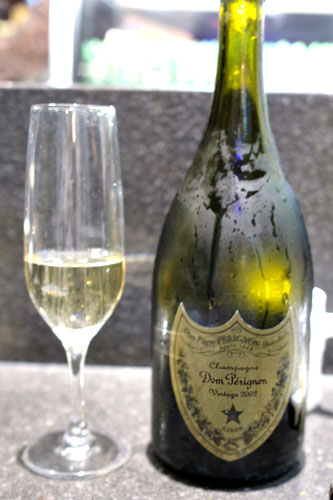 ...Bottles such as the
2002 Moët & Chandon Dom Pérignon [$160]
. The Champagne was a good example of the cuvée, with plenty of fruity, citrus notes grounded by a backbone of minerality and an undercurrent of biscuit-y goodness. Very drinkable now, but probably even better in a few years.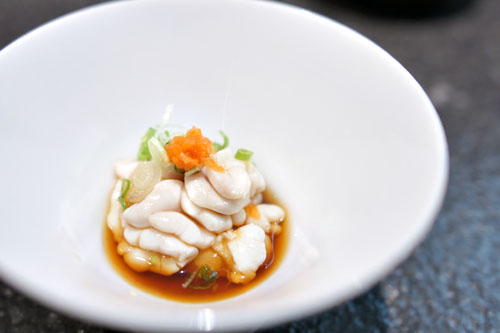 1: Shirako
We began with a serving of
shirako
, or fish milt, and it was arguably the tastiest preparation of the sperm sac that I'd ever had. The soft roe itself was expectedly creamy, with a very restrained, elegant brine to it that was perfectly countered by bite of the scallion and tanginess of the accompanying dressing.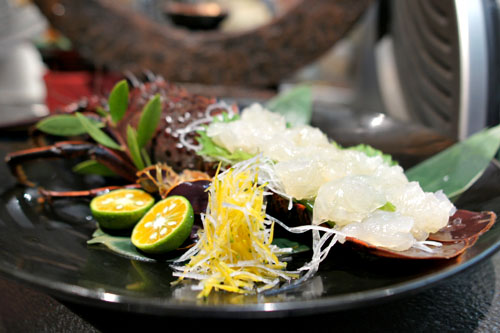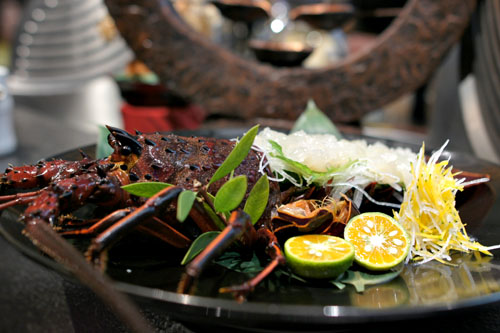 2: Ise Ebi Sashimi [$75.00]
Next was an impressive presentation of Japanese spiny lobster. I first tried a piece of the translucent flesh by itself, and it was
maaahvelous
, with a fantastically crisp, snappy consistency and a subtle sweetness beautifully accented by an overarching hint of wasabi heat. Adding a dab of soy sauce to the
ise ebi
worked too, though I wish I'd remembered to give the lobster a squirt of
sudachi
.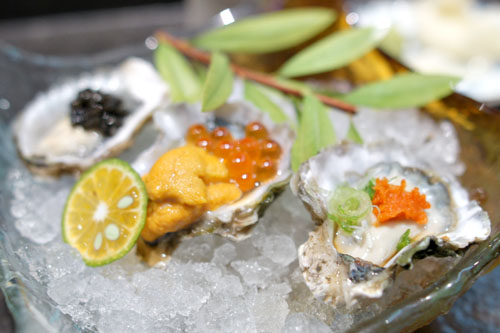 3: Oyster Tasting [$18.00]
A troika of Kumamotos was on point as well. I began with the preparation topped with
negi
,
momiji oroshi
, and ponzu sauce, and found it spot on-delicious, with the tartness of the various accompaniments balancing out the salinity of the oyster perfectly. The caviar-crowned one was tasty as well, with the salty roe emphasizing the Kumamoto gorgeously. Last up was the uni- and ikura-topped version, which showed off a deft mix of creamy and sweet flavors that worked quite well over the briny base of oyster.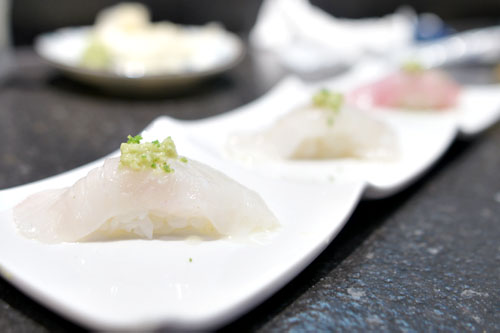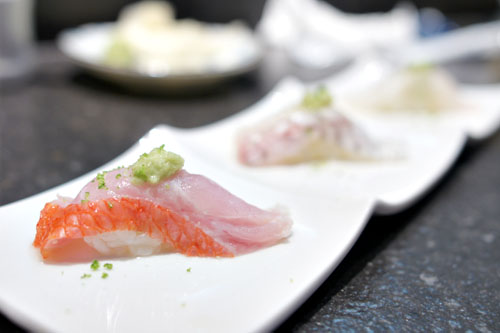 4: White Fish Tasting [$16.95]
Here was a tasting of various white fish, all from Japan, and seasoned with rock salt and yuzu. We were instructed to consume in a specified order, and first up was the
kurodai
(black snapper), a pretty hard-to-find fish that I'd only had at
Sushi Zo
previously. It was very nice, with a clean, crisp character finished with a marked touch of heat from the wasabi (always grated fresh here). The
madai
/red sea bream was even better, with an amazing texture and subtle flavor that paired superbly with the tangy citrus notes present. Last up was the alfonsino (
kinmedai
), probably my favorite of the threesome with its even more satisfying consistency and pinpoints of salt.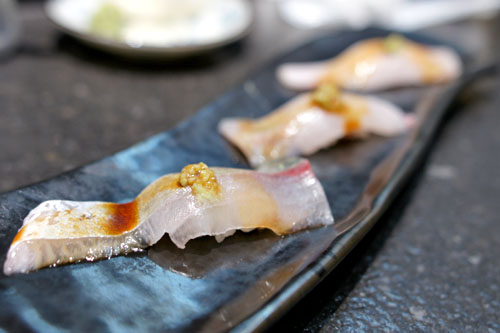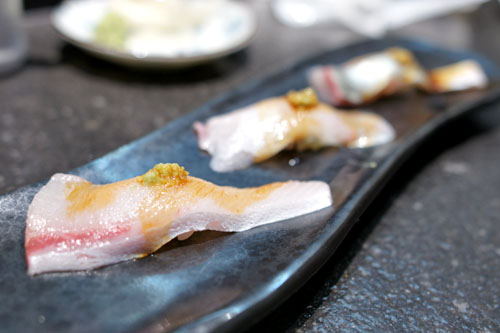 5: Yellowtail Family Tasting [$14.95]
A yellowtail family degustation started with a glistening cut of
shima aji
, with its firm, slick, satisfying bite and refined taste, keenly accented by a veil of wasabi kick. The
kanpachi
, meanwhile, was noticeably "stickier," with a slightly more aggressive flavor profile that went superbly with the heat in the bite. Rounding things out was the very rare
kanburi
, a type of wild yellowtail available during the winter months. It was easily the most luxurious of the trio, with a creamy, fatty lushness that made it probably the most decadent piece of yellowtail that I'd ever eaten. It was great to be able to taste the three different species back-to-back, to really appreciate the similarities and differences between them.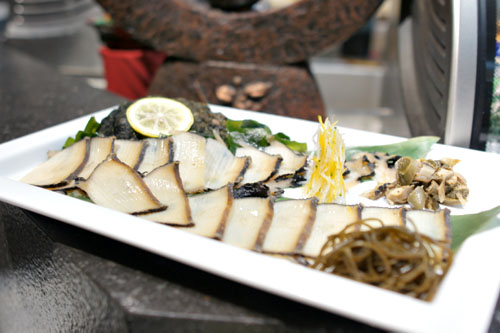 6: Awabi Sashimi [$90.00]
Abalone was very nice: firm, yet supple in texture, with a good bite and a great touch of smoky character to go along with the subtle brine of the gastropod. The innards, meanwhile, were also presented, and contributed a much more intense, earthy relish to the dish, while the included seaweed did an admirable job in balancing out the flavors at play.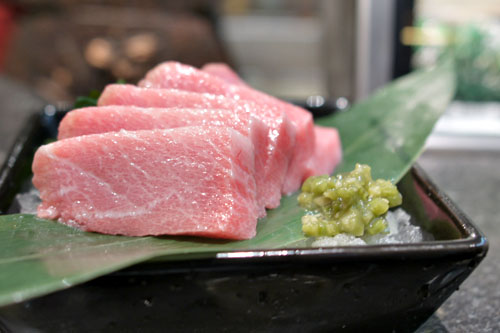 7: Otoro Sashimi [$62.50]
As the restaurant's name would imply, one of the specialties here is toro, and we were treated to no less than five different types of the coveted cut. First was this snowy otoro sashimi, taken from the upper chest of the fish (near the collar). It was as melt-in-your-mouth as you'd expected, with an unabashed fattiness and precious little sinew. Basically the epitome of toro--chewing was barely necessary.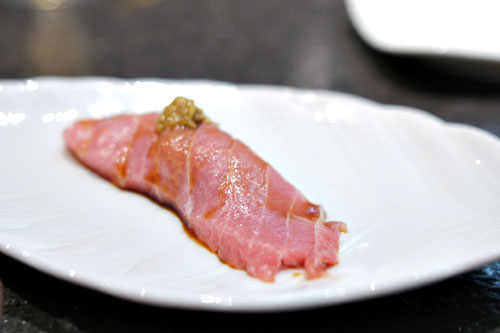 8: Chutoro [$7.00]
Following was chutoro, a noticeably less fatty, but still utterly delectable part of the tuna: undeniably creamy, with a rich, yet restrained relish and great wasabi counterpoint.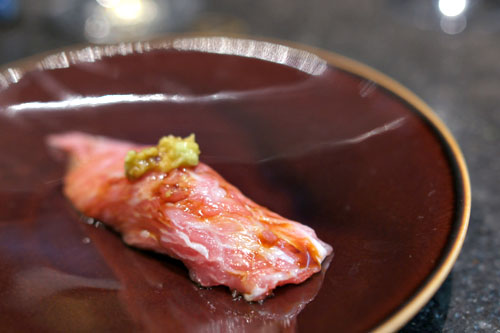 9: Kamatoro #1 [$24.95]
Next was a real treat:
kamatoro
, the rarest, fattiest part of the tuna, taken from the collar of the fish, and something that I'd only eaten previously at
Urasawa
. In fact, we were provided
two
types of
kamatoro
tonight. The first here was from Boston-sourced tuna, which was the chewier, more tendonous varietal, with boatloads of flavor and a great hint of wasabi--
very
satisfying.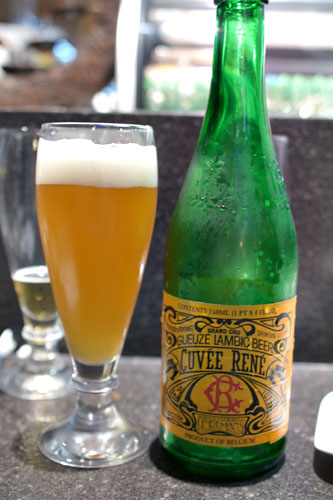 With the Champagne all drunk up, we moved on to a bottle of Lindemans Gueuze Cuvée René that I'd pulled from my fridge. I'd been curious for a while about pairing geuze with sushi, and I'm happy to report that the match worked, with the sour, slightly funky notes of the lambic beer doing a great job in balancing the sheer heft of the fatty fish.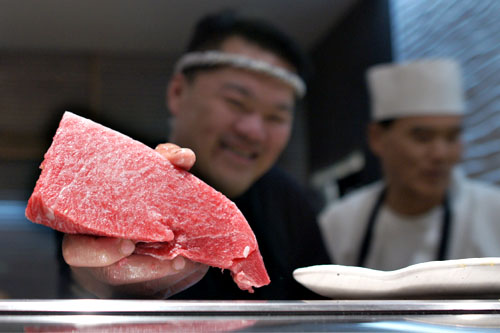 Here, the Chef shows off a gloriously white-speckled cut of
kamatoro
.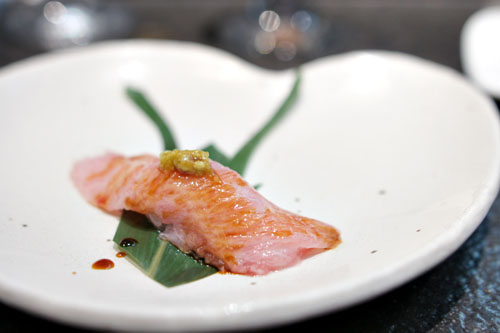 10: Kamatoro #2 [$24.95]
Our second serving of
kamatoro
came from the fish utilized in the otoro and chutoro courses above (from Spain, I believe). This one was much silkier, much more luxurious in consistency, with a wonderfully intense, yet restrained richness that was flawlessly offset by the smidge of wasabi on top.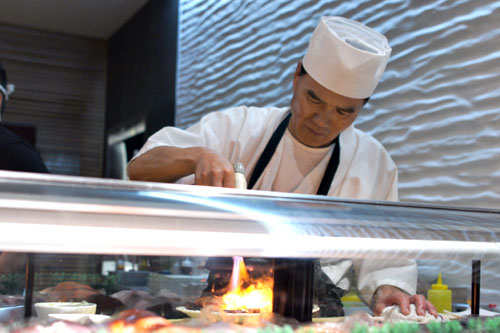 Here, second-in-command Onami-san sears our tuna for the course to follow.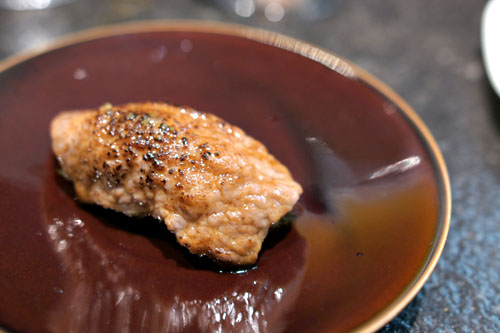 11: Aburi Toro
Our gauntlet of toro ended with a seared preparation of the Boston tuna, served with
takuan
. It was pretty incredible: uncompromisingly unctuous (yes, that hated word really is appropriate here) and practically oozing oil upon mastication, with an incomparable depth that was beautifully accented by a hint of bitter char. The pickled daikon, meanwhile, did a great job tempering things out a bit, and also added a nice crunchiness to the course. Excellent.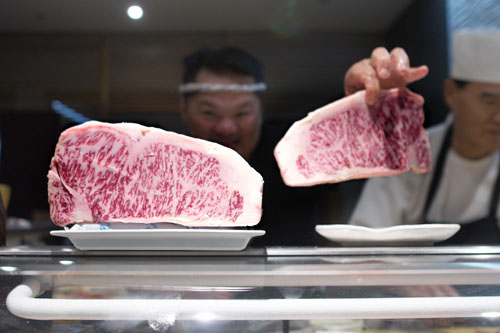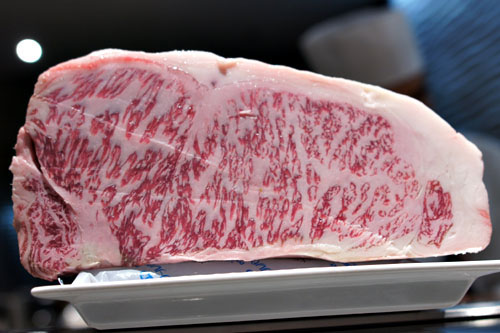 The Chef has taken full advantage of the recent (August 17th) lifting of the Japanese beef ban, sourcing some
ridiculously
-marbled wagyu striploin from Miyazaki Prefecture. The "American style" wagyu that we've been subsiding on the past few years ain't got nothin' on this.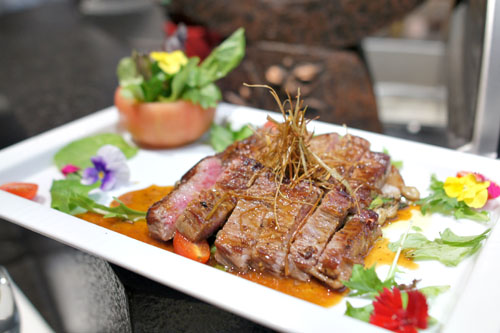 12: Miyazaki Beef [$160.00]
And here we see the aforementioned wagyu, done as a steak and garnished with asparagus, mushroom, and strings of fried leek. It was unsurprisingly opulent, undeniably fatty, and wonderfully tender, with an almost gelatinous consistency that required only a minimal amount of chewing. There was bovine flavor here in spades, and though I usually prefer my steaks unadorned, the accoutrements made sense. The slight sweetness in the sauce didn't overwhelm the meat, and I actually really liked the levity imparted by the veggies. A true Japanese wagyu steak is a splurge, but is something that I urge everyone to try at least once, especially now that we have the opportunity after so many years of being deprived.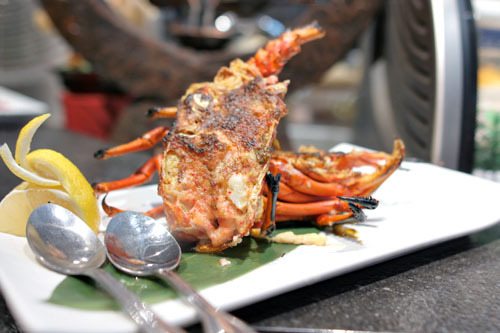 13: Ise Ebi Heads
Remember the fantastic spiny lobster that we had earlier? Well here was the rest of the crustacean, roasted to briny, creamy perfection and ready to be scooped out of its shell.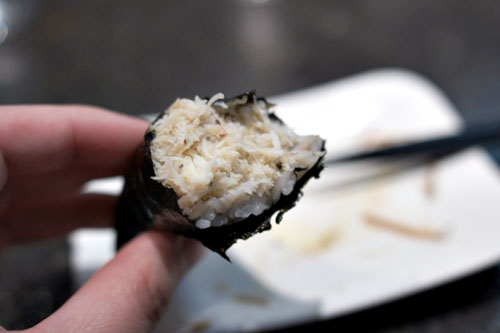 14: Blue Crab Hand Roll [$7.95]
Here we had Ootoro's take on the ubiquitous blue crab hand roll, perhaps first popularized by
Sushi Nozawa
. This was better than the original though, with the sweet brine of the crab more forcefully conveyed, yet contrasted by the rice and the roll's crunchy, umami-rich seaweed wrapper.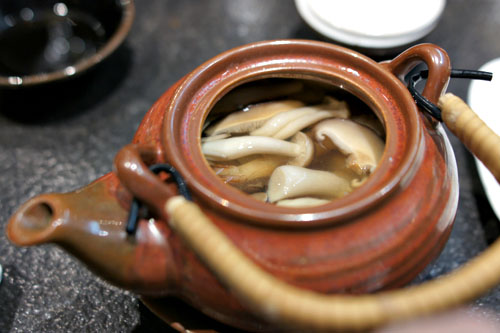 15: Dobin Mushi [$8.95]
Our final savory course was an aromatic broth loaded with shrimp and shiitake, enoki, and eringi mushrooms. It was a hot, hearty end to the meal, one that adroitly conveyed the earthy, heady, slightly astringent nature of the ingredients within. Now if only they had
matsutake
...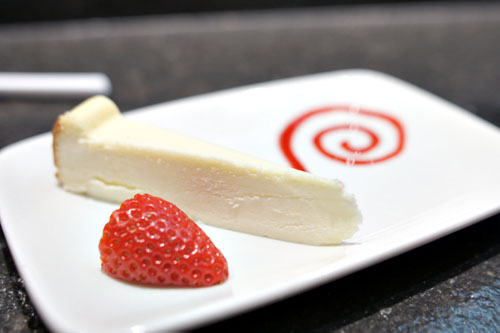 16: Cheesecake
The first dessert was a Japanese cheesecake, which I found delightfully dense, with a deft balance of sweet and tangy flavors that paired well with the sugary fruit.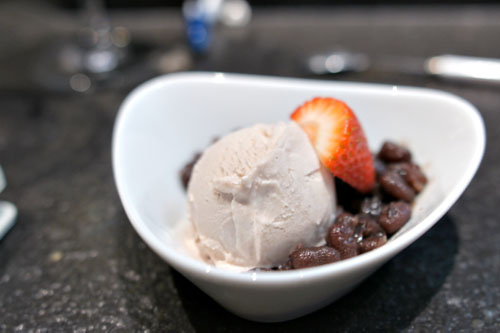 17: Red Bean Ice Cream
Rounding things out was an
azuki
ice cream, which really did a great job in displaying the sweetness of the red bean.
Quite simply, this was one of the most satisfying Japanese meals that I've had in a while. I couldn't really find fault with any of the plates, and the quality and sheer
luxury
of the food is nearly unrivaled. It's the best sushi I've had on the right side of Downtown, and I think this place really does compare favorably to the Westside's cream of the crop. My only concern is the service. Given that Ootoro's Chinese-owned, it's not quite up to Japanese standards, though it's certain workable. For all you sushi fans out there (and I know that there are a lot of you), this off-the-beaten-path hidden gem is worth a try despite all that it has going against it. Go, sit at the bar, put yourself in the Chef's hands, and prepare to drop some serious coin.