Yamakase (Los Angeles, CA)
Yamakase Restaurant
Los Angeles, CA 90034
www.yamakase.com
Sun 12/30/2012, 07:00p-12:30a
What do you get when you cross
Totoraku
with
Urasawa
? I've often pondered about that unholy matrimony myself, but it turns out the answer is Yamakase ("mountain wind"), a semi-secret, invitation-only, fusion-meets-sushi omakase joint that opened last December in Palms near Culver City. It's the work of 48-year-old Chef/Owner Kiyoshiro Yamamoto, whom you may recall from The Hump in Santa Monica. Yama-san has teamed up with partner Stan Liu, who also serves as GM for the lilliputian eatery. The Hong Kong-raised Liu, for his part, was the founder of Kronos Digital Entertainment and Atomic Bullfrog, and was formerly VP of mobile content development at Walt Disney Internet Group before starting Kronos Games Online.
I was fortunate enough to get an invitation to dine at Yamakase, and jumped on the opportunity. Interestingly enough, we were joined tonight by none other than Chef Ludo Lefebvre of
LudoBites
fame, who made for a great dining companion, one who really appreciated the artistry going on here. As far as Yamakase's menu goes, there is none
per se
. Rather, you can expect a
kaiseki
-ish progression of about 20 courses--both cooked dishes and sushi/sashimi--priced at around $200 or so. To imbibe, thanks to the restaurant's new liquor license, there's a selection of sake, beer, and wine available, but part of the draw here is clearly the liberal BYOB policy with no corkage fee; it's a great excuse to bring out the trophy wines.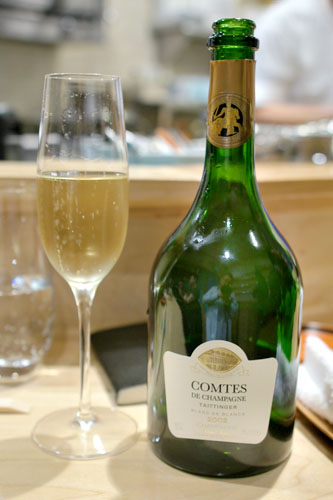 For this final blowout meal of 2012, we took the opportunity to bust out some of the good stuff, starting with the
2002 Taittinger Champagne Brut Blanc de Blancs Comtes de Champagne
. This was a delicious sparkler, showing off an earthy sweetness initially, leading to a nice toastiness on the midpalate and finishing long with some great bread-y and mineral-y nuances. Light, bright, and very well integrated.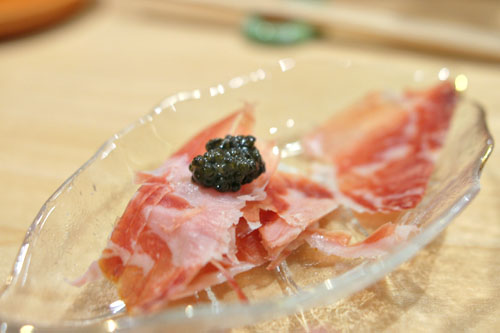 1: Jamón Ibérico with Caviar
Our first course I found very reminiscent of a dish called "José Taco" that I'd eaten at the fantastic
é by José Andrés
in Las Vegas. We had here shards of jamón ibérico, finished with a small mound of caviar. The ham was fatty and nutty, with a rich, round flavor that was deftly accented by the sharp, focused, lingering saltiness of the roe.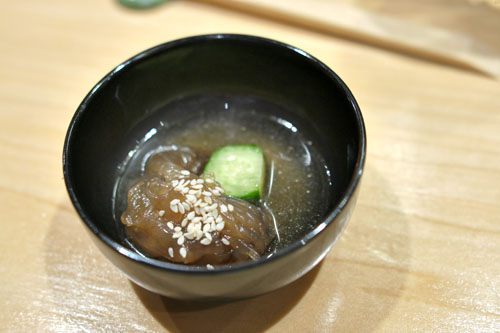 2: Jellyfish
Jellyfish was wonderfully snappy and slippery, with a mild relish that was perfectly complemented by the use of earthy sesame, while the dish's acidic broth and cucumber cut through some of that heft. Probably the best jellyfish that I've ever had.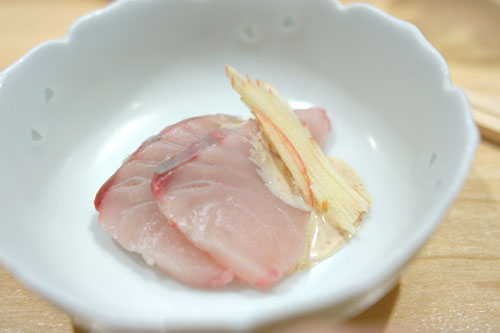 3: Japanese Butterfish
Japanese butterfish was stupendous as well, showing off a great texture and clean, delicate flavor, duly enhanced by the fish's sweet-ish dressing and thin strands of fruit. Loved the tiny baby peach hidden underneath, too.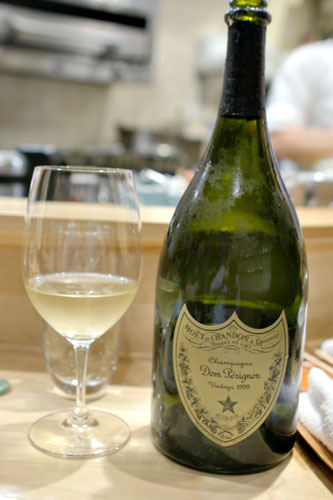 For my contribution, I pulled a magnum of
1999 Moët & Chandon Champagne Cuvée Dom Pérignon
from my cellar, which, interestingly enough, I also brought on my second visit to
Urasawa
. I found the wine superbly well balanced, with a lovely acidity and minerality, set off by a subtle undercurrent of citrus zest and creamy toast.
4: Corn Soup
Next up was probably the most luxurious corn soup ever, containing black truffle, uni, scallop, and a "special" scallop that comes in a triangular shell (I'm guessing
tairagai
, or pen shell clam). The key here was the sweetness of the corn, which paired well with the bittersweet urchin and mild scallops, all while the truffle contributed an earthy veil to the dish.
5: Kusshi Oyster and Quail Egg
Here, Yama-san presented Kusshi oyster and truffle-infused quail egg in two forms. In the front, we had a preparation with crab innards sauce and yuzu, and it was delightful, with the weighty
kanimiso
enhancing the oyster's inherent brine beautifully, all while the yuzu provided a light overtone of citrus. The version with blue crab-sesame cream was delicious as well, with a sweet, rich, enveloping savor that paired especially well with the egg.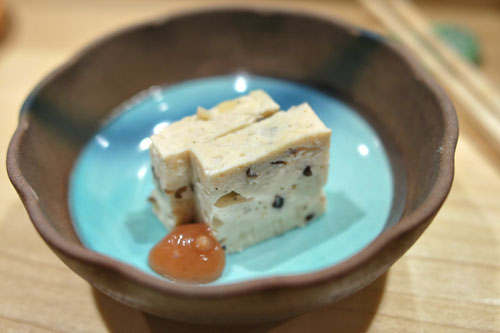 6: Homemade Tofu with Chicken
The Chef's homemade tofu with chicken breast, young potato, bamboo, and mushroom soon arrived, garnished with a dab of salty-sour
umeboshi
sauce. These were hearty, satisfying bites, with the chicken adding a superb savoriness to the dish, while the other ingredients provided further complexity and made for some great textural variation.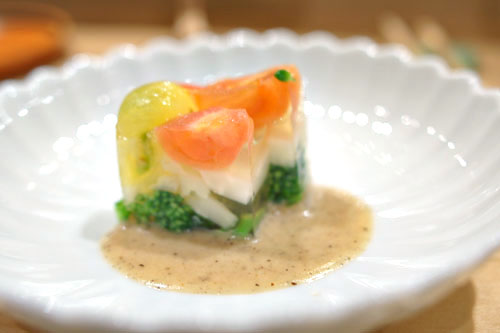 7: Vegetable-Mentaiko Aspic
We had here what amounted to a terrine of spicy cod roe, asparagus, and baby tomato, set in a black pepper-yuzu dressing. This was a gorgeous amalgam of disparate elements, a deft mélange of salty, sweet, and bitter flavors encased in gelatin and taken up another notch by the lingering, peppery sauce. One of Ludo's favorites.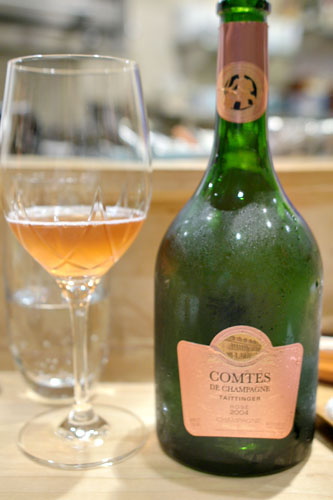 For our third bottle of bubbly, we had the
2004 Taittinger Champagne Comtes de Champagne Rosé Brut
. This one was surprisingly hefty for a rosé, full bodied with expected notes of berry fruit and an intriguing earthy character to it, bound by a countervailing minerality.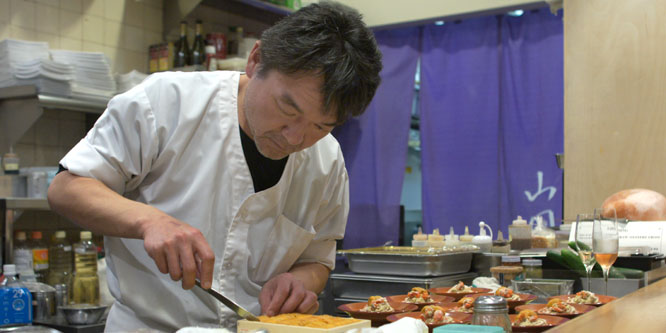 Here, we see Yama-san scooping up some tiny tongues of Japanese uni for our next course.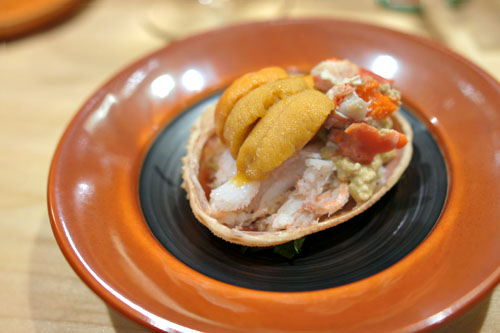 8: Baby Snow Crab
Set in the smallest carapace I'd ever seen was a mound of snow crab meat, topped with the aforementioned uni and chunks of crab roe. It was a wonderful dish, with the pure, sweet, saline essence of the
kani
proudly displayed, augmented by the bittersweet brine of sea urchin while the roe added further complexity and depth to the dish. Ludo reveled in the sheer simplicity and beauty of the course.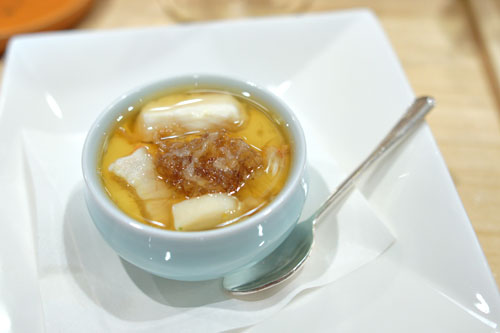 9: Chawanmushi
Up next was the most luxurious, and perhaps the best
chawanmushi
that I'd ever had, one featuring gingko, halibut, truffle butter, seared scallop, shark fin, squid, sea urchin, and hairy crab. It was hot, hearty, and undeniably satisfying, a real celebration of the various seafood elements, all tied together by that egg custard. Delicious.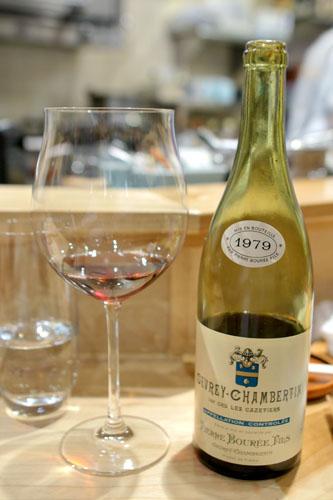 With the Champagnes dispensed with, we moved on to the reds, starting with the oldest bottle we had, a
1979 Pierre Bouree Fils Gevrey-Chambertin 1er Cru Les Cazetiers
. The Burgundy was definitely on the mature side, with an earthy, vegetal nose and a dry, peppery character with a pretty strong acidity on the palate.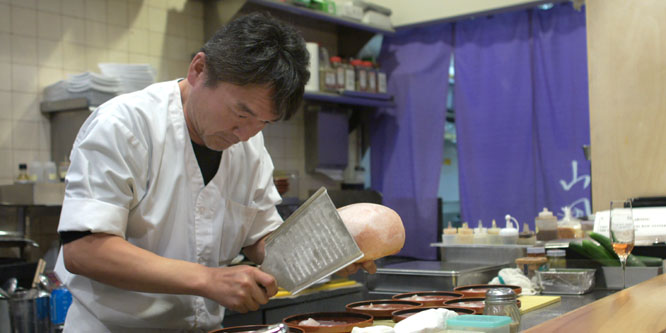 For our next course, Yama-san grates his 600 million year-old Himalayan rock salt, a gift from a former customer.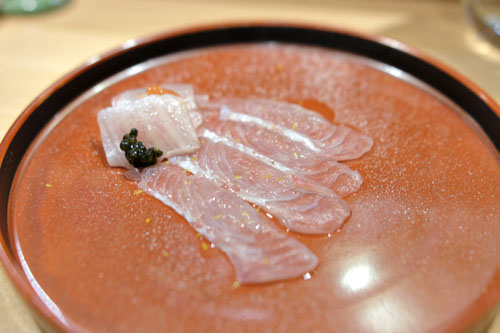 10: Halibut and Halibut Fin
Paper-thin, translucent slices of halibut were joined by meatier cuts of halibut fin. The fish was so fresh, so clean, with a delicate taste that was beautifully perked up by fine pinpoints of saltiness. The
engawa
, meanwhile, conveyed a great touch of chewiness, and paired swimmingly with the salty caviar and whisper of citrus in the dish.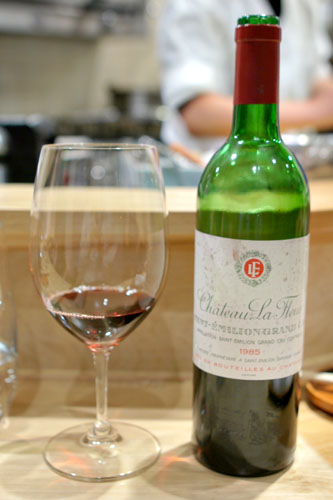 Moving on to some Bordeaux now, we had the
1985 Château La Fleur St. Émilion Grand Cru
, a well-integrated wine, surprisingly young tasting and restrained, with delectable berry nuances and some appealing tannins.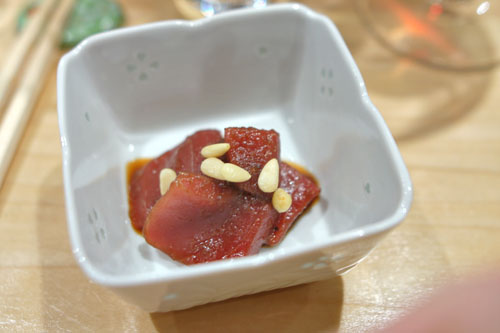 11: Marinated Tuna
Cuboids of blue fin tuna from Spain were cured in soy and wasabi and served with pine nuts. The fish was lean and supple, with a fantastic depth of flavor courtesy of the marination process, while the nuts added a well-placed textural contrast.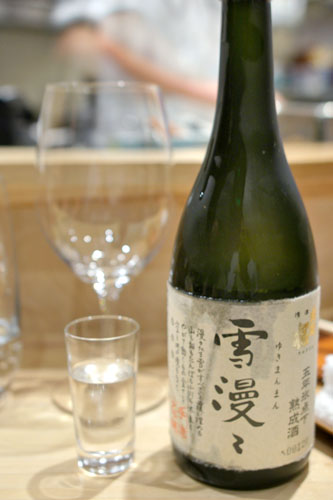 Next, we delved into sake with the
Dewazakura Yukimanman "Snow Country"
, a
daiginjo
from Yamagata Prefecture that's been aged for five years. I quite enjoyed it, finding the sake sweet, rich, and viscous, with some marked fruity flavors balanced by a delicate touch of alcohol.
12: Needlefish
Needlefish, or
sayori
, is fairly hard-to-find, so it was great to see it offered tonight. The fish was paired with a miso vinaigrette, and I loved the zestiness of the shiso as well as the dish's citrus-y brightness.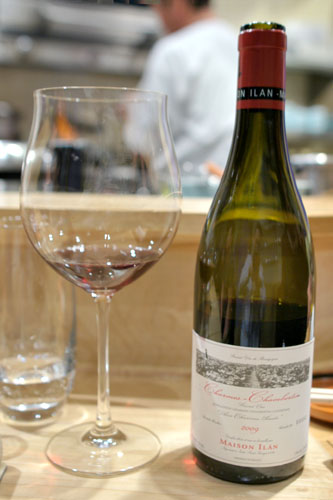 Returning to Burgundy now, Ludo brought along a bottle of Ray Walker's highly sought-after
2009 Maison Ilan Charmes-Chambertin Aux Charmes Hautes
for us to enjoy. This was a weighty one, rich and meaty and delicious, with a deft blend of smoke and berry fruit along with a slight herbaceous character. Quite nice.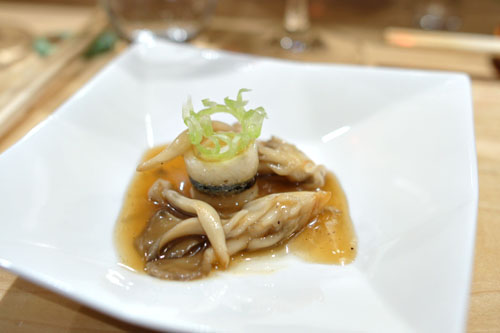 13: Needlefish and Mushrooms
The needlefish made a second appearance, this time in cooked form. Firm, dry, and fishy, the
sayori
melded well with the maitake and shimeji mushrooms, while the dish's viscous, peppery dressing did wonders in integrating all the various elements together.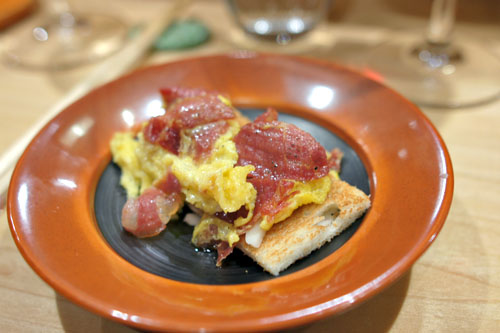 14: Ham and Eggs
And now, for something completely different, Yama-san served us breakfast in the form of an egg and jamón ibérico scramble atop toast. It was as straightforwardly tasty as you'd expect, with the salty ham pairing in classic fashion with the fluffy egg. Humorously, Ludo even likened this to a "white trash tartine!" Yum.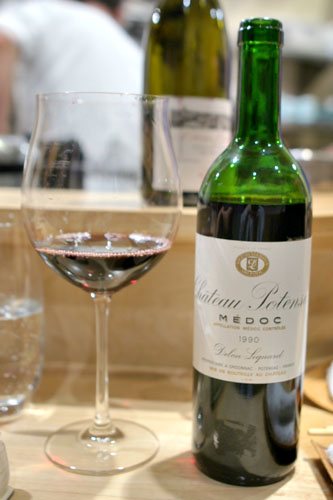 Back to Bordeaux we went with the
1990 Château Potensac
from the region's Médoc appellation. This one was nicely structured, with notes of smoke and pepper laced with undertones of currant and dark fruit. Quite fitting with the beef to follow.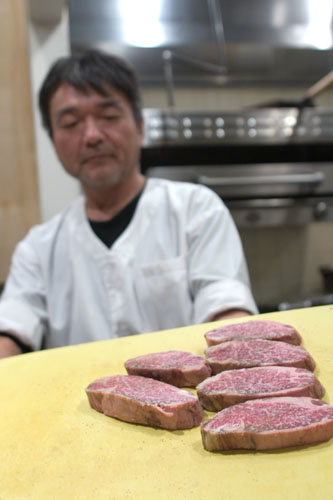 Yama-san shows off the star of our next course: some beautifully-marbled Kagoshima beef.
15: Kagoshima Gyu
We had here some real deal Japanese wagyu tenderloin from Kagoshima Prefecture, marinated in Macallan 21, dressed in a soy-Maui onion sauce, and garnished with a smear of
yuzukosho
. It was
maaahvelous
, the best steak I'd eaten all year and probably one of the best I've had,
ever
: ridiculously tender and fatty, with a profound depth and beefiness that was perfectly augmented by the meat's concentrated, sweet-ish dressing. I even loved the salty, spicy tang of the
yuzukosho
, too. Interestingly, during this course, Ludo mentioned that he'd also made a whiskey-marinated steak before at
LudoBites 6.0
, and indeed, that was quite simply the best steak that he'd ever served as well.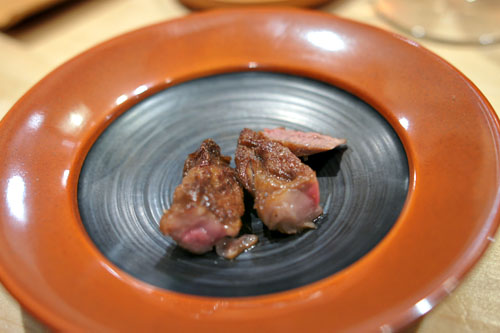 Yama-san then gave us a "bonus" course consisting of the scraps and fat from the steak above. Fantastic!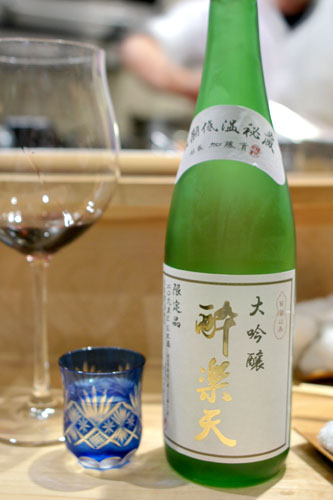 Our next sake was a
daiginjo
from Akita that had been aged for two years, the
Akitabare Suirakuten "Heaven of Tipsy Delight"
. I found it rather enjoyable and eminently balanced, with a delectably juicy fruitiness that played perfectly off of the smooth, rice-y notes in the drink.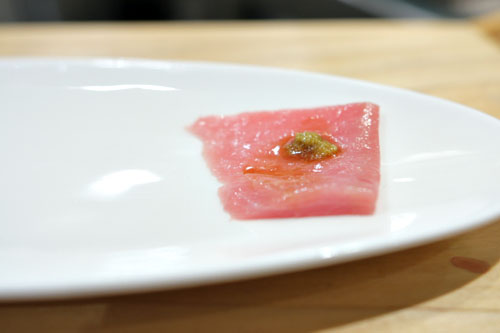 16: Toro Sashimi
Here was a small sliver of pink toro, buttery smooth and velvety on the tongue, with a keen fattiness that was deftly cut by the small dab of wasabi present.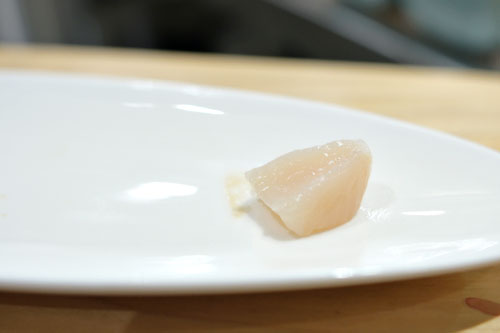 17: Special Scallop Sashimi
Next was a cut of the "special" scallop mentioned above--mildly sweet and saline, with a fantastically firm, yet pliant consistency.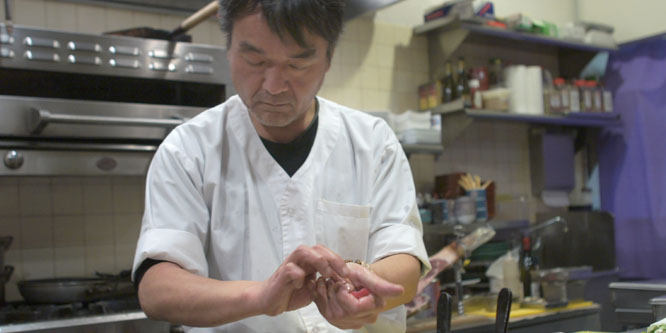 At this point, Yama-san began with the sushi, formed using rice made with the Chef's own recipe incorporating red vinegar.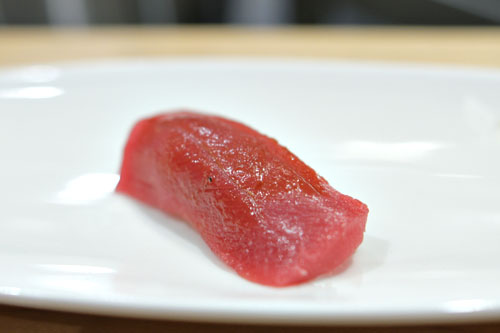 18: Maguro Sushi
A cut of lean tuna was just about perfect: silky and slick, with a superb, subtle brine and a wondrous contrast from the
shari
.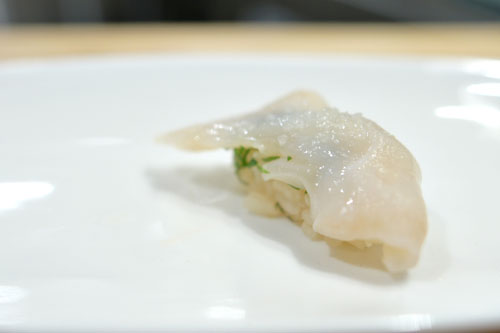 19: Mirugai Sushi
Geoduck was excellent as well, with an incredibly satisfying chewiness and a marked salinity adroitly tempered by the use of yuzu and shiso.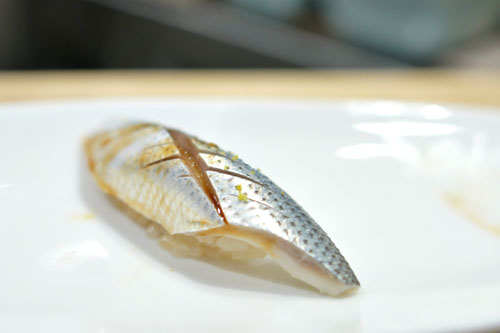 20: Kohada Sushi
Gizzard shad was similarly flawless, one of the best preparations I've had in fact. Marinated in vinegar, the
kohada
arrived firm and oh-so fishy, but well-moderated by a touch of yuzu zest.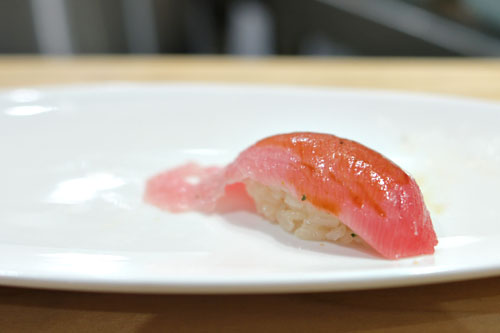 21: Toro Sushi
Rose-colored tuna belly was delightfully rich, with a mouth-watering taste that was elevated by a brush of soy sauce. Again, I just loved how the red vinegar rice worked in the course.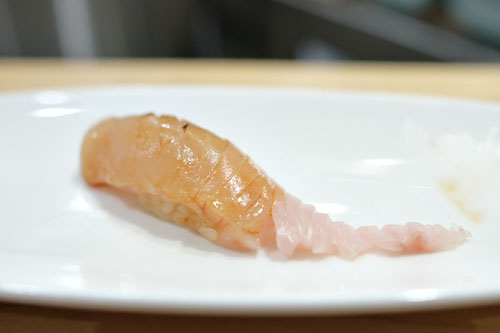 22: Butterfish Belly Sushi
Our parade of
nigirizushi
ended with a cut of hard-to-find butterfish belly. Stupendous--clean, light, and refined, but with a certain gravitas to it.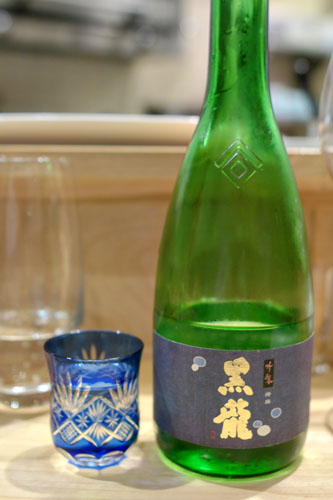 The third and final sake of the evening was one of Yama-san's favorites: the
Kokuryu Tokusen "Crystal Dragon"
, a
ginjo
-class tipple from Fukui Prefecture. Although not as refined as the previous two sakes, it was still delicious, with fresh notes of tropical fruit contrasted by a base of boozy goodness.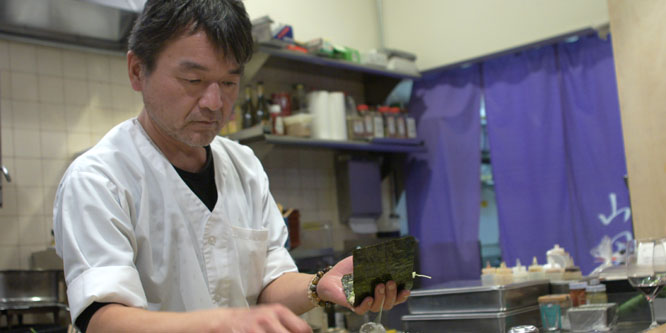 Here, Yama-san prepares our hand rolls.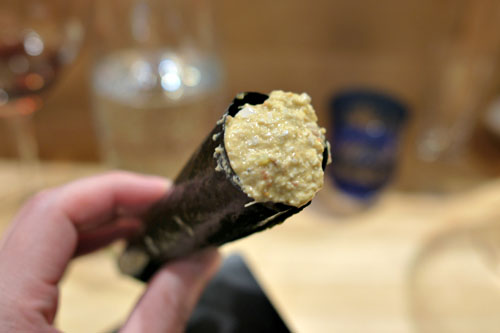 23: Toro-Kani Maki
The first
temaki
combined the holy trinity of toro, crab, and crab guts. It was phenomenal, quite possibly the best hand roll I've ever had, with the tuna and crab faultlessly augmented by the ocean-y intensity of the
kanimiso
, all while shiso and cucumber provided a touch of levity to things.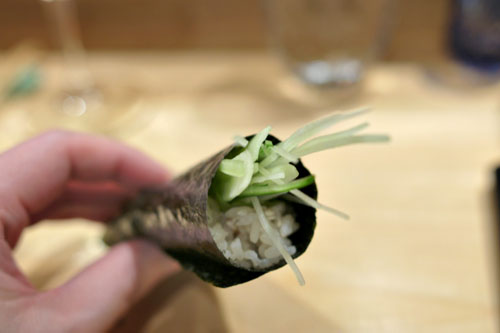 24: Ume-Kyuri Maki
Our next roll served as a sort of palate cleanser, with plum and cucumber making this a light, refreshing course.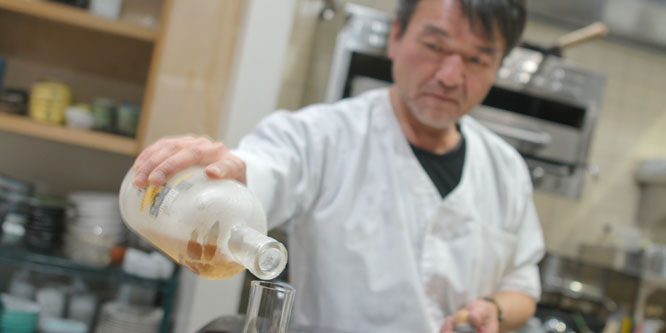 Yamakase has a small selection of single malt Scotch whiskies, which Yama-san and Stan kindly shared with us. Here we see the Chef pouring a bottle of
Port Charlotte PC6
.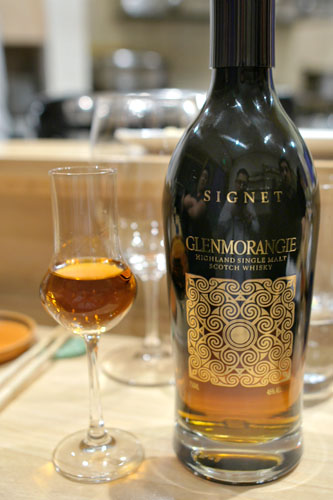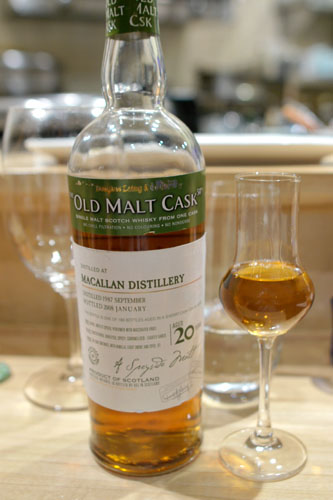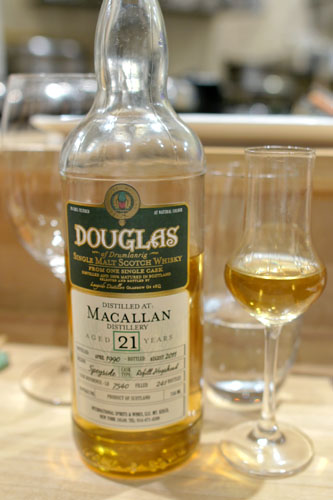 Some of the restaurant's rare, pricey bottlings included the
Glenmorangie Signet
and two single cask selections from independent bottler and blender Douglas Laing & Co: the
Old Malt Cask Macallan 20 Year
and
Douglas of Drumlanrig Macallan 21 Year
.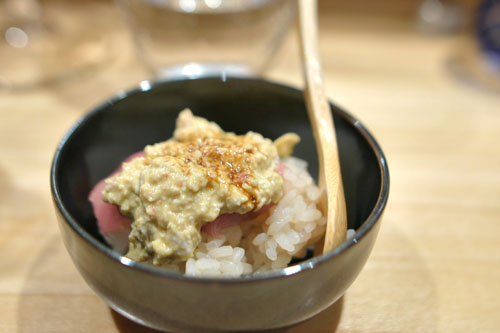 25: Maguro Don
Our final savory course brought us blue fin tuna and crab innards over rice, a hearty, satisfying conclusion to the meal. I wanted a bigger bowl of the stuff!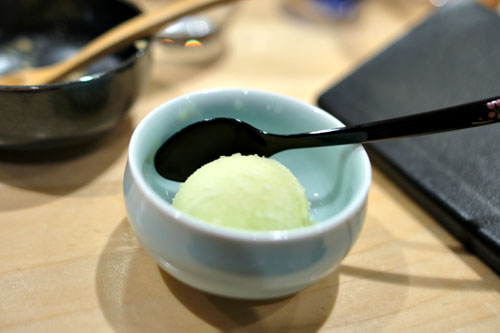 26: Young Peach Sorbet
And finally, the Chef's bracing young peach sorbet for dessert.
My last meal of the year was undoubtedly one of the best. Yama-san's doing great things here, serving up some truly awe-inspiring Japanese cuisine featuring pristine, luxurious ingredients and an uncommon talent for incorporating Western techniques and influences. Amazingly, even at $200+ per head, this meal was a superb value, delivering an
Urasawa
-esque experience for half the cost. And let's not forget the generous BYOB policy, the gracious service coordinated by Stan Liu, and the sheer intimacy of the whole experience (and I do emphasize
experience
). I think Yamakase's going to be the next big thing on the Japanese scene here in LA, and I almost didn't want to write this post lest reservations become harder to secure in the future! I'm already thinking about my return trip--it's that good. Seriously though, if you care at all about Japanese dining, you owe it to yourself to give this place a try,
if
you can get in of course.