Plate by Plate 2013 (Los Angeles, CA)
Plate by Plate 2013
214 S Main St, Los Angeles, CA 90012
www.platebyplate.org/la/
Sat 08/03/2013, 06:00p-10:00p

This past Saturday, August 3rd,
Project by Project
hosted its 11th annual
Plate by Plate
tasting benefit at the beautiful
Vibiana
cathedral in the heart of Downtown. For the uninitiated, Project by Project is a nationwide non-profit focused on issues relating to the Asian-American community. Each year, the group chooses a particular theme to concentrate on--whether it be health, education, or the arts--and partners with a charitable organization in that space. 2013's partner is
East West Players
, the country's premier Asian-American theater troupe. As always, Plate by Plate showcased the culinary chops of some of the City's most popular and up-and-coming eateries, all washed down by unlimited, free flowing booze of all varieties. And of course, I'm continuing on as PbP's Manager of Restaurant Relations, my third year in the role.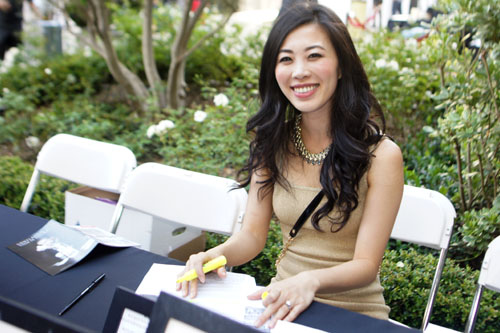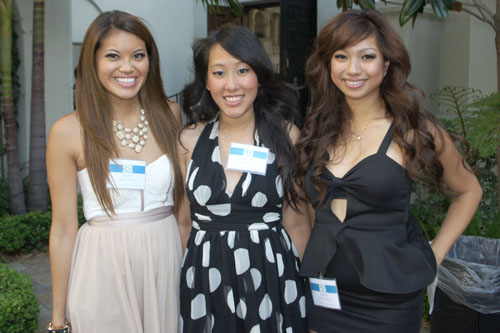 Left:
Former PbP legal counsel Annie Lin running the show at the check-in table.
Right:
Marketing Team members Eve Yen and Alison Ma, with Manager of Public Relations Mayly Tao (of
DKronuts
fame).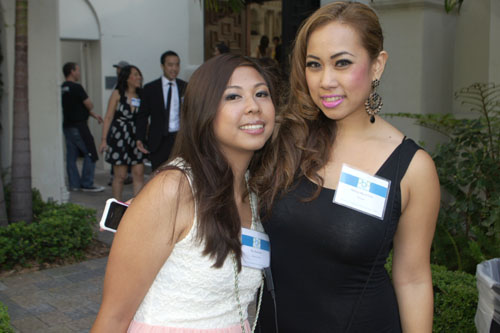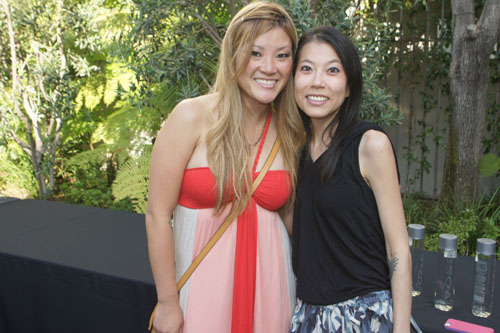 Left:
Director of Events Risa Abarientos, alongside President Marian Bacol-Uba.
Right:
Bacardi Portfolio Manager Jaymee Mandeville and colleague.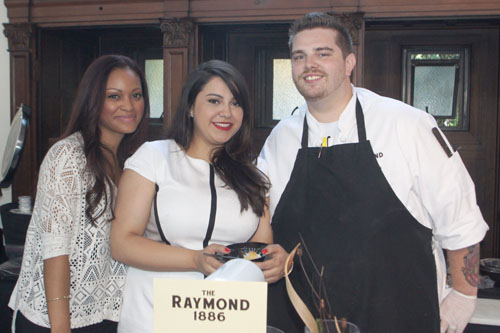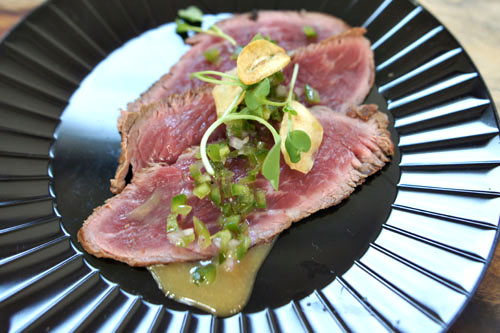 The Raymond
, helmed by Tim Guiltinan (from
Leatherby's
down in OC), kicked things off with a
Bonito Cured Sirloin, Jalapeno Salsa & Pitchfork Dressing
along with
Cantaloupe Ice Cream, Raspberry Streusel
for dessert. Also present were Special Event Managers Teresa Brown and Emely Cubias.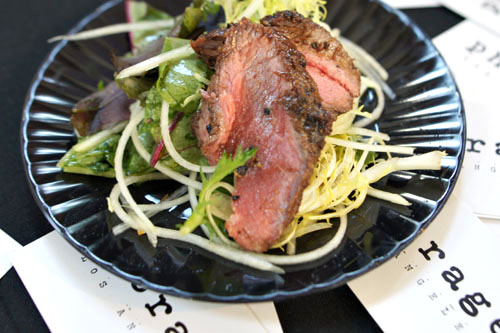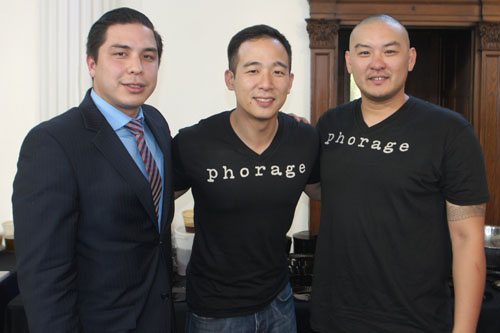 Coincidentally, the
Rare Beef Salad
from Chef Perry Cheung's
Phorage
was a similar dish. That's Partner Jesse Duron in the suit there, who also happens to be the GM over at Hamasaku.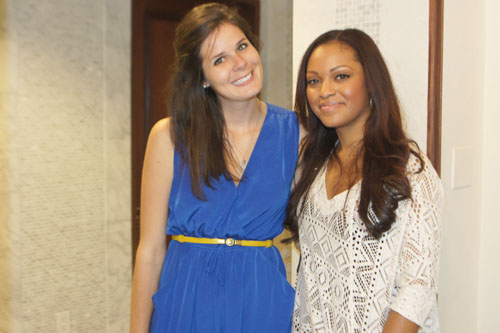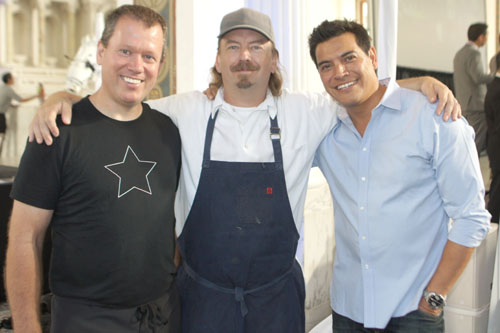 Left:
The Raymond's Teresa Brown again, with eventual Instagram
contest winner
Katie Buntsma.
Right:
Walter Manzke and Neal Fraser in the mix.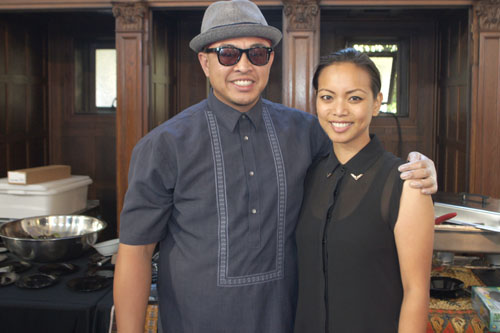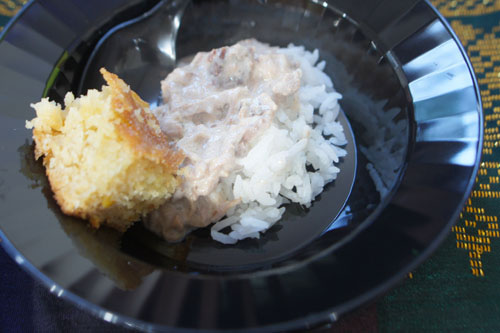 The Park's Finest
brought some Filipino flavor with
Mama Leah's Coconut Beef & Rice
and
Ann's Cornbread Bibingka
. Rockin' the shades is Co-Founder & BBQist Johneric Concordia, along with Christine Araquel-Concordia.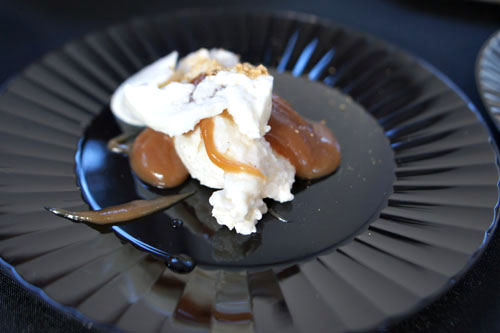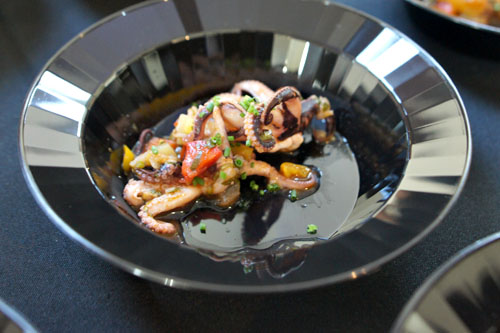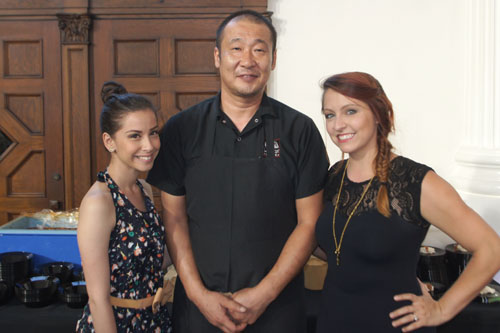 Lazy Ox Canteen
had their
Octopus Curry with Ratatouille
and
Lazy Ox Hand Whipped Rice Pudding
. Chef Hiroyuki Fujita (formerly of
Fat Spoon
) is working there now, and was joined by Assistant Manager Shana Dysert.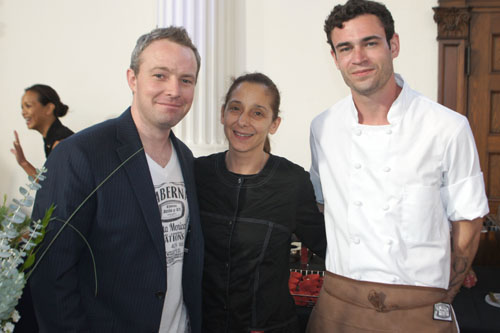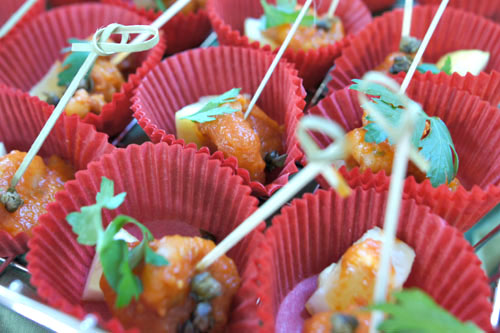 Taberna Arros y Vi
, Michael Cardenas' newest project, was repped by Executive Chef Verite Mazzola and GM Wes Zelio. What did they serve? Some dainty
Shrimp Gambas
.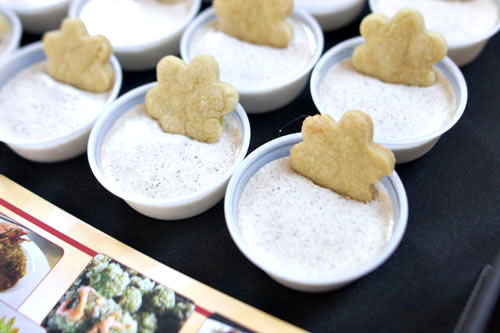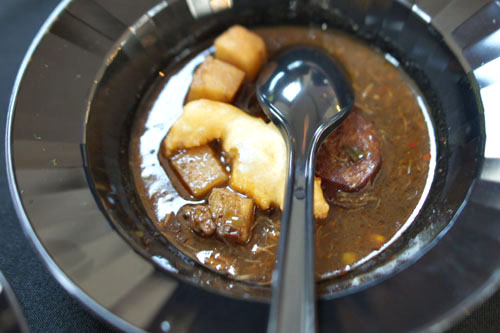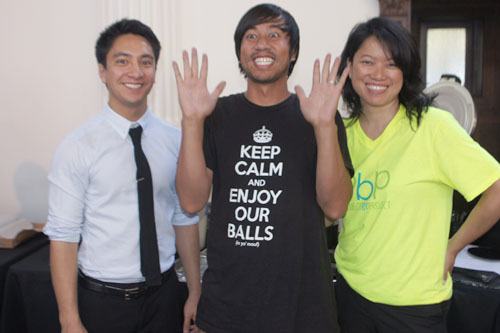 Starry Kitchen
's Nguyen Tran was without his Kitchen Ninja tonight, but still managed a hearty dish of
Singaporean Chili Crab Gumbo & Buttermilk Beer Beignet
, with
Black Sesame Panna Cotta with Green Tea Lemon Latte Cookies
for dessert.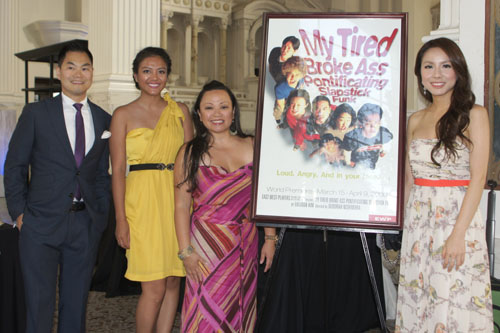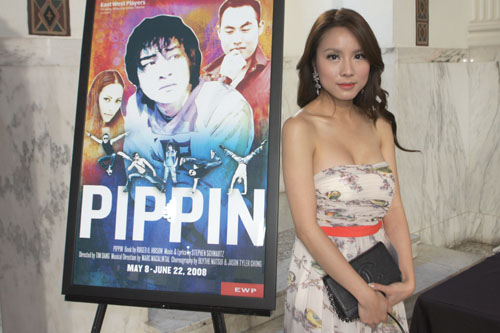 Director of Partner Outreach Eden Tol and Manager of Campaign Partner Kayla Vu with representatives from
East West Players
.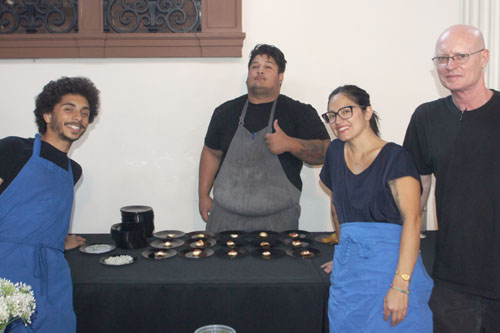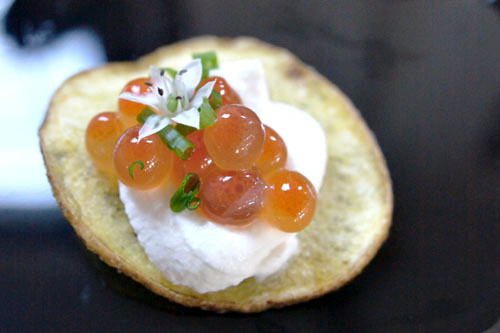 Bill DiDonna and Charles Kelly's ambitious Echo Park eatery
Allumette
gave out tasty little bites in the form of a
German Butterball Potato Chip, Coconut-White Soy Marinated Salmon Roe, Yuzu Cream
. Interestingly, Chef Miles Thompson was joined tonight by Derrick De Jesus, whom we last saw over at
Alma
.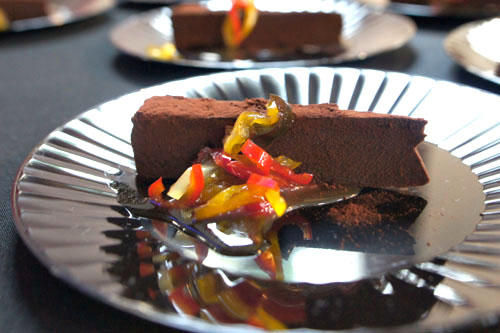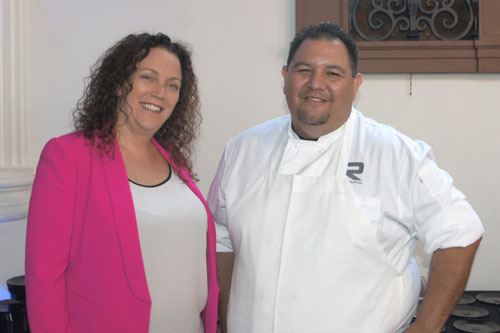 Rivera
's
Columbian Chocolate Torte with Habaneros and Citricos
was quite a sight to behold.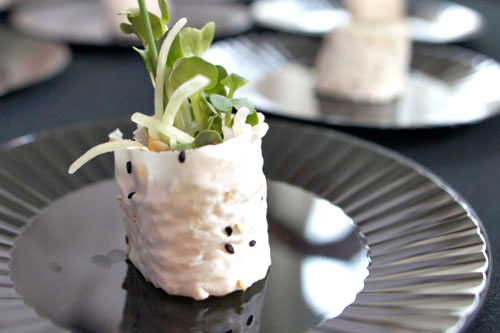 From
Hamasaku
, Executive Chef Wonny Lee and Executive Sushi Chef Yoya Takahashi joined forces to produce a
Pork Belly Handroll with Gochujang Moromiso
.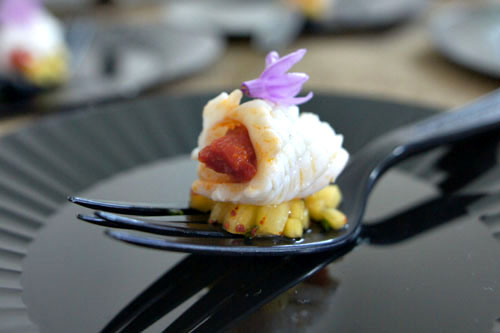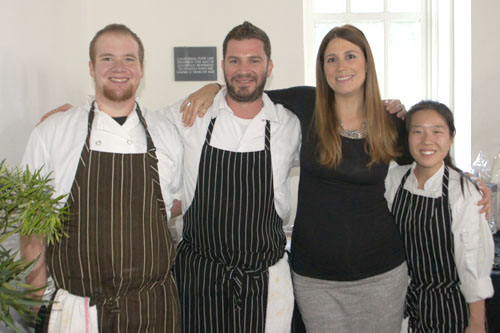 Bashan
, meanwhile, gave us a delightful nibble of
Sword Tip Squid, Red Pepper Chutney, Mango
.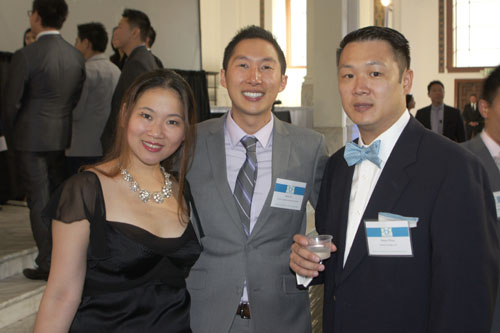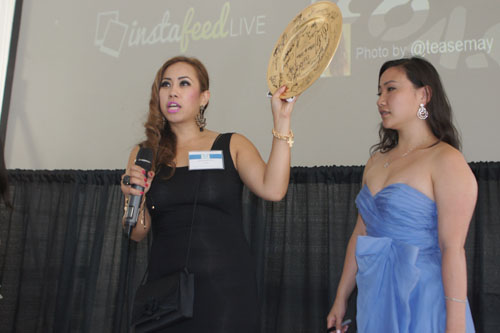 Left:
National Director of Operations & Secretary Eleanor Lem with National Leadership Development Director Jason Ho and PbP NY Director of Finance Sunny Chiou.
Right:
President Marian Bacol-Uba shows off a golden plate signed by all the restaurants, the prize for the winner of the PbP Instagram competition (attendees were encouraged to post photos with the hashtag
#playwithfoodla
).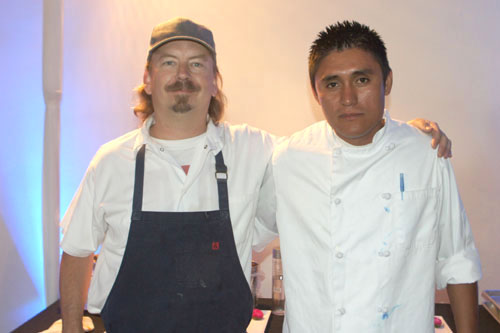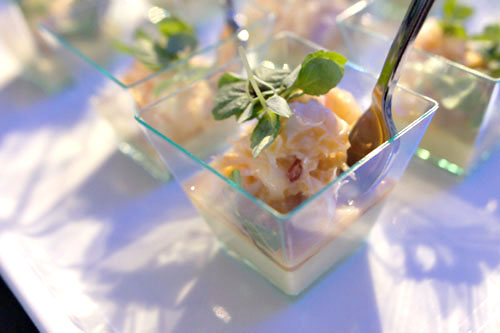 Chef Neal Fraser (whom you may recognize from the current season of
Top Chef Masters
) is opening up Redbird at Vibiana early next year, and gave us a tantalizing preview with his
Dungeness Crab Salad with Curried Cauliflower and Micro Shiso
.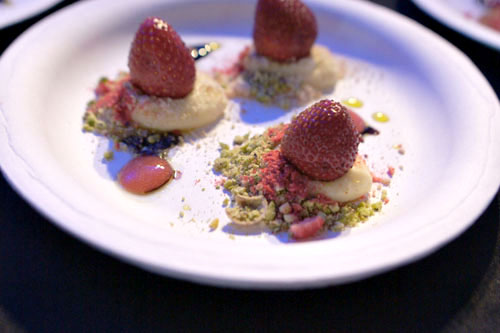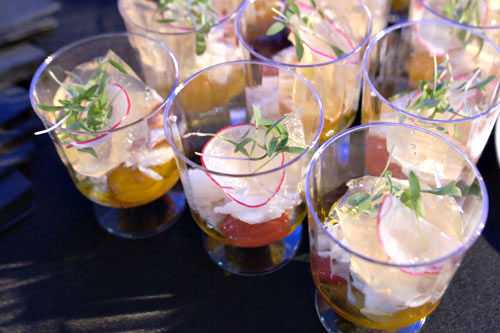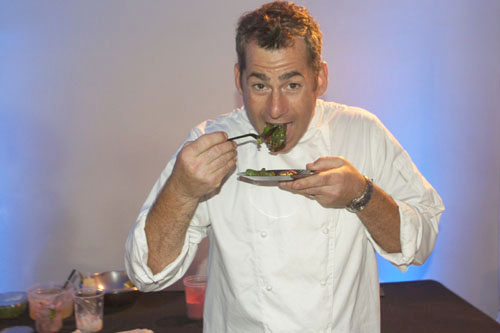 Joining Fraser in the VIP was
Kali Dining
's Kevin Meehan, who produced a one-two punch of
Dungeness Crab, Avocado, Tomato, Cilantro
and
Vanilla Curd, Strawberry, Pistachio, Balsamic
.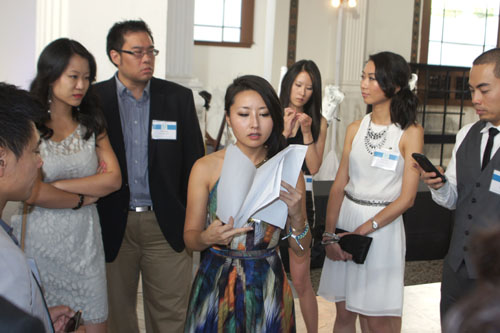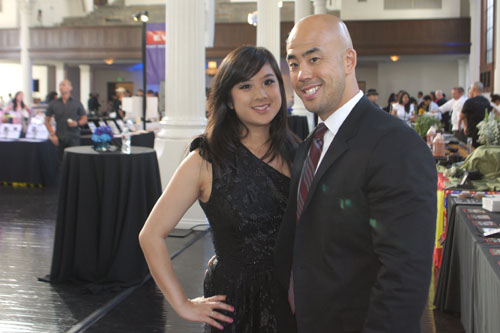 Left:
Director of Volunteer Management Yulree Chun taking charge.
Right:
Former PbP LA member Jennifer Chen is now Manager of Team and Leadership Development up in San Francisco.
Thai sensation
Jet Tila
gave us a hearty
Khao Soi
, though unfortunately I managed to miss snapping a photo of the Chef. Tila, of course, just opened up
Kuma Snow Cream
in Las Vegas.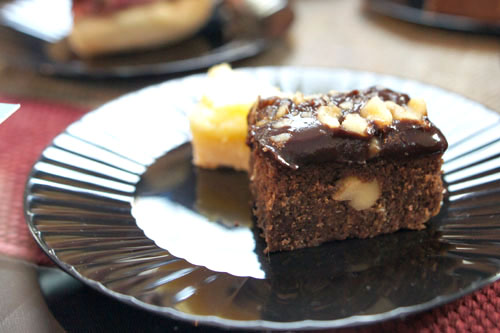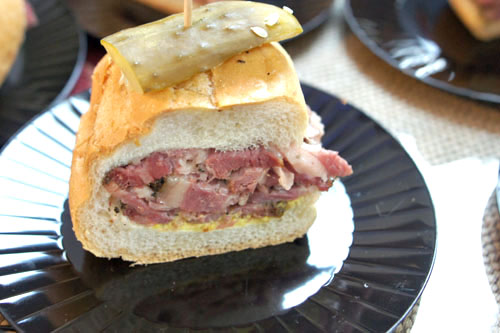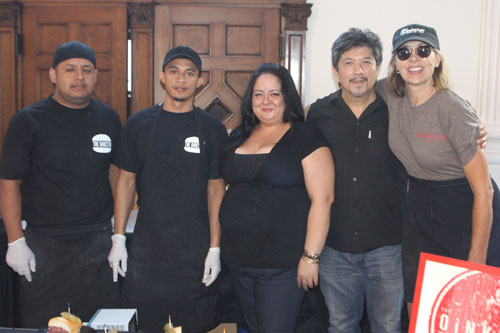 The Oinkster
(Andre Guerrero, Jan Purdy) had a very substantial
Hand Cut House Made Pastrami Sandwich
, followed up by brownies.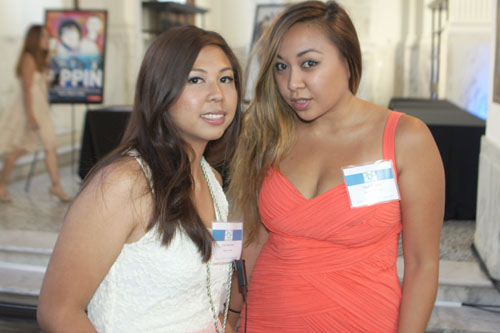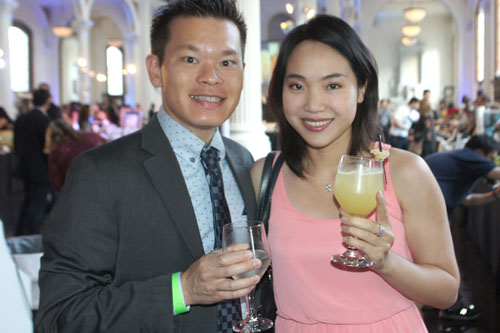 Left:
Director of Events Risa Abarientos and Events Team member Sarah Mendoza.
Right:
Eric Tung brought a much more attractive date than he did
last year
in the form of Melissa Lee.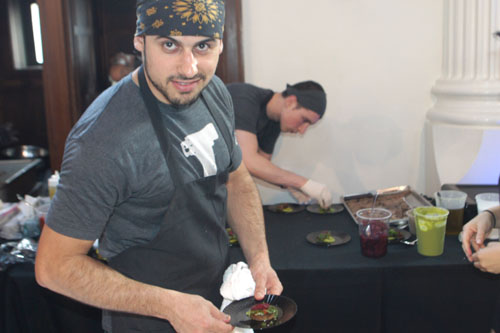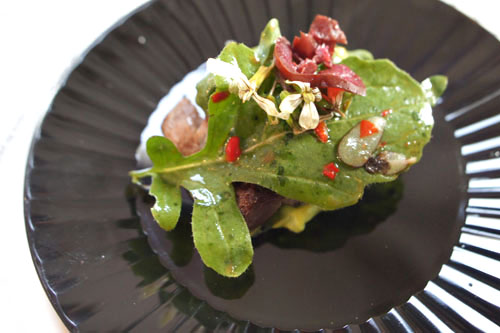 Downtown Italian hotspot
Bestia
had
Grilled Beef Tongue, Green Garbanzo Bean Puree & Pickled Eggplant & Salsa Verde
. Chef Ori Menashe, meanwhile, was looking as smoldering as ever.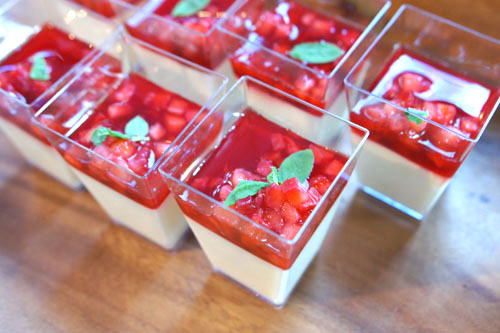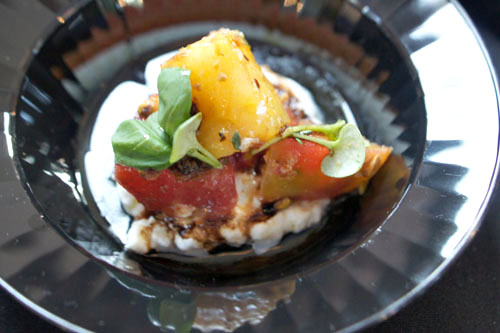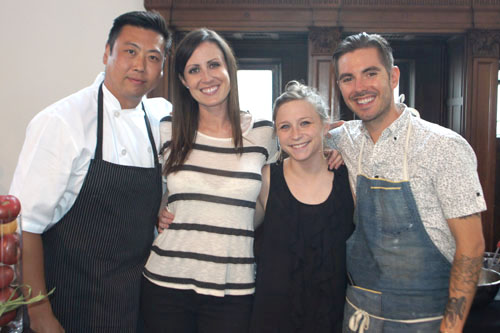 Stella Barra Pizzeria
had Chef/Partner Jeff Mahin (whom you may recognize from
The Taste
) and Special Events and Catering Manager Kaitlin Leard on hand for their duet of
Summer Tomato Salad, Arugula Pesto, Fresh Burrata, Smoked Almonds, House-Made Bread
and
Madagascar Vanilla Bean Custard, Cognac infused Preserved Peaches, Hazelnut Crumble
.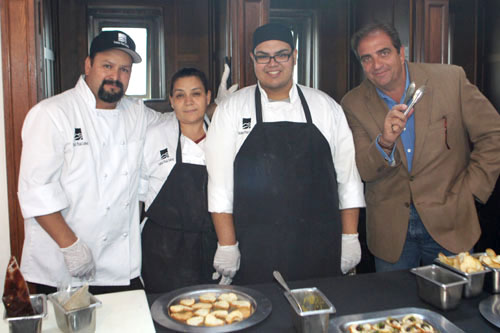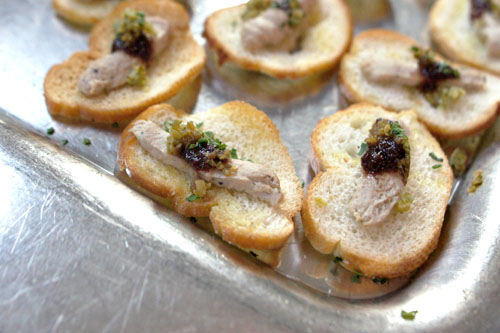 Headed by GM Bobby Caravella,
Saddle Peak Lodge
served up
Duck Mousse, Brandied Cherries, Cornichons
atop toast.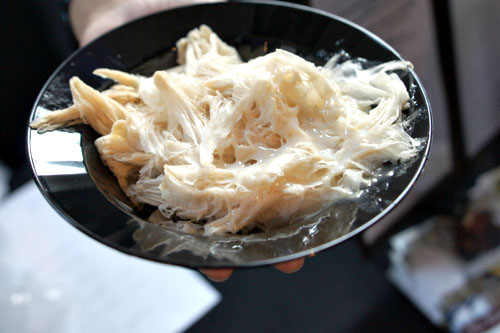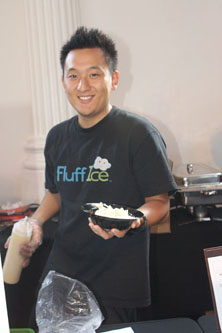 Fluff Ice
offered two variations of its shaved ice: the
LAMILL Coffee Organic Black Onyx Blend
and a loose-leaf steeped
Thai Tea Fluff
, both topped off with Cream & Sugar and Condensed Milk.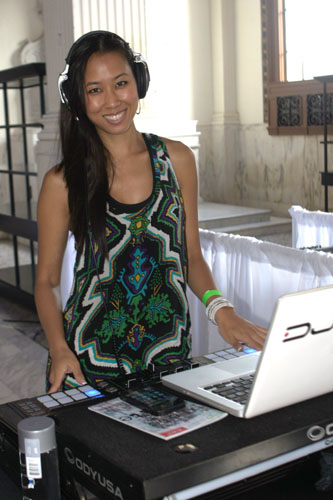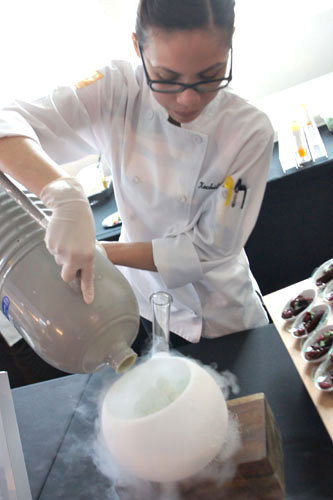 Left:
DJ Shy
kept us going throughout the evening.
Right:
Props to Patina for not being shy about busting out the liquid nitrogen canisters.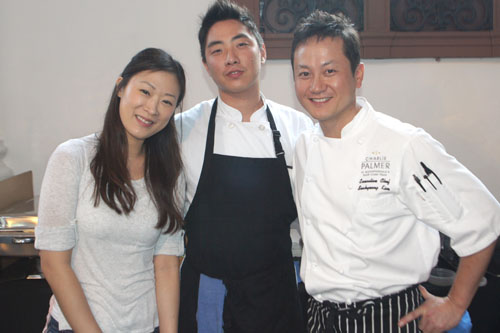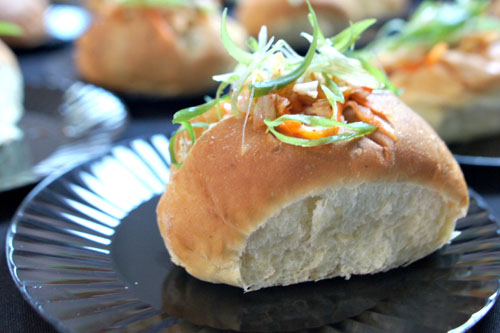 Charlie Palmer at Bloomingdale's
(Executive Chef Seakyeong Kim) was the lone Orange County restaurant at the event, but that didn't stop them from plating hefty
House Made Mini Korean-BBQ Sausage Rolls, Jalapeno Potato Roll, Caramelized Onion, Wasabi Aioli, Kimchi Sauerkraut
. I really would like to get some more OC representation going, but what else is worthwhile down there? And yes, I did ask
Playground
(they ended up donating to the silent auction).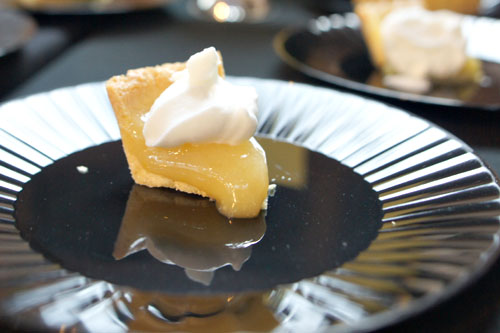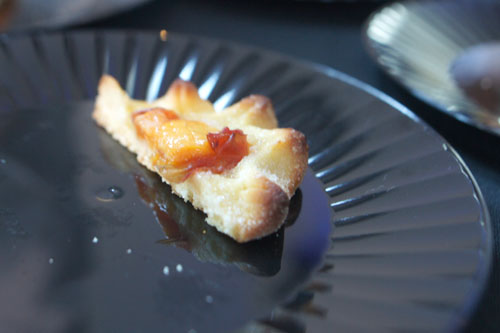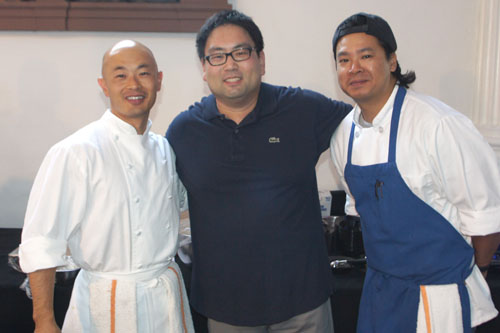 Dessert slanger
Ramekin
had perhaps the widest array of treats for us tonight: a
Key Lime Tart with Whipped Cream
,
Nectarine Tart
,
Chocolate Chip & Oatmeal Raisin Cookies
, three sorbets (
Ambrosia Melon, Blueberry, Tangelo
), and even more ice creams (
Banana Choco Chip, Chocolate, Earl Grey, Green Tea, Jasmine Green Tea, Vanilla
). Note that Chef Jason Park has just opened up
Maru
in West LA as well.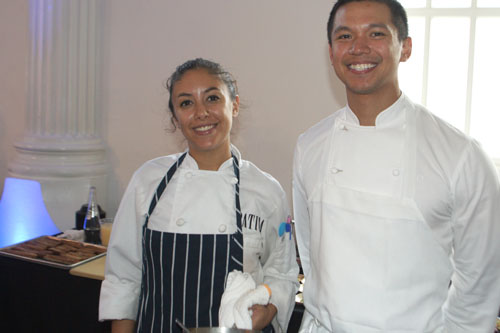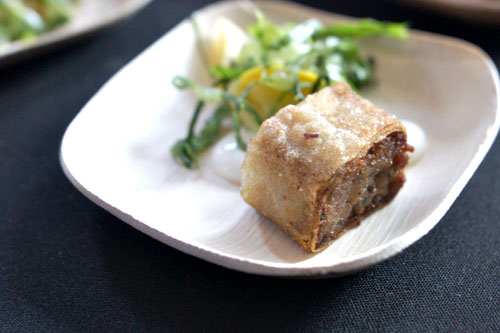 Downtown LA
grande dame
Patina
was on hand with Chef Charles Olalia's signature
Tamarind Braised Lamb Shoulder, Feuille De Bric, Whipped Yogurt, Little Gem Lettuce
, arguably the schmanciest dish of the night.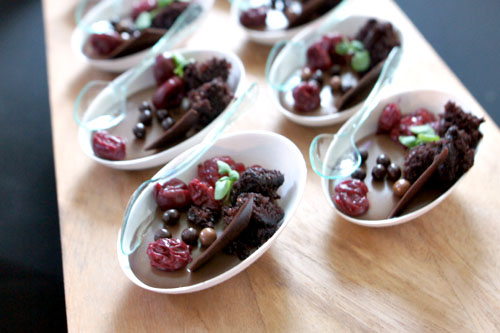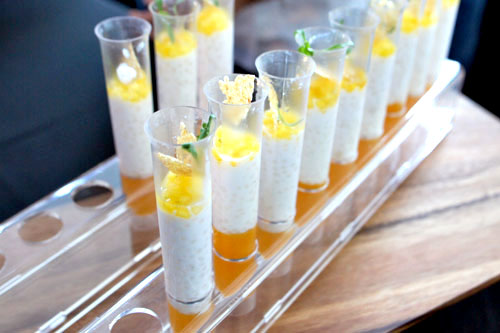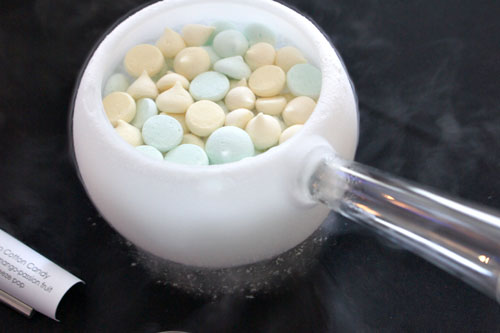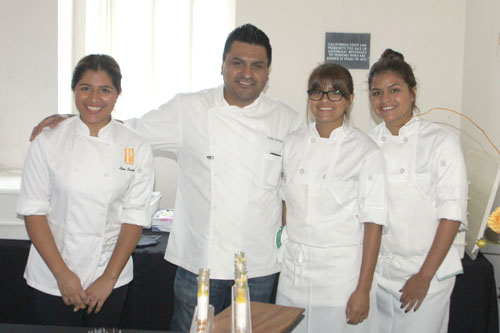 Next door,
Top Chef: Just Desserts
finalist Carlos Enriquez and
Patina Pastry
made waves with their modernist trio of
Nitro Cotton Candy
(probably the most oft referenced dish of the night),
Coconut-Mango-Passion Fruit Squeeze Pop
, and reimagined black forest cake.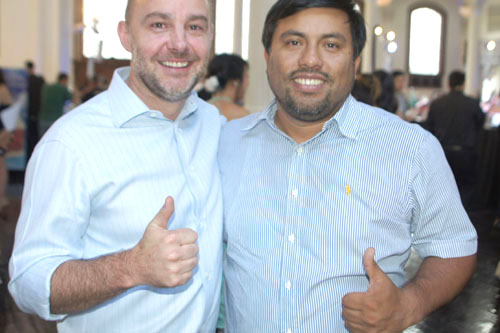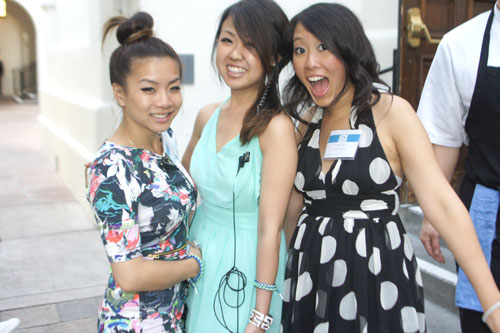 Left:
Two thumbs up from the dynamic duo of Stephane Bombet and Ricardo Zarate.
Right:
Director of Marketing Aliyah Wong, Director of Fundraising Sunny Chung, Marketing Team member Alison Ma.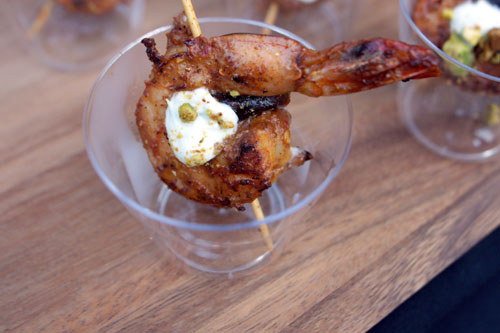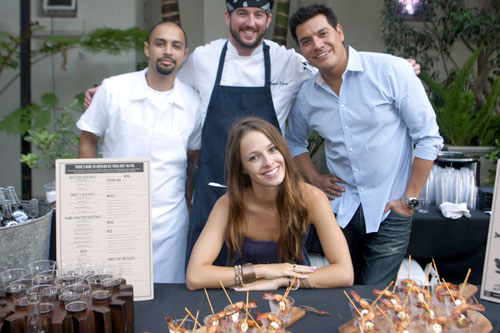 Heading outdoors, we see Executive Chef Byron Freeze and
Circa
's
Tunisian Chili Marinated Prawn
.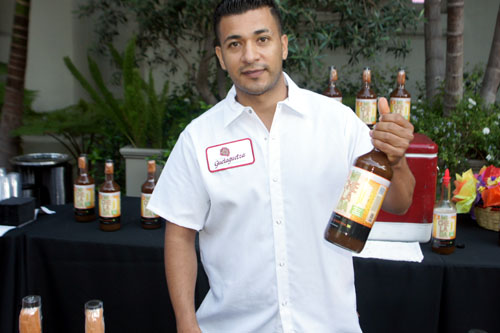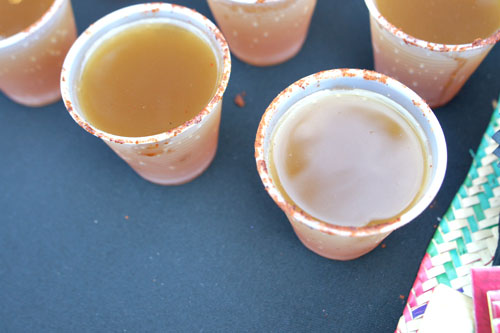 Micheladas
were the just what the doctor ordered from
Guelaguetza
.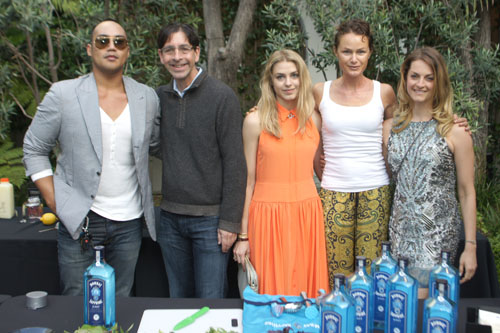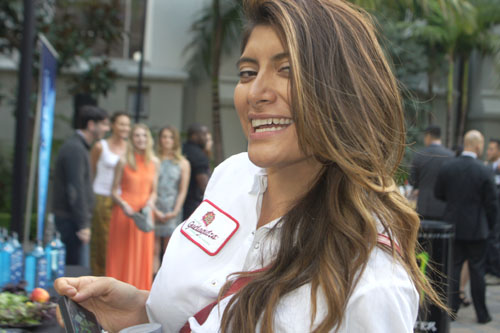 Left:
Devon Espinosa with Bill Chait's entourage: Zoe Chait, Julie Mills, Tanya Holt.
Right:
Mole
queen Bricia Lopez, as ebullient and effervescent as ever.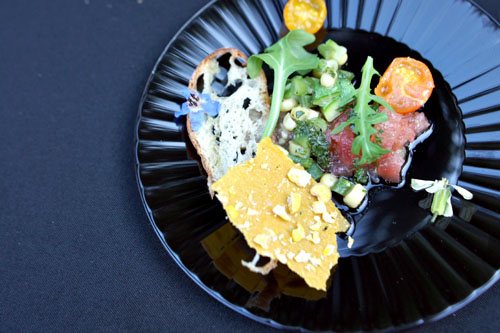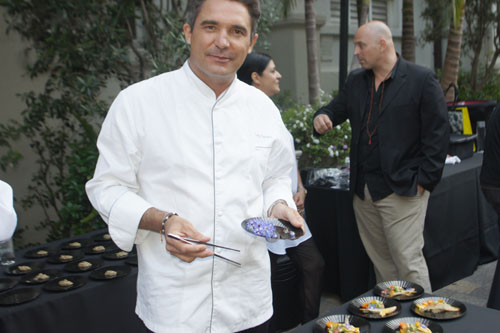 Tony Esnault is, of course, the latest chef to take over the kitchens at Yassmin Sarmadi's venerable
Church & State
, and presented a rather striking
Salade Paysanne Fraicheur, Farmers Market Tomatoes, Eggplant, Zucchini, Sweet Corn, Herb Vinaigrette
. Note that the Chef is also planning on opening up a new restaurant called Spring, located on Spring Street, next Spring.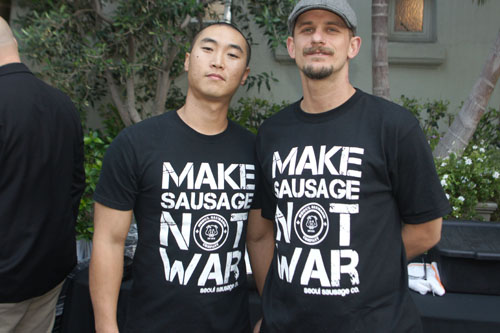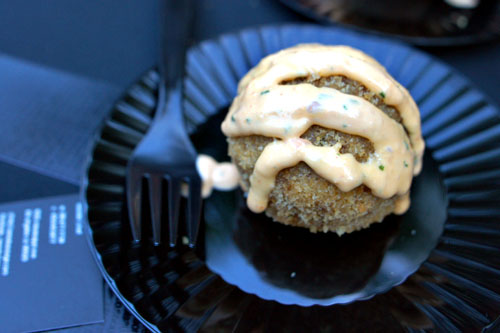 Seoul Sausage Co
cornered the ball market tonight (apologies to Starry Kitchen) with their
Lil' Osaka Ball, Japanese Curry Ground Kalbi and Potato Rice Ball served with a Shoga Aioli
. Badass.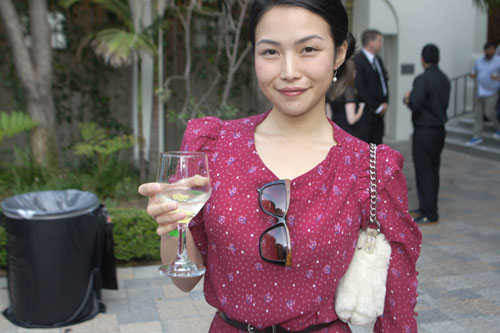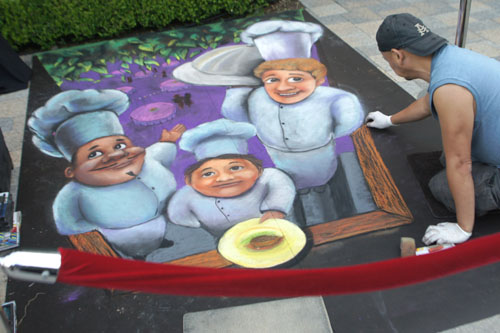 Left:
MasterChef
Season 3 finalist
Felix Fang
. I was really rooting for her to win the whole thing.
Right:
Artist
William Zin
enthralled us with a live chalk art demo.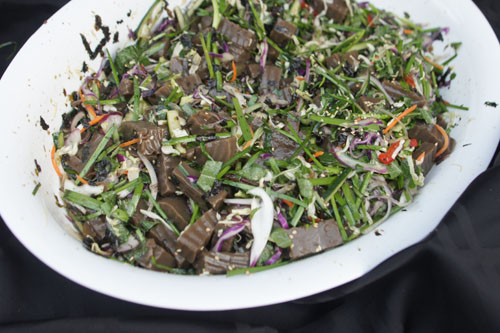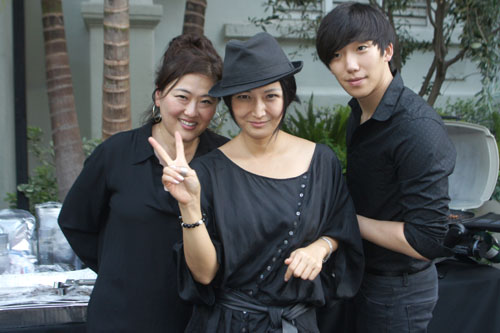 I believe
Star King BBQ
is the first KBBQ joint to make an appearance at Plate by Plate, and owner Jackie Yoo had both an
Acorn Jelly Salad
and
Sweet Potatoes Noodles with Veggies
to go along with her
Piedmontese Marinated Short Rib
.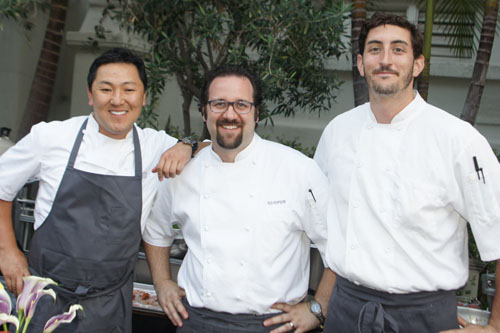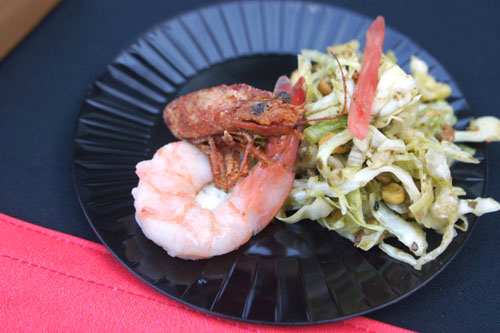 More
Top Chef Masters
love came in the form of
Lukshon
. Sang Yoon and Ted Hopson presented a
Hawaiian Red Prawn & Tea Leaf Salad, Chana Dal, Sesame, Marcona Almonds, Peanuts, Crispy Prawn Head, Chile Aioli
, which just so happens to be the same dish that gave team Lukshon the win on last week's episode (and which I also tried during
my last dinner at the restaurant
).
Very
cool.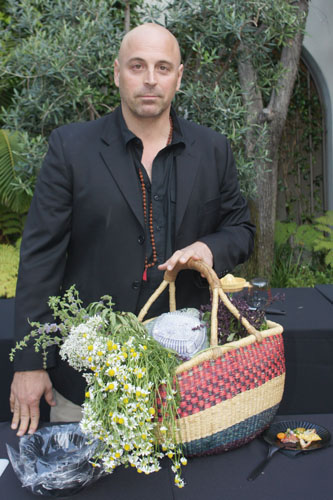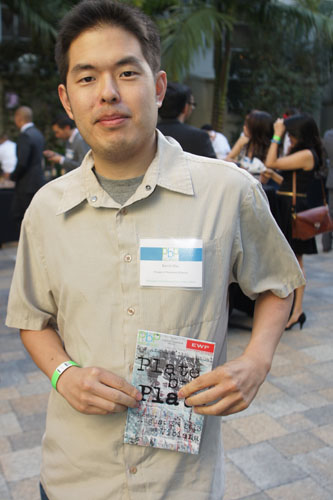 Left:
Matt Biancaniello, with his trademark basket of farmers market produce.
Right:
I don't know how this guy managed to steal my name tag.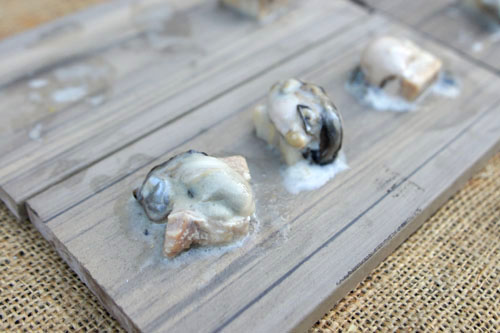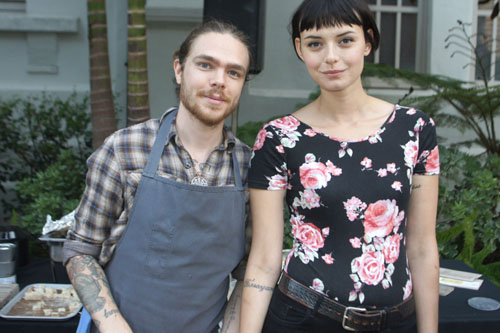 Restaurant Row newcomer
Scratch|Bar
is already making a name for itself, and tonight Chef Phillip Frankland Lee and Pastry Chef Margarita Lee (can you tell she's a former model?) prepared one of their signature bites:
Pork Belly & Raw Oyster
.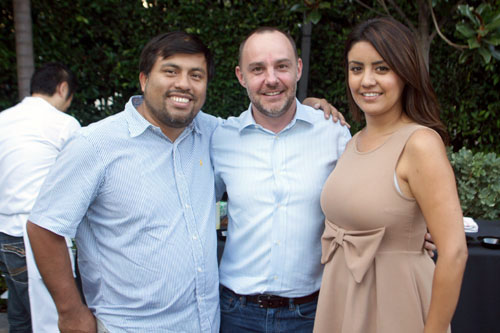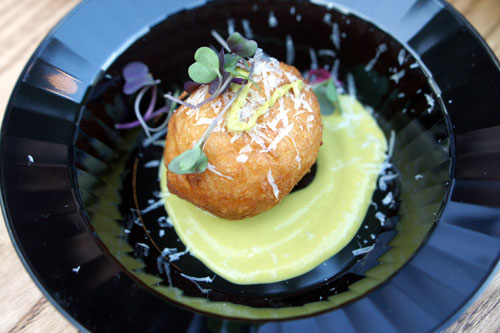 Longstanding PbP participants Ricardo Zarate and Stephane Bombet repped their latest restaurant,
Paiche
, by giving attendees a taste of
Yuquitas: Stuffed Yucca Beignets, Manchego Cheese, Grated Parmesan & Serrano Sauce
.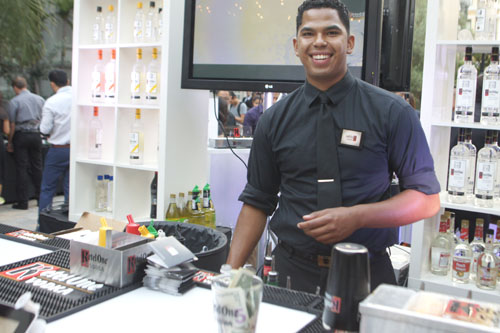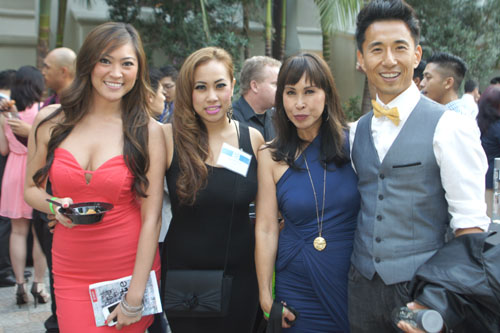 Left:
Sponsor
Ketel One
always does it up proper while running the main bar. A favorite of almost all the attendees.
Right:
With Co-Masters of Ceremonies Susan Hirasuna (Fox 11 News) and James Kyson (
Heroes
).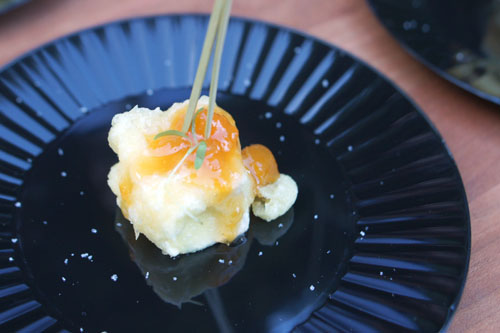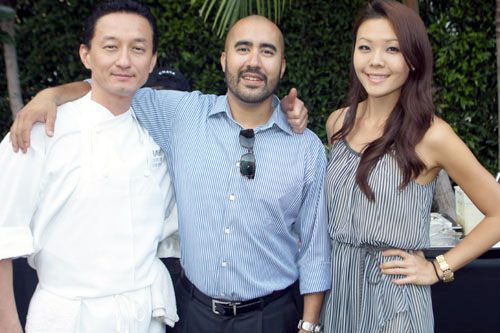 Executive Chef Atsushi Kenjo and Marketing & Creative Manager Cindy Choi were here for
Chaya Downtown
. Their dish?
Brie Cheese Tempura, Yellow Peach Marmalade
.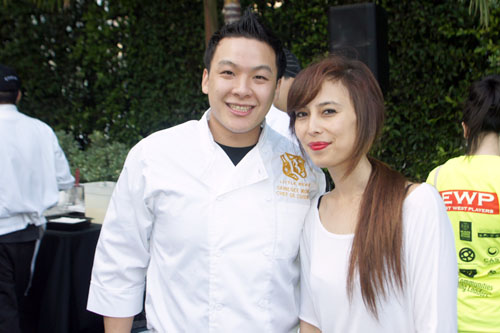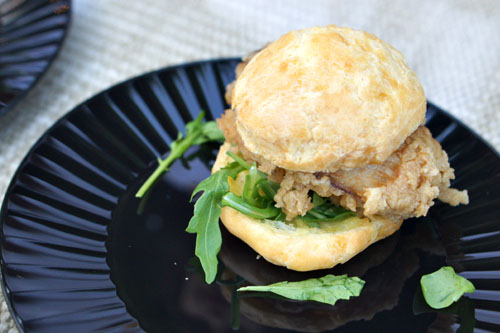 Chef de Cuisine Sainegee Wong from Andre Guerrero's Belgian beer cafe
Little Bear
opted for an appealing
Fried Oyster Gougere Slider
.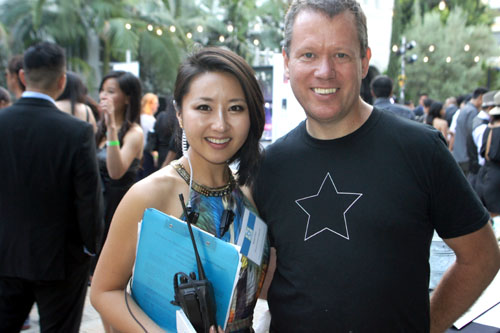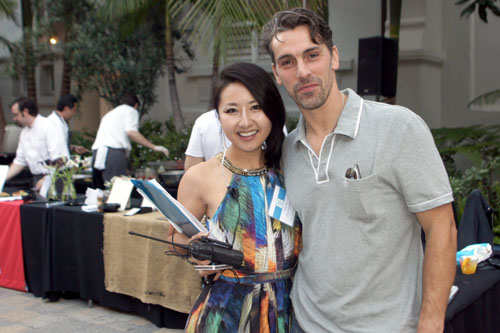 Director of Volunteer Management Yulree Chun gets chummy with Walter Manzke and David Féau.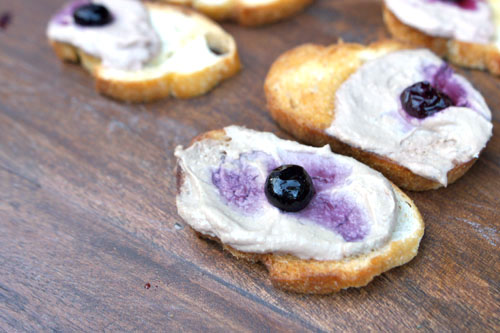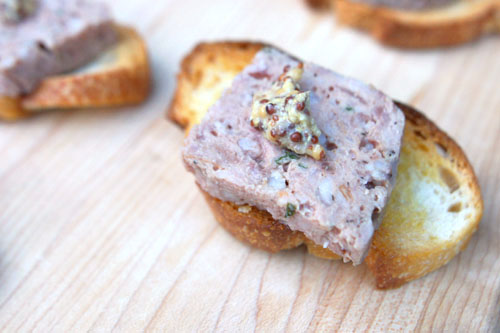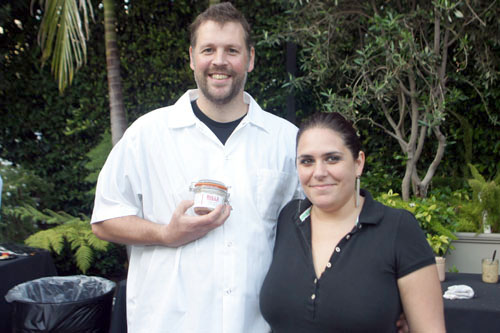 Gavin Mills (
Tavern
,
Wood & Vine
) was here with wife Jessica Lauricella Mills to debut their new charcuterie project,
Mills + Company
. If the
Chicken Liver Mousse
and
Country Pate
were any indication, they're off to a good start.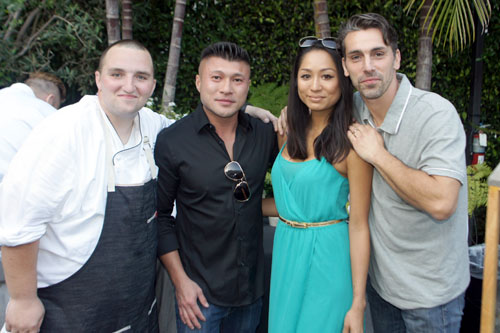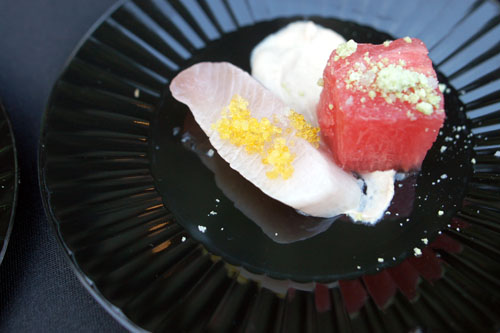 Lexington Social House
won the "best dish" competition with their
Yellowtail Tuna, Compressed Watermelon, Yuzu Tobiko, Candied Wasabi, Ponzu Crème Fraiche
. And yes, that's none other than
David Feau
, who's consulting for the restaurant currently.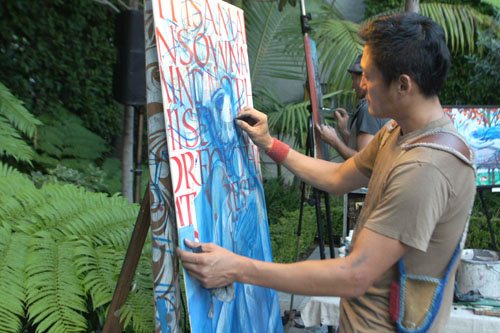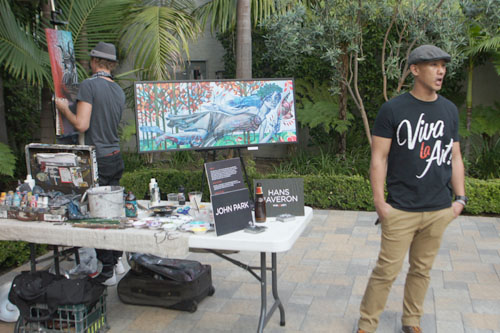 Viva La Art
was on deck with live artwork demos from
John Park
and
Hans Haveron
.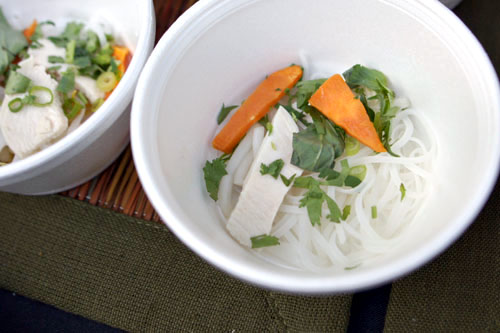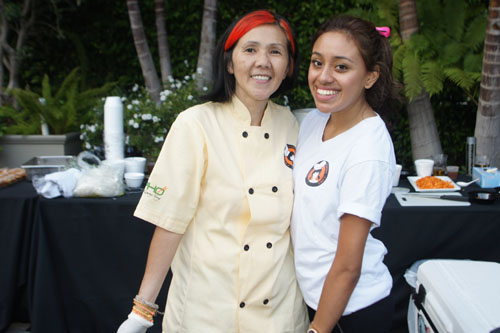 Chef Kimmy Tang's
9021pho
had two types of its namesake soup available:
Pho Ga (Chicken)
, and
Pho Chay (Veggie & Tofu)
.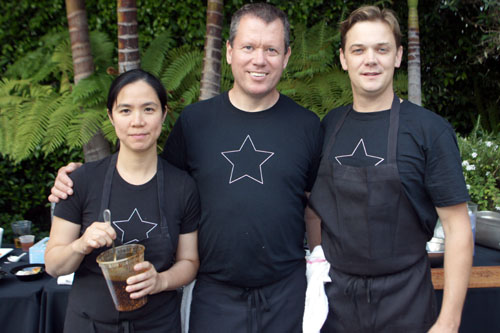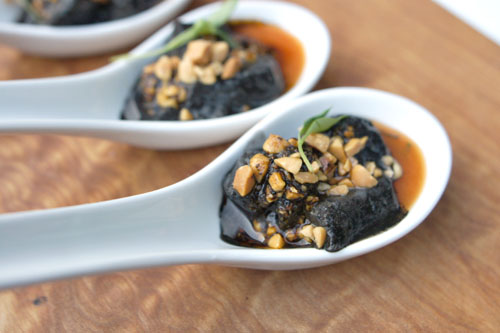 Last, but certainly not least, were Walter and Margarita Manzke with
Petty Cash Taqueria
. The Chef's
Ceviche Negro
was a dish that I really enjoyed during my
last visit there
. For those keeping count, Republique (in the old
Campanile
space) should be opening up in the coming months, so be on the lookout for that.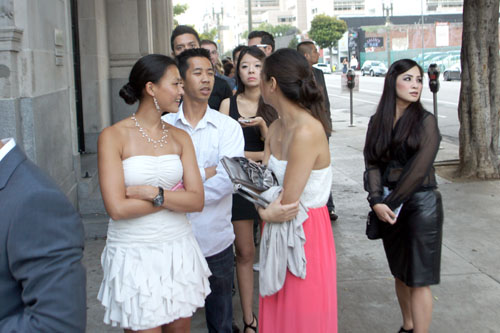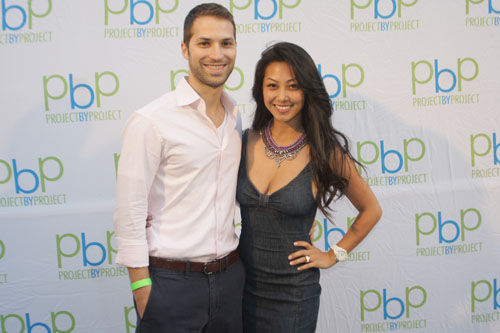 Left:
The line on Main Street.
Right:
Violet Kim from the
K-Town
reality show, with new beau Blair Tudas.
This year, we made a real effort to beef up the mixology portion of Plate by Plate, and thus organized a cocktail competition judged by Matt Biancaniello, Devon Espinosa, and Bacardi rep Jaymee Mandeville. The goal was to have three contestants create a cocktail on the fly that would best incorporate Bombay Sapphire East gin. Originally, we'd confirmed Deysi Alvarez (Paiche, Mo-Chica, Picca, Fraiche, Rivera), Dino Balocchi (Littlefork, Longman & Eagle in Chicago), and Brittini Rae Peterson (Goldie's, Ink, The Tar Pit, Fig & Olive, Soho House). However, none of the three competitors would end up actually competing. Dino dropped out the day before Plate by Plate for unknown reasons, but fortunately we quickly found Nate Oliver (Harvard & Stone, Ink, Church & State) to take his place. Then, Deysi fell sick and had to pull out while we were setting up for the event; thankfully, Brady Weise from 1886 (who was here to run the VIP bar) agreed to replace her. And finally, if that wasn't enough, Brittini Rae went AWOL, so Marcel Vigneron (yes, Marcel) had to step in at the last minute.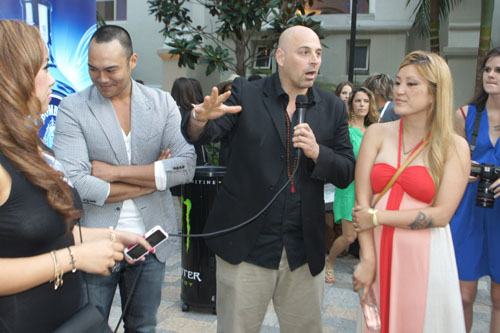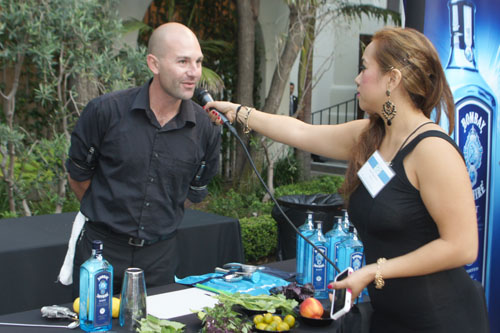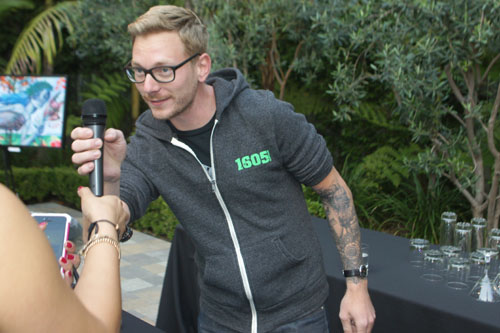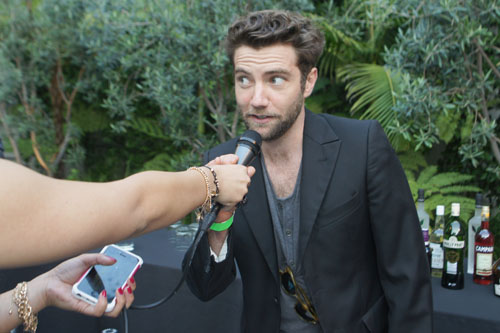 With everything finally in place, we were free to begin, albeit a bit behind schedule. First, the mandatory introductions.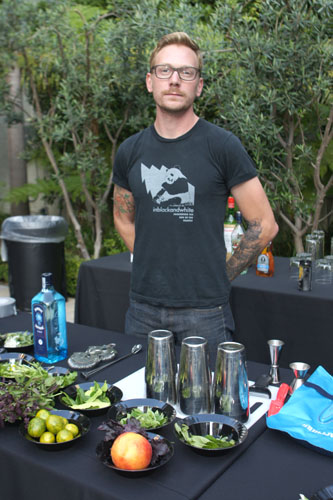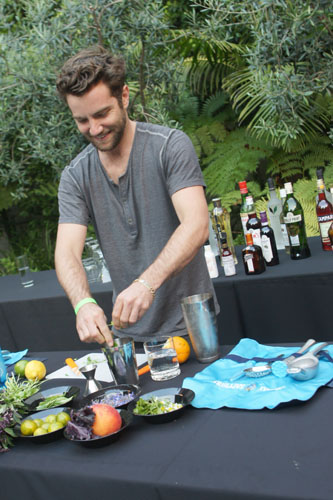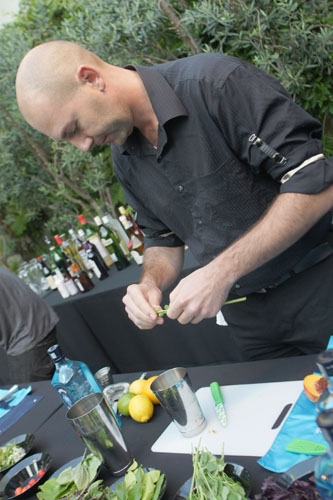 The competitors get going; they only had 10 minutes to come up with their drink.




Marcel is the last to finish, while his fellow competitors look on in apparent consternation.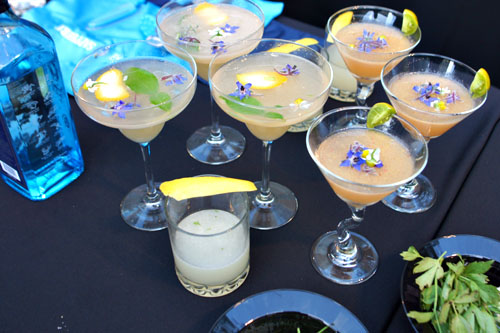 Since judging was done blind, the drinks were rearranged in haphazard order before the judges tasted and rendered a verdict.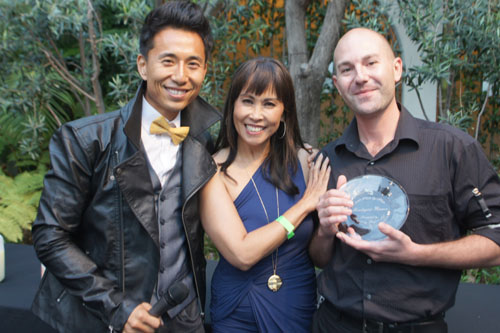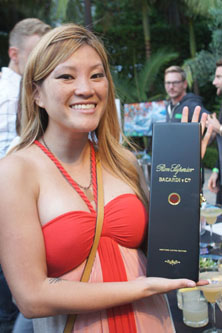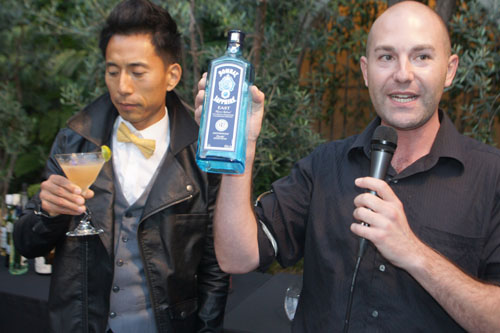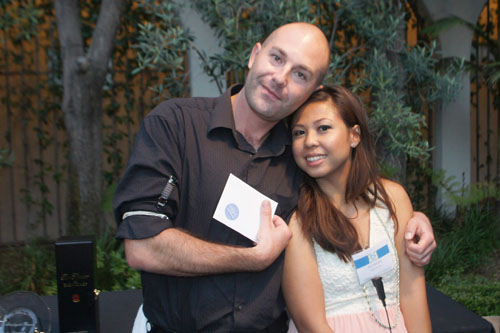 The winner, by unanimous decision, was Brady Weise and his concoction of Bombay Sapphire East gin, bianco vermouth, peach, lime, simple syrup, and various herbs, garnished with chamomile and heirloom tomato. For his efforts, he received a commemorative etched Plate by Plate trophy, a limited edition bottle of Bacardi 1909 rum, and a $50 Sugarfish gift card. In addition, all of the contestants and judges each received a $25 gift certificate to use at Bar Keeper in Silver Lake as a token of appreciation.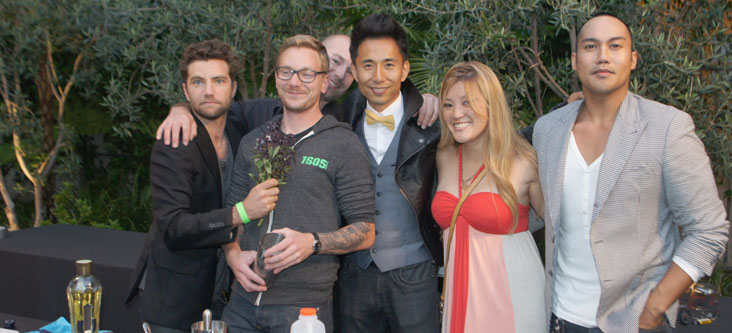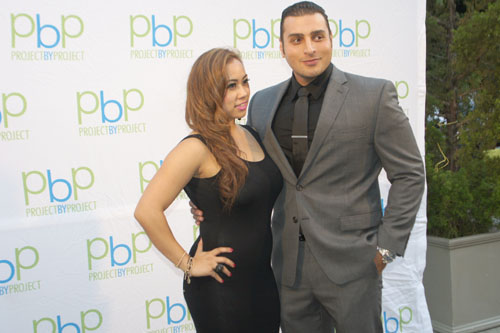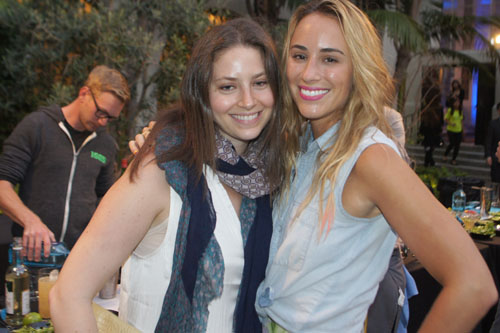 Left:
President Marian Bacol-Uba and the new boyfriend.
Right:
Eater LA
Editor Kat Odell. And yes, I'll be watching
Eat Drink Love
.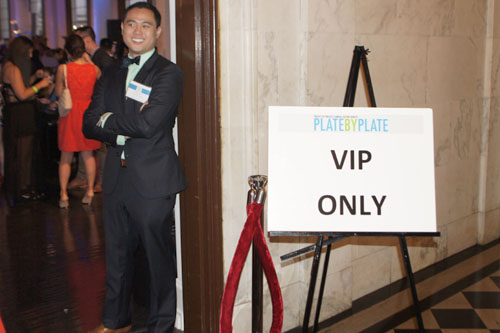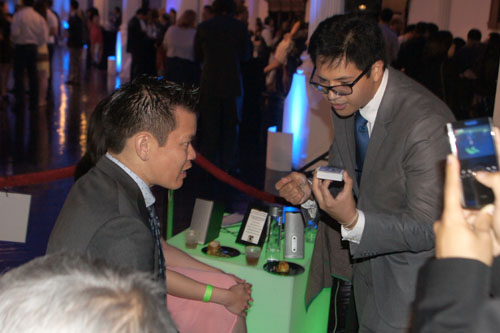 Left:
Fundraising Team member Clayton Tran: VIP area bouncer.
Right:
VIP guests were also treated to a magician. Here, Eric Tung is utterly bewildered.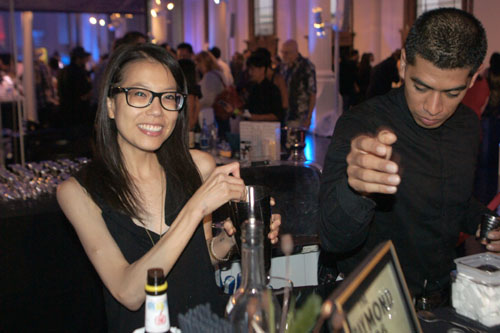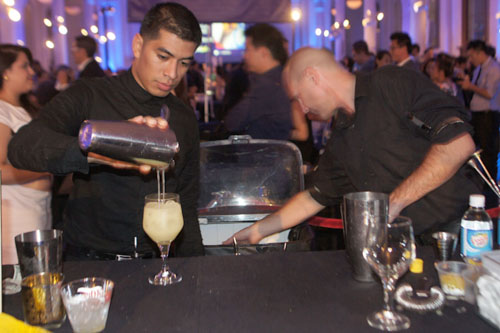 This year, Plate by Plate turned up the wick in the VIP by having 1886 at The Raymond tend the VIP bar (using products donated by various participants, including Ketel One and Bacardi). This arrangement proved quite popular, with the cocktails coming out of here really taking things up a notch. I was particularly fond of their Maime Taylor (Dewar's Highlander Honey, Fresh Lime, Ginger, Angostura).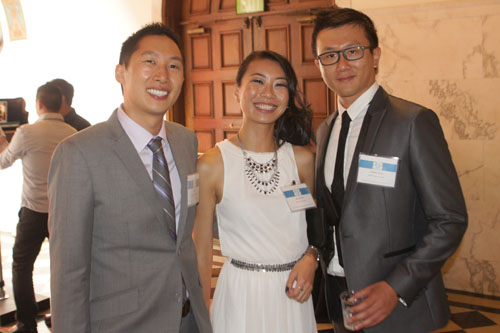 Left:
PbP SF represent: National Leadership Development Director Jason Ho, Manager of Restaurant Relations Mary Zhang, Director of Events Yatman Kwan.
Right:
Manager of Auction Donations Nami Han taking care of business in the silent auction area.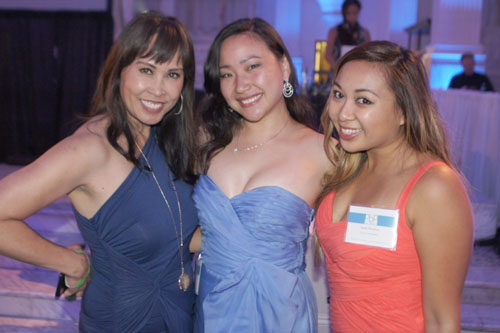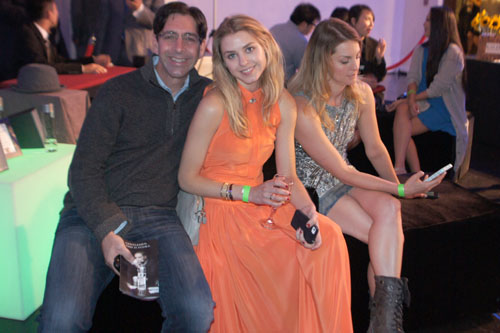 Left:
MC Susan Hirasuna, with Margaret Lin and Events Team member Sarah Mendoza.
Right:
Bill Chait, his daughter Zoe, and Tanya Holt lounging in the VIP.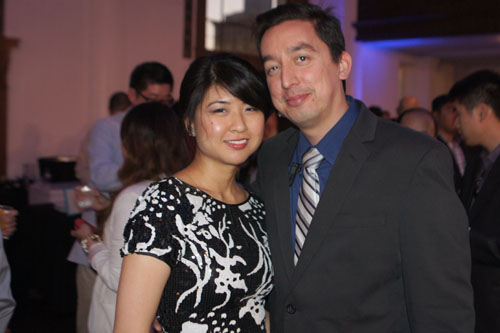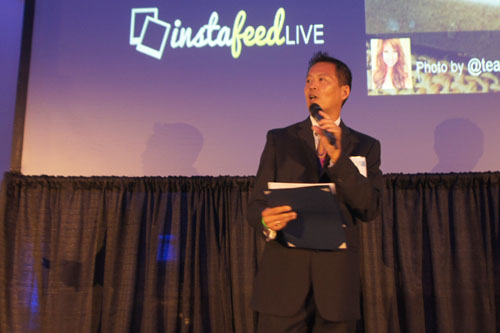 Left:
Director of Operations Ray Warriner with Theresa Kiang.
Right:
A word from Tim Dang, Artistic Director for
East West Players
.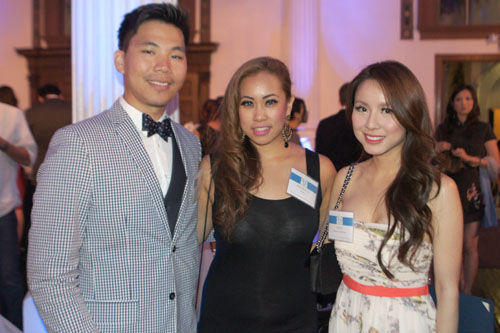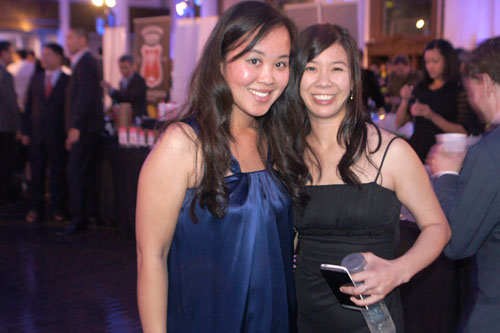 Left:
Project by Project National President JT Kim and PbP LA President Marian Bacol-Uba, with Outreach Team member Kayla Vu.
Right:
Lily Yip (whom I first encountered at a dinner at
Night+Market
) and friend.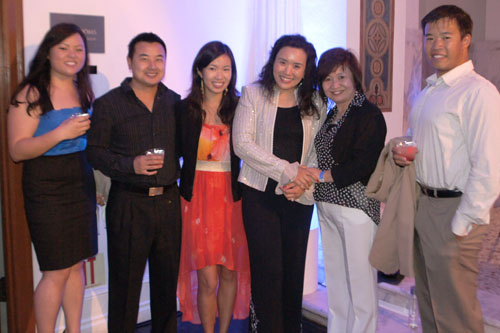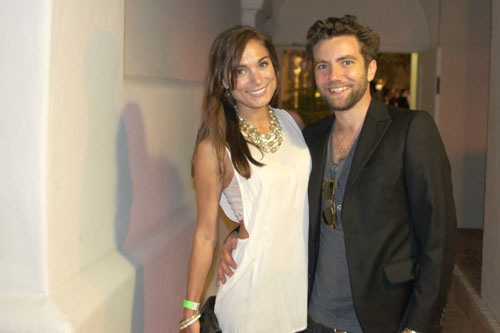 Left:
Tuyet Nguyen, Phil Cheng, Elizabeth Yang, and friends.
Right:
Marcel Vigneron and his latest squeeze.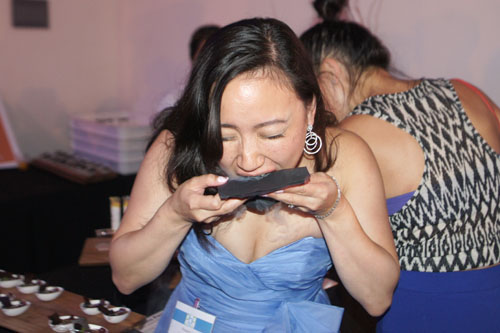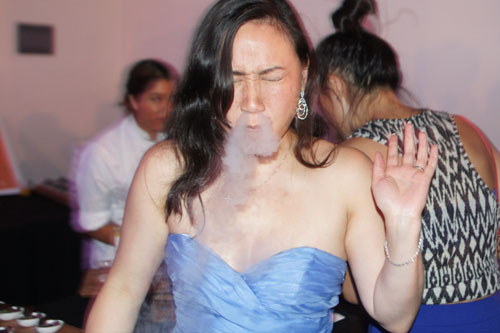 Patina's nitro cotton candy proved to be quite popular for obvious reasons.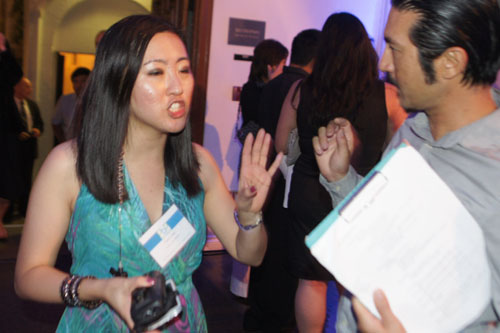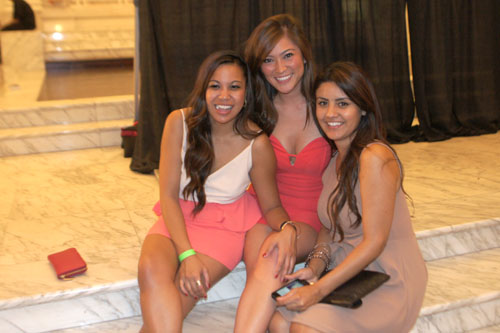 Left:
Production Manager Vickie Chan regulating.
Right:
Carmel Mayol and friends resting after a long night.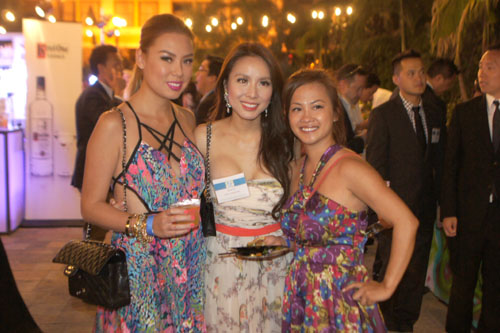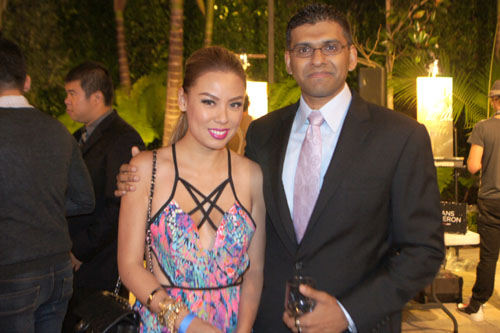 Left:
Oanh Nguyen, 2012 National Director of Events as well as Director of Events for
2011's event
(and the person who initially introduced me to the organization), with Kayla Vu and friend.
Right:
Oanh with Project by Project National Director Nirendran Kathirithamby.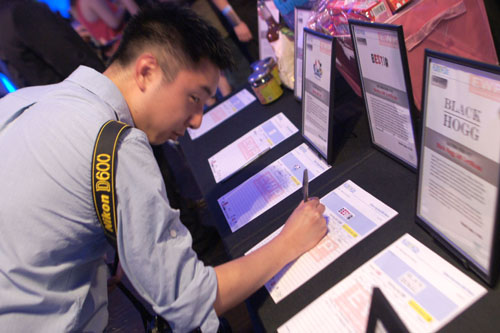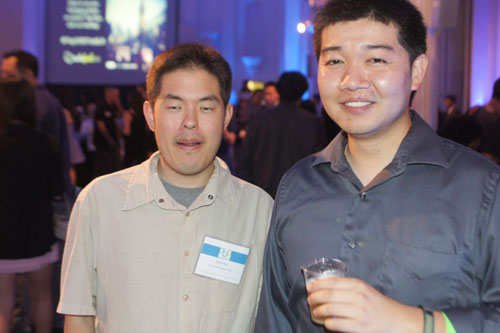 Left:
None other than
Darin Dines
bidding (rather surreptitiously, seemingly) on a Bestia gift card. He would go on to win cards from both Bestia and The Royce.
Right:
Speaking of Darin, that's Marcus Lo, the winner of his
ticket giveaway
, to the right, along with real estate maven Michael Hsu.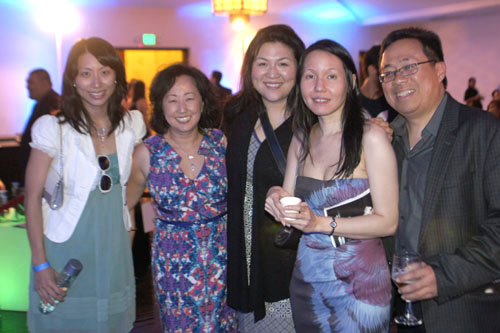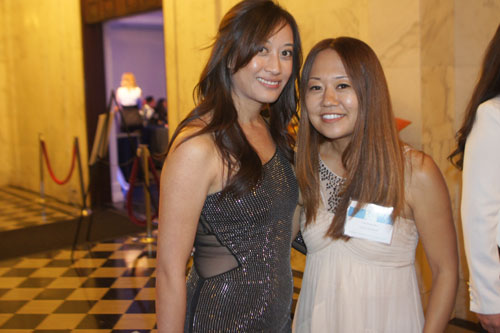 Left:
Plate by Plate mainstay Sherwin Goo (I first encountered him back at the
2010 event
), with requisite ladies in tow.
Right:
Former PbP Manager of Campaign Partner Relations Jackie Fung with former Manager of Leadership Development Emi Fukuoka.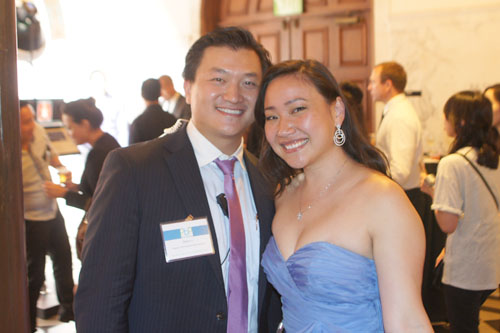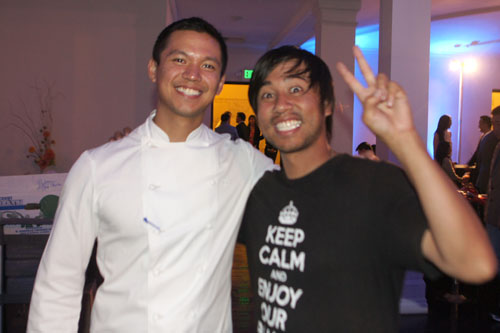 Left:
Manager of Beverages & Winery Relations Danny Li with Manager of Design (and fiancée) Margaret Lin.
Right:
Starry Kitchen's Nguyen Tran mixing it up with Patina head toque Charles Olalia.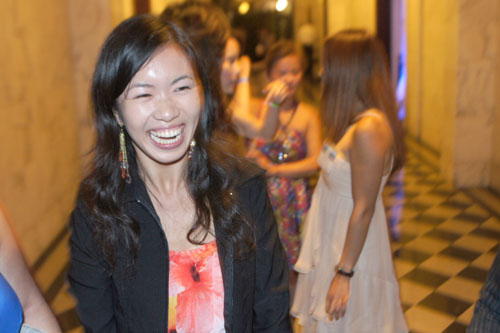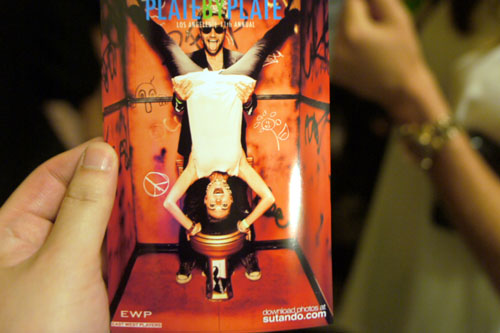 Left:
Elizabeth Yang (whom I first met at
Alma
) seems to be having fun waiting in line for the always-popular photo booth, provided this year by
Sutando
.
Right:
Yes, that's Marcel Vigneron, tongue out, a headstand, a gilded toilet, a fitting way to end this recap.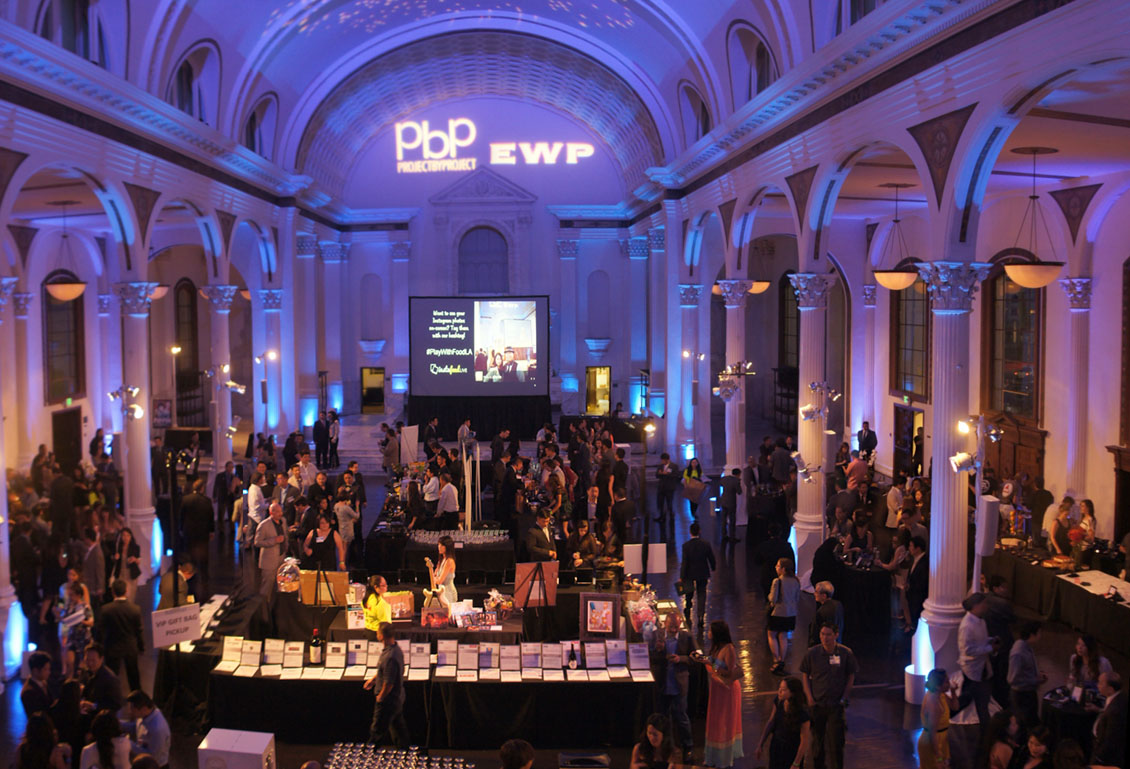 Previous Plate by Plate posts: 2012, 2011, 2010