Opus Sushi (Arcadia, CA)
Opus Sushi Restaurant
1027 S Baldwin Ave, Arcadia, CA 91007
626.447.1027
Fri 08/16/2013, 08:15p-11:35p

If being a Korean-owned sushi place is a bad sign, then surely being a Chinese-owned sushi place is even worse. That's some sound logic, but those predispositions were challenged in spectacular fashion last year when I experienced a superb dinner at
Ootoro
in Walnut. With that meal fresh in memory, I took a gamble on Opus Sushi, which just opened last October in the space formerly occupied by Liang's Village Cuisine, and before that, Maru, another Japanese restaurant (no relation to the new
Maru
in West LA).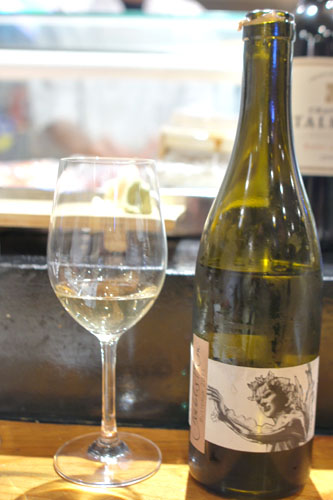 The corkage here is a reasonable $12 per bottle, though apparently the number of bottles they actually charge you for can vary wildly (we were charged for six of the nine bottles, though I've heard they've charged a flat $12 in the past, too). In any case, since
Charlie Fu
was with us, there was of course going to be Burgundy aplenty. First to the gate was the
2011 Domaine Pattes Loup Chablis 1er Cru Butteaux
, one of my favorites of the night. I found it wonderfully light, smooth, almost silky, with soft lemon-y notes and an apparent, but not domineering backbone of minerality. Tasty stuff.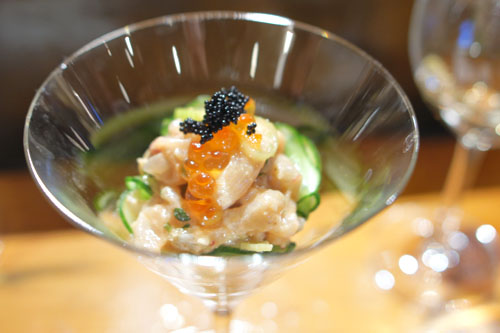 1: Shimasuzuki "Ceviche"
Billed as a sort of "Japanese style ceviche," what we had here was a martini glass of striped bass, ikura, caviar, and cucumber. The fish itself was pretty much flawless, supple, yet satisfying to the bite, with a nice depth to it. I really appreciated the additional punch imparted by the two types of roe as well, and the veggies provided a fitting lightness and crunch to the course. One nit: the fish-to-cucumber ratio was a bit off, as there was far more of the latter than needed.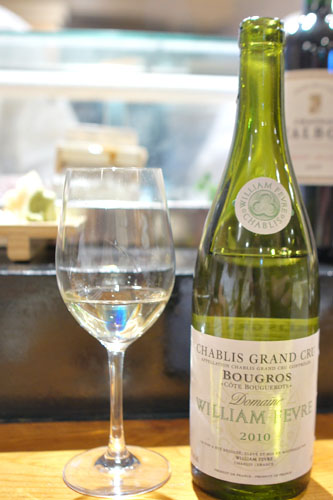 One Chablis deserves another, specifically the
2010 Domaine William Fèvre Chablis Grand Cru Bougros Cote de Bouguerots
. This one didn't quite reach the lofty levels of the former for me, but was enjoyable nonetheless. I found it tighter, more mineral driven and grassy, with more acidity to it. Overall, a bit more contemplative, austere even.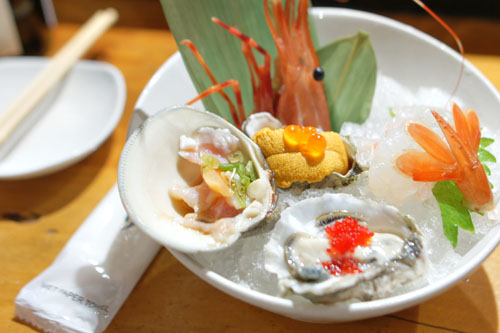 2: Amaebi/Uni/Kaki/Hamaguri Sashimi
Next up was a quartet of shellfish sashimi. I tried the Kumamoto first, and appreciated its trademark brine and how it paired with the tanginess of the
tobiko
(or was it
masago
?). The sweet shrimp (which was still moving, mind you), meanwhile, was spot on, crisp and snappy, with a clean taste that went superbly with a pinch of salt and a squirt of lemon. Sea urchin was also on point, with its sweetness nicely matched with the salty oyster hidden underneath. Finally, we had the cherrystone clam, the biggest surprise of the group. I really enjoyed it, particularly its firm, meaty, yet yielding consistency, and appreciated how the sweetness of the bivalve matched the subtly spicy tones present.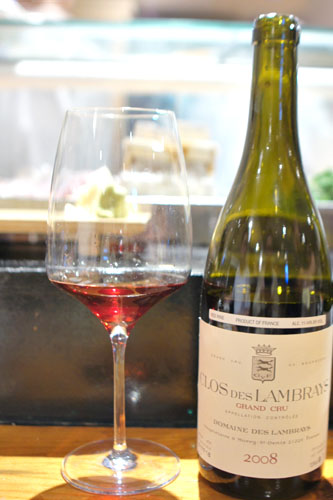 Moving on now to a red Burg, we had here the
2008 Domaine des Lambrays Clos des Lambrays
. It was a nice change of pace: bright, vivacious, and peppery on the nose, showing off more of an apparent berry character joined by a subtle undercurrent of earthy, herby, and meaty nuances. A bit tannic and spicy on the back end, too.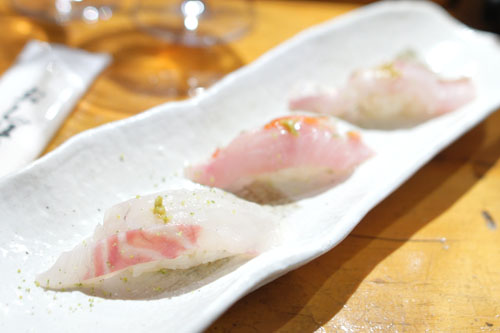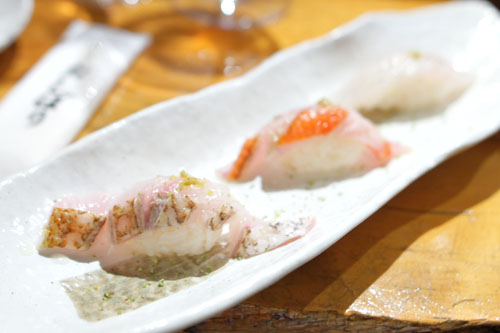 3: Madai/Kinmedai/Akamutsu Sushi
The first
nigirizushi
of the night brought us three relatively rare specimens. I went with the
madai
(red sea bream) to begin, and found it silky, supple, and delicate in flavor, with a fantastic accompaniment in the form of that piquant
yuzukosho
. The splendid alfonsino was even better, with its tinge of smoky char that went along with the tart, tangy notes present. Last up was the
akamutsu
, which I'd had only twice before at
Shunka
and
Bar Masa
. This was another winner (my favorite of the bunch), with an even more apparent char to it to go along with the richer, more substantial weight of the fish.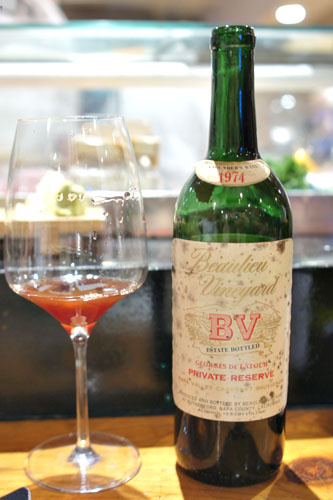 Our next wine was a gift from a seemingly inebriated old Chinese guy sitting next to us at the bar (they really do give the best gifts). For me, this
1974 Beaulieu Vineyard Cabernet Sauvignon Georges de Latour Private Reserve
was past its prime, though still drinkable. Think musty, savory, herb-y, and smoky, with lots of faded fruit in a thin, water-y wine. More interesting than good.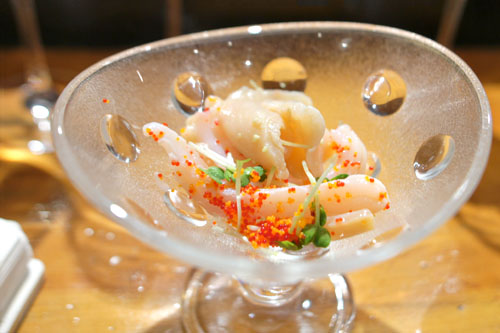 4: Mirugai/Aoyagi Sashimi
Next, more clam action. The geoduck was some of the strongest I've had, with its focused, ocean-y savor on proud display, deftly counteracted bit just a hint of citrus. The orange clam, meanwhile, was a different story, with a much softer consistency and milder flavor, accented by the bit of burn from the sprouts tossed in.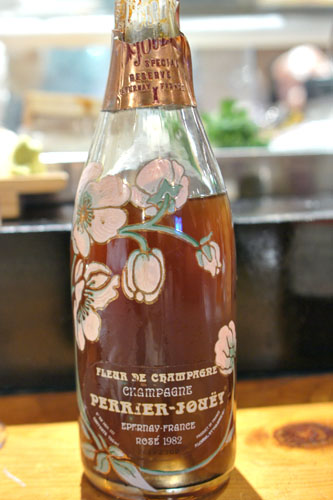 Speaking of wines past their prime, here was another example: the
1982 Perrier-Jouët Champagne Cuvée Fleur de Champagne Rosé
. This one was pretty much undrinkable (due to a faulty cork), and we barely managed to down a glass of the stuff. The bubbly was utterly oxidized, giving it a tart, nutty, puckering quality that verged on disconcerting. We were actually planning on giving a glass to the aforementioned drunk Chinese gentleman, telling him it was sherry, but unfortunately never got around to it.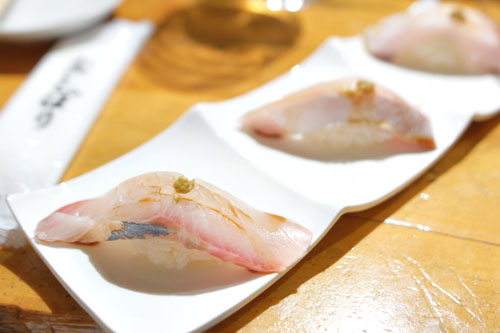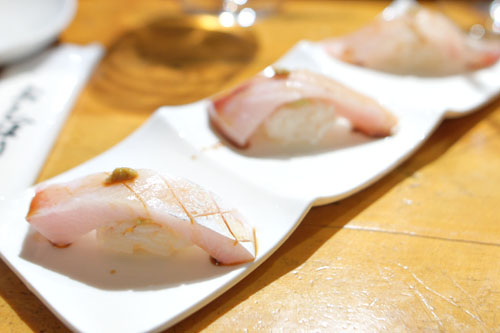 5: Shima Aji/Hamachi/Kanpachi Hara Sushi
Here was a tasting of three belly cuts of fish (note that the plates used here are the exact same ones seen at
Ootoro
!). The striped jack was my favorite of the troika, with its wonderfully sweet flavor interjected by the salty kick of
yuzukosho
. The yellowtail, conversely, was much fattier, lusher, and more luxurious, while the amberjack was the firmest of the group, with more austerity on the palate.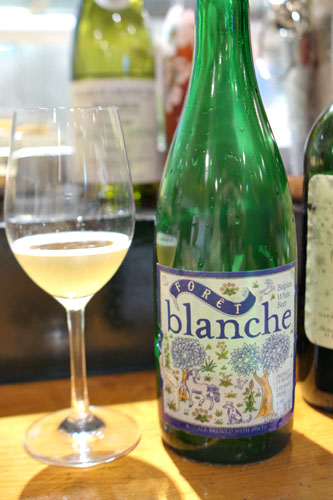 Switching gears now, we went for some beer, and first up was the
Foret Blanche
from Brasserie Dupont. It was sort of a classic witbier--crisp and refreshing, with a citrusy, spicy character to it joined by some malty funk.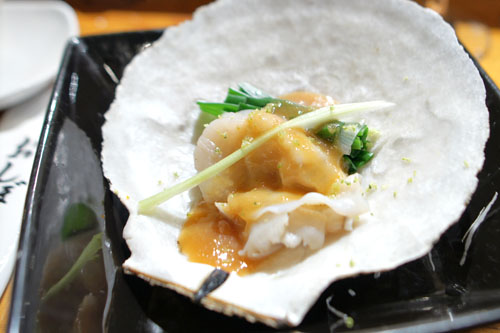 6: Hotate
Live scallop sashimi was sweet and briny, and accented by a sharp prick of citrus-y tang, though the sweetness of the miso could easy overwhelm it. The key, thus, was to incorporate the scallion, which added a wonderful astringency to the mix that really brought everything together.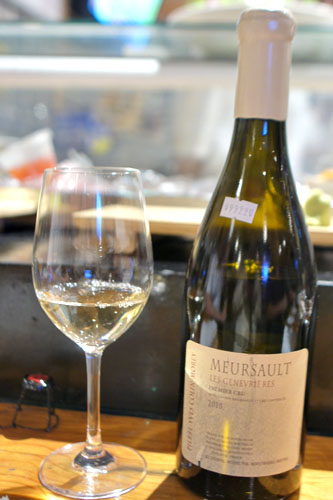 Our final Burg was the
2010 Pierre-Yves Colin-Morey Meursault 1er Cru Les Genevrières
, which was pretty fantastic, easily larger in scale than the two preceding Chards. It was velvety, almost viscous on the tongue, with delectable thrusts of slate and citrusfruit cut by a pleasing acidity.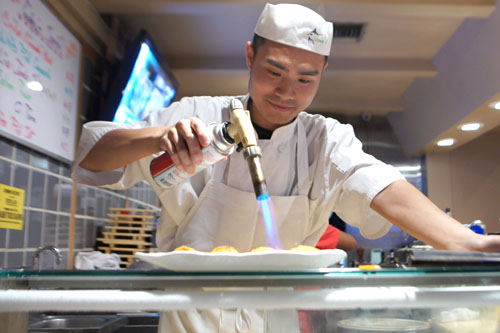 Here, we see Chef/Owner Ken-san torching our uni. I understand that he used to work for
Ootoro
's chef Kai Wei Chen, which may explain some of the similarities in the food.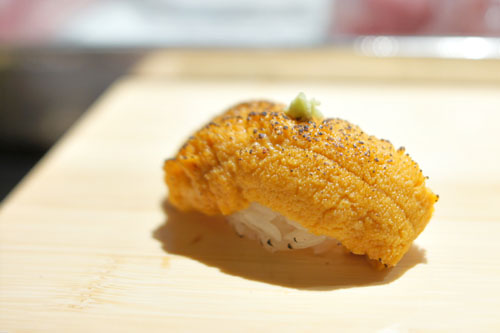 7: Uni Tataki
This might be the only occasion where I've had seared sea urchin, and I must say, the results were pretty fantastic--I'm surprised more restaurants don't do this. The sweetness of the roe was rightly conveyed, but the counterbalancing char bitterness here just added another layer of complexity that took the sushi to another level.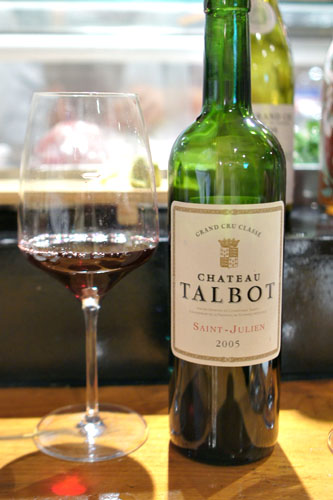 The lone Bordeaux entry this evening came in the form of the
2005 Chateau Talbot
. It was sort of what you'd expect from the wine, with its young tannins and pleasant mix of herbaceous and fruity qualities. Not particularly cerebral, but quite enjoyable nonetheless.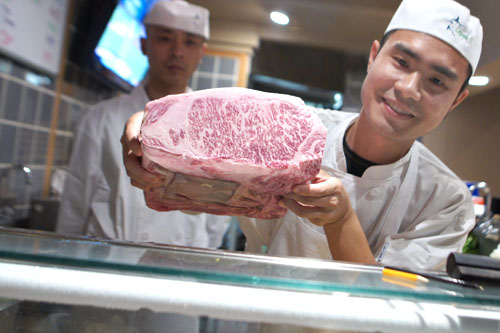 Ken-san proudly shows off his Miyazaki wagyu strip loin.
Dat fat
!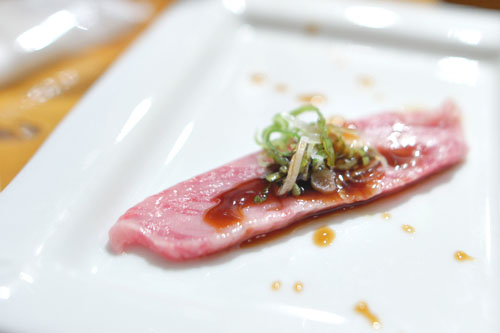 8: Miyazaki Gyu Sashi
And here we see the aforementioned meat presented in sashimi form, a silky, delightfully marbled celebration of real-deal Japanese beef, nicely offset by its zesty topping of
negi
.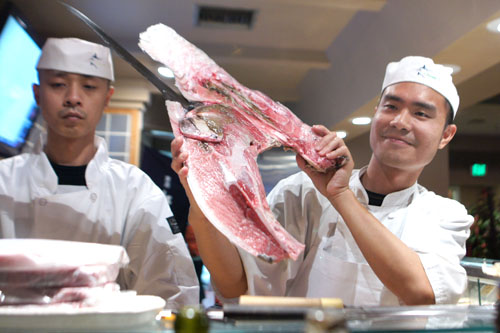 Now, Ken-san presents to us an impressive tuna collar for our next course.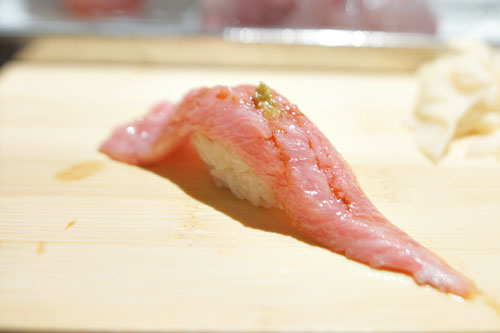 9: Kamatoro
Arguably even more impressive than the wagyu was the
kamatoro
, a wonderfully fatty, slightly chewy sliver of fish that was perfectly accentuated by its
yuzukosho
topping. If you haven't had
kamatoro
before, you need to.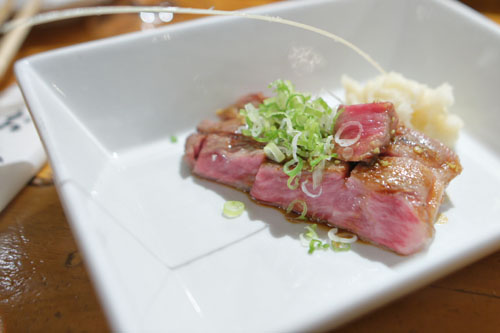 10: Miyazaki Gyu
Even more wagyu! Here, it was presented in steak form, a trembling mass of near gelatinous beef, uncompromisingly rich and utterly fatty--just look at the marbling. It was about as close to melt-in-your-mouth as you can get, and was served with accoutrements that did the best they could to contain the intensity of the cut.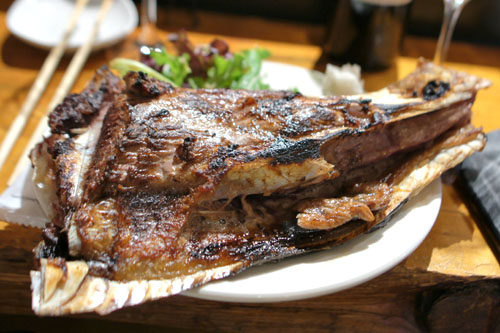 11: Kama Yaki
Now, we were given the roasted version of the collar above. It was a heavy, heavy dish, with an almost beef-like quality to it and a pretty profound depth.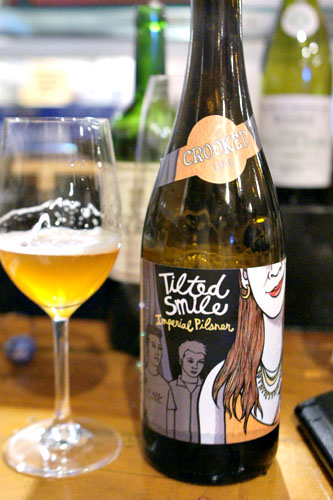 Back to beers now with Uinta Brewing's
Tilted Smile Imperial Pilsner
. This one was much more aggressive than I expected, with a really apparent, sweet-ish malty quality to it counteracted by just enough hop bitterness and a trace of booziness.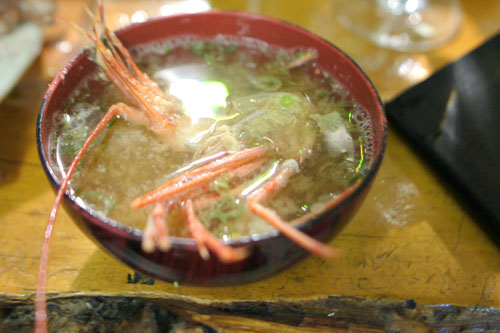 12: Ebi No Misoshiru
The heads from the shrimp above were incorporated into a miso soup, the ocean-y goodness of the crustacean adding just that extra bit of flavor to the already wonderfully aromatic, comforting, umami-laced flavors here.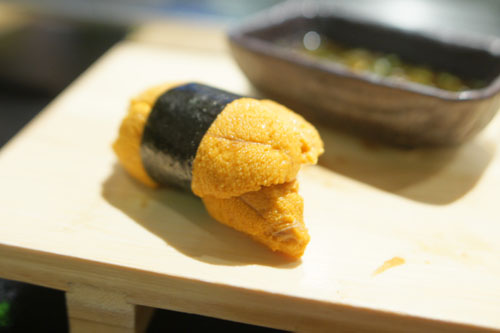 Uni Sushi [$15.00]
An extra course of uni, just because.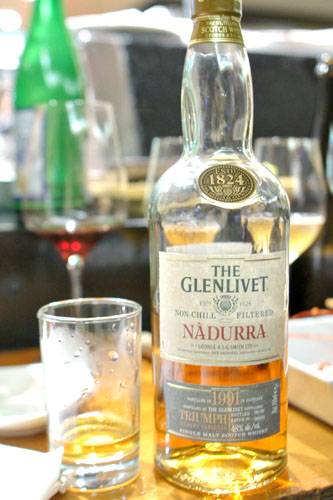 With dinner coming to an end, we saved the Mikkeller Nelson Sauvignon for another day (was really looking forward to trying it, too) and instead went for the
1991 Glenlivet Triumph "Nadurra" 18 Year Old
. This was a limited edition bottling made solely with Triumph barley, distilled and casked 22 years ago and bottled in 2009. I found this surprisingly approachable given its proof, and quite liked its honey-vanilla sweetness and woody characteristics, all finished by a pronounced spiciness. Very nice.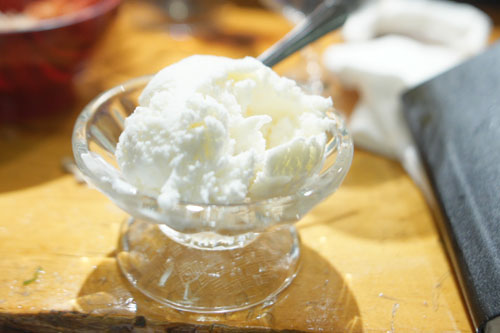 13: Reishi No Aisukurimu
Finally, to close, a refreshingly light, bright lychee ice cream.
The off-menu omakase that we enjoyed rang in at a not-too-unreasonable $150 per head, and I gotta say that the meal was very solid. The food was pretty much spot on throughout the entire night, and the quality of ingredients didn't leave much to be desired. Being able to enjoy true wagyu and
kamatoro
was a real treat as well, and the fun, jovial nature of our
itamae
certainly didn't hurt, either. Eating at a Chinese sushi place is certainly a bit of a change from the norm, but it's something that's actually worth experiencing, at least here.