Graffiato (Washington, DC)
Graffiato Restaurant
707 6th St NW, Washington, DC 20001
202.289.3600
www.graffiatodc.com
Fri 09/09/2011, 07:20p-09:25p

When I visited DC for the first time--circa 2005--one of the first places that I ate at was
Zaytinya
. Last year, I began traveling to the City on business more and more often and rediscovered the restaurant, which quickly became one of my favorite "go-to" places to dine. At the time, Zaytinya was helmed by one Mike Isabella, who'd gained considerable fame for his stint on Season 6 of
Top Chef
. As such, I wasn't terribly surprised when he announced his departure from the José Andrés-owned eatery last year. He left to open Graffiato ("scratched" in Italian, in reference to a type of graffiti), a non-traditional Italian restaurant located in the Chinatown neighborhood of the Capitol. Graffiato debuted in June, and features small plates and artisanal pizzas inspired by the food of the Chef's childhood.
About the Chef
: Michael Isabella hails from a small Italian-American family and spent his early years in New Jersey. As a child, he cooked Italian food with his grandmother, though interestingly, his mother wasn't particularly adept in the kitchen. However, mom
was
the adventurous type, and traveled often, thus imbuing the future chef with a diverse, refined palate. Isabella attended New York Restaurant School (now the Art Institute), and also
staged
at some of NYC's top eateries during his tenure there. He then relocated to Philadelphia and began to work for famed restaurateur Stephen Starr, first as a Sous Chef for Douglas Rodriguez at Alma de Cuba. Isabella then cooked for Jose Garces at El Vez, getting a little taste of Latin flavor, and then went to work under Marcus Samuelsson at Washington Square in 2004.
The following year, the Chef moved to Atlanta and took on a CdC position under Pano Karatassos at the vaunted Greek eatery Kyma. He spent two years there, and even traveled to Greece and the Middle East during the period, strengthening his facility with the cuisine. Isabella would also meet his future wife, Stacy Nemeth, at Kyma, when she was working as the restaurant's GM. José Andrés, however, made note of Isabella's talents, and stole him away in March 2007 to head the kitchens at Zaytinya. The Chef thrived at the Turkish-Greek-Lebanese restaurant, and during his time there, he wound up competing on
Top Chef
, coming in at 7th place. That wouldn't be the last time we would see Isabella on TV though, as he returned with a vengeance on Season 8, this time achieving the runner-up position behind Richard Blais.
He left Zaytinya in August 2010 to work on his own place, a few months before the show premiered in December. As we discovered on
All-Stars
, Isabella never wanted to cook Italian because he grew up with the food, but with Graffiato, he wanted to return to his roots. To get the restaurant off the ground, the Chef teamed up with James Horn (Faustina, Kefi, Anthos, Zaytinya), who serves as General Manager and also heads the beverage program. He also brought on board Hilda Staples, who's probably best known as Bryan Voltaggio's partner over at
Volt
; she's also an investor in RJ Cooper's new
Rogue 24
(if you're wondering why I haven't been, thank their no photo policy).


The 130-seat spot is housed within a 1940's-era building, formerly the site of an abandoned print press shop. The restaurant is split over two floors. The first contains a rather lively bar, as well as a large wood-burning oven situated behind a U-shaped 15-seater counter. The second story, meanwhile, is more sedate, better for actually dining, and features an open "ham bar" in the back.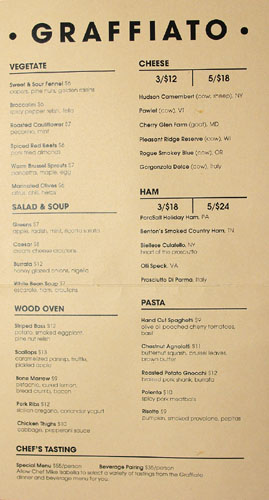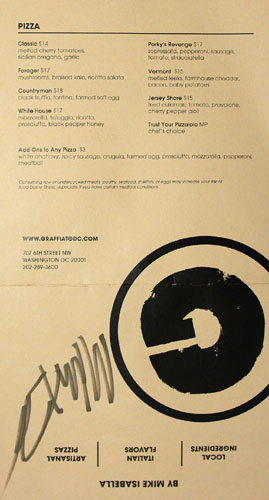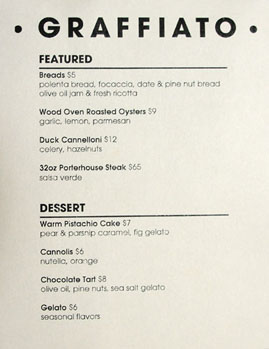 The menu features a good selection of small plates (
cicchetti
, sort of like Venetian tapas), meant for sharing of course, and the servers recommend three to four per person (three is probably enough for those with normal appetites). Pizzas, natch, are also on offer, and there's also a small sheet listing out the specials and desserts. Click for larger versions.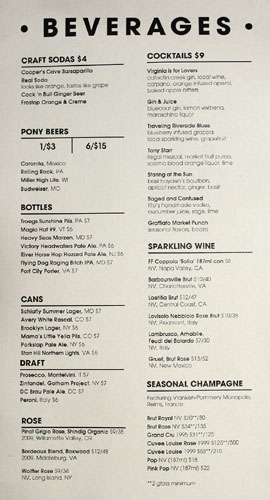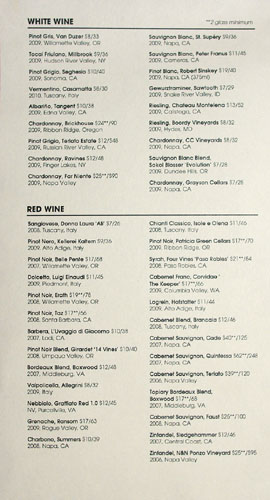 To drink, we're talking about a healthy smattering of cocktails, beers (including a nice can selection), as well as a smart, domestic-centric wine list, with every bottle available by the glass (or two for the pricier
vini
). Click for larger versions.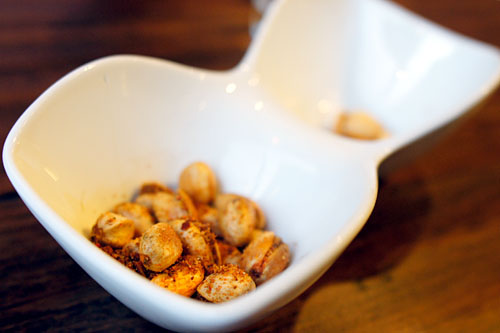 Upon being seated, we were presented with a free bowl of chili flake-spiced pistachios--think spicy, sweet, tangy flavors to balance out the nuttiness of the pistachios.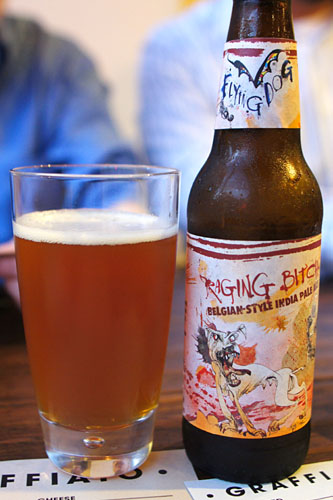 After having the
Flying Dog Raging Bitch IPA, MD [$7]
at
Bryan Voltaggio's Volt
, the beer has become arguably my favorite example of the IPA style. The Raging Bitch is done with a Belgian slant, which results in a malty sweetness and herbaceous character balancing out the traditional hoppy bitterness.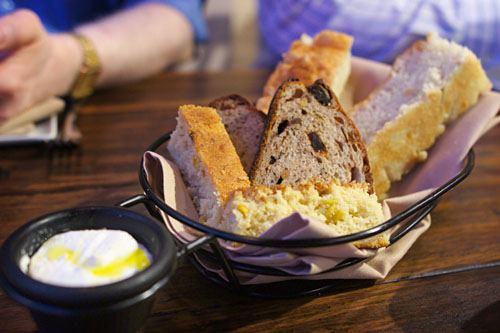 Breads [$5.00]
| polenta bread, focaccia, date & pine nut bread, olive oil jam & fresh ricotta
Bread, unfortunately, isn't complementary, but you do get what you pay for I suppose. I quite liked the soft, sweet polenta cornbread, and the focaccia was just fine too, but my favorite was actually the date bread, which had an absolutely lovely fruitiness. The olive oil jam was rather neat, and I appreciated the tangy, creamy ricotta as well.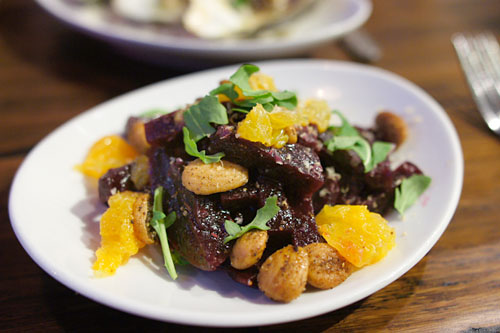 Spiced Red Beets [$6.00]
| pork fried almonds
One of my dining companions was interested in this course, so I obliged despite my disrelish for the vegetable. Here, the overt sugariness of the beet was fortunately tempered by a nice bit of spiciness, and I prized the tanginess from the citrus as well. My favorite element, though, was the almond, which added a fantastic nutty savoriness to the mix that helped balance things out tremendously. Pretty good for a beet dish.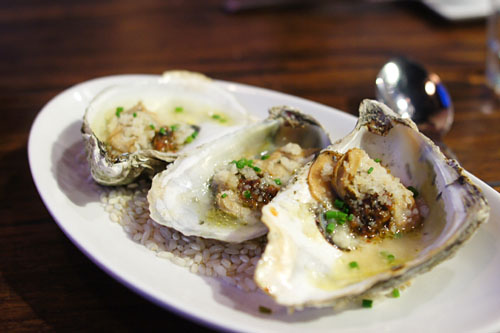 Wood Oven Roasted Oysters [$9.00]
| garlic, lemon, parmesan
Oysters were delicious, with the piquancy of garlic and lemon accenting the natural salinity of the bivalve beautifully, while the Parm provided more weight and depth to the dish. I could've easily taken a half-dozen more.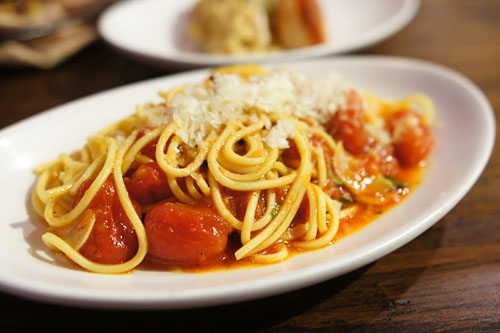 Hand Cut Spaghetti [$9.00]
| olive oil poached cherry tomatoes, basil
Spaghetti conveyed a pleasingly
al dente
consistency, and showed off classic flavors: juicy, sweet, tangy tomato, fragrant basil, and savory cheese, all playing against the comparative austerity of the hand-cut noodles. Straightforward (some might say too much so), but satisfying.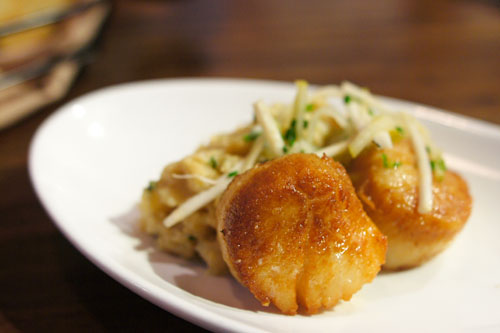 Scallops [$13.00]
| caramelized parsnip, truffle, pickled apple
Scallops arrived perfectly cooked, infused with a delectable brine. I was concerned that the parnsip would be overly saccharine, but it actually worked quite well here, conveying a subdued sugariness that matched the scallops' natural sweetness rather well. Nice crunch from the apple too, though I would've liked to have tasted more from the truffle.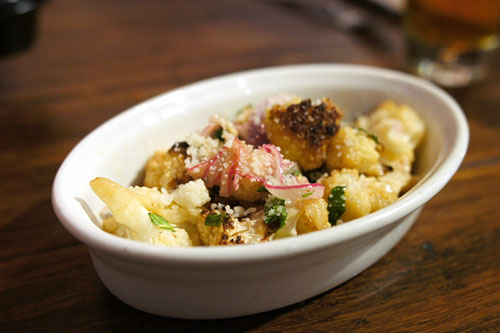 Roasted Cauliflower [$7.00]
| pecorino, mint
I'm somewhat of a cauliflower zealot, and this was easily one of the best preparations that I'd ever had. I loved how the vegetable was so adroitly augmented by the weight of the cheese, while the mint and onion helped to brighten up the dish. Everything just came together wonderfully here.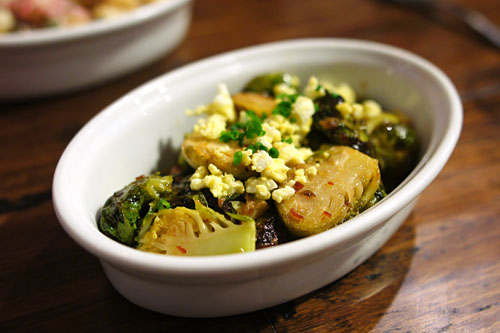 Warm Brussel Sprouts [$7.00]
| pancetta, maple, egg
Brussels sprouts, meanwhile, were also quite tasty. I appreciated how the intrinsic bitterness of the sprouts was clearly displayed here. But at the same time, the pancetta added a lovely saltiness to the mix, while the maple's sweetness actually played off the veggie quite well. I had two Brussels sprouts haters in my party, and this dish managed to convert even them, at least temporarily.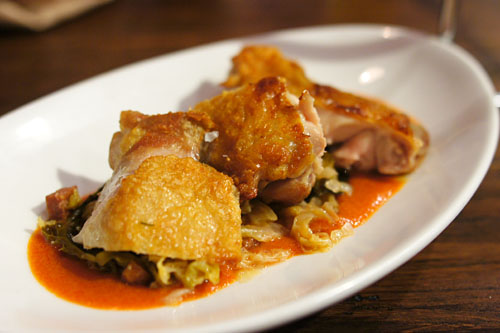 Chicken Thighs [$10.00]
| cabbage, pepperoni sauce
The chicken, taken alone, was wonderful--super succulent, tender, and bursting with rich dark meat flavor; the bird really would've been fine on its own. Nevertheless, we can't forget about that notorious pepperoni sauce, the one that Isabella made famous on the
Top Chef All-Stars
finale. It really did take exactly like pepperoni: spicy, savory, and slightly sweet. Be careful though, it's potent stuff, and just a dab was perfect with the bird.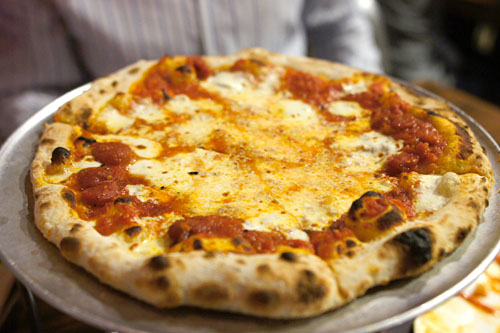 Classic [$14.00+$3.00]
| melted cherry tomatoes, sicilian oregano, garlic (with mozzarella)
Pizza time: Graffiato's basic version is actually vegan, and doesn't even come with cheese, so we added on some mozzarella for an additional charge. This was a classic Italian pie, with a satisfying interplay between the cheese and tangy tomato, along with a nicely crisp crust imbued with a subtle bit of bitterness.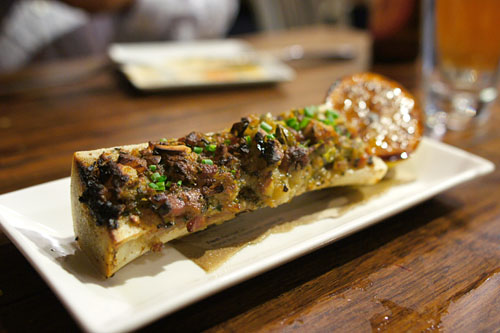 Bone Marrow [$9.00]
| pistachio, cured lemon, bread crumb, bacon
I'm not huge on bone marrow, but this was one of the stronger presentations that I've experienced. The nuttiness of the pistachio and sourness of the lemon did an admirable job in cutting the power and heft of the marrow, while the bread crumbs contributed a great crunchiness to the fray.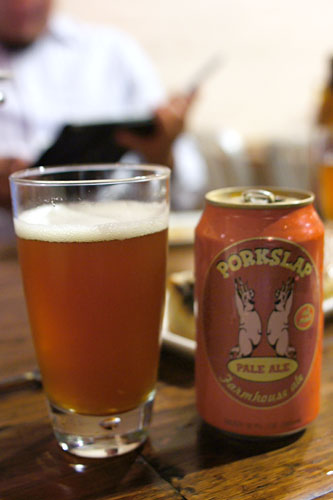 With the Raging Bitch depleted, I moved on to the
Porkslap Pale Ale, NY [$6]
from producer Butternuts Beer & Ale out of Garrattsville. An American Pale Ale, this was a lighter, easy-drinking beer with a good mixture of malt and hop notes, joined by a subtle fruity flavor. Nice.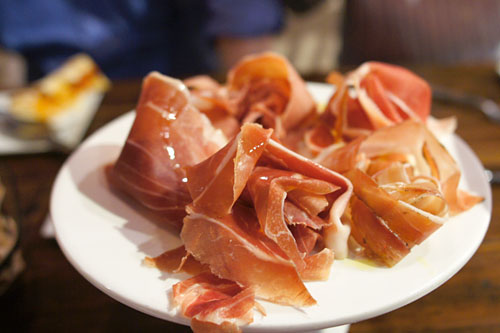 Ham [$24.00/5]
Five varieties of ham were on offer tonight:
PorcSalt Holiday Ham, PA
;
Benton's Smoked Country Ham, TN
;
Biellese Culatello, NY
;
Olli Speck, VA
; and
Prosciutto Di Parma, Italy
. It was actually quite nice to taste the rather big differences between the various preparations of pork. Particularly enjoyable was the tangy, herbaceous
speck
, the sweet 'n' smoky Holiday Ham, and the slick, silky
culatello
(a sort of high class prosciutto).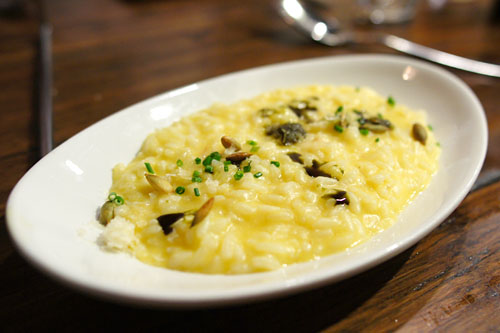 Risotto [$9.00]
| pumpkin, smoked provolone, pepitas
Given my penchant for risotto, I just had to order this, even despite my reservations concerning the pumpkin. The pumpkin though, thank god, was subdued here. What struck me the most actually was the sheer lusciousness, the cheesiness, and the smokiness of the rice, and how that was moderated by the savor of the crunchy pepitas.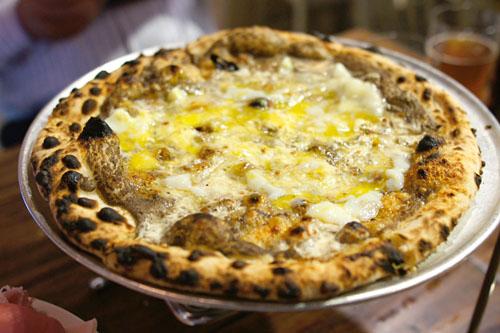 Countryman [$18.00]
| black truffle, fontina, farmed soft egg
It's hard to go too wrong with pizza, and it's even hard to do so when said pizza comes topped with cheese, runny egg, and truffle. The combination was perfect, a trifecta of deliciousness that faultlessly paired the lushness of the soft egg and Fontina with the earthy finish of truffle, all the while the crust moderated the strong flavors at play. Truly one of the best pizzas that I've had.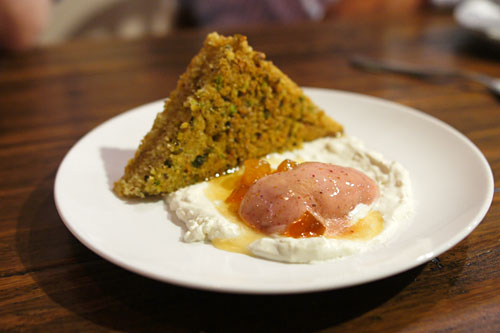 Warm Pistachio Cake [$7.00]
| pear & parsnip caramel, fig gelato
Time for some
dolci
. The pistachio cake was pretty amazing, showing off a keen mix of sweet and savory flavors that played flawlessly with the sugary gelato and caramel. Just very well-integrated and balanced, and way better than I'd expected.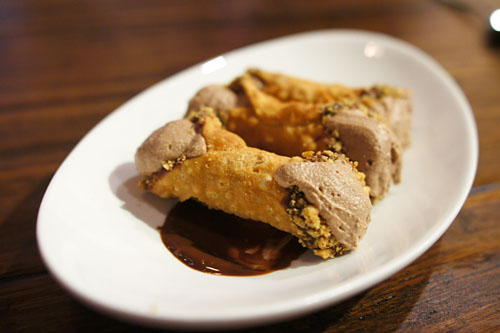 Cannolis [$6.00]
| nutella, orange
We ended with perhaps the most stereotypical of Italian desserts, the Sicilian cannoli. A crisp pastry shell gave way to a creamy interior bursting with chocolate and orange flavors, making for a simple, but tasty close to the meal.
Compared to what the Chef was doing over at
Zaytinya
, the cooking here at Graffiato is more rustic, lustier, and a tad more approachable. Not all the food is strictly Italian, but clearly, Italy is Isabella's muse, and the flavors of the country are almost always at the forefront, and mostly quite delicious to boot. He's got a winner on his hands here, and judging by the massive crowds in the restaurant, I'm not the only one who thinks so.