Makoto (Washington, DC)
Makoto Restaurant
4822 MacArthur Blvd NW, Washington, DC 20007
202.298.6866
www.makotorestaurantdc.com
Sun 09/29/2013, 06:00p-08:10p

After having dinner at one of DC's
most progressive
restaurants the previous night, I now went to one of the area's most traditional, and certainly one of the longest standing. Makoto opened in 1992, and was sort of groundbreaking for the era, exposing the City to old-school, kaiseki-inspired Japanese cooking that was pretty much absent at the time. This shoebox of a space, perhaps best known for its slippers-only policy (your shoes are exchange at the foyer), has been family owned and operated since its inception. The first chef was Yoshiaki Itoh, who ran the place from inception until his retirement at the end of 2011 (unfortunately, he
passed away
just this past September). In 2012, Yoshi's son Susumu "Gene" Itoh took the reins, leaving his previous occupation as a health care recruiting consultant, and the restaurant doesn't appear to have skipped a beat.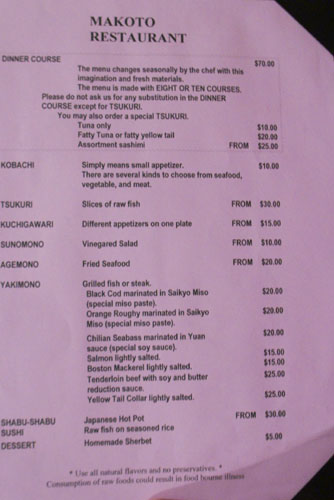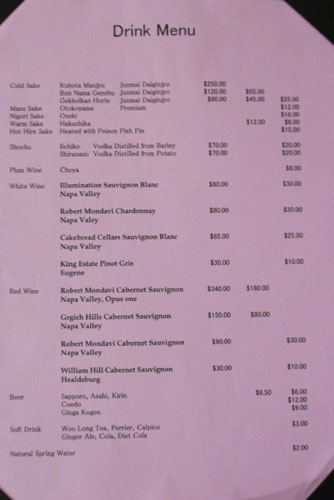 As far as Makoto's menu goes, it's a seasonally-changing progression of eight to ten courses at a base price of $70, plus additional sashimi supplements starting at $10 and going all the way up to $50. You can also order à la carte, but I wouldn't recommend it, and there's also a lunch option, too. To drink, you'll find a small selection of sakes and wines, as well as a smattering of beers. Click for larger versions.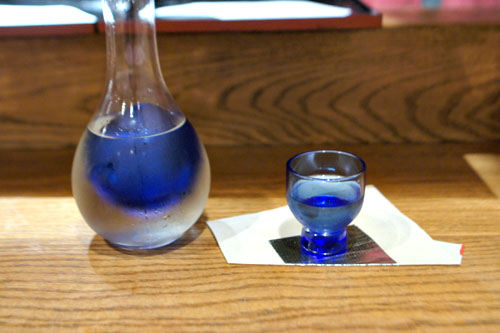 Sake seemed like the right choice of beverage this evening, so I opted for a carafe of the
Bon Nama Genshu, Junmai Daiginjyo [$65]
. I rather liked this one, finding it viscous in body, with a marked sweetness intermingled with alcoholic notes, all over an undercurrent of rice-y nuances.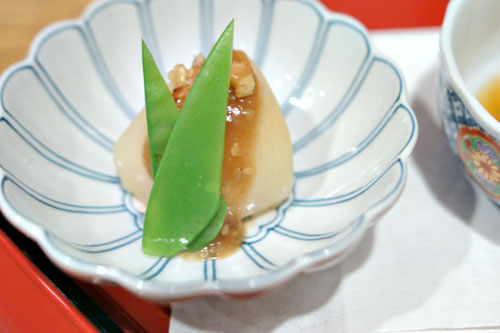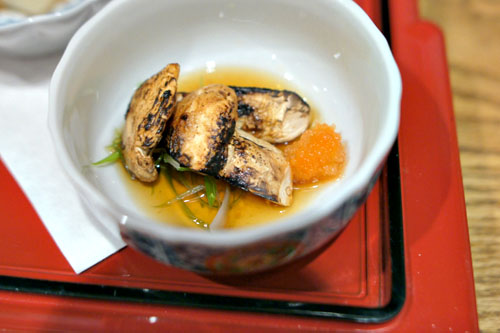 1: Kabura Mushi & Matsutake
The meal commenced with a duet of dishes. The first was a
kabura mushi
, a
mushimono
of steamed turnip with a miso and walnut sauce. Think mild, and slightly firm on the turnip, with the sauce adding a nutty, earthy component to the mix, brightened up by the use of snow peas. The matsutakes, meanwhile, came with
momiji oroshi
(spicy radish) ponzu and was much more intense, with the mushrooms' woody nose and great crunch working well against the spicy, zesty notes present.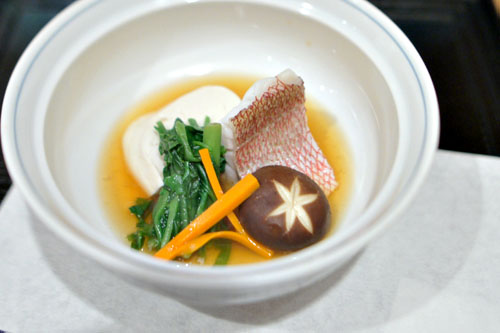 2: Mushi Tai
Steamed snapper was served with shiitake and tofu. The fish itself conveyed a subtle, yet focused brine that really worked for me, countered by the soft, delicate tofu while the veggies added a bit of levity to things. Nice weight from the mushroom, too, and I liked how that tangy sauce sort of tied everything together.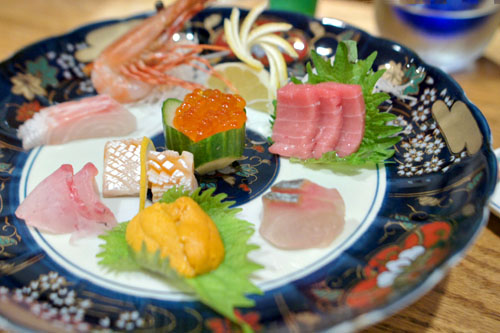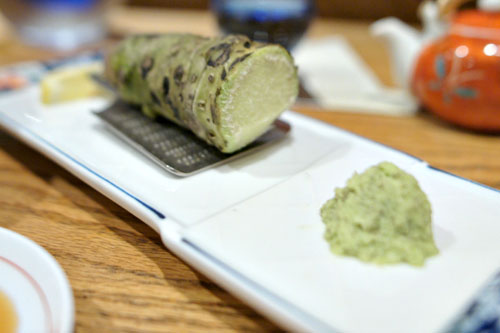 3: Sashimi
Here was the optional upgraded
tsukuri
course, which rang in at an additional $50 and comprised eight items total, all served with fresh-grated wasabi:
Amaebi - Creamy and sweet, though I would've preferred a snappier, crunchier variety of shrimp.
Toro - Melty, fatty, and nicely opened up by a dab of wasabi and house-made soy.
Ikura - Bursts of salty and smoky goodness, tempered by the use of cucumber.
Shima Aji - Delicate and slightly firm to the bite, and excellent with a touch of soy sauce.
Uni - Very lush and sugary initially, but with a lingering brine toward the back end.
Sake - Firm and crisp, with a creeping salinity and a marked fattiness.
Mebaru - A rarity in sashimi form, rockfish was pleasantly mild, and greatly enhanced with a bit of wasabi.
Tai - A quintessential presentation of bream, delicate and soft-spoken.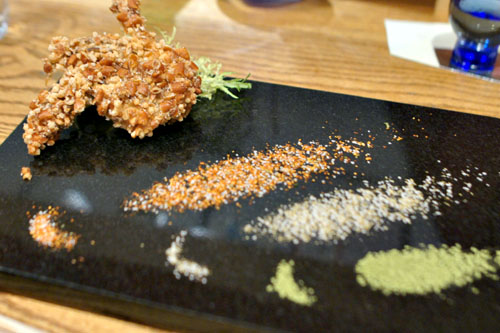 4: Soft Shell Crab
Next, for my
agemono
course I had a pretty unique presentation of soft shell crab, one coated in rice cracker, fried, and served with streaks of chile salt,
sansho
, and green tea salt. I loved the texture and crunch on it, which reminded me of the pretzel-crusted oysters I'd had not long ago at
Salt Air
. Taste-wise, the crab showed off a subtle brine that worked well with the rice cracker, and was really brought out via a squirt of lemon. The trio of salts were also on point, the chili presenting a tinge of heat, the green tea a touch of astringency, and the
sansho
a multifaceted spice with a slight numbing quality.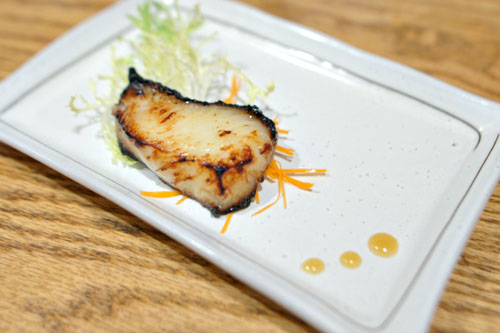 5: Tara Saikyoyaki
The
yakimono
course brought me grilled black cod, marinated in
saikyo miso
, Makoto's take on the ubiquitous dish popularized by
Nobu Matsuhisa
. It was a perfect presentation of the classic, with the fish coming out hot, flaky, and buttery, deftly set off by just a touch of sweetness and the bitterness of the charred bits. Very tasty.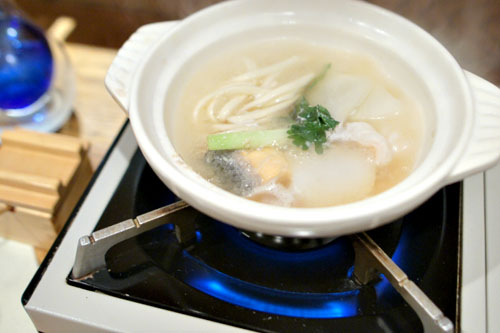 6: Shabu-Shabu
Now, for some shabu shabu, with salmon, scallop, shrimp, radish, and udon. I started off with the scallop, which was great, but unfortunately I left the shrimp in for too long, so it came out a tad overcooked, but was still enjoyable nonetheless. Salmon, meanwhile, was soft, lush, and saline, a great foil to the bitter cuts of radish, while the noodles served as a comforting finish to the course.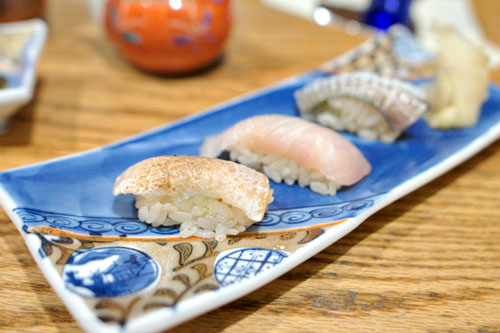 7: Sushi
Sushi formed the penultimate course in the set menu, and three varieties of
nigiri
were offered. In the front was
aburi sake
, basically a partially grilled salmon that was fantastic, with a great smoky character that perfectly balanced the fat in the bite. Next was yellowtail, a classic presentation that really called for a dab of soy sauce, while bringing up the rear was the flounder filet, which conveyed a good balance of tangy, yet slightly smoky flavors.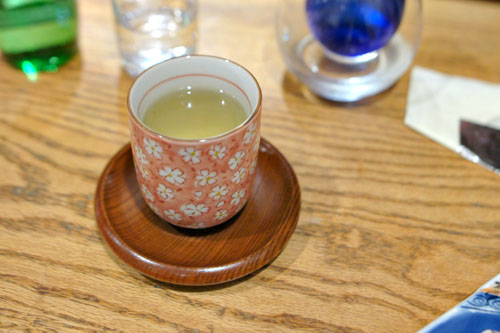 A steaming cup of green tea marked the end of the meal proper.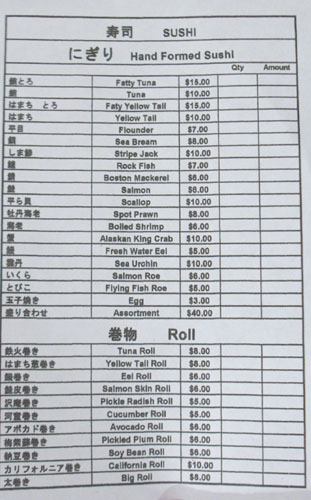 With the set menu finished, I had the option of ordering additional sushi courses, which I gleefully took advantage of. Click for a larger version.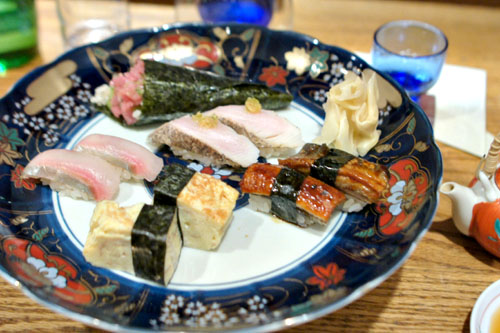 Sushi Supplement
Sushi was presented on one platter, rather than individually, which was unfortunate:
Shima Aji [$10] - I started with the striped jack, a great example of the fish with a spot on texture and a lovely sweet-ish character; even better with a touch of 'sabi.
Sawara [$6] - Spanish mackerel was lightly cooked, and thus displayed a satisfyingly meaty bite; excellent when taken with the accompanying yuzukosho.
Unagi [$5] - Utterly traditional, and just what you'd want, a sweet, fatty presentation of freshwater eel.
Tamago [$3] - Sweet and cool, with a deft seaweed counter.
Negitoro Temaki [$15] - Last up was the classic tuna-scallion handroll, a textbook representation of the dish with the fattiness of the tuna flawlessly moderated by the zesty bits of negi mixed within.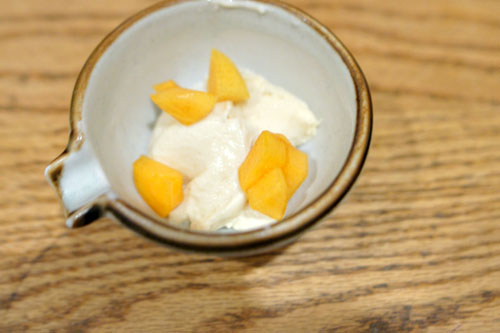 8: Sake Kasu Ice Cream
Dessert comprised a delightful sake lees ice cream with persimmon. It was really simple, but also really good, with the boozy, ricey ice cream pairing gorgeously with the sugary bits of fruit. Nice!
Makoto's one of the few bastions of old-school Japanese culinary tradition in the DC area, and in terms of the food, I didn't really have any serious complaints, finding the cooking clean and classic in essence, and very ingredient-focused and subtle, just as it should be. I do feel there's room for improvement in terms of the experience, though. The actual service was efficient and cordial, but I'd really like to have some more interactions with the
itamae
; I was sitting at the bar, and nary a word was said the entire two-hour meal. The cooks were partially hidden behind some red curtains, and perhaps that was meant to quell any attempt at conversation? I'd also like to see sushi courses served individually, which is pretty much the norm when sitting at the bar, and the menu could stand to be simplified as well. In the end though, Makoto's been open for over 20 years, so I don't exactly expect things to change.