Rogue 24 (Washington, DC)
Rogue 24
922 N St NW, Washington, DC 20001
202.408.9724
www.rogue24.com
Sat 09/28/2013, 06:00p-08:30p

Other than
Minibar
, one of the places that I'd really been looking forward to trying in DC was Rogue 24. The brainchild of Chef RJ Cooper, Rogue is a bit of an odd duck, housed in a nearly 90-year-old, garage-like building situated along Blagden Alley. The place opened in 2011, and I'd actually wanted to visit back then, but the Chef's
controversial views
on restaurant photography ("intellectual property theft" and all that) kept me away for fear of being chewed out. However, Cooper eventually softened his stance and gave up his fight against technology in early 2012, thus paving the way for my experience this evening.
About the Chef
: R.J. Cooper III hails from Detroit, and got the cooking itch at a young age, watching his mother and grandmother do their thing in the kitchen. During high school, he apprenticed at a local bake shop, and later enrolled at Kendall College's School of Culinary Arts in Evanston, IL. After graduating in 1991, he quickly relocated to Atlanta, finding work at the Ritz-Carlton Downtown under Daniel Schaffhauser (now at Tender Greens in Pasadena, interestingly), the Ritz-Carlton Buckhead under Guenter Seeger, and Brasserie Le Coze under Gilbert Le Coze. From there, Cooper transitioned to
Le Bernardin
, where Le Coze was Chef/Owner until his untimely death in 1994. He stayed on through Eric Ripert's tenure there, then moved to Alaska for three years, where he turned around the Crow's Nest restaurant at the Hotel Captain Cook in Anchorage.
Cooper moved to DC in the late 1990's, cooking at The Oval Room and New Heights before taking the reins at Toka Cafe in early 2002. He stayed there until October 2004, when he assumed the Chef de Cuisine position at Jeffrey Buben's iconic
Vidalia
. It was there where the he really began making a name for himself, securing StarChefs' "Rising Star Chef" award in 2006 before winning "Best Chef: Mid-Atlantic" from James Beard the following year. Things were going comfortably until 2010, when Cooper had a life-changing meal at Bryan Voltaggio's
Table 21 at Volt
. Afterward, he instituted his own 24-course menu entitled
Vidalia 24
, but soon decided to leave the venerable restaurant, clocking out in June.
The initial idea was to open a more casual concept called Pigtails, a nod to the Chef's infatuation with pork as well as his own twin daughters. However, an investor--none other than Hilda Staples (
Volt
/Lunchbox/Family Meal/Range with Voltaggio,
Graffiato
/Kapnos with Mike Isabella)--convinced him to go the Rogue 24 route. Cooper took a break from the restaurant later that year to challenge Marc Forgione on
Iron Chef America
, losing in a bell pepper battle, then did a Rogue 24 preview/pop-up in New York in April 2011. Rogue eventually opened on July 27th to considerable controversy, all because of a
contentious contract
that diners were forced to sign, one that forbade camera and cell phone use, and subjected patrons to stiff cancellation penalties. The contract was quickly revised after the initial outrage, then removed altogether when reservations were transitioned over to the
CityEats
system. Things, however, continued to be rough for Cooper. His pastry team of Chris Ford and Gregory Baumgartner left in September, followed out the door by GM-slash-Sommelier Matthew Carroll in November. If that wasn't bad enough, the Chef soon found out that he had to undergo open-heart surgery in January to take care of a life-threatening genetic heart defect.
The surgery, fortunately, ended up going well, and in Cooper's absence, a slew of chefs took turns running the kitchen at Rogue 24, including heavy hitters such as Voltaggio and even José Andrés. After these so-called "Rogue Sessions," the Chef returned in March, and soon added on a shorter eight-course
Evolution
menu to complement the existing 16- and 24-course options. Further retooling following in August, when the 16-courser was axed, replaced by a four-course prix fixe with larger portions. The restaurant also announced a "gastro-bar concept" called RogueSpirits that was supposed to take over the space next door; however, this eventually morphed into SpiritsBar, a four-seat, reservations-required bar in the back of Rogue.
Currently, the team here at Rogue 24 includes Chef de Cuisine Mark McDonnell, Pastry Chef Giane Cavaliere, and Chef-Tender Bryan Tetorakis, who runs the aforementioned SpiritsBar. These days, Cooper's busy working on Gypsy Soul, his second solo project that's going to be set in the
Mosaic District
, a retail-residential development in Virginia's Fairfax/Merrifield area. In March, Cooper cooked a preview dinner at the
James Beard House
, but the restaurant is apparently held up in permitting hell, and is now targeting a spring 2014 debut.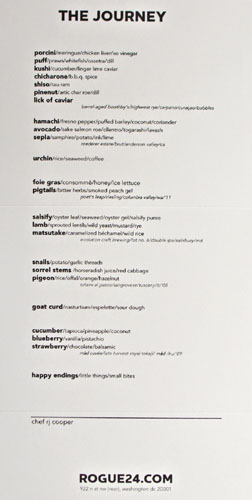 Rogue 24 offers up three menu options: the 24-course Journey for $135 (what I had), the 16-course Progression for $115, and the four-course Prix Fixe for $75, all available with beverage pairings ranging in price from $55 to $120. And, as mentioned above, there's also the four-seater SpiritsBar and its mini tasting-
cum
-cocktail menu, which is ostensibly also available at the RogueSalon out front. Click for a larger version.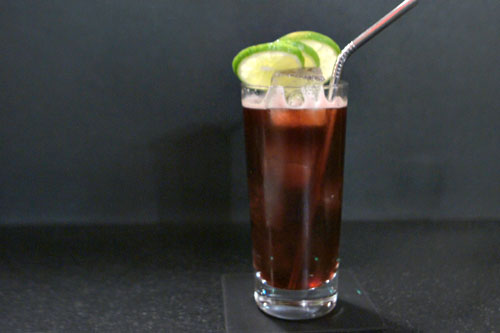 crossroads [$12.00]
| belle meade bourbon/pink pepper/hibiscus/cola/lime
Given that I had work almost immediately following the meal, I eschewed the wine pairing in favor of a few of Bryan Tetorakis' cocktails. The first was the
Crossroads
, which had a medicinal tinge to it initially, laced with the tartness of lime. This then transitioned to the sugary-boozy influences from the Bourbon, while the finish was all about a sweet spiciness taking over. A very cool evolution of flavors in this long drink.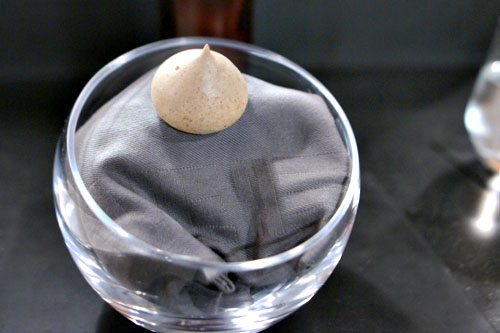 1: porcini
| meringue/chicken liver/xo vinegar
This little dollop comprised a porcini meringue encasing chicken liver and sherry vinegar. It was a delicious start to the meal, the mushroom growing in intensity before giving way to the sweet, earthy essence of liver. A winning combination.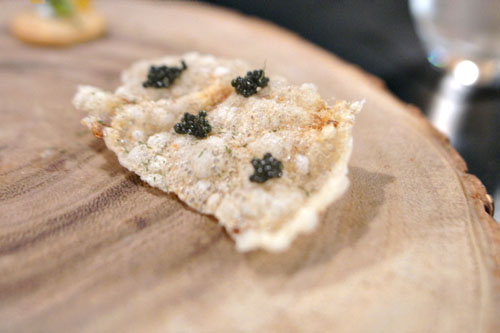 2: puff
| prawn/whitefish/ossetra/dill
Cooper's elevated prawn cracker was divine, the slight ocean-y taste of the crisp chip beautifully augmented by the in-your-face saltiness of caviar. I wanted a whole bag of these.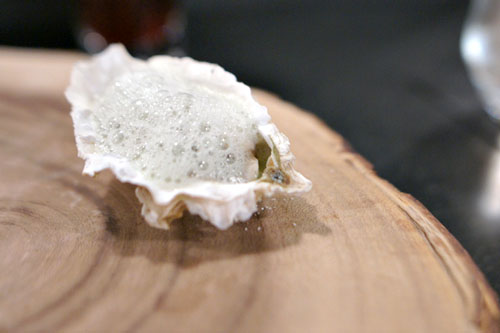 3: kushi
| cucumber/finger lime caviar
A singular Kusshi oyster showed off a strong salinity, one counteracted by the tangy vesicles of finger lime, all while the cucumber imbued the course with a clean, refreshing finish.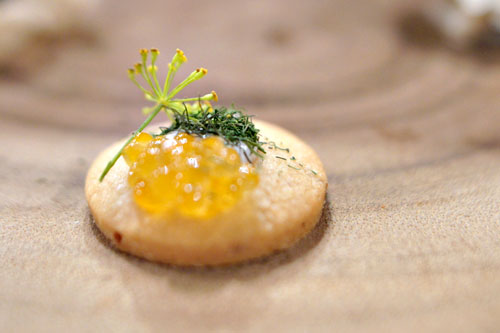 4: pinenut
| arctic char roe/dill
Shortbread topped with char roe and dill was pretty fantastic, the sweetness of the cookie moving beautifully to the interplay between salty-smoky and herbaceous flavors.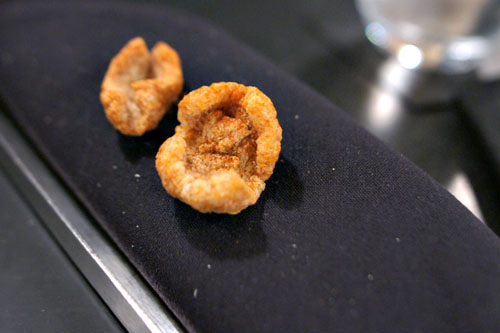 5: chicharone
| b.b.q. spice
Crunchy
chicharrónes
of pork belly, dusted with chili, were delish, the intensely earthy, porcine flavors here balanced by a creeping bit of spice.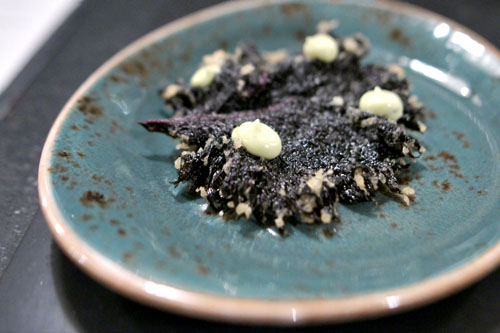 6: shiso
| rau-ram
A fried leaf of purple shiso was surprisingly substantial, and conveyed a rather profound savoriness to it that melded flawlessly with the piquant aioli of Vietnamese coriander.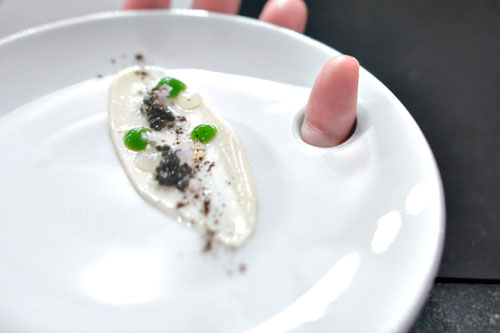 7: lick of caviar
Smeared on a sort of palette (held in place via pinky) were a blini purée and various constituents of caviar. I was instructed to lick the plate in one fell swoop, and in doing so, the classic flavors of the roe were dutifully, accurately, and whimsically portrayed.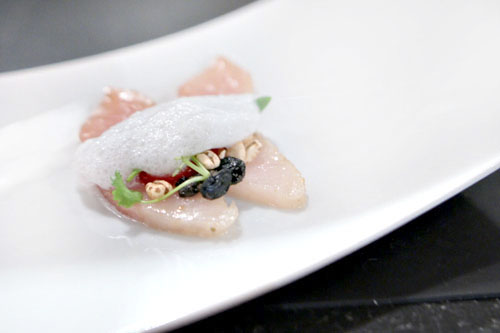 8: hamachi
| fresno pepper/puffed barley/coconut/coriander
Cured yellowtail--served with a coconut espuma, microcilantro, puffed barley, and fresno chile--was delicious, and smart at the same time. The fish really worked well as a base to the dish, the coconut coming to the forefront initially before transitioning to contrasting flavors of lime, pepper, and what I believe was black bean.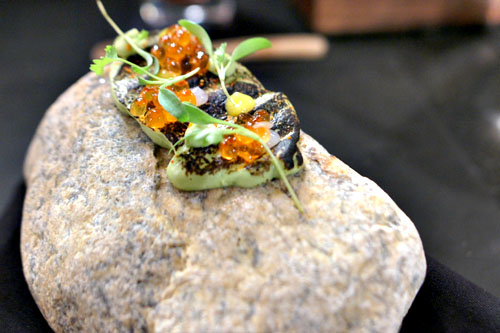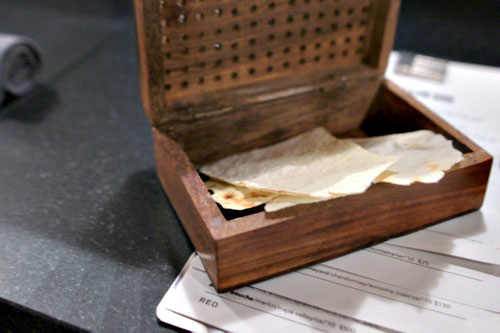 9: avocado
| sake salmon roe/cilantro/togarashi/lavash
Avocado brûlée arrived smudged atop a rock, dotted with
ikura
,
togarashi
, lemon, and olive oil. There was such a great amalgam of flavors here, of complementary creamy, tangy, and smoky nuances that came together in concert--I wanted to lick the rock when I was done. My only quibble? The lavash wasn't absolutely necessary, and seemed a touch stale to boot.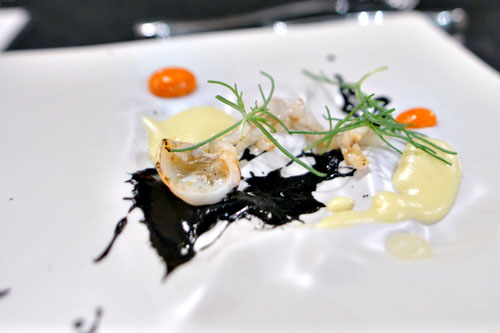 10: sepia
| samphire/potato/ink/lime
Cuttlefish was pretty revelatory, probably the best presentation of the ingredient I've had in fact. Texturally, it was spot on, with a supple snap to it that I loved. Meanwhile, contrasting thrusts of potato, romesco, squid ink, and sea grass resulted in a harmony of seemingly classic, yet somehow modern flavors that perfectly highlighted the sepia.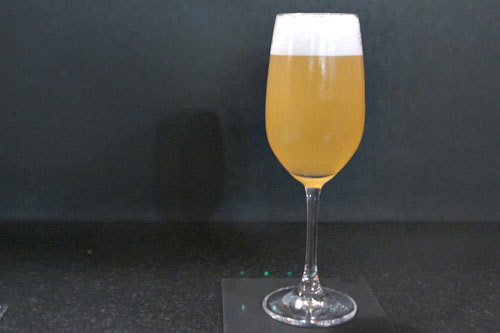 bro hymm [$14.00]
| botanist gin/apple brandy/amère nouvelle/pale ale/ginger
An apparent ode to
Pennywise
, the
Bro Hymm
was a tasty one as well: ginger-y and herb-y on the nose, with plenty of sweet apple and bitterness on the palate.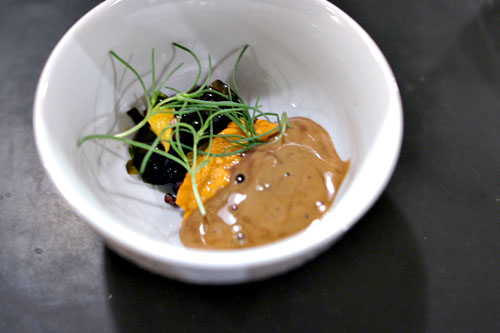 11: urchin
| rice/seaweed/coffee
Next up: a bowl of uni with coffee espuma, lemon, and black rice. The dish was instantly Japanese-y in character, with the unflappable combo of urchin and seaweed conveyed against the astringent zip of the coffee, all while the rice imparted a lovely crunch and savor to things.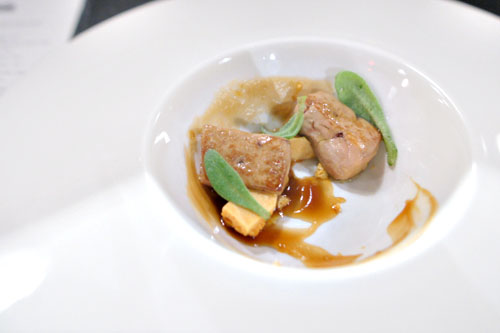 12: foie gras
| consommé/honey/ice lettuce
Foie gras was expertly prepared, and displayed all the richness and lushness that you'd expect, set against the sweetness of the duck-onion broth and honeycomb crisps. It was a classic, effective combination, gorgeously balanced by the greenery on the plate. However, I would've liked a less crunchy consistency on the honeycomb, which seemed jarring at times texturally.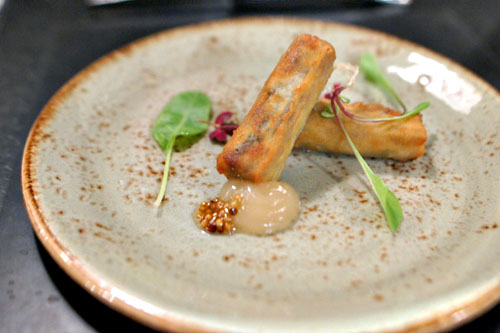 13: pigtails
| bitter herbs/smoked peach gel
Pigtails (a nod to the Chef's former restaurant concept mayhaps?) managed to deliver in a big way as well. They were basically pork rillettes, a tender, satisfying, intensely piggy presentation of the star ingredient that paired superbly with the sweet-smoky peach gel and counterbalancing zing of the mustard.
14: salsify
| oyster leaf/seaweed/oyster gel/salsify puree
Yaki
salsify arrived in a bed of miso soil, along with oyster leaf and a purée of itself. Think an unabashedly earthy, smoky umami bomb, moderated by the various greenery on the plate.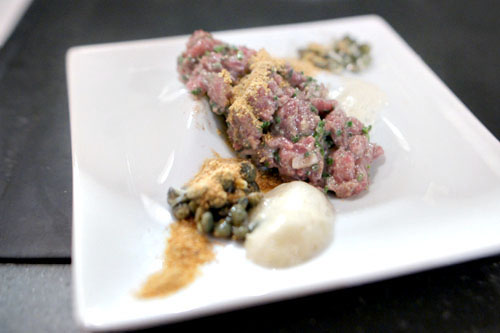 15: lamb
| sprouted lentils/wild yeast/mustard/rye
The lamb tartar was recommended by a server at the restaurant, and it turned out to be one of my favorites as well, and in fact, one of the best tartars I've had, ever. The gamy relish of the lamb was on proud display here, masterfully counteracted by the earthiness of those lentils, while the rice espuma and sorrel served as a balancing element. Really, a beautiful, somewhat contemplative set of flavors going on here.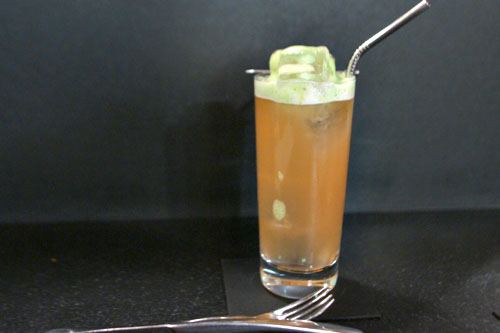 steps ascend [$12.00]
| flor de caña/bryan's tonic/pineapple/paprika/cilantro
Next to imbibe was the
Steps Ascend
, loaded with plenty of light, bright cilantro flavors and a body of tangy, boozy, and slightly astringent notes that all worked together in harmony. Fun and breezy.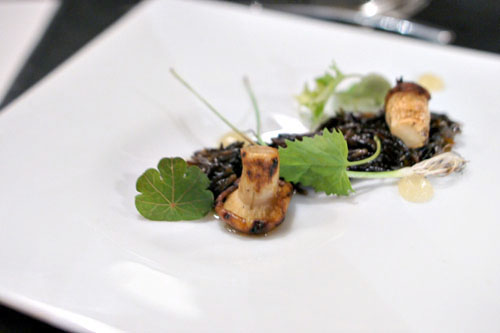 16: matsutake
| caramelized béchamel/wild rice
It was the start of matsutake season, so I was happy to see them presented, served here with a ginger gel, strawberry spinach, and black rice. The intense, woody perfume of the mushrooms was a joy to experience, and made perfect sense against the leafy bits on the plate. The rice, meanwhile, grounded the dish, and also provided an interesting textural component.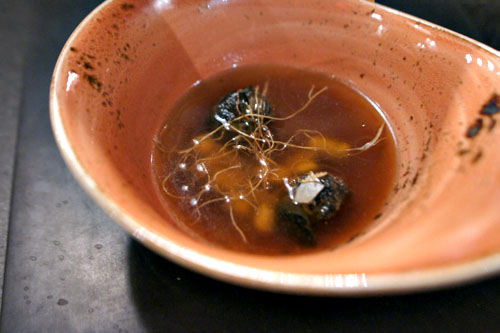 17: snails
| potato/garlic threads
Another standout for me were the snails, some of the tastiest I've had no doubt. They were actually of the basil-fed variety, and set here in a potato-based broth. I loved the herbaceousness that these little guys had, which paired with the rich, heady, onion-broth in stellar fashion. Great bits of gnocchi in there, too.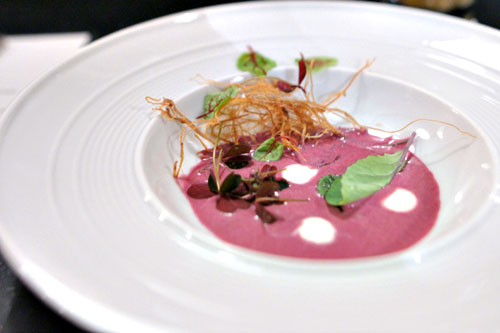 18: sorrel stems
| horseradish juice/red cabbage
Next, sorrel was plated in a red cabbage gazpacho, resulting in a creamy, tangy, somewhat bitter blast of flavors that were smartly accented by the savory veal(?) "fibers" present.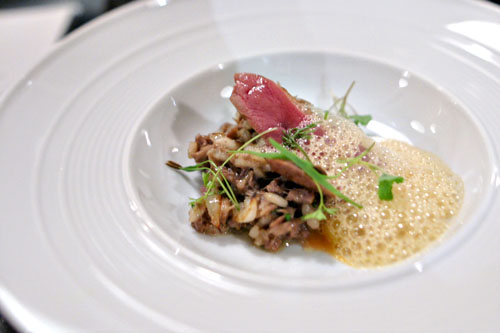 19: pigeon
| rice/offal/orange/hazelnut
The last savory brought out an excellent rendition of squab, one shown with a wild rice "paella" and orange espuma. The bird itself was intensely aromatic, and just full of flavor. I found it delicious alone, and even better when taken with the hearty rice (which I could've easily eaten a whole bowl of) and slight citrus-y tang of orange.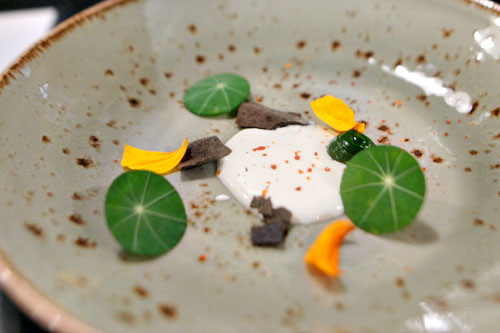 20: goat curd
| nasturtium/espelette/sour dough
Acting as the cheese course was a puddle of
chèvre
, garnished with lavash, nasturtium, and espelette. The curd I rather liked, its sweet, tangy taste working hand-in-hand with the crunchy, savory bits of sourdough, all while the nasturtium lent an overarching brightness to the course. Pretty neat.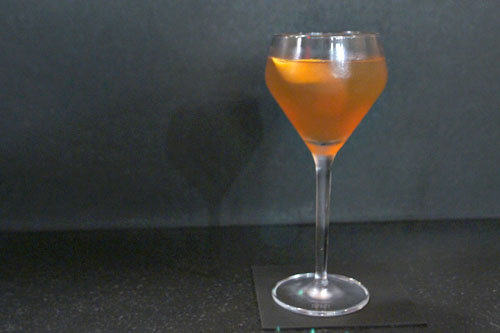 amalie [$12.00]
| cruzan rum/cardamaro/banana/demerara/cardamom/maraschino
To pair with dessert, I ordered up an
Amalie
, a surprisingly stiff, yet saccharine concoction with an almost tropical essence to it, underscored by hints of banana.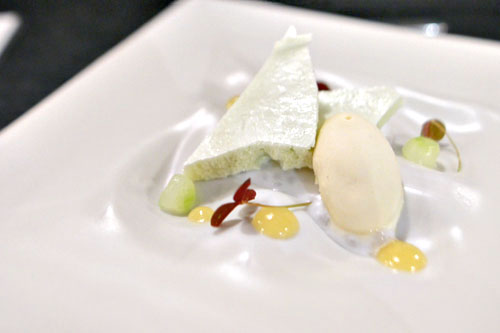 21: cucumber
| tapioca/pineapple/coconut
Time for the sweet stuff. Here, cucumber was presented in both meringue and gel forms, along with pineapple, coconut, and a rice espuma. The key were was that interplay between cucumber and coconut, a cool, light combo that just worked, tarted up by pinpoints of pineapple.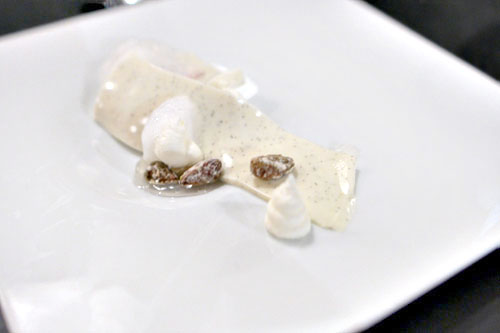 22: blueberry
| vanilla/pistachio
The blueberry dessert--with moscato cream, vanilla panna cotta, and a lime air--was even better. That panna cotta especially was pretty amazing, showing of classic flavors with a countervailing citric tang, a lovely complement to the sugary blueberries in the dish. Loved the nutty, salty, crunchy bits of pistachio, too.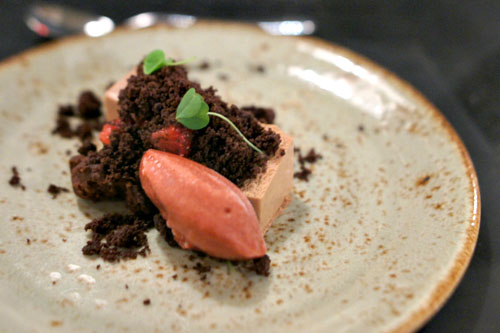 23: strawberry
| chocolate/balsamic
The most substantial dessert of the trio was probably my favorite as well. Here, a chocolate-raspberry mousse was joined by strawberry-balsamic sorbet and dark chocolate crumbles. It was a satisfying, though not entirely unexpected commixture of fruity, sweet flavors against a subtle chocolate base, with the crumbles actually adding a wonderful savory hit to things.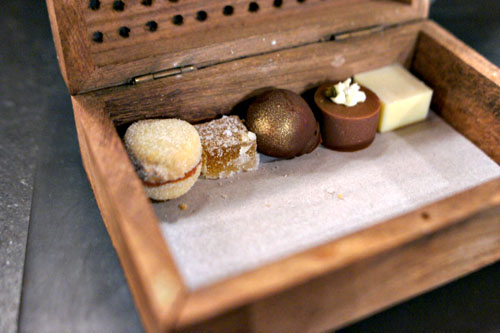 24: happy endings
| little things/small bites
Finally, the requisite mignardises: guava shortbread, kalamansi
pâte de fruit
, peanut butter-fudge, orange-chocolate (my favorite of the fivesome), and white chocolate-coconut.
All the drama surrounding the place aside, Cooper and his team really did deliver a great meal. The cooking was contemplative at times, but delicious almost always, a commingling of disparate influences, of classic flavor profiles and modernist technique that somehow comes together to form a cohesive whole. I'm really glad I made the decision to come out here. Think of Rogue 24 as a break from the ordinary, but still grounded in tradition, and, at $135, think of it as a downright bargain too.