Guisados (Los Angeles, CA)
Guisados Tacos
1261 Sunset Blvd, Los Angeles, CA 90026
213.250.7600
www.guisados.co
Fri 11/15/2013, 08:05p-10:00p
Without a doubt, one of LA's most beloved taco joints is Boyle Heights' Guisados (literally "stews"), a relative newcomer to the scene that opened in 2010 to rave reviews for its hearty, homey braises served atop thick, homemade tortillas. The restaurant was the work of Chef Ricardo Diaz and longtime real estate man Armando De La Torre, the duo behind Cook's Tortas (ca. early 2008) and Dorados
cevicheria
(ca. late 2006), both in Monterey Park.
Note, however, that the partners split up in late 2012, prior to the debut of Guisados Echo Park at the start of this year (helmed by Armando
Jr.
). The break resulted in the shuttering of Dorados in April, with Diaz venturing out on his own and opening the more upscale, gastropub-y Bizarra Capital in Whittier, set inside a former outpost of Siete Mares (a chain that his family owns). This was followed up in August by Colonia Taco Lounge in La Puente, also at an old Siete Mares location. As for the De La Torres, they're planning to launch a third Guisados in Downtown in the coming months, situated inside the Spring Arcade building.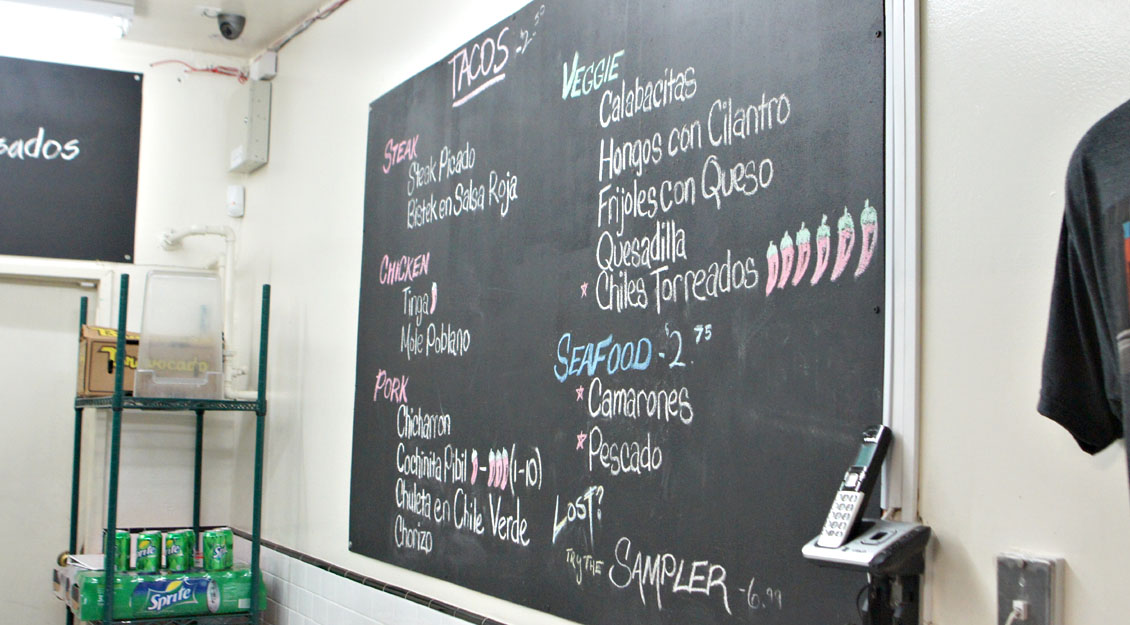 Written on the restaurant's signature chalkboard, Guisados' menu is pretty straightforward, and nearly identical to the one at the original location, though with the notable lack of tamales. Tacos are the star here, with no less than 15 standard versions on offer at a given moment, each priced at $2.50 (or $2.75 for seafood). Newbies might want to consider the $6.99 Sampler, which allows you to choose six mini tacos from all but the starred varieties. Brunch is also a possibility here, and I've heard that they're planning to do breakfast as well.

To drink, you'll find four
agua frescas
and your typical soft drinks, though word is that the restaurant's trying to obtain a beer and wine license. Note also the special taco off to the side,
lengua
(tongue) tonight, but also
mollejas
(sweetbreads) and
birria
(goat) in the past.

You order at the counter, but your food is delivered to the dining room, which happens to be decorated with various pieces from local artists (some of it available for sale).

There's also an outdoor dining patio, which features live music on some nights.
Melon [$2.00]
| cantaloupe
Armando Palmero [$2.00]
| Limon (lemon, lime) + Jamaica (hibiscus tea)
The
agua frescas
make for a natural accompaniment to the tacos. The
Melon
variety was arguably my favorite, with a bright, refreshing quality to it that beautifully conveyed the essence of cantaloupe. Meanwhile, the whimsically-named
Armando Palmero
was a take on the classic Arnold Palmer, substituting
Limon
and
Jamaica
for lemonade and iced tea. It really did recall the original drink though, with its tasty, fun, sweet 'n' sour flavors.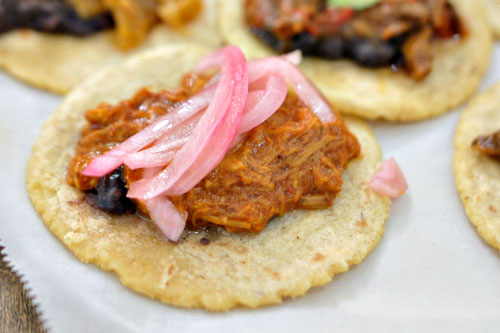 Cochinita Pibil
Since we wanted to try all the different types of tacos, we opted for two sampler platters to start. I went straight for the
puerco pibil
, a tasty little morsel that showed off a sweet, savory character with a delightful growing spice, all offset by the crunch and tang of the pickled red onion.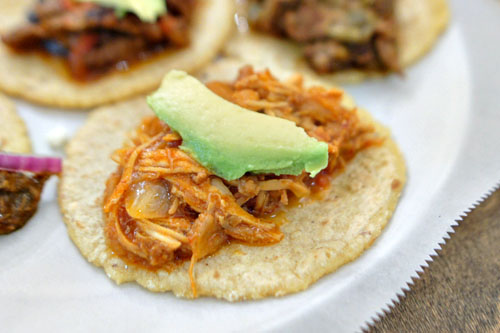 Tinga
Guisados'
tinga
(made with shredded chicken) is perhaps one of their more well-known fillings, and tonight it was definitely enjoyable, conveying a smoky depth and spice to it that paired swimmingly with the lush sliver of avocado on top.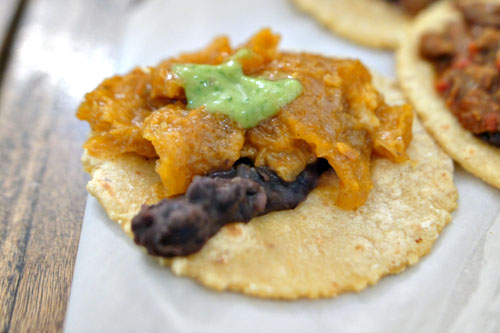 Chicharron
Chicharrones
were long-cooked shards of fried pork rinds, gooey and gelatinous scraps that I liked much more than I thought I would. Think immensely porcine, with a creeping heat and an excellent base of black bean.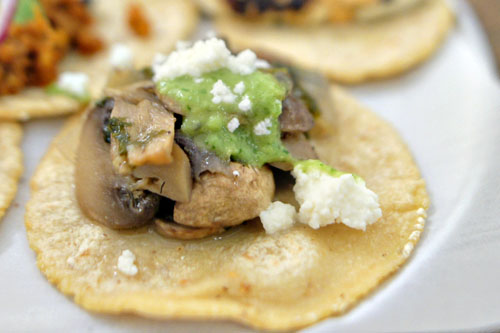 Hongos con Cilantro
Sautéed cremini mushrooms were earthy and delicious, working great alongside the richness of
cotija
and bright cilantro condiment drizzled on top.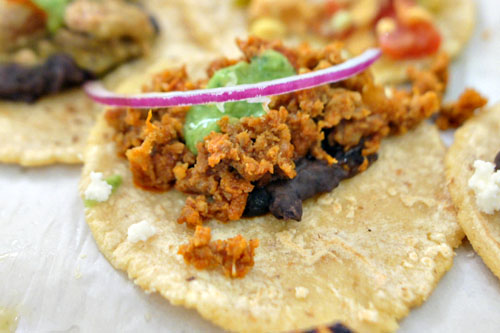 Chorizo
The chorizo was one of my favorites, a pretty fantastic mince of pork that gave off a particularly profound savoriness and subtle spice, all moderated by the
frijoles
.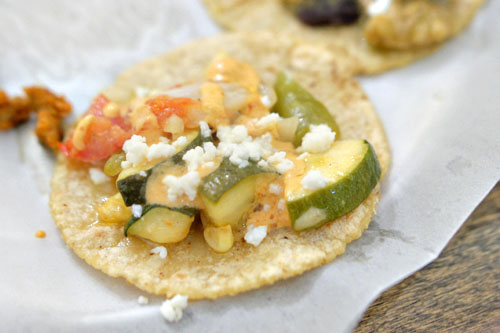 Calabacitas
The
calabacitas
was surprisingly delish, a mélange of squash, tomatoes, onions, and corn that made for a great balance of disparate textures and tastes.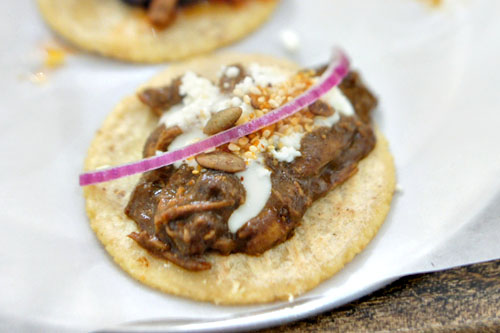 Mole Poblano
The chicken
mole
taco was another highlight for me, arguably the most complex preparation here with a deft blend of spicy, sweet, savory, and nutty flavors, augmented by the crunch of those toasty grains sprinkled on top.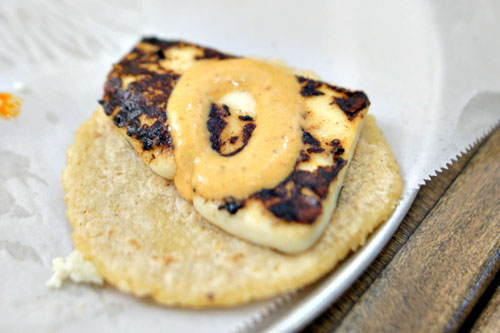 Quesadilla
The quesadilla is almost nothing like what you're thinking, instead consisting of a thick slab of
queso panela
, cooked à la plancha. It's a sweet, squeaky, wonderfully charred concoction, made better by the addition of a swirl of chipotle crema.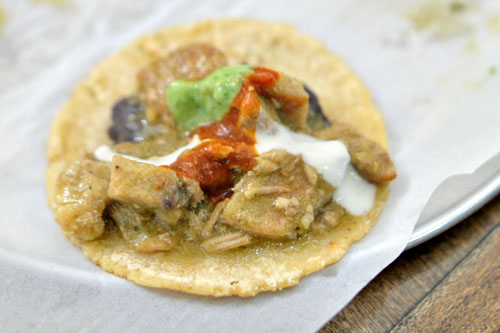 Chuleta en Chile Verde
The pork chop was another standout, great texturally, with a superb counterpoint to the meat in the form of that delightfully piquant salsa. Very well balanced.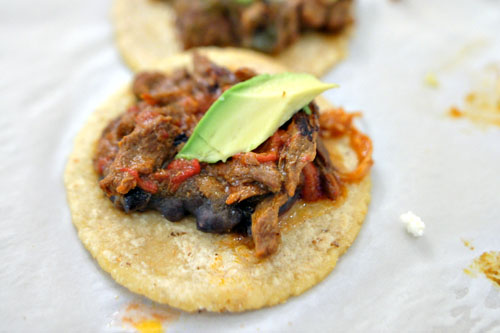 Bistek en Salsa Roja
Another winner was the steak in red sauce, a perfectly integrated bite that showed off the
bistek
in concert with the earthy black bean and sweet-ish, tangy sauce.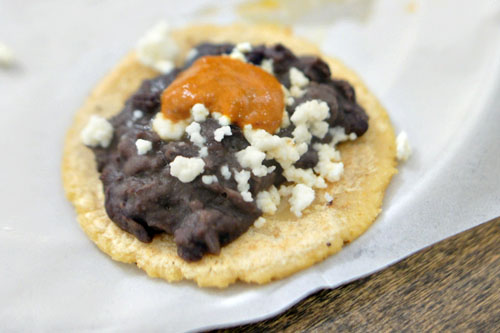 Frijoles con Queso
Frijoles
accompany most of the tacos at Guisados, but on this one, they were made the hero in the dish, their smoky weight conveyed with the weight of the cheese.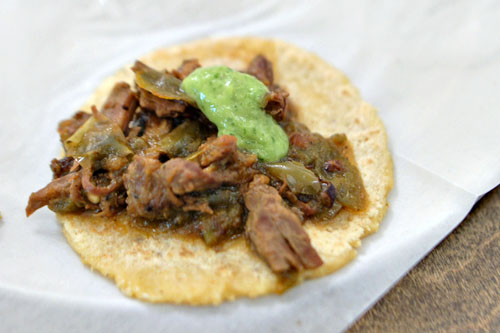 Steak Picado
The last of the dozen items on my sampler was the chopped steak with peppers, another favorite of mine with its bright, verdant, cilantro-laced sauce that went gorgeously with the hearty, yet subtle bits of meat here.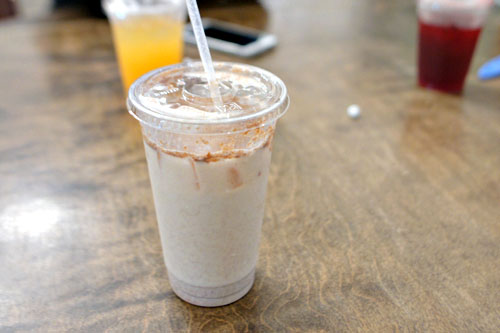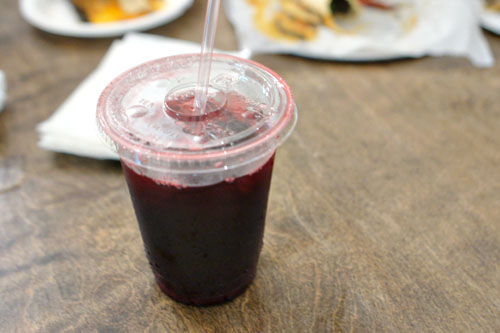 Horchata [$3.00]
| milk, cinnamon, rice, sugar
Jamaica [$2.00]
| hibiscus tea
The
Horchata
was obviously a must-try, and Guisados' was quite lovely: grainy, yet silky, with a particularly intense sweet spice to it; I've even heard that it can be ordered in popsicle form as well. The
Jamaica
, meanwhile, was sweet, tart, and oh-so floral, a good counter to the heat of the tacos.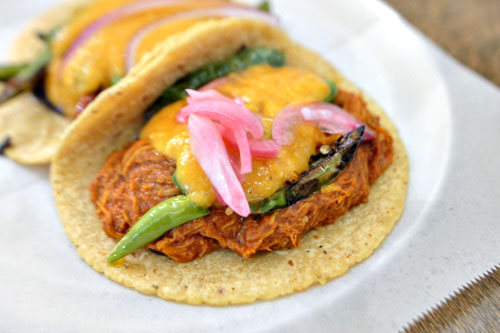 Cochinita Pibil (Level 10) [$2.50]
At this point, we were done with our samplers and opted for full sized tacos to finish off the menu. Guisados'
cochinita
is available in ten heat levels, and one of my dining companions just
had
to go for the max. It's basically the same as the normal taco, but with the addition of roasted chiles and a habanero-based salsa on top. Think of a sharp, sweet, pinpointed, yet lingering spice, one that was way too much for me and overpowered the otherwise tasty pork. Even Armando Junior admits that this is more for novelty than consumption.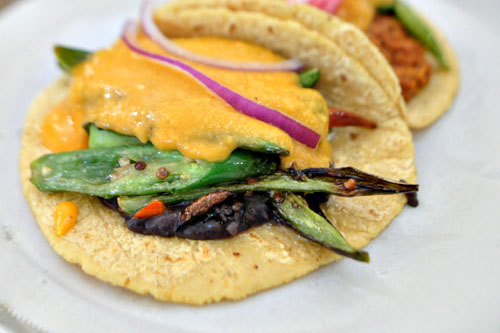 Chiles Torreados [$2.50]
If the preceding isn't hot enough for ya, there's also this: habanero, jalapeño, serrano, and Thai chiles, sautéed and coated with a plentiful helping of that habanero salsa above--some real chile on chile action. Think tears, sweat, a runny nose--the only way I was able to make it through this one was through downing plenty of that horchata.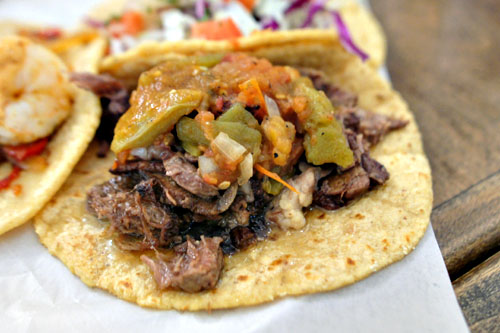 Lengua [$3.00]
The evening's special was beef tongue, served with Anaheim chile ranchera and more of that black bean. I found the
lengua
itself wonderfully tender, with a mild relish to it that was nicely paired with the softly spicy, softly sweet ranchero sauce.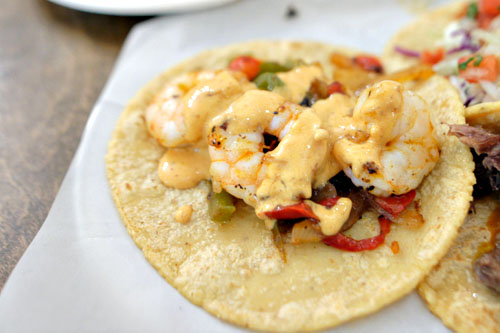 Camarones [$2.75]
The shrimp taco, meanwhile, was also agreeable, the
camarones
arriving snappy and not overdone, with a tasty brine to 'em that made perfect sense against the onions, peppers, and chile crema.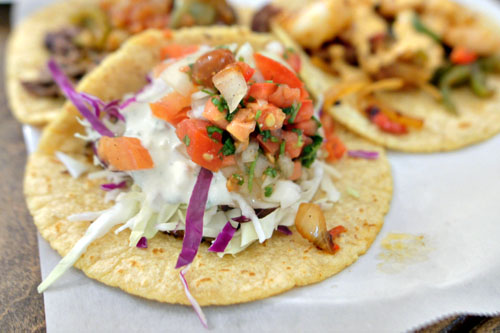 Pescado [$2.75]
Guisados' other seafood entrant was also on point, with the fish nicely showcased here alongside the cabbage, tomato, cilantro, and tangy crema. Definitely one of the lighter tacos here.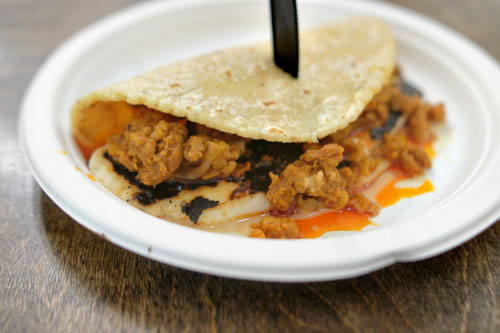 Chorizo Quesadilla
Armando then brought out his chorizo quesadilla, a secret off-menu item that's certainly worth inquiring about. It really was a great combo, with the spice and savor of the pork really melding well with the cheese here.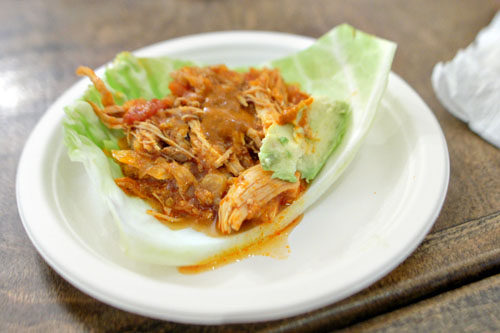 Cabbage-Wrapped Tinga [$2.75]
We concluded with another off-menu specialty: tacos served in cabbage instead of the standard tortilla (meant for people with corn allergies). Though the restaurant doesn't really promote these, this
tinga
version was actually very appealing, with the light, refreshing crunch of the veggie working effectively against the heft of the meat.
I'm not surprised that Guisados gave me one of the top taco experiences that I've had, especially with De La Torre, Jr as a gracious host. It's hard not to like the variety of satisfying stews and fillings here, tucked into the restaurant's trademark hearty, warm tortillas. Each of the nearly 20 types I had showed off their own unique charm and allure, offering me a respite from the usual conversation of asada and carnitas, and contributing greatly, thus, to LA's ever-increasing taco lexicon.