Nozawa Bar (Beverly Hills, CA) [2]
Bar Nozawa at Sugarfish
212 North Canon Dr, Beverly Hills, CA 90210
310.276.6900
www.nozawabar.com
Mon 11/04/2013, 07:30p-10:00p
One of the more notable Japanese debuts of 2013 was
Nozawa Bar
, a 10-seat, reservations-required,
omakase
-only counter situated in the back room of Sugarfish Beverly Hills; the Chef is Osamu Fujita, a longtime friend of Kazunori Nozawa's. From my first visit there, it was clear that the place was, from the get-go, one of the top sushi specialists around. I did, however, recommend a few areas for improvement regarding the saucing, selection, and speed of the sushi. The restaurant has taken those suggestions to heart, and requested that I revisit the Bar to experience the modifications that'd been made.
Perhaps the most significant change has been in regard to the pacing of the meal. The number of seatings has been reduced from two to only one (at 7:30), except for Saturdays, which allows for more flexibility, a more relaxed stride, and the ability to linger. In addition, lunch has been removed, in order to let the kitchen focus on dinner service. Also key is a wider selection of
neta
(items such as
suzuki
and
isebi
that I wouldn't have expected to see here), as well as larger day-to-day variation of ingredients, thus making for better replay value. The meal is also slightly longer, and now allows for à la carte ordering following the completion of the set menu. Finally, Fuji-san is pre-saucing more of the
nigiri
, which should result in cleaner eating and less falling-apart of the notoriously warm, loose rice.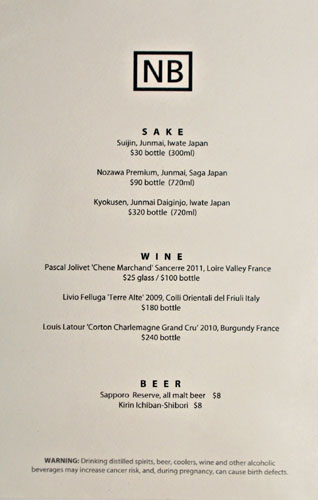 The Nozawa Bar menu now comes in printed form, replete with Fujita-san's signature, and is presented before the meal. This lets diners know what's coming up, so that persons with smaller appetites can choose to skip certain courses and "save" their capacity. The price, meanwhile, remains at $150 (plus mandatory service and tax), which is good to see given the enhancements that've been made. Meanwhile, the drink menu, unfortunately, hasn't changed or been expanded (mostly due to space limitations), and corkage isn't being offered yet either (though it's under consideration I hear). Click for larger versions.
Now, speaking of beverages, I opted for a bottle of wine this evening, specifically the
Pascal Jolivet 'Chene Marchand' Sancerre 2011, Loire Valley France [$100]
. It was lovely, and a fitting accompaniment to the food. Think light, refreshing, yet substantial, a dry, minerally, aromatic Sauv Blanc with a bevy of grassy, citric nuances and a bright burst of acidity.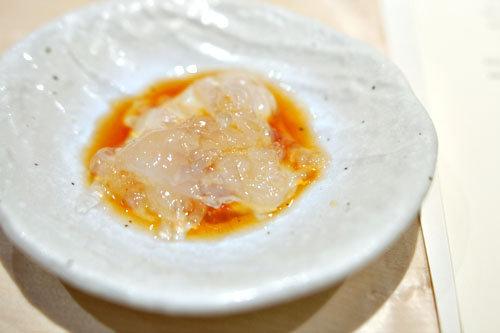 1: Japanese Jellyfish
We got underway with slippery shards of translucent Japanese jellyfish. This one was all about the
kurage
's slick, crunchy texture, while its mild relish was tarted up accordingly by the accompanying ponzu-based sauce.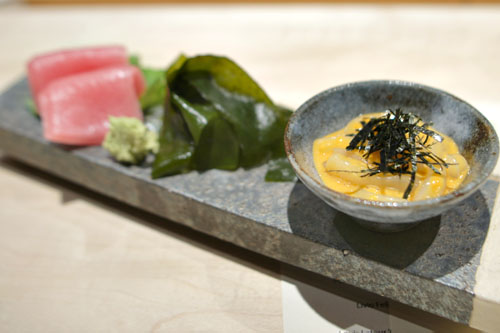 2: Sumi Ika Somen with Santa Barbara Uni sauce / New Jersey Bigeye Toro / Japanese Wakame
Next was a trio of small bites. The squid noodles were firm and snappy, with a delicate brine to them that went beautifully with the sweet, creamy urchin, all while the strips of nori sprinkled on top imparted an umami-laced tinge to the dish. The
wakame
, meanwhile, served as a bit of a palate cleanser before the toro, which arrived creamy and lush, with a great hit of heat from the wasabi.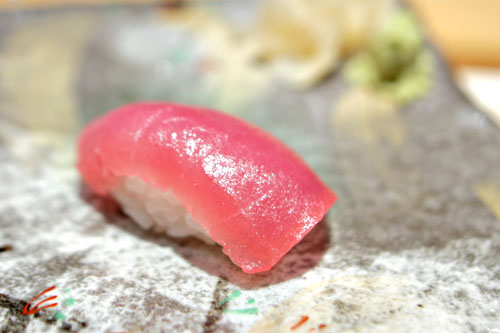 3: New Jersey Bigeye Tuna nigiri
Kicking things off for the
nigiri
was a back cut from the bigeye above, a balanced, prototypical representation of the fish that paired swimmingly with the Chef's signature warm rice.
4: Japanese Suzuki (Sea Bass) nigiri
Seeing
suzuki
was a nice surprise, since it's not a fish that typically occured in Nozawa's repertoire. I found a very pleasing, tangy sweetness here to go against the slight astringency of the
negi
.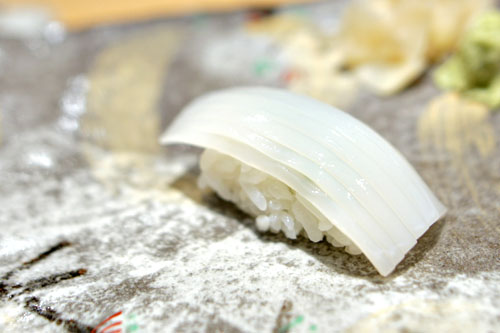 5: Japanese Sumi Ika (squid) nigiri
Squid was sticky and creamy, with a firm, yet yielding bite to it and a mild salinity highlighted by the zip of the shiso leaf slipped inside.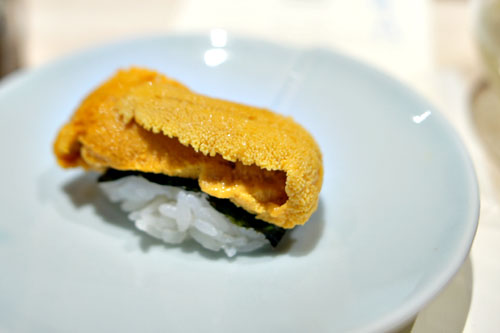 6: Santa Barbara Uni nigiri
Uni was superb, a perfect incarnation of Santa Barbara urchin that showed off the roe's trademark blend of creamy sweetness and salt, tempered by the savory richness of the accompanying seaweed.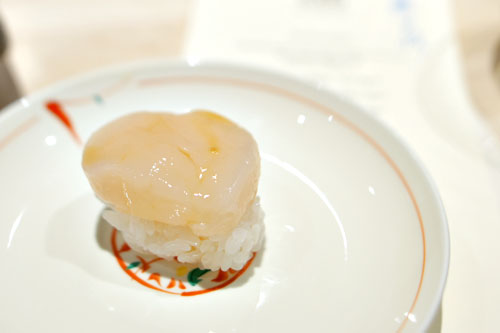 7: Hokkaido Scallop nigiri
The scallop was also a favorite of mine, with its firm, yet luscious consistency and subtle brine, offset by just a prick of yuzu.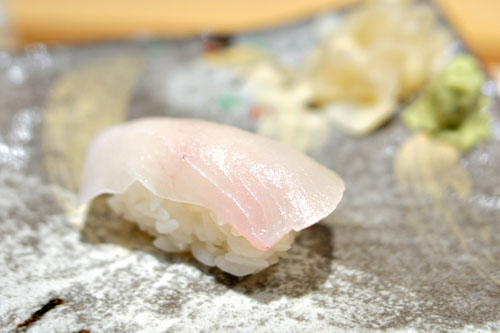 8: Japanese Kanpachi (Amberjack) nigiri
Amberjack, meanwhile, conveyed a great sweetness that melded well with the ocean-y nuances present, all while the rice was particularly apparent on the finish.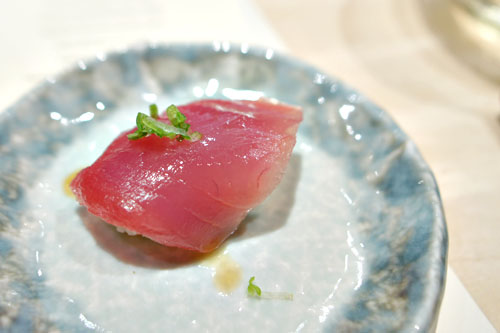 9: Japanese Katsuo (Skipjack) Tuna nigiri
Skipjack showed off a beautiful ruby tone, its delicate flavors accented by the combination of scallion and a touch of tart ponzu.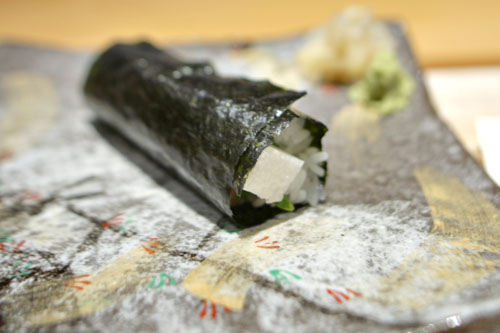 10: Yamaimo Ume Shiso Handroll
Our first hand roll brought together mountain yam, sour plum, and shiso. The star here was clearly that
yamaimo
and its crisp, almost jicama-like, yet mucilaginous texture. Taste-wise, it was very subtle though, so the combination of tangy
ume
and bright shiso were key, with the crunchy sheet of nori really grounding the dish.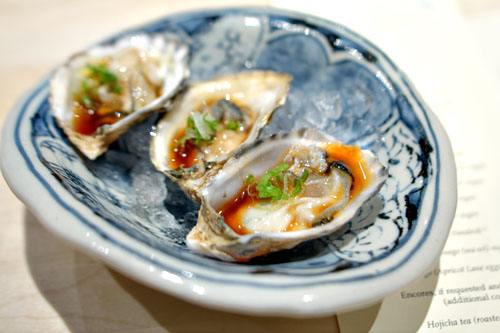 11: Kusshi Oysters
Firm, meaty Kusshis from Vancouver are some of my favorite oysters, and here they were put to good use, their cool, sweet salinity working hand-in-hand with the piquant qualities of the ponzu and scallion. Classic, but always effective flavors.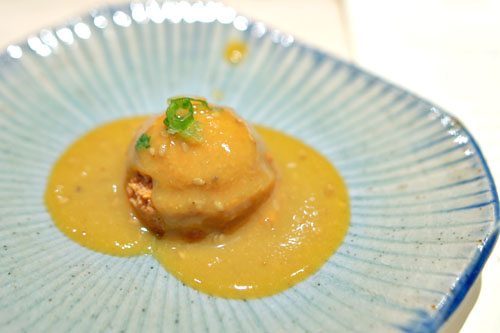 12: Ankimo (Monkfish Liver)
A scoop of monkfish liver (which could've easily been mistaken for ice cream!) showed off the earthy richness that you'd expect, but it was nuanced at the same time, and actually paired well with the miso sauce, which fortunately wasn't as sweet as it was during my first visit.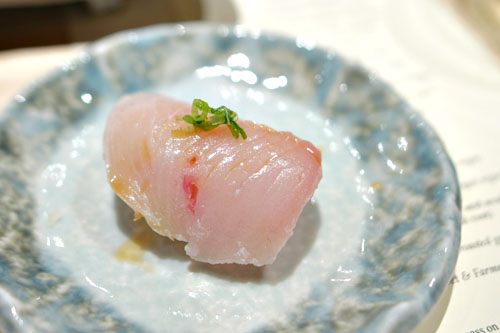 13: Boston Sawara (Sierra) nigiri
Spanish mackerel was tasty, giving us a very refined, yet still apparent fishiness that went gorgeously with the tart sauce drizzled on top. One of my favorites.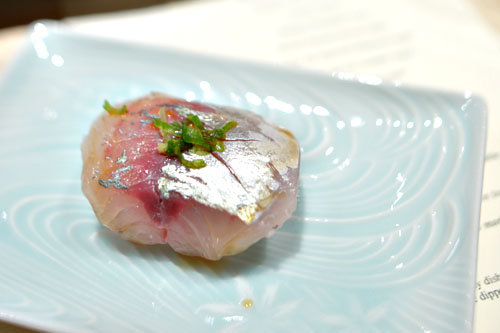 14: Japanese Aji (Spanish Mackerel) nigiri
Next was the "Spanish mackerel" (really horse mackerel), firmer in bite, which conveyed a much more intense brine that worked completely with the included ginger and scallion. A classic combo that always seems to satisfy.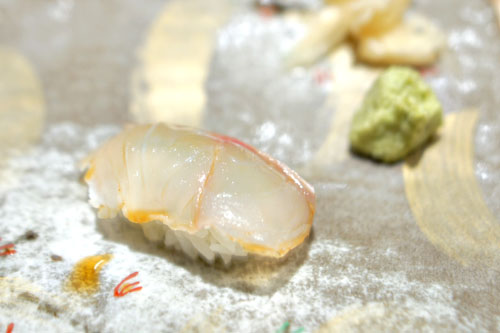 15: New Zealand Tai Snapper nigiri
Snapper from New Zealand was clean and fresh on the palate, its subtle qualities complemented by the bright flavors of the paired shiso.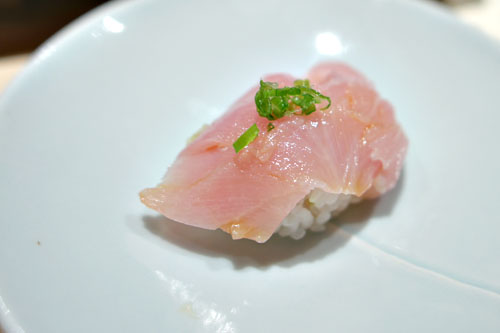 16: Oregon Albacore nigiri
Albacore was a favorite as well, and arguably the strongest sushi presentation of the fish I've had. The cut was taken from the belly I believe, which made for a perfectly balanced, integrated bite that meshed flawlessly with the bit of scallion up top.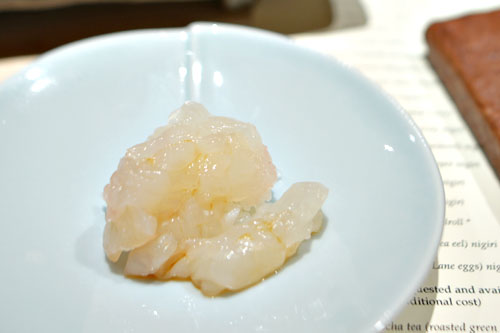 17: Maine Lobster nigiri
Lobster was a pleasant surprise, a delightfully crunchy presentation of the crustacean that matched its inherent sweetness with the sour smack of what I believe was yuzu.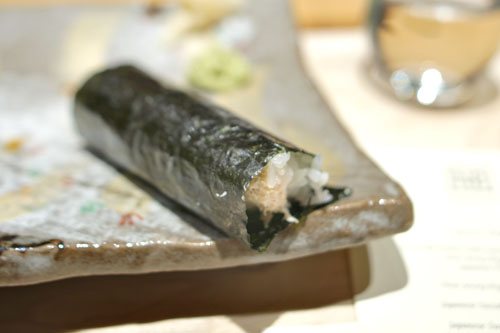 18: Blue Crab Handroll
Nozawa's probably the one that popularized the ubiquitous blue crab handroll back in the day, and it didn't disappoint tonight either, with the cool, sweet, saline crab faultlessly presented with the rice and nori.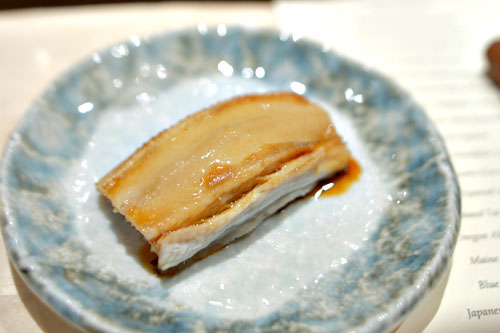 19: Japanese Anago (sea eel) nigiri
Sea eel often underwhelms, but this was definitely one of the better ones I've had, a sweet, hot, hearty, and utterly satisfying piece of
nigiri
that made me want seconds.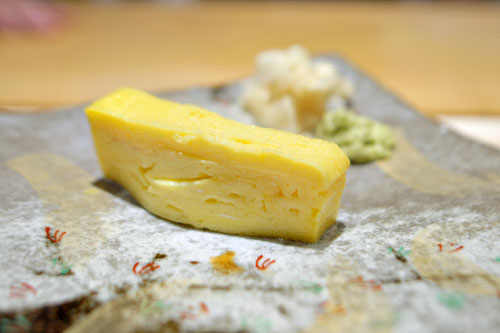 20: Tamago (Apricot Lane eggs) nigiri
Tamago made with Apricot Lane Farms eggs once again made for one of the more interesting preparations of the dish that I've seen, with the sweet 'n' sour nature of the
ume
countering the savory qualities of the omelet.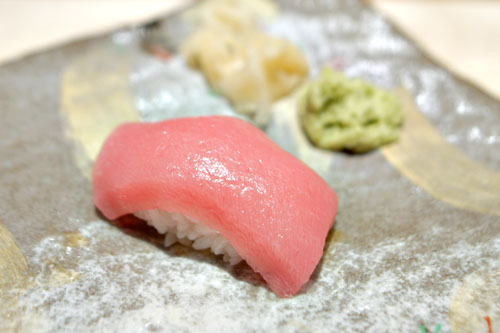 21: New Jersey Bigeye Toro nigiri
At this point, the parade of the sushi was over, and we were invited to order anything else that we'd like. I was actually fairly full, so only the toro was necessary, which I found as smooth and creamy as the sashimi version above, but with the added benefit of the rice, which balanced out the bite a bit.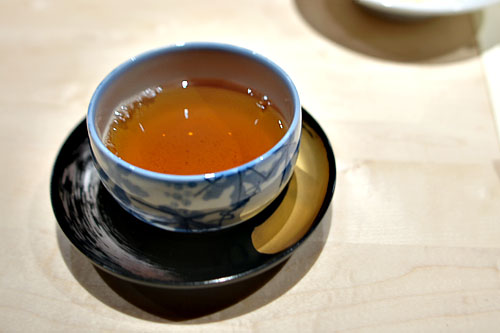 22: Hojicha tea (roasted green tea)
Green tea was hot and heartwarming, with a bitter, roasty character to it.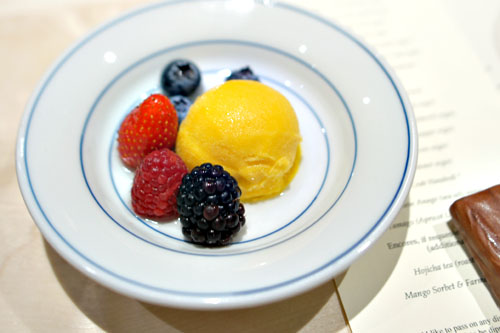 23: Mango Sorbet & Farmers market berries
The mango sorbet came out sweet and satisfying, really capturing the essence of the fruit while playing foil to the tart, juicy berries.
My last meal at Nozawa Bar was already a good one, and with the multitude of changes that've been implemented, the experience here has definitely improved. The more varied menu and slower pace were much appreciated (as was the spot-on service, coordinated by Courtney Imada), and the ingredients were certainly as pure and pristine as ever, making for the best possible interpretation of Nozawa's style of sushi. Like I said before, this is what I'd always wanted the original restaurant to be like, a fitting flagship for the Sugarfish empire.