Sushi Taro (Washington, DC)
Sushi Taro (Omakase Counter)
1503 17th St NW, Washington, DC 20036
202.462.8999
www.sushitaro.com
Wed 10/02/2013, 07:10p-10:45p
Capping off my Washington food tour was a place that I'd been wanting to try for a while now: Sushi Taro, oft regarded as
the
Japanese destination in the City, and one of the top in the country in fact, known for its lengthy, elaborate
kaiseki
-inspired tastings set at the restaurant's Omakase Counter. Taro is owned and operated by two brothers; the elder, Jin Yamazaki, runs the front-of-the-house and the business/marketing side of things, while 43-year-old Nobuhiro "Nobu" Yamazaki is in command of the kitchen, joined by Chef de Cuisine Masaya "Masa" Kitayama.
The Yamazaki clan hails from the city of Nagaoka in Japan's Niigata prefecture, and was never really in the restaurant business, but the family moved to the United States in 1985 to help a family member open her own place. However, they decided to stick around, and ended up debuting their own establishment, Sushi Taro, in July 1986, situated in a second floor space above a CVS. Both brothers helped with the restaurant growing up, and Nobu even went back to Japan for three years to train in Mie Prefecture, following a detour to art school. Sushi Taro cemented itself as a popular neighborhood sushi spot, serving teriyaki chicken, California rolls, and other such pedestrian items.
Following his father's retirement, Nobu took over the business in 2003, and was joined by Jin, who'd worked FOH at some other eateries in the region. The restaurant continued to thrive under this new leadership regime, but in late 2008, the Yamazakis made a drastic decision to change the direction of Taro's cooking. As a result, they shuttered for three months and completely remodeled the space, cutting the seating capacity from 120 to about 70 and instituting decidedly higher-end menu options. This change was met with resistance from Taro's old-school clientele, and the business struggled at first, but it wasn't long before the place was recognized as one of the top restaurants in the area.

Sushi Taro offers a number of à la carte and
kaiseki
-inspired tasting menu options, but here at the six-seater, reservations-required, 7:00-start, single-seating Omakase Counter tucked away at the rear of the building, you'll enjoy a seasonally-changing menu of 20+ courses with no set price (the damage tonight was a totally reasonable $160). Nobu-san makes for an affable, enthusiastic host, and I really appreciated the one-on-one interaction we had.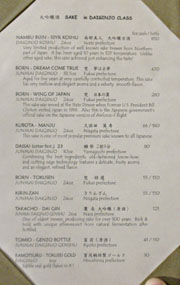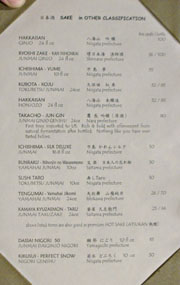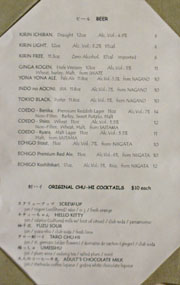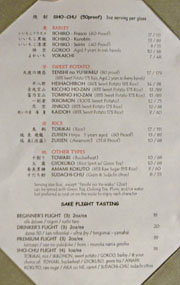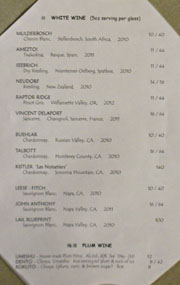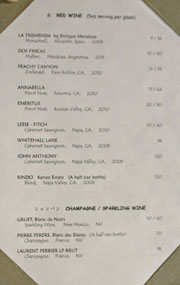 To drink, you'll find a very nice sake selection, shochu, and some wines, along with a commendable offering of Japanese beers (an interesting note: Nobu-san home brews). For tonight's dinner, I requested a beverage pairing at $100, which the Chef had no problem accommodating. Click for larger versions.
Speaking of that pairing, the first beverage to appear was the
Kirin-Zan, Junmai Daiginjo, Niigata prefecture
, a well-regarded 45%
seimai-buai
sake from producer Kirinzan Shuzo. I found it quite refined, and medium in body, with a great balance between fruity and ricey nuances, all underscored with just a bit of a boozy backbone. Clean, crisp, and very tasty.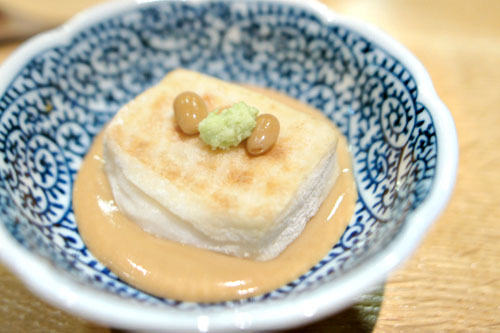 1: Goma Tofu
I began with one of the Chef's signature dishes, a "tofu" that's made daily from roasted sesame seeds, then grilled over housemade charcoal and served with wasabi, pickled soy beans, and a sesame paste. The dish really showed off the spirit of
goma
: its fluffy, almost marshmallow-y interior, slightly crisp, substantial skin, and nutty, savor complexities, augmented by the zip of wasabi.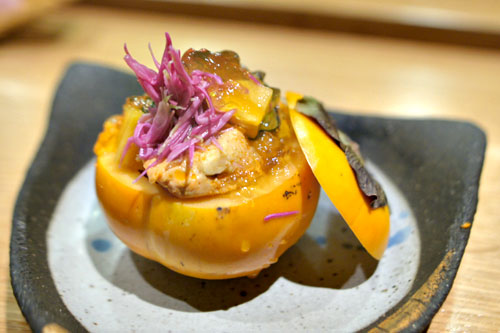 2: Kaki to Ankimo
A persimmon (the season had just started) arrived filled to the brim with monkfish liver, poached Washington oyster, egg, asparagus, nori, and chrysanthemum. There was a lot going on here, but the key was how the briny, earthy base of the course worked so well with the sweetness present, with the asparagus adding a brightness that really countered the salinity of the oyster.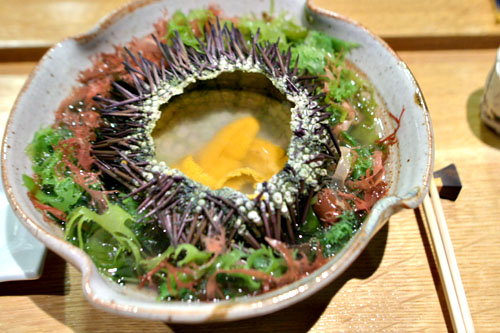 3: Santa Barbara Uni
Next, I had a rather stunning presentation of Santa Barbara uni served in a bath of salt water. This may very well have been the best presentation of raw sea urchin I've ever had. What I loved here was how its taste was so utterly clean and focused, the inherent creamy sweetness of the roe on proud display, but perfectly complemented by the comparatively sharp, salty water. Bravo!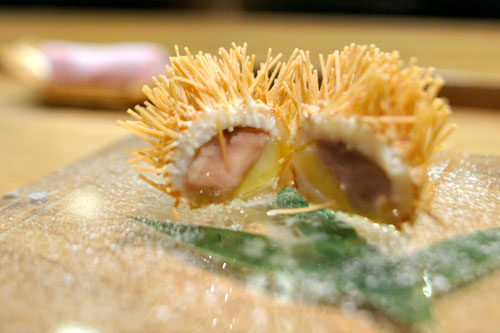 4: Foie Gras "Kuri"
An ode to the changing seasons, this was a "chestnut" composed of foie gras and fish cake, encased in a coasting of fried somen. The luxuriousness of the liver was expertly displayed, set against the sweet, nutty nuances present, with the
kamaboko
doing a great job in tempering the assertive flavors at play. Fantastic textures from the noodles, too.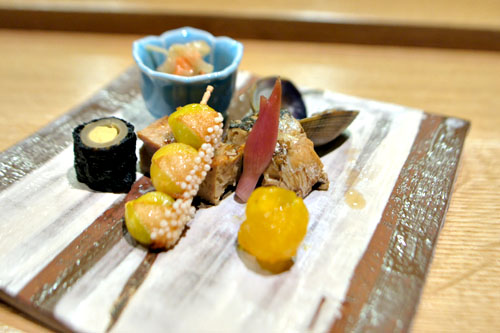 5: Hassun
Next was the Chef's platter of no less than seven bite-size seasonal treats. In no particular order:
Sockeye came marinated in vinegar, its full, fatty flavors working in concert with the dill and crunchy, tangy strips of onion.
Steamed Manila clam was coupled with garlic soy, the slightly chewy bivalve imbued with a deep sense of umami goodness.
Sardine was braised for two days, resulting in a particularly tender texture. Chewing wasn't even required, and the fish's immense savory depth worked well against the bite of the myoga.
Matsukaze-yaki was akin to a meatloaf made with chicken, raisin, and pine nuts, giving up an almost fruitcake-esque sweet-nutty character.
Ginko nuts were joined by fish cake, the latter adding a wonderful texture and body to the nuts, while rice crackers imparted a fantastic, finishing crunch.
Burdock was accompanied by mustard and egg yolk, the crisp gobo root conveying a mild taste that transitioned to the heat of the mustard, with the creamy tamago moderating the bite.
Finally, egg yolk was presented with sweet miso and a Brazil nut, the nut offering up an unexpected complement to the lushness of the yolk.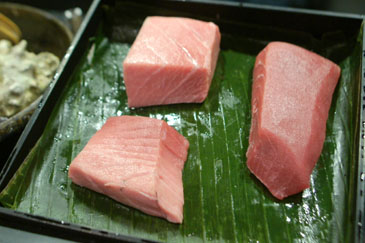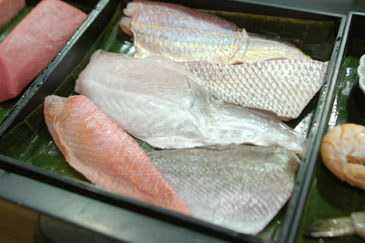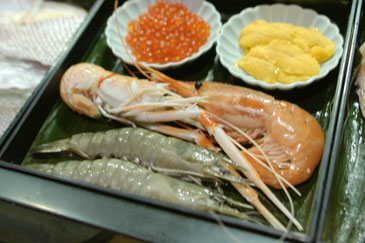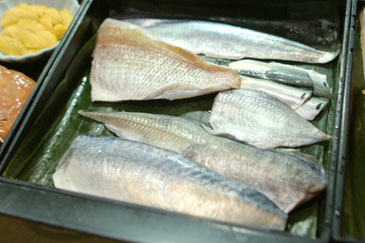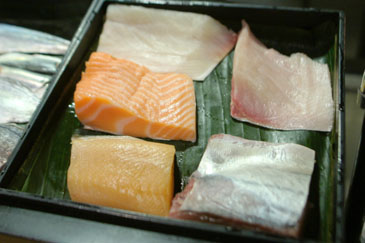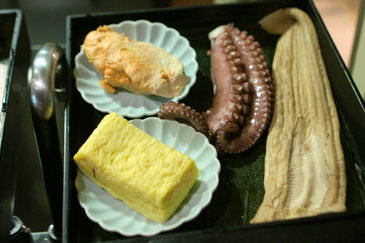 At this point, Nobu-san brought out a series of black lacquer boxes (that he made himself, no less), stacked one atop another. They were then placed on stands and revealed to contain all sorts of prime ingredients to be used in the courses to follow (I would eventually try most of the items by the end of the night). Going from left to right, we have:
Three different cuts of wild Boston tuna: fatty, medium fatty, and regular.
The snapper types: threadfin bream, red sea bream, triggerfish, chicken grunt, red big eye snapper.
Shellfish and roe: sea urchin, salmon roe, Canadian sweet shrimp, New Zealand langoustine, Madagascar prawn.
Silvery skin: mackerel pike, gizzard shad, cured snapper, butterfish, horse mackerel, Boston mackerel.
Jacks and salmon-esque: bonito, Arctic char, New Zealand king salmon, yellowtail kingfish, Hawaiian amberjack.
Odds and ends: sea eel, octopus, egg omelet, monkfish liver.
I was presented with the option of choosing what I wanted for the subsequent sashimi courses, but naturally deferred to the Chef on the matter.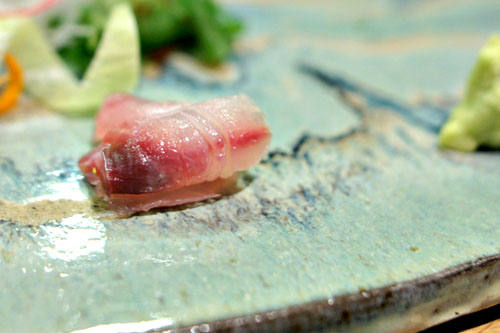 6: Itoyori Dai
The first of eight sashimi courses was the uncommon threadfin bream, delightfully salty with a tangy counterpoint and a lingering brine that I enjoyed.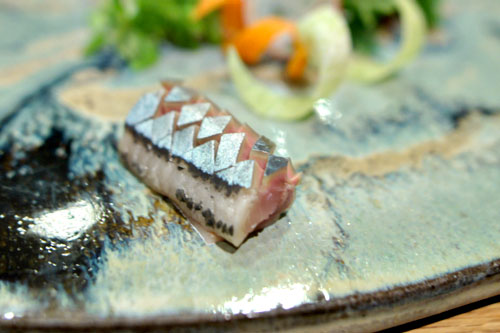 7: Sanma
Mackerel pike is an autumnal specialty so I was happy to see it here, especially with that beautiful cross-hatch patterning. It was a tasty fish, one really enhanced by ginger, and I appreciated the saury's soft, yielding texture as well.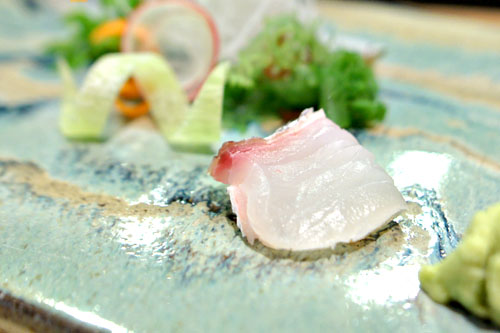 8: Madai
Red sea bream was just the right amount of chewy, with a delicate relish that was enhanced by the incorporation of 'sabi and soy.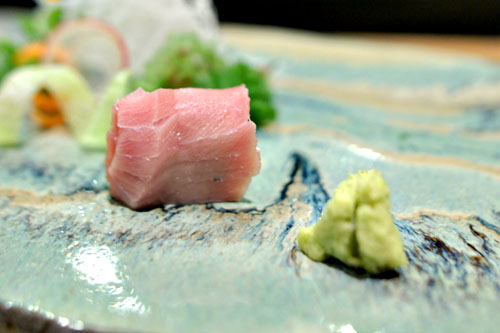 9: Chutoro
Medium toro was soft and utterly silky, and had a restrained fattiness that went superbly with a bit of heat from the wasabi.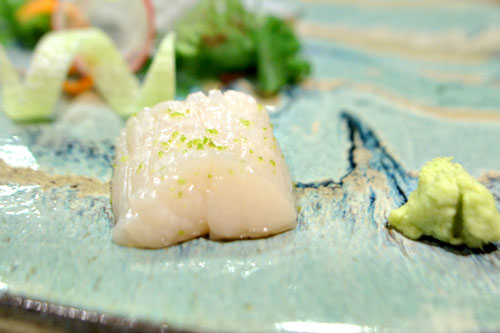 10: Hotate
Scallop was presented simply with salt and yuzu, the tang of the citrus smartly counteracting the ocean-y notes of the
hotate
.
To go with the sashimi, I was given the
Hakkaisan, Honjozo, Niigata prefecture
, which I'd definitely had on multiple occasions before. It wasn't as elegant as the Kirin-zan above, but according to the Chef, the Hakkaisan's a great pairing with sashimi, and he was right. Think drier, more rustic, with a stronger rice character and a spicy alcoholic kick.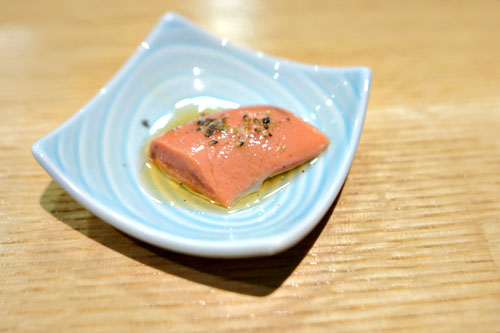 11: Hotate no Tamago
Here was a new one for me: scallop roe, with salt and cracked pepper. I found it very intriguing texturally--smooth, crisp, juicy--while taste-wise, think earthy and briny, with a counterbalancing element in the form of what tasted like sesame oil.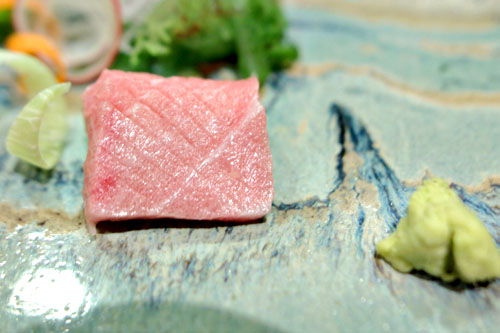 12: Toro
The full-strength fatty tuna was noticeably lusher than its chutoro cousin, a powerhouse of meltingly fatty flavors, keenly countered by a dab of wasabi.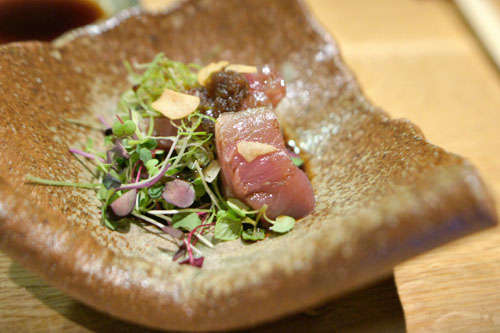 13: Katsuo
Smoked bonito came with garlic and a
momiji-ponzu
sauce. I really enjoyed the almost "hammy" savor of the fish, which had a tremendous depth of flavor that really worked against the brightness of the greens and daikon.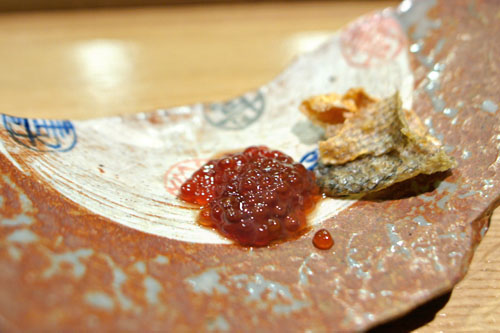 14: Sujiko to Sake Kawa
Next, fresh
sujiko
(salmon roe marinated in the sac) was served with a salmon skin cracklin', the intense salinity of the eggs masterfully paired with the salty crunch of
kawa
. Great to see two facets of the same fish here.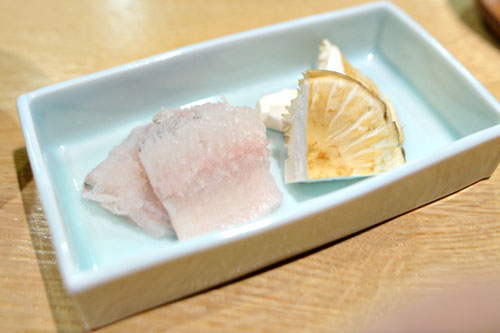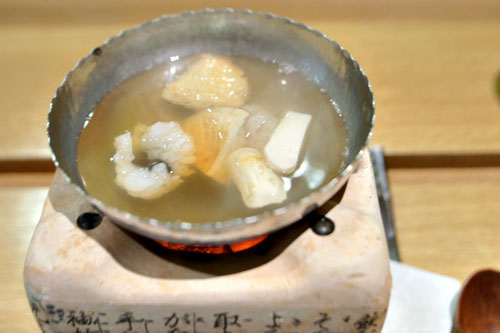 15: Hamo to Matsutake Shabu-Shabu
My shabu-shabu course featured pike conger and matsutake, a showcase of summer and autumn ingredients. The fine-spun nature of the eel paired beautifully with the umami-rich broth, while the mushrooms were even better, an explosion of earthy savors highlighted by a tinge of tartness from what I believe was yuzu. Cozy and comforting.
The next sake was the
Takacho - Dai Gin, Junmai Daiginjo Genshu, Nara prefecture
. I'd never had anything quite like it before, with its unique effervescence, the result of a natural in-bottle fermentation process. Flavor-wise, we're talking rich, boozy, and sweet, yet very balanced, and very delicious.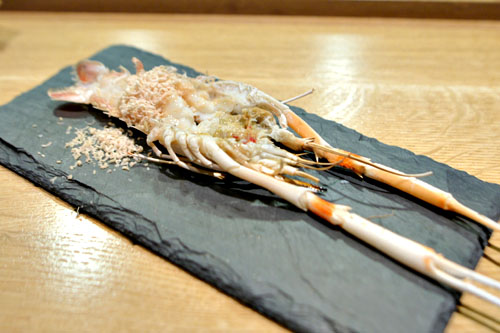 16: New Zealand Langoustine
An impressive specimen of New Zealand langoustine was sprinkled with frozen foie gras shavings (a decidedly new-school touch!), the heady relish of the melting liver complementing the creamy brine of the crustacean.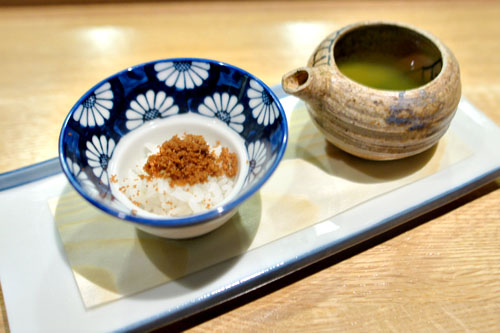 17: Fugu no Ko no Nukazuke
Here was another first for me: fugu roe (note: not the more popular
shirako
) pickled with rice bran for three years to cleanse the poisons, a specialty of Ishikawa Prefecture. It was done in a
chazuke
style, with the green tea and rice broth really doing a great job in offsetting the in-your-face saltiness of the eggs.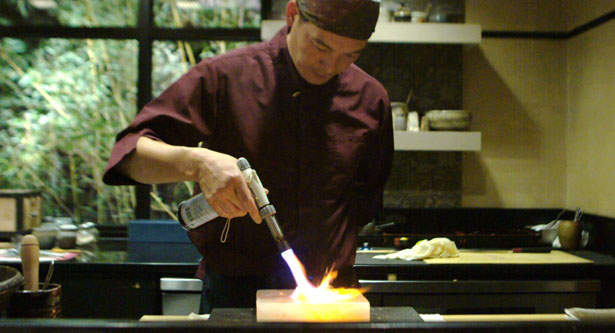 Above, we see Nobu-san torching the beef used in the course to follow.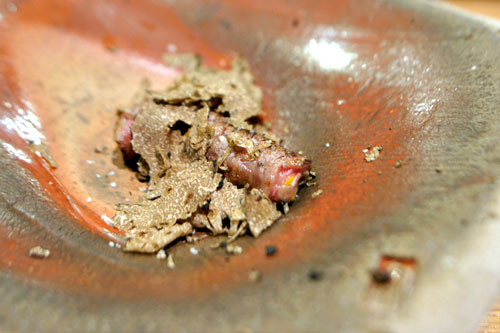 18: Miyazaki Wagyu
Rib-eye of Miyazaki beef was rolled with sea urchin, then topped in truffle, forming the most over-the-top luxurious course of the night. It was also one of the most delicious, the amazingly charred, yet fatty beef melding flawlessly with the succulent uni, all while the entire experience was enveloped in a veil of truffle-y goodness.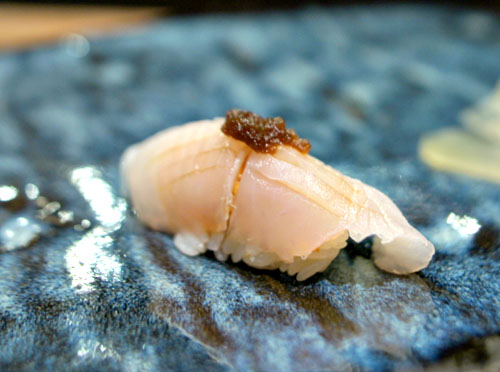 19: Mongarakawahagi
And now, we begin the parade of sushi. Triggerfish was yet another first for me, this particular example served with monkfish liver and
momiji-ponzu
. The ankimo really worked well here, its ocean-y heft complementing the fish gorgeously, all while the chile ponzu added a brilliant touch of heat to the course.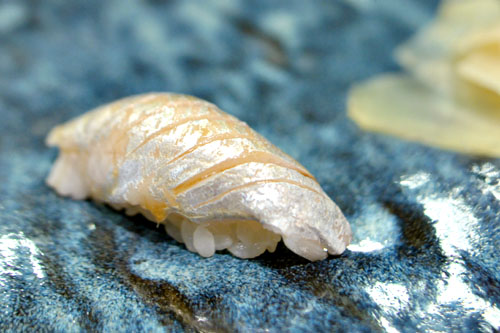 20: Ebodai
Butterfish was also a rarity, and really was as buttery as its name would imply, but also wonderfully salty and tasty at the same time.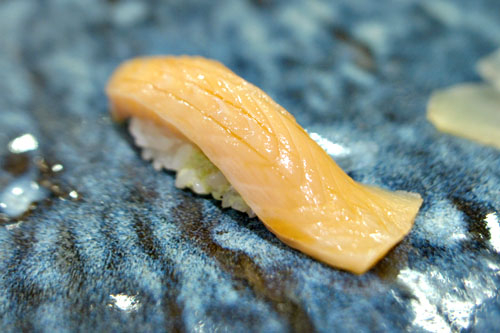 21: Hokkyokuiwana
Arctic char was somewhat similar to
sakura masu
, meaty in consistency, with an apparent fatty quality that went faultlessly with a bit of soy and wasabi.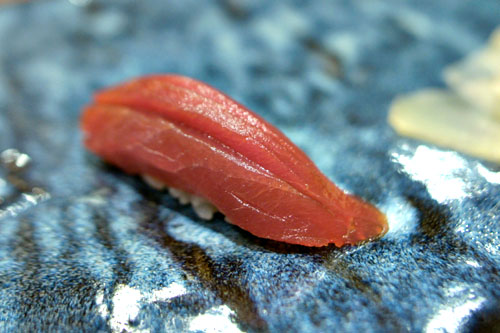 22: Maguro Zuke
Marinated tuna was a great example of the sushi staple, with a fantastic
shoyu
depth that played beautifully with the
shari
.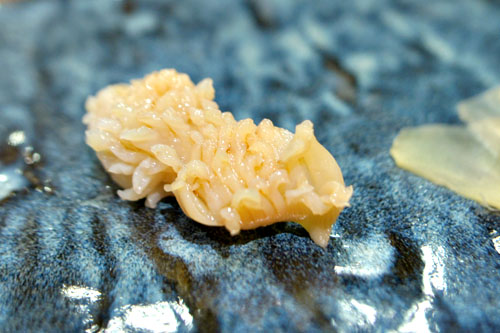 23: Aoyagi
Orange clam was
super
briny, with a particularly satisfying bite to it and some wonderfully intricate knife work.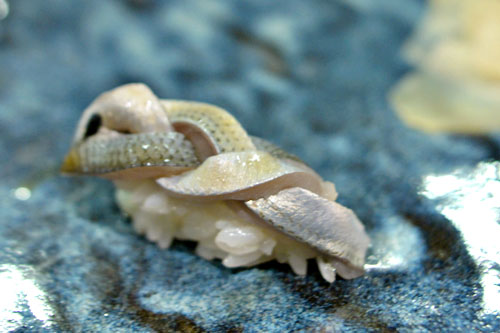 24: Kohada
Gizzard shad was weaved in impressive fashion, demonstrating a level of artistry not seen since
Urasawa
's
sayori
. The kohada showed off its signature firm texture, and in terms of taste, it was totally on point as well, with the fishy thrusts here countered by a vinegar-y tang.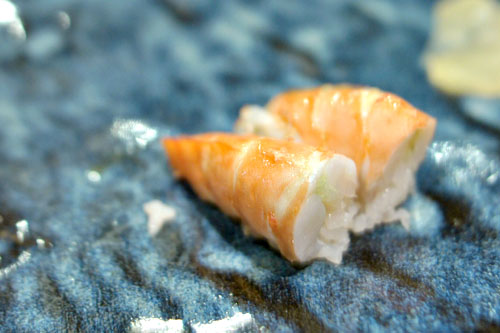 25: Ebi
I'm not usually a fan of cooked shrimp sushi, but the Madagascar prawn was superb: still snappy, with its salinity and sweetness intact.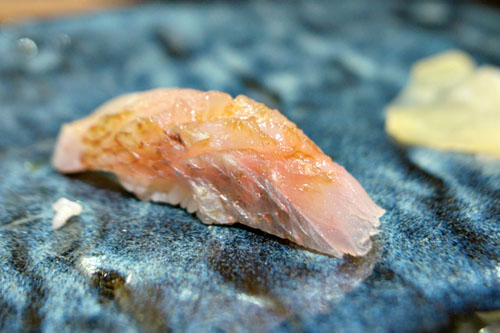 26: Kasugo
Baby red snapper was sesame crusted and sprinkled with salt, resulting in an utterly delectable experience that really paired the fish and
goma
commendably.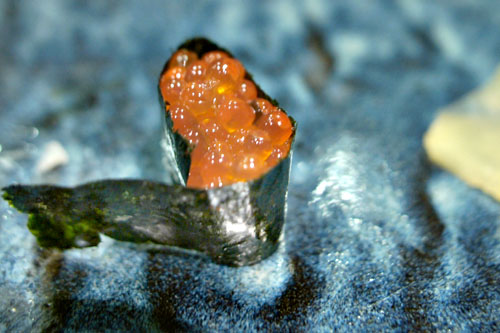 27: Ikura
Salmon roe was classic in presentation, its saltiness a flawless match to the nori wrapper.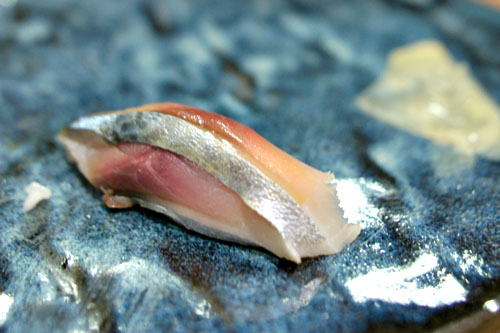 28: Saba
Mackerel was rather nice as well, conveying a forceful, yet not overwhelming brine that really worked for me.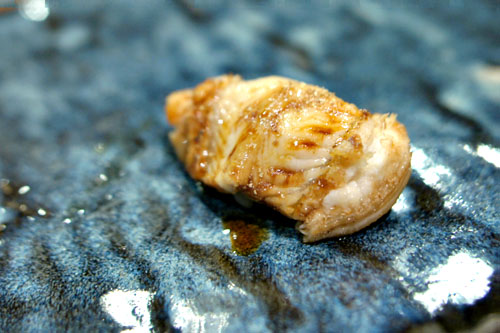 29: Anago
Sea eel was hot and hearty, finished with a sweet-ish sauce--just what you'd want.
My last drink of the night was a shochu, specifically the
Kitaya Nihon no Kokoro "Spirit of Japan", Dai-Ginjyo Shochu
from Fukuoka, an off-menu selection distilled from rice and aged five years. It was probably the best version of the beverage I'd had, with an immensely clean, precise quality to it that really showed me the characteristics of the rice while also packing a boozy punch.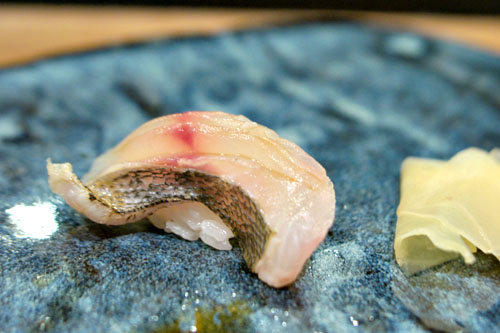 30: Isaki
Another uncommon sushi sight was the chicken grunt, a meaty, substantial cut that had a fantastic touch of char astringency to it.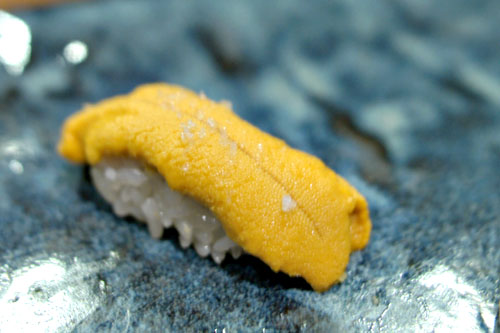 31: Uni
A gorgeous tongue of Santa Barbara sea urchin was sprinkled with
fleur de sel
, the inherent sweetness of the roe heightened by the application of that salt.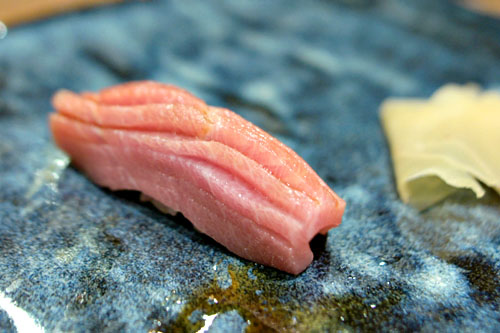 32: Toro
Tuna belly never fails to satisfy, and here it was spot on, the fattiness of the fish balanced by the slight tartness in the rice.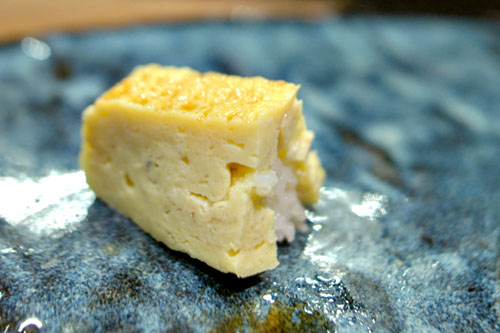 33: Tamago
Taro's egg omelet was of the cool, sweet, eggy variety (as opposed to the cake-like castella variant), replete with the expected "hammy" savor.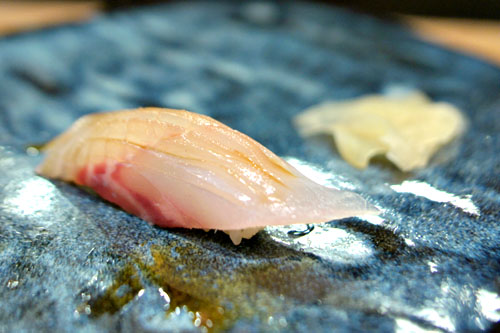 34: Kintokidai
My last piece of sushi was another one that I hadn't tried before. The red big eye, or threadfin big eye, was all about texture, displaying a somewhat chewy bite that recalled
engawa
, along with a mild, subtle flavor.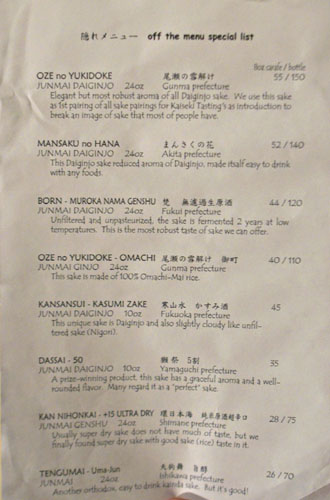 As far as desserts go, you have your pick of "mini sweets" from Taro's menu. I also took this opportunity to take a gander at the restaurant's off-menu sake list, shown above. Click for larger versions.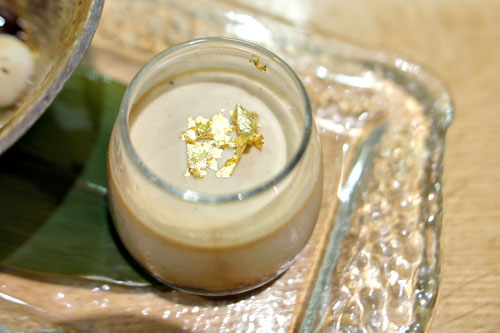 35a: Hoji-Cha Pudding
| roasted green tea cream pudding w/ dark caramel
My first dessert was the roasted green tea pudding, a creamy little concoction that had the sugary sweetness of caramel perfectly countered by the astringency of that tea.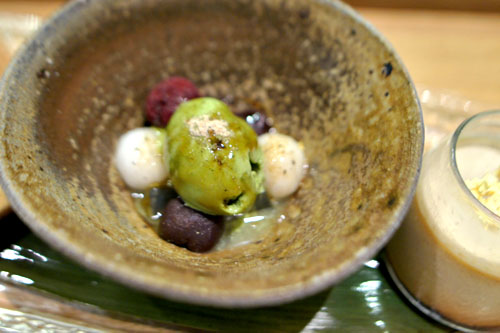 35b: Anmitsu
| green tea ice cream served over an assortment of mochi, red bean, and flavored jelly cubes, topped w/ dark syrup
Here was another dessert that masterfully mixed the bitterness of green tea with overtly sugary flavors, all in a multitude of disparate textures.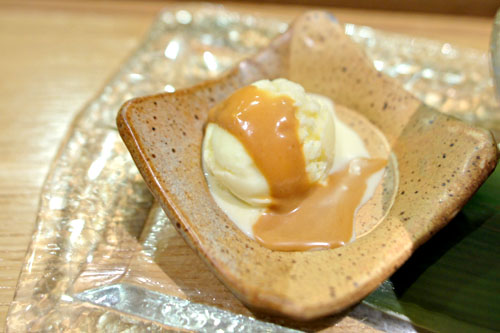 35c: Caramel Mochi Ice
| mochi mixed milk ice cream, topped w/ fresh caramel syrup
Last up was the mochi ice cream, which displayed a delightfully gooey texture and subtly sweet taste that went along swimmingly with the saccharine smack of caramel. Yum--I could've used a few more scoops of this.
The Taro brothers: Jin Yamazaki and Nobu Yamazaki.
When the Yamazakis mustered up the gall to shutter and reinvent Sushi Taro, they had the goal of altering and elevating Japanese cuisine in DC. In that regard, the brothers have most certainly succeeded. The cooking was pristine, utterly traditional at its core, yet imbued with unique, personal flourishes along the way. It's a refined, elegant style of cooking that's nonetheless bold in its own manner, and really captures the heart of Japanese culinary tradition. Not only is Taro the best sushi restaurant in Washington, it's one of the best restaurants,
period
, truly rivaling the finest Japanese meals I've had. One of my top meals of 2013, and an absolute must-try for any foodie visiting DC.