Daikaya (Washington, DC)
Daikaya Izakaya
705 6th St NW, Washington, DC 20001
202.589.1600
www.daikaya.com
Tue 10/01/2013, 07:00p-08:50p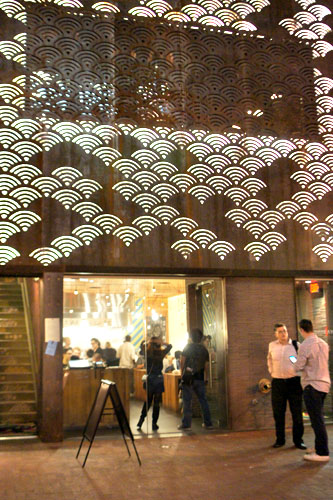 One of the most hotly anticipated debuts in Washington this year has been Daikaya ("house of big cooking pots"), a Sapporo-style ramen shop-slash-izakaya that bowed in February. The concept first came to light in early 2011, when Daisuke Utagawa (co-owner of Sushiko, DC's oldest sushi bar) and Yama Jewayni (Current Sushi, Eighteenth Street Lounge, Dragonfly) announced the project. In August that year, they brought on board none other than Chef Katsuya Fukushima, best known for his work at the groundbreaking
Minibar
. The place was supposed to open in February 2012, following a culinary research trip (during which time Fukushima spent three weeks learning from ramen master Sakae Ishida at the Nishiyama Seimen noodle factory), but, unsurprisingly, the trio hit snags along the way and the launch was pushed back to 2013.
About the Chef
: Born in 1970, Katsuya "Kats" Fukushima lived in Okinawa until age five, when his family moved to Hawaii due to his father's job in the army. From there, he resided in California and then Germany before finally settling in Aberdeen, Maryland. During his school years, he DJ'd and even b-boyed as "Boogie" in the East Side Rockers crew, but also experienced his first real cooking job, at Wendy's of all places. Fukushima eventually went on to study at the University of Maryland, double majoring in math and art. However, neither field really enticed him, and he spent a lot of time cooking for friends and being inspired by
Great Chefs
.
Following graduation in 1994, he worked as a shooting instructor at Prince George's County Trap & Skeet Center, and a coworker's mother recruited him to help Ridgewells Catering with the U.S. Open. He instantly fell in love with the craft, and a week later, enrolled in the L'Academie de Cuisine in Gaithersburg. After finishing culinary school in 1996, Fukushima began working the line at Jeff Buben's seminal
Vidalia
. From there, he started cooking,
concurrently
, at the National Press Club, Cashion's Eat Place, and
Jaleo
under Ed Hanson (who would later open up Ella's Wood Fired Pizza). It was 1998, before José Andrés got involved with the tapas joint, and Fukushima would eventually leave the Press Club and Cashion's to focus solely on Jaleo, moving to the Bethesda branch when it opened in 2001.
Andrés took a liking to the young chef, and sent him to
stage
at El Bulli for a season, and also to work a stint at Verbena in New York. In 2002, Fukushima was made head chef of Café Atlantico as well as Minibar, and worked his way up the Think Food Group ladder, taking part in the debuts of
Zaytinya
,
Oyamel
, Jaleo Crystal City, and even
The Bazaar
. He eventually became Culinary Director for Andrés, and in late 2009, took the reins at José Andrés Catering with Ridgewells, thus coming full circle in a sense. Around this time, Fukushima teamed with TFG R&D Director Ruben Garcia to win Battle Mahi-Mahi against Jose Garces on
Iron Chef America
Season 8, but ended up leaving the restaurant group in 2010 after meeting Utagawa at mutual friend's party. After the departure, he signed on with Daikaya, helped R.J. Cooper launch
Rogue 24
, and, in March 2012, served as the last chef in the "Rogue Sessions" guest cheffing series following Cooper's heart surgery.

Brian Miller of
Edit Lab
penned the space, a rare new construction building (right next door to
Graffiato
) divided into two floors. The first houses the 40-person
ramenya
, while the second is home to the much larger 90-seat izakaya and its formidable bar (where I was seated).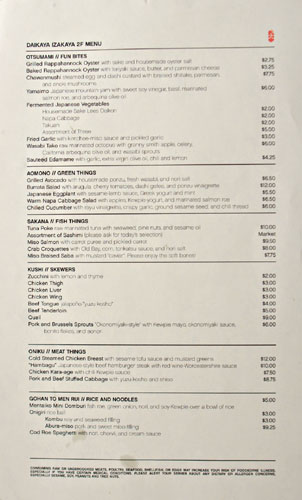 As for Daikaya's menu, it's divided into logical sections and represents Fukushima's vision of putting his own twists on izakaya pub classics. Click for a larger version.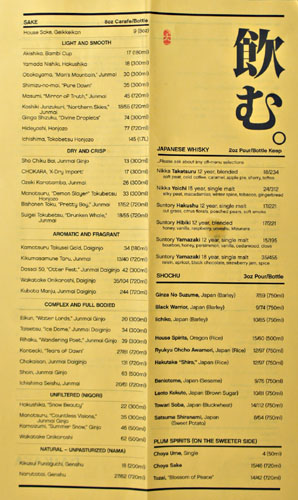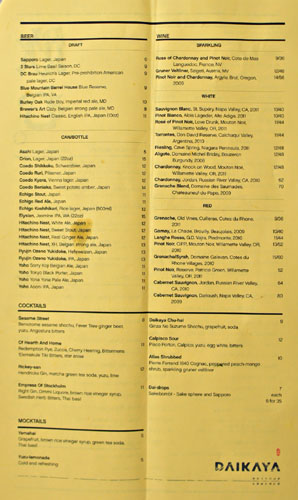 Daikaya's beverage selection is quite something, featuring a great selection of sakes, shochus, Japanese whiskies, beers, wines, and cocktails, of course, all managed by Bar Director Eddie Kim and Bartender Lukas Smith. Click for larger versions.
Empress of Stockholm [$11.00]
| Right Gin, Dimmi Liquore, brown rice vinegar syrup, Swedish Herb Bitters, Thai basil
I've been on a cocktail bent as of late, so here we go, with a creation of Kim's from his days at Room 11 (he once lived in Stockholm, hence the name). It was a strong start to the evening, a multifaceted exploration of herbal, bitter, floral, and sweet flavors over an aromatic base of basil-tinged gin.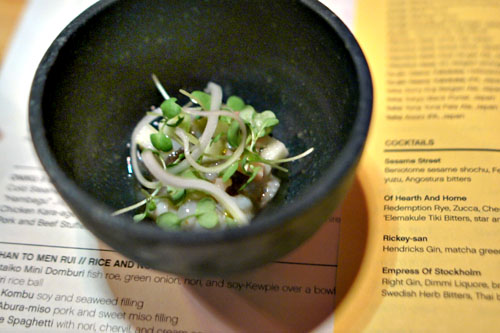 Wasabi Tako [$6.00]
| raw marinated octopus with granny smith apple, celery, California arbequina olive oil, and wasabi sprouts
In one of Daikaya's better known dishes, raw octopus arrived snappy yet gelatinous, tarted up by the inclusion of crunchy bits of apple and celery, with the burn of the wasabi coming through toward the close.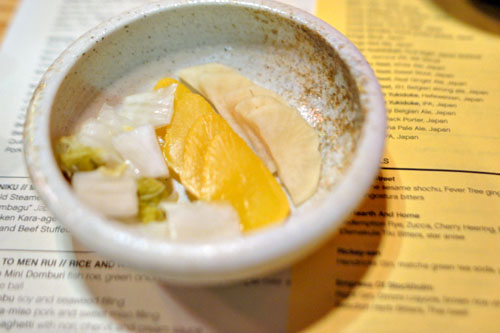 Fermented Japanese Vegetables [$5.00]
| Assortment of Three
Given my penchant for pickles, I just had to give this threesome of
tsukemono
a shot. Starting from the bottom, we have the
Napa Cabbage
, or
hakusai
, a kimchi-esque creation that was delightfully crunchy, with a lovely ferment-y goodness. The
Takuan
, meanwhile, was imported from Japan and showed off a fantastic crispness and depth that I quite enjoyed. The most interesting of the bunch, though, was the
Housemade Sake Lees Daikon
nukazuke
, fermented in rice husk paste, which conveyed a rice-y undercurrent of flavor with a distinctly earthy, almost boozy tinge.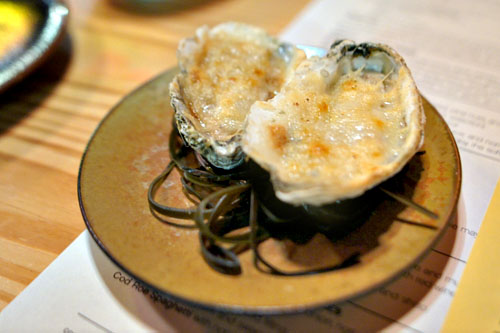 Baked Rappahannock Oyster [$3.25]
| with teriyaki sauce, butter, and parmesan cheese
Next was the first of two presentations of Rappahannock oyster. The Rappahannock tends to be a milder, sweeter variety, and so here, the cheesy, salty, buttery nature of the dish tended to overwhelm its more subtle nuances. I really wanted the oyster to shine more.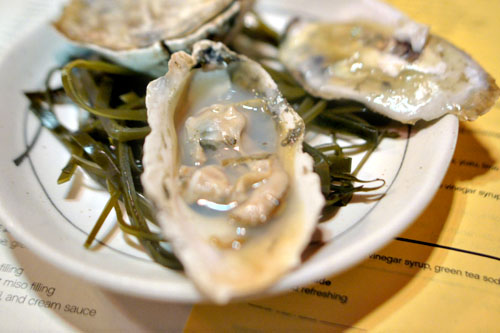 Grilled Rappahannock Oyster [$2.75]
| with sake and housemade oyster salt
The grilled versions were more interesting, and effective, with the sake really imbued into the oyster, and the salt seemingly enhancing the bivalves' natural salinity.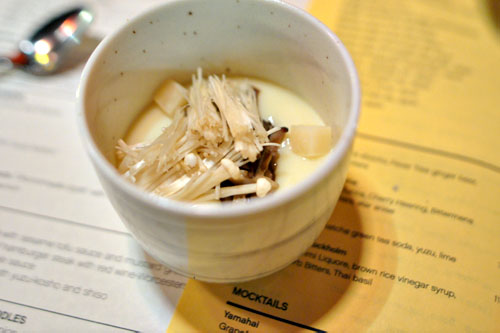 Chawanmushi [$7.75]
| steamed egg and dashi custard with braised shiitake, parmesan, and enoki mushrooms
Chawanmushi
seemed to be softer, gooier than usual, with the mushroom really adding depth and snap to the delicate custard. The best part, though, was the use of Parmesan, which contributed a great saltiness and textural component to the mix.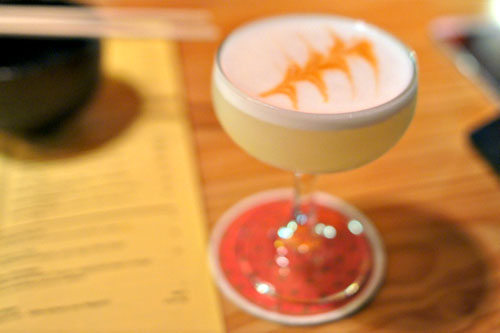 Calpisco Sour [$12.00]
| Pisco Porton, Calpico, yuzu, egg white, bitters
Since I do have a fondness for both Calpis and pisco sours, I had to try this portmanteau of a cocktail. I loved the sweet spices on the nose, along with the tangy, froth body of the drink, laced with delightful yogurt-y undertones. Nice.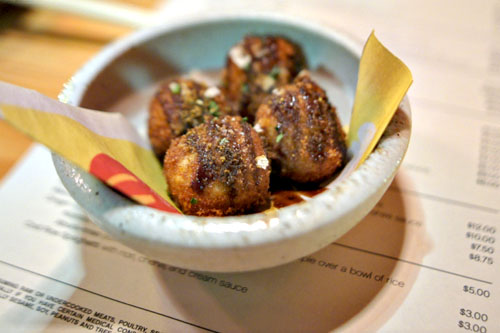 Crab Croquettes [$8.00]
| with Old Bay, corn, tonkatsu sauce, and nori salt
Here, the Chef pays respects to his time spent in Maryland, the spheres redolent of Old Bay, and brimming with a combination of sweet corn and crab goodness, with the
tonkatsu
sauce offering up depth and piquancy to the mix.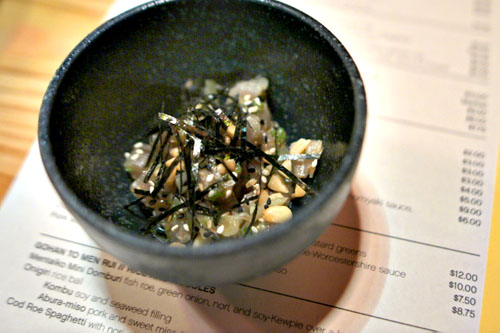 Tuna Poke [$10.00]
| raw marinated tuna with seaweed, pine nuts, and sesame oil
Raw tuna was nice, the nori adding a great umami savor to the dish and serving as an interesting textural element as well. The sesame oil, though, was the key, really tying the various moving parts here together, those crunchy pine nuts in particular.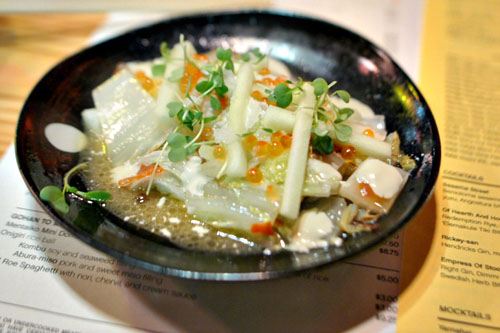 Warm Napa Cabbage Salad [$6.50]
| with apples, Kewpie-yogurt, and marinated salmon roe
A salad of
hakusai
was surprisingly satisfying, the warmness of the veggie forming a comforting base to the dish, and the mild taste of the cabbage working beautifully with the sweetness and crunch of the apples. I liked the salmon roe here too, which imparted a smoky tint to things, offset by the creamy-sweet Kewpie.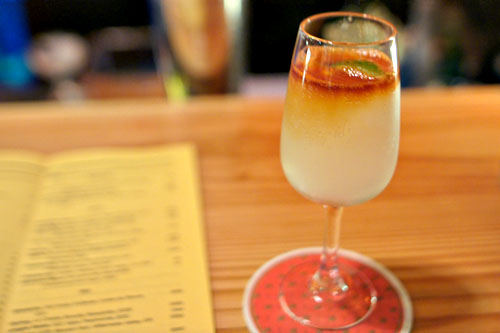 Sesame Street [$8.00]
| Beniotome sesame shochu, Fever Three ginger beer, yuzu, Angostura bitters
My third cocktail was the whimsically-named
Sesame Street
. The moniker comes from the use of
Beniotome
sesame shochu, which lent a fantastically earthy, sesame-laced base to the drink, which was balanced out by the delectable ginger notes present and just a prick of yuzu.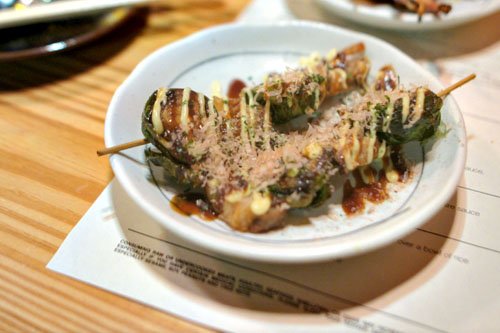 Pork and Brussels Sprouts [$6.00]
| "Okonomiyaki-style" with Kewpie mayo, okonomiyaki sauce, bonito flakes, and aonori
At this point, I delved into the
kushiyaki
portion of the menu, starting with my favorite, a combination of pork and Brussels. The sprouts did a great job in complementing the heft of the meat, while the various
okonomiyaki
toppings really recalled the essence of the traditional dish, but without overwhelming the inherent goodness of those skewers.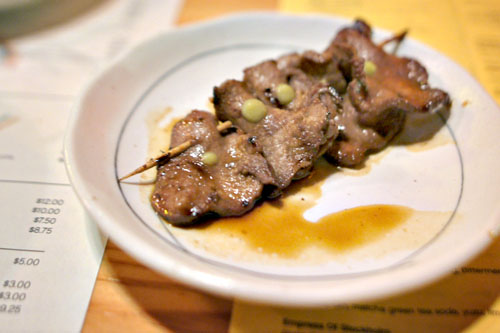 Beef Tongue [$4.00]
| jalapeño-"yuzu kosho"
Beef tongue was a must-try for me as well, but, unfortunately, was rather tough, chewy even. Taste-wise though, the skewers were on point, with the zing of the
yuzukosho
offsetting the beef admirably.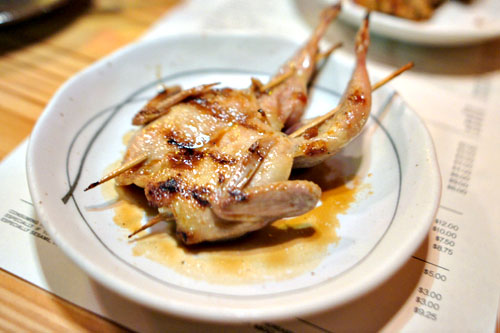 Quail [$9.00]
Quail, meanwhile, was tender and succulent, but slightly too sweet, and lacking in savoriness and char.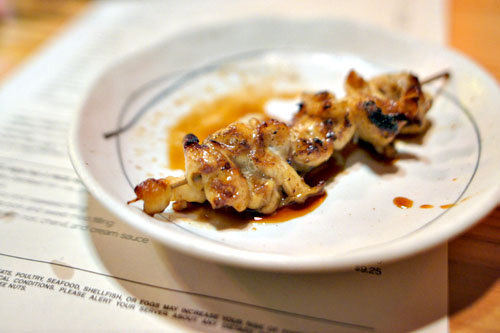 Chicken Skin [$2.00]
Next was an off-menu skewer of
kawa
, which was fatty, sweet, and gelatinous, with a nice char astringency to it.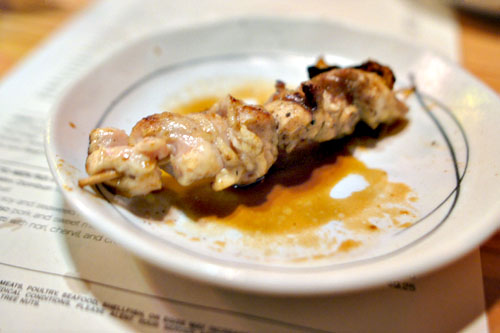 Chicken Thigh [$3.00]
Last up was the chicken thigh, a classic example of
yakitori
with a delightfully lingering smoky quality. Tasty.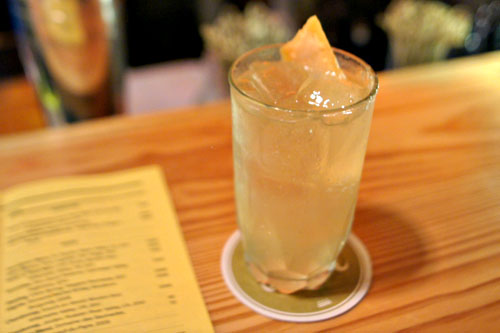 Pastis Punch [$10.00]
My next cocktail was an off-menu special that combined pastis with honey, lemon, apple cider vinegar, and Absolut Elyx vodka, and which, apparently, takes days to make (since the flavors have to properly meld). It really was something special though, with a great anise-tinged base of flavor that performed flawlessly against the tangy-sweet notes in the drink. Refreshing.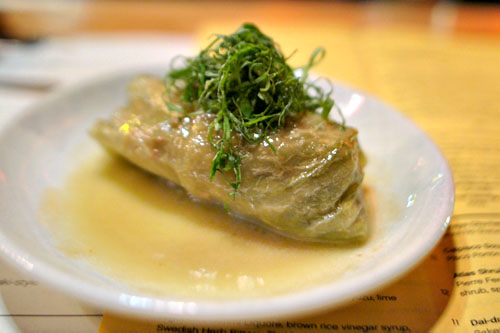 Pork and Beef Stuffed Cabbage [$8.75]
| with yuzu-kosho and shiso
I now commenced with some of the heartier courses on the menu. I quite liked Daikaya's take on the
roru kyabetsu
, which really balanced the meatiness of the stuffing against the mild, light flavors of the cabbage, all while the
yuzukosho
and shiso imparted well-placed hits of brightness to the fray.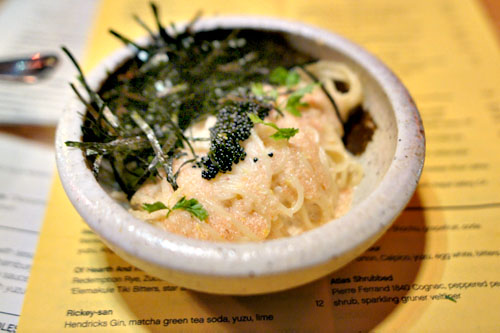 Cod Roe Spaghetti [$9.25]
| with nori, chervil, and cream sauce
Here was a version of the ever-popular Japanese-style pasta, the brine of the
tarako
deftly commingled with the umami-rich savor of seaweed, while the rich, creamy sauce brought all the elements together.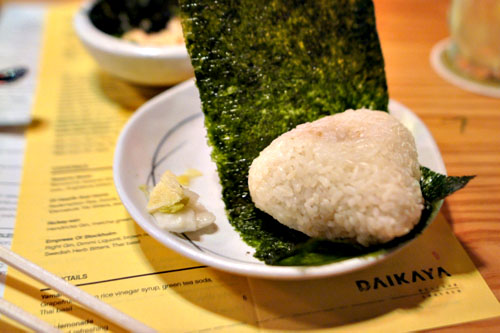 Onigiri, Abura-miso [$3.00]
| rice ball, pork and sweet miso filling
My last savory came in the form of an
onigiri
. I really liked this more than I thought I would, with the sweet-ish pork really playing well with the rice, all while the nori made for a fitting finishing touch. Lovely texture on the rice here, too, and the pickles were an appreciated addition as well.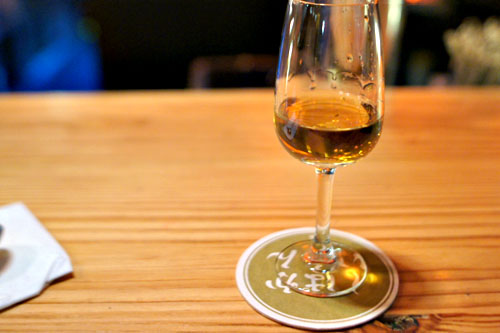 With dessert, I was presented a digestif of sorts, containing Liquore Strega, Dolin vermouth, and rhum agricole. It was pretty awesome actually, with the herby, complex notes from the Strega really meshing beautifully with the more saccharine flavors present.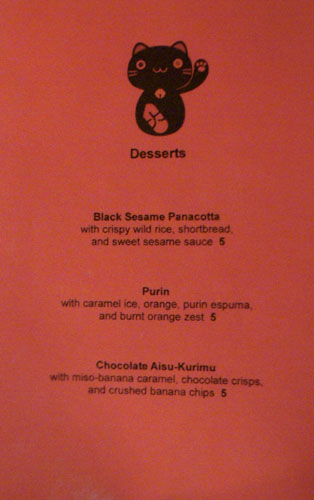 Daikaya's dessert menu: short but sweet. Click for a larger version.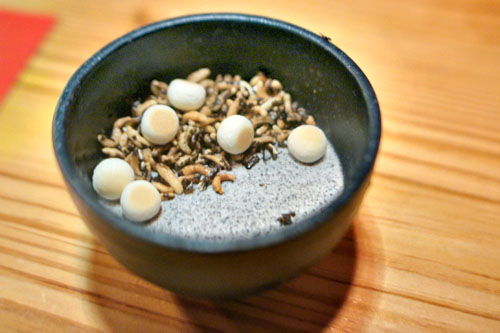 Black Sesame Panacotta [$5.00]
| with crispy wild rice, shortbread, and sweet sesame sauce
Being a fan of
kuro goma
, I opted for the panna cotta, which ended up as one of the better ones I've had. It really showed off the sweet, nutty nature of the black sesame, tempered by the crunch and savoriness of the rice and shortbread. A winning combination to be sure.
I think Daikaya really does do a nice job capturing the soul, the energy of the Japanese izakaya. The cooking is based on tradition, but with some unexpected, modern touches and a dash of whimsy thrown in for good measure. I liked most of what I had, but I
would
like to see the kitchen tighten up some of their executions though, as a few dishes fell a bit short. The cocktail program (and really, the entire beverage program) is certainly deserving of praise as well, and bartender Lukas Smith (who took care of me most of the night) really did a great job on the service front as well. Overall, a positive experience for a solo diner such as myself.