Kimukatsu (Culver City, CA)
Kimukatsu Restaurant
4130 Sepulveda Blvd, Culver City, CA 90230
310.876.1436
www.kimukatsu.com/kimukatsu_eng
Thu 10/10/2013, 6:30p-08:10p
The first real dinner following my recent marathon trip to DC was here at Kimukatsu, an outpost of a well-known Japanese
tonkatsu
chain that debuted in September. The company operates multiple locations in Japan, Seoul, and even Honolulu (including a takeaway stall called Kimukatsutei), but this is their first mainland US location; a sister restaurant is supposed to open on Sawtelle in the coming weeks. What sets them apart is the way that they construct their cutlets. Instead of using the typical whole pork loin or filet, the meat is sliced thin and stacked 25 layers high, then coated in the usual
panko
and fried, resulting in a very different eating experience.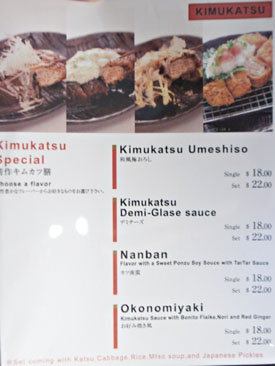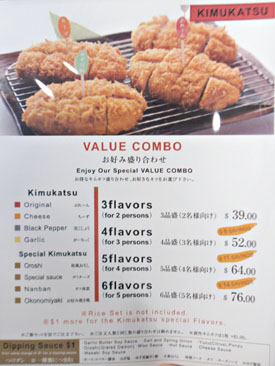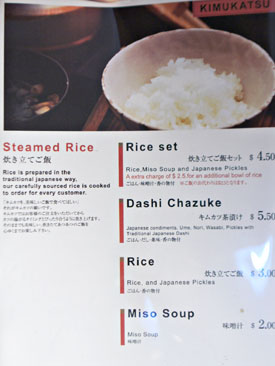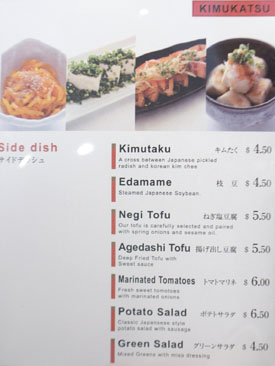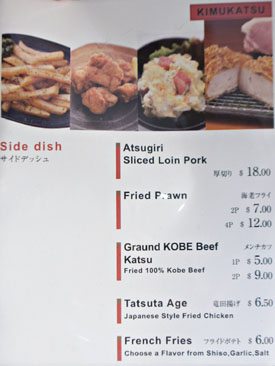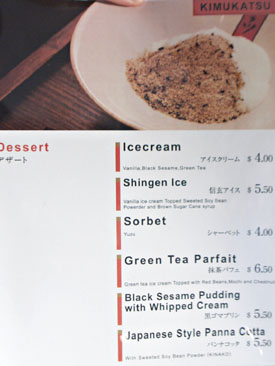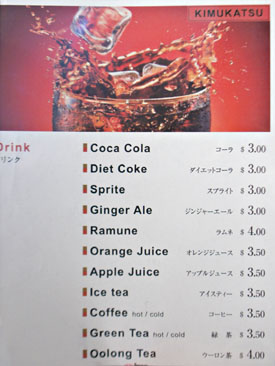 Above, we see Kimukatsu's current menu, which features six variations of the signature pork cutlet, as well as numerous sides and accompaniments. The drink selection is a bit disappointing at the moment, but the owners are indeed working on acquiring a beer and wine license and will eventually be offering up sake-based cocktails. Click for larger versions.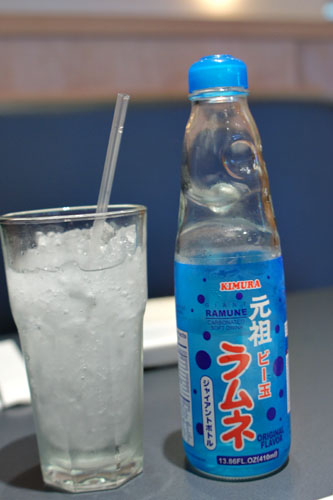 The
Kimura Ramune [$4]
was clearly the most interesting of the beverages being offered, its soft, refreshing, vaguely-citrusy flavors serving as a good match to the meat-heavy courses to follow.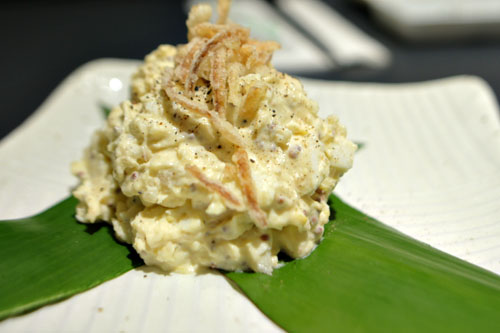 Potato Salad [$6.50]
| Classic Japanese style potato salad with sausage
I'm a sucker for potato salad, and Kimukatsu's certainly fit the bill. I found it lush, creamy, somewhat thin, with the sausage adding a definite heft to the dish. My favorite part, though, was the use of the crunchy, super savory bits on top (bacon?).
Tatsuta Age [$6.50]
| Japanese Style Fried Chicken
Fried chicken was a must-try, natch. Compared to the more common
kara-age
, the
tatsuta-age
here emphasizes the use of a
shoyu
-based marinade, and also utilizes potato starch in place of wheat flour. The end result is a thoroughly juicy, tender bird, with a more substantial depth of flavor than one typically finds. Very nice.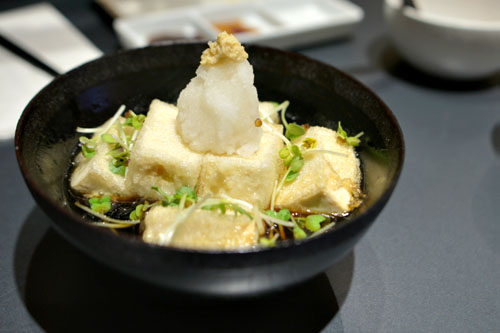 Agedashi Tofu [$5.50]
| Deep Fried Tofu with Sweet Sauce
I was curious about Kimukatsu's
age dofu
as well. Taste-wise, it was on point, with the delicate flavors of the tofu melding well with the classic, comforting nuances of its accompanying
tentsuyu
broth. Texturally, though, I wanted it to be crisper to the bite, instead of the sort of gooey, mucilaginous consistency it demonstrated.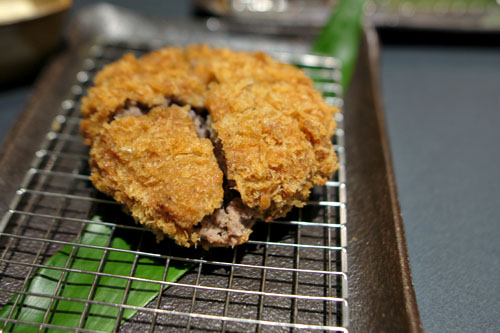 Ground Kobe Beef Katsu [$5.00]
| Fried 100% Kobe Beef
A
menchi-katsu
of "Kobe" beef was delicious: juicy and hot, just brimming with bovine flavors dutifully tempered by the subtle astringency of what I believe was scallion.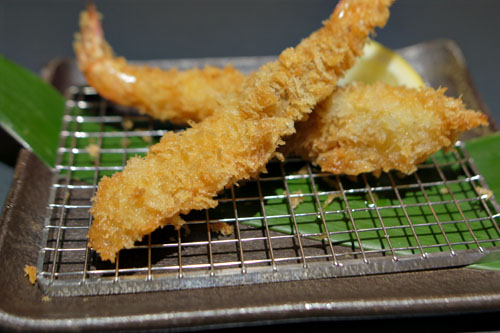 Fried Prawn [$7.00]
Sticking with the fried theme, the
ebi furai
was also a winner, the shrimp coming out particularly tender, with a delicate brine that worked out well with a blast of lemon and a dab of the included tartar-like condiment (which I believe was the same used in the
nanban
below).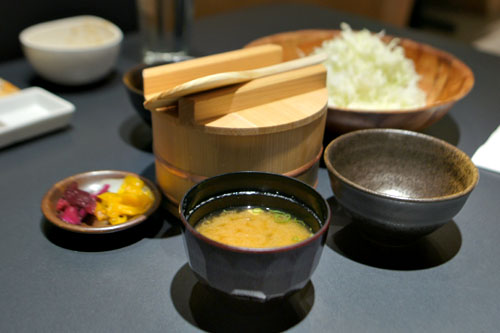 Rice Set [$4.50]
| Rice, Miso Soup and Japanese Pickles
At this point, we were done with the appetizers and ready for
tonkatsu
. Accoutrements consisted of white rice, a classic miso soup, shredded cabbage, and some crunchy, tart
tsukemono
pickles.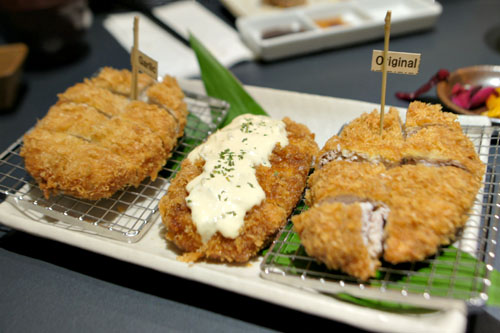 The cutlets, of course, can be purchased separately, but we went for the Value Combo of three for $39 (a
$6
savings).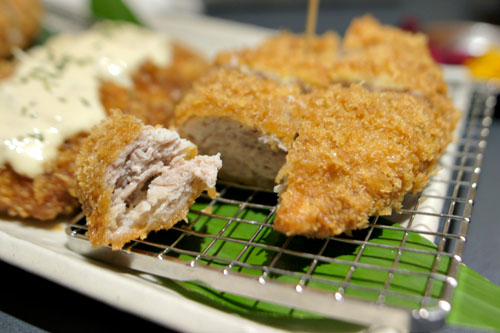 Original [$15.00]
Naturally, we had to give Kimukatsu's
Original
a shot given that it was our first time here. It was quite unlike any other
tonkatsu
I've had. The meat was uncommonly light, almost fluffy, with a subtle, yet very porky savor and a juicy, yet somehow dry consistency to it. The batter was appropriately airy as well, giving the cutlet a surprising verve that I appreciated. I can definitely see the appeal here.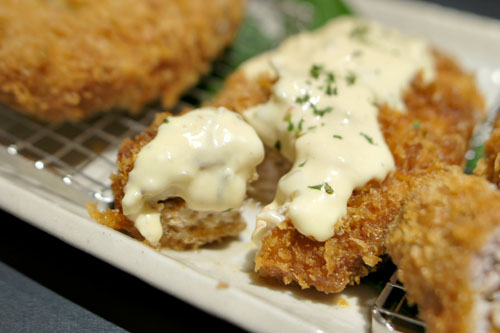 Nanban [$18.00]
| Flavor with a Sweet Ponzu Soy Sauce with Tartar Sauce
To the standard cutlet above, the
Nanban
variation offered up a tart 'n' tangy tartar sauce. It was a creamy, fairly substantial addition that definitely imparted a more aggressive flavor profile to the meat.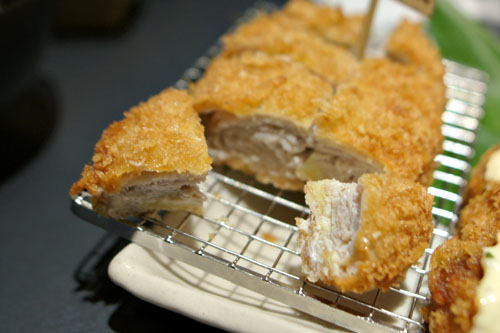 Garlic [$15.00]
Last up was the
Garlic
incarnation, which was like the standard cutlet, but with a very subtle undercurrent of garlicky goodness.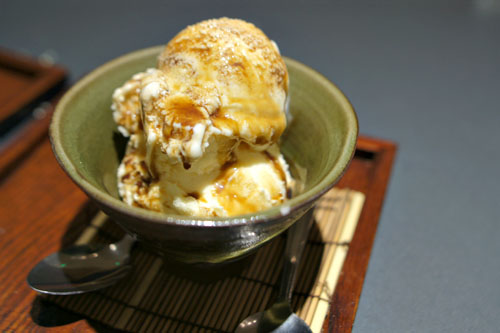 Shingen Ice [$5.50]
| Vanilla ice cream Topped with Sweetened Soy Bean Powder and Brown Sugar Cane syrup
Dessert included a bowl of vanilla
aisukurimu
, doused with
mitsu
syrup and a sprinkle of
kinako
roasted soy flour. Taken together, it was all rather pleasing, the sweetness of the particularly thick ice cream augmented by the sugary syrup, all while the soy powder added a nutty, tempering counterpoint to the dish.
Black Sesame Pudding with Whipped Cream [$5.50]
Here, the pudding itself had a light, liquid-y consistency to it that I'm not sure I liked. Its taste, meanwhile, I found very delicate, so that dollop of inky black sesame was key in providing assertiveness to the dessert.
I walked away from Kimukatsu pretty satisfied. Their signature pork cutlet was impressive, one of the stronger preparations I've had I'm sure, and the rest of the menu delivered as well for the most part. The place does need a liquor license, pronto, and another thing that I'd like to see is some sort of curry-based
katsu kare
variant on the menu (a lunch-only option at the moment from what I understand). Otherwise, things seem to be coming along quite nicely here.