Taberna Arros y Vi (Santa Monica, CA)
Taberna Arroz y Vi
1403 2nd St, Santa Monica, CA 90401
310.393.3663
www.tabernala.com
Thu 10/17/2013, 07:35p-10:00p
I finally made it out to the new Taberna Arros y Vi, Michael Cardenas' Spanish concept that's been in work since early 2011, when it was slated to be housed in the old Beacon building in Culver City (now the site of
Evan Funke
's Bucato). However, that deal fell through, so in April of last year it was announced that Cardenas would instead be taking over Tudor House on 2nd, with Perfecto Rocher (who was then biding his time at
Lazy Ox
, serving as a replacement for opening chef
Josef Centeno
) at the helm. The place was originally scheduled for a late 2012 debut, but in October last year the Chef had a falling out with Cardenas and left both the Ox and Taberna.
Rocher was replaced by Travis Chase from The Tin Table in Seattle, and went on to work briefly for the Hermosa Restaurant Group (a planned Spanish eatery in the old Hibachi location) before decamping this October to head up Adam Fleischman's upcoming smoke.oil.salt (at the former Angeli Caffe space, which was supposed to house
Casey Lane
's Itri). Chase, meanwhile, was supplanted in May (he's now works for Nordstrom) by Hiroyuki Fujita of the dearly departed
Fat Spoon
, which brings us back to Taberna. The end result of all the chef shuffling was that the restaurant ended up opening in the summer, with Verite Mazzola, a longtime LA dining veteran, in charge.
About the Chef
: Born in 1970 to an Italian family, Mazzola is a third generation Californian who started her culinary career at age 19, working for none other than Wolfgang Puck. She went to school at the Culinary Institute of America out in New York, but ended up making her way back to Los Angeles, working as a pastry chef. One of her first stops was at
Drago
, which was followed up by a tenure at Chasen's Beverly Hills in 1997. Mazzola went up north the following year, cooking at Rubicon and One Market in San Francisco before leaving for New York in 1999. There, she served as pastry chef for Michael Otsuka (former Exec Chef at
Patina
, back when it was still at the
Providence
address) at his place Thalia. During this period, she managed to cook at the James Beard house twice, once with Otsuka and once for their "Chefs & Champagne 2000" event.
However, Mazzola eventually moved back to LA in late 2000, finding work in pastry at Cafe del Rey and then Napa Valley Grille (which both had the same parent company, Constellation Concepts). This was followed by a stint at Whist at the Viceroy, and by the middle of 2005, she had taken on the Pastry Chef role at
Govind Armstrong
's Table 8, and would later move to Miami to open up Table 8 in the Regent South Beach hotel. Interestingly, Mazzola then hooked up with Armstrong's former compatriot Ben Ford in '06 (they were partners at Chadwick back in the early 2000's) and became the opening Sous Chef-slash-Pastry Chef at
Ford's Filling Station
.
She then began consulting, and partnered with Blau + Associates on the launch of both the Huntley Hotel and the Terranea Resort, and even spent the summer of 2007 in Asia, working as sous for Rodelio Aglibot (Yi Cuisine, Koi) at Shangri-La resorts in Hong Kong and Manila. Later that year, Mazzola took on a position at the new Akasha (two doors down from FFS), and then moved to across the street to Rush Street in 2008. After a few months in Rome, she became Executive Chef at Westwood's Palomino in 2010, and wound up co-authoring a cookbook (
Cook!: Easy Recipes For the Busy Wellness Warrior
) with "certified holistic wellness coach" Jovanka Ciares in 2012. She stayed at Palomino until earlier this year, when she was tapped by Cardenas to head up Taberna.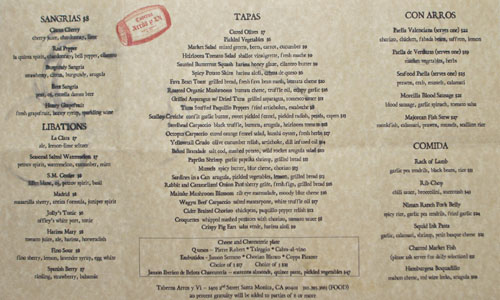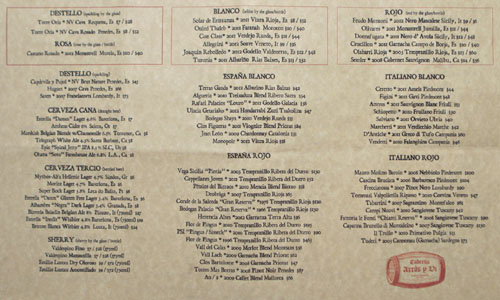 The menu here at Taberna Arros y Vi, unsurprisingly, focuses on tapas, but there's a good selection of heartier paellas and larger plates as well. To drink, think a fun selection of sangrias and low-proof cocktails (a full liquor license is in the works), along with a Spanish- and Italian-focused wine list. Click for larger versions.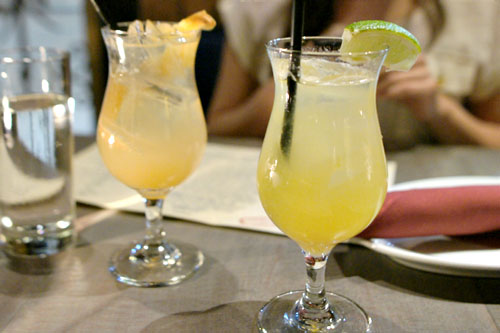 Honey Grapefruit [$8.00]
| fresh grapefruit, honey syrup, sparkling wine
Beer Sangria [$8.00]
| pear, oj, estrella damm beer
Speaking of those sangrias, we began with a twosome. The
Honey Grapefruit
was as lighthearted as the name would suggest, imbued with a sparkling effervescence and a saccharine, honeyed base balanced by the tart, acidic nature of grapefruit. The aptly-named
Beer Sangria
, meanwhile, was all about its bready, malty base that really highlighted the Estrella, all while the orange and pear added contrasting sweet and sour layers on top.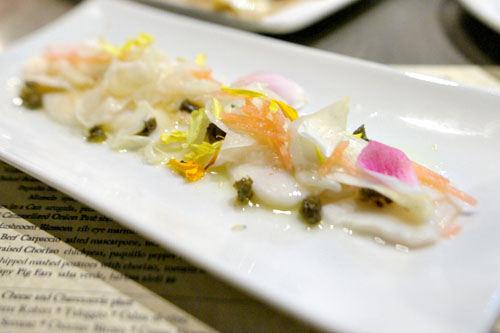 Scallop Ceviche [$13.00]
| confit garlic butter, sweet pickled fennel, pickled radish, petals, capers
We began with a scallop ceviche, and here, the use of pickled fennel and radish imparted a sweet, tangy verve to the bivalves that sort of offset the force of those capers.
Crispy Pig Ears [$9.00]
| salsa verde, harissa aioli
Orejas de cerdo
were a must-try for me, and arrived in a healthy portion. They were just what I wanted: crisp, crunchy, yet chewy and a bit gelatinous, and just brimming with pork-y savor. The ears were certainly satisfying alone, but even better when taken with a squirt of lemon and a dip in the included condiments.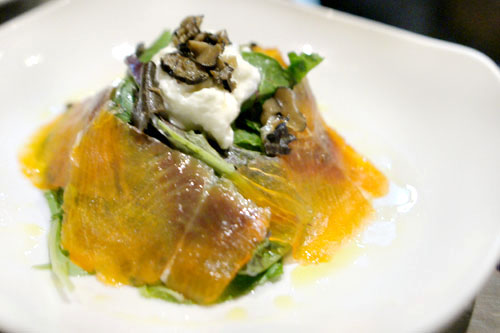 Steelhead Carpaccio [$18.00]
| black truffle, burrata, arugula, heirloom tomato
A carpaccio of trout was surprisingly briny, and firm to the bite, with the richness of the burrata and bitter arugula serving to moderate the potency of the fish, all while the truffle tried to impart just a hint of earthiness to the fray. The flavors made sense here, but the dish didn't come together as well as I'd hoped.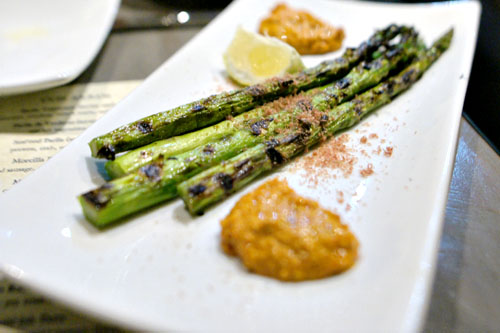 Grilled Asparagus w/ Dried Tuna [$11.00]
| grilled asparagus, romesco sauce
Asparagus was quite good, the spears' crisp, trademark bitterness enhanced with char savor and the added depth of the dried tuna. Romesco, meanwhile, was a fitting complement, its piquant zing a keen counterpoint to the vegetable.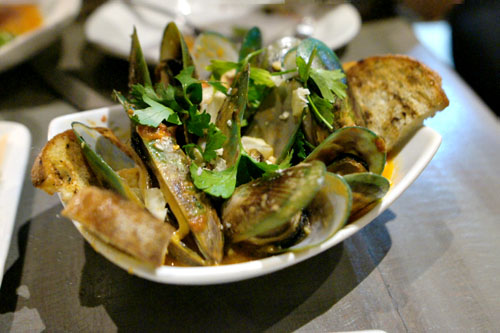 Mussels [$15.00]
| spicy butter, blue cheese, chorizo
These green-lipped mussels must've been the largest I've had, which isn't necessarily a bad thing. They were pretty much spot on in terms of texture, and their inherent brine was deftly paired with the dish's spicy, sour-ish broth, which was fortunately subtle on the blue cheese. Tasty.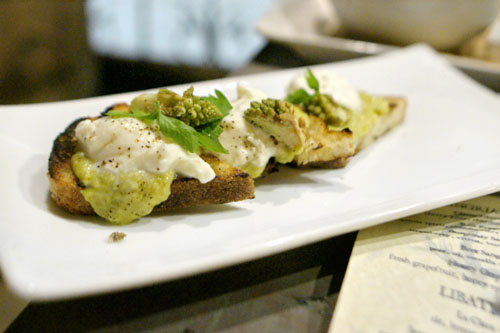 Fava Bean Toast [$10.00]
| grilled bread, fresh fava bean mash, burrata cheese
What basically amounted to fava bean
crostini
were nice, conveying the cool, creamy nature of the burrata against the subtly tangy mash. My concern here was that the toast verged on overly tough, taking away from the experience.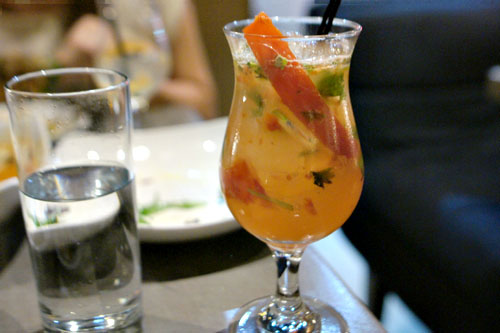 Red Pepper [$8.00]
| la quinta spirit, chardonnay, bell pepper, cilantro
The
Red Pepper
sangria really showed off the light, bright essence of bell pepper, along with a great veil of cilantro herbaceousness and a bit of creeping spice toward the back end.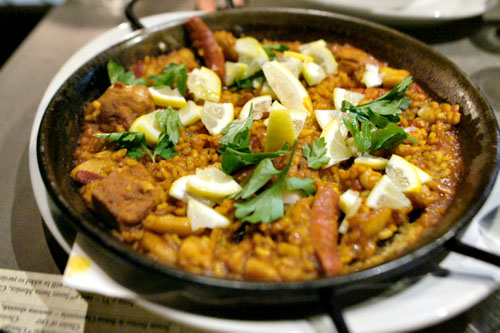 Paella Valenciana [$22.00]
| chorizo, chicken, fabada beans, saffron, lemon
Of course, we had to try a paella, and ended up going with pretty much the most traditional possible. The chicken formed an apt base to the dish, tarted up by the pervasive spice of the chorizo, all while the beans served up an almost cassoulet-like heartiness. However, the lemon ended up being too much of a dominant force here, imparting sort of a discordant sourness to the paella. At the same time though, I would've appreciated more brightness in the dish, perhaps with the addition of some veggies. Nice texture on the
socarrat
, though.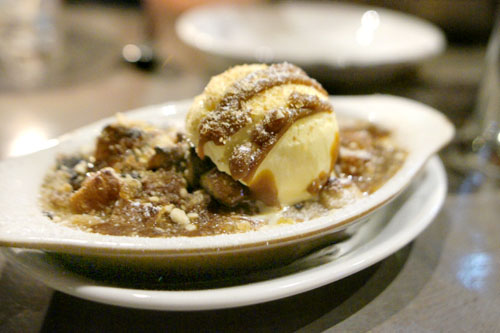 Chocolate/Caramel Bread Pudding [$9.00]
| cinnamon brioche, caramel sauce, chocolate bits, crushed peanut brittle, vanilla ice cream
We were pretty full by this point, and thus opted for a single dessert. It was a winner though, a sweet 'n' spicy blast of chocolate-y, cinnamon-y flair countered by the vanilla ice cream, all while the brittle added a lovely textural component to the dish.
I'm glad that Taberna--a long time in the making--was finally able to come to fruition. It's a welcomed addition to an area that could really use some more quality restaurants. The Spanish-focused cooking represents a nice change of pace, and the plates generally satisfied, though a bit of tweaking for some of the dishes would definitely elevate the experience. Service, headed by GM Wes Zelio, was on point, and I'm curious to see where the cocktail program goes with the addition of a full bar, so this could be one to watch.