Goldie's (Los Angeles, CA)
Goldie's Restaurant
8422 W 3rd St, Los Angeles, CA 90048
323.677.2470
www.goldiesla.com
Thu 10/24/2013, 08:00p-10:45p
[NOTE: I do apologize for the substandard quality of the photos in this post. Apparently, someone at the restaurant had the bright idea that it'd make sense to illuminate our table with red lighting. Not only did this completely ruin the photos (I was completely flummoxed as to how to compensate for it--the best I could do was this sort of yellowish thing below), it really didn't do justice to the food either, which looked far less appetizing than it should have.]
One of the more notable debuts this year has been Goldie's, the latest project from the
Eveleigh
team of Nick Mathers, Nick Hatsatouris, and Lincoln Pilcher. Set in the former space of the longstanding Chado Tea Room, Goldie's opened in March and is named after a Sydney deli that Mathers frequented as a youngster. The Chef here is Thomas Lim, a fellow Aussie who's offering up his modern take on California cuisine, with a particular emphasis on the use of his wood- and coal-fired grill.
About the Chef
: Chef Lim grew up in the Perth region of Western Australia, and got an early exposure to the restaurant biz from his uncle's Chinese place Choi's Inn in Northbridge. After finishing school, he landed a job at famed fish 'n' chips joint Cicerello's in Fremantle, but quickly left and enrolled at the Intercontinental Hotel School in Sydney at age 20. Upon graduating, Lim began working at Tetsuya's, one of the City's most acclaimed restaurants, but left in 2009 to start The Duxford, his "pirate dinner" series that, from what I gather, seems to have been something along the lines of a
Wolvesmouth
.
This led to a number of private cooking engagements, and eventually the co-head chef position at a new restaurant at the Flinders Hotel called Duke Bistro. Before starting at Duke, Lim traveled to Europe for culinary research purposes, eating his way across places like the Michelin-starred gastropub The Sportsman, the El Bulli-adjacent seafooder specialist Rafa's, Barcelona's preeminent
bodega
La Cova Fumada, the inimitable Bras, and everybody's favorite, Noma. Following, he and Mitchell Orr opened in late 2010 to considerable acclaim, and soon thereafter, Lim also found himself consulting on the menu at the nearby pub The Norfolk. He and Mathers had actually been friends for eight years, and Mathers was involved in Duke Bistro as well, so Lim was a natural choice when it came time find a chef for Goldie's.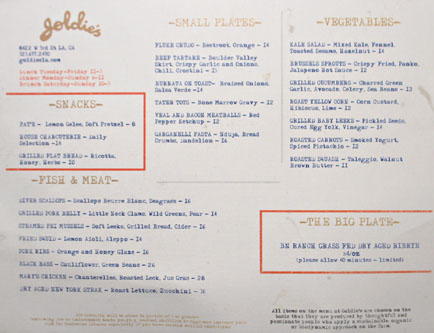 Goldie's menu is laid out in familiar fashion, comprised of small (too small, according to some) plates, mostly meant for sharing. In addition, there are brunch and lunch options as well. Click for a larger version.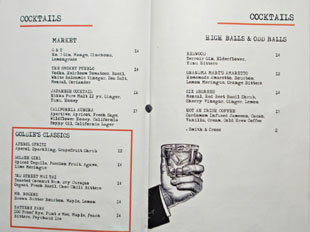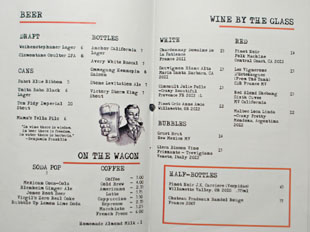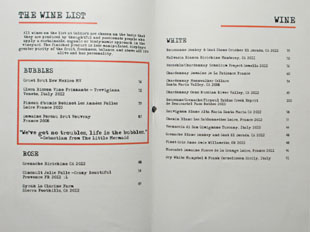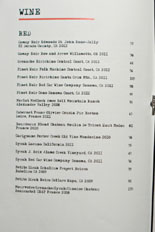 As far as the drinks are concerned, you'll definitely want to make room for the cocktails, the work here of Brittini Rae Peterson, whom you might remember from
Ink
, The Tar Pit, Fig & Olive, or Soho House. Beer's also a worthwhile option, and there also the small, but neat wine list, focused on organic and biodynamic bottles. Click for larger versions.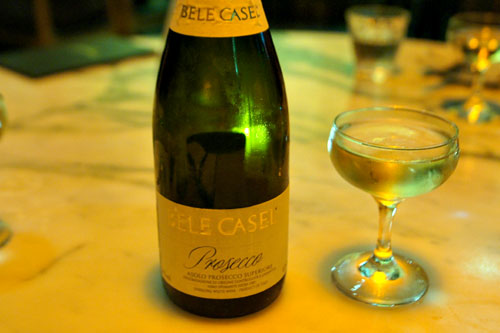 Michael Nemcik from Terroni happened to be in my dining party tonight, and if you know Michael, you'll know that you can always count on him to bring some good wines to the table. The first was the
Bele Casel Asolo Prosecco Superiore
, a fun, lightweight sparkler, not particularly complex, but tasty and easy-drinking. I found it dry yet creamy on the palate, but imbued with refreshing notes of pear, lemon, and apple. Note, though, that we didn't agree about the usage of the coupe-style glass here, which didn't do much for the bubbly's bouquet.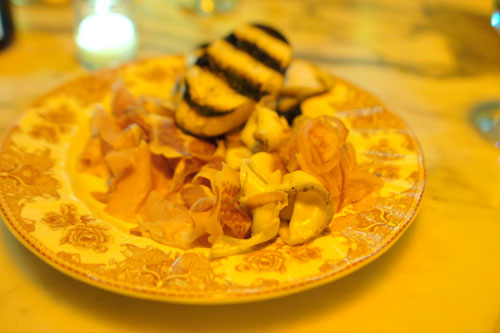 HOUSE CHARCUTERIE [$14.00]
| Daily Selection
I'm a sucker for charcuterie when it's housemade, and tonight the restaurant had three varieties on offer. First was the country ham, a waxy, sticky, and unabashedly salty meat that went along swimmingly with the side of grilled bread. The
coppa
, meanwhile, was even better, with a certain slickness to it along with some wonderfully sharp, spicy notes. Last up was the
testa
, the fattiest, most substantial of the trio with its absolutely in-your-face porkiness that needed the balance imparted by the mustard and pickled red onion.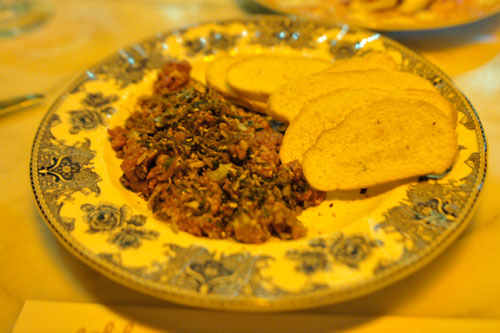 BEEF TARTARE [$15.00]
| Boulder Valley Skirt, Crispy Garlic and Onions, Chili, Crostini
Now, the tartar was probably the most controversial course of the evening. I really liked it, with the soft, yet slightly chewy beef positively dripping with an almost seaweed-esque depth and umami-soaked richness, all evened out by an undercurrent of sweetness. For me, it was a refreshing take on a classic dish, but others in my party weren't so enthused with it, which was understandable given that the flavor profiles here weren't those that you'd expect from a traditional tartar.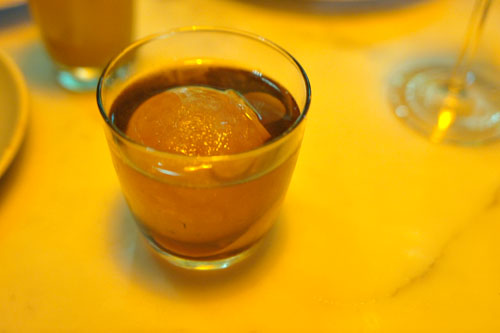 BATTERY PARK [$14.00]
| 100 Proof Rye, Punt e Mes, Maple, Peach Bitters, Peychaud Ice
The first cocktail of the night was the
Battery Park
, oft described as a take on the Manhattan and best known for its Peychaud's-tinted ice sphere. I liked it, finding it wonderfully boozy and classic, a deft blend of bitter, sweet, and acerbic nuances moderated by the ice.
FLUKE CRUDO [$14.00]
| Beetroot, Orange
I was definitely not a fan of the plating and presentation here (very sloppy), but taste-wise, this was on point, the delicate slices of fluke beautifully augmented by the sweet, tangy, and unexpected combination of beet and orange.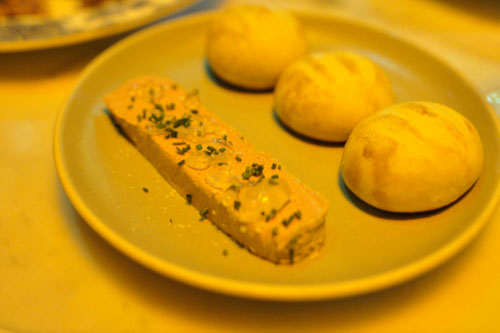 PATE [$8.00]
| Lemon Gelee, Soft Pretzel
The chicken liver, meanwhile, was a table favorite, and one of the best versions of the dish I've had. The pâté was pretty much perfect: smooth, lush, a flawless blend of earthy and sweet flavors masterfully counterbalanced by the piquant bits on top. Subtle, yet profound, with some great bread to boot.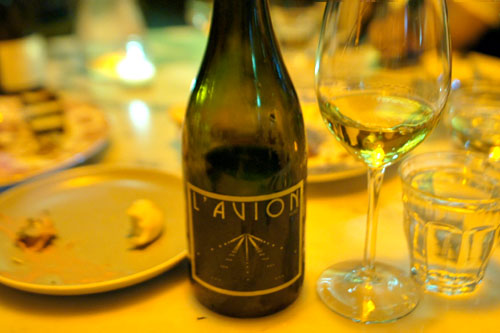 Our second wine was the
2010 Stolpman Roussanne L'Avion
, which I rather liked. Think floral and fruit-driven, yet crisp and refreshing, with a rousing acidity joined by a growing minerality and savory character, all underscored by the slightest boozy quality.
BRUSSELS SPROUTS [$12.00]
| Crispy Fried, Panko, Jalapeno Hot Sauce
Brussels sprouts were pretty amazing, and, according to one of my dining companions, tasted of General Tso's chicken! I can definitely see where he was coming from, as the dish's slightly sweet, slightly spicy, immensely savor flavors, all over a delightful base of Brussels bitterness, really did recall flashes of the American Chinese cuisine staple.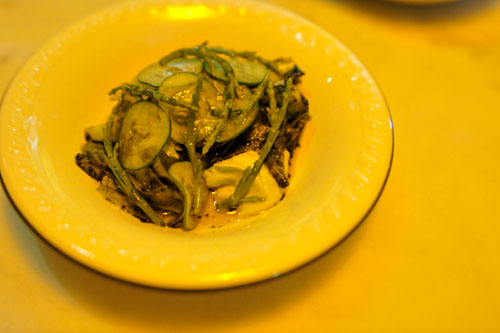 GRILLED CUCUMBERS [$12.00]
| Charred Green Garlic, Avocado, Celery, Sea Beans
This was another course that resulted in some conversation among us. The dish was complex, with lots of moving parts. The star of the show, the cucumber, had a lightness and crunch that was apropos, but was joined by an almost black bean-like depth and char astringency. To that, the sea beans added pricks of salt to the mix, while the avocado served to even out the dish with its lush, creamy character. I'm not sure if I liked this one or not; it definitely got me thinking though.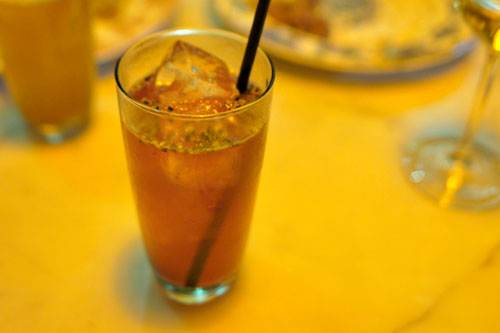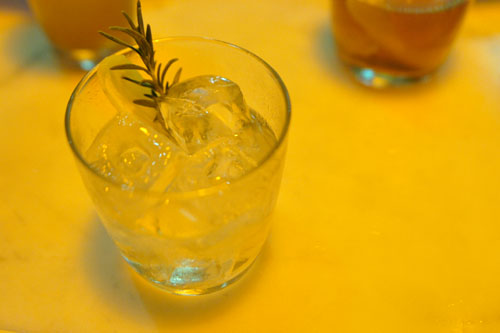 SIX DEGREES [$14.00]
| Mezcal, Red Beet Basil Shrub, Sherry Vinegar, Ginger, Lemon
REDWOOD [$14.00]
| Terroir Gin, Elderflower, Yuzu Bitters
Time for more cocktails. The
Six Degrees
was probably my favorite of the night, the smoky base of mezcal really working beautifully alongside the sugary beet, with the piquant zip of the sherry-ginger combo imparting a balancing, integrating thrust to the drink. The
Redwood
, meanwhile, tasted pretty much what I expected a redwood to taste like: herbal and pine-y, with a strong, boozy gin backbone and an intense aromatic component from the rosemary.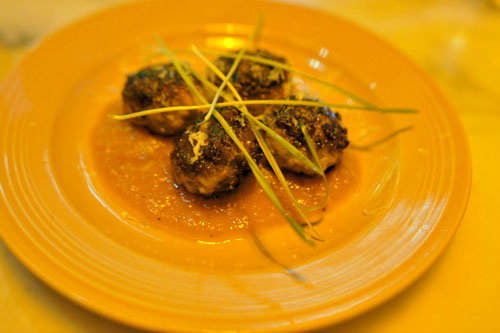 VEAL AND BACON MEATBALLS [$12.00]
| Red Pepper Ketchup
Meatballs were delicious, showing off a mouthwatering savoriness to them offset by the tangy ketchup, not to mention a great char astringency and crunch. Interestingly, the balls came out slightly underdone, which resulted in a somewhat peculiar mouthfeel, but one that I really enjoyed.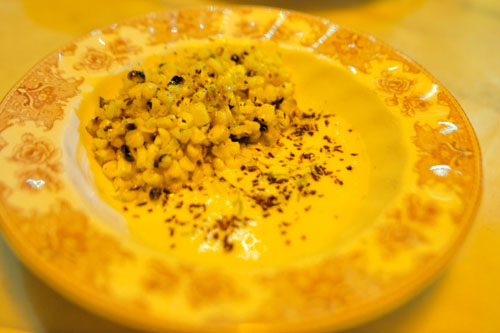 ROAST YELLOW CORN [$12.00]
| Corn Custard, Hibiscus, Lime
Next up, the corn made a strong showing for itself as well, its sweetness on display against the lime's subtle sourness. The most fascinating thing here, though, was the use of hibiscus, which lent an overarching floral quality to the dish that I found quite fetching.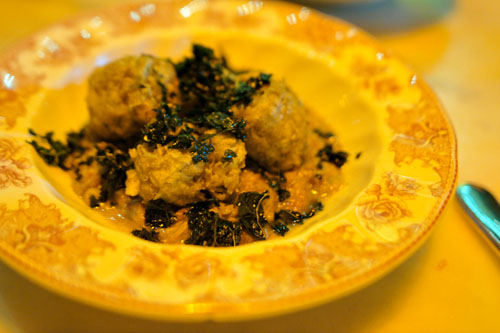 TATER TOTS [$12.00]
| Bone Marrow Gravy
You can't
not
order Tater Tots when you see them on a menu, so here we were. They really did hearken back to the elementary school cafeteria standby: crispy and salty and all that, with a deft counterpoint in the form of the kale while the gravy imparted an enveloping richness to the dish.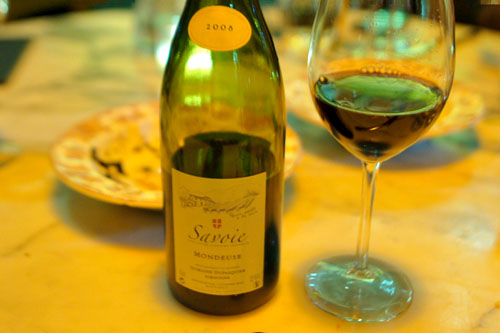 Moving to the reds now, we had here the
2008 Domaine Dupasquier Vin de Savoie Mondeuse
. I'm not sure if I'd ever even had this varietal before, but I found it somewhat rustic in essence--tart, peppery, and tannic, with an earthy/meaty quality to it as well, offset by just a bit of fruit.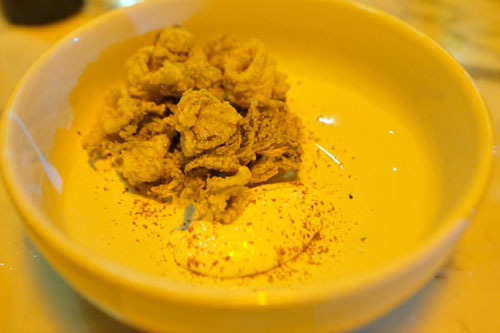 FRIED SQUID [$14.00]
| Lemon Aioli, Aleppo
Fried squid was one of the stronger preparations I've had, with a fantastic bite to it that perfectly blended the cephalopod's soft, supple interior with a crisp, yet airy shell. The tangy aioli that came along formed a fitting pairing, but the peppery, spicy notes present were even better.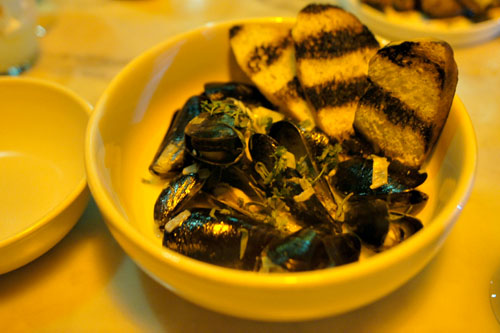 STEAMED PEI MUSSELS [$16.00]
| Soft Leeks, Grilled Bread, Cider
Mussels were also very nice, the leeks and cider adding a certain verve to the bivalves that made them just that much different than the norm.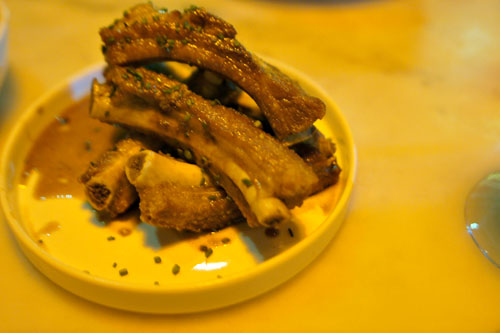 PORK RIBS [$16.00]
| Orange and Honey Glaze
Ribs, meanwhile, were sticky and satisfying, with a sweet 'n' sour relish that paired effortlessly with the pork-y, char-tinged notes present. Nice texture on 'em too, which made the ribs good for gnawing.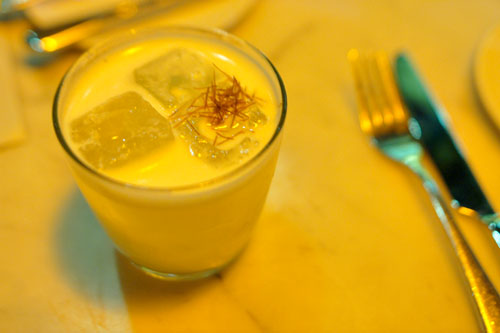 GOLDEN GIRL [$14.00]
| Spiced Tequila, Passion Fruit, Agave, Lime Meringue
The final cocktail we had was the
Golden Girl
, and it was pretty awesome. I found it almost creamy on the tongue, with a flavor profile that perfectly blended the creeping heat of the jalapeños with the sugary weight of the agave and passion fruit, the lime imparting a touch of levity to the fray.
GRILLED PORK BELLY [$14.00]
| Little Neck Clams, Wild Greens, Pear
Moving now into some of the heavier courses, pork belly was tasty, albeit a touch dry at times, with the pear and greenery adding a great bit of lightness to the mix. I quite liked the additional saline and textural elements provided by the clams, too--a pleasant surprise.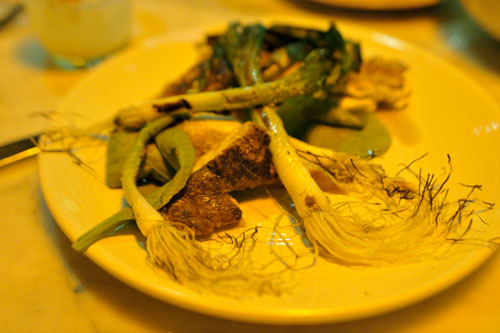 MARY'S CHICKEN [$28.00]
| Chanterelles, Roasted Leek, Jus Gras
I'm not sure who Mary is, but her chicken was very solid. The flavors were spot on, with the bird enhanced by the roasty, astringent qualities of the leek, while the mushrooms added an earthy, woody note to the dish. My only quibble: the chicken could've been a touch juicier in places.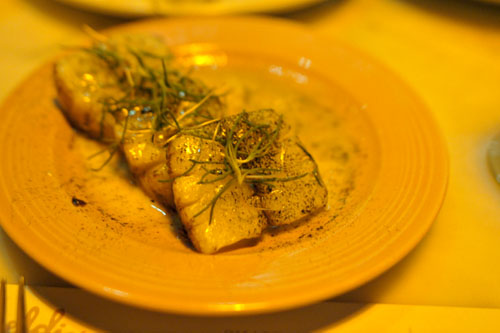 DIVER SCALLOPS [$16.00]
| Scallops Beurre Blanc, Seagrass
Finally, we had the scallops, which were on point in terms of texture, and conveyed their signature, oceany-savor well, matching with the buttery beurre blanc. However, you had to be careful with the seagrass, as it tended to steer the course toward overly saline at times.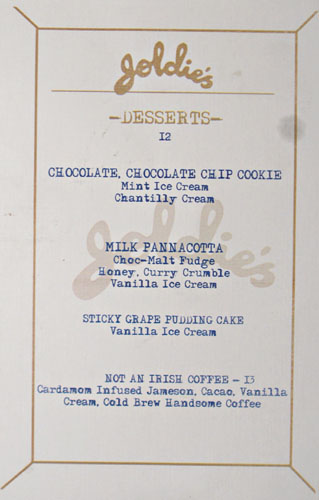 Dessert, naturally, was a must. Click for a larger version.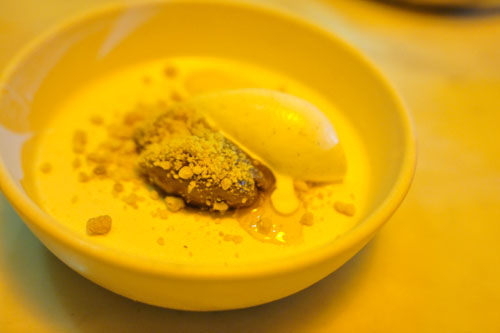 MILK PANNACOTTA [$12.00]
| Choc-Malt Fudge, Honey, Curry Crumble, Vanilla Ice Cream
Goldie's take on the ubiquitous panna cotta worked out well, really melding the lushness of the cream with some delightful bittersweet flavors and the subtly spicy nuances from the crumbles. Very tasty, and a smart reinterpretation of a traditional dessert.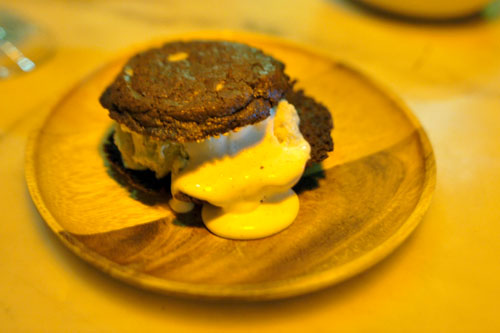 CHOCOLATE, CHOCOLATE CHIP COOKIE [$12.00]
| Mint Ice Cream, Chantilly Cream
Last up was a sort of ice cream sandwich, the herby, minty qualities of the ice cream working hand in hand with the deep, dark, chocolate-y richness of the cookie here. Yum.
Since opening, Goldie's has seemingly been a polarizing sort of place. I think the issue may stem from the fact that the restaurant bills itself as an approachable, neighborhood-y type of joint. However, the cooking here is much more ambitious than one would expect. Lim has a pretty unique culinary point of view, and imbues his food with unconventional touches and unexpected twists that definitely aren't for everybody. However, it is the type of cookery that I do appreciate, and I was
quite
intrigued by what I saw on the plates here. In fact, I'm actually really curious, excited even, to see where the Chef takes things.