Sushi Ota (San Diego, CA)
Sushi Ota
4529 Mission Bay Dr, San Diego, CA 92109
858.270.5670
www.otasushi.com
Wed 11/27/2013, 05:30p-07:40p

After hitting up Addison the previous night, we made a quick stop at Sushi Ota before heading back up north. Yukito Ota's eponymous restaurant has long been known as the "best" sushi joint (and one of the best places, period) in San Diego, despite its location in a nondescript strip mall in sleepy section of Pacific Beach. It's a restaurant that I'd been wanting to try out for years now, one that has served as the training grounds for a number of the area's top sushi chefs: Roger Nakamura at Hane Sushi, Robert Nakamura at Shino Sushi, and Toshi Tsutsumi at the defunct Toshi-San Sushi and Shabu Shabu.
About the Chef
: Born in 1952, Chef Ota grew up in Japan, and first got bitten by the sushi bug at age 13, after watching a television show about a sushi-making family. Upon finishing junior high, he started his formal culinary training, apprenticing in Kobe for 10 years before finally becoming a full-fledged chef at age 25. In early 1982, he was working in Japan when a friend of a friend needed help running the sushi bar at the New Otani Hotel in Los Angeles. Ota was 29 at the time, and decided to move to the US on a three-year work visa. He opted to stick around, of course, and eventually made his way down south, finding work at Kobe Misono on Mission Boulevard, as well as at Mr. Sushi in Pacific Beach. It was at Mister that Ota first began making a name for himself, and after eight years of saving up, he ventured out on his own and opened Sushi Ota. It was 1990, and the restaurant has been going strong ever since.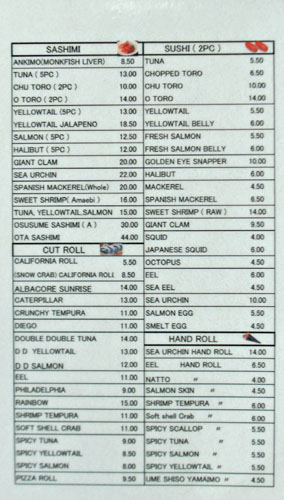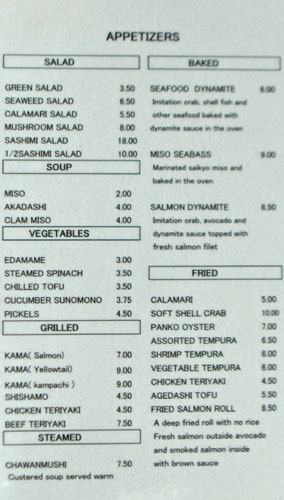 As far as Sushi Ota's printed menu is concerned, it doesn't look all that promising, featuring a wide variety of items that you wouldn't expect from a purist sushi joint: think dynamites, chicken teriyaki, even the dreaded Philly Roll. It's not a good sign, but the key (like at so many other
sushi-ya
) is to plant yourself down at the bar and go
omakase
, which was $90 tonight for 14 courses. If you don't want to do that, at least order from the list of daily specials written up behind the counter. Meanwhile, to drink, you'll find a pretty good sake selection, along with a smattering of beers and wines. Click for larger versions.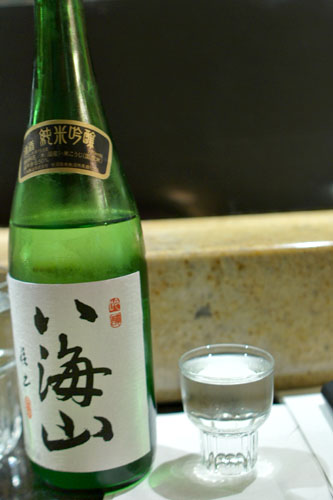 Our drink of choice tonight was the
Hakkaisan Junmai Ginjo [$75]
, always a good choice with its viscous, yet crisp body and super floral, fruity, subtly rice-y qualities tinged with just a bit of boozy heat.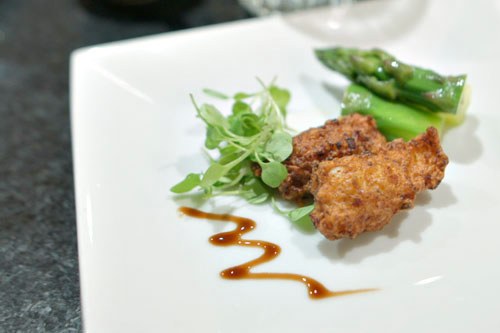 1: Age Tako
Fritters of octopus were delightful, super tender on the inside, yet with a slightly crisp, wonderfully savory crust, heightened just a smidge by the squiggles of sweet-ish sauce. I thoroughly enjoyed them alone, but the accompanying asparagus was a welcomed addition as well, imparting a touch of astringency and a well-placed crunch to things.
2: Sashimi
The sashimi course brought out no less than four cuts for us to enjoy. In the front was amberjack, which I found creamy on the palate, yet clean and mild, with a softly saline taste that was great with a dab of soy. Next we had the geoduck, which showed off a firm, crunchy consistency along with a strong, growing brine that was perfectly offset by the heat of the accompanying wasabi. Toro, meanwhile, was as lush as you'd expect, nearly melt-in-your-mouth, but with a subtleness to it that went swimmingly with the umami-rich essence of the
shoyu
. Finally, my favorite of the bunch was the San Diego uni (the chefs here generally prefer it to the Santa Barbara specimens), which really conveyed a faultless balance between sweet and saline nuances that stood alone
sans
accoutrements.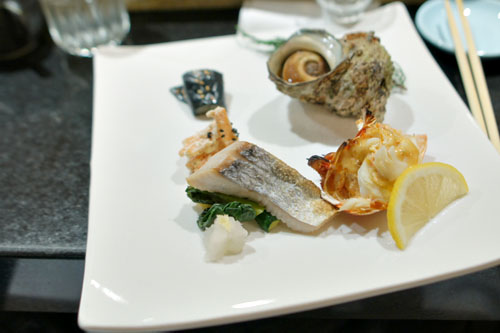 3: Zensai
Next was a fivesome of various goodies. Japanese eggplant was surprisingly satisfying thanks to the nuttiness of its paired sesame seeds, while
batonnets
of persimmon were a welcomed treat as well, their sweetness balanced by a coating of earthy tofu. Japanese king mackerel, meanwhile, was my favorite item here, coming out perfectly cooked with a wonderfully salty, savory smack that I loved. The lobster was also a joy to eat: tender and sweet, with a great smoky char flavor to it as well. Lastly, we had the
sazae tsubuyaki
, basically grilled sea snail, a chewy, briny delicacy accented by the bitterness of the gastropod's entrails; be sure to sup up the remaining liquid in the shell.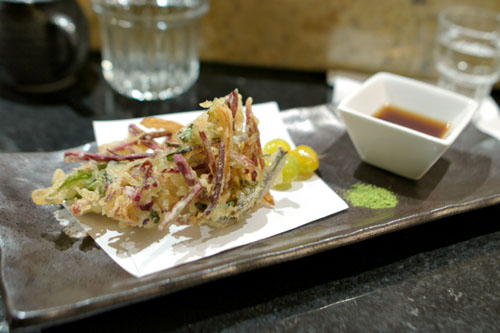 4: Kakiage Tempura
The final course prior to the sushi was a tempura of shrimp, onion, and various vegetables, served along with gingko nuts. I found the
kakiage
a balanced, multifaceted preparation of the Japanese staple, with the fritters great with a dab of the
tentsuyu
, and even better with a sprinkle of green tea salt.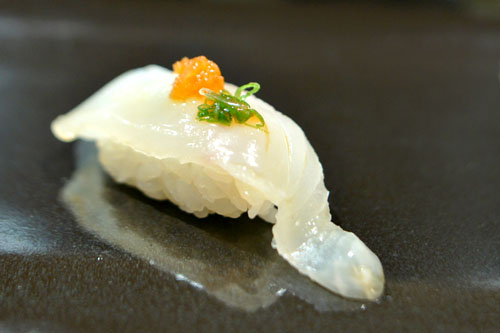 5: Hirame
Nigiri
time. First was halibut, a slightly chewy presentation that was delicate in flavor, the wasabi and soy really working hand-in-hand with the fish, while the sweet-ish rice made itself known toward the back end.
6: Kinmedai
Golden eye snapper was a favorite of mine, a full-flavored fish beautifully accented by a light touch of char and a bright citrus-y zing.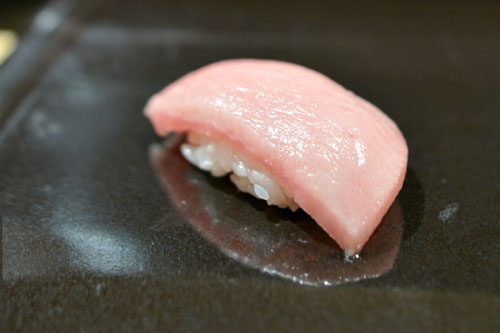 7: Toro
Fatty tuna, meanwhile, was super melty, yet with a certain lightness to it at the same time. Very good with a dab of soy.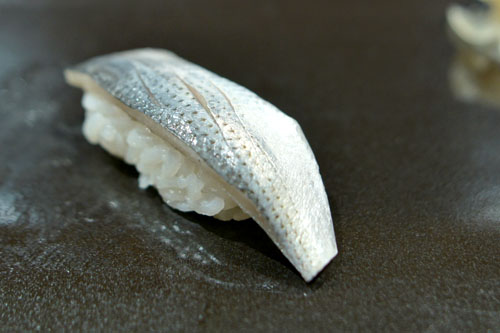 8: Kohada
Gizzard shad was firm and fishy, just as you'd expect, with the heat of the wasabi forming a fitting foil.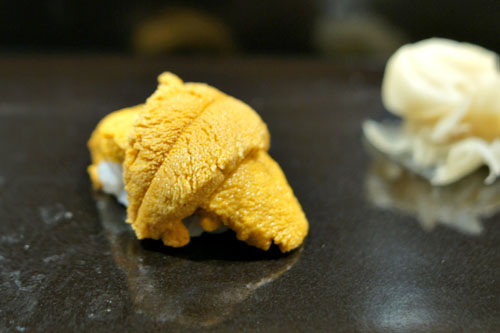 9: Uni
Sea urchin was another standout, its cool, focused brine perfectly offset by its inherent sweetness.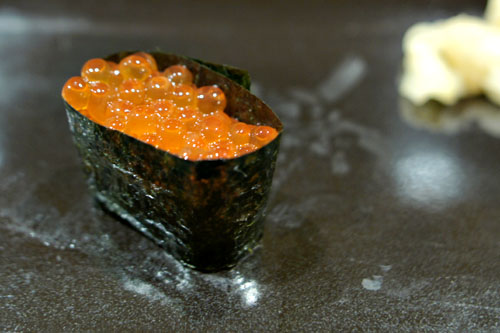 10: Ikura
Salmon roe was also commendable, a bevy of salty pops moderated by the crisp nori wrapper.
11: Anago
Sea eel was quite nice as well, savory yet sweet, but with a pleasantly bitter quality to it on the close.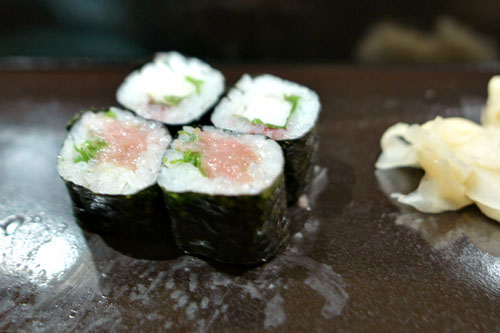 12: Umeshiso Yamaimo Hosomaki / Negitoro Hosomaki
Our last sushi course of the
omakase
comprised two sorts of
hosomaki
. In the back was a version consisting of
ume
,
shiso
, and
yamaimo
, a cool, tangy roll offset by the umami-rich nori while the yam gave the bites a somewhat mucilaginous consistency. There was also, of course, the
negitoro
, a spot on presentation of the classic, with a fantastic astringency from the scallion.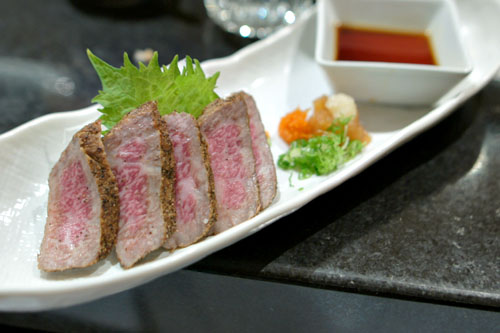 Kuroge Wagyu Sashimi [$30.00]
At this point, we opted to supplement our set menu and started with the Japanese beef. The wagyu was expectedly fatty (look at that marbling), and flavorful, with an almost steak-like character to it, but was a bit chewier than I would've liked unfortunately.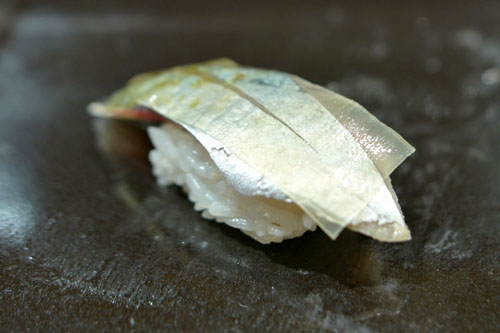 Sanma [$4.25]
Mackerel pike was a must-try given its status in Japanese autumnal cuisine. I quite liked this one, its elegantly fishy quality tempered by the sliver of pickled kelp on top.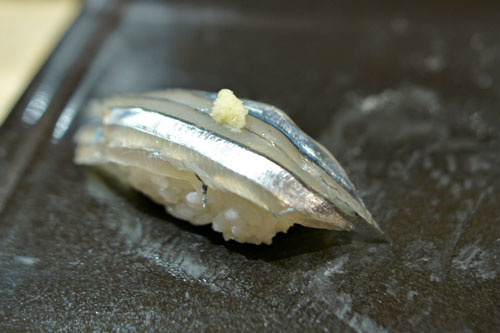 Kibinago [$3.50]
A first for me here was the silver-stripe round herring, or slender splat, which had a refined, creeping brine that was evened out by the small mound of ginger up top.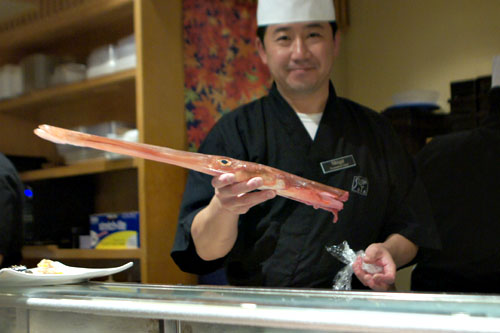 Here, we see Executive Chef Shige-san (who took care of us most of the night) showing off our next course.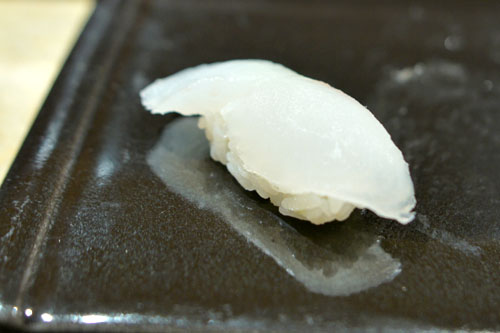 Yagara [$4.25]
A rarity at most sushi joints, trumpetfish had a delightfully snappy, yet supple texture and a mild savor brightened up with a bit of wasabi.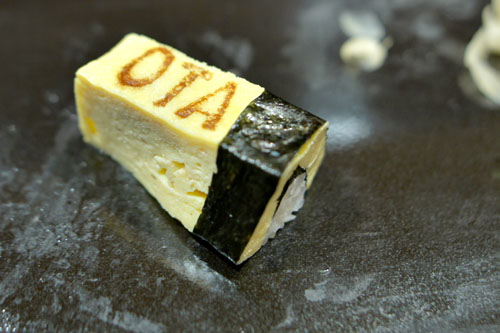 Tamago [$1.50]
The Ota-branded tamago was a classic interpretation of the dish, coming out cool, dense, and eggy, the band of nori adding a distinctly savory element.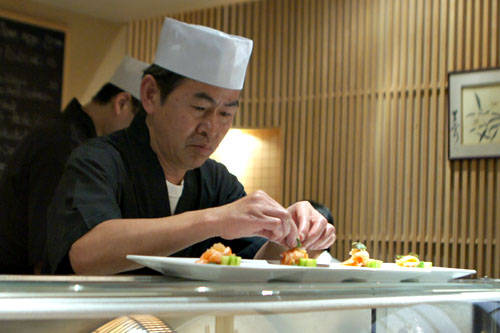 Chef/Owner Yukito Ota at work plating.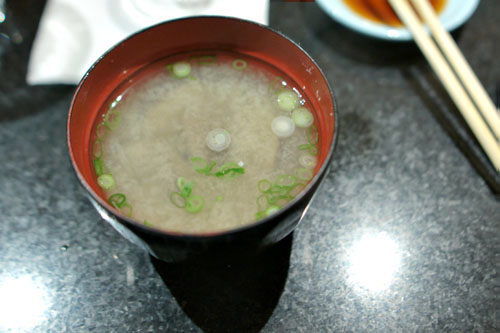 13: Asari no Misoshiru
The miso soup was hot, hearty, and comforting, the traditional flavors of the broth enhanced by the ocean-y character of the clams.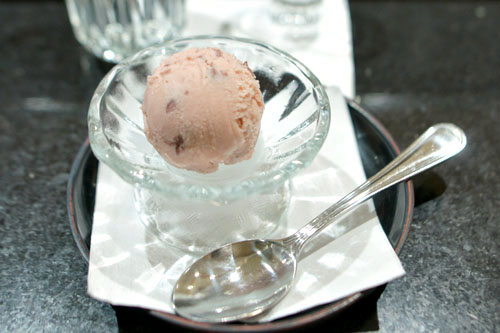 14: Azuki no Aisukurimu
Dessert was a delectable red bean ice cream (though I could've also chosen black sesame or green tea).
For as long as I can remember, Ota's been
the
place for sushi south of LA/OC, and for good reason it seems. Tonight's dinner was a strong showing, with a tasty selection of sushi and commendable
tsumami
dishes to start as well, all at a very reasonable $100-ish price point to boot. I think the only thing holding the place back is that they still have to cater to the California roll crowd, so I'm curious as to how Ota's oft-praised, more purist contemporary,
Kaito
, compares.