Q Sushi (Los Angeles, CA)
Q Sushi Downtown
521 W 7th St, Los Angeles, CA 90014
213.225.6285
www.qsushila.com
Fri 11/22/2013, 08:00p-10:50p

With apologies to
Zo
, the somewhat perplexingly-named Q (not to be confused with the mediocre
Sushi Q
on Sunset) just might be the most important sushi opening in LA this year. The
Edomae
-style restaurant is the work of a trio of lawyers from Quinn Emanuel Urquhart & Sullivan: Ryan Goldstein, Shon Morgan, and even firm Co-Founder/Managing Partner John B. Quinn. The saga of Q (yes, that's "Q" for Quinn) began five years ago when Quinn visited Japan and Tokyo office head Goldstein brought him to
Nogizaka Sushi Yuki
, a tiny six-seat, locals-only, off-the-radar sushi joint in Roppongi headed by one Hiroyuki Naruke. The two attorneys instantly became fans of the place, and Goldstein continued to visit the restaurant afterward, getting to know the Chef in the process.
However, following the devastating 2011 tsunami, Naruke's business suffered due to concerns about radiation poisoning from Fukushima. Goldstein found out about this, as well as the Chef's dream to open a place in the US, and proposed the idea to Quinn and Morgan, the firm's Class Action lead. The threesome decided to go in on the project together; it was 2011, and they predicted a budget of $600,000 along with launch date the following year. However, permitting hell and construction delays meant that Q's official debut was pushed all the way back to November 22nd this year (following a couple weeks of soft opening), with total costs approaching $2 million (a tidy sum given how small the place is).

Q occupies the site formerly held by the pedestrian
Eco Asian
, situated a mere half-mile from Quinn Emanuel's headquarters on Figueroa and across the street from
Mo-Chica
and Bottega Louie. The space was thoroughly revamped by Ryan Brown of
Brown Design Group
and accommodates 10 at the abacus-backed bar plus an additional 16 in a small dining area up front. The vibe here sort of blends the serene aesthetics of Japanese design with a distinctly American modern flair. Think lots and lots of wood, most notably the 3,000 or so panels on the undulating, wave-like ceiling, from which hang over 100 globular pendant lights. Note, also, the custom-commissioned art pieces and Japanese artifacts--many dating back hundreds of years--adorning the room.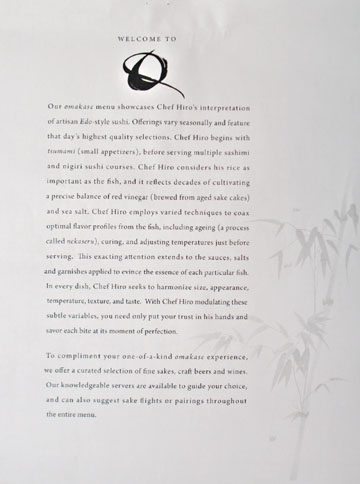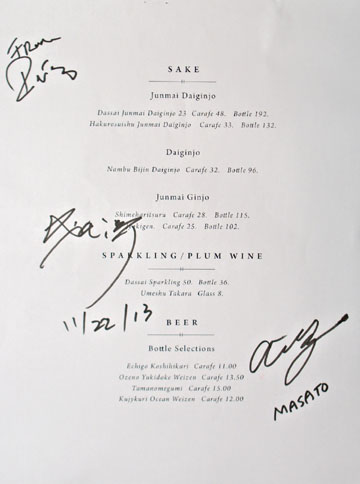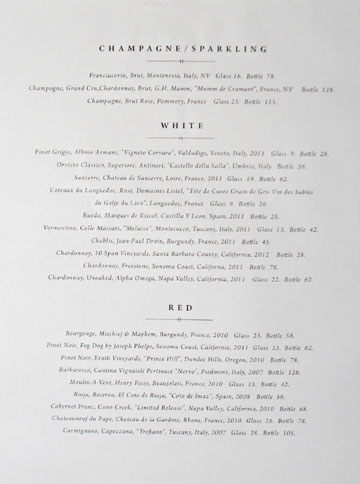 As of now, there's no menu
per se
, as Q is an
omakase
-only affair, comprising roughly 20 courses at $165 (a comparable dinner at Naruke's place in Tokyo was ¥15,000 if you're curious). The meal begins with six or seven courses of
tsumami
(basically small appetizers) before delving into a dozen or so items of sushi, though it
is
possible to order à la carte
nigiri
and even cut rolls at the conclusion of the set menu. Lunch service, meanwhile, is slated to start early next year. To drink at Q, you'll find a small selection of Japanese craft beers (though plans are to have Asahi and Sapporo on draft too), a short-but-sweet sake list, as well as a smattering of lighter, surprisingly well-priced wines, all managed by the Chef's wife, Kyoko Naruke, who also oversees the dining room. Corkage, meanwhile, is a reasonable $25 a bottle. Click for larger versions.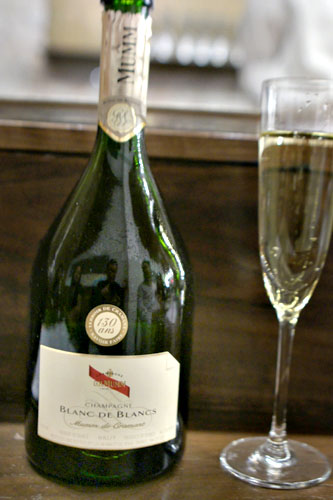 We began with some bubbly from the list, the somewhat uncommon
Champagne, Grand Cru, Chardonnay, Brut, G.H. Mumm, "Mumm de Cramant", France, NV [$128]
. I really liked this one, finding it perfectly balanced, an unquestionably elegant presentation of Champagne that was creamy and soft, with a delectable citric flair joined by a lovely base of minerality, and a lively touch of acidity to temper things out.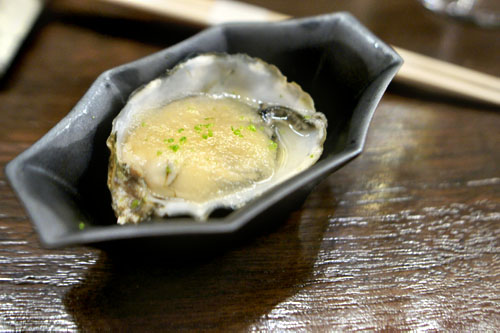 1: Shigoku Kaki
Shigokus (which I first encountered over at the excellent
Ohshima
in OC) are quickly becoming my favorite type of oyster, and here they were presented with grated daikon and yuzu salt. It was a pretty much flawless bite, the tang of the yuzu strong initially, but then leading to the crisp, yet lingering brine of the oyster--a great way to show off a Shigoku.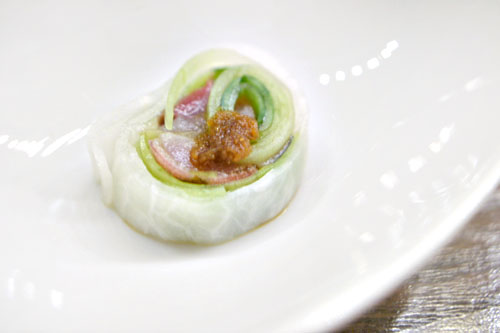 2: Saba "Maki"
Ginger-soy-topped mackerel arrived rolled in layers of cucumber, then daikon, reminding me somewhat of the Newport Roll at Restaurant Abe, my old go-to sushi haunt in Orange County from back in the day. It was much more interesting than that, though, with a strong ginger-y note on the attack transitioning to the crunch and lightness of the veggies over an omnipresent base of saba, all finished with a slight tinge of bitterness. I found the course a refreshing, vivacious take on the strongly-flavored fish--my first time having something like this.
3: Otoro no Tataki
Bluefin toro from Spain was seared, then accompanied by a topping of miso and sansho. It was a luxurious, and of course delicious plate, the smoky, fatty, oily cuts of tuna beautifully offset by the earthy, pungent weight of that condiment. Yum.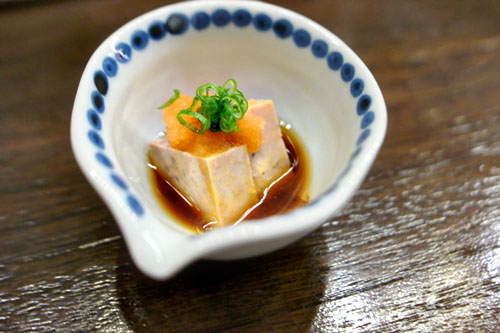 4: Ankimo
Next up was a faultless preparation of ankimo, one that really conveyed the refined, graceful, yet earthy and powerful essence of the monkfish liver, gorgeously set off by the zing of scallion at the end.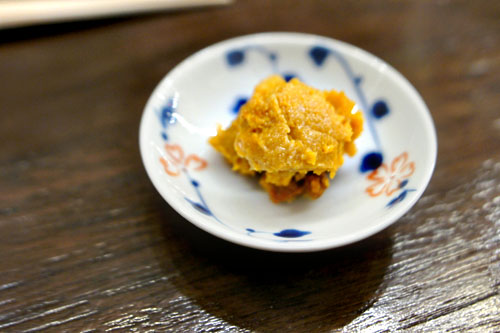 5: Uni Misozuke
The
Saikyo shiro miso
-marinated San Diego uni was unlike anything I'd had before. There was just an incredible depth and transformation here, with the funky, earthy sweetness of the miso really permeating the urchin, while the texture was almost firm, dense in nature. The result was something that one of my dining companions compared to an "uni candy," a sugary-savory treat certainly worth seeking out.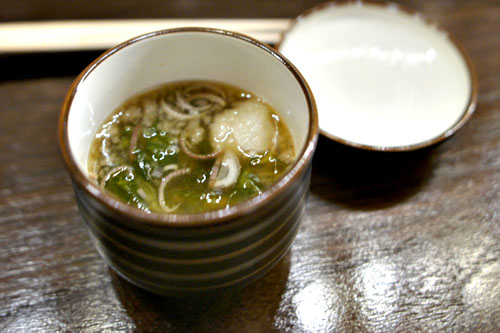 6: Aka Misoshiru
A miso soup incorporating red
inaka miso
was superb, easily the most complex version that I'd ever tasted. There was just this almost rustic, comforting profoundness to the broth that I really enjoyed, all brightened up with a bit of seaweed and what I believe were little cuts of tangy
myoga
.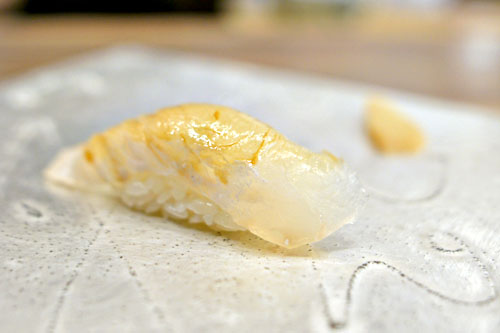 7: Hirame Kobujime
With the
otsumami
dispensed with, the wonderfully sharp, house-pickled, young Hawaiian ginger
gari
came out and it was time to move on to sushi. We commenced with a fluke prepared
kobujime
style, meaning cured with kelp. The process results in a much more interesting representation of the fish, fortifying the texture a bit and really sharpening the flavors, giving the flounder a more savory, yet somewhat tarter character, with a great hit of Hiro-san's sea salt and red vinegar-laced rice on the finish.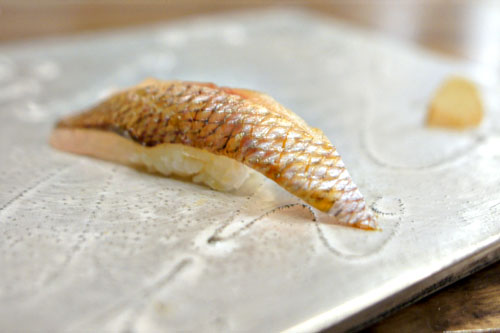 8: Kasugo Tai
From Kyushu came this baby snapper, which was probably the most intriguing, interesting preparation of the fish I've had. I loved its surprisingly rich, somewhat tangy, umami-laden subtleties, and how the skin gave the
nigiri
just the slightest bit of resistance.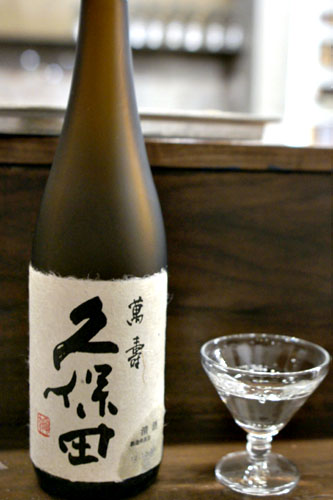 Asahi Shuzo's
Kubota Manjyu
is sort of the quintessential high-end sake, and one of my dining companions was gracious enough to bring a bottle for us to share. It was as tasty as ever, a viscous, yet smooth sake with loads of character and a sweet, floral quality to it that satisfied as always.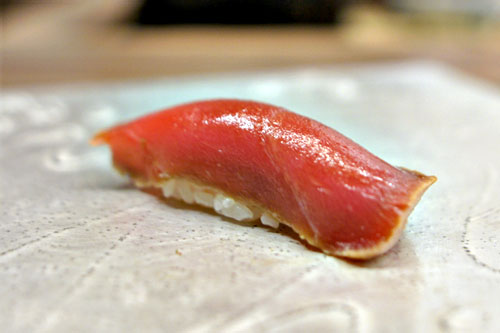 9: Akami Zuke
The blue fin from above made another appearance, this time the dorsal section of the fish, marinated. It was undoubtedly one of the strongest versions of lean tuna that I've eaten, showing off a particularly fascinating depth and savor to it, along with an eminently pleasing consistency. Excellent.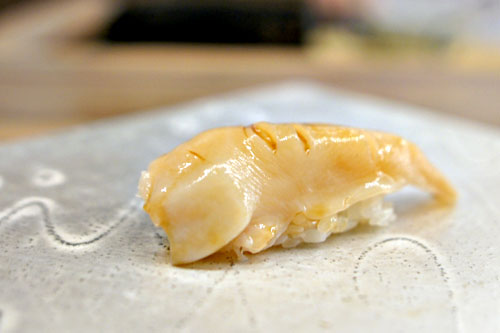 10: Aoyagi
Orange clam from Boston was on point, delightfully springy and supple in body, with a marked sweetness on the front end that transitioned seamlessly to an intense, growing salinity.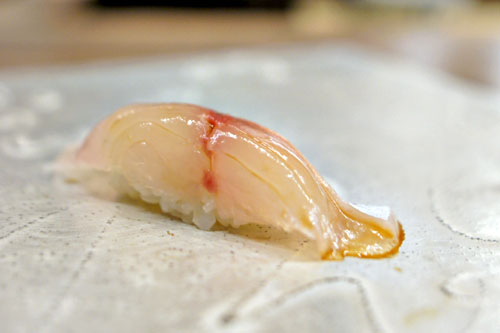 11: Kurodai
The black snapper had a fantastic texture to it--sort of a blend of soft and snappy--and displayed a subtle, delicate savor, beautifully accented by just a whisper of wasabi heat.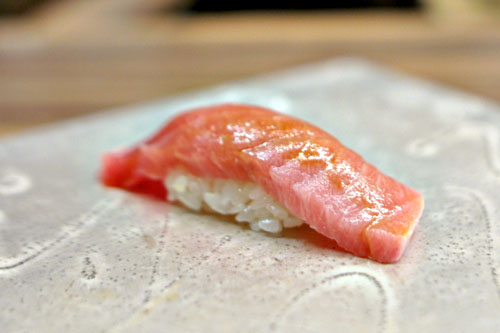 12: Toro
Toro was described by Hiro-san as between chutoro and otoro in fattiness, and the result of that was a superbly balanced bite, with the combination of custom-blended micro-brewed soy and 'sabi really melding well with the fish.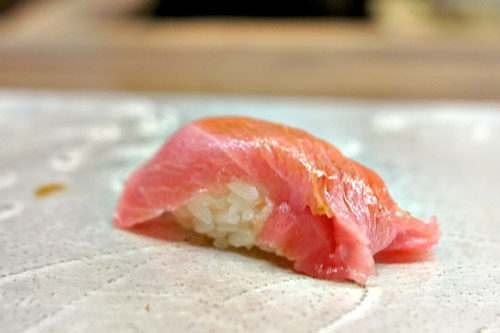 13: Chutoro
In comparison, the actual chutoro was a notch down in terms of lushness, but was just as enjoyable, with a particularly smooth, sleek quality to it that I adored.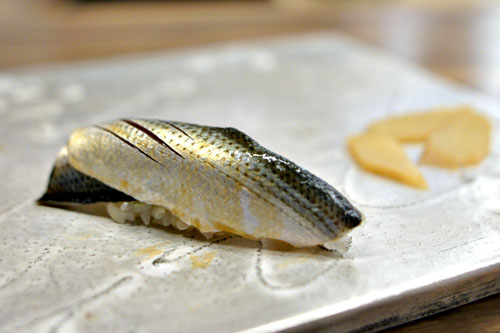 14: Kohada
Marinated gizzard shad is perhaps the epitome of
Edomae
sushi, and this was a spot on interpretation of it. It was one of the best I've had, and just as it should be: firm and slightly springy to the bite, and with a fishy, piquant taste that I reveled in.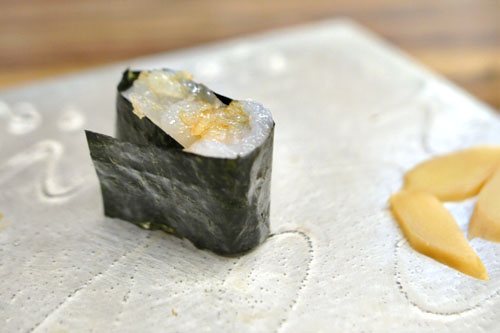 15: Shiro Ebi
White shrimp from Toyama Bay was a rare treat, something that I'd first encountered at
Urasawa
. Think mild, sweet, and slightly gelatinous in consistency--superb when taken with the nori.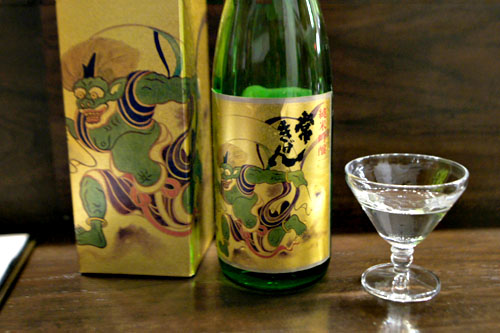 Our next sake was the
Jyokigen Fujin Junmai Ginjo [$102]
, which I also really enjoyed. It was definitely more "rustic" I'd say compared to the Kubota, with a thinner, crisper body and juicier, fruitier notes commingled with blasts of rice and alcohol.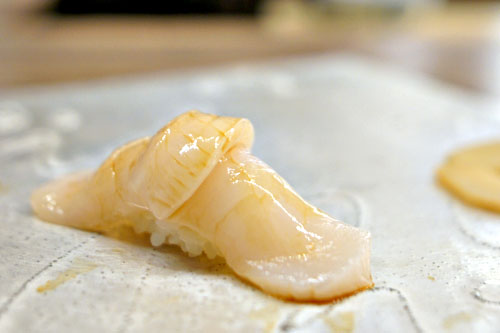 16: Hotate
Scallop from Hokkaido was another winner, coming out cool, ocean-y, and wonderfully sweet, expertly paired with a brush of soy.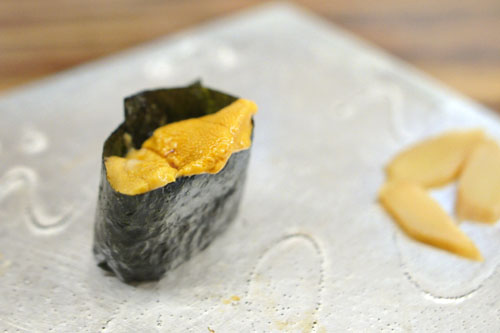 17: Uni
Hiro-san prefers San Diego uni to the more popular Santa Barbara varietal commonly served around these parts, I'm thinking because it has a more mineral-driven, austere nature that more closely resembles the Hokkaido specimens. That being said, the urchin served tonight was still creamy, sweet, and tasting of the sea, a deliciously well-balanced bite that went superbly with its seaweed wrapper. A strong case for challenging the hegemony of SB uni.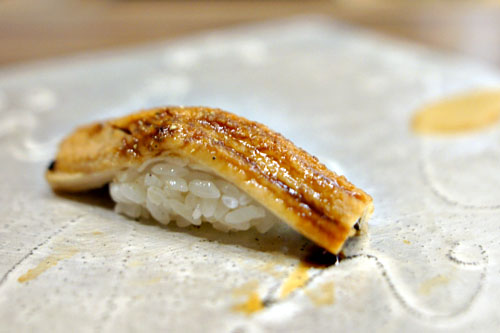 18: Anago
Sea eel arrived hot, soft, and sweet, backed by a well-placed savory quality.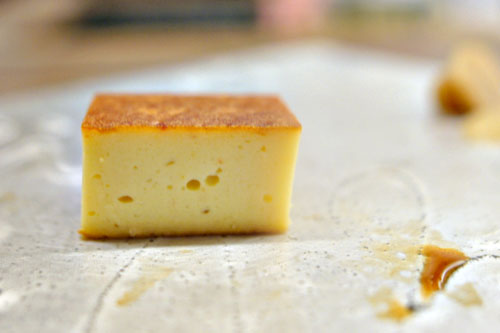 19: Tamago
The tamago here, I'm told, is made with a large percentage of shrimp, the result of which is a nicely firm, substantial texture and a delightful salinity to go against the classically sweet flavors at play.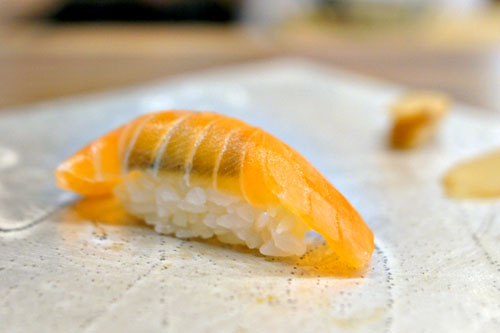 20: Sake Kobujime
And with that, we were done with the set menu. Hiro-san asked if we wanted more, and I requested that we try anything that hadn't been served yet. Thus came the Scottish salmon
kobujime
, not traditionally an
Edomae
sushi ingredient but nonetheless quite possibly the most captivating version of the
neta
I've had. The kelp gave it a savory, yet zesty quality that really evened out the fishy, fatty qualities of the salmon. I don't think I've had anything quite like it before.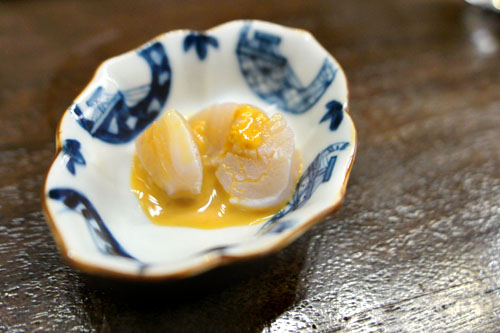 21: Aoyagi Kaibashira [$6.00]
The adductor muscle of the orange clam above came out in a sauce of ponzu and uni, the clean, lean essence of the
kaibashira
working wonders alongside the rich, creamy condiment.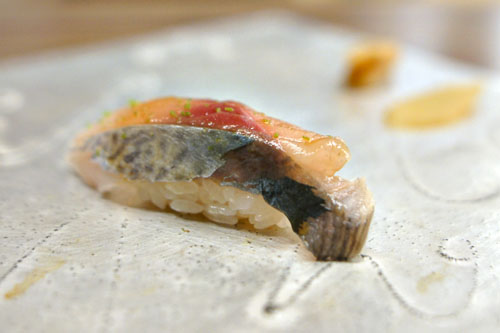 22: Saba
Japanese mackerel was exemplary, just how a good saba should be, with a great yuzu tartness to go along with the creeping brine of the fish.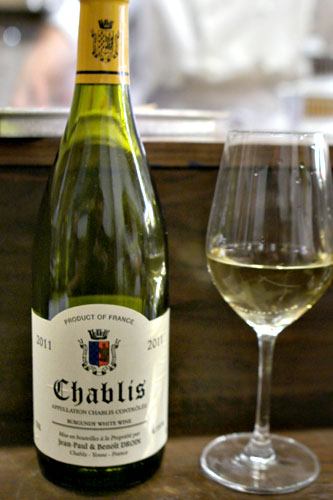 Moving back to France now, our final tipple of the night was the
Chablis, Jean-Paul Droin, Burgundy, France, 2011 [$45]
. It was sort of a classic Chablis, and a fitting pairing to the food. Think savory, a bit steely on the nose, with round, almost juicy notes of stone fruit making for a refreshing, delicious, easy-drinking wine.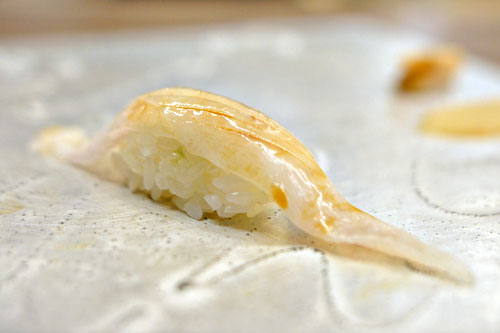 23: Engawa Kobujime [$7.00]
Flounder fin done
kobujime
was divine, the sour smack of yuzu leading to a wonderfully chewy, meaty eating experience. A textural masterpiece.
24: Kohada no Hosomaki [$4.00]
A cut roll of gizzard shad just might've been the most enthralling
hosomaki
I've ever eaten. There was much more going on here than in your typical roll, with the fishiness of the kohada melding gorgeously with the bright, light veggies, all while the rice and nori grounded the course. Very neat.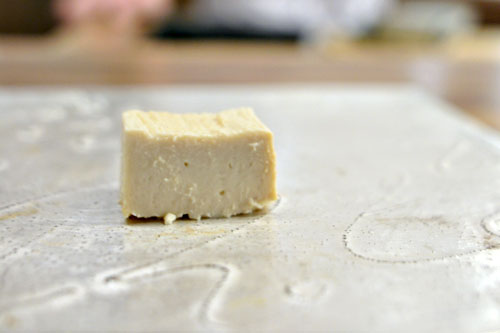 25: Tofu Misozuke [$15.00]
Serving as a "dessert" of sorts was a block of tofu cured and aged (for months at a time) in sweet white Kyoto miso. This stuff was pretty fantastic, and unlike anything that I've ever had. It was almost cheese-like in nature: dense in body, rich, creamy, and with a pretty remarkably depth of flavor and even a touch of heady funk. Definitely worth asking for.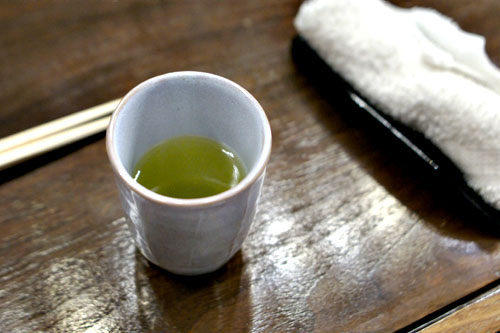 To close, some piping hot green tea, natch.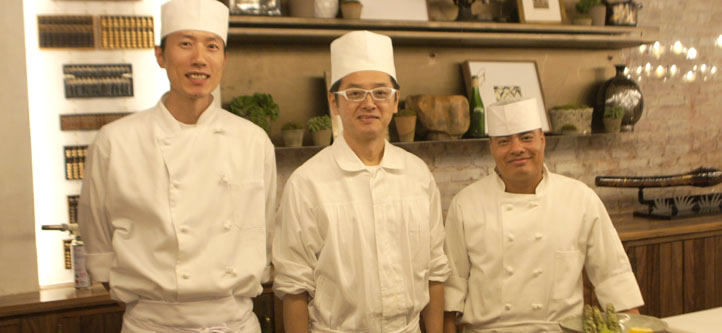 Behind the counter are Masato-san, Hiro-san, and Ruiz-san (a Peruvian-Japanese East LA native who previously cooked at
Nobu
, Katsuya, and Maru).
The partners who own Q fully acknowledge the fact that they may never turn a profit on this place, and they're perfectly fine with that. It is thus a true passion project of sorts, driven by the sole desire to create something unique in the LA sushi scene, to execute a vision of old-school, uncompromising sushi that's rarely encountered outside of Japan. Based on this early visit, I can only surmise that they're succeeding in that goal. Thanks to what I'm assuming are various curing, aging, and other techniques utilized by Hiro-san, the
neta
here just seemed much more nuanced, more much multifaceted than usual, but still unquestionably delicious. Add to that his no-sugar, room temperature
shari
, the smart wine list, spot-on service, and you get truly one of the most exciting, one-of-a-kind sushi experiences that I've ever had. Even though the place just opened, I have no doubt that Q belongs in the top echelon of sushi spots in Los Angeles, and for all you sushi enthusiasts out there, it is an
absolute
must visit--seriously, go make your reservations now!
---
Since Q lacks a true dessert course, we wandered over to Bottega Louie across the street for some post-sushi sweets and cocktails. Amazingly, this was actually my first time there, as I'd sort of stayed away due to the mixed reviews I'd heard about the place. Overall though, I was pretty satisfied with what we had.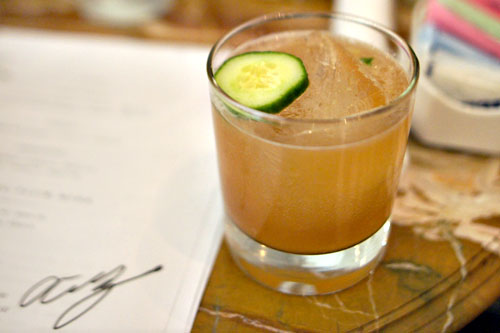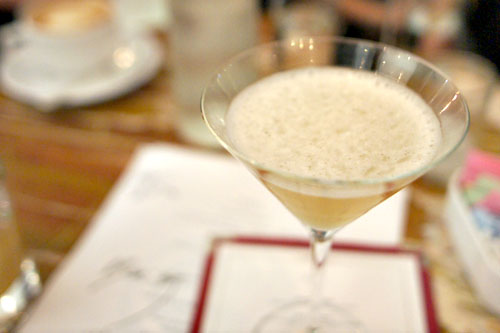 Cha Cha Cha [$13.00]
| Cha Cha Cha Mezcal, Green Chartreuse, Angostura bitters, cucumbers, fresh lime juice & agave
Don Tranquilo [$13.00]
| Old Overholdt Rye, Cha Cha Cha Mezcal, fresh lime juice & agave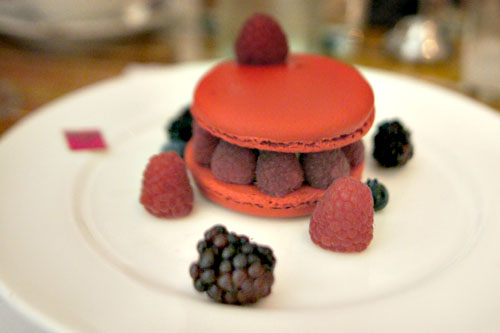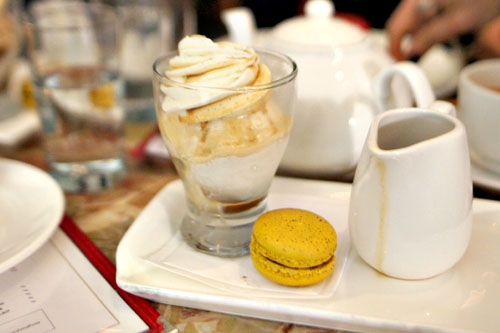 Le Grand Macaron [$10.00]
| French almond cookie with vanilla cream, raspberry jam & raspberries
Affogato [$10.00]
| Vanilla gelato, espresso & whipped cream with an espresso macaron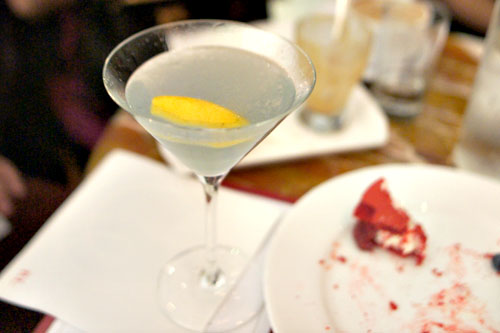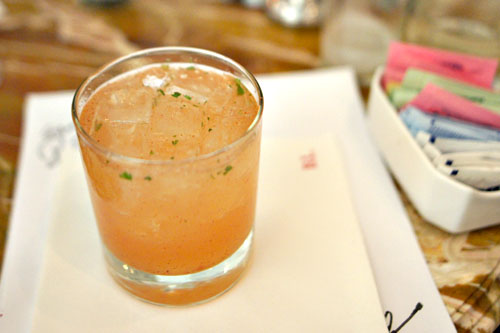 Aviation [$13.00]
| Plymouth Gin, fresh lemon juice, Crème de Violette & Maraschino Liqueur
Beso Ardiente [$13.00]
| Azuñia Tequila, fresh lemon juice, agave, strawberries, cilantro & a touch of spice