Addison (San Diego, CA)
Addison at The Grand Del Mar
5200 Grand Del Mar Way, San Diego, CA 92130
858.314.1900
www.addisondelmar.com
Tue 11/26/2013, 08:30p-12:00a
Of all the local places on my to-eat list, perhaps none has remained elusive longer than Addison, which I think I'd been curious about pretty much since it debuted in late 2006. Most of the reason had to do with the fact that it's located in San Diego, but a recent one-day stop down there finally allowed me to cross the place off my list. Named after architect Addison Mizner (the inspiration for the resort's architecture), the restaurant is helmed, and has always been helmed, by Executive Chef William Bradley.
About the Chef
: A San Diego native, Bradley got his first taste of the restaurant biz at age 16, when he started working as a prep cook at a local Italian joint in the unincorporated suburb of Bonita. He instantly fell in love with the craft, and eventually made his way to Azzura Point at Loews Coronado Bay Resort, cooking under James Boyce (best known around these parts for his work at
Studio
). Bradley ended up following Boyce to the well-regarded Mary Elaine's in Scottsdale, working there for three years as a sous chef. In 2002, he ventured out from his mentor's wing and secured an Executive Chef role at the Hyatt Regency Scottsdale's Golden Swan restaurant, which he transformed into Vu in October 2004. During his tenure here, he was thrice nominated for James Beard's "Rising Star Chef" award.
In 2006, he left Arizona and returned home to San Diego to serve as the opening chef at Addison, which he quickly turned into one of the area's destination restaurants. Just last year, Bradley was nominated by Beard for its "Best Chef: Pacific" category (though losing out to Matt Molina of
Mozza
fame). Currently, he's joined in the kitchen by Chef de Cuisine Anthony Secviar (ex-
French Laundry
) as well as sous chefs Shaun Gethin and Stefani De Palma. Note that Aaron Martinez, whom we encountered at
Rancho Valencia
, was opening sous here, prior to his stint at In de Wulf in 2009.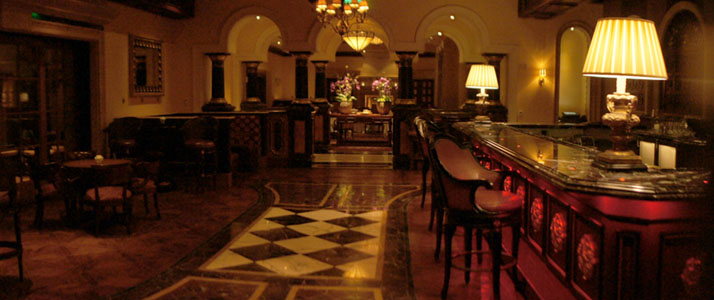 The environment at Addison is as grand as you'd expect, sort of exuding the same ornate, Spanish Colonial Revival aesthetic prevalent in the surrounding property. The main dining room holds about 80, and there's also a 15-seater Le Grand Table (a chef's table, basically).

As for Addison's menu, you get a choice between a four-course prix fixe at $98, a seven-course Carte Blanche at $175, and a 10-course Le Menu Gourmand at a
nominal
$235 (ours somehow ended up at $300). To drink, you'll find cocktails by Bartender Mike Guest, but the main draw here is the restaurant's far-reaching selection of wine, over 37,000 bottles, managed by new (ex-
Spago
) Wine Director Elizabeth Huettinger, who replaces Jesse Rodriguez. Corkage here is a pricey $50, and you're only allowed one bottle; we opted for the wine pairing (at a grimace-inducing $175pp) along with our Gourmand menu. Click for larger versions.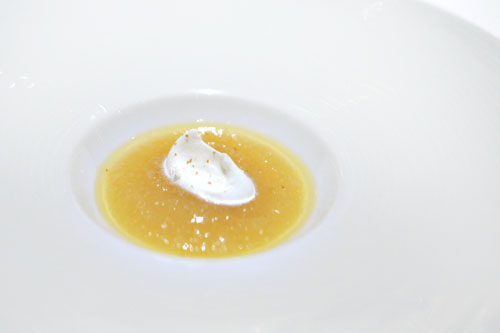 Amuse Bouche: Autumn Pear Gazpacho
We commenced with a pear gazpacho crowned with a dollop of yuzu creameaux. The gazpacho had an almost apple sauce-like bent to it, with plenty of sweet, autumnal spice to go against the creamy, yet tart yuzu cream.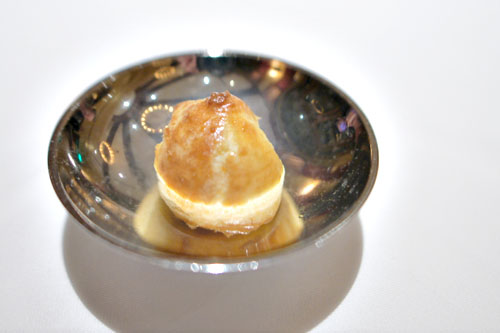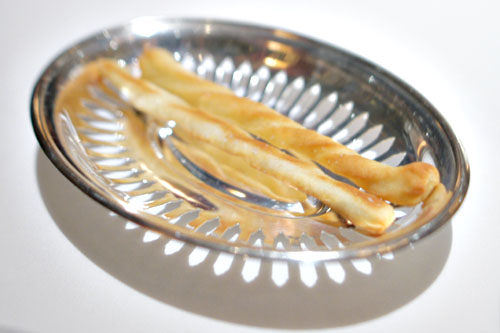 Two of our three bread services then arrived. First was a fantastic sherry-mascarpone gougère, which perfectly blended sugary, cheesy, and buttery in a delightfully creamy, flaky package. That was followed up with lemon-sea salt crostini, which were pretty neat in their own right, their salty and sour notes seemingly increasing in intensity the more you chewed.
1: Kumamoto Oysters
| uni, horseradish and lime
Huber - Grüner Veltliner, Obere Steigen, Traisental, Austria 2011
Kumamotos were presented with uni and horseradish cream: a commixture of sweet, sour, lush and buttery nuances finished with a creeping brine toward the end.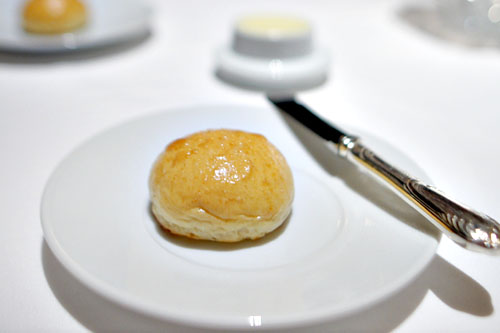 Next was an excellent homemade brioche, a wonderfully flaky, salty bread served with butter churned in-house.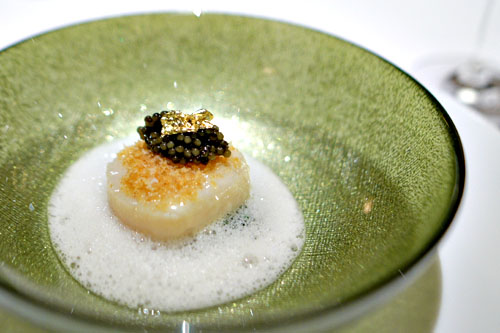 2: Sea Scallop
| spinach, champagne and caviar
Rene Geoffroy, Brut, Premier Cru Cumieres, France NV
A lone scallop appeared crusted in potato, topped with golden osetra caviar and gold flake, all set in a Champagne emulsion with spinach. The scallop itself conveyed a salinity to it that paired superbly with the salty roe, while the broth provided a sort of counterbalancing piquancy to things. The best part here, though, was the use of spinach, which imparted an undertone of astringency to things that brought the entire dish together.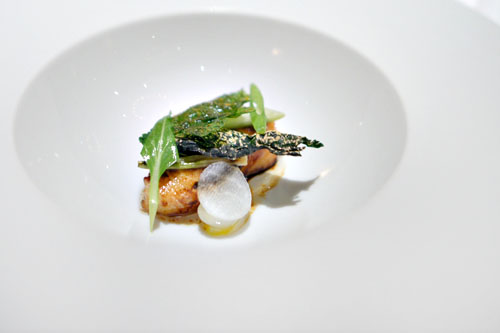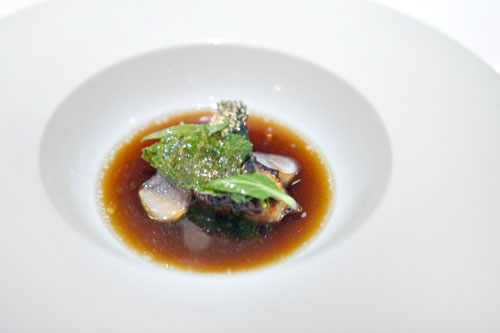 3: Caramelized Sablefish
| toasted kale, onions and dashi
Domaine Hüet - Vourvray Sec, Loire Valley, France 2011
Sablefish (a.k.a. black cod) was flawlessly prepared, and came with kale in a dashi-based broth. I loved the fish's utterly soft, buttery nature, moderated by the kale and onion, while the dashi really afforded a fantastic, umami-rich depth to the course.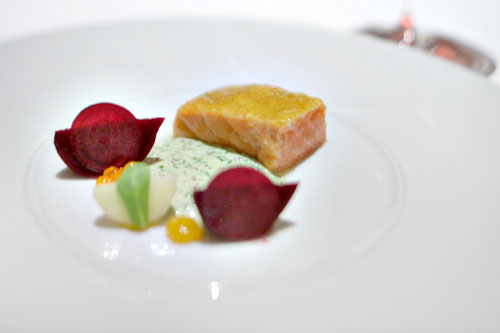 4: Salmon Rôti « Au Beurre Doux »
| beets, apples and mustard
Thierry Richoux - Irancy, Burgundy, France 2010
A fennel pollen-encrusted salmon was super rare, with a posh, buttery brine to it that was augmented by the globules of ikura tossed in, all while the fennel conferred a sort of medicinal slant to the fish. If that wasn't enough, the mustard here gave things a much needed kick in the pants, and the use of beets and apple mixed things up with their sweetness and crunch.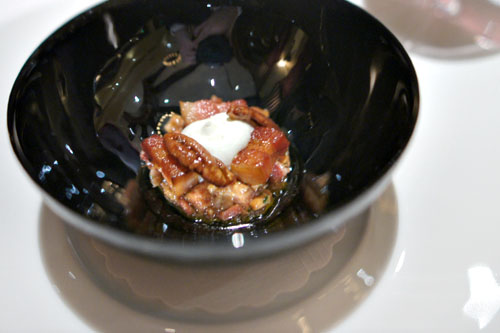 5: French Pumpkin Velouté
| porc pressé, pecans and rosemary
Folk Machine - Valdeguié, Redwood Valley, Mendocino, California 2010
Our next course really tasted of the fall season, a rich potage that blended glazed pork, Crème Chantilly, and pecan in a French pumpkin velouté. Think sweet (too sweet for me, actually), spicy, and unabashedly autumnal flavors, moderated by the salty, savory pork and crunch of those nuts.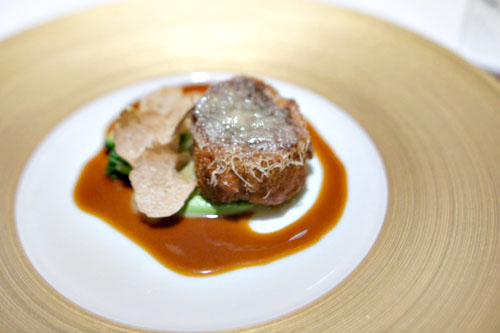 6: Ris de Veau
| broccoli, parmesan and white truffles
Giovanni Rosso - Nebbiolo, Langhe, Piedmont, Italy 2009
Here was one of the more memorable presentations of veal sweetbread I've had, served with broccoli, Parmesan, truffles, and drizzles of veal jus. The rich, earthy relish of the
ris
was proudly relayed, enhanced by the heady depth of truffle and salty coating of Parm, all while the broccoli was key in providing a touch of brightness and levity to the dish.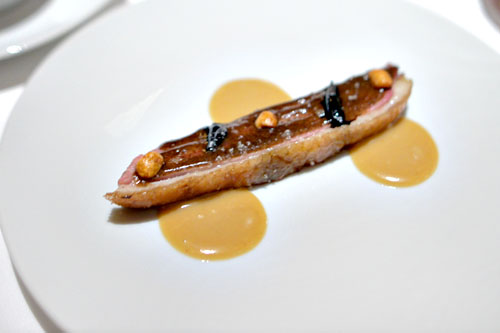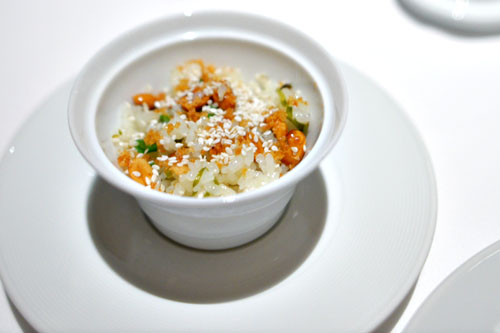 7: Coffee Roasted Canard
| koshihikari rice, candied peanuts and albufera
Bodegas Chacra - Merlot, "Mainqué," Rio Negro, Patagonia, Argentina 2010
A sliver of
magret de canard
arrived consummately cooked, replete with wonderfully crisp skin and a delightfully duck-y savor that went well alongside the bittersweet sauce (slightly reminiscent of peanut butter). The accompanying rice with duck confit, shallot, and shishito was arguably even better though, projecting a comforting, Asian-y, umami-laden quality to it that made we want to keep eating--I wouldn't have minded just a big bowl of the stuff.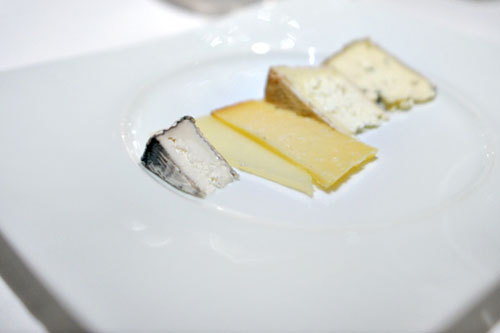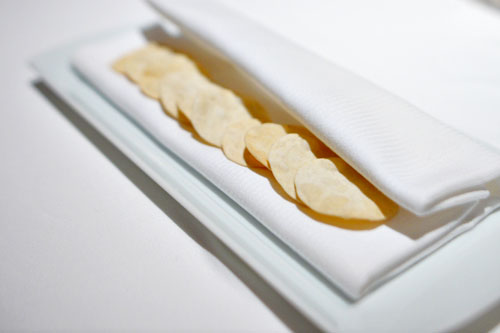 8: Artisan Cheese Course
Fritz Haag - Riesling, Spätlese, Brauneberger Juffer, Mosel, Germany 2006
With our savories dispensed with, it was time for the requisite cheese course, and we enjoyed five varieties. Going from front to back (and mildest to funkiest), we had:
Acapella - A goat's milk cheese from Petaluma's Andante Dairy, this was one of my favorites with its fruity, creamy palate, laced with a bit of lactic tartness.
Ardi Gasna - This was a sheep's milk varietal from the French Pyrenées; think super nutty, dry, firm, and salty.
Cabot Clothbound - From Vermont's Cabot Creamy came a cow's milk cheese that was tangy and sharp, but with an undercurrent of sweetness--another standout.
Largo - Another one from Andante, the Largo's a triple-cream that was as lush and luxurious as you'd expect, with a delightfully earthy, mushroom-y taste.
Fourme d'Ambert - A classic bleu from Auvergne: tangy, salty, rich, funky, and full of flavor.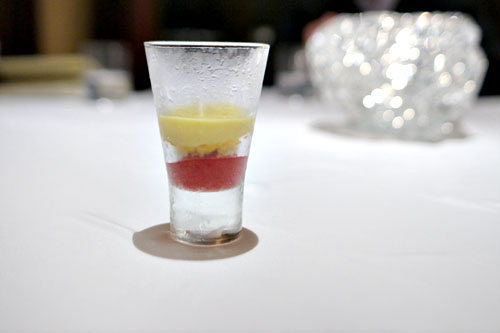 9: Sherbet
| cranberry and orange
Serving as a bit of an intermezzo was this shooter, which balanced the tartness of orange with a deliciously sweet, creamy character. A welcomed change of pace after the heavy courses preceding.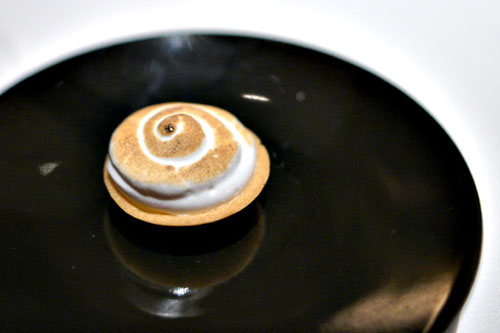 10: Petite Tartelette
| meyer lemon and meringue
A mini Meyer lemon and meringue tart was a fun little treat, blending sour and saccharine in a crisp, flaky crust.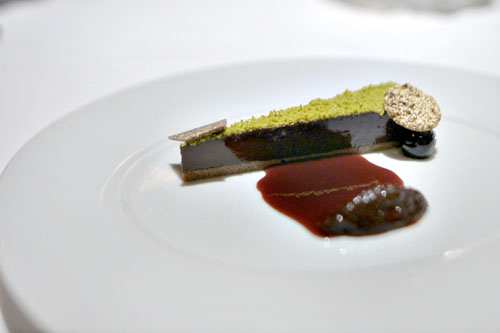 11: Tarte au Chocolat
| cherry and pistachio
Kopke - Colheita Port, Portugal 1997
Our proper dessert course featured a pistachio-crusted flourless chocolate tart, garnished with cherry. The cake itself was suitably dense and chocolate-y, so the key was that cherry, which imparted a fruity, tart balance to the course that really worked out well, especially when taken in concert with the crunchy, slighty savory crispy bits here.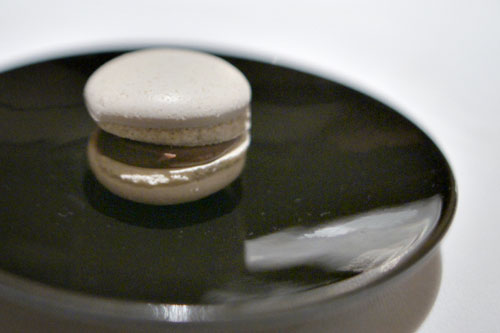 Rounding things out was a Tahitian vanilla and chocolate-raspberry macaron, a fitting finish to the meal that gave us the classic pairing of chocolate and vanilla, with the fruit coming forward just on the back end.
Given its rather sleepy setting, I wasn't expecting all that much from Addison. The food, thus, was really a pleasant surprise for me, with Bradley's creations conveying a sort of unfussy sophistication that I quite liked. It's not terribly cutting edge cooking, but what's on the plate here really does deliver, a worthwhile example of the Cal-French aesthetic that we encounter so often at the high-end. As successful as the cookery was though, I was taken aback by the price, which, at $520pp, made this one of the most expensive meals I've ever had. Regular readers of this blog know that I don't have an issue laying down good money for a meal, but it's baffling to me why this ended up at such an extreme. Just to put things into perspective, the only dinners I've had that were pricier were at
Urasawa
,
Joël Robuchon
,
Guy Savoy
, and
The French Laundry
.