Kitchen 1540 (Del Mar, CA)
Kitchen 1540
1540 Camino Del Mar, Del Mar, CA 92014
858.793.6460
www.kitchen1540.com
Sat 11/13/2010, 06:30p-12:10a
San Diego has been poorly represented here at
kevinEats
. Despite being only a 100-minute drive south, the region just never piqued my interest culinarily, probably because of all the wonderful dining options we have here in LA. My only coverage consisted of a woefully dated post on
Arterra
from
nearly four years ago
.
Steven Molina works as a Sous Chef at
L'Auberge Del Mar
's
Kitchen 1540
, one of San Diego's hottest new restaurants, and he was aiming to change that. It turns out that Molina and Executive Chef
Paul McCabe
are occasional readers of this blog. We started emailing back and forth, and the kitchen eventually set up a special tasting menu for me (Kitchen 1540 doesn't normally do degustations), hence this post.
About the Chef
: Born and raised in Sedona, Arizona, McCabe began his culinary career in 1984 as an apprentice under Michel Blanchet at Jean Bertranou's famed L'Ermitage. For the uninitiated, L'Ermitage, which closed in 1991 after 16 years, was arguably the genesis of French fine dining in LA, and was the proving ground of chefs Josie Le Balch, Michael McCarty,
John Sedlar
, and Roy Yamaguchi. The classical French foundation garnered here allowed the Chef to move home to Arizona and take up a position at L'Auberge de Sedona. He then embraced Southwestern cuisine during his tenure at El Rincon, and also ate his way around Mexico and the Caribbean during this period. Following, McCabe jumped to Hawaii, where he sharpened his prowess in Asian cookery at Kona's Sibu Café.
Then, in 1995, he relocated back to Sedona to take on a Sous Chef role at Enchantment Resort. After working here for three years, the Chef headed back to California to cook as opening Sous Chef at the renovated L'Ermitage Hotel in Beverly Hills. The next year, McCabe was lured back to Enchantment by a Chef de Cuisine position, and later he became Executive Chef of the resort and its destination spa Mii Amo. The Golden State beckoned, however, and in 2001, the Chef once again moved back to California, this time settling permanently. He starting cooking at Top of the Cove in La Jolla in November that year, and moved to San Diego's Star of the Sea in 2002.
He left after a year or so, only to start as Executive Chef at L'Auberge Del Mar's J. Taylor's restaurant in fall 2004. J. Taylor's, however, was getting rather long in the tooth, and finally closed in early 2008 as part of a $4.3 million hotel renovation. A nine-month hiatus gave McCabe time to experiment in his garage (literally), where he augmented his style with more avant garde touches, and even planted a garden in his backyard in order to have access to seasonal produce. He opened Kitchen 1540 on November 7, 2008 with a brand new menu and a completely refreshed outlook. The new restaurant was a drastic change from the staid, tired nature of Taylor's, and instantly became a hit with local diners.




Designed by New York's Andre Kikoski Architect, Kitchen 1540 evokes an airy, beach-y, casual-yet-elegant atmosphere with its soaring white ceilings, open kitchen (which, interestingly, McCabe wasn't crazy about when the place first opened), and wide swaths of light wood. The 97-seat space also features a charcuterie/wine bar, lounge, wine-ensconced private dining room for 12, as well as an expansive outdoor patio replete with private cabanas, fire pit, and water wall.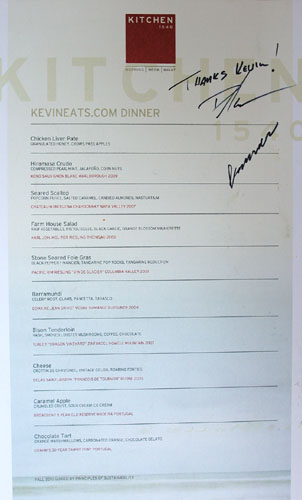 Like many restaurants these days, Kitchen 1540 echoes the mantra of seasonal, sustainable food. McCabe, however, likes to emphasize the "choose your own adventure" aspect of the menu, wherein guests are encouraged to design their own unique freeform "social dining" experience. We, of course, were served a pre-arranged degustation of a dozen or so courses, priced at very reasonable $125 inclusive of beverage pairing. Click for a larger version.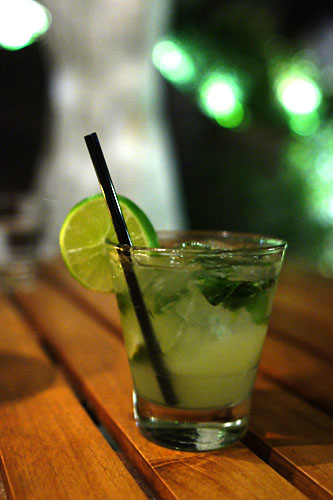 Upon being seated, we were each presented with a complementary mojito, courtesy of lead barman Christopher Simmons. A straightforward, classic preparation, the drink was nicely balanced, with the sweet-sour flavors of sugar and lime leading to a boozy, rum-soaked finish.
Amuse Bouche: Chicken Liver Pate
| GRANUALTED HONEY, CROWS PASS APPLES
We began with a quasi-semisphere of chicken liver pâté perched atop an
Alinea
-designed
pedestal
, coated in granulated honey and topped with a brunoise of apple, all over an apple gelée sheet. It was a promising start, showing off the pure, unadulterated essence of liver balanced by the saccharine sweetness of the honey and fruit. Meanwhile, the gelée and diced apple also provided some textural variation to the bite. Very nice.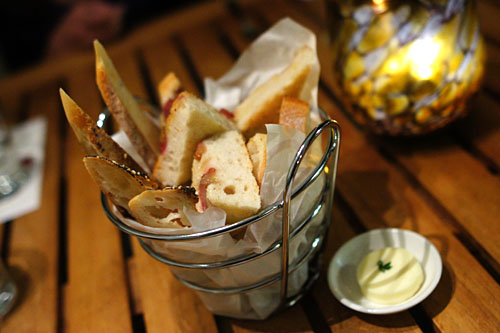 Currently, bread comes from
Bread & Cie
bakery over in Hillcrest. The lone exception is a sweet, herbaceous grape-rosemary-fleur de sel focaccia, which is baked in-house. Butter was a Californian 86% milkfat variety made from the milk of grass-fed cows, served here with thyme.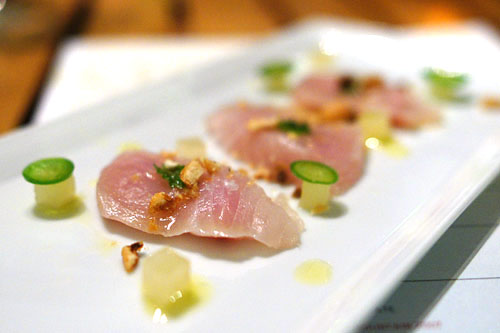 1: Hiramasa Crudo
| COMPRESSED PEAR, MINT, JALAPEÑO, CORN NUTS
Kono Sauvignon Blanc Marlborough 2009
McCabe's signature dish is perhaps his crudo, made tonight with hiramasa, also known as Australian kingfish or yellowtail amberjack. It was a mild, clean tasting fish that served as a superb base for its various accompaniments. I especially enjoyed the sharp saltiness imparted by the corn nuts (I wouldn't have minded more), as well as the lingering heat from the jalapeños. A great mélange of textures and tastes beautifully accompanied by the light, crisp New Zealand sauvignon blanc.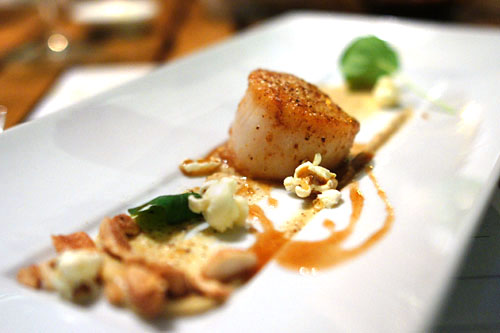 2: Seared Scallop
| POPCORN PUREE, SALTED CARAMEL, CANDIED ALMONDS, NASTURTIUM
Chateau Montelena Chardonnay Napa Valley 2007
Scallop was cooked to a near faultless complexion--tender, yet still a bit creamy. The combination of popcorn purée and salted caramel resulted in flavor profile not unlike that of caramel corn, which definitely heightened the bivalve's natural sweetness. The peppery tang of the nasturtium helped temper the dish, but I would've liked to have seen a more forceful application of it to balance out the sugar.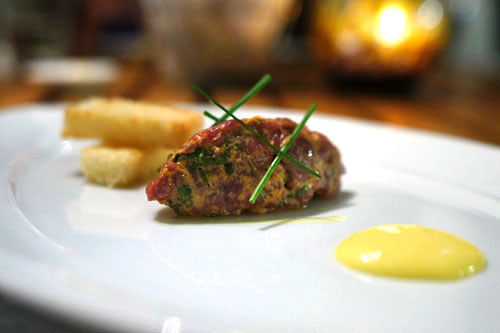 Extra: Bison Tartare
| SMOKED BACON SABAYON, BRIOCHE, CHIVES
At the urging of NBC San Diego reporter
Mari Payton
(whom I attended high school with), I requested the addition of McCabe's bison tartare to the menu. It was a wise decision. The North Dakota bison was blended with a mixture of chipotle, salt & pepper, chive, and lemon oil, all bound together with bacon sabayon (bacon, white wine, egg yolk, and cream). The result was one of the best tartares that I've had in a long time, with deep, rich flavors of bison augmented by the weight of the sabayon, and beautifully balanced by the tang of chive and lemon. Fantastic lingering spice, too.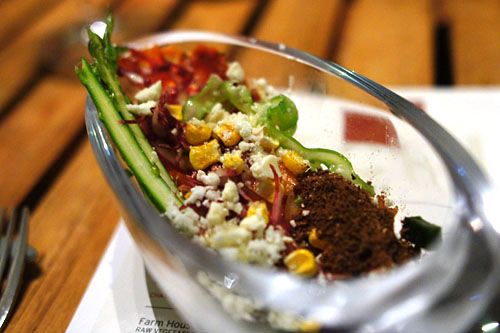 3: Farm House Salad
| RAW VEGETABLES, PISTOU GELEE, BLACK GARLIC, ORANGE BLOSSOM VINAIGRETTE
Karl Joh. Molitor Riesling Rheingau 2008
There was a lot going on here, perhaps too much so in fact: sundried tomato purée, dehydrated goat cheese, olive oil powder, pistou, asparagus, squash, black garlic, freeze-dried corn, vinaigrette, and pumpernickel, among other items. The tomato served as a sweet, tangy base to the salad, and, along with the pistou, nicely complemented the various vegetables at play here, the asparagus especially. A complex, somewhat intellectual exercise in melding together seemingly disparate components into a semi-cohesive whole.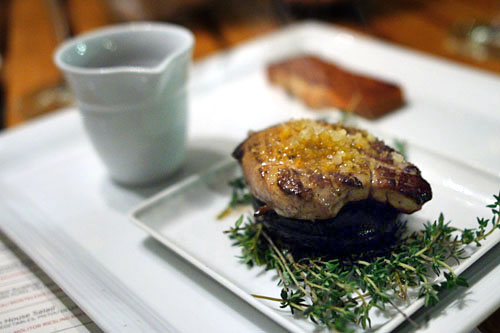 4: Stone Seared Foie Gras
| BLACK PEPPER FINANCIER, TANGERINE POP ROCKS, TANGERINE REDUCTION
Pacific Rim Riesling "Vin de Glacier" Columbia Valley 2007
Apparently, due to pressure from the wonderful folks at
PETA
, Kitchen 1540 was forced to remove foie gras from the menu. It is, from what I've been told, available as a special, off-menu item however. Either way, it was wonderful, probably one of the best preparations of seared foie that I've had. The liver demonstrated an intoxicating pepper- and rosemary-imbued aroma leading to a luxurious, yet restrained showing of foie flavor, augmented by a bit of acidity from the citrus pop rocks. I thoroughly enjoyed the accompanying black pepper financier as well. Superb with the syrupy, ice wine-y Riesling.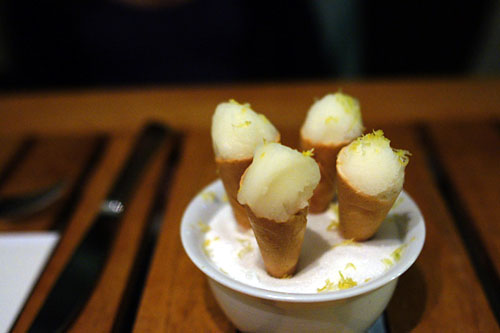 Intermezzo: Meyer Lemon Snow Cone
Serving as a palate cleanser was a granita of meyer lemon, its sourness tempered by the saccharine nature of its cookie cone. Very apropos after the sheer lusciousness of the preceding foie gras.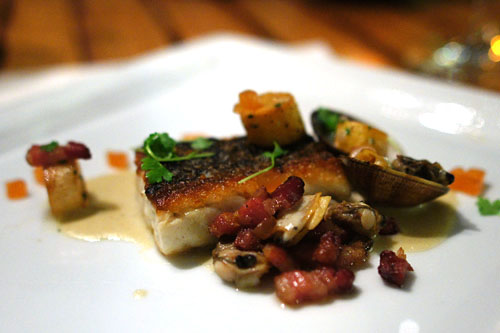 5: Barramundi
| CELERY ROOT, CLAMS, PANCETTA, TABASCO
Domaine Jean Grivot Vosne-Romanee Burgundy 2004
Our next dish was described by our server as a sort of deconstructed clam chowder. The barramundi was somewhat mild in flavor when taken alone, with its inherent brininess nicely augmented by the clams. Meanwhile, the pancetta really added a kick of saltiness that I adored, while the potato cylinders did a great job in grounding the dish. Lovely flavors, I only wish that the skin were a bit crisper, and the flesh a touch flakier.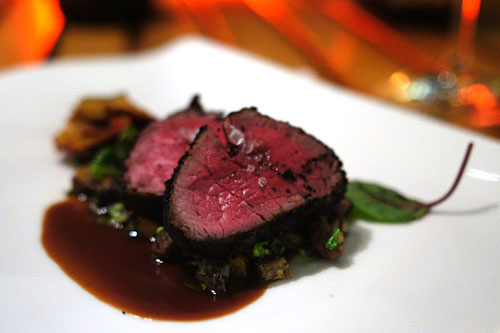 6: Bison Tenderloin
| HASH, SMOKED LOBSTER MUSHROOMS, COFFEE, CHOCOLATE
Turley "Dragon Vineyard" Zinfandel Howell Mountain 2007
Our final savory of the evening brought us a salt-seared, coffee-crusted tenderloin of bison over a vegetable hash composed of potato, butternut squash, and Brussels sprouts, dressed with a chocolate-cabernet reduction. I found the meat surprisingly tender, though somewhat lacking in succulence, with a pleasing, meaty savor accented by the slight astringency of coffee. Very nice with the included hash, and the lobster mushrooms in particular. The paired Turley Zin stood up well to the bison.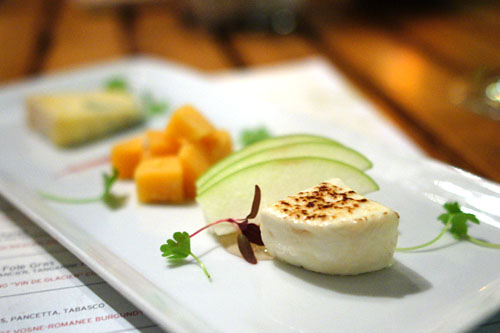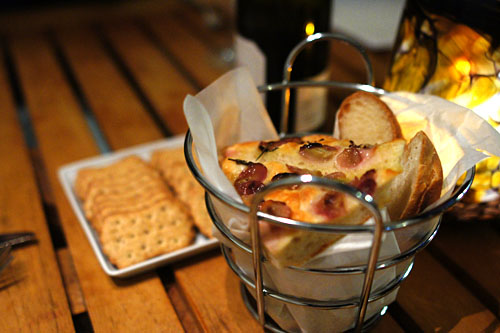 7: Cheese
| CROTTIN DE CHAVIGNOL, VINTAGE GOUDA, ROARING FORTIES
Delas Saint-Joseph "Francois de Tournon" Rhone 2005
Our trio of cheeses, served with bread and crackers:
Crottin de Chavignol - A goat's milk cheese from France's Loire Valley, this was a subtle, creamy cheese with a nice hint of smokiness.
Vintage Gouda - Aged for five years, the gouda showed off characteristic notes of caramel sweetness and nuttiness, along with a hard, slightly crunchy texture.
Roaring Forties - This was a semi-soft cow's milk blue cheese produced near Tasmania, with a surprisingly mild, creamy character that was wonderful with crackers.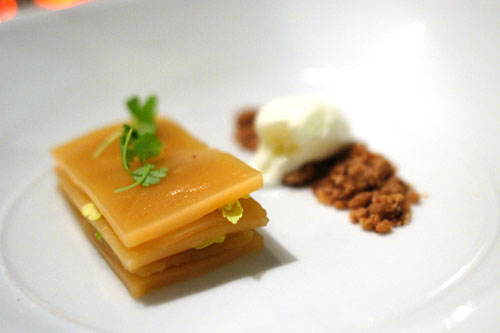 8: Caramel Apple
| CRUMBLED CRUST, SOUR CREAM ICE CREAM
Broadbent 5 Year Old Reserve Madeira Portugal
I don't think that I've had a caramel apple in the past 20 years, but our first dessert was a reimagined version of that childhood treat. Rather than the prototypical "apple on a stick," we were presented flexible sheets of caramel gel, layered with compressed apple, served with prosciutto-laced crumbles and sour cream ice cream. Taken alone, the "Napoleon" had a light, almost vegetal taste to it that was a bit disconcerting. However, when the crumbles and ice cream were added to the fray, everything just came together, with the essence of a caramel apple nicely conveyed.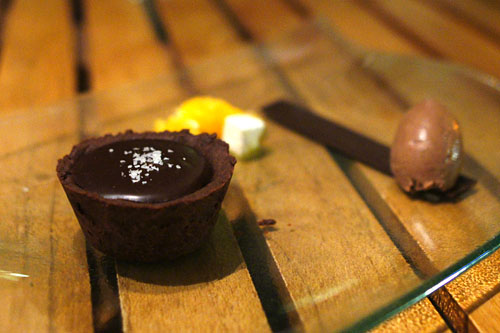 9: Chocolate Tart
| ORANGE MARSHMALLOWS, CARBONATED ORANGE, CHOCOLATE GELATO
Graham's 30 Year Tawny Port Portugal
The chocolate was as expected, with the Maldon sea salt giving the cake a nice savory tinge. The gelato further augmented the tart, but the key was the orange, which contributed a vital tanginess to the dessert that tied everything together.
This was an enjoyable reintroduction to San Diego dining, with McCabe's cooking representing a mix of modern American cuisine with progressive twists, a combination of the classic and the novel. It seems that, over the past few years, the region has really matured in terms of dining, with places like Addison, Market, Nine-Ten, George's, and of course, Kitchen 1540 leading the charge. Perhaps some further excursions down south are in order...