Republique (Los Angeles, CA)
République Restaurant
624 S La Brea Ave, Los Angeles, CA 90036
310.362.6115
www.republiquela.com
Tue 12/03/2013, 08:00p-11:20p

I think it's pretty safe to say that, outside of
Trois Mec
and possibly
Connie & Ted's
or
Hinoki and the Bird
, Republique's probably the most anticipated opening of 2013. Situated in the old
Campanile
spot, the place debuted on November 25th after a couple weeks of soft opening, the work of husband-and-wife team Walter Manzke and Margarita Manzke, as well as partner Bill Chait. It's a restaurant-bakery-cafe concept that's been in the works for over a year (and conceptually, for over five years), and represents Chef Manzke's long-awaited return to the LA dining scene, a sort of manifestation of the bistro-meets-bistronomy slant that he's been considering for some time.
For those of you who haven't been keeping up with Manzke since his departure from
Church & State
in March 2010, he followed up that position with a tenure at the Chicago-based hospitality group Lettuce Entertain You, consulting at LEY's Brasserie Jo, among other ventures. He continued to pop up now and then, cooking at various one-night-only engagements: at
BreadBar
, the
Bocuse d'Or USA Benefit
at
Providence
, two turns at
Test
Kitchen
, and even an
Ibaraki benefit dinner
. Manzke also started consulting at Le Saint Amour in Culver City, staying there for some time before taking the reins at
Milo & Olive
in April 2012. After leaving M&O, he and Marge traveled to the Philippines to open Wildflour Café + Bakery in Manila with Marge's sister Ana de Ocampo (they debuted a second location the following year, with another to come in 2014), then did another run at the new
Test Kitchen
at
Bestia
. Manzke started working on Republique full bore following the closure of Campanile, but also took time out to launch
PettyCash
in the old
Playa
space in May.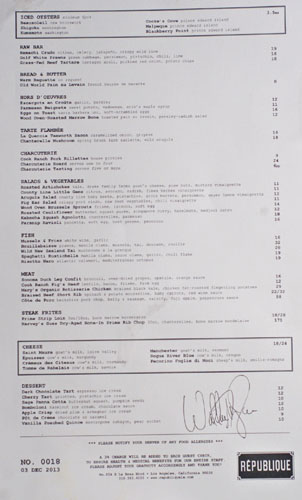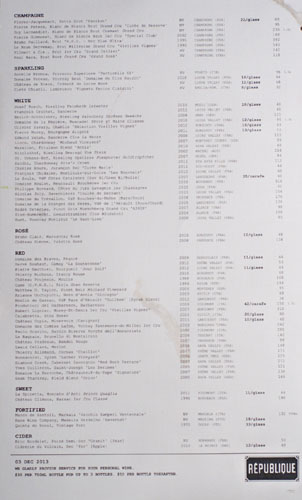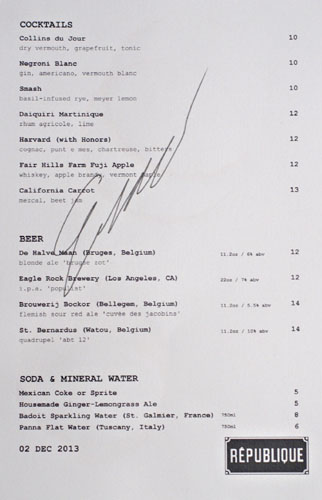 Republique's current menu sort of reads like an updated version of the one he instituted over at
Church & State
back in the day, with a few of the dishes--the tarte flambée, the escargots--being almost straight carryovers. It's bistro fare in essence, but with some of the Chef's own twists thrown in for good measure. To drink, think cocktails by Julian Cox protégé Erik Lund (
MessHall
,
Rivera
), and a fairly extensive francocentric wine list managed by Beverage Director Taylor Parsons (
Mozza
,
Spago
,
Campanile
). Corkage, meanwhile, is set at $30 a bottle. Click for larger versions.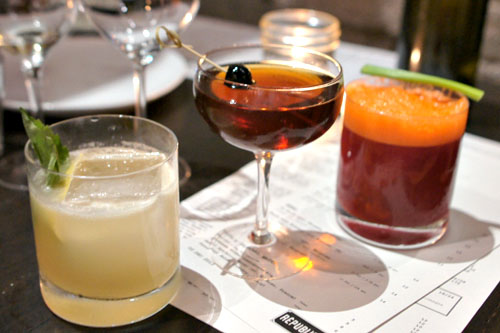 Smash [$10.00]
| basil-infused rye, meyer lemon
Harvard (with Honors) [$12.00]
| cognac, punt e mes, chartreuse, bitters
California Carrot [$13.00]
| mezcal, beet jam
Given that Lund was behind the cocktails, we felt compelled to give each one a go, starting with this trio. The
Smash
was a thoroughly inventive take on the old school family of drinks, a refreshing amalgam of citrus-y and boozy notes beautifully enveloped by the herb-y aromatics of basil. I quite liked the
Harvard (with Honors)
as well, which had an almost Asian-y tint on the nose and a great mix of bittersweet flavors to go along with the heft of the cognac. Last was the
California Carrot
, another winner with its sugary, yet veggie-like qualities that beautifully balanced out the smoky taste of the mezcal--a great back and forth here.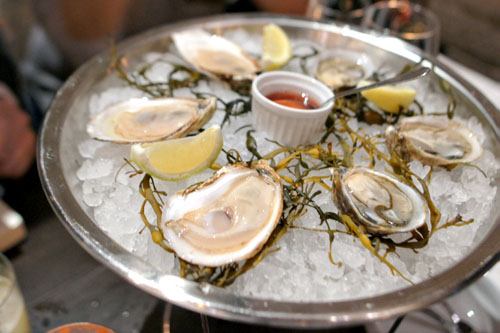 Iced Oysters [$3.50/each]
| Shigoku, washington / Blackberry Point, prince edward island
Huîtres
were a natural way to start, and we chose two of the six varietals on offer tonight. The Blackberry Points were new to me, and quite delicious: plump and satisfying to the bite, with a creamy quality and a subtle, growing salinity--very balanced. The Shigokus, meanwhile, were on point as well, coming out meaty and crisp, with a strong brine from the get go set against an almost fruity sweetness.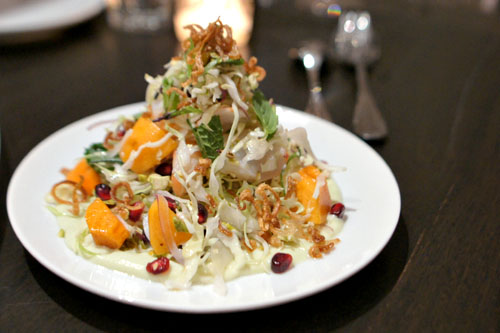 Gulf White Prawns [$16.00]
| green cabbage, persimmon, pistachio, chili, lime
This next dish actually reminded us a bit of the well-known hamachi salad from
LudoBites
, and it was just as good, maybe even better. The prawns themselves were wonderfully rare, ocean-y, and snappy to the bite, a great expression of the sea that perfectly paired with the mélange of disparate textures and tastes going on--a perfect composition of herbaceous, sour, sweet, savory, and acid, all finished with a gorgeous undercurrent of heat.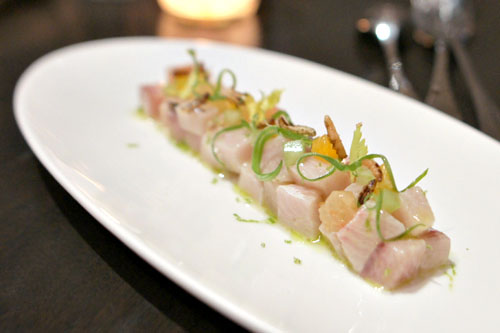 Hamachi Crudo [$19.00]
| citrus, celery, jalapeño, crispy wild rice
The crudo didn't quite have the explosive flavors of the prawns, but was enjoyable nonetheless, the slick, fatty fish tinged with a hit of citrus and the salty savor of those rice crisps, all while the jalapeño contributed just the right amount of creeping spice to the dish.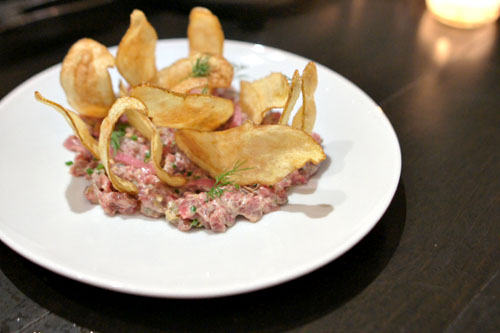 Grass-Fed Beef Tartare [$18.00]
| tarragon aioli, pickled red onion, potato chips
The tartar was another standout, and probably one of the best iterations of the dish I've had. Think classic flavors, but evolved, with the general tartness of the course beautifully accented by the zing of tarragon. I loved the potato chips as well, their crunch and salt forming a great foil to the meat.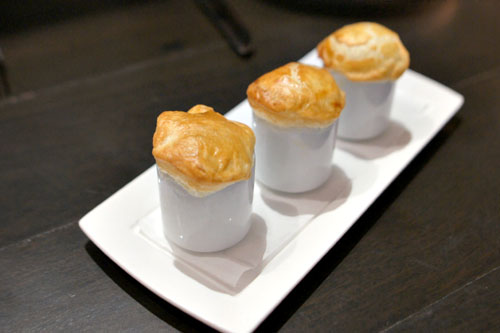 Escargots en Croûte [$12.00]
| garlic, parsley
The escargots represent a sort of throwback to the Chef's days at
Church & State
. The snails were utterly classic in essence: herby, buttery, and oh-so satisfying, with a slight bitterness that worked well with the pastry crust here.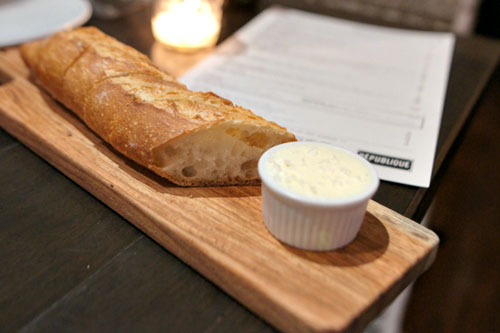 Warm Baguette [$0.00]
| on request
At this point, we requested a loaf of the complementary bread to sop up the remaining liquid from the snails. The baguette was on point, and the butter was delightfully flavorful as well, but I wished that it were a touch softer in consistency.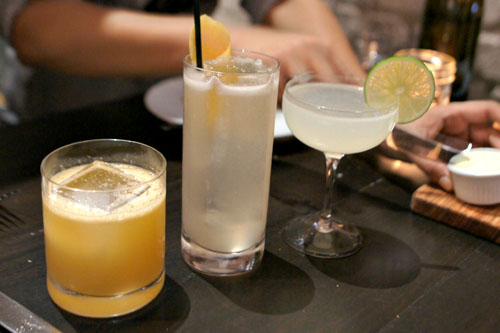 Fair Hills Farms Fuji Apple [$12.00]
| whiskey, apple brandy, vermont maple
Collins du Jour [$10.00]
| dry vermouth, grapefruit, tonic
Daiquiri Martinique [$12.00]
| rhum agricole, lime
Our second troika of cocktails started with the
Fair Hills Farms Fuji Apple
, a lovely concoction that really tasted of the season with its delightful core of sweet spice--delish. The
Collins du Jour
, on the other hand, was much lighter, refreshing even, but still thoroughly enjoyable with is citrus-y, almost aromatic zip. I also liked the
Daiquiri Martinique
, a classic combination of lime and rum that managed to be straightforward, yet genuinely rewarding at the same time.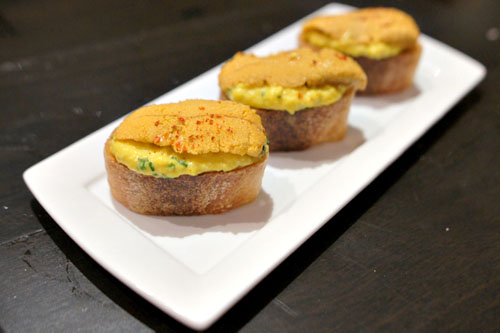 Eggs on Toast [$12.00]
| santa barbara uni, soft-scrambled eggs
The uni was of course a must-try, and did not disappoint with its egg on egg action, the brine of the urchin dutifully paired with the lushness of the scrambled eggs, all while the chive added just the right amount of levity to the mix. The bread, meanwhile, served as an effective base to the dish, though it could've stood to be cut slightly thinner.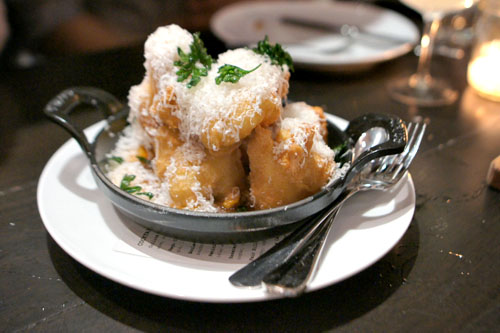 Parmesan Beignets [$11.00]
| sweet potato, vadouvan, erik's maple syrup
Parm beignets were hot and cheesy, fluffy in the middle but with crisp exteriors, just as you'd expect. I quite liked them alone, but I found the accompanying condiment of sweet potato, vadouvan, and maple veering toward overly sugary, which distracted me from the fritters themselves.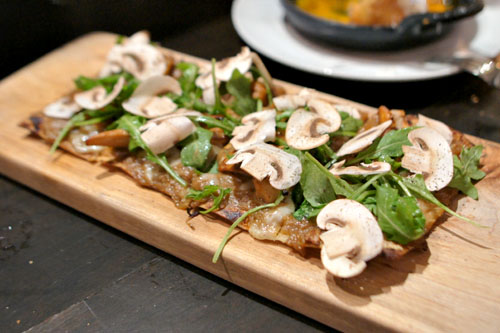 Chanterelle Mushroom [$18.00]
| spring brook farm raclette, wild arugula
We opted for one of two wonderfully crisp, near-paper-thin
tarte flambées
, the other of which was Manzke's bacon-onion version from C&S. The chanterelle-topped incarnation here was quite nice indeed, with a subtle sweetness to pair against the earthiness of those 'shrooms, all with the arugula imparting a well-placed brightness to the mix.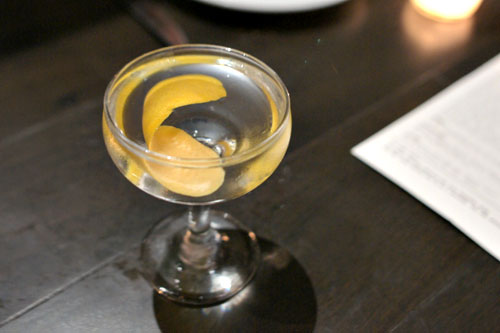 Negroni Blanc [$10.00]
| gin, americano, vermouth blanc
I'm told that Lund's favorite drink is the Negroni, so I can't be surprised that the version here was one of the best I've had. I found it eminently balanced, a masterpiece of boozy, sweet, and bitter flavors beautifully enhanced by just the right amount of citric goodness.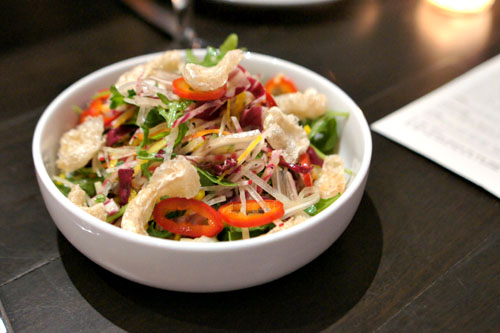 Pig Ear Salad [$11.00]
| crispy pork rinds, raw root vegetables, chili vinaigrette
Manzke's pig ear salad was to my liking as well, the crunchy-yet-gelatinous slivers of mild
oreille
augmented by the overtly pork-y rinds, with the whole shebang smartly evened out by the spicy, acidic nuances in the dish. This was actually much lighter than I thought it'd be.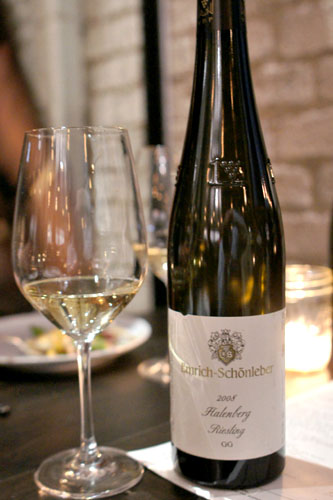 With all the cocktails dispensed with, it was time for Parsons to shine. We told him all the dishes we had remaining, and he came up with the
Emrich-Schönleber, Riesling Halenberg Großes Gewächs, 2008, Nahe, Germany [$115]
to pair. It was a great example of the grape, floral and a touch herby on the nose, but very food-friendly when tasted, with a dry, minerally quality and just enough citrus. This one even convinced a Riesling-hater in our group.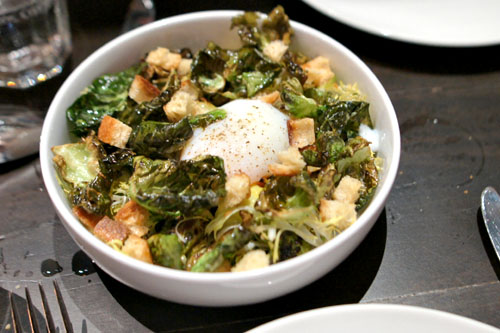 Wood Oven Brussels Sprouts [$14.00]
| frisée, lardons, soft egg
Brussels, roasted and fried, were a must-order for me as well. This was a classic frisée salad in effect, the traditional flavors (lush egg, salty lardons) of the dish augmented by the bitter, roasty qualities of the sprouts.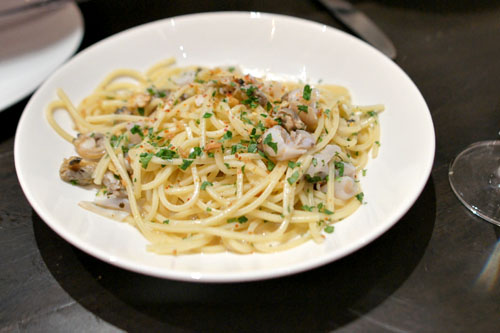 Spaghetti Rustichella [$19.00]
| manila clams, razor clams, garlic, chili flake
Republique's pasta is worth trying as well, as evinced in the spaghetti. The noodles arrived at the right consistency, and were a superb complement to the comforting salinity of the clams here. My favorite part, though, was the chili, which imparted an undertone of heat to the dish that really crept up on you.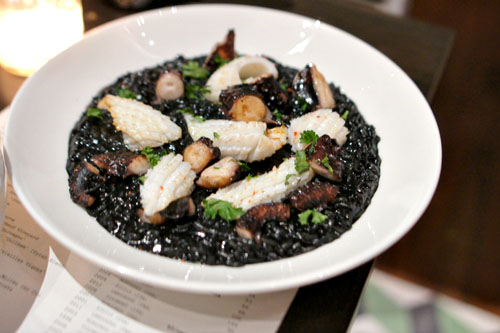 Risotto Nero [$19.00]
| atlantic calamari, mediterranean octopus
Obviously I had to sample the risotto as well, and it didn't let me down either. The rice was pretty much spot on, enhanced by the brine of squid ink and a squeeze of citrus, but the key here was the combination of octopus and calamari. The former gave the dish a meaty, savory quality, while the latter was milder and supple, a great textural counterpoint.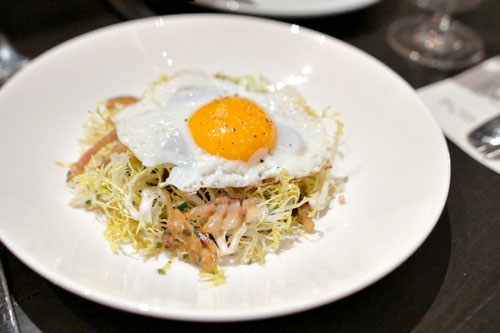 Cook Ranch Pig's Head [$12.00]
| lentils, bacon, frisée, farm egg
Our last savory of the night was the
tête de cochon
, sort of another take on the traditional
salade lyonnaise
. Think unabashedly porky, salty flavors, enveloped by the richness of that runny egg while the frisée served as a moderating base to the meat. What I thought was crucial here was the incorporation of lentils, which lent an earthy weight to things that really rounded out the course well.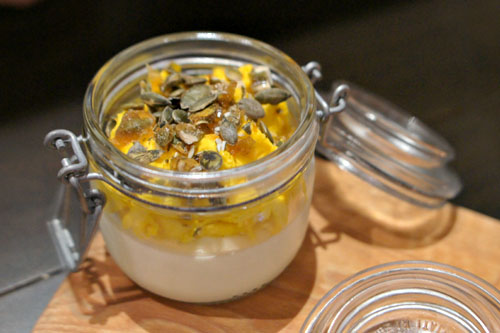 Sage Panna Cotta [$10.00]
| butternut squash, pumpkin seeds
Time for the sugary stuff. The panna cotta was a shining example of the dessert, coming out wonderfully nutty and savory, with the sage contributing a great aromatic component to the dessert. Just some really smart, complex flavors overall.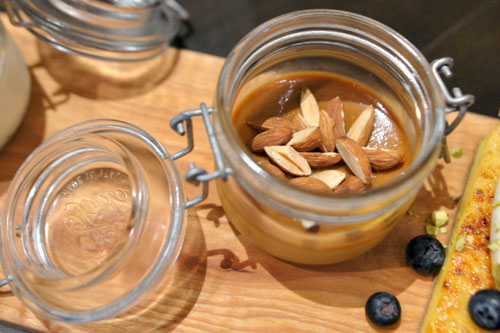 Pôt de Crème [$9.00]
| caramel
Our pot de crème was far more straightforward, but just as satisfying nonetheless--a properly sweet, near-decadent dessert offset by just enough nutty goodness.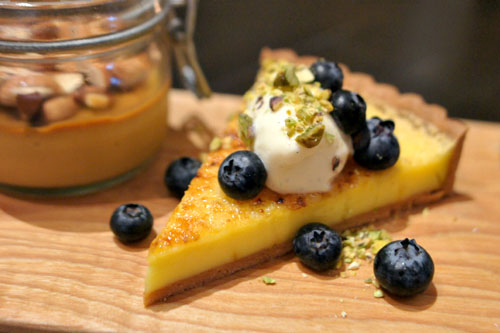 Passion Fruit Tart [$12.00]
| mascarpone sabayon
The special dessert of the evening, a passion fruit tart showed off a light, almost fluffy custard, with its sweet-sour interplay cut by the creaminess of the mascarpone. Lovely crust here, too.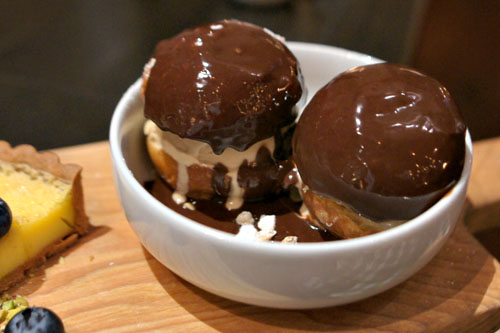 Bomboloni [$12.00]
| hazelnut ice cream, chocolate sauce
We concluded our meal with what sort of amounted to a cross between a profiterole and a doughnut. No matter, they were pretty damn tasty, a combination of chocolate and hazelnut that showed flashes of Ferrero Rocher.
Republique's been in the works for a long time, and I'm glad to see Manzke's vision finally come to fruition. It's like he's taken the energy and some of the food from Church & State, but massaged it into a something a bit more refined, a bit more elegant. The cooking draws from the bistro aesthetic at its core, but the dishes are largely conceptualized and presented in a fashion that's just that much more interesting. Meanwhile, service, coordinated by GM Christian Philippo (
The Bazaar
,
Patina
, Le Louis XV, Paul Bocuse), was spot on, and the beverage program is to be commended as well. The concept really works in the space, but what you should be even more excited about is what's going to happen in the back room early next year, when Manzke busts out some of his more ambitious cooking, in tasting menu format no less--should be good.