2Amys (Washington, DC)
Two Amys Pizzeria
3715 Macomb St NW, Washington, DC 20016
202.885.5700
www.2amyspizza.com
Tue 06/10/2014, 07:30p-09:15p

On my recent DC trip, I made it a point to include a meal at the District's most iconic pizza joint. The history of 2Amys starts with Peter Pastan, the chef/owner of Dupont Circle's longstanding Italian eatery Obelisk, which he opened back in 1987. Given the success of Obelisk, Pastan partnered with Ruth Gresser and launched Pizzeria Paradiso next door in 1991. The place was a huge hit, and remained the City's benchmark for pizza for almost a decade.
Pastan ended up selling his share in Paradiso in 2001, and teamed with Obelisk sous Tim Giamette to debut 2Amys that same year. The Cleveland Park restaurant was named after the duo's wives (Amy Pastan and Amy Morgan), and set itself apart by achieving D.O.C. (Denominazione di Origine Controllata) certification from the Associazione Vera Pizza Napoletana, which meant that the place was turning out legit, O.G. Neapolitan pizzas. It quickly became the new standard. Giamette ended up leaving 2Amys in 2006, and passed away in 2009, leaving Morgan as a partner in the business, but the restaurant has been chugging along ever since, serving up the City's most sought after pies.


Inside, things are light and bright, with lots of wood. It's nothing too distinctive, but seems like the right type of vibe for the food.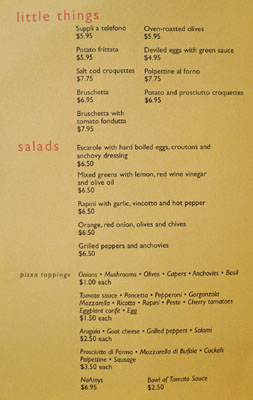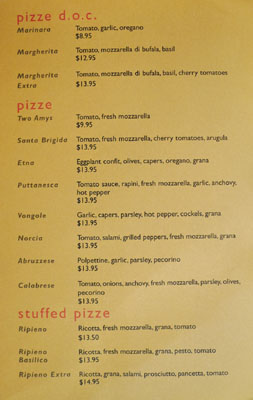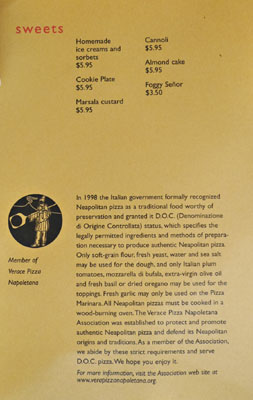 As for 2Amys' menu, the pizzas are the stars here, with the three D.O.C.-allowed varieties joined by the restaurant's own unique creations. Stuffed
pizze ripiene
(calzones, basically) are also on offer, as are a smattering of salads and an appealing array of antipasti-like small plates. Be sure to check out the specials as well. Click for larger versions.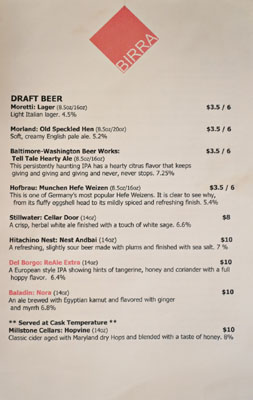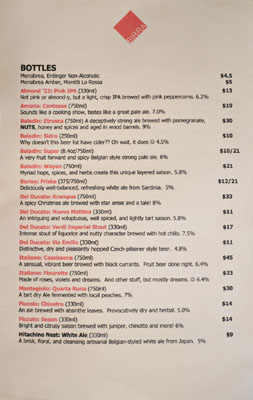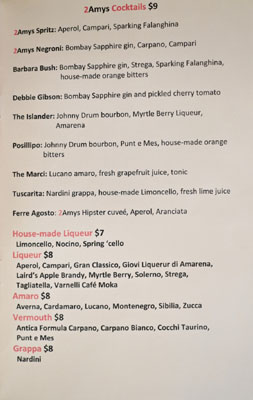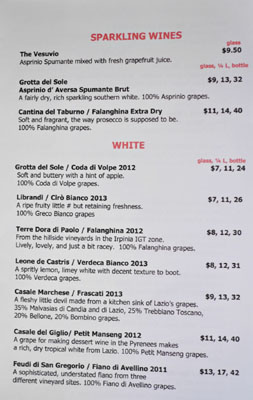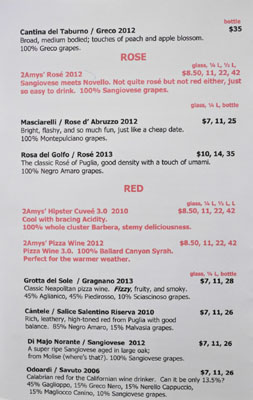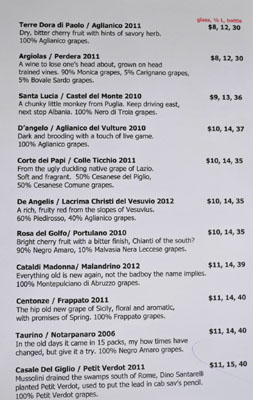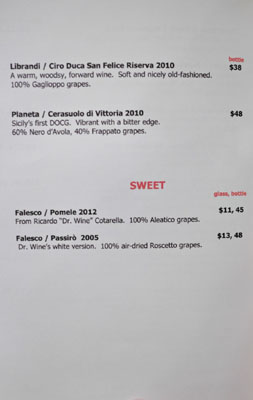 To drink, you get a decently-sized, reasonably-priced, Italian-centric wine list, Italian-leaning cocktails, and some interesting Italian beers that you don't see very often at all. Click for larger versions.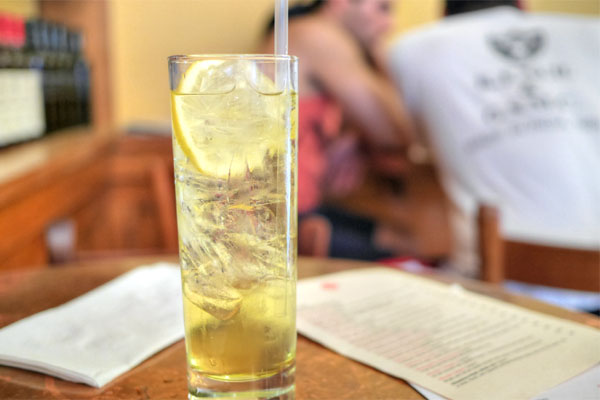 Barbara Bush [$9.00]
| Bombay Sapphire gin, Strega, Sparkling Falanghina, house-made orange bitters
Speaking of those cocktails, I started out with the curiously-named
Barbara Bush
, a refreshing, bubbly concoction filled with bittersweet, medicinal notes over a backbone of gin aromatics.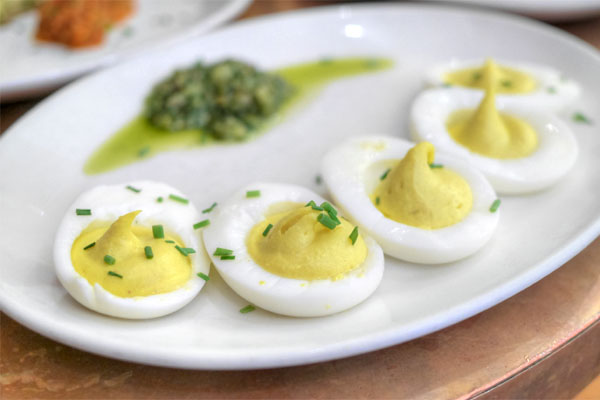 Deviled eggs with green sauce [$4.95]
Being the deviled egg fiend that I am, these were a must try, a classic, delectable interpretation of the dish tarted up by the inclusion of that piquant caper- and garlic-laced parsley pesto, which managed to accent, but not overwhelm the lushness of the eggs.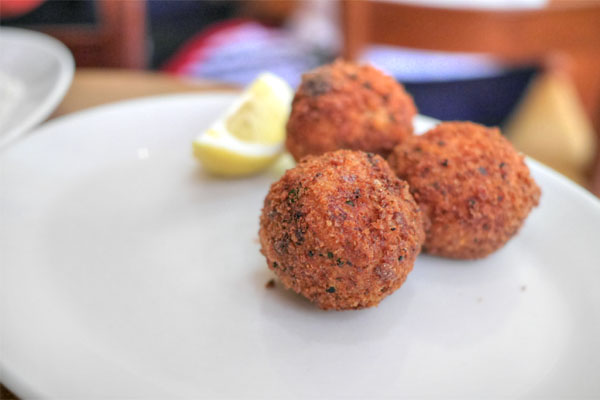 Salt cod croquettes [$7.75]
The
baccalà
, meanwhile, was utterly delightful, a spot on presentation of the fish's salty, yet elegant qualities in a wonderfully crisp package. Perhaps even better with a squirt of lemon.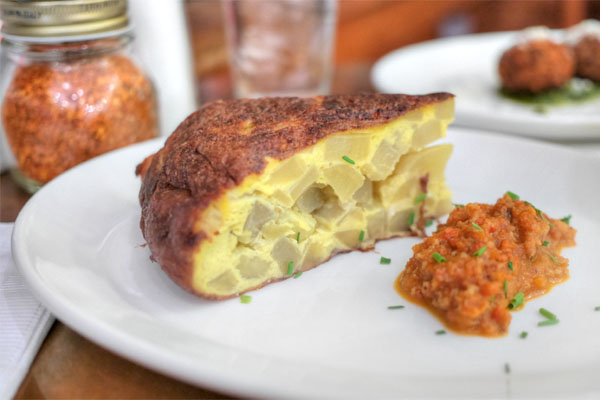 Potato frittata [$5.95]
The frittata was akin to a
tortilla española
, a tasty, hearty mass of well-textured potato, tied together by a web of egg. The accompanying sauce (which tasted of tomato and red pepper) wasn't even strictly necessary for me.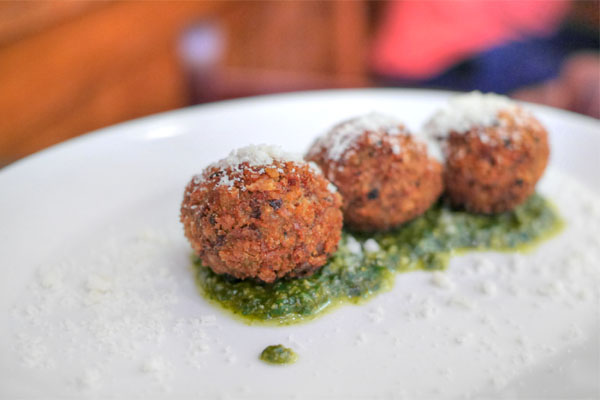 Polpette di bollito [$8.45]
Here, I had
polpette
of long-cooked brisket, the beef's tender, bovine character matched by the crispness of the meatballs' exteriors, the accompanying pesto-like sauce imparting a hit of zestiness to the mix.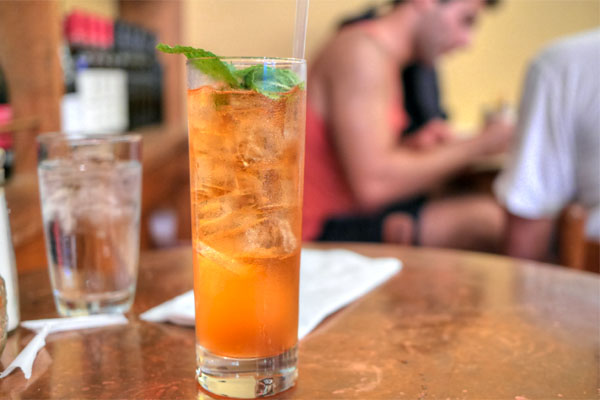 Spring Spritz [$9.00]
| homemade strawberry gin, Sparkling Falanghina, homemade mint-rhubarb syrup, rhubarb bitters
Keeping with the light, refreshing theme, my next cocktail was the
Spring Spritz
, a laudable take on the traditional drink with a delicious interplay of sweet strawberry and rhubarb flavors underscored by a vinous touch.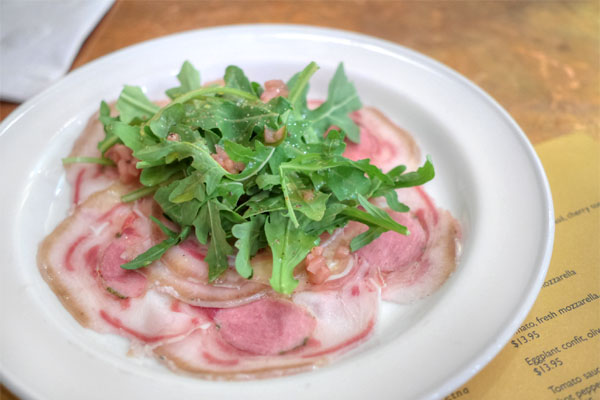 Porchetta di testa [$6.00]
My final app was a sort of rolled head cheese. Sliced super thin, the porchetta was a delight texturally, and was just teeming with loads of porky, peppery goodness, the arugula providing a counterbalancing zestiness to offset it all.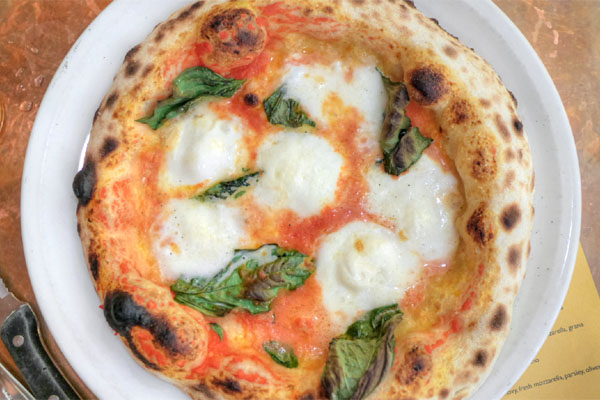 Margherita [$12.95]
| Tomato, mozzarella di bufala, basil
And now, on to the pizza. Naturally, I had to start with the basic margherita variation, which--like all the other pies here--is baked in 2Amys' 600-degree wood-burning oven. It was a classic pie by all accounts, the sauce of San Marzano tomato adding a bit of zip to the combination of creamy buffalo mozz and fragrant basil. The crust, meanwhile, was properly leopard-spotted and charred, quite flimsy in the middle, but featuring substantial edges that were fluffy and chewy, with a bit of crispness to boot.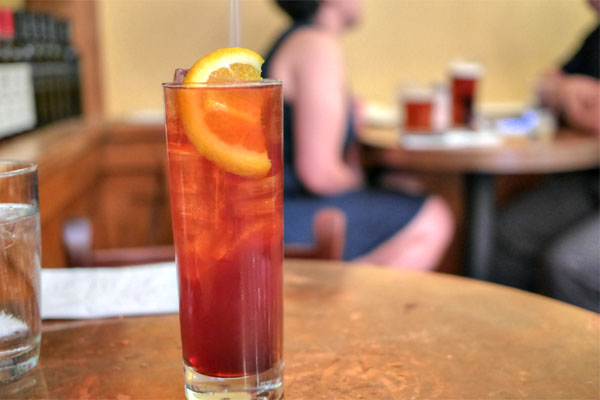 Black Cherry Soda [$9.00]
| homemade cherry vodka, Aperol, soda
For my final cocktail, I went with the
Black Cherry Soda
, which uses housemade cherry vodka crafted by 2Amys' longtime manager Debbie Johnson. It was delicious, and quite something, tasting not quite of cherry, but of Chinese
suan mei
with its tart, sour, slightly astringent nuances.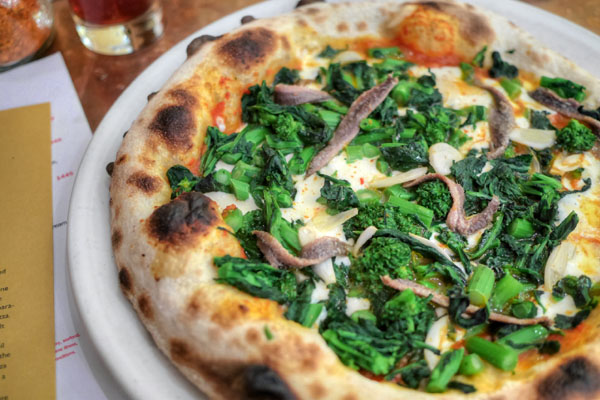 Puttanesca [$13.95]
| Tomato sauce, rapini, fresh mozzarella, garlic, anchovy, hot pepper
I had to give 2Amys' more non-traditional pies a go as well, and this one, done
alla puttanesca
, was certainly a winner. The key here was the balance between the bitter broccoli raab and fishy anchovy, all over a base of lush mozzarella, the pepper adding a subtle undercurrent of heat to the fray.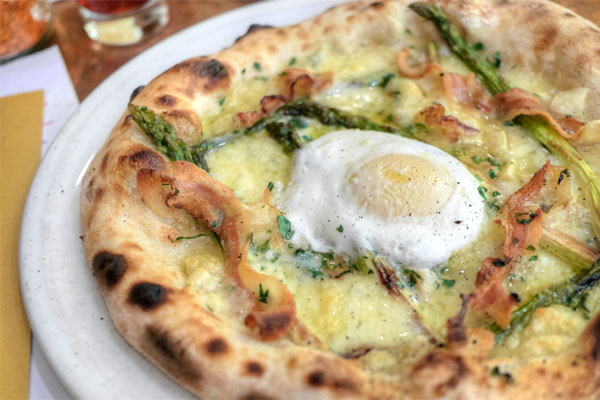 Roasted asparagus, fontina, guanciale, egg and parsley [$14.45]
Finally, I made a point to try one of the special pizzas of the day, and it did not let me down one bit, with the salty guanciale well played against the astringency of charred asparagus, the runny egg adding a palpable bit of luxuriousness to the pie. Yum.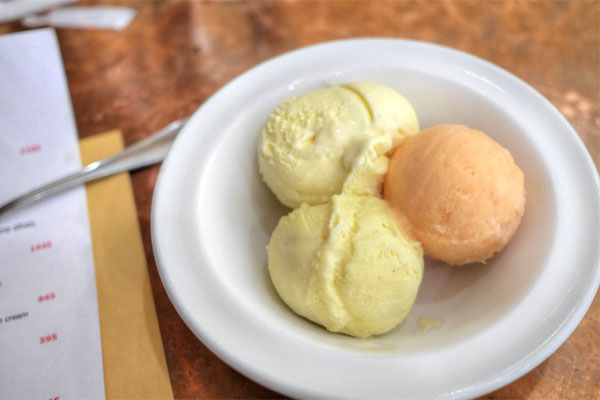 Homemade ice creams and sorbets [$5.95]
I closed with a trio of 2Amys' housemade ice creams and sorbets. The vanilla was a quintessential presentation of the flavor, while the snickerdoodle ice cream satisfied in its own way with its beautiful tinge of cinnamon. The orange-Campari sorbet, on the other hand, was almost bracing, with a citrus-y taste taken up a notch by the bitter smack of the liqueur.
Having little to no experience with the DC pizza scene, I'm not quite qualified to say that 2Amys serves up the best pies in the District, though the popular consensus seems to say that it does. That being said, I did enjoy my meal here. The pizzas were commendable to be sure, a good showing for the Neapolitan style, but the various small plates were totally on point as well. I can certainly see why this place is so popular.