Doi Moi (Washington, DC)
Doi Moi Restaurant
1800 14th Street NW, Washington, DC 20009
202.733.5131
www.doimoidc.com
Sun 06/08/2014, 05:35p-07:05p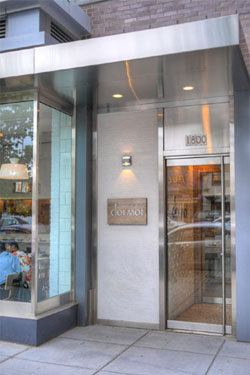 To follow up two Italian dinners at
Aggio
and
Fiola
, I paid a visit to Doi Moi ("renovation" in Vietnamese, more or less), one of the latest debuts on 14th Street's restaurant row. It's the third collaboration between restaurateur Mark Kuller and Chef Haidar Karoum (after Proof and Estadio), a Southeast Asian-inspired place that pays homage to the cooking of Thailand and Vietnam.
About the Chef
: Karoum is a northern Virginia native, and grew up with a keen interest in food after traveling throughout Europe with his family. After high school, he attended the Culinary Institute of America at Hyde Park, externing at Michel Richard's vaunted
Citronelle
prior to graduating in 1995. He then took a position on the line at Gerard's Place in DC, but later returned to the CIA to attain a bachelor's degree in culinary management. In 1998, he took on a sous chef role at Nora Pouillon's longstanding Restaurant Nora in Washington, eventually rising to the rank of Chef de Cuisine. Pouillon then tapped Karoum to take over the kitchen at sister restaurant Asia Nora in 2000, which is where the Chef got his first taste of Asian cookery. He would stay there until January 2007, when he left to start work on the wine-centric New American concept Proof with partner Mark Kuller, a prominent tax attorney and bon vivant.
Proof was a hit, and in 2009, Karoum was deemed a semifinalist for James Beard's "Best Chef: Mid-Atlantic" award. The success of the restaurant allowed the duo to debut Estadio, a Spanish eatery, in July 2010. More accolades soon followed, and Estadio was given a nod from Beard as a semifinalist in their "Best New Restaurant" category. Not content with just a pair of restaurants, the two started work on a Southeast Asia-focused joint, and even undertook an eating tour of the region in August 2012, logging over 100 meals in Thailand and Vietnam in three week's time (they'd hit up places in
Los Angeles
,
San Francisco
, and
Portland
as well a year earlier). Doi Moi, thus, bowed in August 2013, and once again, Mr. Beard came knocking, naming Karoum a semi-finalist for "Best Chef: Mid-Atlantic" earlier this year.

Interestingly, the 5,0000 square-foot, 135-seat restaurant spans two buildings--one old (the area with the glass facade and the 16-seater bar, pictured above), one new--and the entire space was penned by
Griz Dwight
, who also did Proof and Estadio. There's also a basement, which houses related cocktail bar 2 Birds 1 Stone.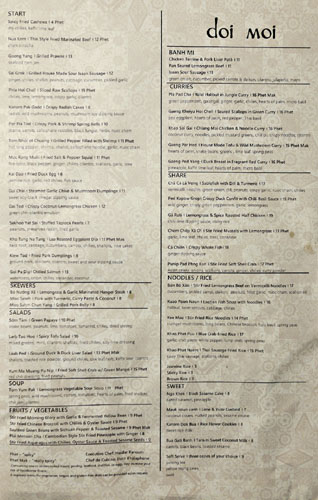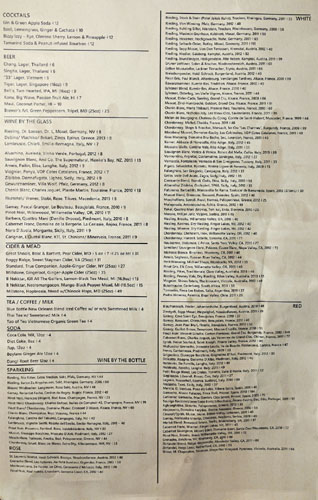 Doi Moi's menu features an array of small plates from both Vietnam and Thailand, but the current selection clearly leans toward the latter, Northern and Isan styles in particular (though the original vision was actually supposed to be more Viet-heavy). Meanwhile, Kuller son's Max serves as Wine Director here, and has put together a surprisingly lengthy list of eclectic varietals to go with the food. Cocktails, of course, are a big deal as well, and Bar Director Adam Bernbach has a nice array of Southeast Asian-inspired creations on offer, along with a handful of beers, too. Click for larger versions.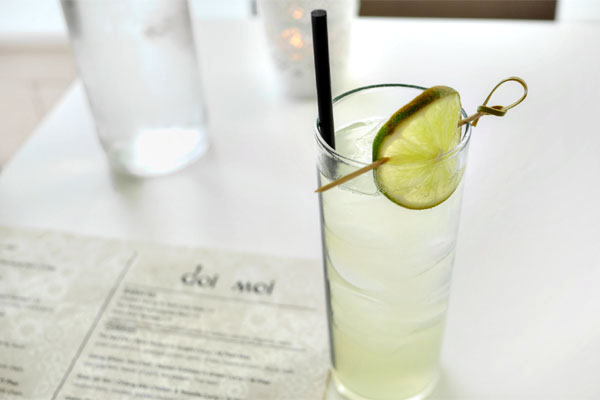 Gin & Green Apple Soda [$12.00]
For my first cocktail, I wanted something super refreshing, and this fit the bill nicely, with the sweet-tart nature of the apple hitting me first, backed up by the herby, aromatic qualities of the gin, the whole commixture suitably effervescent.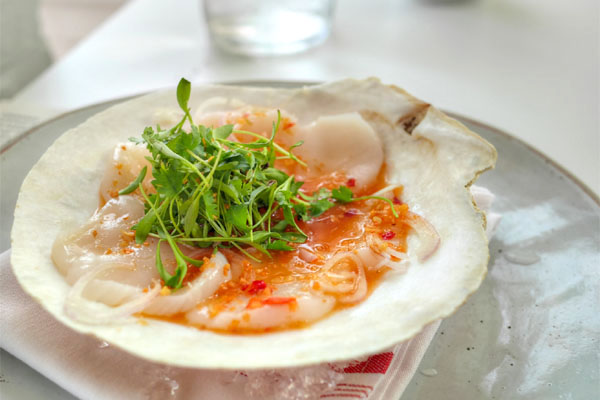 Phla Hoi Chell / Sliced Raw Scallops [$15.00]
| chilies, lime, lemongrass, crispy garlic, cilantro
My meal started off with a bang thanks to these scallops and their clean, subtle flavors, which were complemented, yet not dominated by the sour-spicy-funky accoutrements present. Very nice, with a sharp, lingering heat.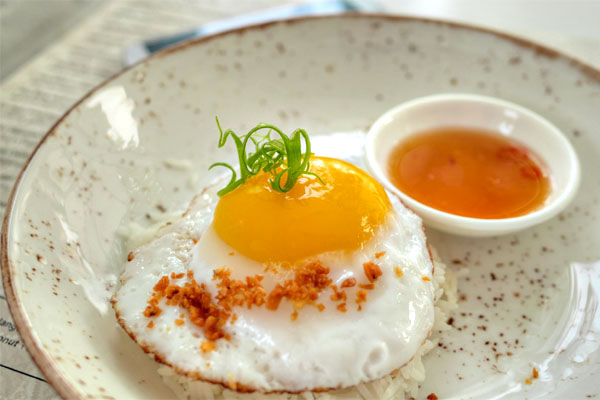 Kai Dao / Fried Duck Egg [$6.00]
| jasmine rice, garlic, red chilies, fish sauce
A singular duck egg arrived wonderfully runny, its lushness coating the rice admirably. The key here, though, was that fish sauce, which imparted a tart, earthy quality to the dish that really evened out the richness of the yolk. Quite tasty when all mixed together.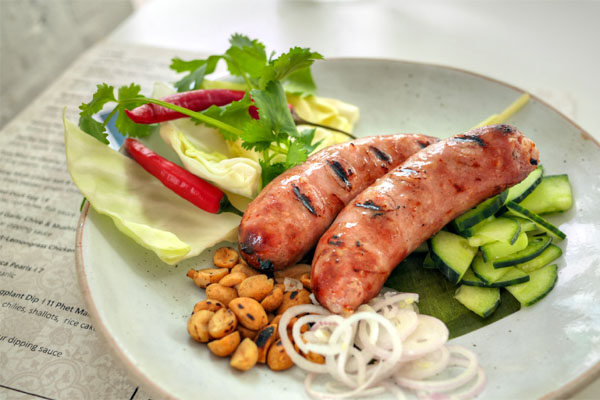 Sai Grok / Grilled House Made Sour Isaan Sausage [$12.00]
| ginger, chilies, shallot, peanuts, cabbage, cucumber, pickled garlic
Sai krok isaan
was restrained in its sourness, with a great counterbalancing char character. Taken with its various accompaniments, the sausage made for a gorgeous mix of contrasting flavors and disparate textures that really satisfied.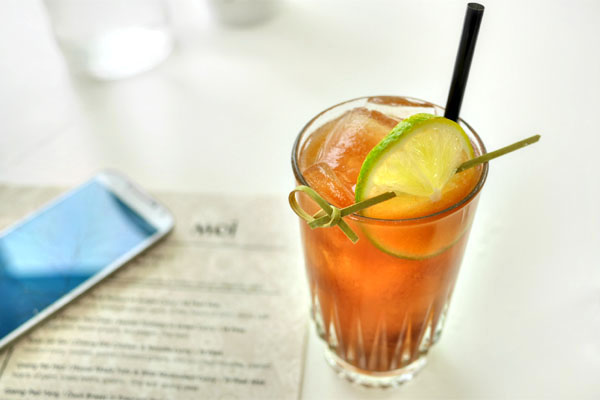 Tamarind Soda & Peanut-infused Bourbon [$12.00]
Next up was perhaps Doi Moi's most well-known cocktail, and it didn't let me down. I loved the sweetness and spice of the tamarind here, and how that played with the restrained notes of peanut and booze, making for a super balanced drink overall.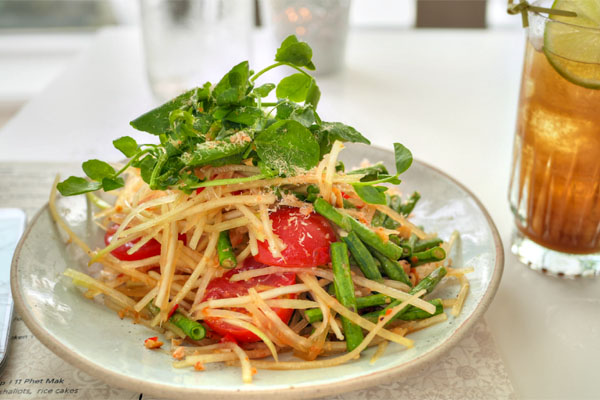 Som Tam / Green Papaya [$10.00]
| snake beans, peanuts, lime, tomatoes, tamarind, chilies, dried shrimp
The classic
som tam
was well represented here, a crunchy, bright course tied together by the tang of tamarind as well as a creeping bit of heat that built slowly on the palate.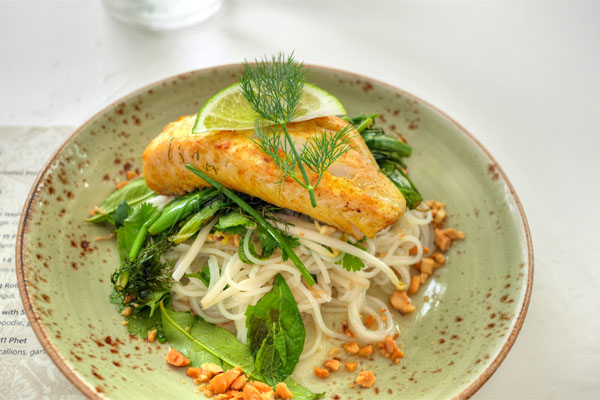 Cha Ca La Vong / Sablefish will Dill & Turmeric [$17.00]
| vermicelli noodles, green onion, dill, peanuts, crispy garlic, nuoc cham, chilies
My main was a take on the signature dish of Hanoi's La Vong Restaurant, which I'd first encountered not long ago at Portland's
Pok Pok
. The sablefish came deftly prepared, with its fatty, flaky flesh duly accented by the piquancy of turmeric, though I would've liked more char savor on the fish. Balancing things out was the bright, minty zip of the greenery present, while the vermicelli grounded all the flavors. Lovely crunch from the peanuts as well.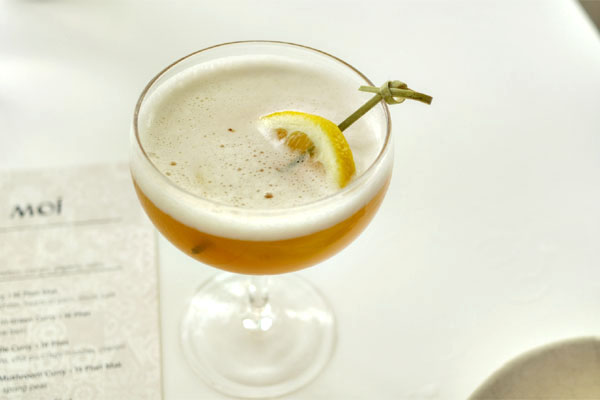 Bizzy Izzy - Rye, Oloroso Sherry, Lemon & Pineapple [$12.00]
My last drink satisfied as well, with its great combo of fruity pineapple and nutty sherry making for a fitting counterpoint to the whiskey, the lemon adding a sour exclamation point to it all.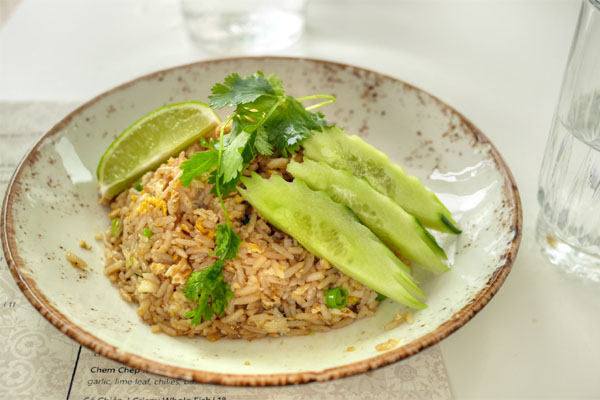 Khao Phat Puu / Blue Crab Fried Rice [$17.00]
| garlic, crab paste, white pepper, lump crab, spring peas
The evening's final savory was Doi Moi's take on crab fried rice. The essence of the crustacean was forcefully presented here, its sweet, saline flavors on proud display, tempered only slightly by the other elements in play. Very tasty, though I just wish that the grains of rice were firmer.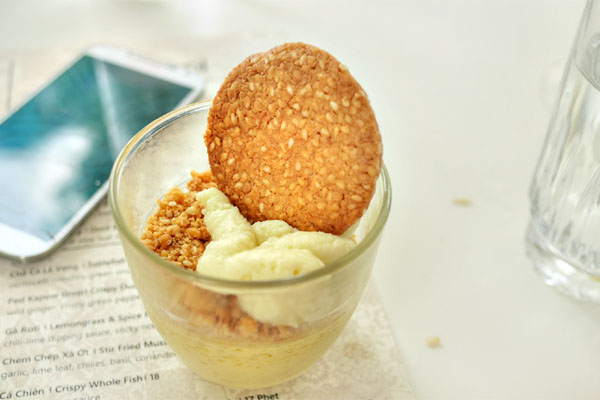 Mauk Noun Vanh / Lime & Yuzu Custard [$7.00]
| coconut cream, malted peanuts, sesame cookie
I ended with a delightful little dessert, one with a base of tangy custard that melded superbly with the sweetness of coconut, all while the combination of peanuts and sesame cookie gave up a great mix of nutty, crunchy nuances that rounded out the custard perfectly.
I was quite satisfied with my meal here at Doi Moi, and the place really seems like a great addition to the District's dining scene. Though I'm still a bit wary of having both Thai and Vietnamese cooking under one roof, the food really managed to work things out for the most part. The plates may not be totally "authentic" (and I don't really like that word), but the core, the quintessence of the cuisine is certainly here--you can taste it, and it tastes pretty damn good.