Fiola (Washington, DC)
Fiola Restaurant
601 Pennsylvania Ave NW, Washington, DC 20004
202.628.2888
www.fioladc.com
Fri 06/06/2014, 06:10p-08:05p

I followed up my meal at
Aggio
with another Italian dinner, this time at Penn Quarter's Fiola, a modern upscale trattoria concept from Chef Fabio Trabocchi that's quickly become one of the top spots for Italian in the City. It's a place that I'd been curious about for over a year now, so I wanted to make it out this go around, since it'll probably be the last time I visit DC for a while.
About the Chef
: A native of the Marche region of Italy, Fabio Trabocchi was born in the town of Osimo in 1974. He grew up near the Adriatic in a food-centric family, his father tending to a farm and instilling in his son a strong appreciation for cooking. The younger Trabocchi was already quite competent in the kitchen by the time he turned eight, and by fourteen, had started culinary school at the Instituto Alberghiero Panzini in Senigallia. During his tenure there, he
staged
at Riccione's Grand Hotel des Bains, then apprenticed at the Michelin three-star Ristorante Gualtiero Marchesi in Milan when he was 16. After graduating in 1991, Trabocchi made his way to Ristorante Ja Navalge in Moena, becoming sous at the one-star Michelin restaurant. Then, in 1994, he was named Chef de Cuisine at the Byblos Club in Rimini, and later went on to open an Italian supper club in Moscow. Following, Trabocchi made his way Stateside, landing in DC, where he was head chef at Bice Ristorante. He later moved to the south of Spain, opening another outpost of Bice in the Puente Romano Hotel in Marbella. From Spain, the Chef went to London to help launch Grissini at the Park Hyatt, then transitioned to Floriana, where he won "Best Young Chef" in the 1999 Carlton London Restaurant Awards.
The next year, he was tapped by the Ritz-Carlton to conceptualize Maestro, a high-end Italian eatery at the chain's Tyson's Corner location. It debuted in 2001, and easily became one of the top restaurants in the area, scoring multiple four-star reviews from local publications. In addition, Trabocchi was named one of "America's Best New Chefs" by
Food & Wine
in 2002, and received James Beard nods for "Rising Star Chef" in both 2003 and 2004. 2005, meanwhile, saw a Beard nomination for "Best Chef: Mid-Atlantic," as did 2006, when he finally won. Trabocchi also released his cookbook that year--
Cucina of Le Marche: A Chef's Treasury of Recipes from Italy's Last Culinary Frontier
--but would leave the restaurant by August 2007. His destination was New York, and he ended up partnering with Steve Hanson's BR Guest Hospitality to take over the kitchen at Fiamma Osteria, where Michael White got his start. Trabocchi's tenure there was largely successful, earning the restaurant a Michelin star in 2009, but the Chef departed that same year, landing at NYC's Four Seasons. However, his stint there only lasted three months, and he was out by early January the next year. He then started consulting for Villa Pacri, but moved back to DC at the start of 2011.
Fiola, the Chef's first solo project, thus debuted in April that year with Miles Vaden as EC (since replaced by Justus Frank), Jason Gehring on pastry, and Adrian Reynolds (ex-
Mozza
) serving as Wine Director. Despite a couple middling reviews at the start, the restaurant was warmly received by the District's denizens, and was quickly deemed one of the country's "Best New Restaurants" by John Mariani in
Esquire
. This was followed up in March 2012 by semi-finalist status in James Beard's "Best New Restaurant" prize, and in August, a nod from
Bon Appétit
as one of the magazine's top 50 new restaurants. The success of Fiola got Trabocchi thinking of expanding, and in October that year, he revealed plans for the seafood-centric Fiola Mare, which was quickly followed by the announcement of Casa Luca (named after his son) in January 2013. A family-friendly, casual osteria type place, Luca debuted that July with Erin Clarke at the reins, and was soon named one of the "Best Restaurants in America" by
GQ
. Georgetown's Fiola Mare, meanwhile, bowed in February this year, and is headed by Blue Duck Tavern and
Vidalia
alum John Melfi.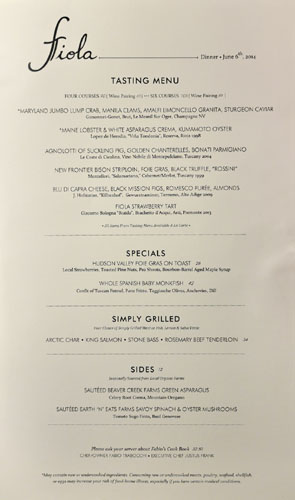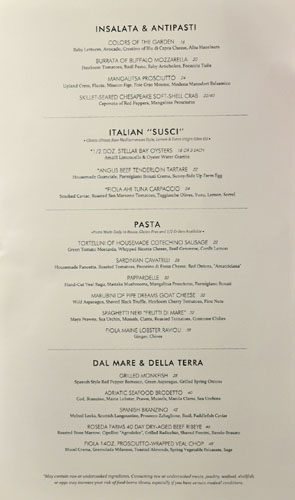 As for Fiola's menu, there are a lot of ways to dine here (too many, probably), but I focused my attention on the standard dinner selection, which gives you the option of various à la carte choices, as well as tasting menus of both four and six courses. I went with the sixer naturally, priced at $105pp (with an optional wine pairing at $85). In addition, you'll find worthwhile cocktails, and a commendable selections of wine, mostly Italian naturally. Unfortunately, corkage is rather hefty at $50, with a maximum of two bottles, and is unavailable on Fridays and Saturdays. Click for larger versions.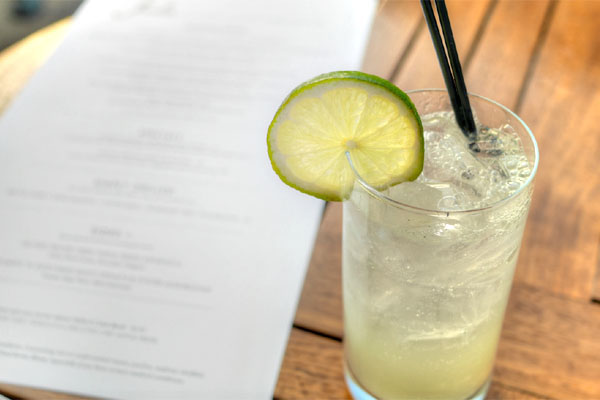 Fiola [$14.00]
| Sobieski Vodka, Lavender, Vanilla, Lime, Club Soda
I went with cocktails this evening, and started with Fiola's signature concoction. It was a refreshing way to kick things off, a fitting accompaniment to DC's summer-y weather with its lighthearted mix of sweet vanilla and floral lavender flavors, all perked up by a hit of tangy lime while the club soda imparted an effervescence to it all.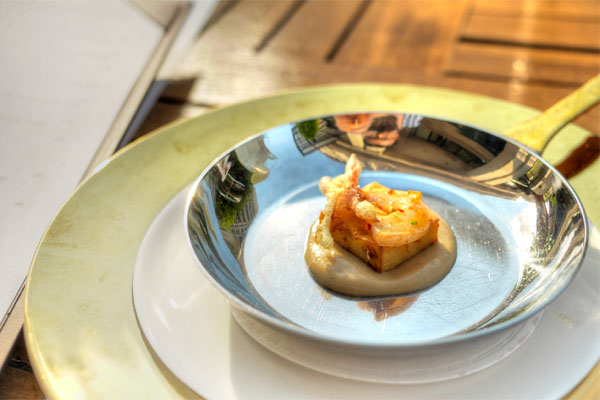 My first amuse was a chickpea fritter, atop porcini cream and finished with clam, a fun start to the meal with the nutty taste of the garbanzo nicely paired with the earthy mushroom, the clam adding a touch of piquancy as well as a textural counterpoint to the dish.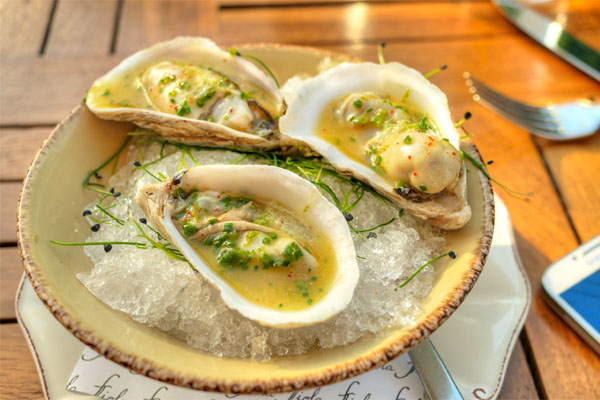 The next, much more substantial gift from the kitchen brought out a troika of Stellar Bay oysters, large, plump, meaty bites with a clean, mild brine that worked swimmingly alongside accoutrements of limoncello, EVOO, and espelette. Tasty.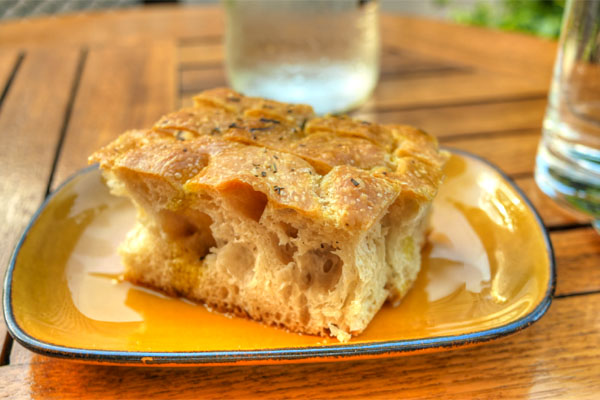 Bread, meanwhile, was a homemade focaccia drizzled with olive oil.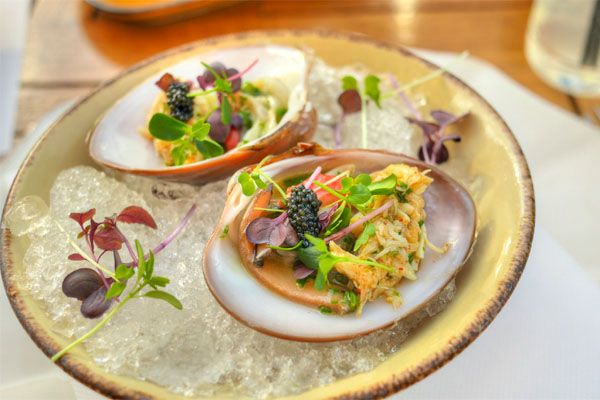 1: Maryland Jumbo Lump Crab, Manila Clams, Amalfi Limoncello Granita, Sturgeon Caviar
In my first proper course, sweet, lush crab was smartly paired with the salty blast of caviar, the limoncello and microgreens imparting a much appreciated zestiness to the mix. Also key was the clam, which gave up a much needed crunch and hit of ocean-y savor toward the back end.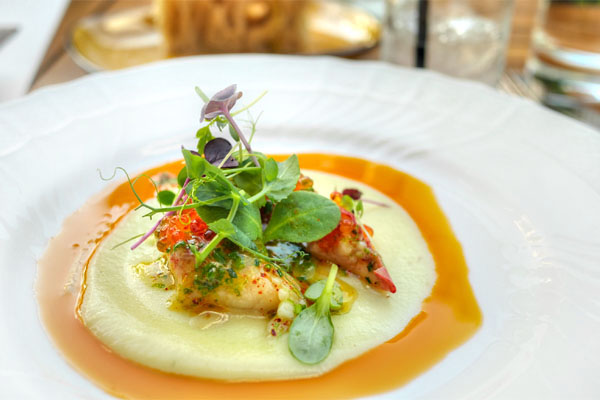 2: Maine Lobster & White Asparagus Crema, Kumamoto Oyster
Lobster arrived crunchy and slightly chewy, its sweet, saline flavors nicely tempered by the cream of asparagus while the greenery provided a perfect jolt of astringency. I didn't get much from the oyster, though.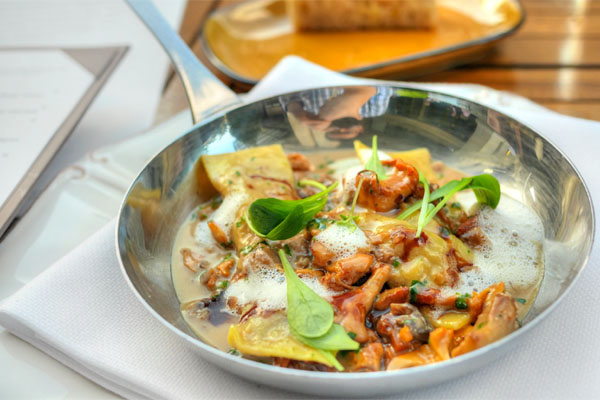 3: Agnolotti of Suckling Pig, Golden Chanterelles, Bonati Parmigiano
The agnolotti was a winner, the pasta's filling of pork just teeming with piggy, herbaceous, aromatic goodness, the mushrooms adding further heft to the dish.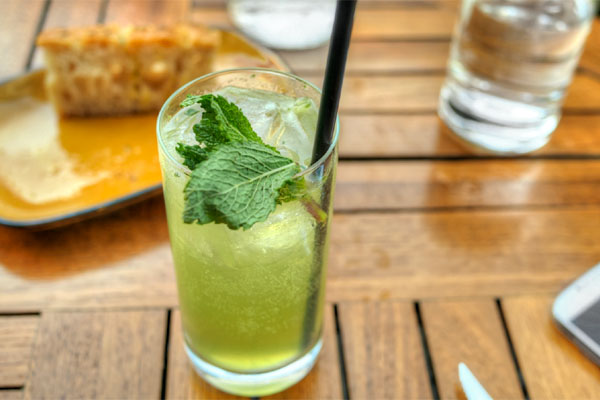 L'Imprevisto [$16.00]
| Green Chartreuse, Mint, Lemon, Simple Syrup, Ginger Ale
My next cocktail was also quite appropriate for the season, a light, bright mélange of minty, citrusy, and gingery notes underpinned by a subtle medicinal tinge from the Chartreuse.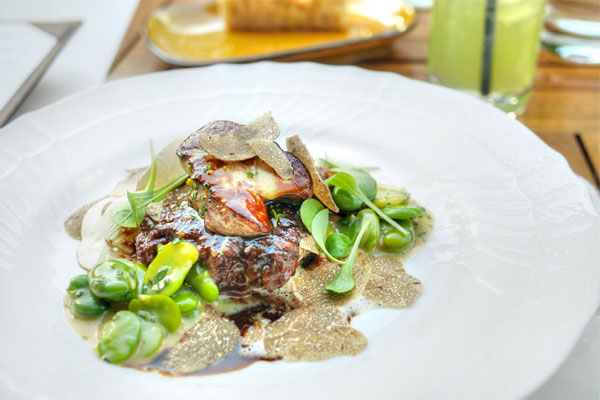 4: New Frontier Bison Striploin, Foie Gras, Black Truffle, "Rossini"
Bison was prepared
alla Rossini
, meaning that it was cooked in a red wine sauce and served with foie gras and truffles. It was classic in essence, yet much more contemporary in execution, the liver adding a much-needed luxuriousness to the quite lean meat. My favorite thing here, though, was the use of broad bean, which offered up a well-placed brightness to the admittedly hefty dish.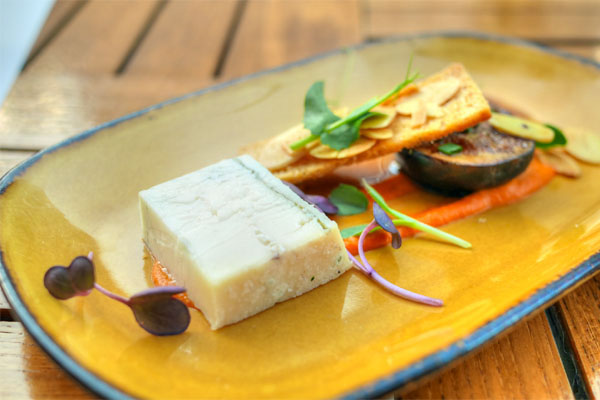 5: Blu di Capra Cheese, Black Mission Figs, Romesco Purée, Almonds
It was nice to see a more composed cheese course for a change, and the Blu di Capra here showed off a restrained sort of funkiness that made sense with the sugary figs, but went even better with the zip of romesco.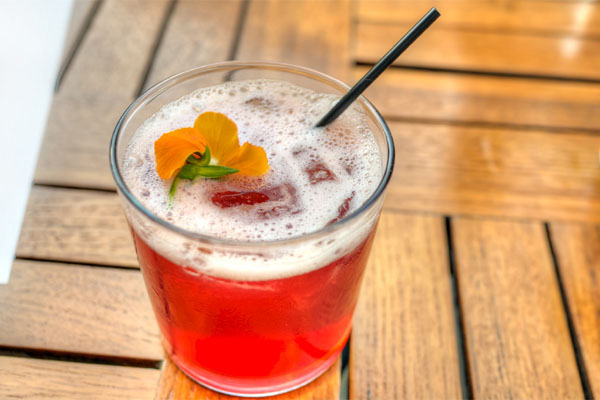 Amore Agrodolce [$16.00]
| Greenhook Ginsmiths Beach Plum, Amaro Nonino, Hibiscus
For my last cocktail, I went with something a bit more "dessert-y," the drink showing off plenty of sweet, fruity, floral notes, moderated just enough by the bitter, herby nature of the Nonino.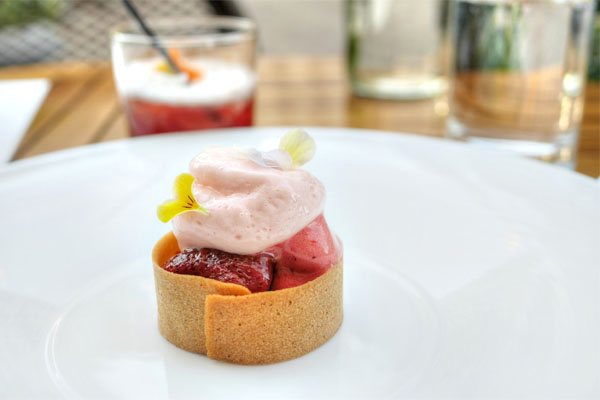 6: Fiola Strawberry Tart
I ended with what one of my servers described as the "best part of the meal," and he wasn't too far off, with the tart conveying multiple facets of strawberry, the fruit's signature sweetness displayed in multiple forms and textures, bounded together by a crunchy, brittle crust. One of the best tart-like desserts I've had.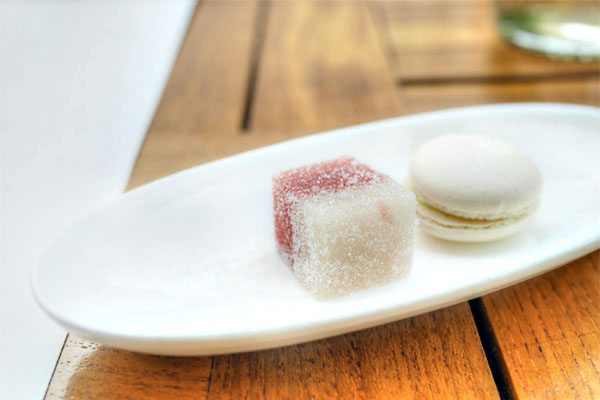 Petit fours comprised a coconut-strawberry
pâte de fruit
and a pistachio-butter cream macaron.
Overall, quite a delightful meal here at Fiola. Trabocchi's cooking leans toward more traditional, but with just enough of a progressive twist. It's a polished, yet somehow rustic style that works, and makes me wish that I'd visited Maestro during the Chef's days there. For Italian in DC, this place certainly needs to be part of the discussion.