Aggio (Washington, DC)
Aggio Restaurant
5335 Wisconsin Ave NW, Washington, DC 20015
202.803.8020
www.volt-aggio.com
Wed 06/04/2014, 06:05p-08:10p
When we last caught up with Bryan Voltaggio, he was still fresh off his second place finish on
Top Chef
and delivered a pretty outstanding meal at
Volt's Table 21
. Since then, the Chef has been hard at work growing his presence in the DC area. In 2011, he collaborated on a beer with Frederick's Flying Dog Brewery, competed in Cochon 555 (coming in behind Scott Drewno from The Source), and wrote a cookbook entitled
VOLT ink.: Recipes, Stories, Brothers
with brother Michael. Voltaggio also debuted a lunch spot called Lunchbox that December, and at the beginning of 2012, filled in for RJ Cooper at
Rogue 24
, all before opening his casual diner concept Family Meal in June.
December 2012 saw the launch of Range inside the Chevy Chase Pavilion, an expansive, 14,000-square-foot, 275-seat project featuring its own salumeria, raw bar, rotisseries, bakery, and multiple wood-burning ovens. This was followed up a month later by Civil Cigar Lounge next door, which features a menu designed by Voltaggio and actually prepared within Range. A dinner at the James Beard House in New York was next, as was another go at Cochon 555 (this time losing out to
Mike Isabella
) and yet another cookbook deal. Voltaggio competed on
Top Chef Masters
later that year, but ended up coming in second to Douglas Keane, formerly of
Cyrus
. In November 2013, Lunchbox shuttered due to lack of foot traffic, but just months later, Aggio was teased, and finally bowed on Valentine's Day earlier this year.
Opened in partnership with longtime compatriot Hilda Staples, the restaurant is something that Voltaggio had been thinking about doing for a while, a high-end Italian eatery with modern American influences. The Chef had always been unhappy with how the back room at Range turned out, and this dissatisfaction served as the impetus to install something else in the space. The two concepts share an entrance, as well as a kitchen, and in charge of that kitchen is Chef de Cuisine Johnny Miele, who's also Exec Chef and Pastry Chef at Range.

Range's back room was transformed into Aggio in a scant nine days. The space accommodates 80 diners, and can be used as a private event venue when the restaurant's not operating.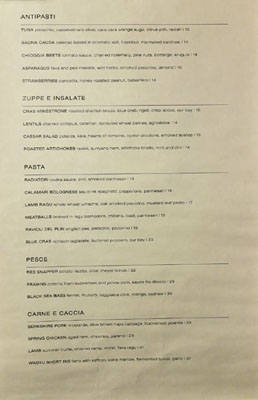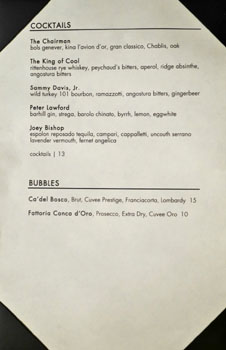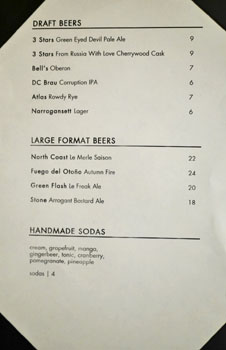 Aggio's menu features your typical Italian progression of starters, pastas, mains, and sides, all available à la carte. I opted for the six-course tasting menu though (composed of regular menu items), priced at $95pp, plus $65 if you want wine pairings from Sommelier Kathy Morgan. I veered toward cocktails this evening, which are the work here of barman Dane Nakamura. Click for larger versions.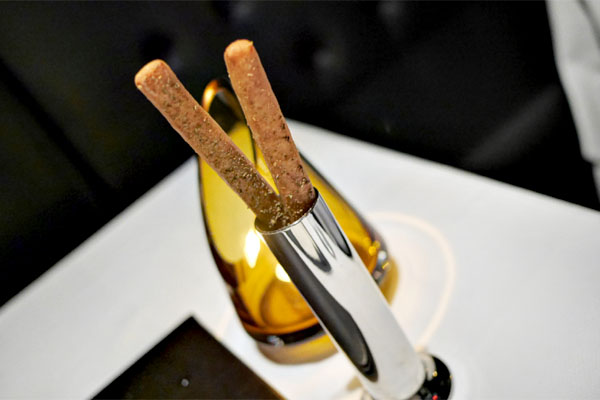 Breadsticks arrived crunchy and coated with sprinklings of black pepper and sea salt.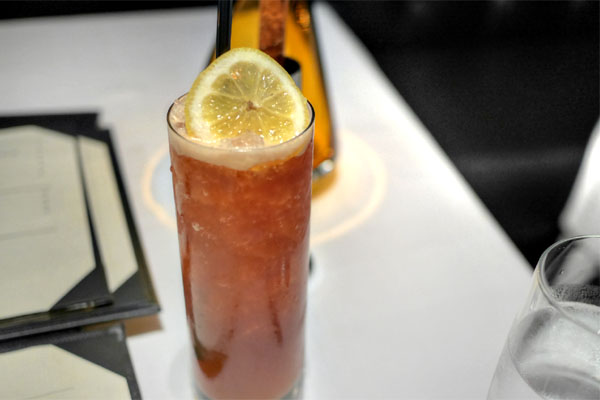 Sammy Davis, Jr. [$13.00]
| wild turkey 101 bourbon, ramazzotti, angostura bitters, ginger beer
I went with cocktails this evening, and my first was sort of a take on the classic Dark 'N' Stormy, a bittersweet, spicy concoction that was nonetheless refreshing thanks to the zip of ginger beer.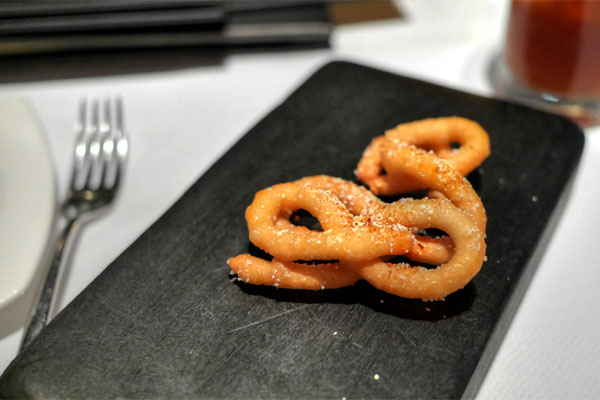 Aggio's signature amuse is a Parmesan funnel cake constructed of dehydrated, ground cheese dusted with pepper and sea salt. I found it a delightful little bite, a cheesy, crispy, unabashedly salty thing that was simultaneously whimsical yet delicious.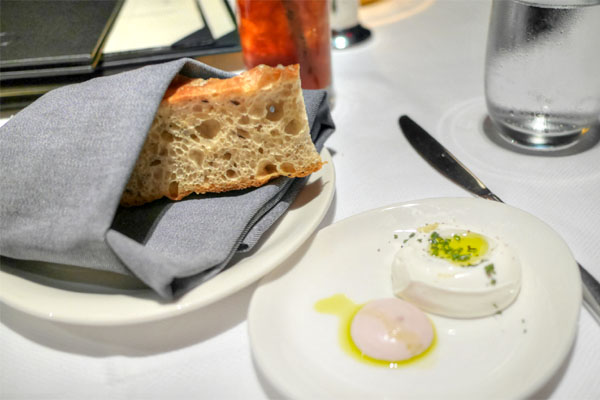 Bread comprised homemade focaccia, joined by a delectable mortadella spread with pistachio oil and a preparation of whipped ricotta with olive oil and lemon zest.
1: CHIOGGIA BEETS
| beets that have been roasted in salt crust, dressed with tonnato sauce made from yellow fin tuna and bonito oil, radish and rocket leaves, grated bottarga and olive oil
The first proper course brought out an ingredient that has vexed me for some time now. However, this play on the classic dish of
vitello tonnato
really did make great use of beets. Texturally, they were spot on, and I really appreciated how their inherent sugariness was balanced by the earthy, fishy weight of the accompanying sauce, all while the greenery gave a great bitterness to the dish. Nice crunch from those pine nuts, too.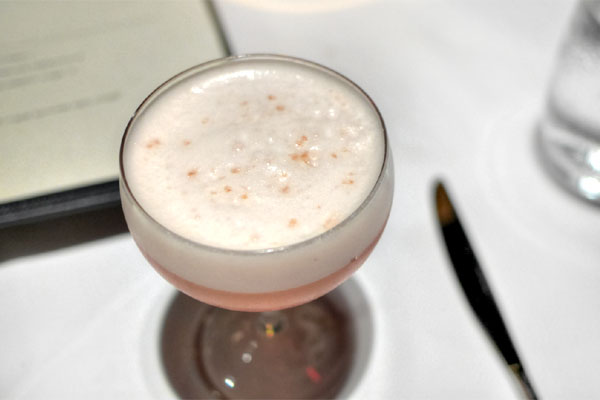 Peter Lawford [$13.00]
| barhill gin, strega, barolo chinato, byrrh, lemon, egg white
This next Rat Pack-inspired cocktail was much to my liking, a showcase of bitter, sour, and herbal nuances underpinned by a subtle sweetness, the egg white adding a much appreciated levity and textural component to the mix.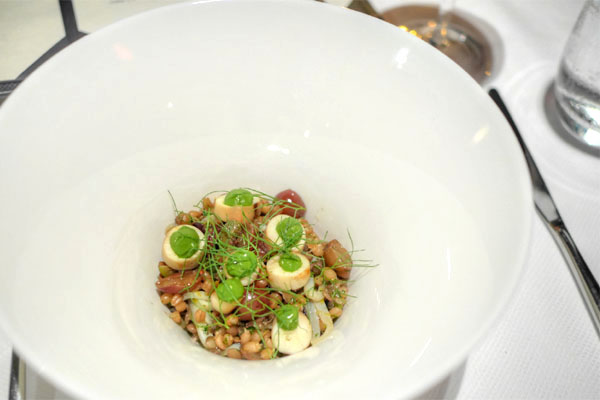 LENTILS [$14.00]
| charred octopus, calamari, sprouted wheat berries, agrodolce
My supplemental course comprised one of my preferred proteins, octopus. It was certainly tasty here, though I wish the kitchen would've pushed the char aspect further, to give the cephalopod more of that blackened savor. That being said, I loved the textural counterpoint from the squid, as well as how the wheat berries grounded the dish, making the zesty character of the agrodolce treatment really stand out.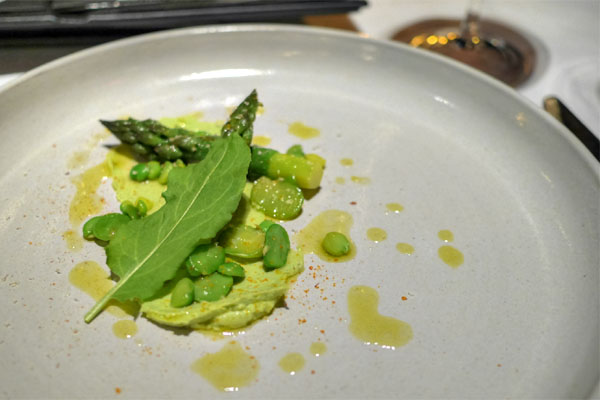 2: ASPARAGUS
| local green and white asparagus barely cooked in its own juice, sugo of favas and peas, smoked pecorino romano, smoked almond
My favorite dish of the night was probably the asparagus, the spears here perfectly cooked, their bitterness matched by the sweetness of the peas and the nutty quality of the fava beans. A light, bright, yet somehow profound plate.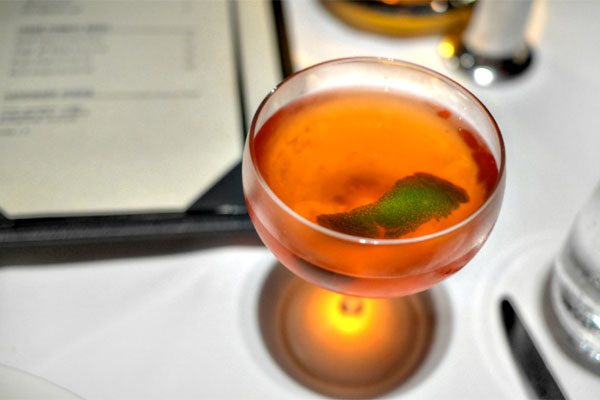 Joey Bishop [$13.00]
| espolon reposado tequila, campari, cappelletti, uncouth serrano lavender vermouth, fernet angelico
The Rat Pack theme continued on with my next cocktail, a sort of tequila Manhattan. This one had a bittersweet, viscous nature, the minty blast of the Angelico working hand-in-hand with the aromatics of the vermouth to form a fitting complement to the drink's base of tequila.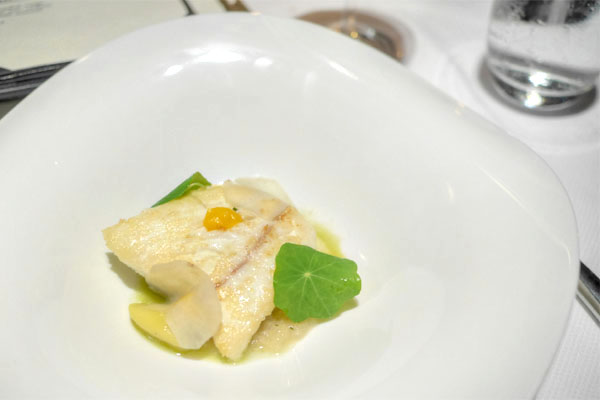 3: HALIBUT
| roasted with browned garlic and lemon thyme, puree of sunchoke, potatoes cooked in the style of risotto, olives that have been emulsified with their brine, meyer lemon pith and juices
Halibut arrived flawlessly cooked, a firm, flaky, utterly delectable presentation of the fish enhanced by the richness of the accompanying potato "risotto." My only gripe? The sweet-n-sourness of the Meyer lemon seemed unnecessary.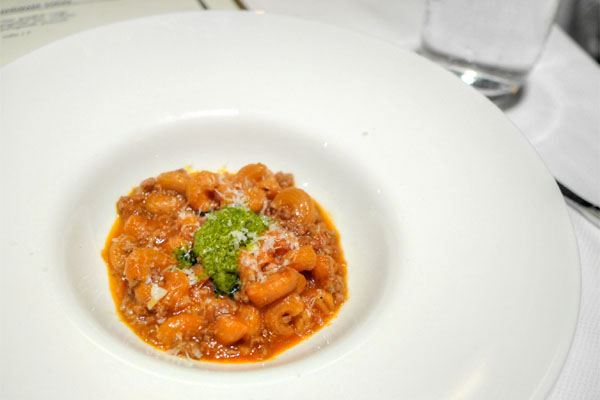 4: LAMB RAGU
| whole wheat lumache with concentrated tomatoes, ragu is made from shenandoah valley lamb shoulders and the rendered aged fat, oak smoked pecorino
It just wouldn't be a proper Italian meal without pasta, and Aggio's did not disappoint at all. Incorporated into a tomato-based sauce, the deeply-flavored lamb was joined by a tempering sort of tartness, one that really permeated the ragu and made for a superbly integrated, satisfying plate. If that wasn't enough, the dollop of mustard leaf pesto on top imparted even more of a piquant counter to the dish, and I was a fan of the subtly smoky tint of the pecorino as well. Damn tasty.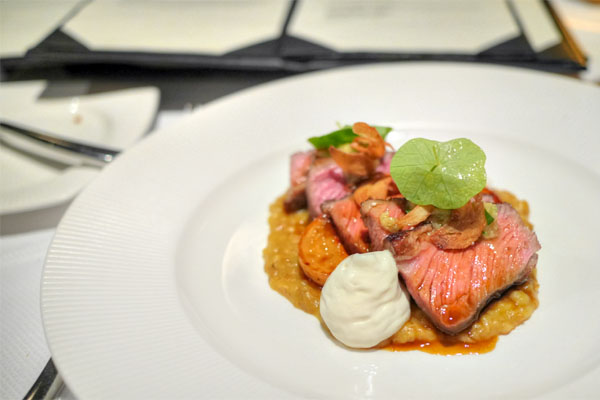 5: WAGYU SHORT RIB
| grilled over coals, farro cooked with saffron tea, bone marrow served as a custard, glazed turnips with wild flower honey, parsley and chips made from garlic
In my final savory course, short rib was cooked to a tender, yet still substantial consistency, though I wanted more of the lushness inherent in wagyu to shine. The cut wasn't as luxurious as I'd envisioned, though the richness of the bone marrow fixed that pretty quickly. Turnips were much appreciated for their tempering crunch and bitterness, and the farro really served as a lovely base to the dish as well.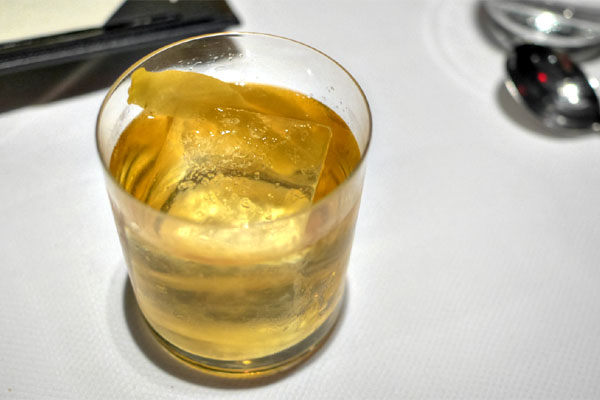 The Chairman [$13.00]
| bols genever, kina l'avion d'or, gran classico, Chablis, oak
A final cocktail to go with dessert. This one was thick, almost oily on the palate, with a sugary, yet astringent backbone and a slightly vinous nature that worked swimmingly alongside the smooth, richly-flavored genever.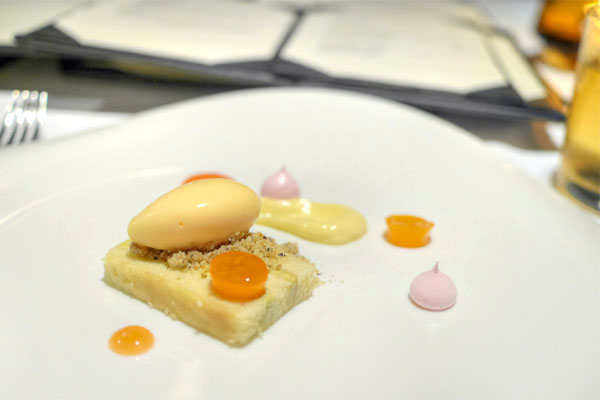 6: PISTACHIO IN OLIVES
| cake is made with the oil from castelvetrano olives, layered with pistachio cream, sorbet is the juice and flesh of cara cara oranges, crispy pomegranate, kumquats preserved in blood orange juice and moscato
The olive oil cake was probably the best I've ever had, coming out cool and dense, with a restrained undercurrent of olive-y goodness that worked beautifully with the various forms of citrus present. Yum.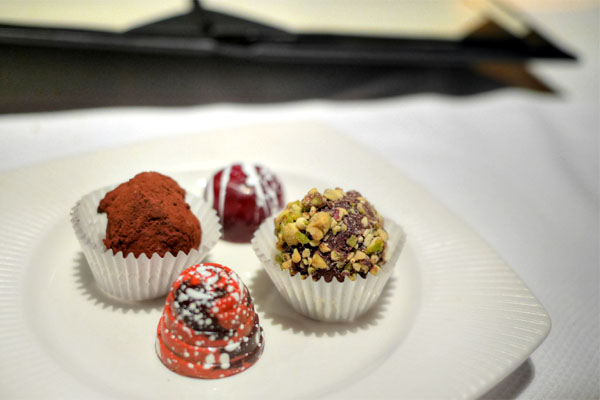 Finally, mignardises comprised a Campari-grapefruit bonbon, an espresso chocolate truffle, a pomegranate-oolong bonbon, and a pistachio-yuzu chocolate. All were on point, though I especially enjoyed the bon-bon with the tea and pomegranate.
The style of food at Aggio was pretty much exactly what I was expecting from Voltaggio and company, an elegant take on Italian-inflected fare that combines the core of the classic cooking with a distinct sort of American modernity. It's a restaurant-within-a-restaurant worth checking out, with some of the most interesting Italianate cookery around. As for what's coming up next for Voltaggio, he's still working on an outpost of Lunchbox in Chevy Chase and another Family meal in Ashburn, VA, while Aggio 2.0 is slated to open in Baltimore on June 28th. Lots more to come.