Toki Underground (Washington, DC)
Toki Underground Ramen
1234 H St NE, Washington, DC 20002
202.388.3086
www.tokiunderground.com
Mon 06/02/2014, 05:00p-06:20p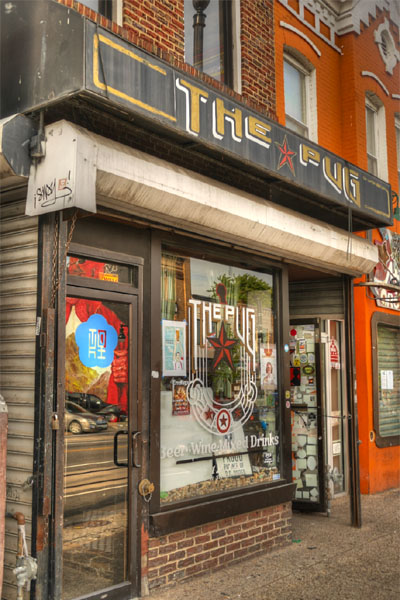 The ramen craze that's hit the likes of Los Angeles and New York landed in DC with the debut of Toki Underground in April 2011. Helmed by the 30-year-old Erik Bruner-Yang, the restaurant has been jam-packed from the get go, and features the Chef's take on Taiwanese-style Hakata ramen, a rich, hearty variation of the dish known for its creamy, unabashedly porcine broth (apparently pork trotters are used here in addition to bone) and thin, straight noodles.
About the Chef
: Bruner-Yang was born in Taipei to a Taiwanese mother and American father, and lived there for four years until his parents divorced, at which point he moved with his mom to Long Beach, California. She got remarried to one Siegfried Bruner, a Navy journalist who took the family to Japan before settling in Woodbridge, Virginia. Bruner-Yang spent his formative years there, and started working menial jobs in restaurants during high school (his first employer was Red Robin). He studied classical piano heavily throughout his teenage years, but moved away from that direction when he formed indie-pop band Pash in 2002 with fellow University of Mary Washington students Meredith Munoz, Ryan McLaughlin, and Jon Bibb. The band achieved a measure of success (they produced two albums), but Bruner-Yang still worked on-and-off at restaurants during this time, and eventually graduated from UMW with a degree in business administration.
In 2008, after coming off a tour with Pash, he began working as GM at DC's new outpost of the Sticky Rice chain. However, he quickly found himself helping out in the kitchen, and first started conceptualizing Toki as a street food type joint around this time. The following year, Bruner-Yang's grandfather passed, and the neophyte chef went back to Taipei for the funeral, and returned in 2010 for its one-year anniversary as well. It was on this second trip that he worked at a local ramen shop for a month, learning how to make the noodles that would eventually define his career. During this period, he also consulted for Kushi Izakaya and Sushi, helping the place open in spring 2010, but soon found himself working full-time on Toki. He launched a series of pop-ups to build buzz for the restaurant, and launched the place to considerable fanfare on April Fool's Day, 2011.
Toki Underground was a hit right from the beginning, known for both its food and for its epic three-hour waits during prime time. The success of the spot allowed Bruner-Yang to partner with
Johnny Spero
to launch the ill-fated Suna, and he even began conceptualizing Maketto, a night market-inspired eatery. However, things took a turn for the worse in February 2012, when one of Toki's cooks, Thang Le, killed himself. The team persevered through the tragedy, and in March 2013, Bruner-Yang was nominated by
Food & Wine
for its "People's Best New Chef" award. In June, he married girlfriend Seda Nak, but things quickly went south for the couple when they were arrested just weeks later.
It turns out that one of the Chef's ex-girlfriends had posted some nasty comments about the two on Facebook. This resulted in a confrontation in which the newlyweds got into a scuffle with her as well as her fiancé at the time. In September 2013, both Bruner-Yang and Nak pleaded guilty to simple assault, and were sentenced to perform community service, undergo drug/alcohol treatment, and enroll in anger management classes (their records were eventually wiped clean). With the arrest behind him, the Chef continued work on Maketto, operating a "residency" at Hanoi House, and also ran a Toki Underground pop-up at Union Market. In March, he was again nominated by
F&W
for "People's Best New Chef," and even won DC's recent Cochon 555 competition.

Ironically, Toki Underground is actually situated on the second floor of The Pug (a dive-y sort of bar). The small, playful space was designed by Bruner-Yang and architect Michael Francis, and was largely inspired by the Chef's time overseas. The restaurant seats 25 in counter-style fashion (as is the trend in Asia), including a three-seater "chef's table."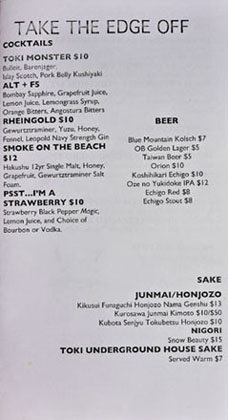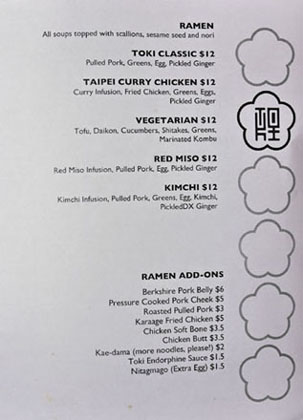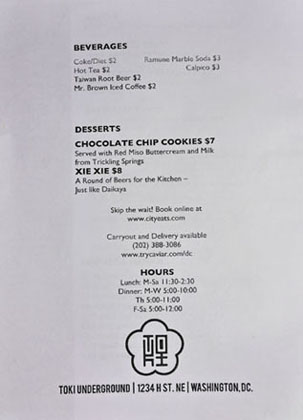 As for Toki Underground's menu, it features five variations on ramen, along with various add-ons and sides, changing specials, as well as multiple types of dumplings (pan-fried, fried or steamed). To imbibe, you'll find Asian soft drinks, vaguely Asian-y cocktails, beer from Asia, and a fairly extensive list of sakes (first complied by opening GM Scott Carde). Click for larger versions.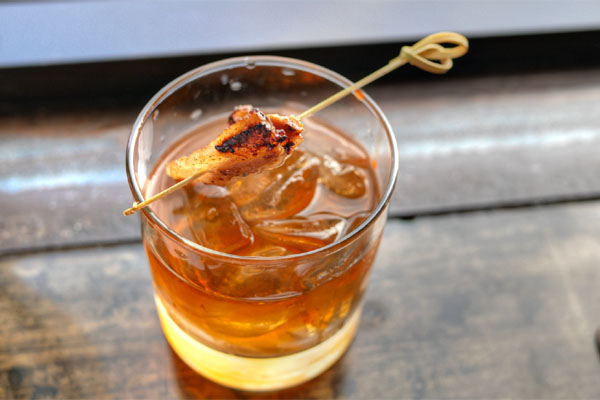 Toki Monster [$10.00]
| Bulleit, Barenjager, Islay Scotch, Pork Belly Kushiyaki
I began with Toki's most popular cocktail. I'm sure its popularity has something to do with the skewer of pork belly that comes balanced on top, which imparts a salty, smoky savor to the drink that works surprisingly well with the heft of the whiskies, the peat from the Islay linking up especially well. I wouldn't have minded a bit more honeyed character from the Barenjager, though.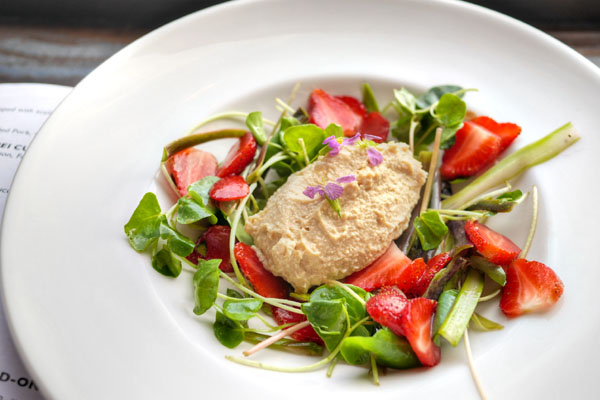 Miso "Ricotta" Spring Salad [$7.00]
| Miso Tofu Ricotta, Liscari Sativa, Strawberry, Nasturtium, Hazelnut, Asparagus, Yuzu Vinaigrette, Roasted Garlic, Brown Butter Puree
My first dish was something of the lighter sort, a mélange of sweet, sour, bright flavors brought together by the earthy lushness of the miso tofu.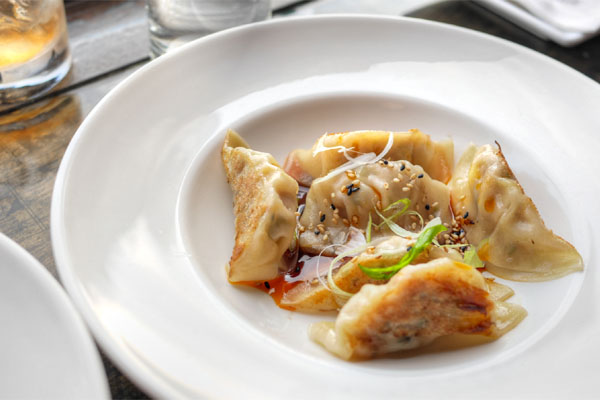 Dumplings [$6.00]
| Pork (Pan-Fried)
I had to try the dumplings of course, and according to my server, the one to get is the pan-fried pork. She was right on though, as the
jiaozi
were delicious, fried just the right amount and teeming with porcine goodness, the included sauce adding a bit of a kick on the back end.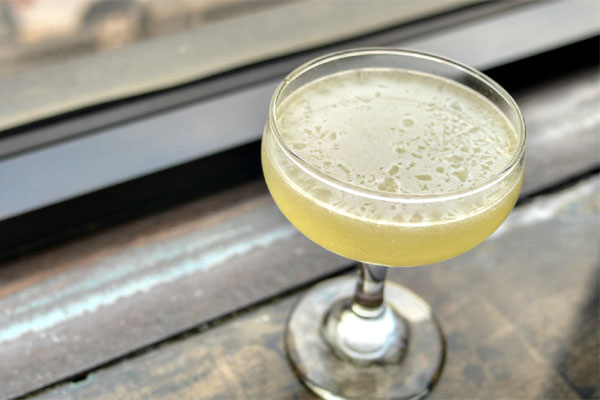 Rheingold [$10.00]
| Gewurztraminer, Yuzu, Honey, Fennel, Leopold Navy Strength Gin
My next cocktail featured Gewürztraminer, a pretty uncommon ingredient that lent a whisper of vinousness to the drink. The crux here, though, was the fennel, which made for an almost celery-like quality when paired with the other elements present.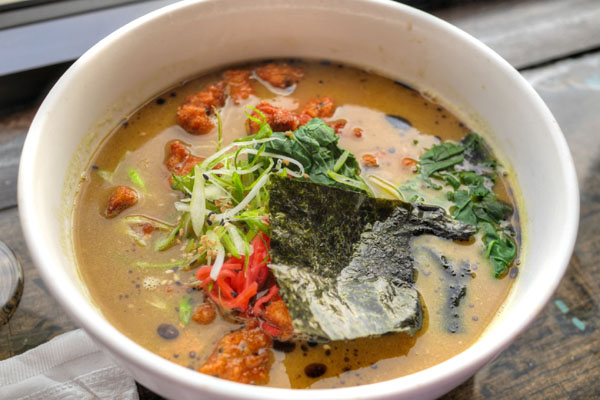 Taipei Curry Chicken [$12.00]
| Curry Infusion, Fried Chicken, Greens, Eggs, Pickled Ginger, Scallions, Sesame Seed, Nori
Given the supposed Taiwanese bent of the Chef's ramen, I went with the most Taiwanese-y of them all. It really was quite satisfying, the unmistakable essence of curry permeating the dish, bringing all the various elements together with its heady perfume. At the same time though, each ingredient still had its own voice, and I was particularly fond of the crispy nuggets of chicken, as well as how the nori and greens imparted an umami-rich, slightly astringent character to things that really punctuated the hearty flavors at play. The noodles were on point as well, coming in with just the right amount of bite and spring, and I eagerly supped up the remaining broth on this one.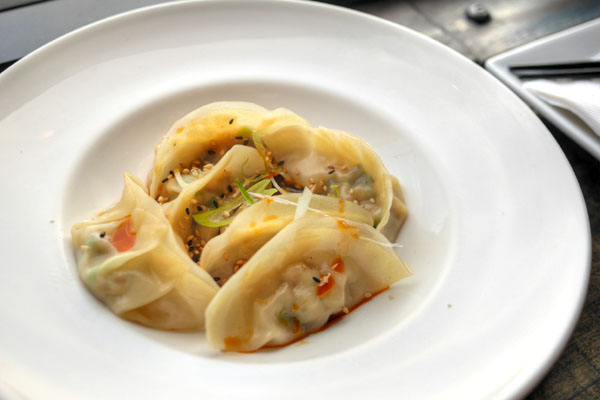 Dumplings [$6.00]
| Seafood (Steamed)
Seafood dumplings arrived steamed. I was a fan of the texture on these, the skins remaining supple, yet with a bit of a bite to 'em. In terms of flavor, they were tasty enough, though they could've used a bit more brine, to really get those ocean-y notes to the forefront.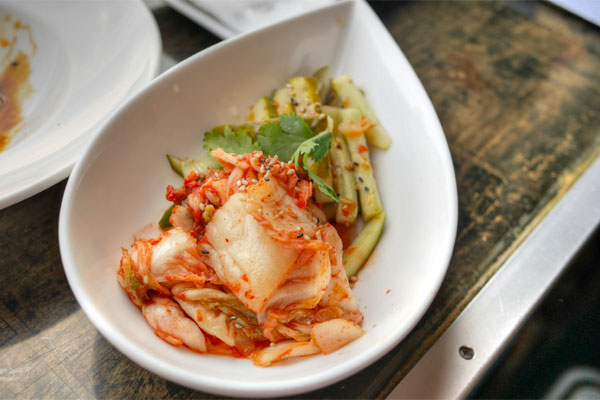 Pickles Plate [$5.00]
| Sour Pickles and Kimchi
Given my penchant for all things pickled, this was a must-try for me. The kimchi was very nice texturally, with a fairly subtle, yet palpable touch of heat to it, while the pickles conveyed a smart mix of sweet-n-sour flair with a crunch.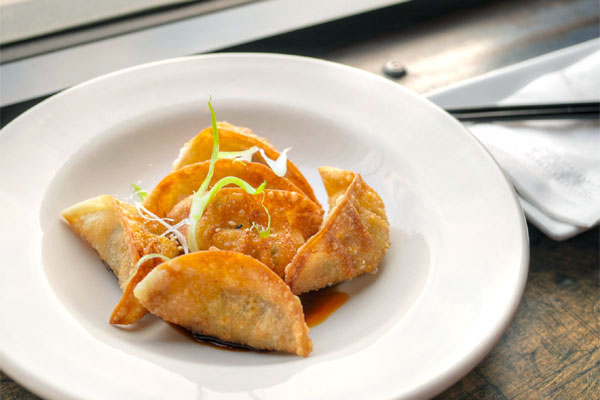 Dumplings [$6.00]
| Chicken (Deep-Fried)
My final order of dumplings had to be the fried type, this time with a filling of chicken. Texturally, the skins here were just what you'd expect from a deep-fried preparation, and the meat remained juicy and flavorful, a dab of the paired sauce serving as a fitting exclamation point to the dish.
Alt + F5 [$10.00]
| Bombay Sapphire, Grapefruit Juice, Lemon Juice, Lemongrass Syrup, Orange Bitters, Angostura Bitters
The third and final cocktail of the evening brought together various ingredients to form a drink that looked like Orange Crush, and tasted not that far off from it. It had an intriguing, almost candied-like quality to it, backed by a bitter backbone and the zestiness of gin.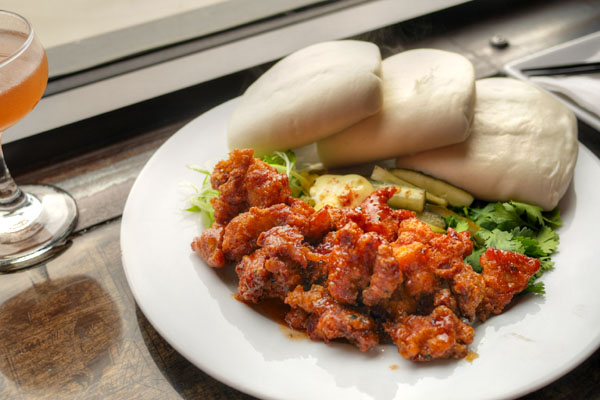 Fried Chicken Steamed Buns [$12.00]
| Japanese Mayo, Sweet Chili Sauce, Pickles, Herbs
It seems like everyone's doing some sort of
bao
these days, and Toki's was a worthy contender to be sure. The chicken itself came delightfully crisp, loaded with plenty of sweet-ish, savory flair that worked beautifully alongside the comparative levity of those pickles and herbs. Wrap it all up in a bun, and you're good to go. Yum.
I'd been curious about Toki Underground ever since I first found out about it last year, and I'm glad I finally made it out. Unlike a lot of other people, I'm not a ramen aficionado, so I can't really compare Toki's to a lot of what's out there. I can say that the bowl I had was pretty damn tasty, and the rest of the food didn't let me down either. The cooking here may not be strictly traditional, but it works, and seems to be doing great for the restaurant. As for what's next for Bruner-Yang and company, he's still working on Maketto. James Wozniuk (ex-Lyon Hall) has been tapped to serve as CdC for the concept, a collaboration with clothing brand Durkl that will apparently have various night market-ish stalls that patrons can wander between. And if that wasn't enough, the Chef is expecting a baby, due to arrive in August, around the time that the new restaurant's slated to open.