Bourbon Steak (Glendale, CA)
Bourbon Steak Los Angeles
237 S Brand Blvd, Glendale, CA 91204
818.839.4130
www.michaelmina.net/restaurants/southern-california/bourbon-steak-los-angeles/
Sat 05/24/2014, 08:10p-11:30p

Despite his dozens of properties around the country, Michael Mina has never had a solid presence here in Southern California. Sure, he operates
Stonehill Tavern
down at the St. Regis in Dana Point (where Joshua Skenes worked prior to
Saison
), and there was of course the ill-fated
XIV
(where we first got to know
Steven Fretz
and
Jordan Kahn
), but that's been the extent of it. It's especially surprisingly since LA is where the Chef got his start, beginning his career under George Morrone inside the kitchens of the Hotel Bel-Air. As such, I was a bit surprised last April when Mina announced that he was opening a branch of his Bourbon Steak concept at Rick Caruso's Americana at Brand shopping center. The restaurant bowed at the end of March, and joins five other BS outposts in Detroit, Miami, Scottsdale, Washington DC, and San Francisco.
About the Chef
: Running the kitchens here on a day-to-day basis is one Joseph Conrad. Conrad worked various industry positions in his younger years, and also attended the University of Iowa from 1994 to 1996. In 1998, he relocated to California, and found work as a banquet chef at the Embassy Suites Hotel San Diego Bay, where he stayed for two years. He later transitioned to a sous position at Aqua Blu, then went to Rainwater's on Kettner and following, Dublin Square (where he had his first Exec Chef role), all while pursuing a liberal arts degree from San Diego Mesa College. In 2002, Conrad decided to pursue a formal culinary education, and moved up north to attend the California Culinary Academy in San Francisco.
After graduating in 2003, he cooked at the vaunted
Charlie Trotter's
for a brief period, then returned to SF. There, he headed up the kitchen at Azie until 2005, then cooked at 415 Restaurant & Bar. In 2007, Conrad settled in Seattle, becoming Executive Chef of Qube and later starting an artisanal sea salt company ("
Secret Stash Sea Salts
") with partner Janna Wemmer. He then took the reins at both Twist and its sister restaurant Ventana in October 2008, working there until the middle of 2010. Next, he served as CdC at Jason Wilson's James Beard-winning Crush, also in Seattle, but left in September 2012 to join the Mina Group as Chef de Cuisine of RN74, under David Varley, where he stayed until coming down to run Bourbon Steak.

Bourbon Steak's
AvroKO
-penned, 182-seat space looks like a proper steakhouse, replete with lots of wood, brushed metal, neutral colors, tufted seating surfaces, and yes, even a live piano player. Interestingly though, there's a grab-and-go type patisserie out front selling various pastries and Lamill coffee.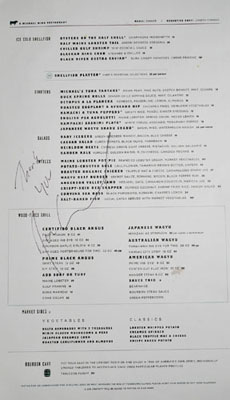 As for Bourbon Steak's menu, you'll find your typical steakhouse staples, joined by some more unconventional fare as well. In terms of steak, there are no less than five different types, including three pricey wagyu options. Click for a larger version.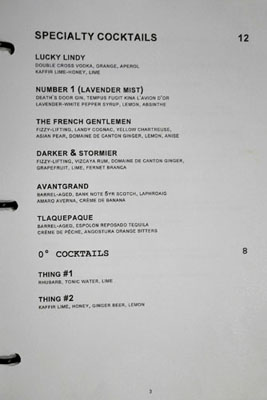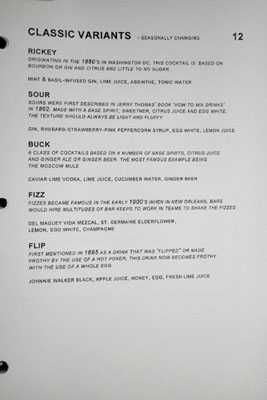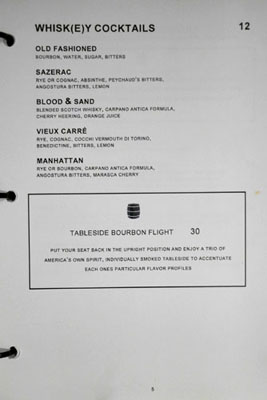 To drink, there's a healthy, red-leaning wine list put together by Rajat Parr, a smattering of beer, and a pretty serious cocktail program (pictured above) that veers, unsurprisingly, toward whiskies. They even do smoked bourbon flights and Japanese whiskey ceremonies tableside. Click for larger versions.
After being seated, we were quickly presented with a complementary trio of duck fat French fries. Going front to back, we had a heartily-spiced pastrami version with a sweet 'n' sour barbeque sauce, a cheesy Parmesan prep with creamy Caesar aioli, and a tangy pickle-spiced presentation with pickle ketchup.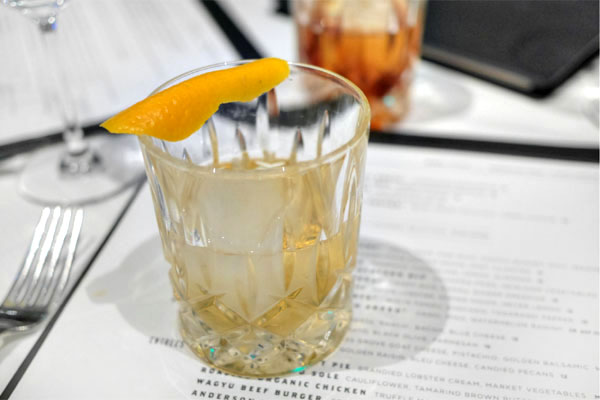 Tlaquepaque [$12.00]
| Barrel-Aged, Espolon Reposado Tequila, Crème de Pêche, Angostura Orange Bitters
We of course had to give the cocktails here a go, and started with a threesome. This tequila-based one showed off loads of citrus on the nose, while the taste was nicely balanced, the sweetness of the peach really evening out the potency of the Espolon.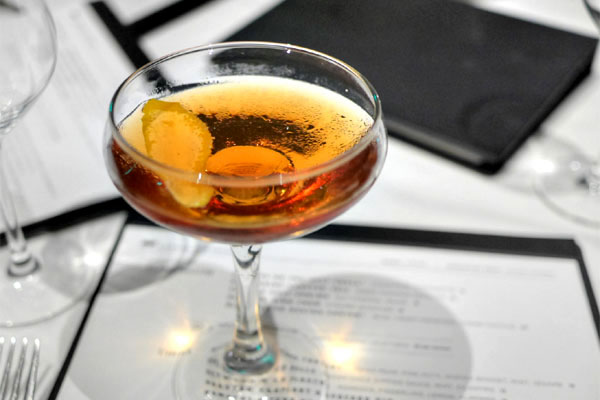 Vieux Carré [$12.00]
| Rye, Cognac, Cocchi Vermouth di Torino, Benedictine, Bitters, Lemon
The restaurant's take on New Orleans' iconic Vieux Carré was pretty classic, a well-integrated presentation with a pleasantly bittersweet, citric tinge.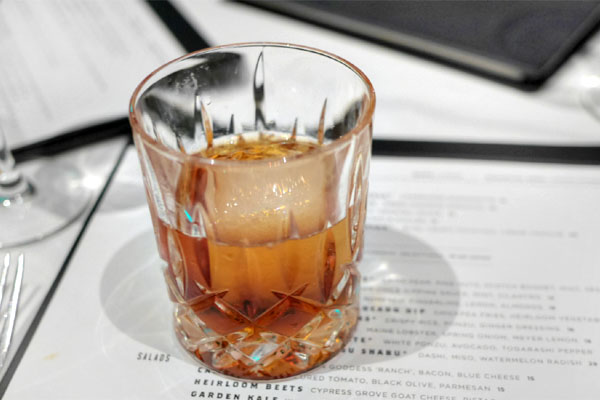 Avantgrand [$12.00]
| Barrel-Aged, Bank Note 5yr Scotch, Laphroaig, Amaro Averna, Crème de Banana
I'm quite the fan of Laphroaig, and my favorite cocktail of the troika displayed the spirit's signature smokiness, tempered by the comparatively mild flavor of the Bank Note, the banana imparting a great countervailing sweetness to the fray. Lovely peat finish here, too.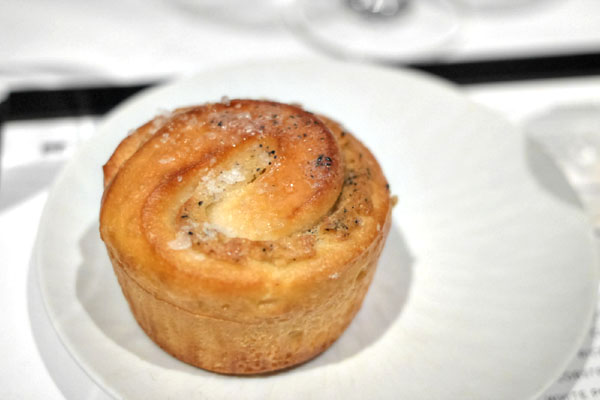 Bourbon Steak's sole bread offering was a delightful truffle butter bun. Truffle, salt, butter--can't go too wrong with that.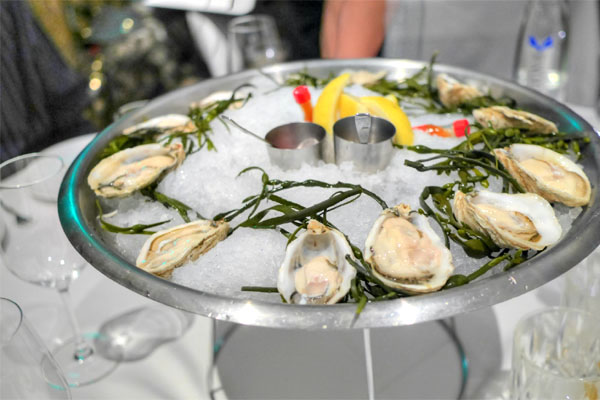 Oysters on the Half Shell [$36.00/dozen]
| Champagne Mignonette
Oysters made for a natural start to the meal. Kusshis were on offer tonight, and they were as clean, crisp, and briny as you'd want, great either alone or with a dash of that mignonette.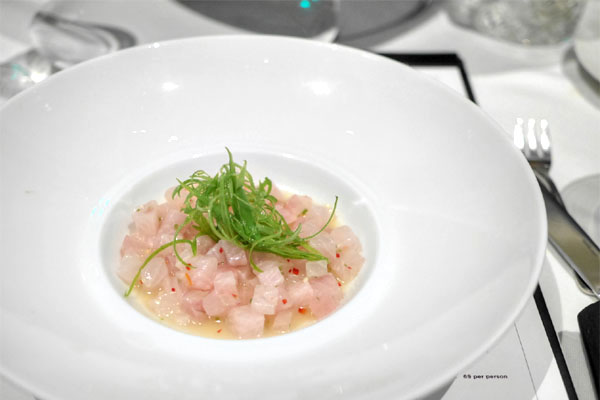 Kampachi Belly [$14.00]
Kampachi was superb, wonderful texturally and showcasing robust nuances of fat and brine that paired beautifully with the dish's yuzu-based dressing.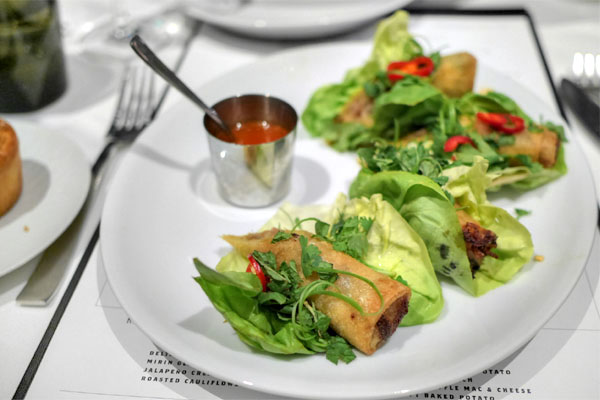 Duck Spring Rolls [$12.00]
| Ginger-Chile Dipping Sauce, Mint, Cilantro
Spring rolls were fun, crisp, savory, Asian-y little bites, the tasty shards of duck playing well with the brightness of cilantro and mint while the included condiment offered up a hit of acidity to bring everything together.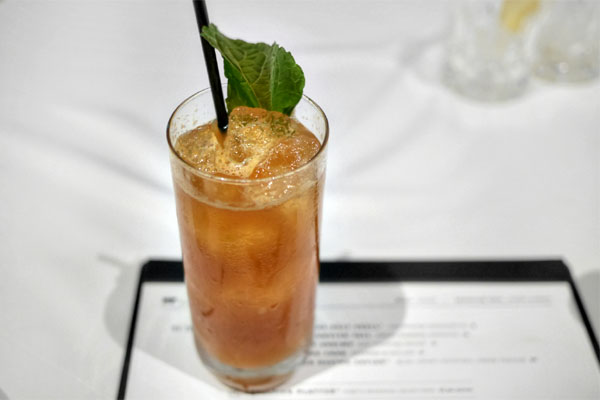 Darker & Stormier [$12.00]
| Fizzy-Lifting, Vizcaya Rum, Domaine de Canton Ginger, Grapefruit, Lime, Fernet Branca
Our second round of cocktails got started with Bourbon Steak's version of the traditional Dark and Stormy. It was a weightier concoction compared to the original, with a refreshing fizz to it joined by ginger-y overtones and an almost medicinal undercurrent to it that I wasn't quite sold on.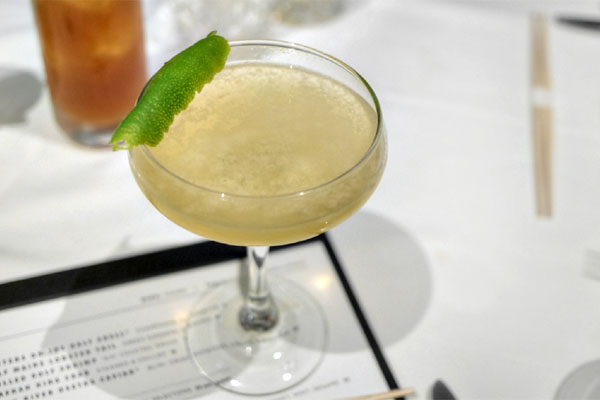 Number 1 (Lavender Mist) [$12.00]
| Death's Door Gin, Tempus Fugit Kina L'Avion D'or, Lavender-White Pepper Syrup, Lemon, Absinthe
A play on the Corpse Reviver #2 was up next. I rather liked it, the gin working swimmingly alongside the citrus-y, slightly herbal nuances in the drink, the Kina l'Avion d'Or adding a great bittersweet depth to things.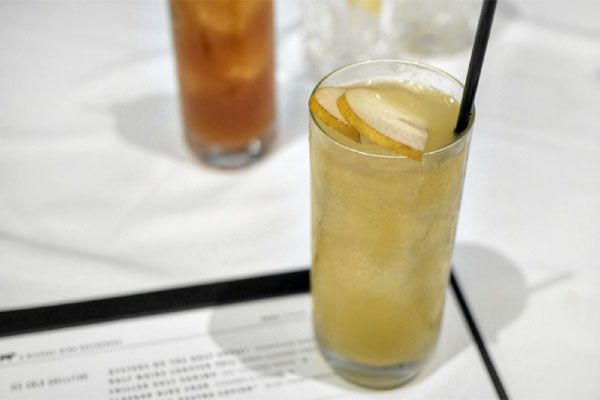 The French Gentlemen [$12.00]
| Fizzy-Lifting, Landy Cognac, Yellow Chartreuse, Asian Pear, Domaine de Canton Ginger, Lemon, Anise
Our last cocktail actually shared some common threads with the Darker & Stormier above, with similar textures and notes of ginger. This one had a spicier quality to it though, with a more subdued medicinal character and a palpable bitterness on the finish.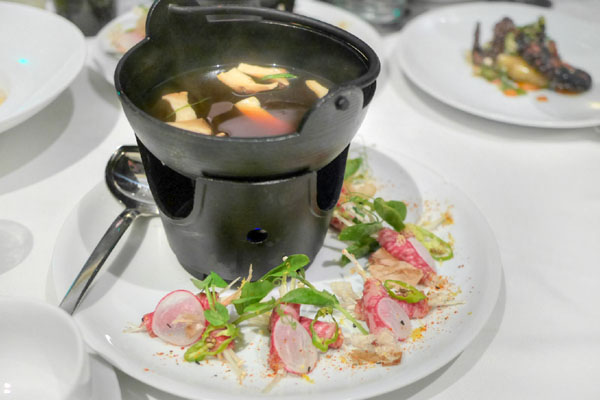 Japanese Wagyu Shabu Shabu [$58.00/2 Oz]
| Dashi, Miso, Watermelon Radish
A shabu-shabu presentation of A5 wagyu made quite the impression, both visually and in terms of taste. The beef was as slick and fatty as you'd expect, delicious after a five second dip in dashi broth, and perfectly accompanied by the lightness of the enoki, greens, and radish, all finished by pin points of salt toward the back end. Once we finished up the meat, we eagerly supped up the remaining liquid, imbued with the earthy potency of mushroom and miso.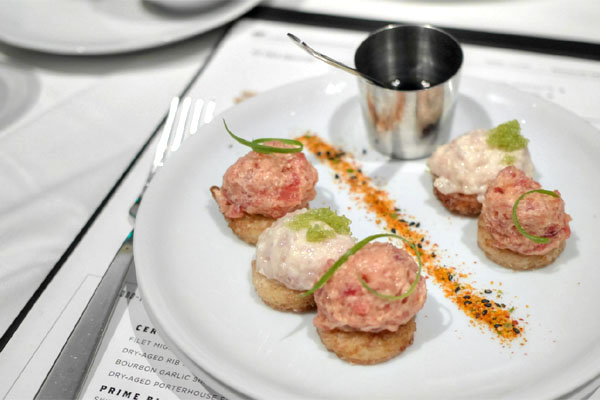 Hamachi & Tuna Poppers [$16.00]
| Crispy Rice, Ponzu, Ginger Dressing
The so-called "poppers" were probably the most uninteresting of the items we had, but were still tasty enough, the yellowtail showing off noticeably more depth and character compared to the tuna versions, the rice on both offering up a sticky, crispy counterpoint.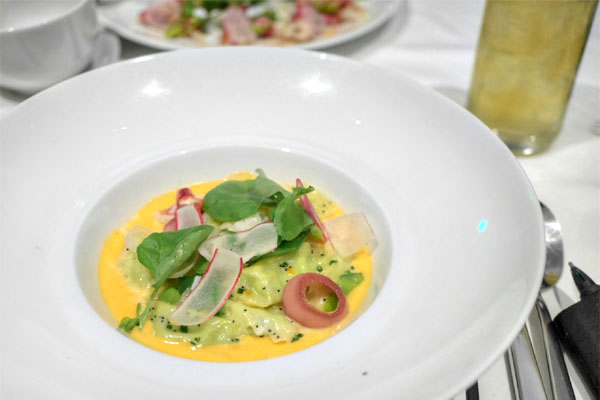 English Pea Agnolotti [$18.00]
| Maine Lobster, Spring Onion, Meyer Lemon
The agnolotti was a surprise standout, the bright, green, sugary notes of pea really shining through, joined by the sweetness of lobster, the onion adding a fantastic crunch and kick of piquancy on the close.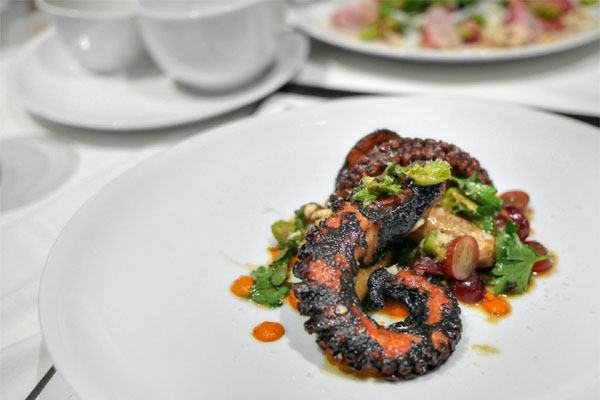 Octopus a la Plancha [$18.00]
| Romesco, Fingerling, Lemon, Almonds
Octopus was also quite enjoyable with its supple, yet substantial bite, great char astringency, and satisfying savor, finished smartly with the tanginess of olive-romesco while potatoes grounded the dish.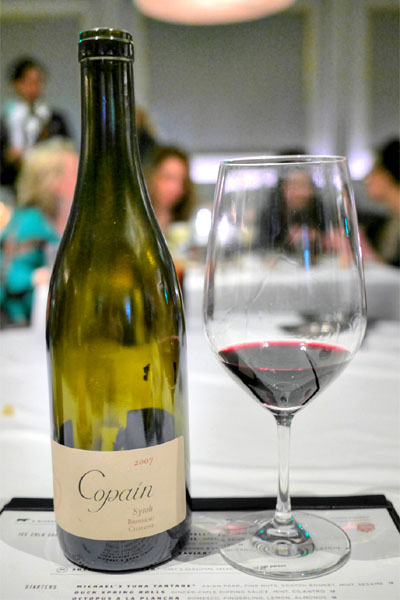 With the steak about to hit the table, we opened up a bottle of red wine, specifically the
Copain Syrah 'Brosseau', Chalone 2007 [$92]
. It stood up nicely to the meat; think aromas of dark berry, more on the palate, along with spice, savor, and a pleasant acidity.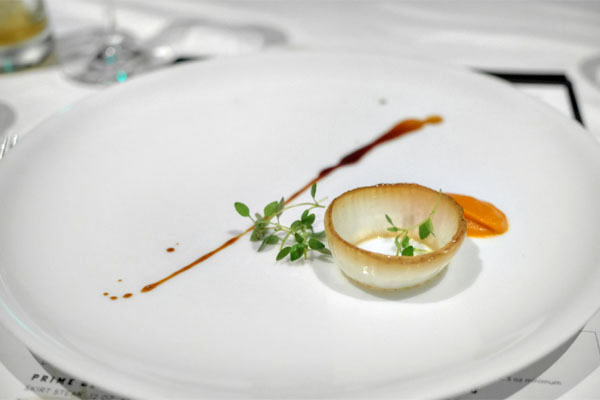 Garnished plates for our steaks were a nice touch.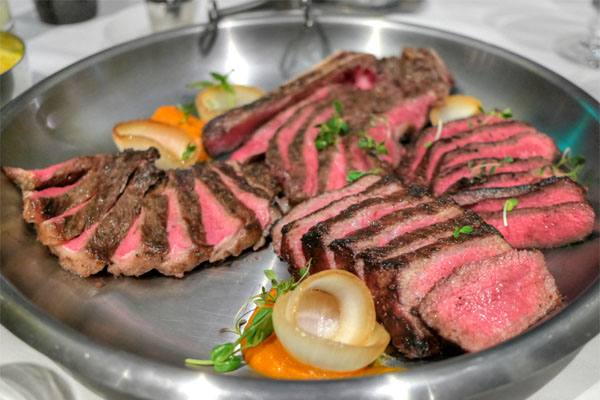 Japanese Wagyu [$512.00/16 Oz]
| Miyazaki A5 Striploin
American Wagyu [$50.00]
| Center-Cut Flat Iron 10 Oz
Australian Wagyu [$58.00]
| Kansas City Strip 16 Oz
Prime Black Angus [$48.00]
| N.Y. Strip 12 Oz
We ordered four steaks and requested that they be pre-cut for us, though we didn't expect them to arrive in such an impressive presentation. Going clockwise from bottom-right, I began with the Miyazaki wagyu, and it was unmistakably Japanese, the cut being noticeably fattier, oilier, and more luxurious than its peers. Appropriately tender, it just oozed fat and bovine goodness, perked up just a smidge by a lovely bit of char. Real deal wagyu is something that everyone should experience at least once (if for nothing else than to have a basis for comparison against more common steaks). Next was the American wagyu flat iron, which was probably the best version of flat iron I've tasted, displaying a great beefy savor and nice amount of fat to boot. It only suffered because of a slight bit of toughness, which is just inherent to the cut. The Aussie wagyu Kansas City strip, meanwhile, was the most balanced cut, and my choice if I had to eat an entire 16-ounce steak. It had the most finesse to it, and boatloads of flavor along with a good amount of fattiness, too. I ended with the Angus New York strip, a benchmark steak, but one that simply paled in comparison with the wagyu varieties here. It was tasty enough, but just couldn't compete when it came to either marbling or depth of flavor.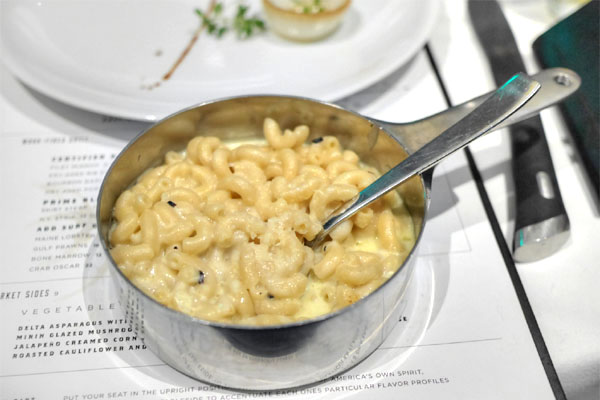 Black Truffle Mac & Cheese [$9.00]
Along with the steaks came a trio of sides. The truffle mac was great texturally, and appropriately cheesy, though I wanted a more apparent truffle character.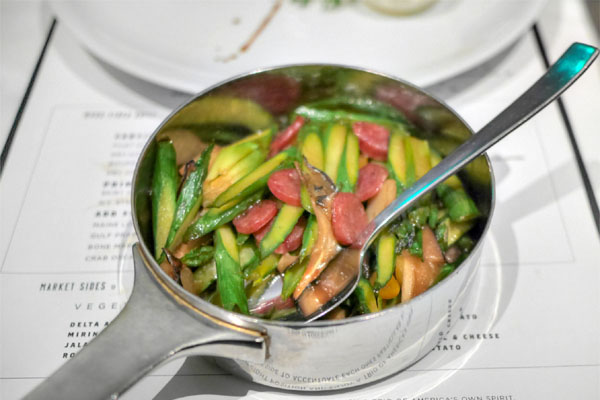 Delta Asparagus with 7 Treasures [$9.00]
An Asian-y prep of asparagus was really quite nice, the bright bitterness and crunch of the veggie working beautifully with the sweet-n-salty
lap cheong
and mushrooms.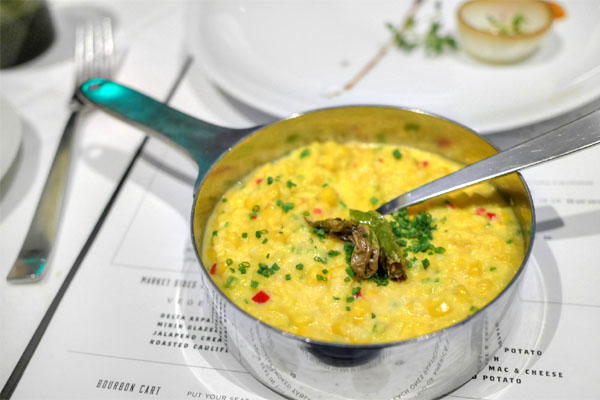 Jalapeño Creamed Corn [$9.00]
Creamed corn, finally, proudly conveyed the inherent sweetness of the kernels, moderated by a Southwestern-esque spice.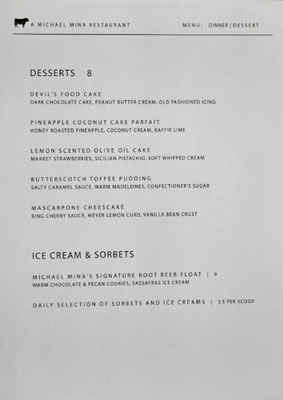 As for Bourbon Steak's dessert menu, it's pretty much what you'd expect from a steakhouse. Nothing fancy, but approachable and satisfying. Click for a larger version.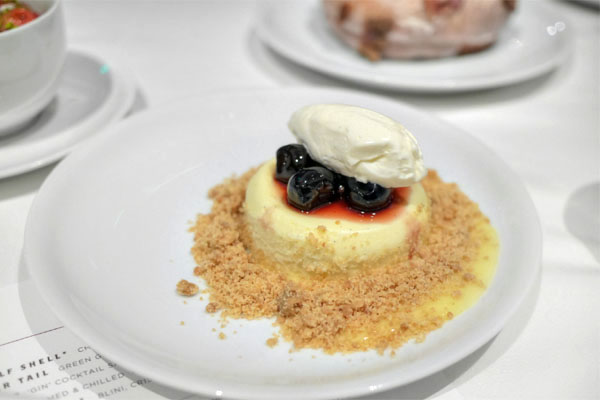 Mascarpone Cheesecake [$8.00]
| Bing Cherry Sauce, Meyer Lemon Curd, Vanilla Bean Crust
Cool and dense, the cheesecake gave up a lactic tanginess that played well against the sweetness of cherry while the crust crumbles added a much-appreciated textural contrast.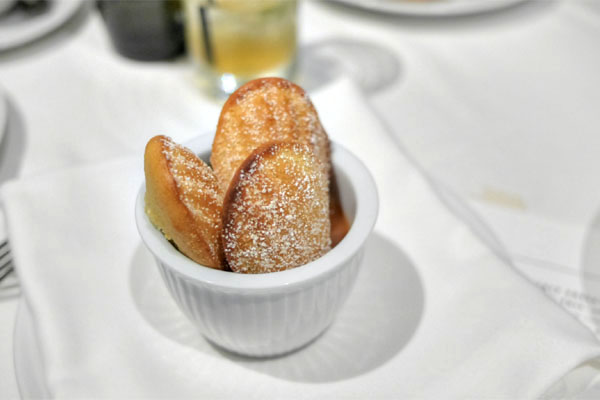 Butterscotch Toffee Pudding [$8.00]
| Salty Caramel Sauce, Warm Madeleines, Confectioner's Sugar
Butterscotch was unabashedly sugary, with an almost boozy tint to it, a fitting companion to the madeleines. Just try to scoop up the pudding without breaking the cakes.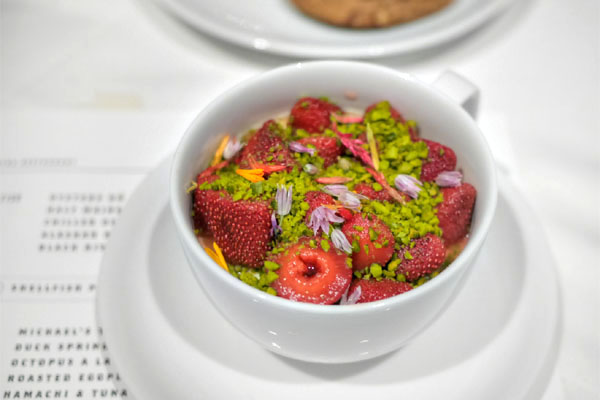 Lemon Scented Olive Oil Cake [$8.00]
| Market Strawberries, Sicilian Pistachio, Soft Whipped Cream
An olive oil cake was moist and just savory enough, working hand-in-hand with the combination of whipped cream and strawberry.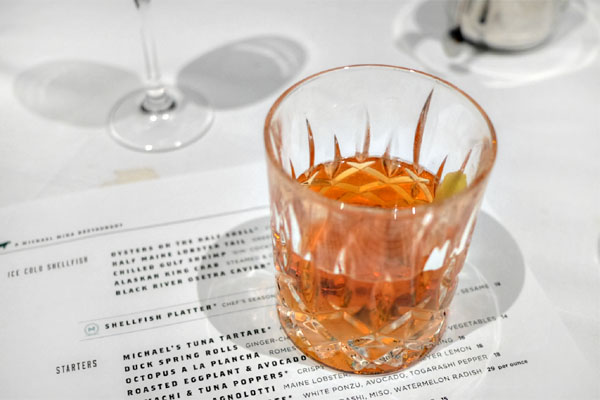 Sazerac [$12.00]
| Rye, Absinthe, Peychaud's Bitters, Angostura Bitters, Lemon
Along with dessert, we had Bourbon Steak's Sazerac, a classic preparation showcasing citrus-y and bittersweet nuances over a base of whiskey, with the absinthe adding a whisper of anise to the mix.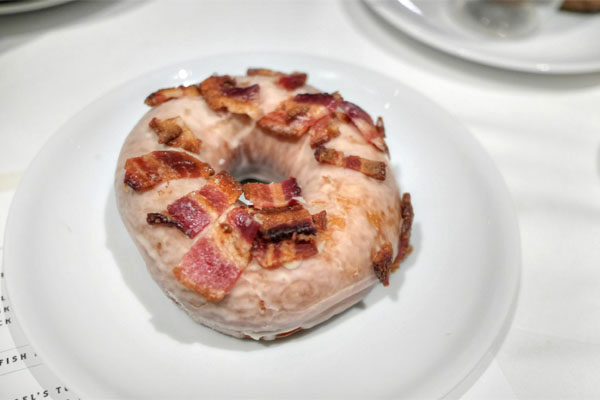 Bacon Caramel Donut [$6.00]
Bacon and caramel formed a great interplay of salt and sugar, but the doughnut was on the dense, dry side.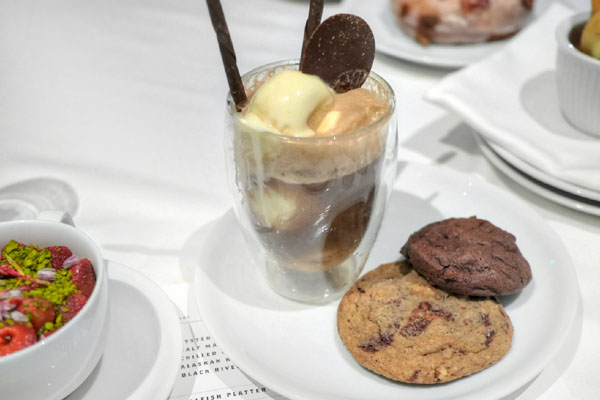 Michael Mina's Signature Root Beer Float [$9.00]
| Warm Chocolate & Pecan Cookies, Sassafras Ice Cream
The root beer float was a fun way to close out the meal, with its pointedly spicy, ginger-y character working beautifully with the ice cream. The cookies, meanwhile, were on point as well, making for a nice play on a childhood favorite.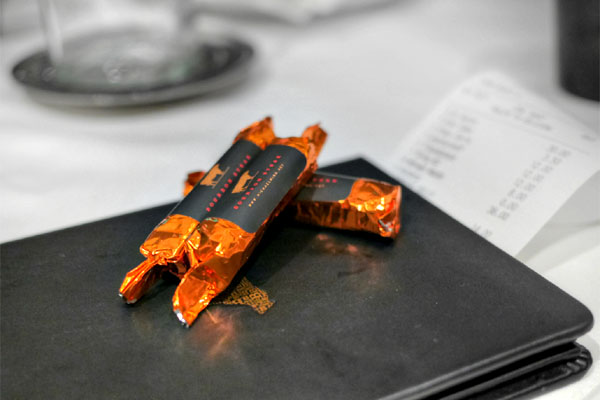 Finally, some caramels to accompany the bill.
Going in, I didn't have terribly high hopes for Bourbon Steak, given its location in a shopping center, in Glendale. The place definitely delivered though, serving up a classic steakhouse experience with a few unexpected flourishes that made the meal all the better. It certainly represents a valiant return to LA for Michael Mina, and the team here, led by Joseph Conrad, should be commended as well. Bourbon Steak's more than a worthy addition to the steakhouse scene here in the Southland, and compares no doubt favorably to the top players in the game.