Estadio (Washington, DC)
Estadio Restaurant
1520 14th St NW, Washington, DC 20005
202.319.1404
www.estadio-dc.com
Thu 06/12/2014, 05:40p-07:10p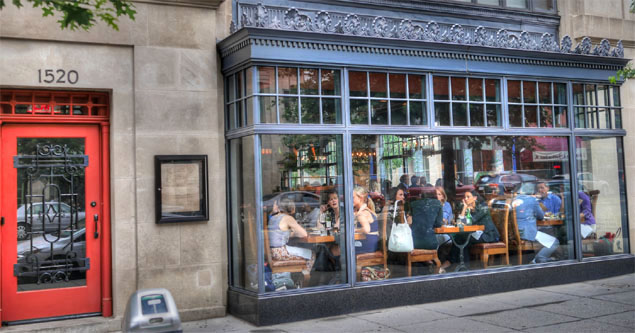 Given that I'd visited
Doi Moi
just days prior, I thought I'd give its Logan Circle predecessor a go. Opened in 2010, Estadio ("stadium" in Spanish) is the second restaurant from Chef Haidar Karoum and Mark Kuller. The place serves up Northern Spanish cuisine--specifically focusing on the Basque and Catalan regions--as interpreted by Karoum and Chef de Cuisine Ruffino Bautista (an alum of both Proof and Asia Nora). Estadio was a hit right from the start, garnering a "Best New Restaurant" semi-finalist nod from James Beard in 2011, and also winning the "Best New Restaurant" Rammy from the Restaurant Association of Metropolitan Washington that same year. Since then, it's remained a fixture on the DC dining scene.

Penned by
Grizform Design
, Estadio is a festive sort of place rendered in warm tones and Spanish tile, iron, and reclaimed wood. Think old school charm with new school kick.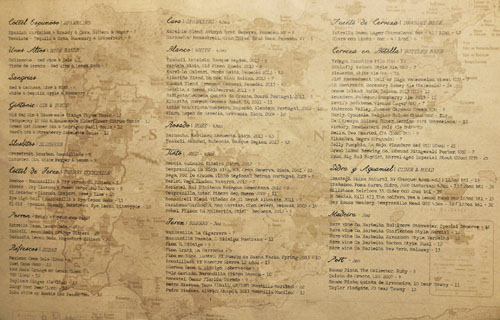 As for Estadio's menu, you get a long list of small plates meant for sharing--
pintxos
,
tapas
,
raciones
--joined by a nice array of cheeses and charcuterie. To pair with the food, you'll find a pretty decent beer list, low proof-y type mixed drinks from Bar Director Adam Bernbach, as well as a lengthy list of mostly Spanish wines managed by Wine Director Max Kuller. Click for larger versions.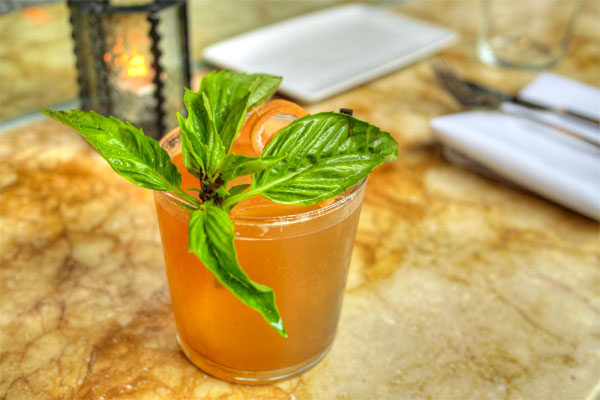 Tanqueray 10 Gin & House-made Elderflower Citrus Tonic [$12.00]
The Spanish are quite the fans of the G&T, and this refreshing, reworked version was a fine start to the meal, with its sweet, citrus-y flavors pairing well with the aromatics of the gin.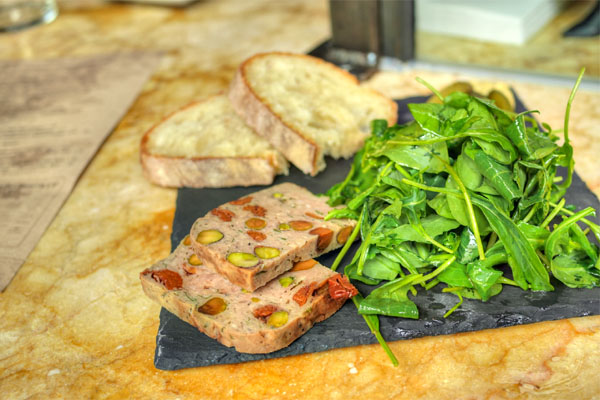 House Made Country Pâté with Pistachios & Cherries [$11.00]
A combination of cherries and pistachios added some fruity, nutty notes to Estadio's take on
pâté de campagne
, though I really wanted it to be more in-your-face porcine, with a grittier, less gelatinous consistency. It was still pretty tasty though, especially when taken with the combo of cornichons, mustard, and arugula.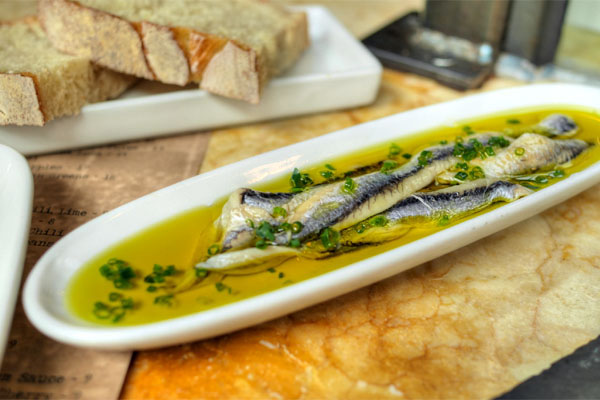 Boquerones [$5.00]
Boquerones
were delightful, the fishy, yet elegant savor of the anchovies proudly conveyed, set off by their treatment in vinegar and the lushness of olive oil.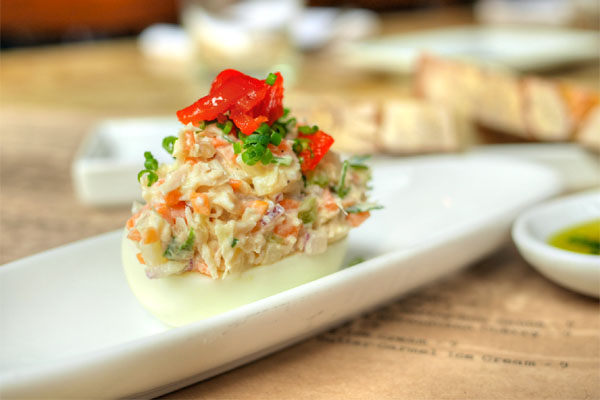 Deviled Egg Stuffed with Ensaladilla Rusa [$3.00]
I had to give the
huevo relleno
a go, natch, and it turned out to be one of the best I'd had in a while, the tangy, celery-laced potato salad working beautifully with its base of egg.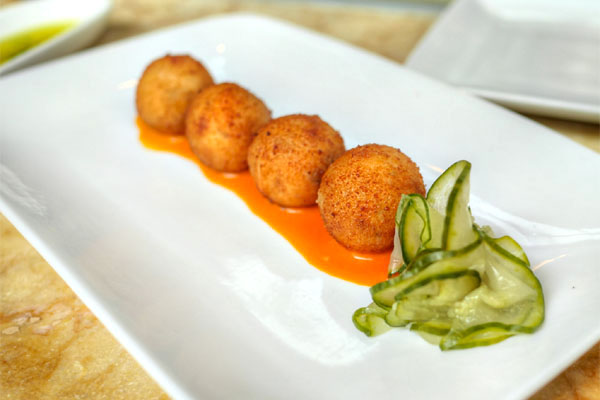 Croquetas de Jamón, Pickled Cucumbers [$8.00]
Croquettes of ham were appropriately rich, creamy even, and were tasty, though not all that interesting. Great use of the crunchy, piquant pickles, however.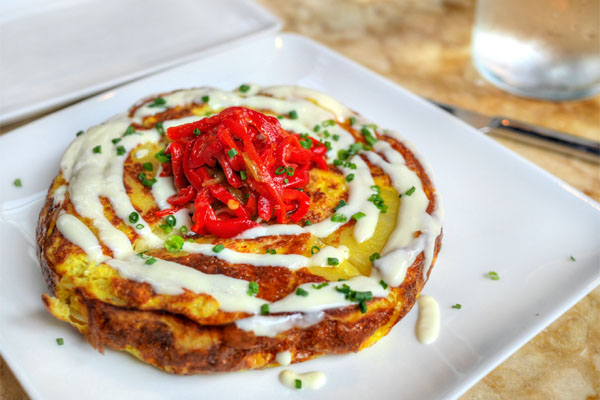 Tortilla Española, Alioli, Sweet Hot Peppers [$10.00]
Estadio's version of the traditional
tortilla española
was one of the best I've had. You had the expected, utterly satisfying combo of egg and potato of course, but the sweet heat of the red pepper, along with the creaminess of the alioli, really took things to a higher level.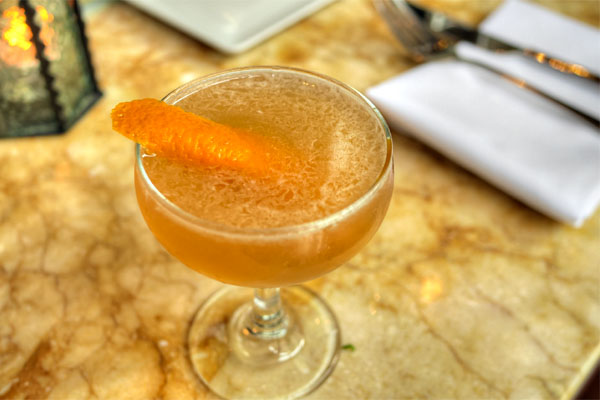 El Cid [$10.00]
| Spanish Brandy, Cointreau, Rye, Lemon, Pineapple
My next cocktail was also a winner, displaying a great interplay of flavors between the brandy, whiskey, and orange liqueur, everything underscored by a fruitiness from the lemon-pineapple combo.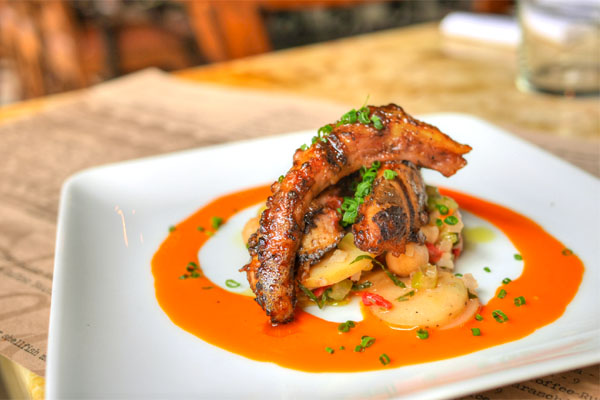 Grilled Octopus, Potato-Caper Salad & Pimenton [$13.00]
Octopus was well-prepared, arriving tender and with a lovely bit of char savor to go along with its inherently saline flavors. What took this over the top, though, was the incorporation of that potato salad, which imparted both crunch and acidity to the dish that really evened out the
pulpo
.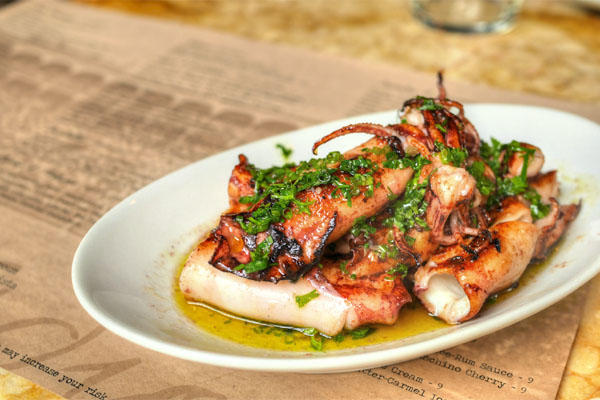 Rhode Island Calamari a la Plancha & Salsa Verde [$12.00]
Sticking with the cephalopod theme, the squid was also on point, supple yet with a bit of bite, and loaded with focused, bitter char flavors that played well with the zesty salsa verde.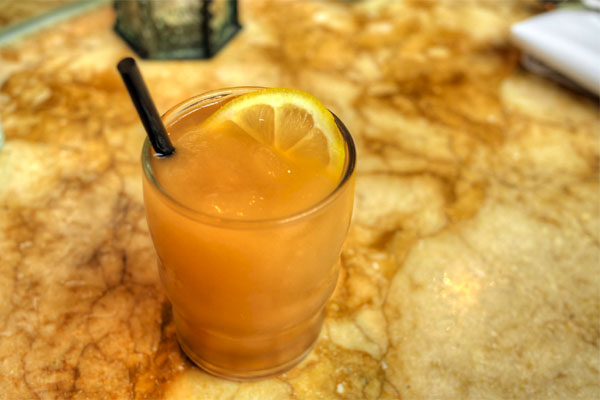 Grapefruit, Bourbon, Amontillado [$9.00]
My final cocktail of the evening was one of Estadio's so-called "slushitos," and indeed, the drink arrived pleasantly slushy, a cooling, fun concoction showing off a delectable balance of citrus and sweet-spicy flavors.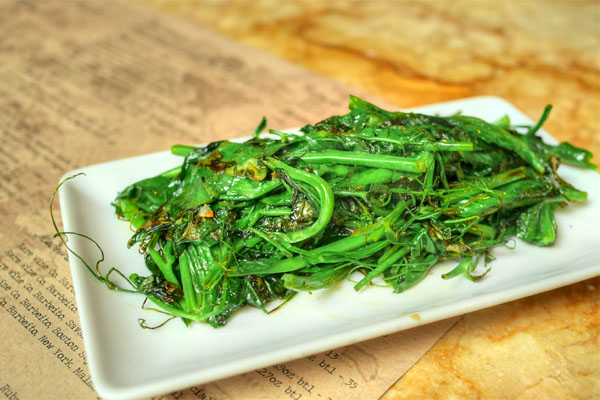 Sautéed Pea Shoots, Olive Oil & Sea Salt [$8.00]
Pea shoots were quite nice, their bright, bitter qualities moderated by the incorporation of sea salt and olive oil. Nice crunch on those shoots, too.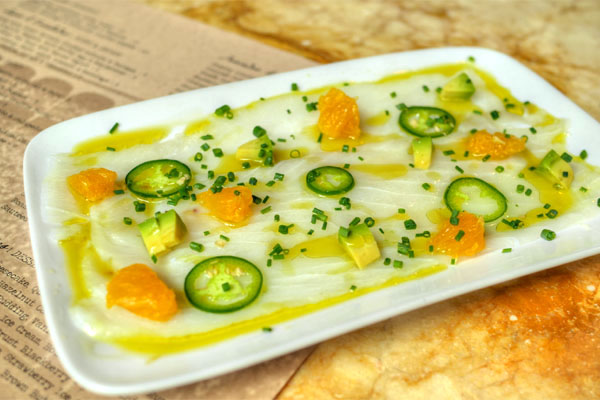 Bacalao Crudo, Jalapeño, Avocado, Orange & Olive Oil [$11.00]
I don't think I'd ever had salt cod in crudo form, so I thought I'd give it a shot. Think meaty-yet-tender slices of fish, with an ingrained saltiness and a palpable finesse, effectively countered by its various accoutrements, the jalapeño in particular forming a fitting foil.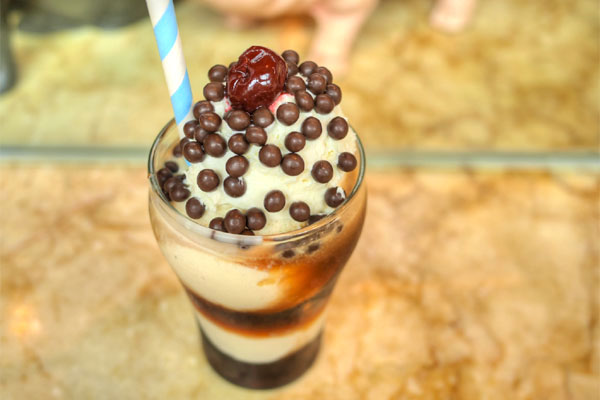 Sherry Float, Vanilla Ice Cream, Housemade Maraschino Cherry [$9.00]
Despite being rather full by this point, I had to try at least one dessert. The sherry float didn't let me down, giving up all the classic goodness of the traditional treat, but with the additional gravitas of sherry. Loved those crunchy bits, too.
Chalk Estadio up as another successful venture from Karoum and Kuller. Save for a few nits, the food was really quite good, classic in essence, but with the Chef's liberties well incorporated, and the drinks delivered as well. I'll have to give Proof a go next time I'm in town...