Shiki (Beverly Hills, CA)
Shiki Sushi
410 N Canon Dr, Beverly Hills, CA 90210
310.888.0036
www.shikibeverlyhills.com
Tue 11/04/2014, 08:00p-11:00p

Aside from
Sushi Tsujita
, Shiki ("four seasons") is probably the most promising Japanese debut of recent times. The restaurant grand opened on April 6th, and is a project of
Zen-Noh
, Japan's National Federation of Agricultural Cooperative Associations, and Yoshihiro Aoki's
Sakura Seven Co
. Helming the kitchen here is Executive Chef Shige Fujimoto, a 36-year restaurant veteran who's last post was at
Asanebo
.
About the Chef
: A native of Gifu Prefecture, Shigenori Fujimoto first set out to become a chef during his high school years, moving to Wakayama to train in traditional
washoku
as well as sushi. After eight years, he relocated to Nagoya in 1983, where he stayed for an additional three years and cooked at
kaga-ryori
specialist Kagaya. Fujimoto then emigrated to the United States, first landing at Lakewood's longstanding Tokyo Hibachi before transitioning to Gessin in 1991. In 1993, he secured a position at Nobu Matsuhisa's seminal
Matsuhisa
in Beverly Hills, where he worked as the omakase chef. After over a decade there, Fujimoto decamped and worked stints at Shige (2004-2005) and Marina del Rey's Irori (2005-2007), then became Tetsuya Nakao's right hand man at
Asanebo
, which secured a Michelin star during his tenure there. He eventually left in 2013 to start work on Shiki.

The restaurant is housed at the address of the old Enoteca
Drago
. The interior really hasn't changed much since those days, and doesn't really look the part of a Japanese restaurant (the sushi bar's the old antipasti bar). Capacity is 70 in the main space and 10 outside, and there's also a private dining room.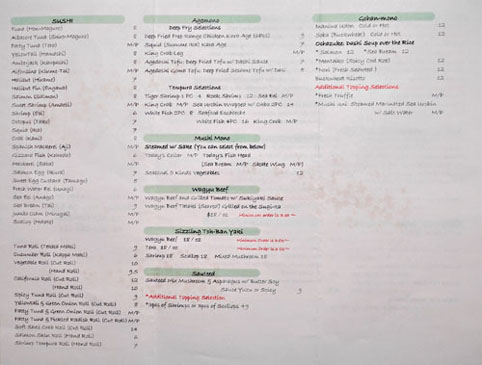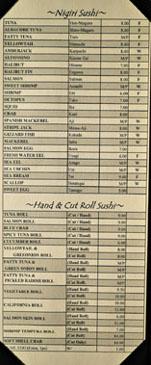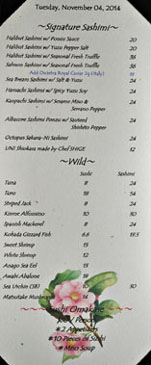 Shiki's menu comprises a large à la carte spread joined by seasonal specials. We, naturally, went for omakase, which is offered here in $125, $150, and $180 flavors (our choice). There's also a sushi omakase at a reasonable $60, not to mention lunch. As for libations, think your typical selection of beers, a pretty good spread of sakes, and the few requisite wines. Click for larger versions.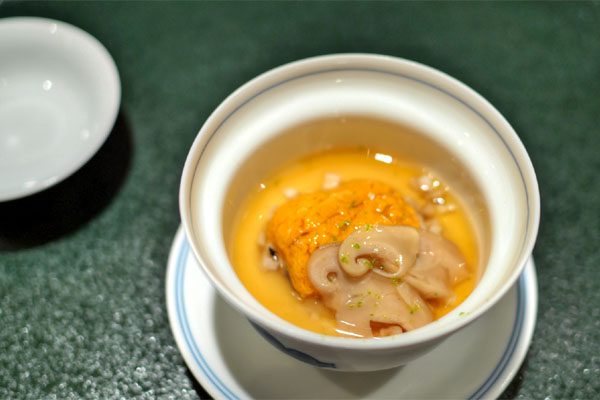 1: Chawanmushi
We commenced with a strong rendition of
chawanmushi
. I loved the sweet, ocean-y flavors of the Santa Barbara uni here and how that was enhanced by the depth of matsutake, everything tied together by the cool egg custard and punctuated by the zip of yuzu. What surprised me most, though, was the abalone, which added a great textural component to the course.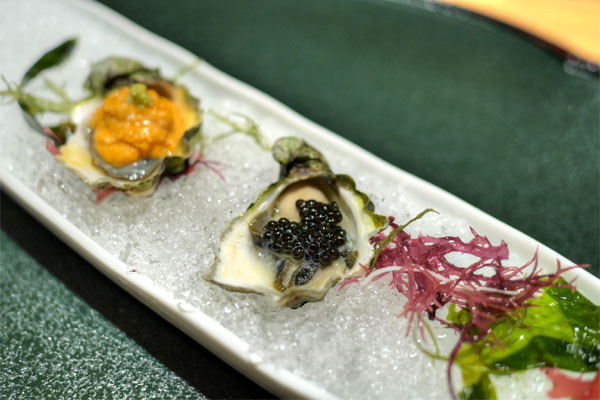 2: Kumamoto Kaki
Next were quite possibly the tiniest Kumamotos that I'd ever encountered. The first was paired with Italian Ossetra, which added a salty, lingering brine to the oyster, perked up by pricks of tart yuzu. We also had a version topped with Santa Barbara sea urchin; the yuzu was fantastic here, adding a sharp counterpoint to the lushness of the uni.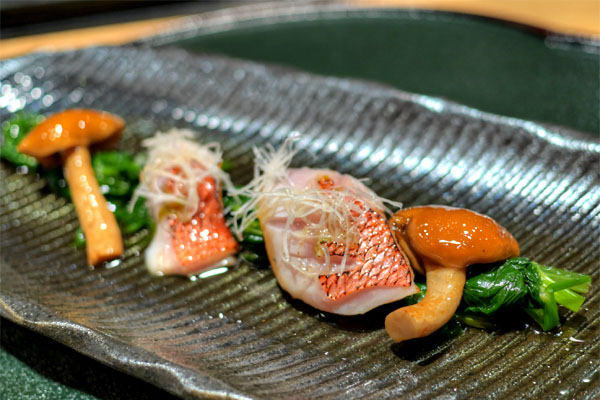 3: Kinmedai
My favorite course of the night was the golden eye snapper. The texture on the fish was pretty amazing--supple, yet a bit gelatinous and firm--and its delicate, lightly charred savor worked beautifully with the slippery
nameko
mushrooms and especially the bright, bitter sprouts here. The finishing touch was a drizzle of sizzling grape seed oil, which added a clean, savory accent that brought it all together. Masterful.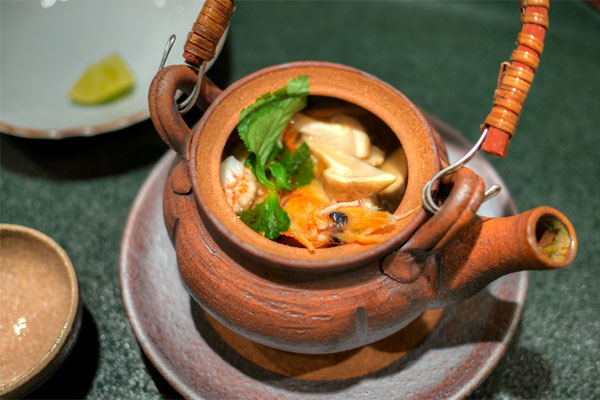 4: Dobin Mushi
Dobinmushi
arrived teeming with Washington matsutake, chicken, shrimp, halibut, and gingko. It was a hot, hearty potage, with a deep, heady brine countered by the sour prick of sudachi. Perfect for the cold weather we'd been having.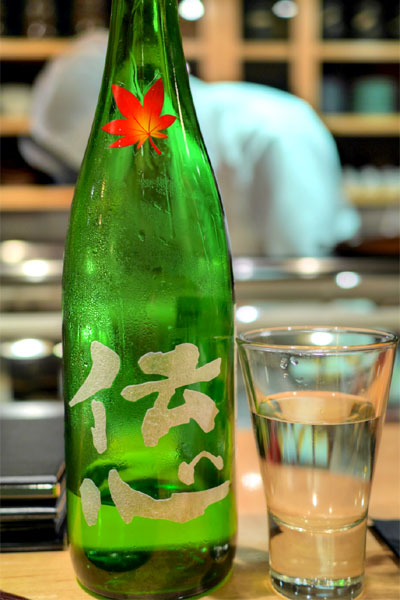 We opened up a bottle of sake at this point, the
Denshin Aki Junmai [$48]
. A limited autumn release
namazake
from Fukui Prefecture's Ippongi Kubo Honten, this was quite to my liking. I found it robustly flavored, fragrant, and fruity, a delectable
genshu
backed by a palpable booziness.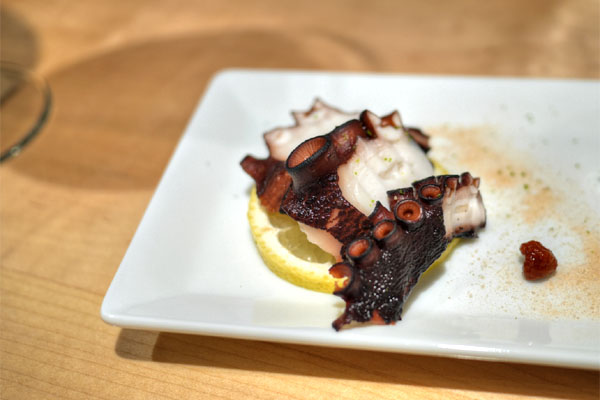 5a: Tako Nimono
Simmered octopus was delightful, super tender to the bite and delicately flavored, good with the sour
ume
plum and even better with a dab of Hawaiian pink sea salt.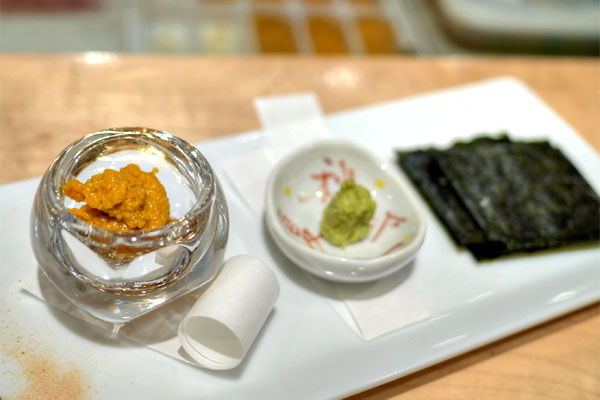 5b: Uni Shiokara
Santa Barbara sea urchin came accompanied by wasabi and superbly crisp sheets of nori, all three elements designed to be put together by the diner. This was the first time I "rolled my own," but the results were commendable, the classically effective pairing of uni and seaweed accented by the sharp heat of 'sabi.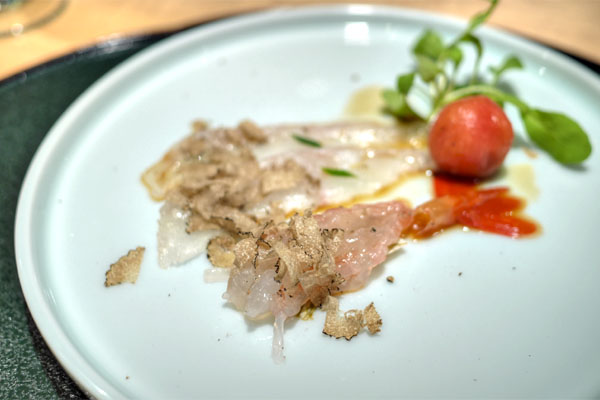 6: Hirame & Amaebi Sashimi with Seasonal Fresh Truffle
Following were two types of sashimi, sprinkled with Burgundy truffle. Sweet shrimp was perfectly textured, crisp and snappy, and melded nicely with the fungus, but the halibut was even better, its clean flavors augmented by contrasting notes of earthiness and arugula-fueled zest. We were quite enamored with that cherry tomato, too, which came vinegar-marinated and with a superb interplay of sour to sweet.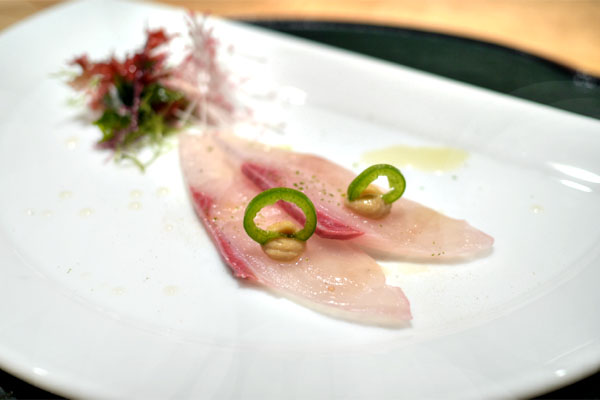 7: Kanpachi Sashimi with Sesame Miso & Serrano Pepper
More sashimi: amberjack was firm and satisfying to the touch, its mild flavors augmented by the nutty depth of the miso while serranos gave things just a whisper of heat.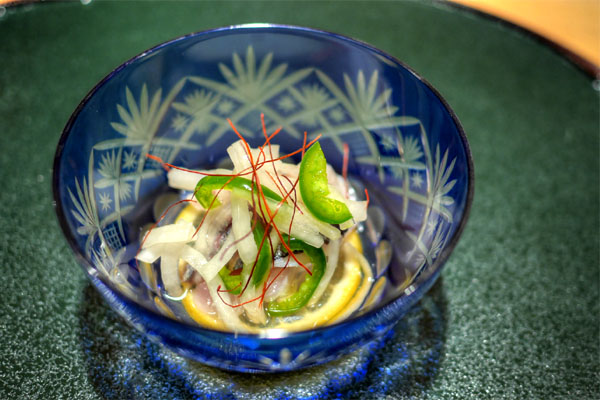 8: Aji Namasu
"Spanish mackerel" came topped with vinegared veggies, the bright, sweet, acidic punch of the
sunomono
countering the fishy weight of the aji in delicious manner.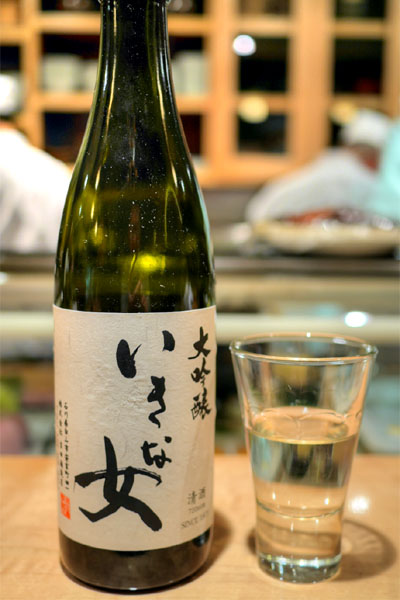 Our second bottle was the
Iki Na Onna Daiginjo [$90]
from Yoshida Shuzoten in Ishikawa Prefecture. This was also a thoroughly enjoyable sake, a lighter, thinner presentation that was drier and cleaner in character, but with a sharper edge to it.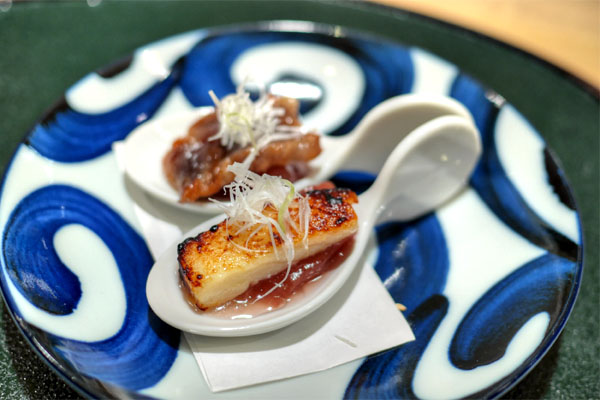 9: Gindara Saikyoyaki & Wagyu with Peach Compote
Next was perhaps the most unexpectedly good course of the evening. We had here two spoons, one with Kagoshima wagyu and one with miso-glazed sea bass, both accompanied by a peach compote. The sweetness of the fruit wasn't subdued, either, coming off as almost pie-like, but somehow it managed to work wonders with the savory char of the proteins, the pairing with the fish being particularly successful.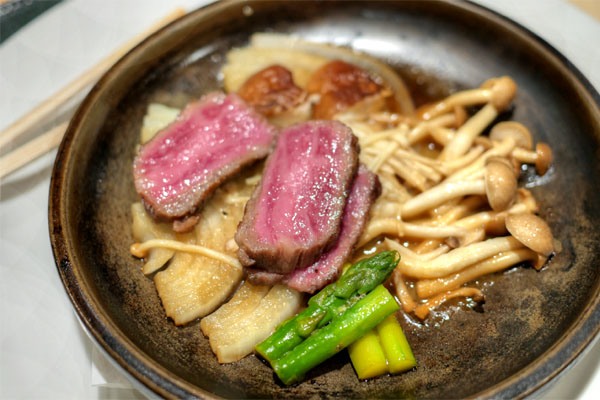 10: Kagoshima Wagyu Toban Yaki
The most substantial dish of the night was certainly the rib-eye
tobanyaki
, which arrived in a perfume of buttery goodness. The taste followed the smell, with the beefy goodness of the gelatinous, fatty cuts satisfying in a base sort of way, smartly cut in intensity by the sweet onion, bitter asparagus, and sour pinpoints of yuzu. One of my dining companions even bought two pounds of the beef to take home (at $18/oz), which we
cooked simply
on cast iron with salt and pepper the next day.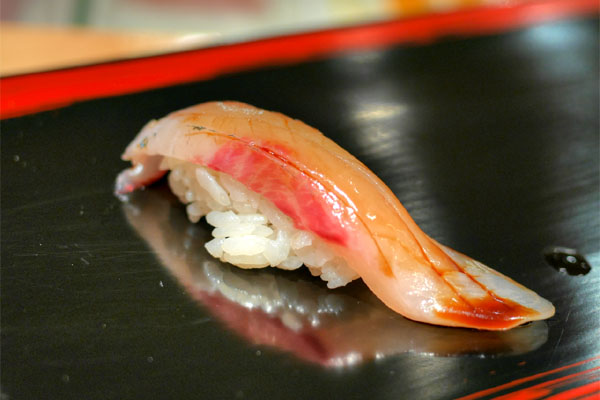 11: Shima Aji
Now, on to sushi. First to bat was the striped jack, a perfectly balanced bite demonstrating how well rice, fish, soy, and wasabi can work together.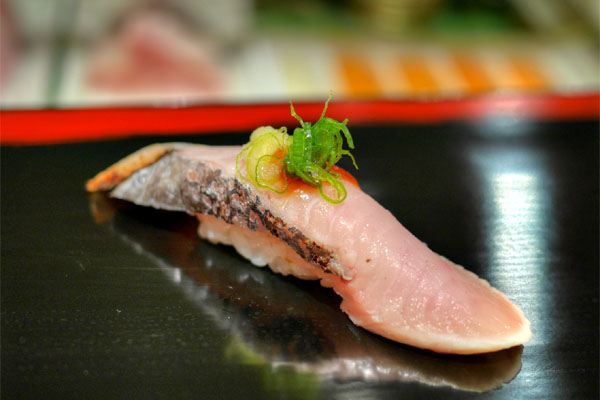 12: Sawara
Described as king mackerel, the sawara was a winner as well, the focused brine of the fish gorgeously tempered by the tang of ginger and scallion.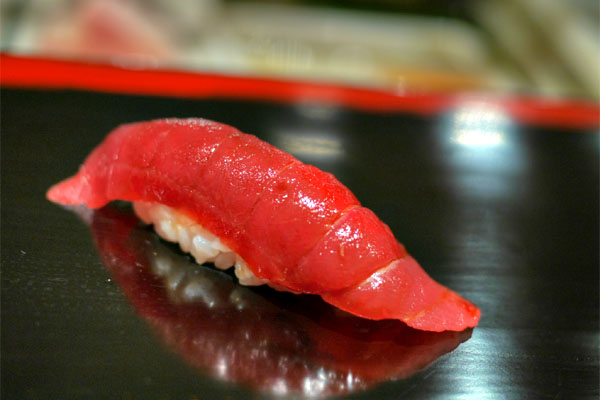 13: Kuromaguro
Wild blue fin from Boston was done
maguro zuke
style, the fish joined by a deep soy richness while wasabi added the right amount of levity to the fray.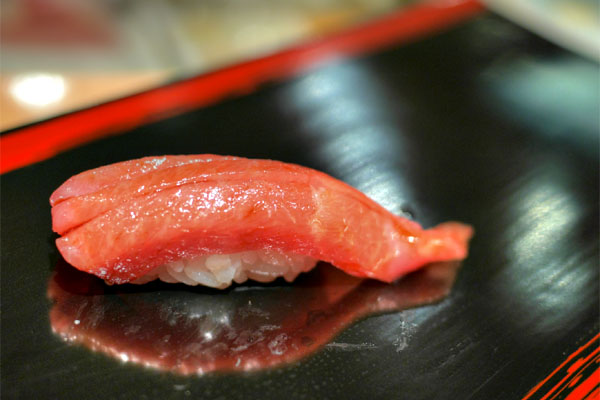 14: Toro
The same Boston blue fin yielded some tasty toro as well, the cut coming out expectedly fatty and near melt-in-your-mouth good.
15: Tai Ushiojiru
A soup of sea bream head and collar signaled the end of our meal, the potage really imbued with the savory, saline essence of the fish.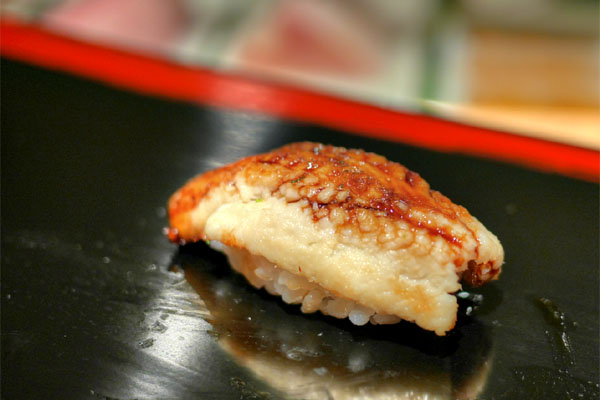 16: Anago
Our last official omakase course was the sea eel, a strong presentation that flawlessly blended sweet, savory, and char nuances.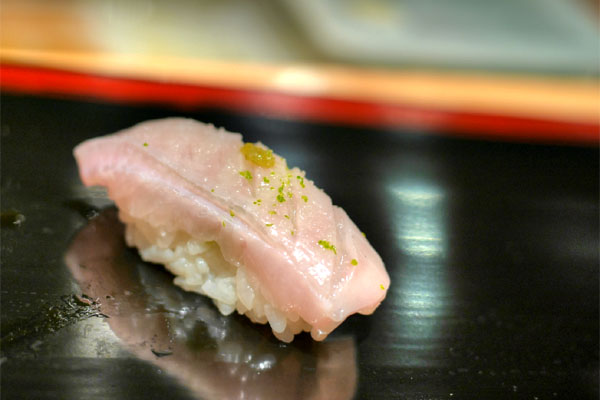 Supplement: Engawa [$4.00]
We ended up tacking on a couple of supplements, the first being halibut fin. It was wonderfully chewy, just as we wanted, and went swimmingly with a pinch of salt and a sprinkle of yuzu zest.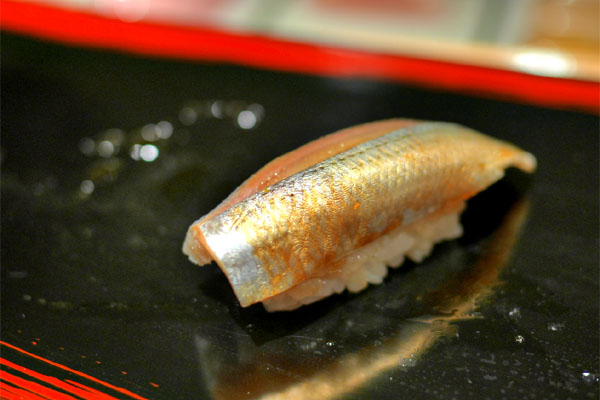 Supplement: Kohada [$3.00]
Last up was gizzard shad, a firm-fleshed, beautifully-skinned specimen with a great balance of fishy and vinegar-y flavors.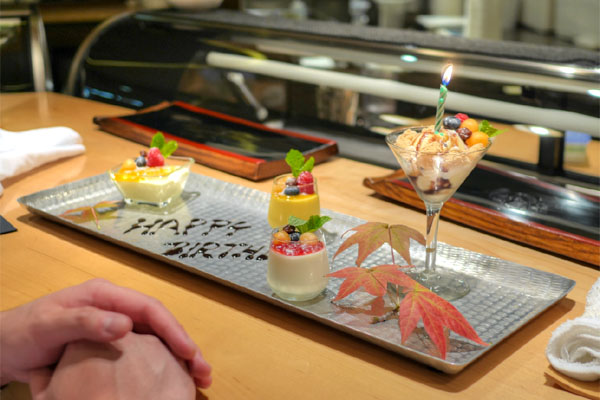 Given that we were celebrating a birthday, the kitchen brought out a complementary sampler tray, replete with a rousing rendition of "Happy Birthday."
I think we all left Shiki impressed. The place is comparable to many of the top Japanese joints in LA, and delivered a pretty outstanding meal to us here tonight. Ingredients seemed to be top notch, and there was an authenticity to it all that I quite enjoyed, even with the more unexpected twists thrown in. For the Japanese cuisine lovers out there, you'll want to add this one to your list.