Waterloo & City (Culver City, CA)
Waterloo & City
12517 Washington Blvd, Culver City, CA 90066
310.391.4222
www.waterlooandcity.com
Thu 03/31/2011, 08:20p-11:30p
Ben Fatto
. It means "well done" in Italian, and was the original name of Waterloo & City.
Ben Fatto was the brainchild of restaurateur Thierry Perez (of
Fraiche
fame), and rather than a gastropub, the restaurant was supposed to be an all-day rustic Italian eatery. Apparently, he even had a chef from Napoli all lined up. That plan soon went out the window, however, and Perez ended up partnering with Chef Brendan Collins and GM Carolos Tomazos (
Le Bernardin
, Gilt,
Per Se
, Alain Ducasse) to come up with Waterloo & City (named after the London railway line). Perez, however, would leave the partnership in early 2010 (replaced by actor
Kip Pardue
, interestingly), shortly before the restaurant's eventual debut in mid-May. He went on to open L'Epicerie Market in December, and
recently poached
noted French chef Sébastien Archambault from RH at the
Andaz West Hollywood
.
About the Chef
: Hailing from Nottingham, England, Collins knew that he wanted to cook at an early age, and left school when he was 15 to begin his culinary education. His first job was at London's Michelin two-star La Gavroche, and he would eventually make his way to a number of the City's notable eateries, including the historic Café Royal, The Heights at the Saint Georges Hotel, and Pied à Terre, another two-star Michelin. In 1998, Collins moved to Leeds to take on his first Executive Chef role at The Calls Grill, achieving a Bib Gourmand rating from Michelin the next year. Following, he returned back to London to work as a sous chef at the OXO Tower Restaurant, then transitioned to another sous chef position under the famed Marco Pierre White at Quo Vadis.
Collins then immigrated to the US in 2002, landing at Josiah Citrin's
Melisse
, where he stayed for four years and served as Chef de Cuisine. He later left to open Mesa in Costa Mesa (where
Fraiche
's Jason Travi is currently serving as Corporate Chef), then returned to Santa Monica in 2008 to open
Alain Giraud
's Anisette. Collins then became the Executive Chef at French brasserie The Hall at Pailhouse, where he stayed until joining Waterloo & City in 2010.

Situated in the former space of the Crest House Family Restaurant (described by management as an old "greasy spoon"), which shuttered in 2006, Waterloo & City is a sprawling restaurant. The interior was penned by designers
Thoreen&Ritter
, and reflects W&C's English gastropub roots, while simultaneously embracing a touch of whimsical, nostalgic American retro. Of particular note are the large wooden communal table, 30-foot long copper-topped bar, reclaimed church pews doubling as banquets, and newly-constructed patio out front.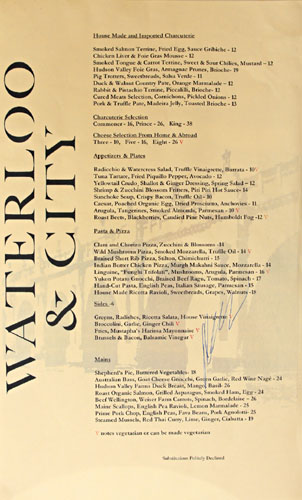 Waterloo & City's menu is fairly comprehensive, with a particular focus on the housemade charcuterie. Other items make up Collins' prototypical gastropub fare, accented with a good bit of Cal-French flair. Click for a larger version.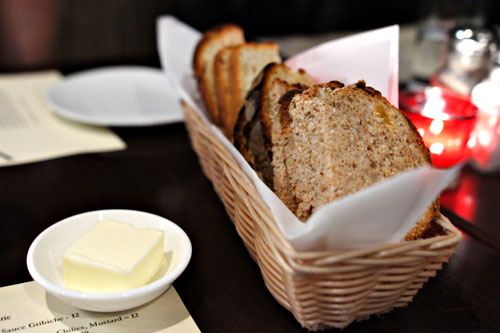 Three types of bread, all baked in-house if I'm not mistaken.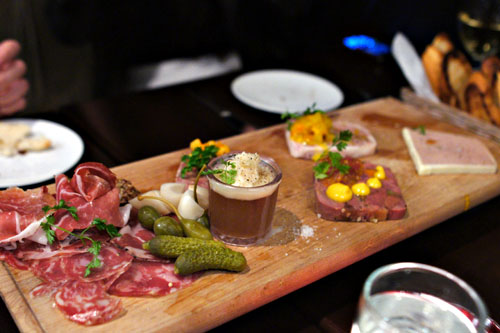 Charcuterie Selection - Prince [$26.00]
Chef Collins prides himself on his charcuterie, so of course we had to start with a good selection of it. W&C offers up tasting platters in three different sizes--Commoner, Prince, King--and at the advice of our server, we went with the middle option. Its contents were (along with a small shot of horseradish-topped beef drippings):
Chicken Liver & Foie Gras Mousse - Creamy, delicate, and oh-so luscious, with an almost cheese-like character and richness. Superb over the included toasted brioche.
Smoked Tongue & Carrot Terrine, Sweet & Sour Chilies, Mustard - My favorite item on the plate, with a heavy, smoky bovine sapor beautifully matched with the sour smack of mustard.
Rabbit & Pistachio Terrine, Piccalilli, Brioche - Very nice. I appreciated the tartness of the paired piccalilli, as well as the prick of saltiness from the terrine's pork wrapper.
Duck & Walnut Country Pate, Orange Marmalade - Heady and hefty, balanced by the nutty relish of walnut. The marmalade was a touch too saccharine for me though.
Cured Meats Selection, Cornichons, Pickled Onions - A fabulous foursome of meats: a silky, smooth, salty prosciutto; coppa, delicate and tender, with a nice fattiness and spice; a textbook salami; and a more richly-flavored duck salami.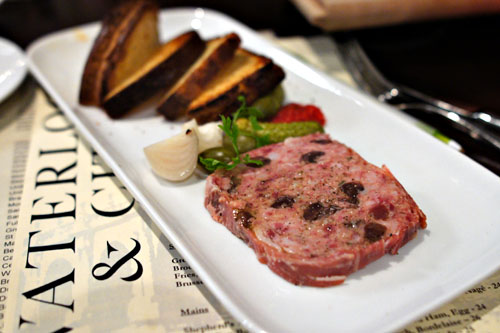 Boar Country Pate [$12.00]
In addition to the spread above, we also ordered the wild board pâté, a special this evening. This was a gritty, rustic slice of pink goodness, with an especially heady savor moderated by the sweetness of the accompanying fruit.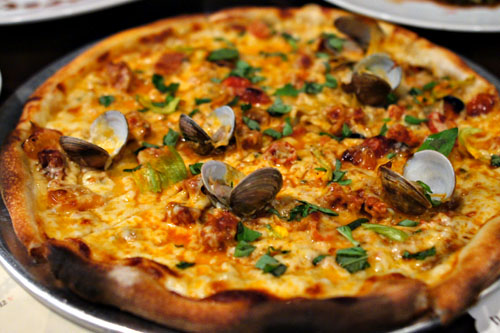 Clam and Chorizo Pizza, Zucchini & Blossoms [$14.00]
Waterloo & City features a small selection of pizzas, and given my fetish for chorizo, this was an obvious choice. I enjoyed the piquant spice of the sausage, and how it amped up the pizza. However, I felt that the clams didn't quite make themselves known enough--I wanted to taste more brine from 'em.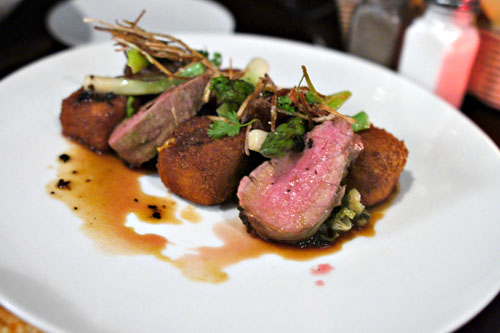 Veal Filet, Polenta Croquettes, Leek Truffle Sauce [$26.00]
I'm generally not a fan of veal, finding it rather boring, but I must admit that what we had here was one of the best preparations of the meat that I've ever had. The veal itself was tender to be sure, but also inordinately succulent, with a particularly profound depth of flavor that really surprised me. Its gravitas was deftly countervailed by the croquettes, and I loved the tempering tang from the leeks as well. My favorite course of the night.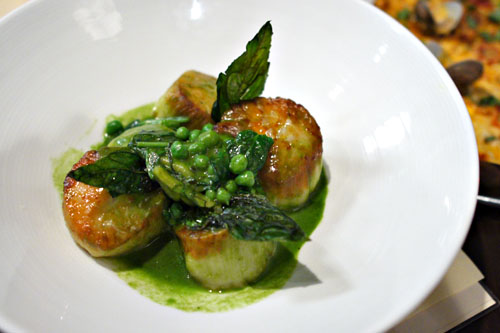 Maine Scallops, English Pea Ravioli, Lemon Marmalade [$25.00]
Scallops were superb, showing off a delightfully rare consistency and lovely ocean-y salinity, all highlighted by a perfect touch of bitter char. They were delectable eaten alone, but the peas really did a great job in balancing the dish. Very nice.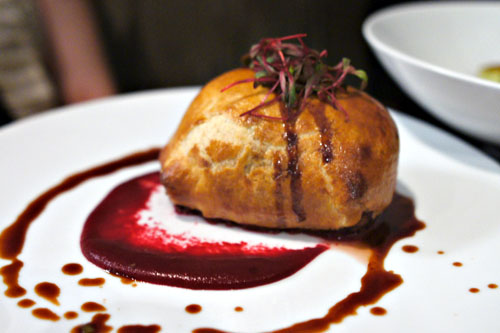 Beef Wellington, Weiser Farm Carrots, Spinach, Bordelaise [$26.00]
Here was a faithful presentation of the classic Wellington: a beef steak covered with duxelles and foie gras, enrobed in puff pastry and baked. Not surprisingly, we're talking big, dark flavors here, with the umami-rich taste of mushrooms playing well with the inherent relish of the beef, while the foie added overarching notes of liver-y goodness, all muted by the relative levity of the pastry. My only complaint was that the beef really should have been cooked to a rarer temperature; ours was medium-well when it should've been medium-rare.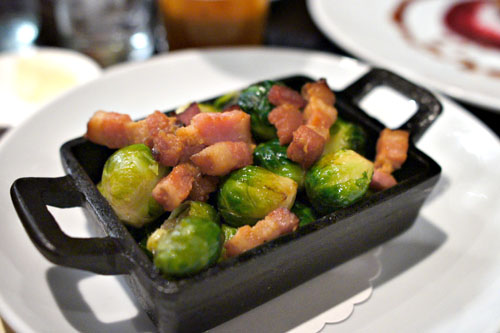 Brussels & Bacon, Balsamic Vinegar [$6.00]
Brussels and bacon, two of my favorite foods--how could I resist? The sprouts, expectedly, were crisp, bright, delectably astringent, and beautifully contrasted by the straightforward saltiness of the pork.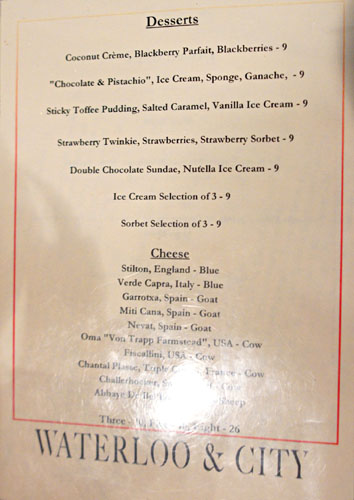 A small selection of desserts and cheese to round out the meal. Click for a larger version.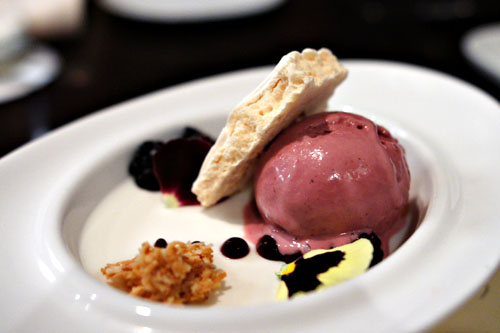 Coconut Crème, Blackberry Parfait, Blackberries [$9.00]
We kicked off the sweet stuff with a simple coconut cream. Its light, almost ethereal essence of coconut was unquestionably heightened by the brazen sweetness of the blackberries, while the meringue added a great touch of textural variation to the dish. In addition, there was also a trace of savory flavor (I couldn't put my finger on it) to this dessert that I rather appreciated as well.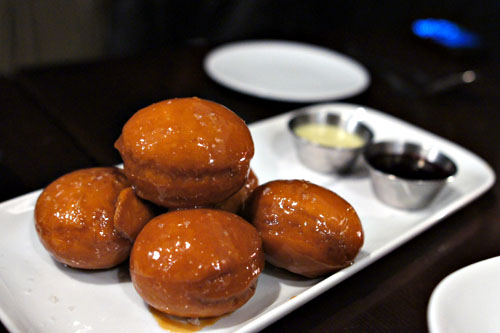 Bourbon Beignets, Crème Anglaise, Berry Jam [$9.00]
Beignets were a special this evening, and were a must-order item for the table. Warm, rich, tooth-achingly sugary, and tinged with a touch of boozy flair, the doughnuts did not disappoint. Dipping sauces of berry jam and crème anglaise were provided, but proved to be unnecessary.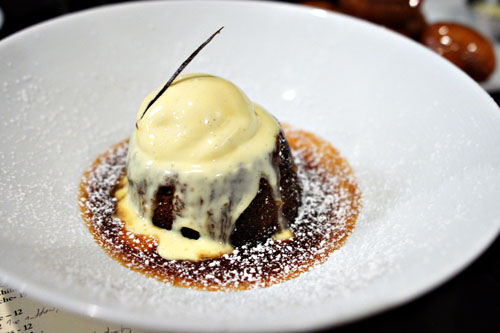 Sticky Toffee Pudding, Salted Caramel, Vanilla Ice Cream [$9.00]
We saved the best for last. The sticky toffee pudding is W&C's signature dessert, and I can see why. The pudding itself was intense, almost
too
sweet,
too
rich by itself, and thus, the ice cream served as a necessary counterweight to the sheer gravitas of the dessert. The key here, though, was the salted caramel, which provided just the perfect saline smack to complete the dish.
Waterloo & City is oft regarded as the best gastropub in town, and it's easy to see why. Collins' charcuterie skills are something to be lauded to be sure, but his facility with plated dishes is nothing to sneeze at either, showing off a near faultless marriage of gastropub-y whimsy with fine dining flair.
Ben fatto
indeed.