Mondo Taco (Santa Monica, CA)
Mondo Taco Restaurant
2200 Colorado Ave, Santa Monica, CA 90404
310.310.8922
www.mondotaco.com
Tue 05/19/2015, 08:40p-09:30p

After eating at
Tacos Punta Cabras
earlier in the evening, we were still in a taco-ish mood, and thus wandered over to Mondo Taco. Mondo Taco, as its name would imply, serves a wide variety of tacos ostensibly inspired by all sorts of global cuisines. The restaurant is the work of Sam Spector, a 35-year hospitality veteran and Philadelphia native who was last seen around these parts at The Culver Hotel. He opened Mondo in July 2012 in an out-of-the-way location in Mid-Wilshire, the former home of Little Kitchen and The Breakfast Place. However, after gaining a bit of traction, he got some investors on board and relocated the eatery in February last year to its current spot in Santa Monica, which now serves an expanded menu to a lot more diners.
The restaurant is situated on the ground floor of AO Apartments (formerly The Arboretum of Santa Monica). It's a counter service type of place, with seating for about two dozen guests.

Mondo Taco's menu is vast, with roughly 35 types available at a given time divided into meat, seafood, and vegetarian sections. All tacos are served on housemade corn tortillas (with a pinch of flour apparently), though you can go gluten-free or Dino-style (cabbage leaf) for an extra charge. Wrap (flour or wheat) or bowl (rice or cabbage or quinoa) options are available as well. To drink, you get sodas and such, and there's beer on tap, too. Click for a larger version.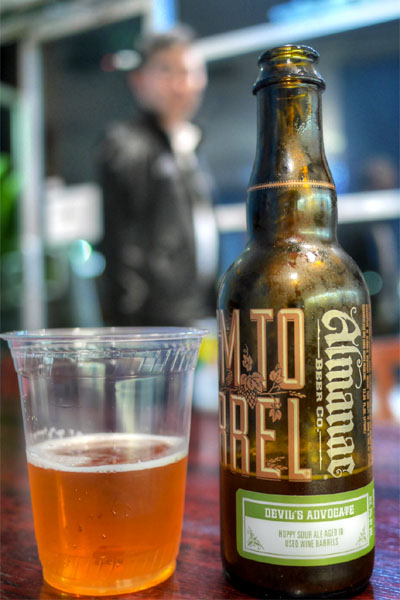 We BYOB'd the beer that was left over from Punta Cabras. First up was the
2014 Almanac Devil's Advocate
, a 100%
Brettanomyces
sour ale brewed with Mosaic hops and aged in wine barrels, then dry-hopped with Nelson before bottling. It turned out to be one of my favorite Almanacs in a while, with the beer's funky, tart qualities beautifully matched by juicy, tropical nuances of melon and citrus.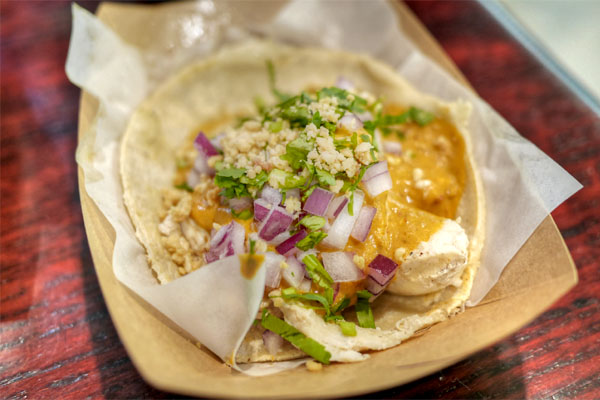 Thailicious [$3.50]
| Grilled Chicken, Chipotle-Peanut Sauce, Cilantro, Onion
We got things going with a Thai-inspired taco. The chicken itself wasn't terribly interesting here, but its accompaniments certainly worked, with a lovely brightness from the cilantro-onion and a sweet, nutty presence from the sauce that brought it all together.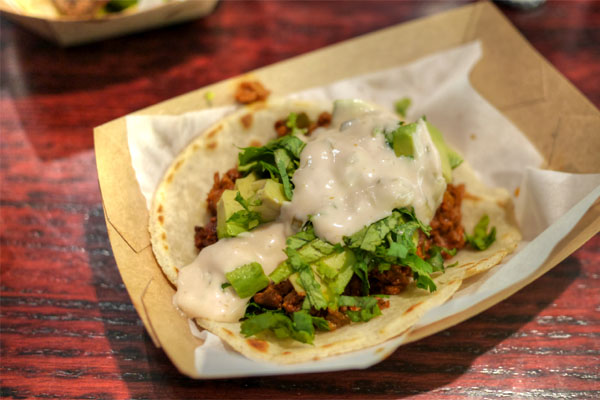 Sister Sledge [$3.50]
| Soyrizo, Avocado, Cilantro, Jalapeño, 1000 Island, Onion
Our sole non-meat taco turned out to be a pleasant surprise. The so-called soyrizo did an admirable job conveying the spice and savor of chorizo, while the combo of cilantro and avocado imparted a necessary balance. I didn't mind the Thousand Island, either, which added an additional level of lushness to things.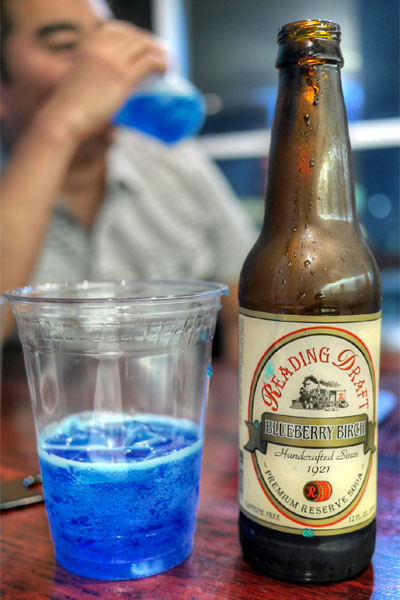 The
Reading Draft Blueberry Birch [$2.50]
was no doubt the bluest thing that I'd ever consumed, and quite sweet overall, but with a pleasant effervescence that made it go down easy.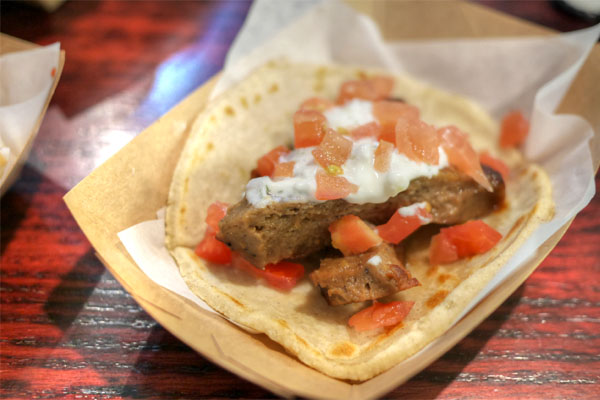 El Greco [$4.75]
| Shawarma Grilled Lamb, Tzatziki, Diced Tomato
Next was a reasonable approximation of the ubiquitous shawarma wrap, with the lamb making sense alongside the cool, countering yogurt while tomatoes added a hit of tartness to the fray.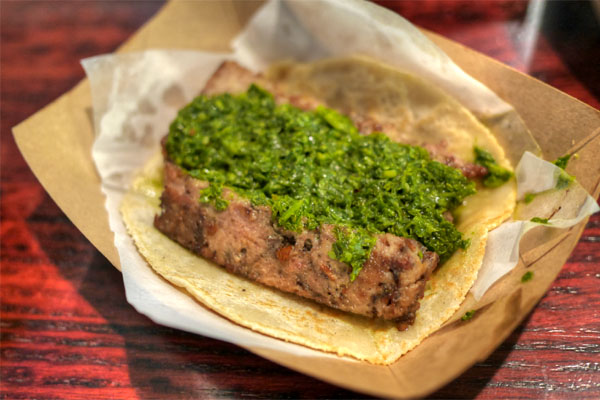 Afrentina [$4.75]
| Moroccan Lamb, Chimichurri Sauce
Another lamb-based taco wasn't quite as successful. The actual meat came well-spiced and reasonably juicy. However, the accompanying chimichurri went overly tart, astringent almost.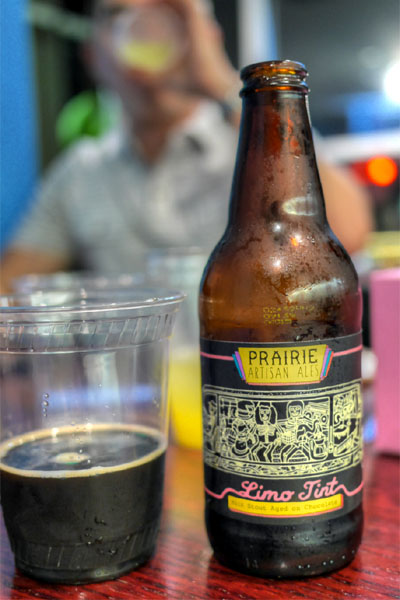 Last to drink was the
2015 Prairie Limo Tint
, a milk stout aged on chocolate. The beer drank smooth and creamy, with a delightful cacao-tinged sweetness joined by notes of dark fruit, roast, malt, and coffee.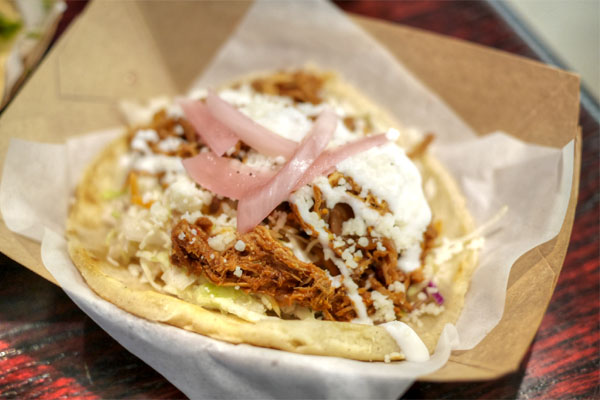 Tinga Bling-Bling [$4.25]
| Chipotle-Marinated Chicken, Cotija Cheese, Pickled Onions, Cabbage, House-made Crema Fresca
A special tonight, the
tinga
hit the mark, with the tender, deeply-flavored chicken melding well with the cotija and crema while onions and cabbage gave up the necessary lightness.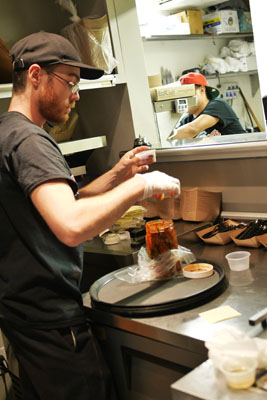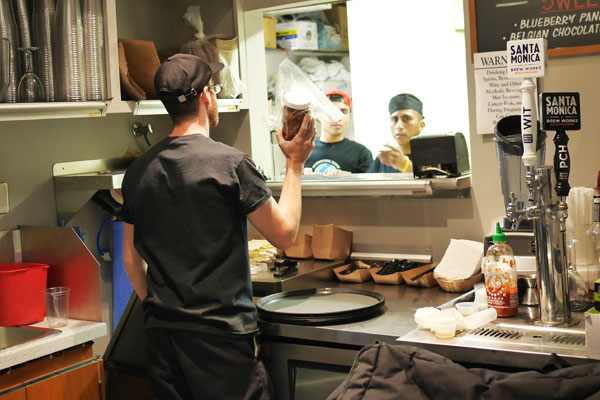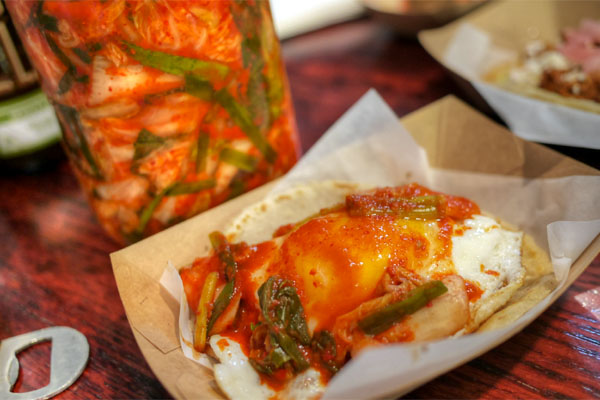 Nuclear Bomb
| Short Rib, Sriracha, Kimchi, Fried Egg
We concluded with one of Mondo's off-menu tacos, which was only made possible due to some homemade kimchi we happened to have on us (the kitchen had run out of the regular kimchi they use). The resultant taco was a bit trashy, sure, but also pretty tasty, with the tender cuts of short rib working hand-in-hand with the lushness of that egg while kimchi brought a much-appreciated crunch and spice to the mix.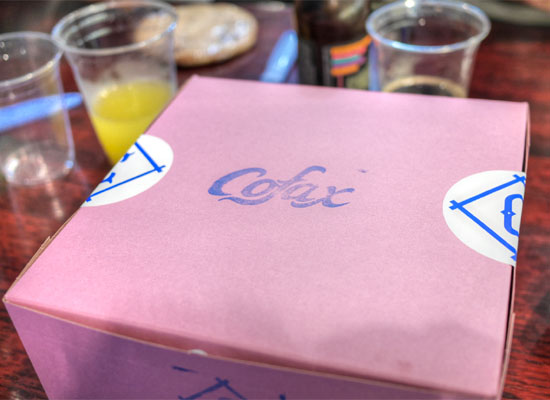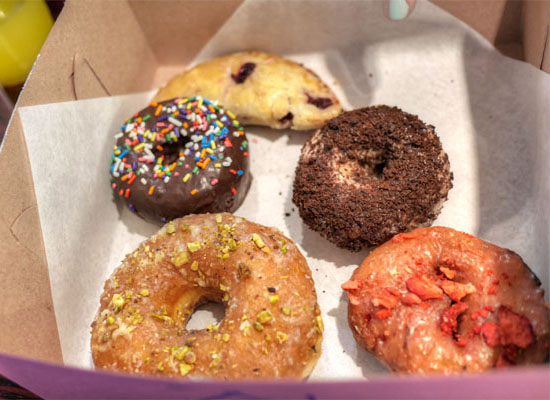 Dessert comprised some donuts that we happened to have on hand as well, sourced from Cofax Coffee, the newest project from Jason Bernstein and James Starr, the guys behind Golden State/
Bludso's Bar-&-Que
/Prime Pizza. They were made by Nicole Rucker (who joined the team in May after leaving Gjusta), and varieties included Strawberry Shortcake, Lemon Pistachio, Compartes Chocolate, Blueberry Hand Pie, and what I believe was Coffee Cake.
I walked into Mondo Taco pretty much out of the blue, but left reasonably satisfied with the place. It's a fun concept overall, and the flavors mostly work.
---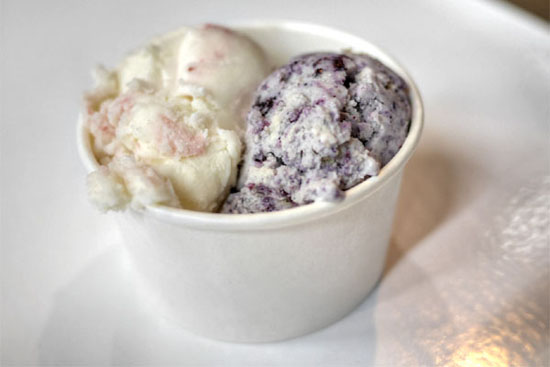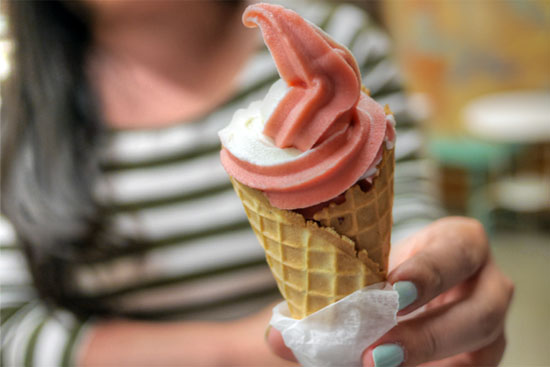 Our second round of dessert brought us to the Sweet Rose Creamery on Pico, which I'd actually never been to before (haven't been to the Beverly one either). The location definitely lacks the charm (and seating area) of the Brentwood original, but the actual ice creams looked to be just as exemplary. We sampled the
Buttermilk Sherbet with Strawberry Ripple
,
Blueberry Muffin Ice Cream
(loved the texture of the muffin bits in this one), and the
Strawberry & Vanilla Bean Gelato Soft Serve
.