Broken Spanish (Los Angeles, CA)
Broken Spanish Restaurant
1050 S Flower St, Los Angeles, CA 90015
213.749.1460
www.brokenspanish.com
Thu 07/16/2015, 08:00p-10:20p

A couple months back I enjoyed a promising meal at
B.S. Taqueria
, so it was sort of a foregone conclusion that I'd be checking out Ray Garcia's follow-up. Broken Spanish debuted on June 22nd, and is the Taqueria's bigger, schmancier sibling, a place that's meant to showcase the Chef's culinary journey thus far via cuisine that combines Garcia's Latino upbringing with his classical training and time spent in LA. The restaurant represents a partnership with Bill Chait's
Sprout LA
, with Garcia Hospitality partner Jacob Shure manning the FOH and Geter Atienza (FIG, SHO Shaun Hergatt) in place as CdC.


The old
Rivera
space has been revamped by local firm
Bells & Whistles
. It's a much lighter, lighthearted affair now (especially in the old "Sangre" room), exuding a bit of homey charm.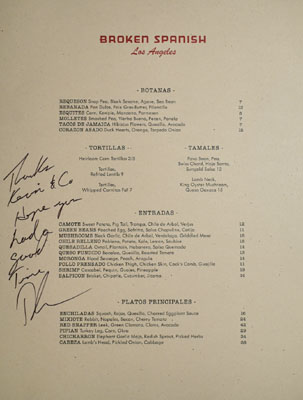 As for Broken Spanish's menu, it features Garcia's new-wave Mexi-LA cooking in the tried-and-true cadence of snackier bites, small plates, and larger dishes. The drink program's also notable, yielding a conceptually-appropriate cocktail list from barman Michael Lay (
Brilliantshine
,
Faith & Flower
), as well as a handful of beers and a compact-but-varied wine list. Click for larger versions.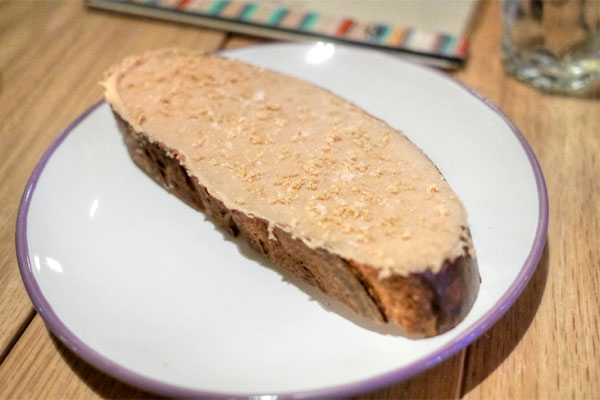 Rebanada [$13.00]
| Pan Dulce, Foie Gras-Butter, Piloncillo
The meal got off to a strong start with this take on
pan dulce
. You got the refined, liver-y essence of the foie, intertwined with the sugariness of
piloncillo
, with the sweetness of the bread further enhancing the interaction. A big fan of the restraint here.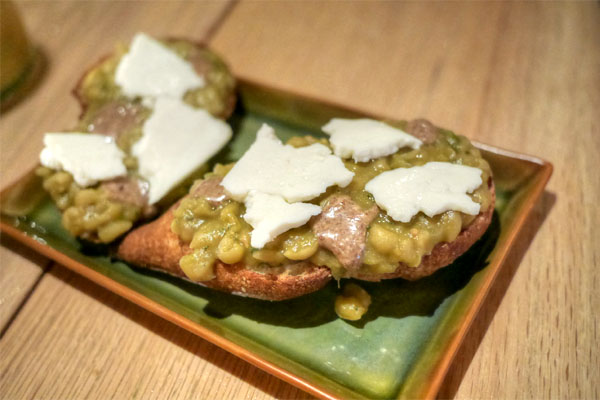 Molletes [$7.00]
| Smashed Pea, Yierba Buena, Pecan, Panela
Next was Garcia's rendition of a
mollete
, traditionally a sort of baguette stuffed with refried beans and cheese. Here, it was reminiscent of the "toasts" that seem to be all the rage these days, the peas doing an admirable job grounding the dish while the cheese imparted the necessary luxuriousness. Key was the
yerba buena
, which gave a well-placed zippiness to things.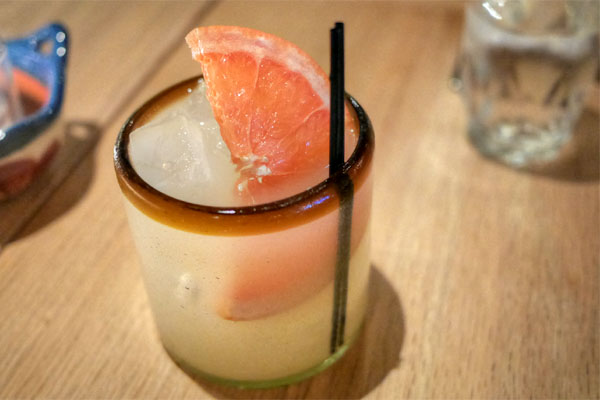 Paloma Phosphate [$12.00]
| Blanco Tequila, Grapefruit Gomme Syrup, Citrus Oil, Acid Phosphate, Grapefruit Soda, Sea Salt. Served tall over ice.
Lay's version of the Paloma was a winner, a super refreshing cocktail with a delightful bittersweet citrus edge and an element that one of my dining companions likened to
grass jelly
.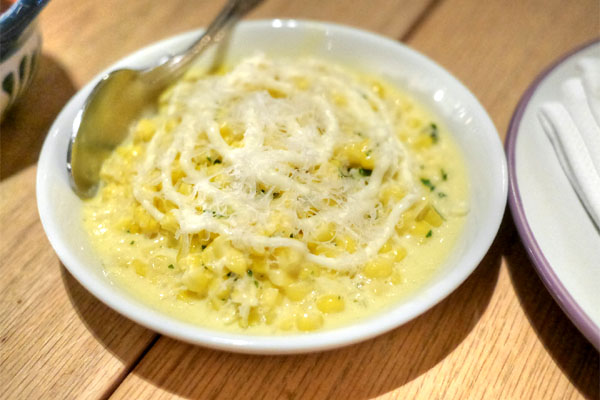 Esquites [$8.00]
| Corn, Kewpie, Manzana, Parmesan
The
ezquites
was one of the tastiest presentations of corn that I've had in recent times. The kernels' inherent sweetness was beautifully conveyed, augmented by the richness of Parm and Kewpie while the finish showed off a wonderful lingering spice.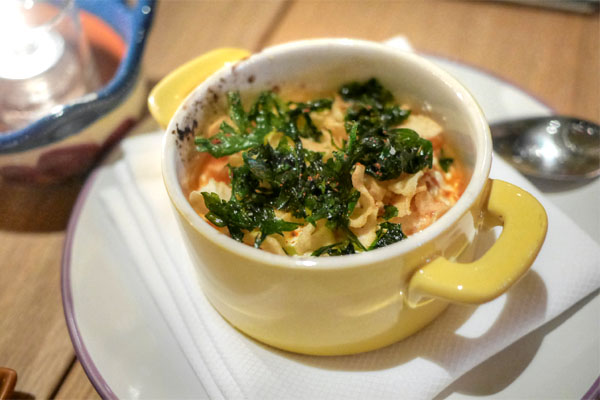 Queso Fundido [$13.00]
| Bacalao, Quesillo, Roasted Tomato
We couldn't resist this thanks to the presence of salt cod, and indeed, the dish played the subtle salinity of the fish against the tartness of the tomato, all while garlic chips added a delightful crunch to the mix. I wanted more actual cheesiness to it though.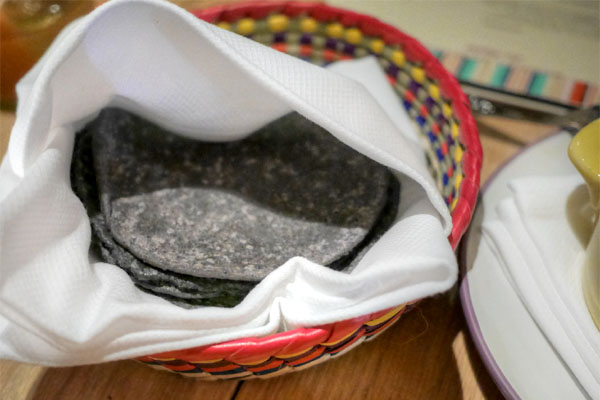 Tortillas--to pair with the
queso
above--were thick, supple, with a strongly nutty, maize-y character.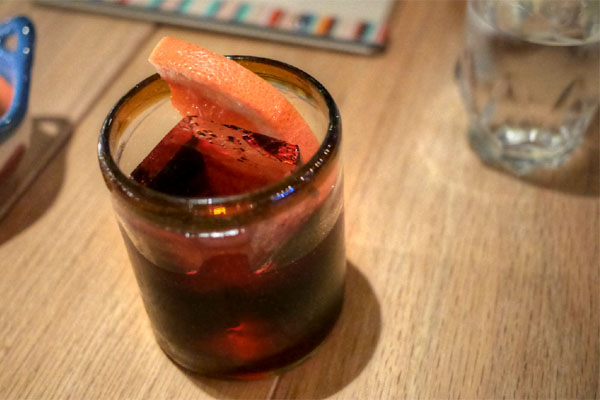 Mariachigroni [$14.00]
| Mezcal, Hibiscus-infused Aperitivo, Bitter Truth EXR. Served over a large ice cube.
Our next cocktail was definitely boozier, but definitely hit the mark as well with its masterful interplay of smoky and bittersweet-floral flavors, all finished with notes of juicy citrus.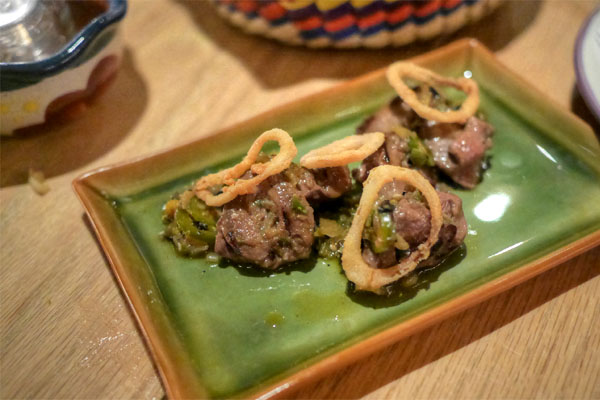 Corazon Asado [$12.00]
| Duck Hearts, Orange, Torpedo Onion
I wanted a tad more char on the hearts, though they were certainly still enjoyable: tender, savory, well-spiced, with an earthy finish.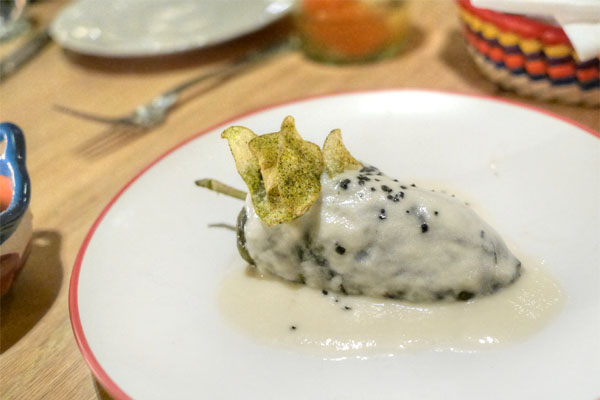 Chile Relleno [$15.00]
| Poblano, Potato, Kale, Lemon, Soubise
The stuffed chile was another standout for me, coming in with a lovely heartiness from the potato that did a nice job standing up to the kale and poblano while the soubise helped bring all the elements together. Comforting overall, with a great crunch from the chips up top too.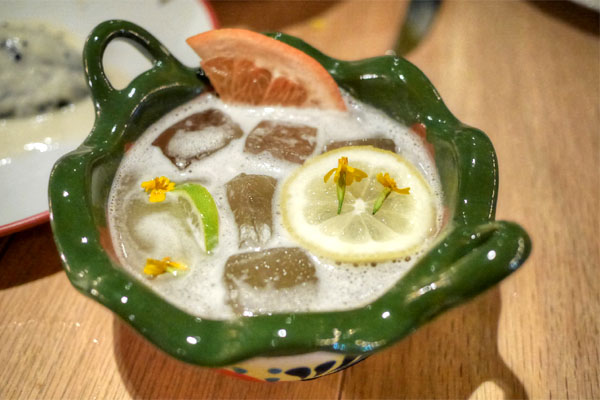 Cazuela [$20.00]
| Mezcal, Blanco Tequila, Mandarin Napoleon, Lime, Fresh Jicama, Pineapple, Fresno Chili. Served in an earthen "Cazuela" dish with some pretty flowers.
Though ostensibly meant for two, we found that a single person could polish this off no problem, especially since it went down rather easily, its light, bright fruit flavors evening out the tartness and booziness in the drink.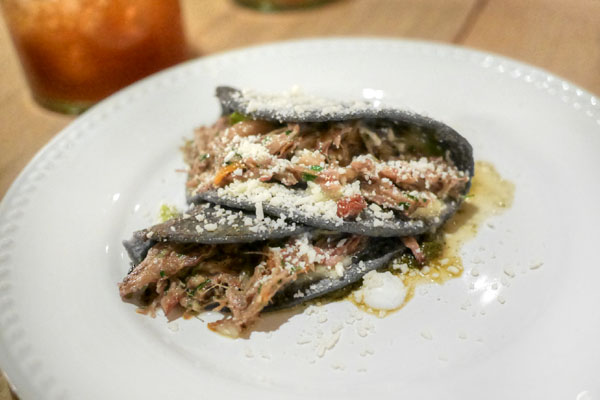 Quesadilla [$14.00]
| Oxtail, Plantain, Habanero, Salsa Quemada
Garcia's quesadilla did a commendable job displaying the deep, dark flavors of oxtail, pairing it with a very apparent cheesiness and a touch of heat. I especially appreciated how the thick, substantial tortillas helped temper things as well.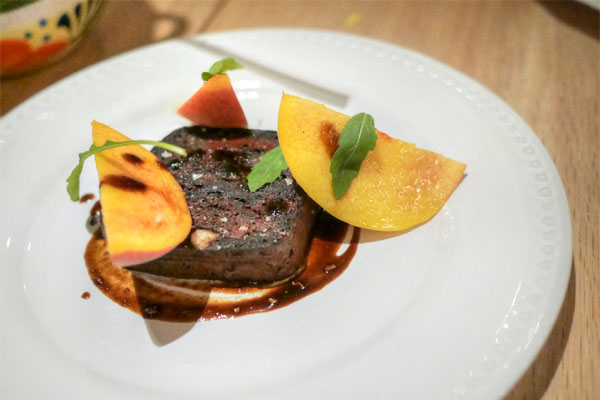 Moronga [$14.00]
| Blood Sausage, Peach, Arugula
Blood sausage was as potent as you'd expect, but its heft was countered beautifully by the peaches, which lent a juicy, sweet, refreshing accent to the
moronga
that really lifted the dish.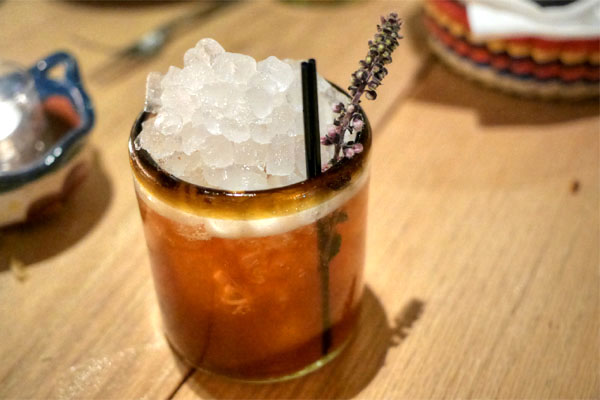 Surfer Rosa [$12.00]
| Pimm's No. 1, Ancho Reyes, Lemon, Strawberry Shrub, Basil Flower. Served over tiny ice.
This next cocktail was a fun one: tart at first, but with its base of jammy, sweet, floral flavors set off by just a smidge of spice.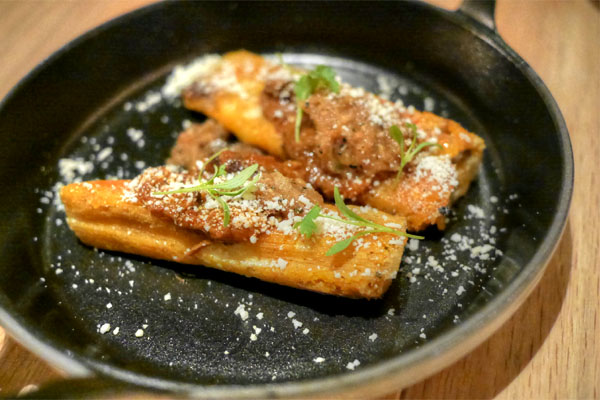 Tamales [$15.00]
| Lamb Neck, King Oyster Mushroom, Queso Oaxaca
Tamales were tasty as well, the
masa
making perfect sense with the supple, well-spiced shards of lamb.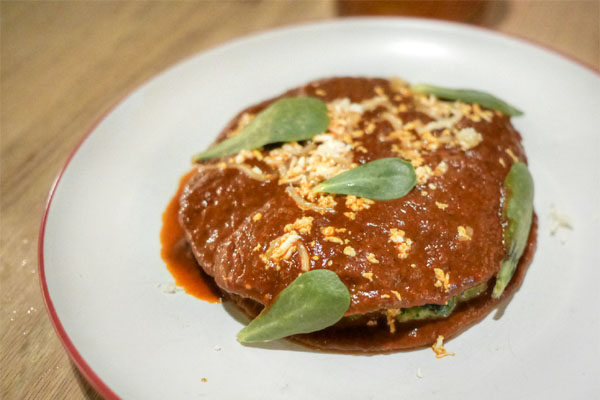 Enchiladas [$16.00]
| Squash, Rajas, Quesillo, Charred Eggplant Sauce
The enchiladas were another favorite. I was a fan of the light, crunchy veggies here, and how they played against the deep, smoky, spicy eggplant-based sauce.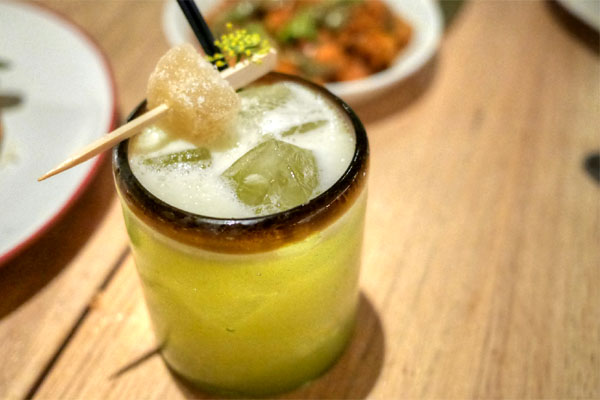 Green Garden [$14.00]
| Blanco Tequila, Belle de Brillet, Lemon, Ginger, Green Juice Medley, Fennel Flower. Served over ice.
Up next was the brightest cocktail of the bunch, one loaded with lots of almost vegetal, herby nuances over a sweet 'n' sour base. Pretty neat.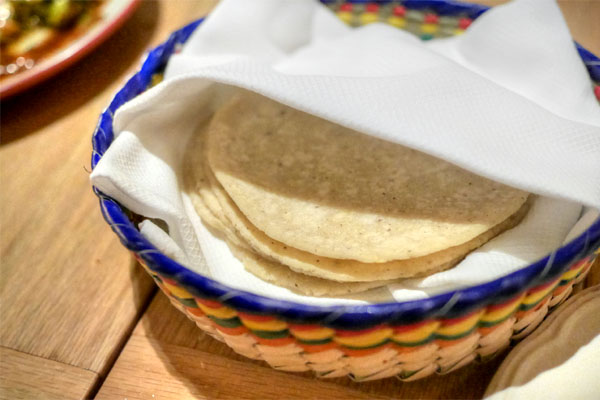 Our next set of tortillas was advertised as being done in the Oaxacan style. I found them a bit less weighty than the blue incarnations above, and a fitting pairing to the chicken below.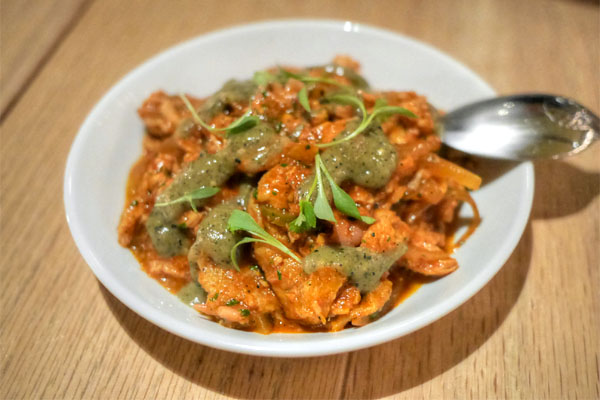 Pollo Prensado [$11.00]
| Chicken Thigh, Chicken Skin, Cock's Comb, Guajillo
The pressed chicken was definitely a highlight for me. There was just a great depth of flavor to the bird, enriched by the heady, sweet spice of
guajillo
and accented by the brightness of the herbs.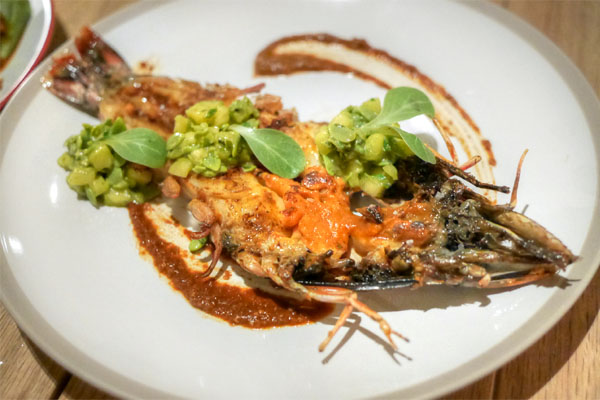 Shrimp [$19.00]
| Cascabel, Pequin, Guajes, Pineapple
Our final savory brought us a singular shrimp, a large specimen with a fantastic snappiness and a sweetness that was well-accompanied by the heat of the chiles.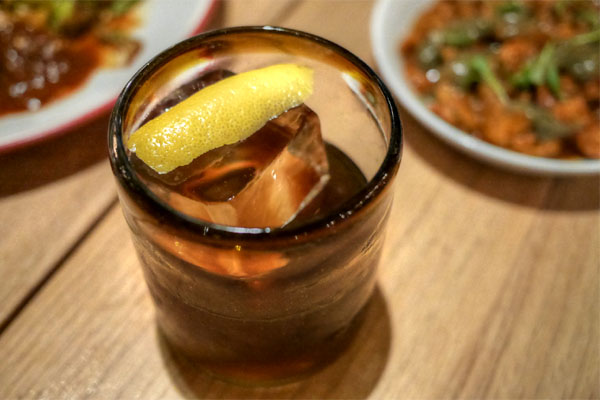 Señor Ted Mosbley [$14.00]
| Bourbon, Fernet Vallet, Oro Blanco Cordial, Damiana, Tea Pot Bitters. Served over a large ice cube.
Despite its name, I'm told that this cocktail hasn't anything to do with
HIMYM
. That being said, it was still pretty damn tasty, citrusy at first, with a body loaded with more citrus, booze, and a delightful sweet spice.

Desserts at Broken Spanish are contemporary yet theme-proper, the work of Pastry Chef Luis Ayala. Click for a larger version.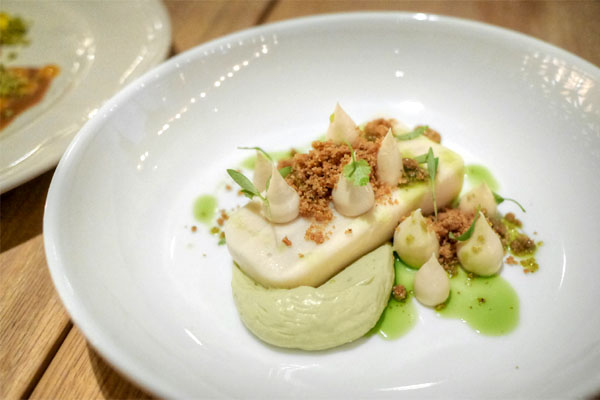 Paleta [$10.00]
| Coconut Sorbet, Dulce de Leche, Canela Graham Cracker, Avocado Mousse, Cilantro
Up first was this ice pop-inspired number, one that nicely captured the essence of a coconut
paleta
in a modern package. I was especially fond of the spicy graham cracker and creamy avocado here.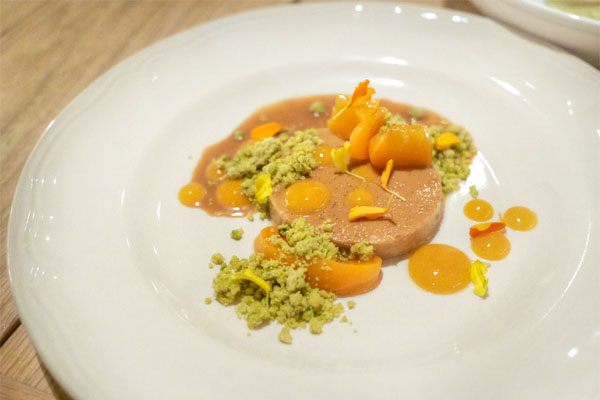 Flan [$11.00]
| Goat's Milk Flan, Cajeta, Roasted Apricot, Pistachio
Flan was sugary and rich, well-complemented by the sweetness of apricot while pistachio crumbles provided a superb nutty, crunchy component.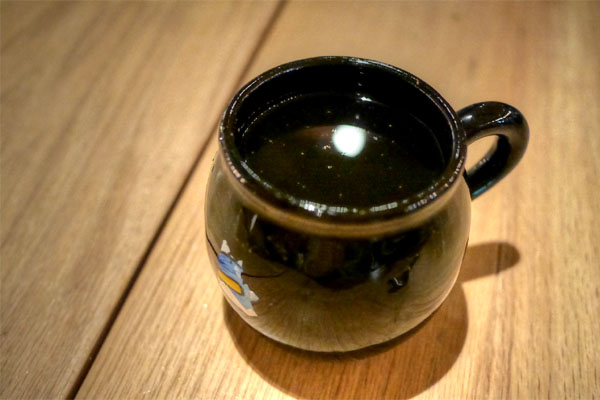 Cafe de Olla [$12.00]
| Cognac, Demerara Rum, Piloncillo, Verve Coffee, Cinnamon. Served hot.
Our final cocktail was appropriate for after dinner, a hot, boozy concoction with a bevy of coffee and sugary, spicy flavors.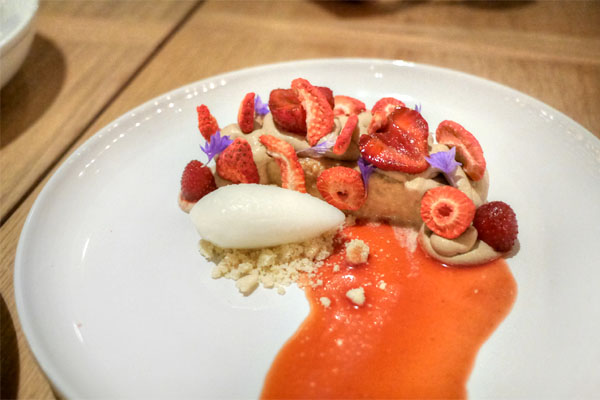 Tres Leches [$11.00]
| Milk Sponge, Dulce Cream, Strawberries, Crema Sorbet
The tres leches was one of the best I've had, coming out rich and utterly saturated, an unabashedly satisfying sort of cake that went gorgeously with the tartness of the accompanying fruit. Great texture on the dehydrated berries as well.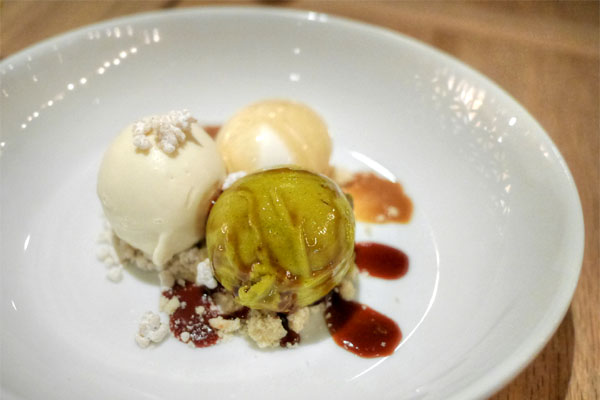 Ice Cream/Sorbet [$10.00]
| Goat's Milk Ice Cream, Horchata Ice Cream, Poblano Sorbet
Housemade ice creams included a tangy, earthy goat's milk variety; an horchata version that didn't quite taste horchata-like (not enough cinnamon); and my favorite, a sweet, peppery poblano sorbet that was wonderfully true-to-life.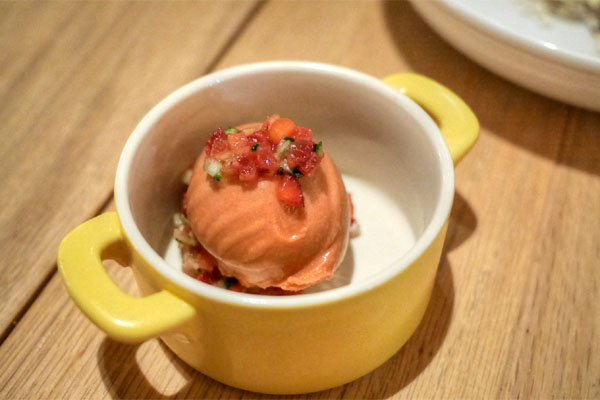 Ice Cream/Sorbet [$3.00]
| Strawberry Gazpacho
Last up was a strawberry gazpacho ice cream that really did show off the fruit, while the finish on this one was all about a tingling touch of spice.
I'd had a lovely meal at B.S. Taqueria, and Broken Spanish takes things to an even higher level, which is exactly what I expected. Garcia's cooking is rooted in the classics, but the food has a modernistic edge to it that works to help further the conversation of Mexican cuisine (and cuisine in general) in LA. A worthy replacement for Rivera, to be sure.