Barrel Down (Los Angeles, CA)
Barrel Down Restaurant
525 W 7th St, Los Angeles, CA 90014
213.232.8657
www.barreldownla.com
Sun 06/28/2015, 08:00p-12:10a
[9/4 Update: Derrick de Jesus is no longer with the restaurant, having decamped toward the end of July, replaced by Jimmy Bustillos.]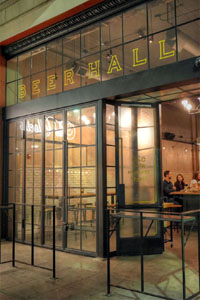 Craft beer continues to rise in prominence here in LA, and one of the latest efforts in that arena has to be Barrel Down, an "American beer hall" concept that debuted at the end of May. The bar is the brainchild of a group of investors known as MBBC (Money Back Brewing Company), headed by President Michael Winn and VP Jordan Chiu. To run the day-to-day here, MBBC has brought on Andrea Comegys (Public School) as General Manager, while kitchen duties are the realm of Executive Chef Derrick de Jesus.
About the Chef
: The son of a Filipino father and American mother, de Jesus moved around frequently after his parents divorced when he was four. He eventually settled in Alhambra in the sixth grade, and soon discovered the Asian eateries of the SGV. This drove a keen interest in food, and after culinary school, he spent nearly eight years with the Ritz-Carlton group. During this period (2007), de Jesus also competed in the Coupe du Monde de la Pâtisserie in Lyon. He later moved to
Patina
Group, and then
staged
for six months at Enrique Olvera's iconic Pujol in Mexico City.
After returning to the US, de Jesus helped open
Lukshon
with Jacob Kear and Johnny Yoo in February 2011. By October that year, he had joined Saluté Wine Bar, where he would meet Ari Taymor, the head chef there at the time. Taymor ended up starting the
pop-up version of Alma
in February 2012, and brought de Jesus along with him as CdC.
Alma proper
dropped at the end of June, but he was out by October to pursue his own ventures, stopping briefly at
Amalur Project
. De Jesus launched his Asian-inflected MSG pop-up series in January 2013 at the City Sip wine bar in Echo Park, and later brought it to Brick House in Venice in March.
Toward the middle of 2013, he cooked at
Scratch Bar
as well as at Miles Thompson's dearly-departed
Allumette
. That fall, de Jesus went to Europe to
stage
at In De Wulf in Belgium and Relae in Denmark. Upon return at the start of 2014, he was tapped by Linda Shin to helm her modern Asian eatery Gaji, but that deal fell through and he was replaced by Minh Phan (Gaji ended up folding quickly and is being replaced by an outpost of
Little Sister
). De Jesus went to
Goldie's
next, then launched another iteration of MSG at Doughroom in Palms before taking a position at Bruce Kalman's
Union
.


Barrel Down was penned by LA-based designer
Ricki Kline
. It's a fairly spare space, high-ceilinged, light-toned, with plenty of wood. A long bar takes up a good portion of the room, while the rest of the restaurant features various types of seating arrangements. Apparently, there's even a private loft space upstairs.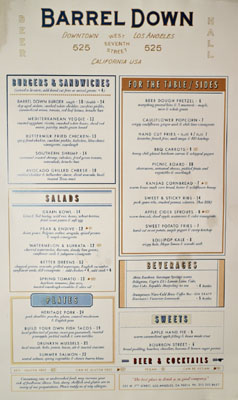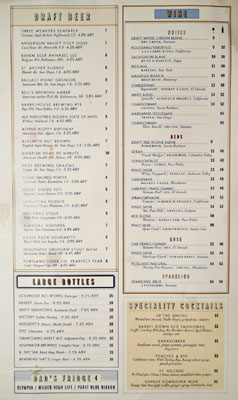 As for Barrel Down's menu, you get casual-yet-refined, bar-appropriate eats from de Jesus. Drink-wise, there's an American wine list by Chiu (who worked for the likes of Soho House, Saluté, and Hillstone), a smattering of cocktails, and of course beer, lots of it. 40 taps are on offer, divided into a list of 20 core brews and 20 rotating selections (all domestic), and there are a number of large format bottles available as well. The beer program was initially designed by Dylan Snyder and Steven Zakarian of home brew consultancy firm Beertender Los Angeles, and apparently they're sticking around and have plans to operate the Downtown LA Homebrewers Club out of Barrel Down. Click for larger versions.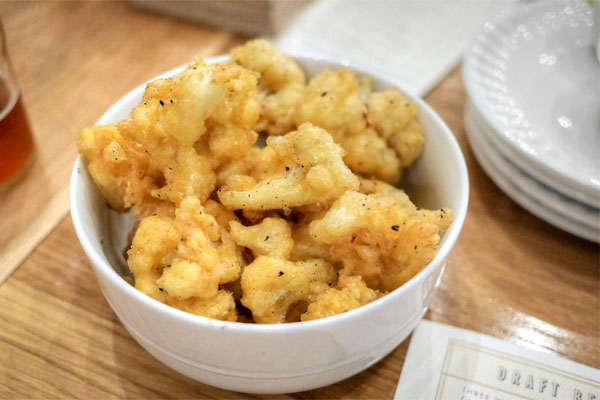 Cauliflower Popcorn [$7.00]
| crispy cauliflower, ginger aioli & chili lime vinaigrette
Up first was a dish that's sort of becoming Barrel Down's signature. There was a balance here between the crispiness of the batter and the cauliflower's tender insides, with the vinaigrette imparting a much-appreciated tanginess and funk to things.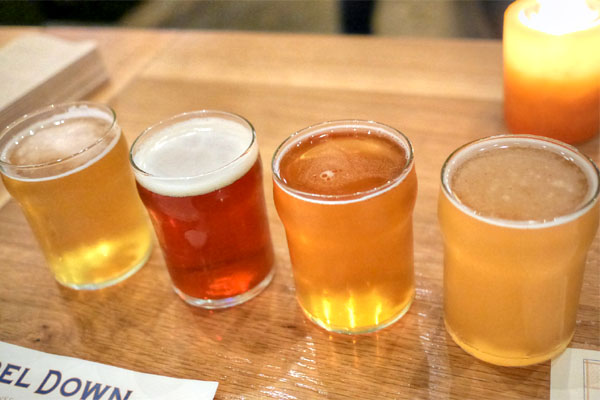 Naturally, we had to start with a selection of beer of draft, which are all available in half-portions. Left to right, we have:
Alpine Hoppy Birthday [$4]: An American pale ale, and my favorite of the quartet, with loads of bright, juicy citrus on the nose, while on the palate, we got more of the same, but with a soft hoppiness overarching everything. Really well-balanced.
Abbey Monk's Tripel Reserve [$5]: Spicy and sweet aromas here, leading to a body of malt, more fruit, and slight hop bitterness.
Bell's Brewing Quinannan Falls Special Lager [$4]: Weak bouquet of hops, tropical fruit, and floral notes on this American lager; taste follows.
21st Amendment Hell or High Watermelon [$4]: A light, refreshing beer with subtle notes of watermelon intermingled with a slight graininess.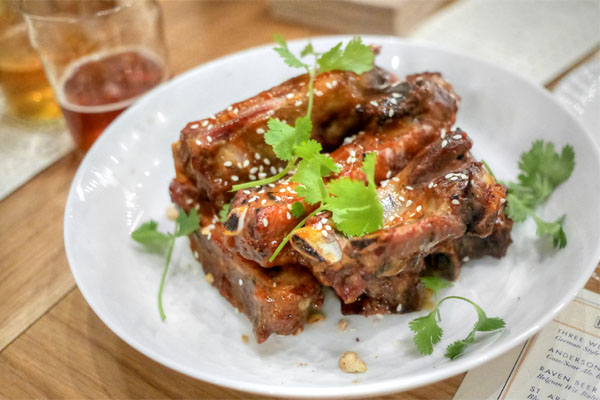 Sweet & Sticky Ribs [$14.00]
| pork spare ribs, crushed peanut, cilantro, Thai BBQ
The ribs were as sticky and sweet as advertised, with a subdued Thai-like quality to 'em.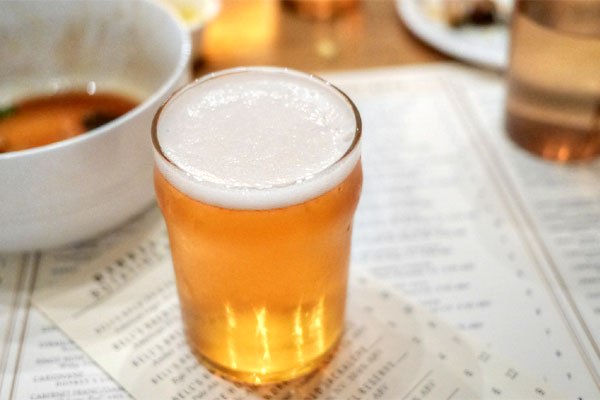 The
Lagunitas Citrusinensis [$6]
was nice, a Sanguinello blood orange-enriched pale ale that did a great job playing the sweetness of the citrus against a balanced hop profile.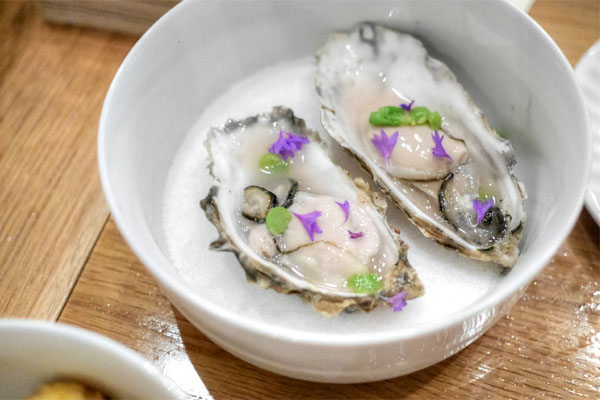 Next was a complementary amuse bouche of sorts. The oysters came out creamy, sweet, and saline, with a strong, lingering brine. I wanted some more acidity, more punch to really perk these up though.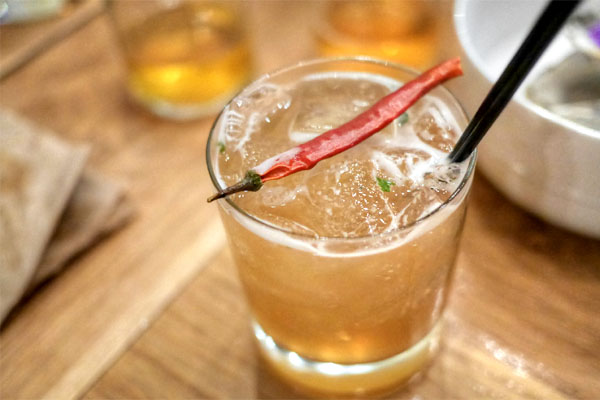 Up the Ancho [$12.00]
| Montelobos mezcal, Ancho Reyes, grapefruit, cilantro
At this point, we moved on to Barrel Down's cocktails. The first was my favorite of the three we tried, its light mezcal nuances paired with sweet pricks of spice and a lingering heat.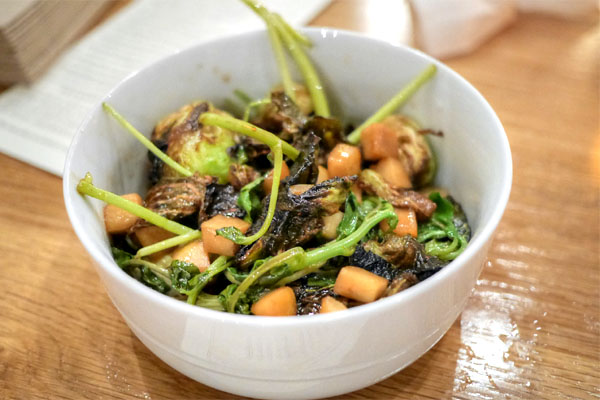 Apple Cider Sprouts [$9.00]
| warm brussels, diced apple, watercress & cider vinaigrette
Brussels came out appropriately bitter and satisfyingly-textured, with a sweet 'n' sour counter and an additional point of interest from the watercress. A bit too many apples here though.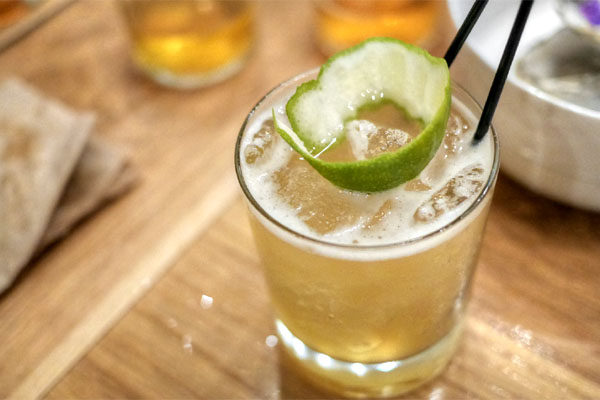 Bankrobber [$11.00]
| Banknote scotch, ginger gomme, pineapple, lime, Angostura
The next cocktail wasn't quite as successful. I got the booziness of the scotch along with the sweet gomme, but there was something missing: more acidity, more aromatics perhaps.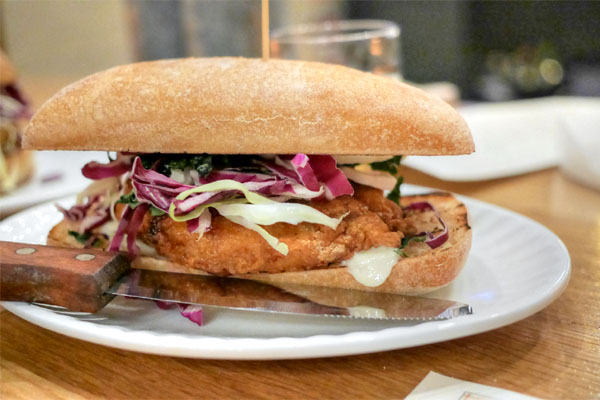 Buttermilk Fried Chicken [$13.00]
| spicy fried chicken, zucchini pickles, kaleslaw, bleu cheese vinaigrette, sourdough
The requisite chicken sandwich worked it out, the bird displaying a delightful bit of spice to it while the veggies helped even things out.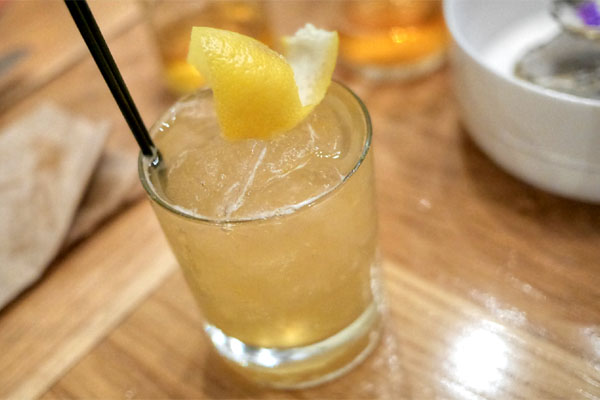 Peaches & Rye [$12.00]
| Goldminer rum, Wild Turkey Rye, honey wheat syrup, peach preserves
Our last cocktail definitely showed off the sticky, honeyed sugariness of peach, the backbone of booziness from the rum/rye offering up a bit of a counterpoint.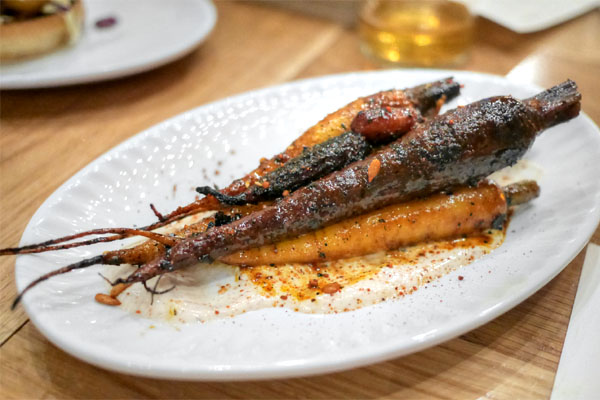 BBQ Carrots [$9.00]
| honey chili glazed heirloom carrots & whipped yogurt
The carrots were perhaps my favorite course of the night, roasted in their own juice, turmeric, galangal, and lemongrass, then charred and glazed with honey vinegar and fermented chile. There was a very nice balance of sweet, bitter, and spicy going on here, and I really appreciated the finishing touch from the whipped yogurt.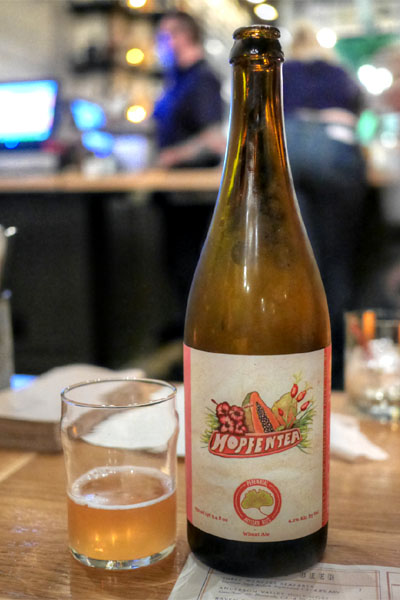 At this point, we broke out some of our BYOB bottles. We shared everything with the staff of course, and were able to get corkage comped. Up first was something lighter, the
2015 Perennial Hopfentea
, a Berliner Weisse infused with a housemade tea blend. I enjoyed it, finding its juicy notes of stone fruit a good match to the tart, refreshing nature of the beer.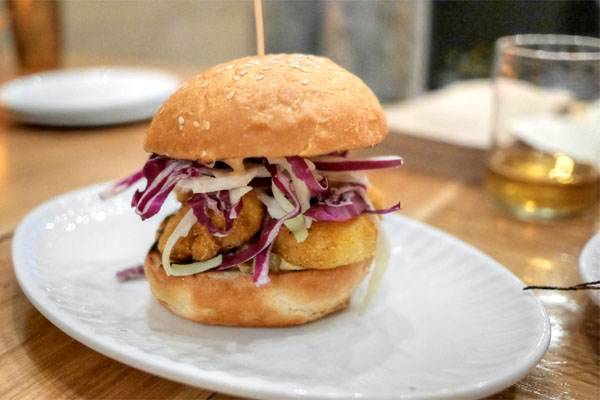 Southern Shrimp [$14.00]
| cornmeal crusted shrimp, coleslaw, fried green tomato, remoulade, brioche bun
This po' boy-like sandwich delivered, with the brine of the crispy shrimp really working well alongside the tangy slaw, all while remoulade helped tie it all together.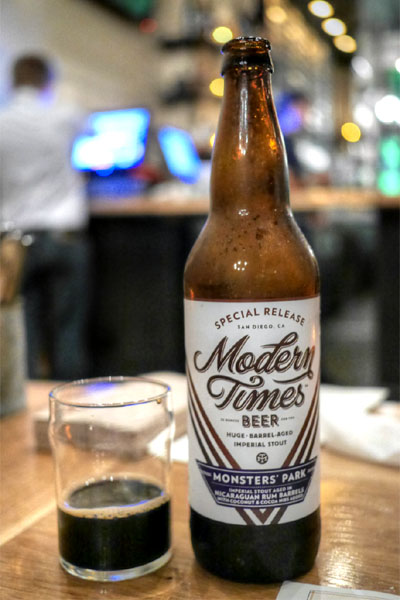 From a sour we went to a stout, the
2015 Modern Times Monsters' Park aged in Nicaraguan Rum Barrels with Coconut & Cocoa Nibs
, a recent brewery-only release of a mere 800 bottles. The smell on this one wowed us all with its ridiculous amount of coconut-y sweetness--easily the most coconut-forward nose I've encountered. The taste, meanwhile, brought more coconut of course, joined by notes of chocolate to make for a Mounds bar-esque flavor profile, the spice from the rum barrel coming through toward the midpalate. I'd had the bourbon barrel-aged version of this not long ago at
Butcher's Dog
, and compared to that, this had quite a bit more coconut, but was also thinner in terms of body. Pretty amazing.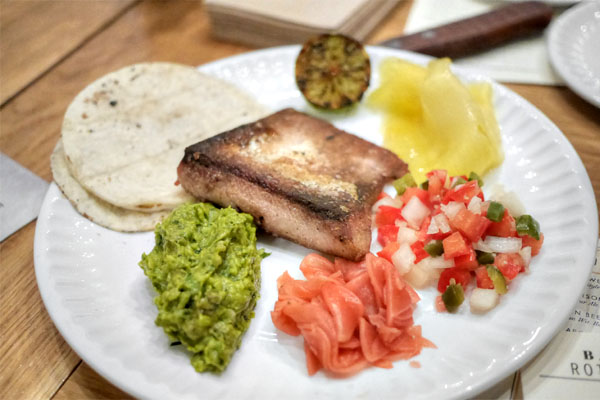 Build Your Own Fish Tacos [$19.00]
| local yellowtail al pastor, sweet pea guacamole, roasted pineapple, pickled radish & corn tortillas
An interesting concept here, though the yellowtail was lacking in your typical
al pastor
spices. I wanted to taste more of that savory, spicy depth on the fish, though when everything was assembled and taken together, the tacos
were
pretty tasty.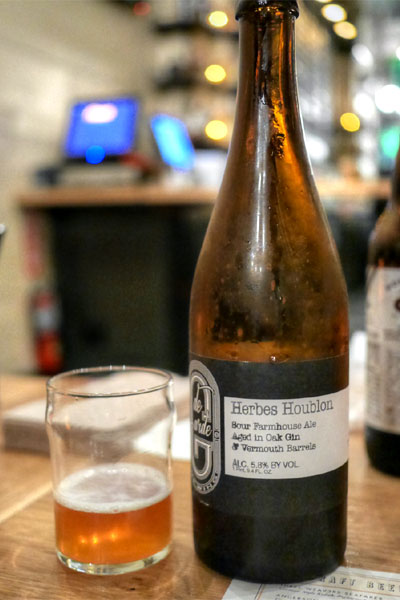 Another standout was the
2014 De Garde Herbes Houblon
, a sour farmhouse ale aged in oak gin and vermouth barrels. I loved the balance of tart and fruity flavors here, but the key was the spicy, botanical, almost celery-like edge from the gin-aging that really took this up a notch. Superb.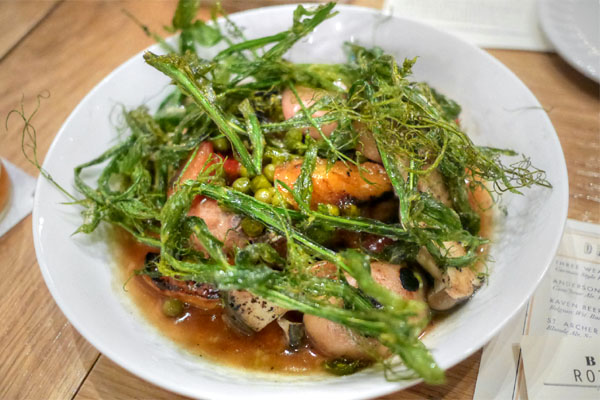 Heritage Pork [$24.00]
| pork shoulder, peaches, plums, sauteéd mushroom & English peas
An impressive looking dish, the pork, sadly, didn't deliver on its promises. Quite simply, the shoulder came out overdone, dry, tough, and couldn't really be saved by its various accompaniments.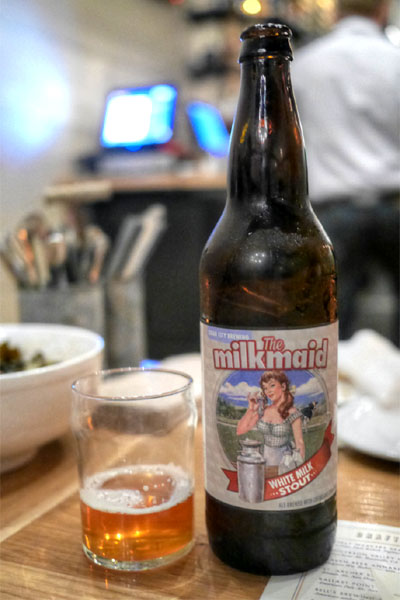 Next to drink was the
2015 Cigar City / Hardywood Park Milk Maid
, a collaboratively-brewed white milk stout made with coffee and cocoa nibs that was released in January. The color of the beer really belied its stout-y qualities, with notes of roast and malt commingling nicely with the soft chocolate and coffee present.
Avocado Grilled Cheese [$10.00]
| smoked cheddar & bellwether cheese, sliced avocado, basil, toasted Texas toast
The grilled cheese showed off all the classic tastes and textures that you'd expect, but with the avocado adding an additional layer of lushness to the mix.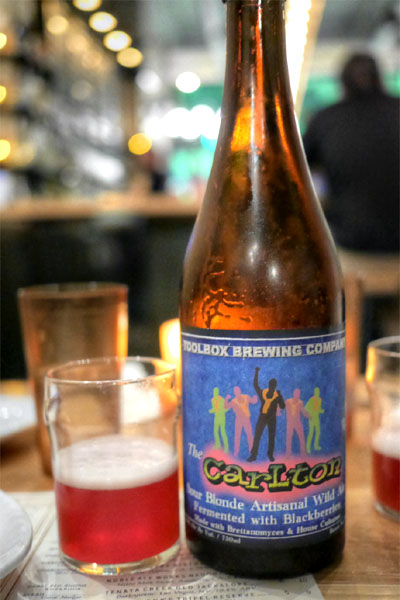 Our last sour was the
2015 Toolbox The Carlton
, a 500-bottle brewery-only release from late June. The beer was a sour blonde ale fermented with blackberries and
Brettanomyces
. I quite liked it: funky and tart to the smell, with a puckering, nose-tingling palate backed by berry fruit and Brett, a hint of Band-Aid coming through on the back end.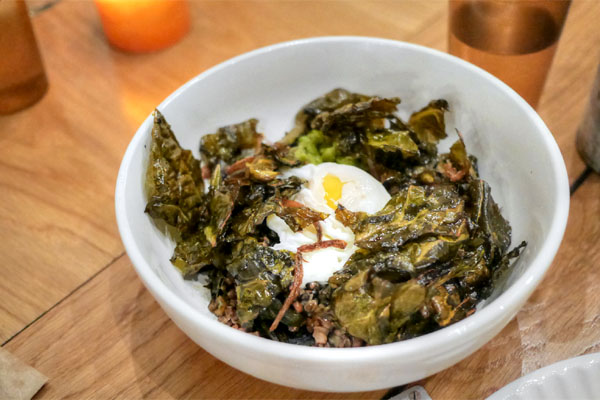 Grain Bowl [$14.00]
| Grist & Toll barley, wild rice, beans, wheat berries, fried sweet potato & soft egg
The grain bowl displayed a bevy of textures and flavors, an amalgam of bitter, sweet, and tart brought together by the luxuriousness of that runny egg.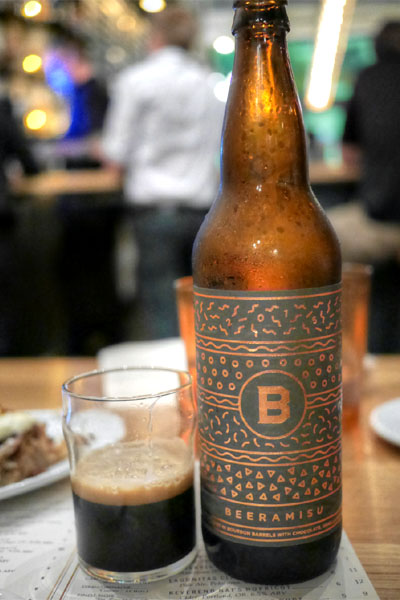 Our final drink brought out the
2015 Pizza Port Beeramisu
, an imperial stout aged in bourbon barrels with chocolate, vanilla bean, and coffee brewed in celebration of Bottlecraft's fourth anniversary. Huge amounts of coffee in the aroma here, and on the tongue, I got more strong coffee, joined by chocolate but unfortunately not too much vanilla.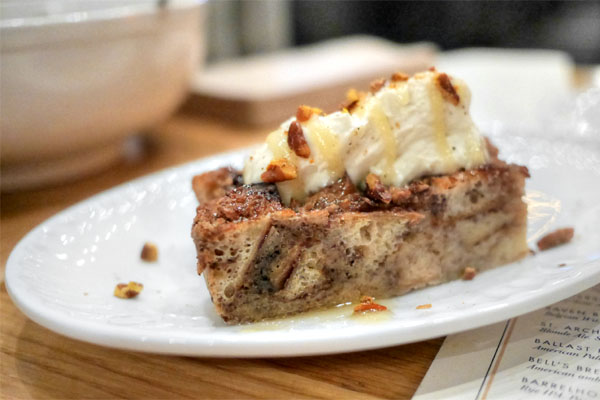 Bourbon Street [$6.00]
| bread pudding, bourbon, chocolate, banana & brown sugar pecans
Moving on to dessert now, the bread pudding came out teeming with notes of dark fruit and booze, with a countering lactic tanginess to even it out.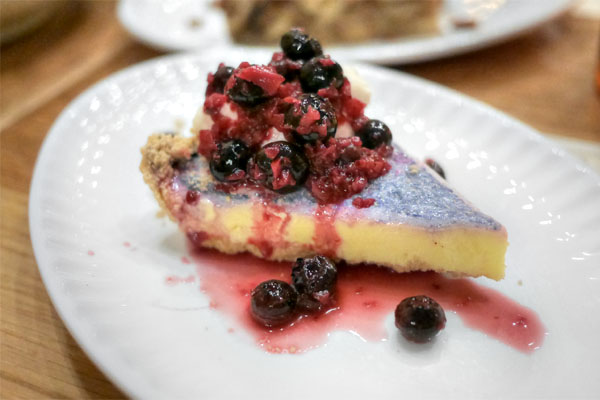 Blueberry Meringue Tart
We concluded with a dessert special, a sort of blueberry meringue tart that did a good job playing the tartness of the berry against the richness of meringue, all while the crust made for a fitting contrast to it all.
Barrel Down looks to be a notable new addition to LA's beer scene. The tap list is worth checking out, and the food program delivers for the most part too--minus a few missteps here and there (hopefully those will get tightened up). A pretty neat place to hang out overall.