Manhattan House (Manhattan Beach, CA)
Manhattan House Restaurant
1019 Manhattan Beach Blvd, Manhattan Beach, CA 90266
310.574.2277
www.manhattanhouse.pub
Sun 07/05/2015, 08:15p-10:30p

While doing research for this report, the thing that surprised me the most was that Manhattan House isn't, in fact, named for its location in Manhattan Beach. Rather, the moniker's a nod to that
other
Manhattan, as partners Adam Hersh, Jeffrey Kirshenbaum, Brett Schwartz (who serves as General Manager), and David Topkins all hail from New York. Given their relative inexperience, the foursome teamed up with longtime LA restaurateur Richard Drapkin, who's also been involved with the likes of Duff Goldman's Duff's Cakemix, Wally's Wines & Spirits, Bruce Marder's FoodCo West (
Capo
, the new Marvin), and
Neal Fraser
's
Grace
and BLD. It was in fact Drapkin who brought on Chef Diana Stavaridis to this "everyday" gastropub, which soft-opened at the end of May (the grand opening followed at the start of July).
About the Chef
: Stavaridis comes from Boston, and got interested in cooking at age six, helping her British-Irish grandparents in the kitchen. Her first job in the biz was at Domino's Pizza in high school, and she continued to work various unglamorous culinary jobs through college. After graduating from the University of Massachusetts Amherst in 1998 with a degree in Marketing and Advertising, she worked in the financial software industry, but eventually came back to cooking. Stavaridis entered the culinary arts program at Los Angeles Trade-Technical College, and during her time there, worked at
Joe's
in Venice as well as at
Grace
. She finished in 2006, and was able to return to Grace as a line cook. Neal Fraser quickly put her on the line at his newest place BLD, and she moved up the ranks to sous and eventually CdC in August 2008, replacing Mike Garber.
The Chef started making a name for herself at BLD, and stayed there for four years (a period that included
stages
at
Sotto
and Ocean Jewels seafood) before decamping in November 2012. Stavaridis subsequently went to France,
staging
at Gilles Epie's Citrus Etoile and Gregory Marchand's Frenchie's in Paris and immersing herself in French food culture. She returned Stateside in mid-2013, settling in Northern California, and spent time consulting and collaborating with Jose Luis Ugalde of Half Moon Bay's Cafe Gibraltar (which, coincidentally, just closed at the start of May). In December that year, she returned to LA and reworked the menu at Back on the Beach in Santa Monica, and in May 2014, helped open BLD at LAX. This was followed by a stint again at Sotto (filling in while Steve Samson was away) and a
stage
in England at Hugh Fearnley-Whittingstall's River Cottage HQ cooking school in the fall.
Manhattan House takes over the building that previously held the likes of all-you-can-eat sushi slanger Aji, Kah Asian Restaurant & Lounge, Tapameze, and Chicago for Ribs. The place has been stripped down, and redone with lots of wood, including some reclaimed from the Hollywood Bowl.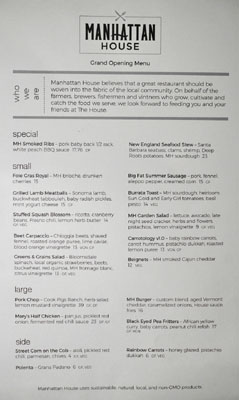 The Manhattan House menu features elevated pubby fare, divided simply into sections for smaller and larger plates and sides. To wash it all down, you get classically-leaning cocktails by barman Kerry Donnelly, beer on draft and bottled, as well as a small yet international wine list. Corkage is $19 a pop. Click for larger versions.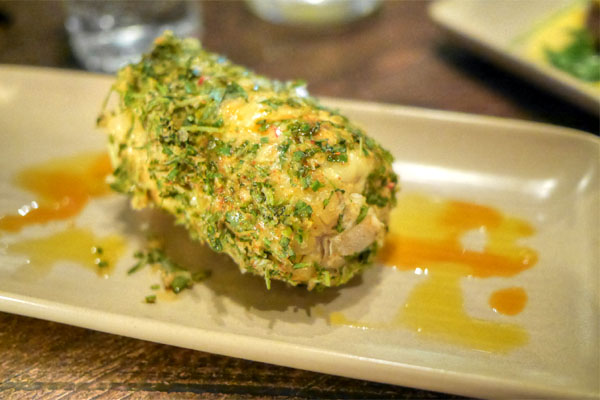 Street Corn on the Cob [$4.00]
| aioli, pickled red chili, parmesan, chives
We began with Stavaridis' take on street corn, an aromatic, sparingly spiced presentation underpinned by the inherent sweetness of the kernels.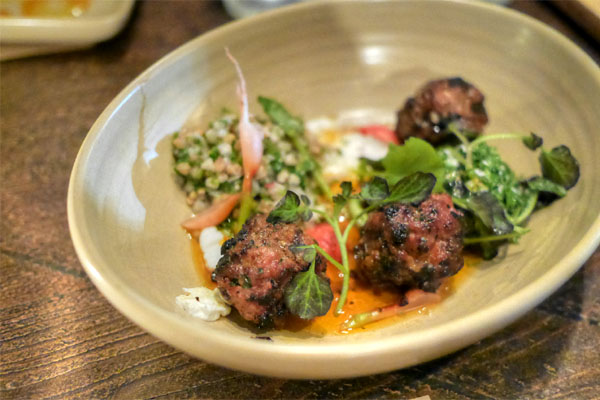 Grilled Lamb Meatballs [$15.00]
| Sonoma lamb, buckwheat tabbouleh, baby radish pickles, mint yogurt cheese
Meatballs were dry, though well-spiced and with tons of heady lamb flavors. I appreciated the creamy counter of the yogurt here, and was a big fan of the zesty tabbouleh as well.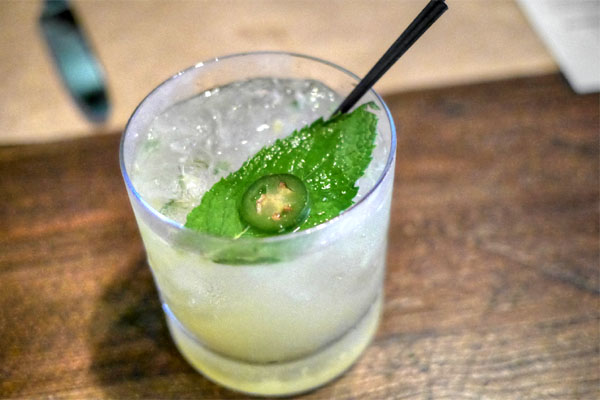 Thriller [$12.00]
| El Charro Reposado tequila, kumquat, serrano chili, lime
Our first cocktail brought a commixture of tart, sweet, and spicy flavors, all set over a base of woody tequila. Pretty tasty, though not particularly memorable.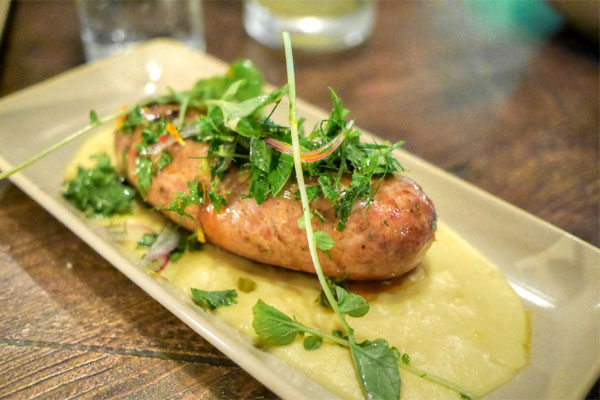 Big Fat Summer Sausage [$15.00]
| pork, fennel, aleppo pepper, creamed corn
The sausage was indeed pretty big and pretty fat, a supple, juicy, savory example nicely set off by the zippiness of fennel. However, the creamed corn threw me off, coming in overly sweet. I wanted something with more acid, more texture.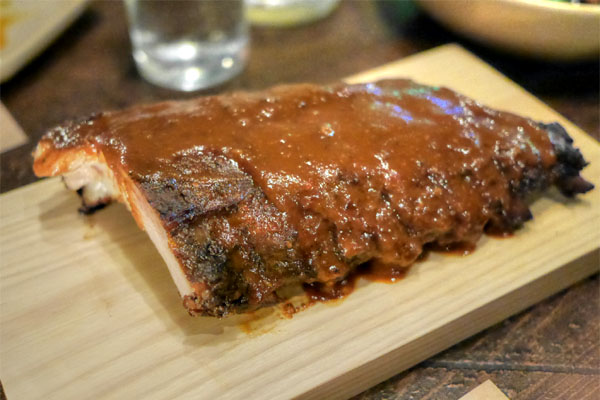 MH Smoked Ribs [$17.76]
| pork baby back 1/2 rack, white peach BBQ sauce
Baby back ribs were a standout for me, arriving tender, yet with some fun, chewy, charred bits. Taste-wise, the pork was on point as well, with a touch of smoke and not too much sweetness from the accompanying sauce.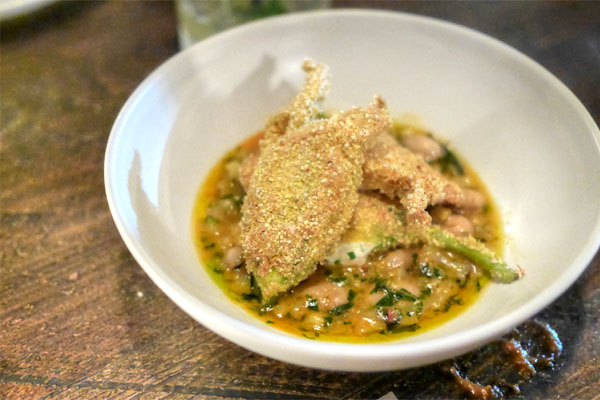 Stuffed Squash Blossom [$14.00]
| ricotta, cranberry beans, Fresno chili, lemon herb butter
The blossoms didn't quite hit the mark. The lushness of the ricotta wasn't really showcased, and I found the crunchiness of the batter here distracting, though I did enjoy the use of beans as a base to the dish.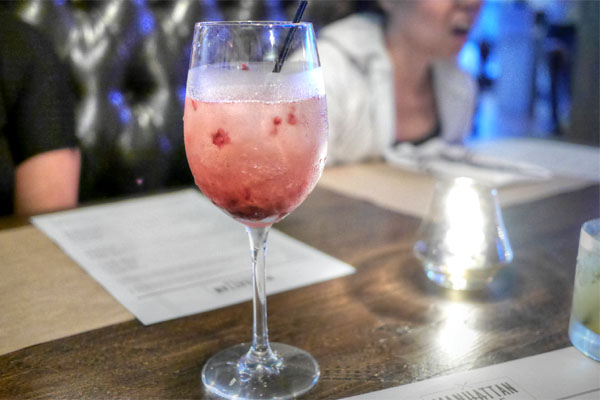 Hollywood Bowl [$12.00]
| Remy V. Cointreau, blackberries, strawberries, sparkling wine
Our next cocktail was a lightweight, fruity at the front, then bitter, then a bit boozy. I could totally imagine quaffing this at a summer concert at the Bowl.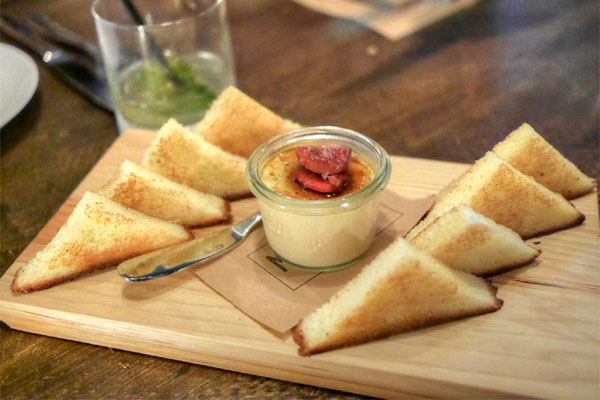 Foie Gras Royal [$15.00]
| MH brioche, drunken cherries
The foie was a classic example, with its silky, smooth, liver-y notes tempered by the application of tart fruit, the soft toast serving as a very appropriate base.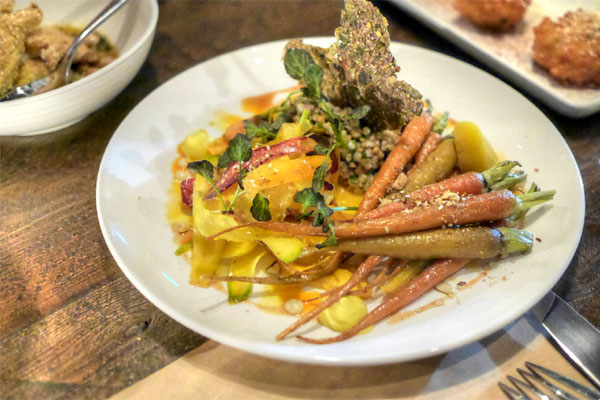 Carrotology v1.0 [$13.00]
| baby rainbow carrots, carrot hummus, pistachio dukkah, roasted lemon puree
Here we come upon the most ambitious plate of the night, and also my favorite. Carrots were prepared seven ways, making for a fun, multifaceted exploration of the vegetable. I found it a great commixture of tastes and textures, dutifully accented by that wonderfully nutty chip in the middle. Smart use of buckwheat, too.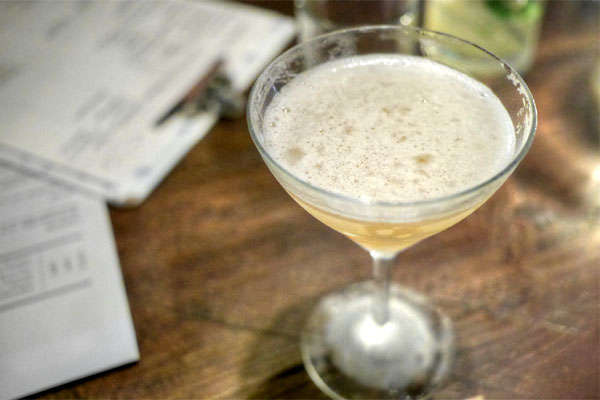 Brown Derby [$11.00]
| Four Roses bourbon, grapefruit, honey, grapefruit bitters
One of the boozier drinks this evening, this next concoction definitely veered more bitter, more medicinal, with contrasting notes of citrus and a curious, almost ginger-y slant.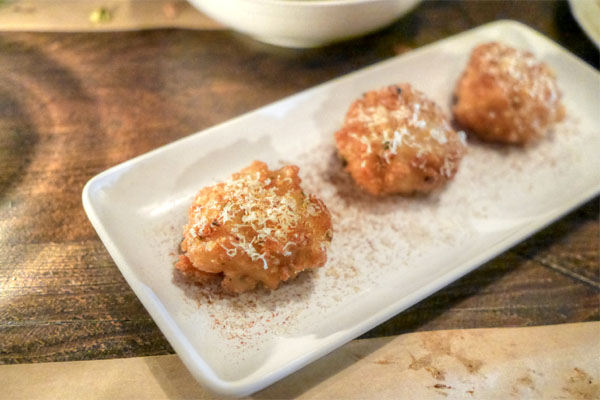 Beignets [$12.00]
| MH smoked Cajun cheddar
Beignets arrived creamy on the inside, with a cheesy, salty flavor profile that was certainly satisfying. Yum.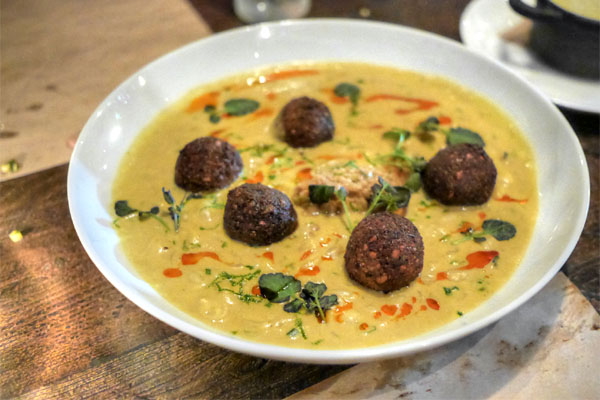 Black Eyed Pea Fritters [$17.00]
| African yellow curry, baby carrots, peanut chili relish
These falafel-esque spheres were super dense, with a hearty, savory flavor profile that made sense with the sweetness of the accompanying curry. I really I could've used fewer peanuts here however.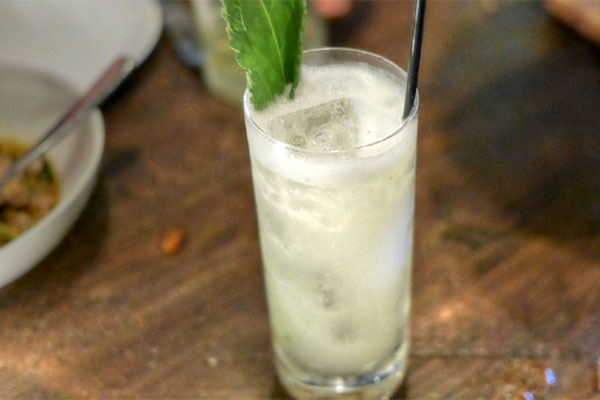 The Botanist [$13.00]
| Botanist gin, lemon, St. Germain egg white foam
Here we have our most bracing cocktail of the meal, a refreshing drink that really highlighted the bright botanicals in the gin, augmented by the incorporation of lemon.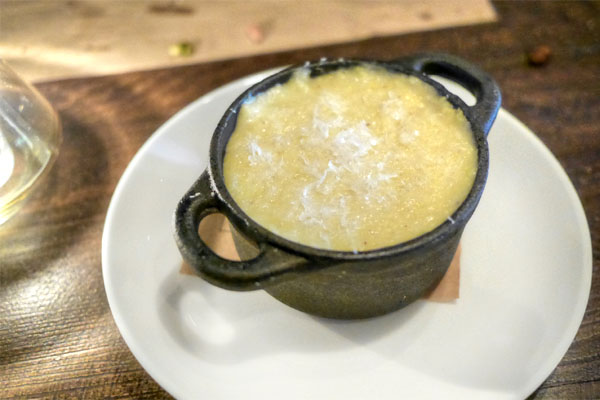 Polenta [$6.00]
| Grana Padano
The polenta managed to be one of the heaviest preparations I've had: very rich, very gritty, very cheesy.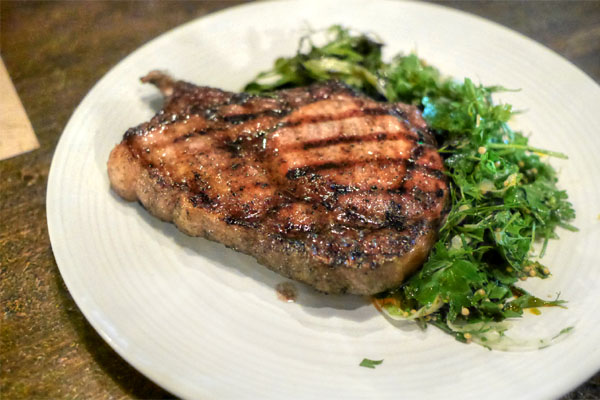 Pork Chop [$39.00]
| Cook Pigs Ranch, herb salad, lemon mustard vinaigrette
The pork chop was more cooked than I wanted it to be, though that wasn't too distracting. Great char to go along with the unabashedly salty, savory flavors at play, with the greens adding a much-needed moderating note.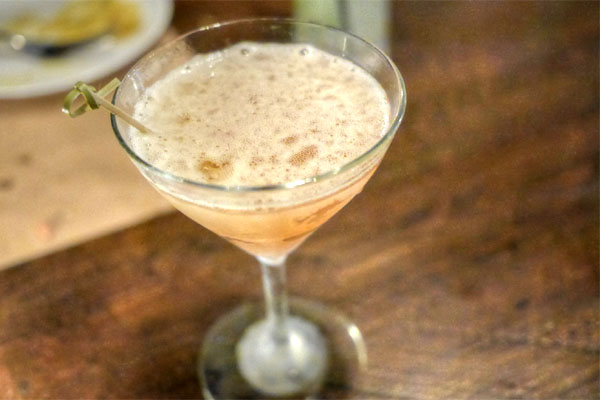 The Tree House [$18.00]
| Blanton's Bourbon, Antica sweet vermouth, bitters, Luxardo cherry
Our final drink definitely leaned classic, with its bittersweet, astringent notes balanced by a seemingly citric component, the bourbon imparting a requisite heft to it all.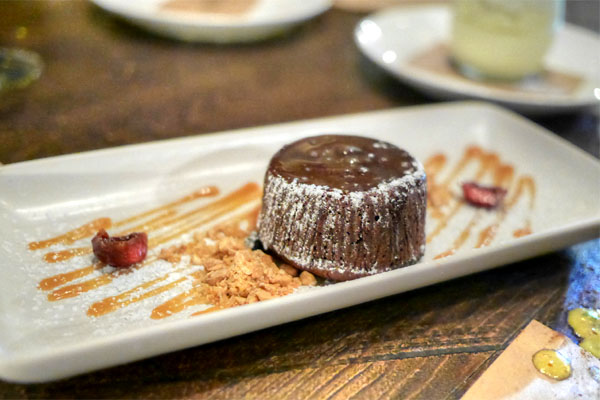 Flourless Chocolate Cake
| bourbon, dates, salted caramel sauce, crumbled almond brittle, drunken cherries
Time for dessert. The chocolate cake was pretty textbook, so what made this work was the nutty crunch imparted by the brittle, as well as the deep flavors from the cherry.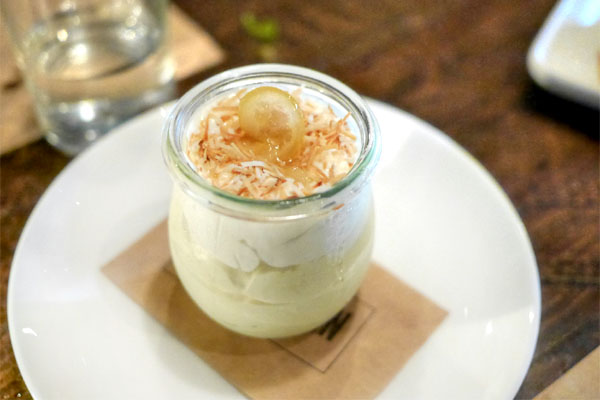 Lemon Custard
| coconut whipped cream, toasted coconut, candied lemon
The custard ate creamy and citrusy, with a lovely toasted coconut accent.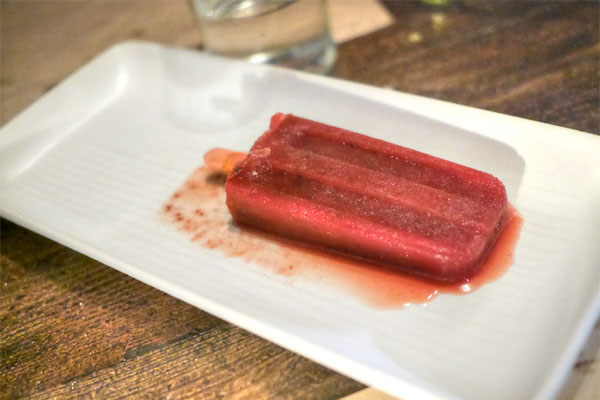 Bourbon-Cherry Granita
My favorite of the desserts was actually this sort of boozy popsicle. Super strong, jammy notes of berry up front, with the bourbon peeking through later on. Fun.
Manhattan House looks to be a reasonable attempt at a neighborhood-y type of restaurant. There were some hits, but also misses, and dishes that just needed a bit of tweaking. The place had grand-opened just four days prior to this, so I imagine that some of the plates will be tightened up as things fall into place.