B.S. Taqueria (Los Angeles, CA)
BS Taqueria
514 W 7th St, Los Angeles, CA 90014
213.622.3744
www.bstaqueria.com
Fri 05/22/2015, 08:00p-10:15p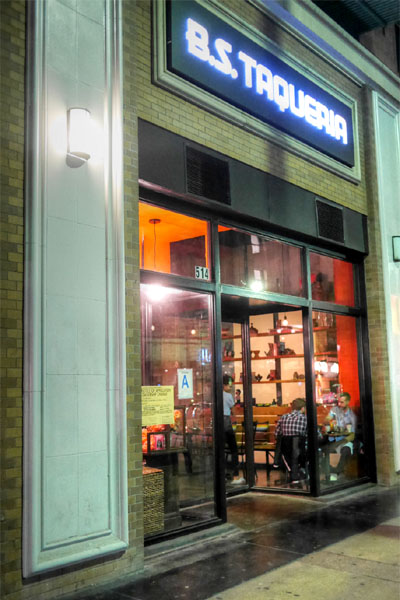 Ray Garcia's been a fixture on the LA dining scene for years now, though I'd never
really
had his food before, getting only brief glimpses at events such as
Angeleno
's
Chefs Night Out
and
#LAlovesPI
. That all changed recently though with the debut of B.S. Taqueria, the Chef's casual new-wave taco joint set in the old
Mo-Chica
space.
About the Chef
: A third generation LA native, Raymond Garcia grew up in the Northeast neighborhood of Cypress Park. Though he experienced more than his fair share of Mexican home cooking as a kid, he never got seriously interested in food, though he certainly enjoyed eating it. His first job in the restaurant biz came at age 16 at Chuy's in Glendale, a long-shuttered Mexican place that's now home to Armenian joint Pierre Garden. He started at UCLA in 1995, studying both political science and business economics, and during his time there worked as a server at a number of places around town. It was also during this period that he really fell in love with food, largely thanks to his roommate Brandon Go, whose family operated Koi in Seal Beach and who helped Garcia get his first taste of Japanese cuisine and foie gras.
After graduating in 1999, Garcia delayed starting law school and instead enrolled at the California School of Culinary Arts in Pasadena. Once he was out of the CSCA, he began working at The Belvedere--that schmancy restaurant located inside the Peninsula Beverly Hills--in 2001, and stayed there until 2007. Garcia also
staged
at both
Cyrus
and
The French Laundry
during his time at the hotel. In January 2008, he joined the team at Santa Monica's Fairmont Miramar, and helped debut FIG, the hotel signature restaurant, early the following year. He received considerable accolades for his cheery Californian cooking there, and really began making a name for himself during his tenure.
In October 2012, Garcia hosted the First Annual Sausage Fest at the hotel, where he cooked up links alongside the likes of
Vartan Abgaryan
,
Greg Daniels
,
Bernhard Mairinger
,
Daniel Mattern
, and
Kris Morningstar
(this was followed by an encore the next October, with newbies Paul Buchanan,
Christian Page
, and
Jason Travi
). May 2013 saw him triumph at Cochon 555 with pork ceviche and butt tamales at Hollywood's House of Blues, a feat he would repeat the next February. The second-time winner then made his way to Grand Cochon in Aspen that June, where he took home the title of "King of Porc" with his
chilaquiles
dish.
Meanwhile, Garcia made his television debut in July 2014, appearing on
Ilan Hall
's
Knife Fight
and defeating
Ricardo Zarate
in an octopus battle judged by Morningstar and Naomi Pomeroy (perhaps an ominous hint at things to come). However, the Chef would decamp from FIG that October, replaced by Yousef Ghalaini, and started his own company, Garcia Hospitality, that same month. In January 2015, it was revealed that he'd be teaming with Bill Chait for Broken Spanish, a modern Mexican eatery located inside the former home of John Sedlar's groundbreaking
Rivera
. This was soon followed by the announcement for B.S. Taqueria, which quickly opened at the start of April with Garcia Hospitality partner Jacob Shure (FIG,
XIV
, Wolfgang Puck Catering) manning the FOH.


Mo-Chica
's former digs have been redone by LA-based firm
Bells & Whistles
. It's more colorful now, yet rougher-hewn, with an intriguing, very dimly lit "indoor patio" of sorts occupying the back room (which was previously adorned with alpaca-inspired graffiti).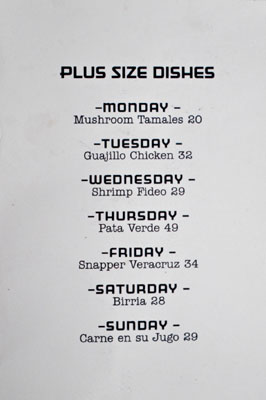 The menu at B.S. Taqueria is centered around tacos, rightfully so, but said tacos are joined by a small array of snacks, sides, small plates, and daily-changing large format dishes. To drink, you get a few beers, and even fewer wines, so the focus here is clearly on the cocktails, the responsibility of Beverage Director Michael Lay (ex-
Faith & Flower
), who takes charge of a program originally crafted by
Julian Cox
. Click for larger versions.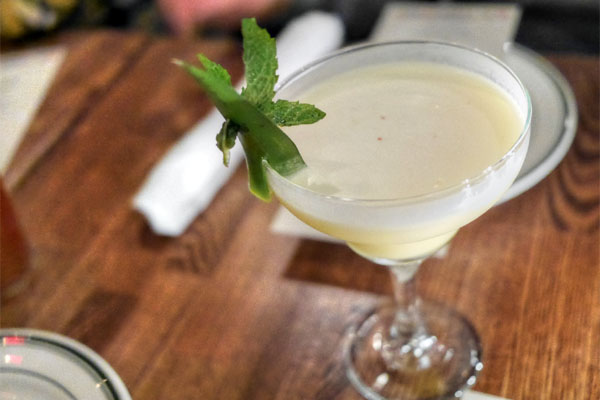 Orange Bang [$11.00]
| Mezcal, Fresh Tangerine, Pineapple, Housemade Coconut Cream, Chiltepin Salt
And about those cocktails, there were a mere seven on the menu, so of course we went for the lot of 'em. The first was an ode to the frothy, ubiquitous drink that is Orange Bang. I've actually never had the original for comparison, but I can say that this was damn tasty: citrusy and subtly smoky on the nose, with a creamy mouthfeel and loads of tropical fruit flavor to balance out the mezcal.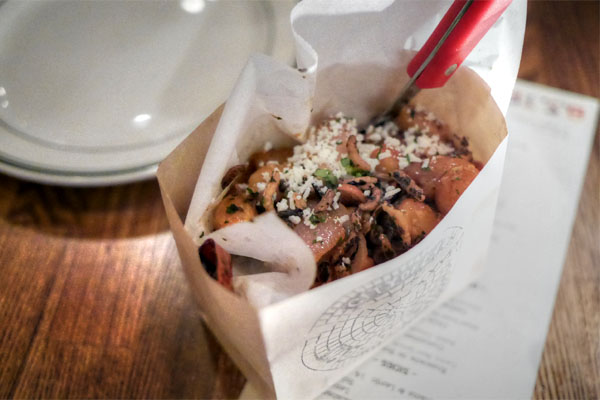 "Rice and Beans" [$5.00]
| Toasted Rice, Garbanzos, Butter Beans, Cotija, Fresno Chiles
Our first snack was a hearty, filling affair, with the satisfying, savory heft of the two types of bean cut by a lemon-y, spicy edge, the toasted rice adding a great crunch to the mix.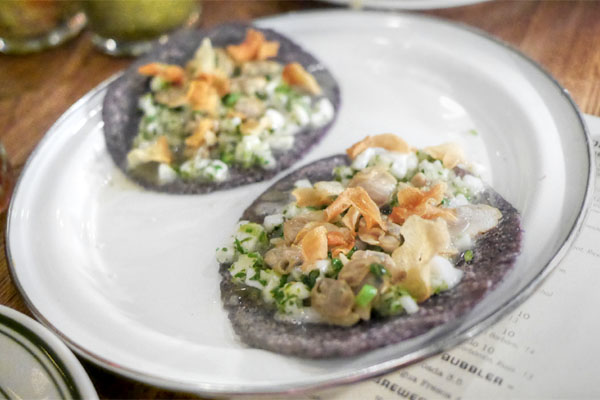 Clams & Lardo Tacos [$14.00]
Of course we ordered the restaurant's now-signature taco first, which was, unsurprisingly, quite unlike any that I'd had before. The brine of the Manila clams was forcefully conveyed here, augmented by the potency of lardo to form a one-two punch that really called for the brightness of the onion-cilantro-serrano to even it all out. Nice textural element provided by the garlic chips, too.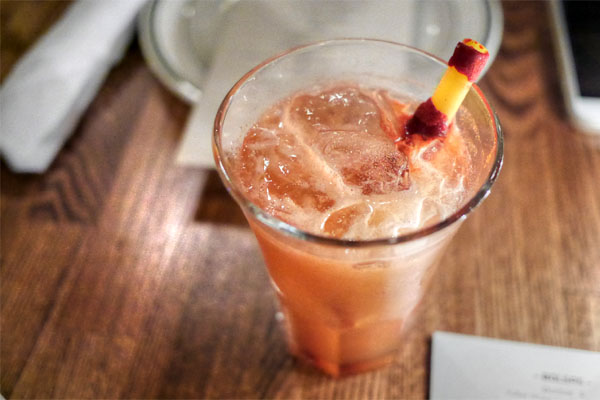 Tamarindo [$11.00]
| Tamarind Vodka, Amontillado Sherry, Fresh Lime, Tamarind Shrub, Tamarind Soda, Tamanzela Straw
Here, the bar pays homage to the ever-popular agua fresca
tamarindo
, a sweet, sour, spicy concoction that did a commendable job recalling the traditional drink.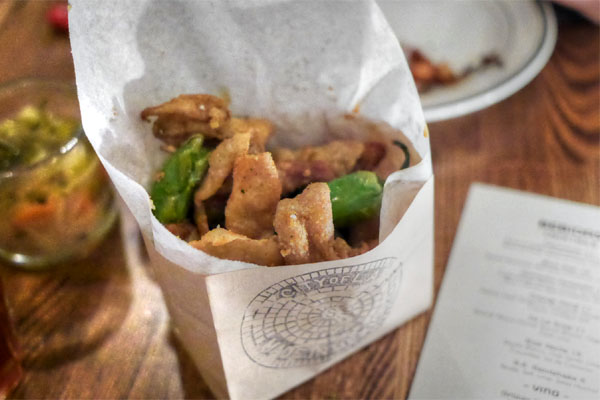 Lemon-Pepper Chicken Chicharrones [$6.00]
| Chicken Skins, Chicken Oysters, Lemon, Shishito
As advertised,
chicharrones
were loaded with the zippiness of lemon and pepper, though I would've liked 'em crispier. Even better were the chicken oysters, beautifully-textured examples just loaded with the deep, savory flavors of the bird.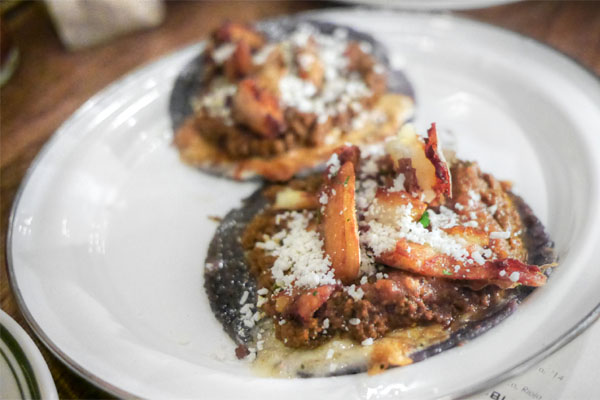 Chorizo & Papas Tacos [$8.00]
You rarely go wrong with the combination of chorizo and potato, and this was no exception, with the spice and smoke of the sausage dutifully moderated by a healthy heaping of
papas
.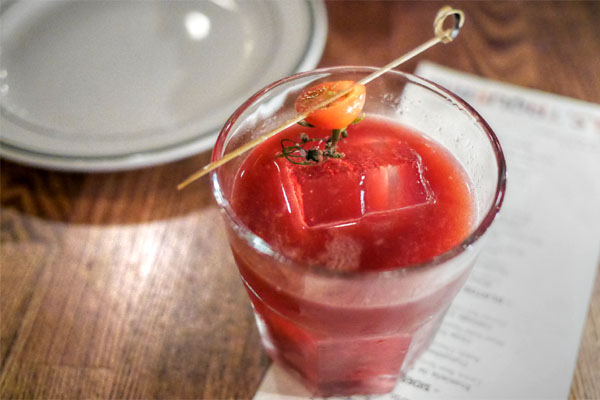 Borracho Gazpacho [$13.00]
| Single Village Mezcal, Cherry Tomatoes, Celery, Micro Cilantro, Beet Escabeche, Strawberry
This next, Bloody Mary-esque cocktail really did convey the essence of gazpacho, giving up a complex of sour, spicy, vegetal nuances set over a base of heady mezcal.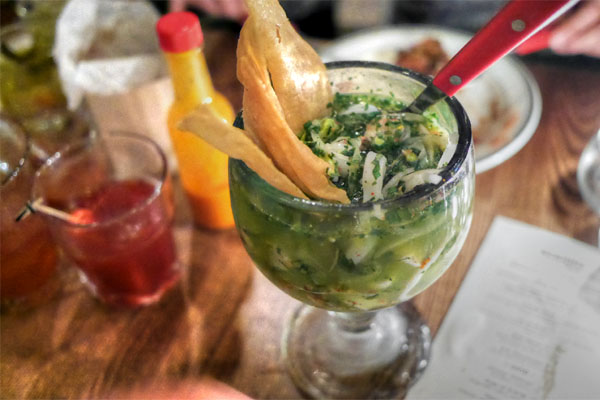 Campechana Verde [$15.00]
| Squid, Scallop, Snapper, Cucumber, Shrimp, Octopus, Tomatillo, Tostadas
The
campechana
was another highlight for me. A sort of spicy seafood cocktail, it brought together a fivesome of well-textured seafood with plenty of bright, acidic, minty flavors and a creeping, lingering heat that served as the perfect accent piece. Great crunch on those tostadas to boot.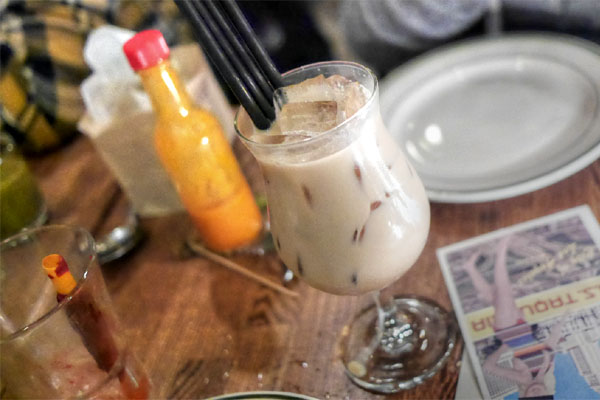 Cebada [$3.50]
One of the non-alcoholic selections here is the
horchata de cebada
, a barley-based drink that delivered all the nutty, sweet, spicy flavors that you'd expect from the more common variant.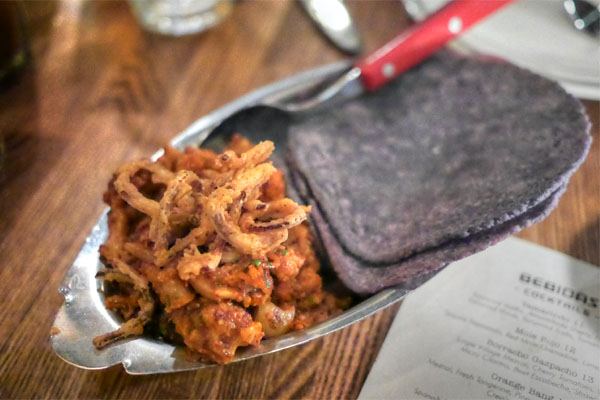 Cauliflower al Pastor [$10.00]
| Pineapple, Cippolinis, Tortillas
I'm a noted cauliflower fiend, so this was naturally a must-order. Indeed, the vegetable came out imbued with all the deep spice and subtle sweetness that you'd look forward to in an
al pastor
. A fitting pairing to the substantial tortillas included in the dish, though I would've liked bigger pieces, in order to better appreciate the texture of the
coliflor
.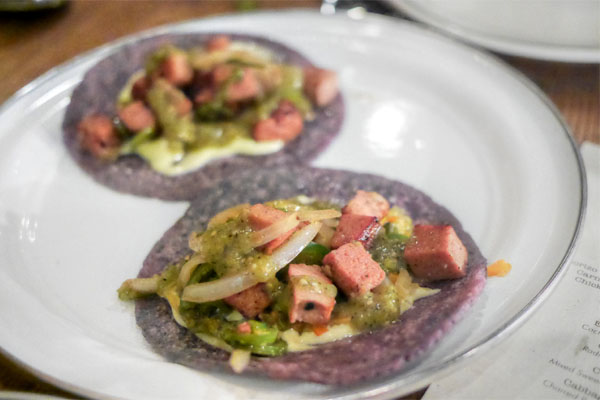 Bologna Tacos [$7.00]
Surprisingly, my favorite taco of the evening just might've been this bologna version, ostensibly inspired by Garcia's childhood eats. The housemade sausage conveyed a mouthwatering savor and spice, as well as a homey, old school sort of vibe that made it all the more effective.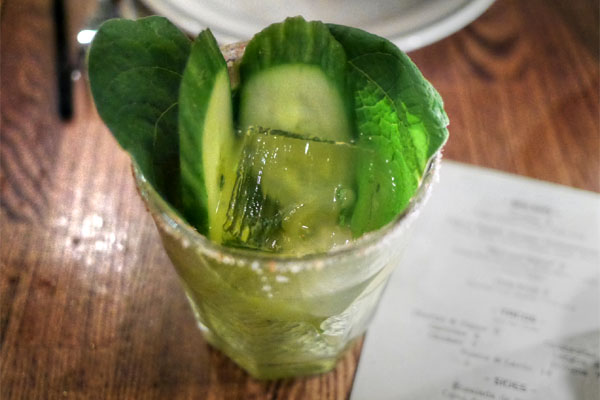 Hoja Santa [$12.00]
| Tequila Blanco, Hoja Santa, Lime, Cucumber, Sal de Camaron
This next cocktail was funky,
real
funky on the nose, probably due to the combination of
hoja santa
and "shrimp salt." Interestingly, on the palate I found it much more approachable, with your classic duo of cucumber and mint working well over a base of silver tequila.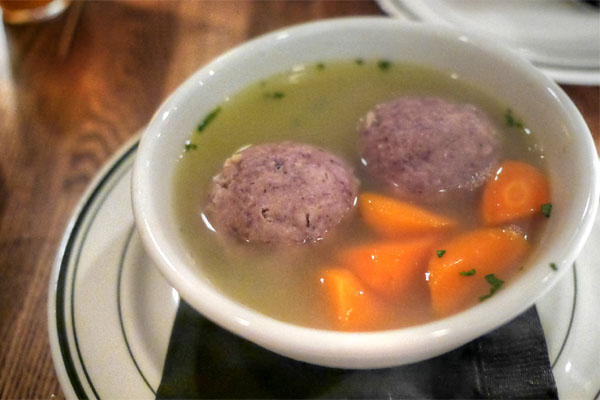 Masa Ball Soup [$9.00]
| Chicken Broth, Carrots, Herbs
I appreciate a good pun when it comes to food, and this next course did an admirable job recalling the goodness that one finds in a classic matzah ball soup. I found the balls pretty light, with a delicate savor and corn-y tinge to them, and well-matched to the broth, with its subtle spice and herbiness. A bit
pozole
-like, even.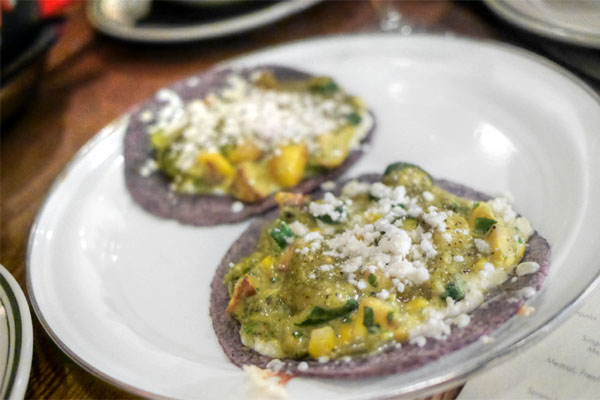 Calabacitas Tacos [$7.00]
Calabacitas
basically refers to a sautéed vegetable medley, and here it made for a superb taco filling, displaying a bevy of smoky, cheesy, yet summer-y flavors that made this one of my favorites of the meal.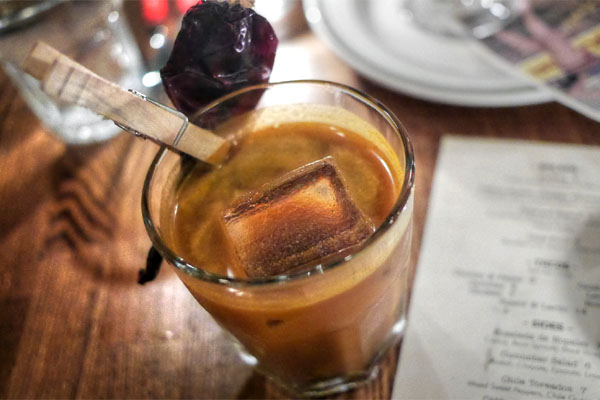 Mole Rojo [$12.00]
| Tequila Reposado, Red Mole Grenadine, Lime, Ancho Reyes
Here we had what easily amounted to the most intensely-flavored cocktail of the septet. Think deep, in-your-face notes of smoke, spice, salt, and savor, all set over the palpable booziness of the tequila.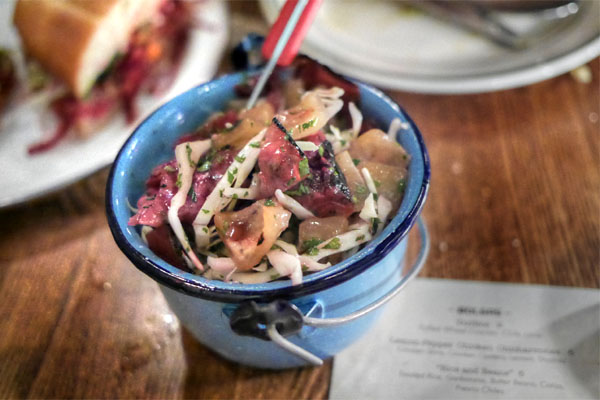 Cabbage and Cueritos [$6.00]
| Charred Red Cabbage, Pickled Pig's Skin
Bitter, crispy shards of cabbage made for a fitting complement to the unapologetic porkiness of those jiggly
cueritos
.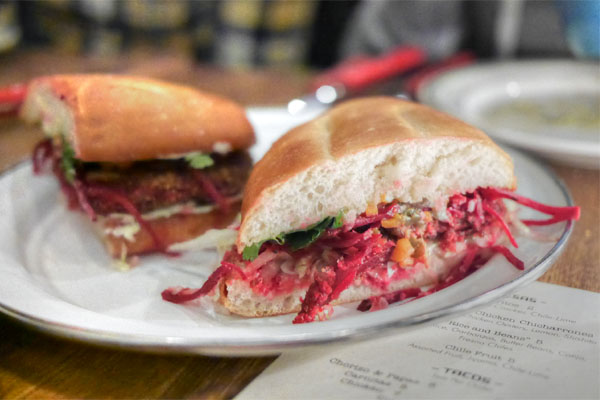 Beet Torta [$11.00]
| Beet Milanesa, Pickled Beet, Escabeche, Iceberg
The vegetarian torta was a surprise hit. I was a big fan of the
milanesa
, the breading adding a wonderful crispness and savor to the beet. You also had the pickles and
escabeche
, which imparted a carefully placed acidity. Very neat.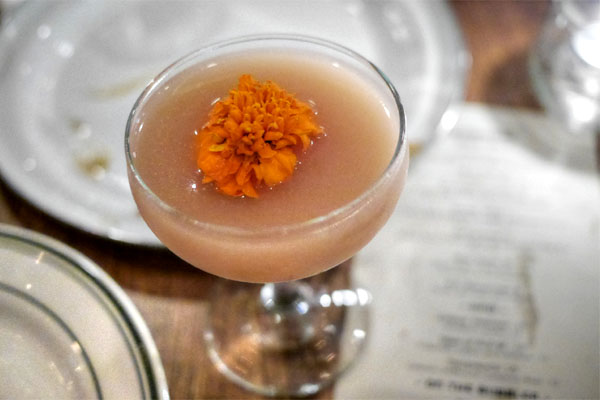 De La Rosa [$11.00]
| Spanish Peanut Infused Tequila Blanco, Orgeat, Rice Wine, Fresh Lime
This was clearly the most saccharine cocktail of the bunch, showing off aromas of sugary peanut butter, with more nuts and sweetness on the tongue, offset just a touch by the lime.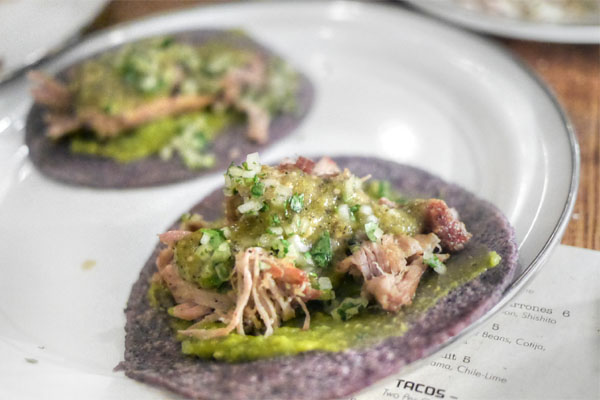 Carnitas Tacos [$8.00]
Carnitas made for the most typical taco filling tonight, though it certainly held its own against the more exotic preparations, with the toothsome, tender cuts of pork well matched to the zing of the onions, cilantro, and salsa verde.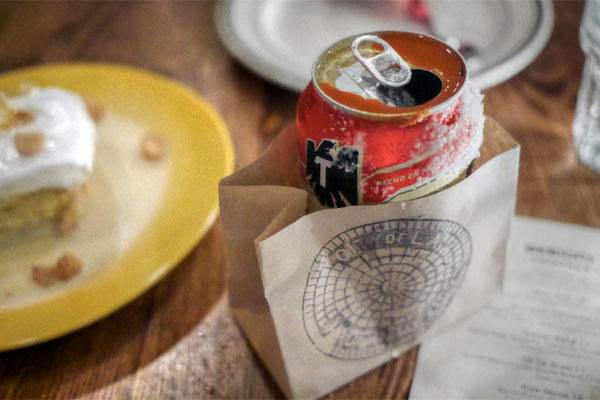 B.S. Handshake [$6.00]
| Tecate, Salt, Lime, Salsa Huichol
Our final cocktail was a
michelada
in essence, a blast of spicy, sweet, salty flavors cut by the light, water-y beer that is Tecate.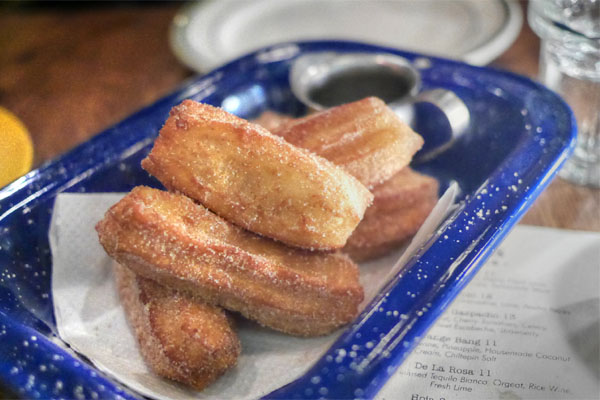 Churros [$7.00]
| Chile de Arbol-Chocolate
Time for dessert. Churros were pretty much spot on, light, fluffy, crisp pastries with delightfully creamy interiors. I didn't even need the accompanying chocolate sauce.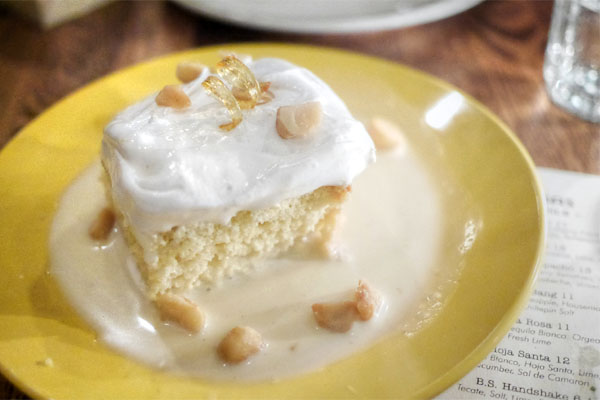 Tres Leches Cake [$8.00]
| Brown Sugar Meringue, Macadamia Nut
I'm a sucker for tres leches, and this was a solid example, arriving super saturated and luscious, with a sweetness that recalled Danish butter cookies (a favorite childhood treat of mine).
Garcia looks to be doing good things here, serving up food that's not really Mexican
per se
, but more like Chicano cuisine with a modern, LA slant. The result is a fun mash-up that largely works, and does justice to the old Mo-Chica space. It all makes me even more excited about Broken Spanish, which just grand opened this week. You can bet that I'll be making my way there soon enough.