The Hermosillo / Highland Park Brewery (Los Angeles, CA)
The Hermosillo Bar / Highland Park Brewery
5125 York Blvd, Los Angeles, CA 90042
323.739.6459
www.thehermosillo.com / www.hpb.la
Sat 07/11/2015, 02:20p-03:30p

My latest beer adventure brought me to The Hermosillo, a neighborhood-y type bar that debuted in June 2012. It's the work of partners Michael Blackman, Ross Stephenson, as well as Dustin Lancaster, who's known around these parts for his efforts at Bar Covell,
L&E Oyster Bar
, and
El Condor
. The draw here for me was Highland Park Brewery, a 7-bbl brewhouse located in a 500-square-foot space in the back of the building. The brewery started operations in June 2014, with Bob Kunz (former GM at
Father's Office
and brewer at Craftsman) at the helm.

The Hermosillo occupies the site of the old, dive-y Hermosillo Club. The space has been spruced up no doubt, but still retains a bit of grit.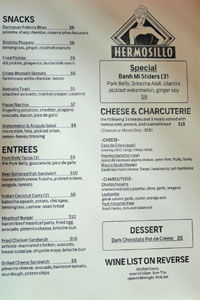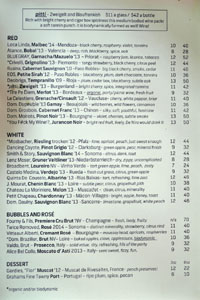 Beer-wise, we have 16 taps, mostly Highland Park naturally, but with a few guest selections as well. They're joined by a handful of bottled beers (some for on-premise consumption only, some for to-go only) and 30 wines by the glass. Meanwhile, the food menu (implemented back in December 2012) features reworked bar snacks, larger mains, and cheese & charcuterie options. Click for larger versions.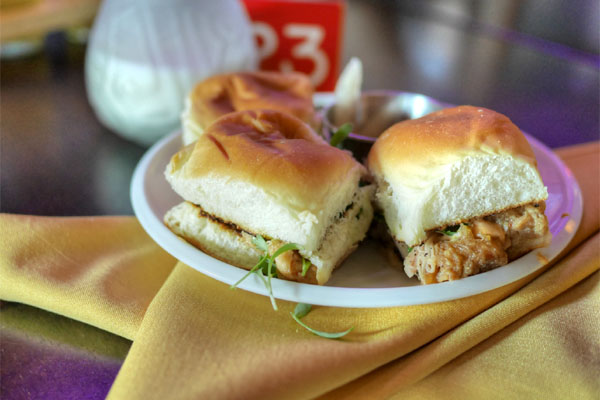 Banh Mi Sliders (3) [$8.00]
| pork belly, sriracha aioli, cilantro, pickled watermelon, ginger soy
A special this afternoon, these ostensibly
bánh mì
-inspired sliders were tasty enough, but didn't effectively capture the essence of the ubiquitous Vietnamese sandwich for me.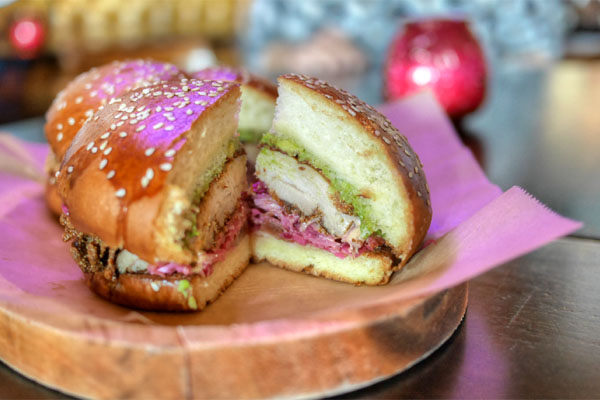 Fried Chicken Sandwich [$10.00]
| achiote-marinated chicken, avocado, house coleslaw, chipotle mayo, brioche bun
The requisite chicken sandwich, on the other hand, was much more successful, with the crunchy, well-spiced bird pairing swimmingly with the acid and crunch from the coleslaw while the chipotle-spiked mayo helped bring it all together.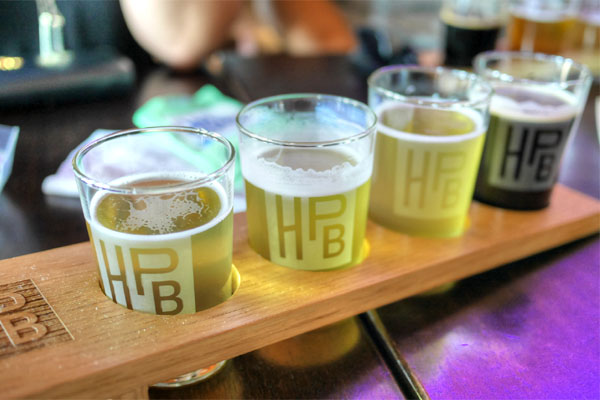 To drink, I started with a sampler of the first four Highland Park beers on the list:
Refresh / House Beer / Light & Crisp: Lightly sweet tropical fruit, grain, slight hops in a crisp, refreshing, easy-drinking package.
Vacation with Brett / Belgian-Style Single / with Brettanomyces: My favorite of the foursome--a delicate tartness and funk on the nose, with the taste bringing a well balanced presentation of fruit and earth.
Raised Eyebrows / Sour Ale / with Guava & Passionfruit: Big hit of juicy tropical fruit in the smell, while the palate followed with more funk, fruit, tartness, and grain. Nice!
Wake Up / Session Coffee Beer / with Trystero Coffee (nitro): True-to-life coffee in considerable amounts, with the roast and bitterness at the forefront.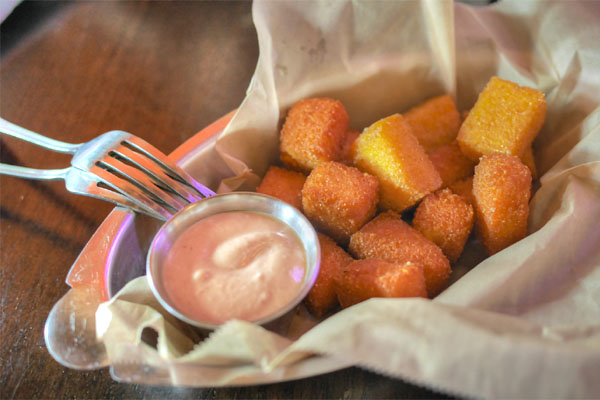 Parmesan Polenta Bites [$6.00]
| polenta, sharp cheddar, creamy sriracha sauce
Nice crunch on these, though I wanted 'em creamier, cheesier. The sauce on the side did help with that, though.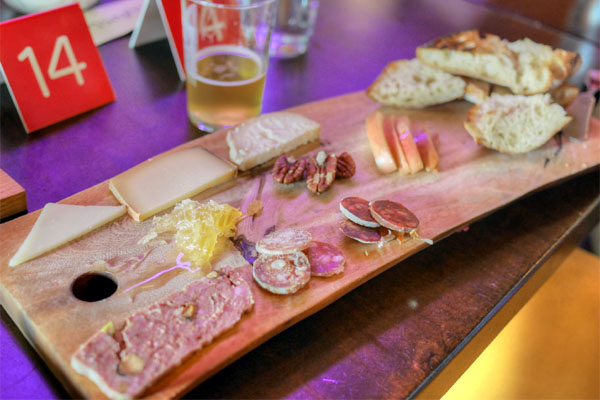 Cheese & Charcuterie [$15.00]
| the following 3 cheeses and 3 meats served with honeycomb, pecans, and toasted bread
Unfortunately I didn't get a crack at the board before it got eaten up, but people seemed to be pretty content with it:
Cana de Cabra (goat) | creamy, mild, tangy citrus notes
Reading Raclette (cow) | raw milk Vermont alpine cheese, semi-firm, fruity, funky
Bianco Sardo (sheep) | Sardinian hard cheese, sweet, hazelnutty, salt backbone
Chorizo Navarre | smoked and spicy paprika, clove, garlic, oregano
Loukanika | Greek salami, garlic, cumin, orange zest
Pork Pistachio Pate | fresh herbs, rich and balanced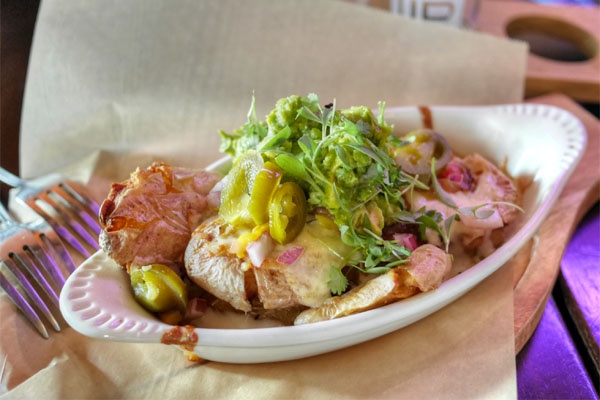 Papas Nachos [$7.00]
| fingerling potatoes, cheddar, jalapeno, avocado, bacon, pico de gallo
Nachos came out looking more like a loaded baked potato. It was pretty satisfying though, with the hot 'n' hearty taters pairing swell with the cool, creamy guac while the pico and onions imparted a nice zippiness to it all. I would've liked a touch more cheese however.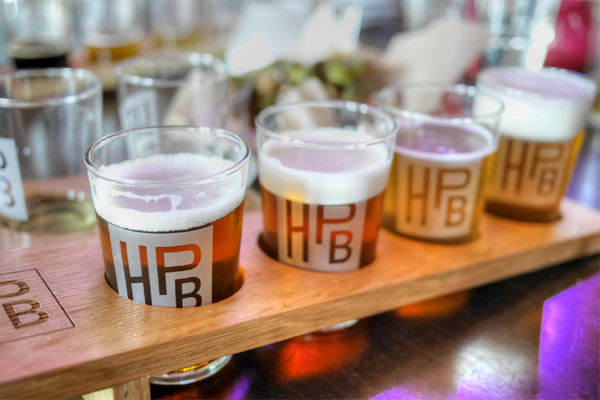 My second round brought the next four Highland Park beers:
Red Tick / Red Ale / made for Oinkster's Burger Week: Smells of malt and more hops than I was anticipating; taste is soft, nutty, almost floral. Goes down easy.
McDonnell's / Irish Red Ale / served on Nitro: Weak nose; palate is smooth, mild, with notes of caramel-y malt and light hops.
Vizor Time / Hoppy Pale Ale / with Nelson Huell Melon Hops: Very nice. Juicy and hoppy aromas; more tropical nuances on the tongue evened out by a persistent bitterness.
Bonkers / West Coast IPA / with Simcoe Hops: Tasty bouquet of juicy citrus fruit and hops; the palate, though, went dank, very bitter, and not as enjoyable.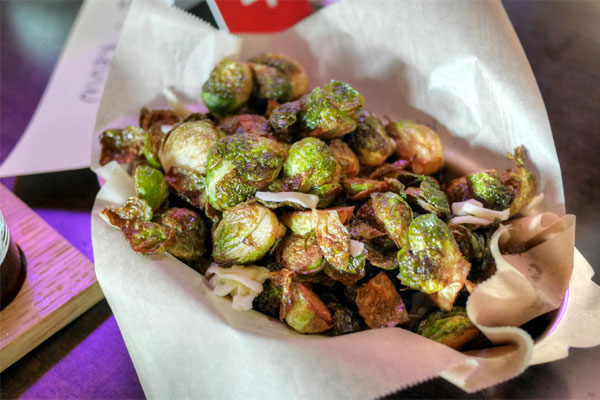 Crispy Brussels Sprouts [$6.00]
| farmhouse white cheddar, lemon
Brussels were classic, well-textured examples with their char and bitterness proudly conveyed.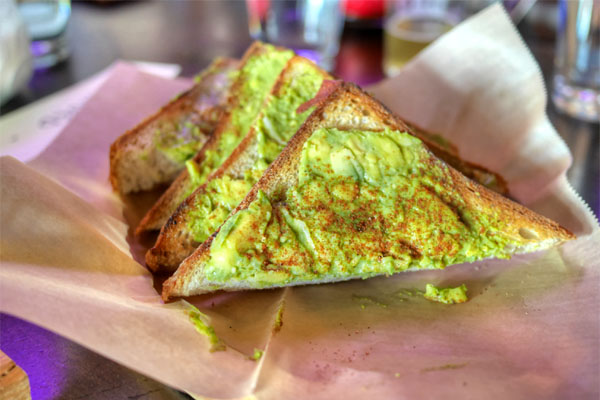 Avocado Toast [$5.00]
| smashed avocado, cracked pepper, cayenne
Avocado toasts were larger than I expected, though quite good, with the lushness of the fruit transitioning well to a lingering spice on the close.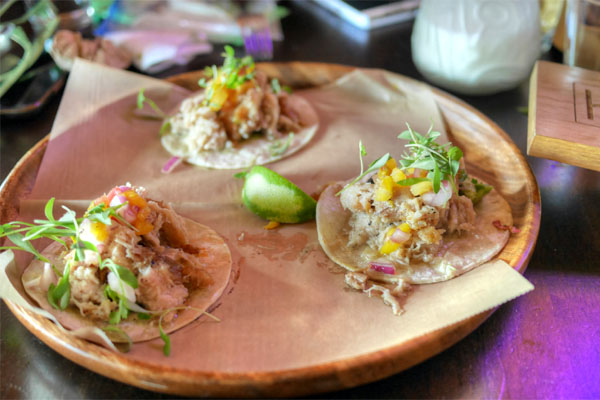 Pork Belly Tacos (3) [$8.00]
| IPA pork belly, guacamole, pico de gallo
Last up were the tacos, an adequate presentation incorporating juicy shards of pork belly. Nice tanginess from the red onion here.
We had a decent meal at The Hermosillo. The food's good enough for the space and the concept, though there's certainly room for improvement. As for the beer, it was solid all 'round. The selection was varied enough, but I would like to see more of the funky/sour stuff from HPB (that is where my tastes tend to lie these days).
---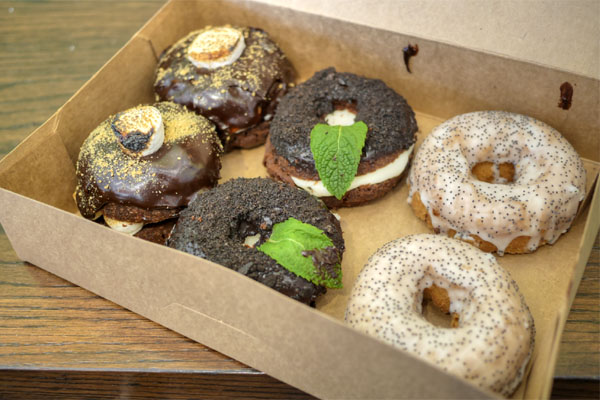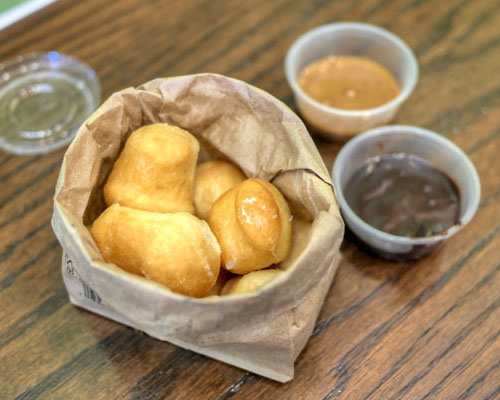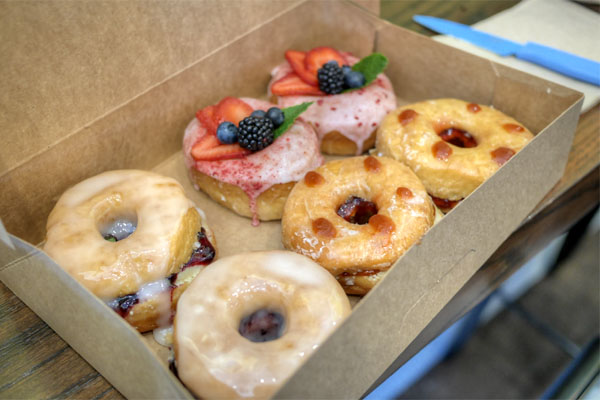 Given the lack of dessert, we wandered over to Donut Friend next door and sampled the following:
S'Morrissey [$3.50] - A chocolate cake donut filled with toasted marshmallows and topped with chocolate glaze and graham cracker crumbs.
Mint Town [$3.50] - A chocolate cake donut filled with mint cream and topped with chocolate glaze.
Poppygandhi [$2.50] - Lemon glaze and poppy seeds on top of a vanilla cake donut.
Small Brown Bites [$3.00] - Donut holes, sold individually or in a bundle of 9 with a free dipping sauce.
Drive Like Jelly [$4.00] - Peanut butter and strawberry jam inside our traditional donut, topped with a light glaze.
Srirachosin [$5.00] - While you're translating the name, we're stuffing peanut butter, strawberry jam, regular or coconut bacon, and a bit of sriracha sauce inside our traditional donut.
Polar Berry Club [$2.50] - Lemon glaze, fresh mixed berries, and mint on top of a traditional donut.
The doughnuts were fairly enjoyable, though overall they veered overwrought. Less truly is more sometimes.
---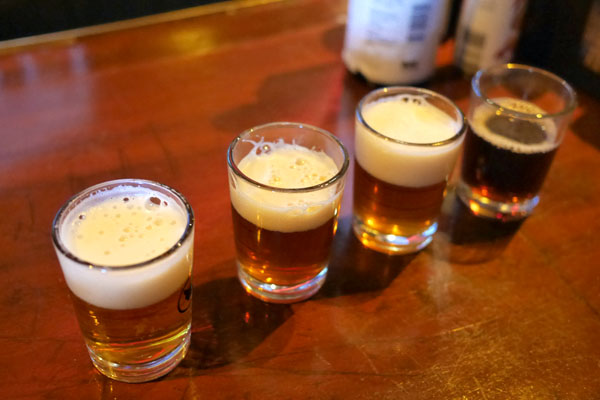 Our third stop was Verdugo Bar, where we got a sampler of four:
Ruin Ten IPA - Stone / Escondido, CA / Imperial IPA: Quite hoppy, just as you'd expect, also pine-y, with some citrus; malt provides balance.
Roth IRA - Deschutes / Bend, OR / India Red Ale: Malty at its core, and spicy, with slight fruit and a countervailing hop presence.
Luxardo Cherry Ale - Anchor / San Francisco, CA / Fruited Brown Ale: I'm a fan of Luxardo cherries, and this did a nice job incorporating it. Typical malty, nutty brown ale character, with the cherry coming in toward the midsection.
Pablo Escobeer (Nitro) - Beachwood / Long Beach, CA / American Porter: Smooth, with the Portola Columbian coffee really making itself known over a base of nuttiness and sweetness. Loved the pun-y name too.