Eagle Rock Brewery Public House (Los Angeles, CA)
Eagle Rock Public House Restaurant
1627 Colorado Blvd, Los Angeles, CA 90041
323.739.0081
www.eaglerockpublichouse.com
Sat 07/11/2015, 06:00p-08:40p

From
The Hermosillo
, we continued on our beer trek to Eagle Rock Brewery Public House. Not surprisingly given the name, the restaurant is an offshoot of Eagle Rock Brewery, which is located just a few miles down the street. The Brewery was started in December 2009 by the father-and-son team of Jeremy Raub and Steven Raub, both New York natives, as well as Jeremy's wife Yuan Ting Su. It was ostensibly the first microbrewery to open in LA in over five decades, and certainly helped establish the City's craft beer scene. Eagle Rock never had a proper food program, however, so to remedy that, they launched the Public House in December last year. The restaurant aims to provide an elevated beer-food experience, and is helmed by none other than Ting's brother, Jerry Su, who's also a co-owner here.
About the Chef
: Su grew up in a Taiwanese household in southwest Florida, spending time working in his family's restaurants as a youngster. After finishing up high school, he enrolled in Boston University's Questrom School of Business, but ended up transferring to UC Santa Barbara in fall 2005. He received his Bachelor's degree in Communications in 2007, and quickly secured an internship at local firm Epic Ad Group before moving on to a temp production assistant role at Happy World Wide that autumn. Su joined marketing agency M80 in November 2007 as an office manager-slash-social media marketing manager, and would later take on a research coordination role there.
However, he left the company in April 2009 and started his studies at the Culinary Institute of America's Greystone campus. While there, he worked as an event chef for Del Dotto Vineyards, cooked at
Bouchon
as a commis, and externed at David Chang's Momofuku Ssam Bar in NYC. Following graduation at the end of 2011, Su took on a taproom manager gig at Eagle Rock Brewery, and in March 2012, started working as a line cook at
Son of a Gun
. He made sous chef a year later, but would leave in February 2014 to start work on the Public House.

Eagle Rock takes over the 4,500-square-foot former home of vegetarian joint Fatty's. The room has been redone by firms
Wick
and
LAND
, and is an open, spread-out affair, comprising two large communal tables joined by a handful of two-tops and bar seating, natch.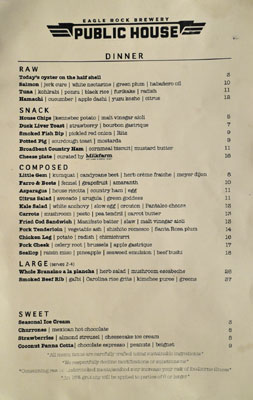 Public House's menu is much more progressive than you'd expect, comprised not of your typical gastropubby tropes, but rather more refined fare in snack, medium composed plate, and large format presentations. In addition to the dinner menu we see here, there are also full brunch and lunch options. Meanwhile, on the drink side we have eight taps of Eagle Rock brews, a couple bottled beers, some wines, ciders, and Intelligentsia coffee too. Click for larger versions.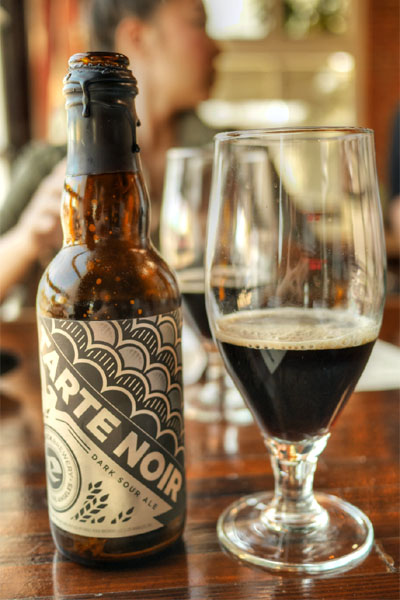 The tap list tonight wasn't terribly interesting, so we opted for bottles, and up first was the
Tarte Noir barrel aged sour black ale [$13]
. It was a nice way to start, a softly tart beer with lots of dark fruit, chocolate, and oak, along with a lovely bit of vinous character to round things out.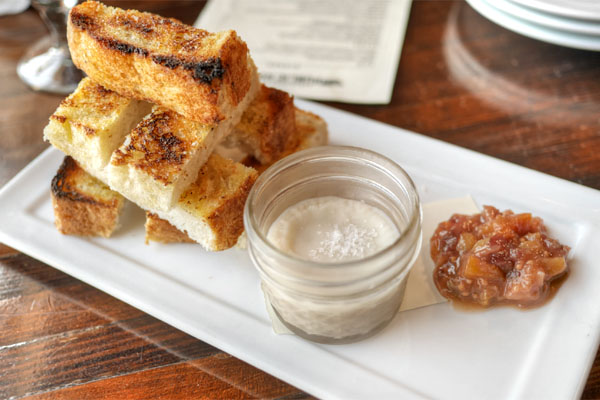 Potted Pig [$9.00]
| sourdough toast, mostarda
Our first course was basically a pork rillettes. I appreciated the super porky qualities of the pâté, and how the tanginess of the mostarda worked as a counterpoint. It really could've stood to be softer, creamier in consistency though.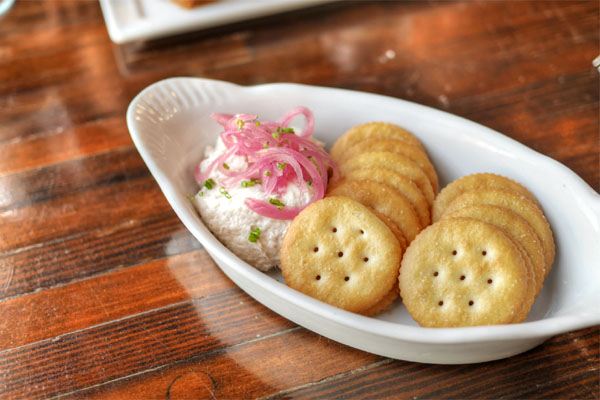 Smoked Fish Dip [$9.00]
| pickled red onion, Ritz
This was a favorite of mine, and strangely reminded me of the big tubs of seafood salad from Costco that I used to consume during my undergraduate years, but with more brine and more zing from the onion. The Ritz crackers were a throwback as well, their buttery goodness working hand-in-hand with the dip.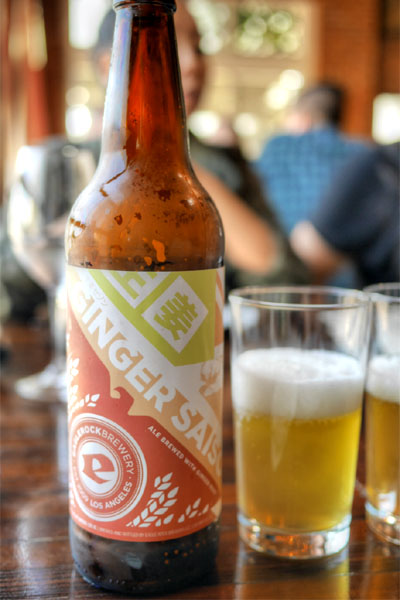 The
Ginger Saison farmhouse ale w/ginger [$12]
was refreshing, with a good amount of ginger-y zest and lemon on the nose. On the palate, more of the same, along with a pleasant spiciness, herbiness, and graininess.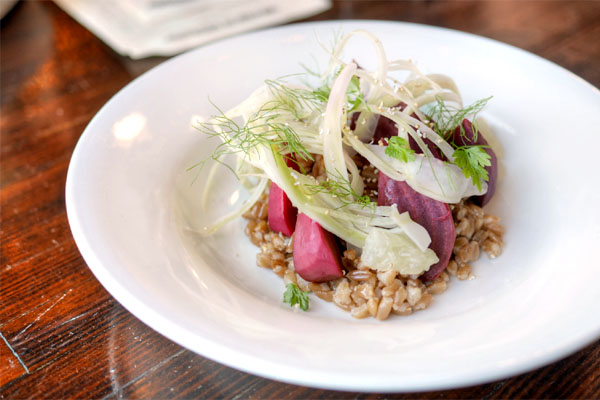 Farro & Beets [$10.00]
| fennel, grapefruit, amaranth
Beets worked out quite well here, their earthy sweetness well-matched with the nutty base of farro while fennel imparted the right amount of moderating spice to the mix.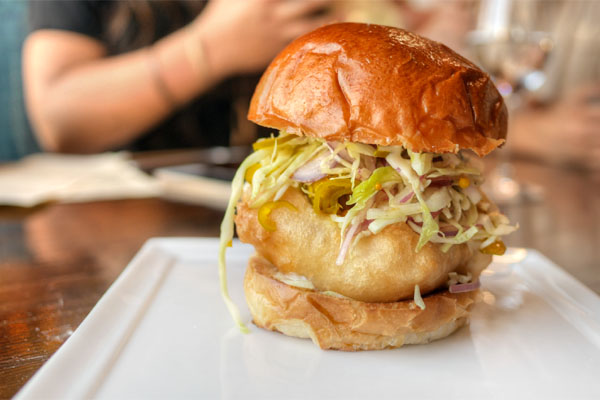 Fried Cod Sandwich [$13.00]
| Manifesto batter, slaw, malt vinegar aioli
The cod sandwich was sort of a beautiful sight, and rather tasty as well, the delicate saline character of the fish pairing beautifully with the crunchy coleslaw while the spicy aioli helped bring it all together. I wanted a thinner batter on the cod, though.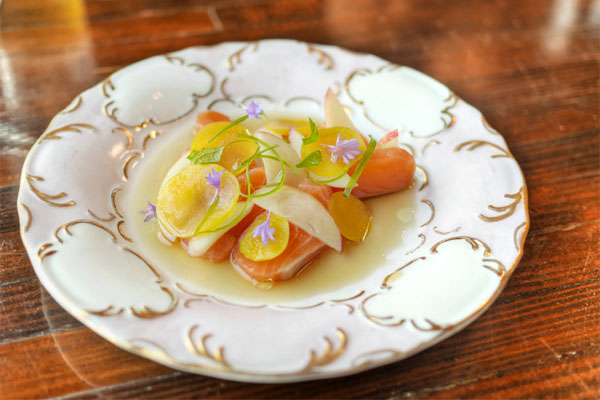 Salmon [$10.00]
| jerk cure, white nectarine, green plum, habanero oil
Salmon made for a pretty plate, though I found it overly saccharine, with the inherent, savory goodness of the fish somewhat masked.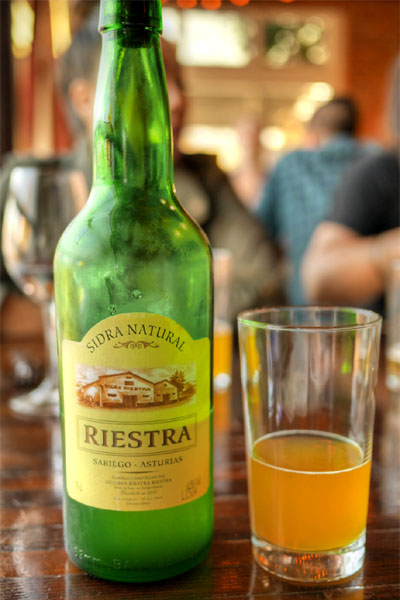 Taking a break from the beer, we had a cider, the
Riestra, 2013, Asturias Spain [$14]
. I wasn't too fond of this one. I got light funk, slight sweetness, and subtle apple, but overall I found the drink thin, lacking in depth and that barnyard-y earthiness that I like in a cider.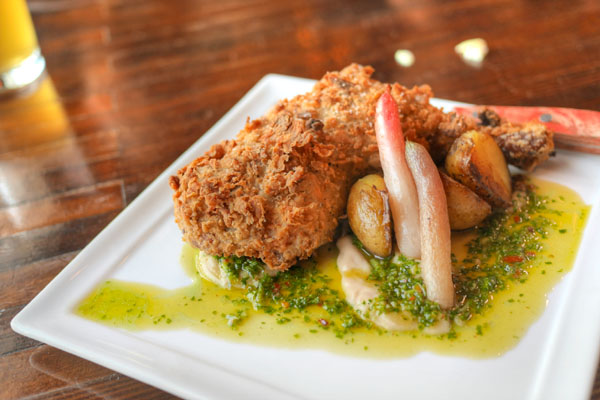 Chicken Leg [$16.00]
| potato, radish, chimichurri
The chicken was another winner, a brined-smoked-fried preparation that was both super crunchy and teeming with loads of smoky depth. I was also a big fan of the bitter root veggies here, not to mention the piquancy of the accompanying chimichurri.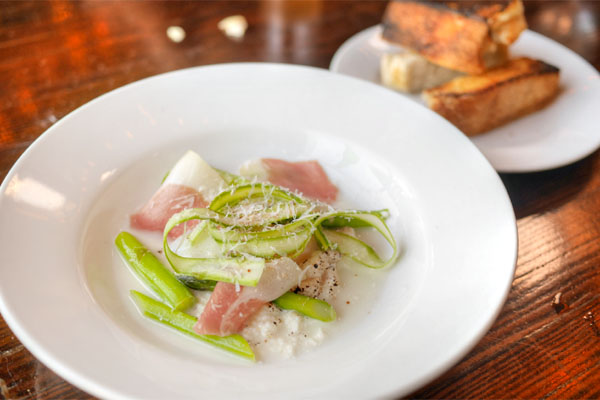 Asparagus [$11.00]
| house ricotta, country ham, egg
This dish made sense, with the astringency of the asparagus serving as a foil to the lushness of egg and the saltiness of ham, but I wanted the bitterness of the vegetable to be more apparent.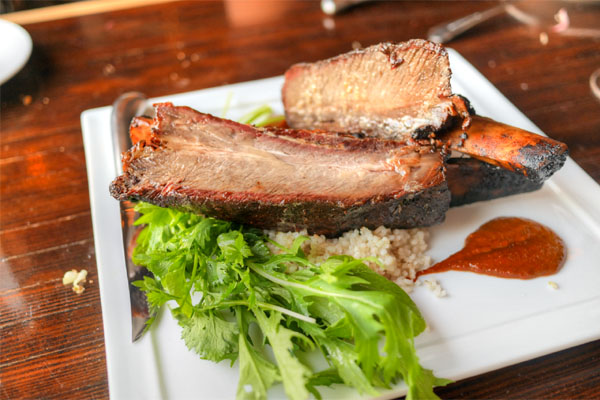 Smoked Beef Rib [$37.00]
| galbi, Carolina rice grits, kimchee puree, greens
Tonight's
pièce de résistance
made for an impressive plate. The ribs came out tender enough, and satisfyingly smoky, the sheer savoriness of the beef nicely offset by the kimchi (or
gochujang
?) smear on the side. I was especially fond of the grits here, which had a brightness to them that really worked alongside the meat.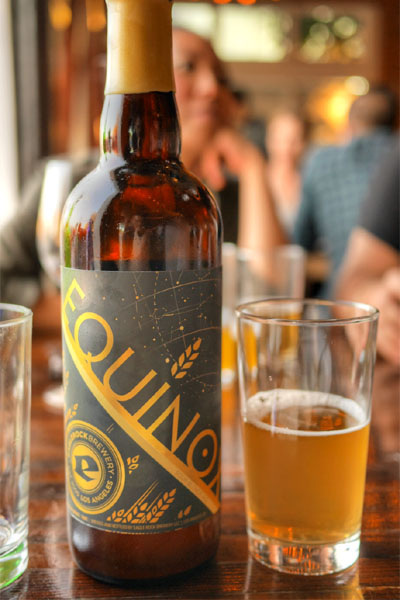 Our final bottle brought out the
Equinox barrel-aged sour blonde [$23]
. I found it expectedly tart, yet balanced, with a tasty citrus-y quality, funk, minerality, and hoppiness all coming together.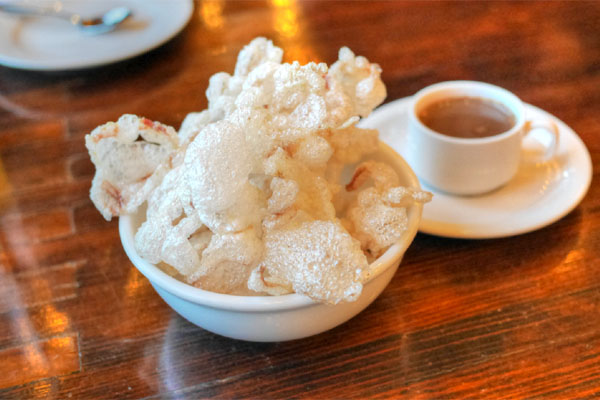 Churrones [$8.00]
| mexican hot chocolate
We had
churrones
as our first dessert, which as far as I can tell is a portmanteau of "churros" and "chicharrones." And indeed, what we had was deep-fried sugar-coated beef tendon. I found it slightly disconcerting, though better than I had imagined, with a sweet 'n' savory bent that seemed to pair fittingly with its dip of spicy hot chocolate.
Strawberries [$8.00]
| almond streusel, cheesecake ice cream
Last up was a more conventional dessert, one that did an admirable job playing the tart berries against the tangy ice cream while streusel imparted a very elegant crunchiness to it all.
Despite a couple missteps here and there, this was still the most ambitious cooking that I've encountered in a brewery/brewpub sort of setup. I have to give Chef Su props for having the gall to serve some of his more atypical fare here, and I hope he continues to push in that direction. The food does pair pretty well with beer, though in that regard, I would like to see some more farmhouse/sour stuff on tap, which I think could really complement the cooking. I've heard that they're installing a 15-barrel brewing system in an adjacent space, so hopefully we'll see some interesting concoctions come out of that.