PettyCash Taqueria (Los Angeles, CA)
Petty Cash Arts District
712 S Santa Fe Ave, Los Angeles, CA 90021
213.624.0210
www.pettycashtaqueria.com
Thu 09/24/2015, 10:00p-10:55p

One of the more ambitious restaurants to both open and close last year was Beau Laughlin's
Fifty Seven
. If you recall, the place debuted in March with
David Nayfeld
at the helm but shuttered after a mere six months, the opening chef replaced by ex-
Farmshop
toque Josh Drew. Stepping into the old Heinz loading dock space is the second outpost of
PettyCash
, that modern taqueria concept from
Walter Manzke
. PC 2.0 dropped at the end of August, following a series of one-night-only guest chef dinners that brought in the likes of
Wes Avila
,
Carlos Salgado
,
Tim Hollingsworth
,
Javier Plascencia
, Trey Foshee, and Elena Irra. We stopped in recently following a visit to Matt Molina's new
E.R.B.
up the street.
As far as the kitchen goes, Fabian Gallardo will remain at the original Beverly location, so Manzke's tapped David Chavez to serve as his CdC here. The El Paso native attended culinary school at the Austin outpost of Le Cordon Bleu, graduating in 2005. Following, he returned to his hometown and began working as a sous at Café Central, where he stuck around for three years. In March 2008, Chavez moved to Las Vegas, becoming sous at Thomas Keller's Bouchon. This was followed by a stint at Bouchon Bakery in New York and, in 2013, an exec sous position at
Bouchon Beverly Hills
. In June 2014, Chavez relocated to Sacramento with his family to become Executive Chef at Randall Selland and Nancy Zimmer's The Kitchen. He stayed there until July 2015, when he came back down to SoCal to take the reins at PettyCash.

The old Fifty Seven space has been transformed into a much brighter, more casual, more colorful room, replete with murals by
Kelcey Fisher (KFiSH)
. Unfortunately, I've heard that the basement space--originally slated for a Julian Cox-designed bar I believe--is still unused.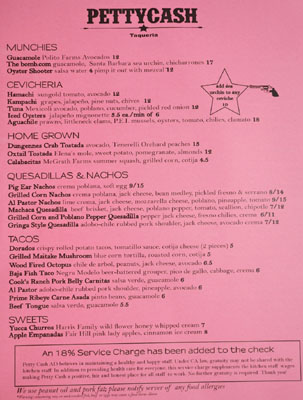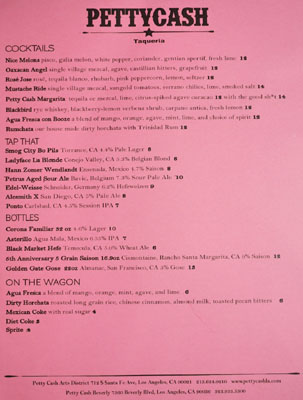 As for PettyCash's menu, it's in the same vein as that at the original, with perhaps a somewhat more limited raw bar. The beverage program, meanwhile, follows more closely. Click for larger versions.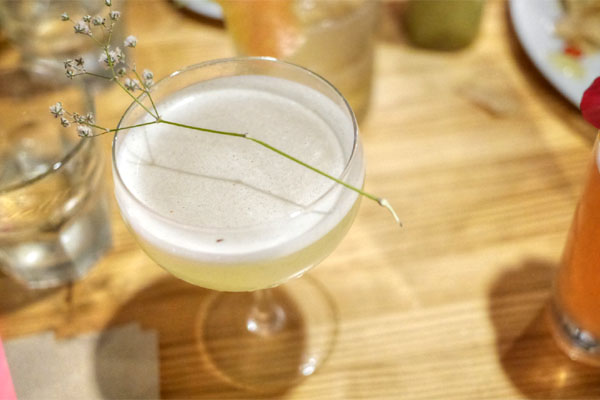 Nice Melons [$12.00]
| pisco, galia melon, white pepper, coriander, gentian aperitif, fresh lime
Our first of four cocktails was a welcomed start. I found it a viscous, almost creamy drink, with a base of tart, tangy flavors combined with a bevy of bitter, vegetal notes.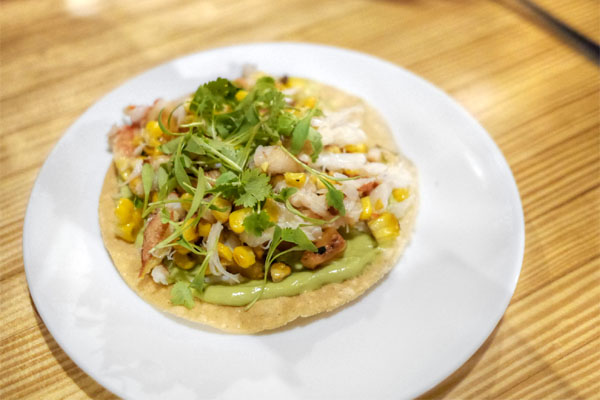 Dungeness Crab Tostada [$13.00]
| avocado, Tenerelli Orchard peaches
Crab was on the salty side, though this was well-tempered by the juiciness of peaches and the assorted greenery sprinkled on top. Nice use of avocado and corn as well.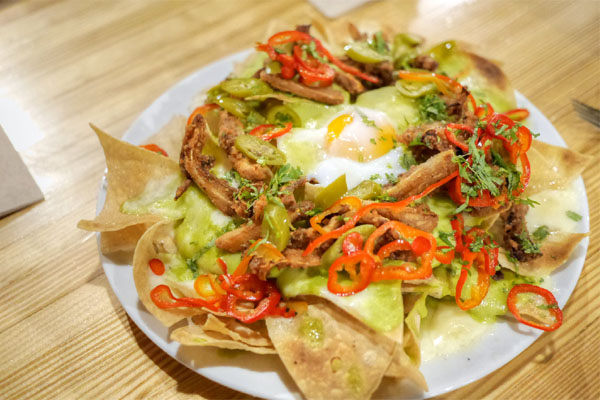 Pig Ear Nachos [$15.00]
| crema poblana, soft egg
Next was something that was first teased all the way back at
Test Kitchen 2012
. That original preparation was probably the best version of nachos I've had, and though tonight's iteration didn't quite reach the same lofty heights, it was still a gratifying dish. Think just the right amount of trashy, with the crunchy-chewy ears the star.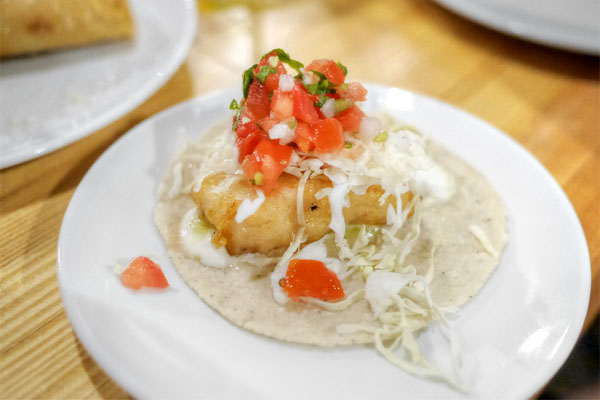 Baja Fish Taco [$6.00]
| Negra Modelo beer-battered grouper, pico de gallo, cabbage, crema
The ubiquitous fish taco was pretty O.G. when you got down to it, the grouper making total sense with its traditional accompaniments. Tasty.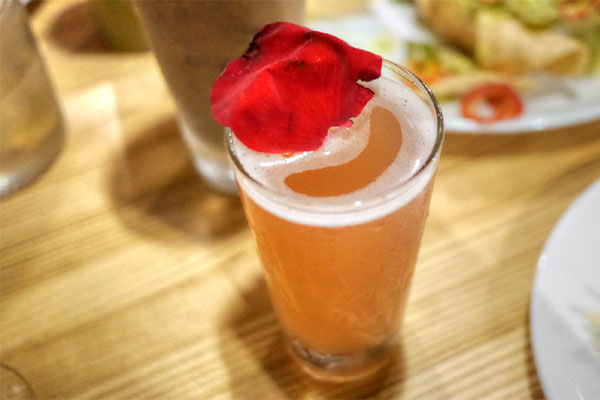 Rosé Jose [$12.00]
| rosé, tequila blanco, rhubarb, pink peppercorn, lemon, seltzer
For our next cocktail, imagine sweet, floral flavors in a fizzy package, offset by the woody, boozy weight of tequila. A fun one.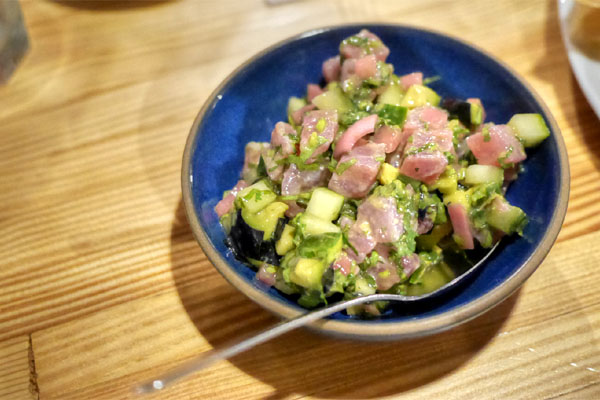 Tuna [$12.00]
| Mexicola avocado, poblano, cucumber, pickled red onion
Tuna arrived nicely textured, a dense, meaty presentation that definitely worked alongside the bright, herby nuances in the dish.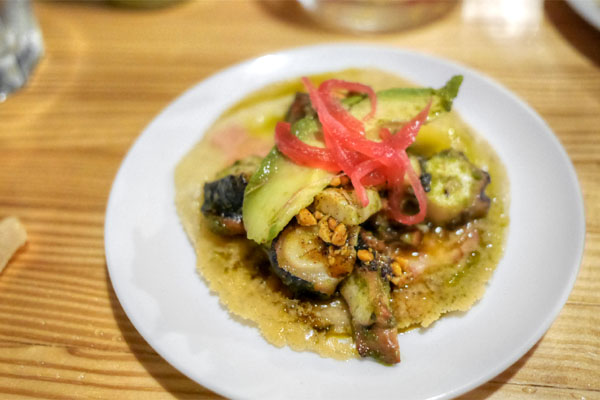 Wood Fired Octopus [$6.50]
| chile de arbol, peanuts, jack cheese, avocado
Octo was properly tender, well-charred, its smokiness matched by contrasting notes of nuttiness and heat. A bit oily though.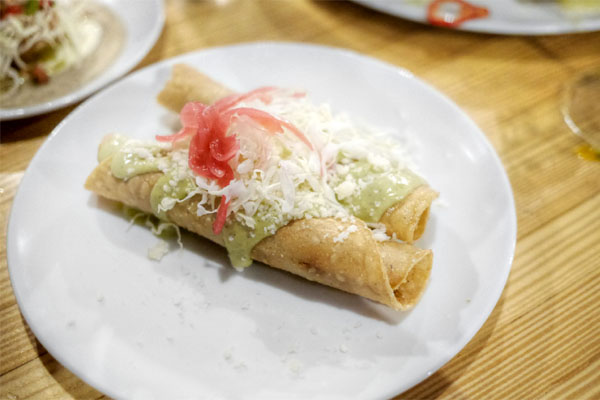 Dorados [$5.00]
| crispy rolled potato tacos, tomatillo sauce, cotija cheese (2 pieces)
Flautas featured a smooth, silky filling of potato that really called for the tomatillo to shine. Excellent crunchiness from the tortillas as well.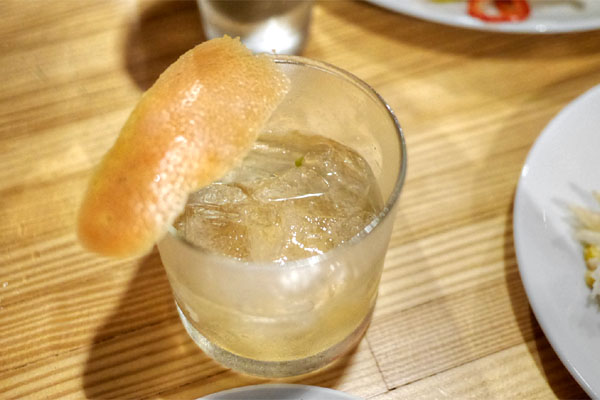 Oaxacan Angel [$12.00]
| single village mezcal, agave, castilian bitters, grapefruit
Given where we were, a mezcal cocktail was certainly called for, and this one fit the bill. I got lots of juicy citrus on the nose, but taste-wise this was all about the base spirit, with bountiful smokiness and trace amounts of aromatics from the bitters.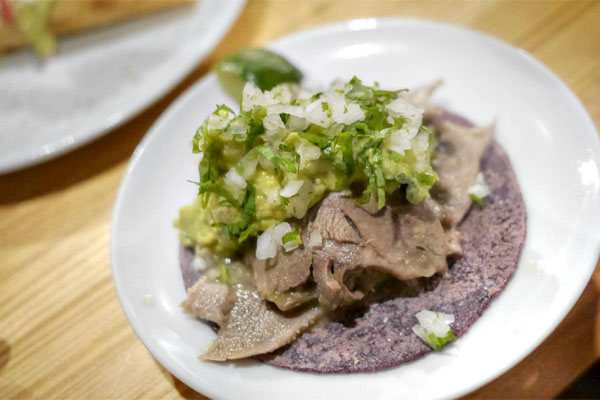 Beef Tongue [$5.50]
| salsa verde, guacamole
Lengua
came out sliced thin, with a great texture and its substantial beefiness evened out by that accompanying green sauce.
Grilled Corn and Poblano Pepper Quesadilla [$11.00]
| pepper jack cheese, fresno chilies, crema
The quesadilla really conveyed the sweetness of corn, set off by the heat from the chilies while cheese and crema bound it all together.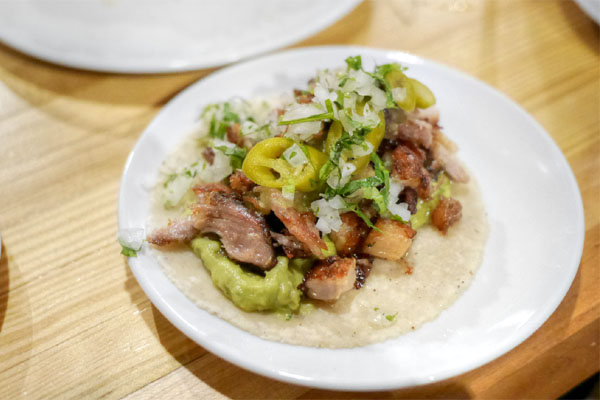 Cook's Ranch Pork Belly Carnitas [$6.00]
| salsa verde, guacamole
The carnitas taco was a hit with its crispy, charred, fatty shards of pork belly leading the way, the onions and cilantro making for a zesty counter.
Rumchata [$12.00]
| our house made dirty horchata with Trinidad Rum
Certainly, the most dessert-y cocktail of the bunch was this take on horchata, which had all your classic sweet, spicy, creamy notes, but with the booziness of rum underscoring it all. Yum.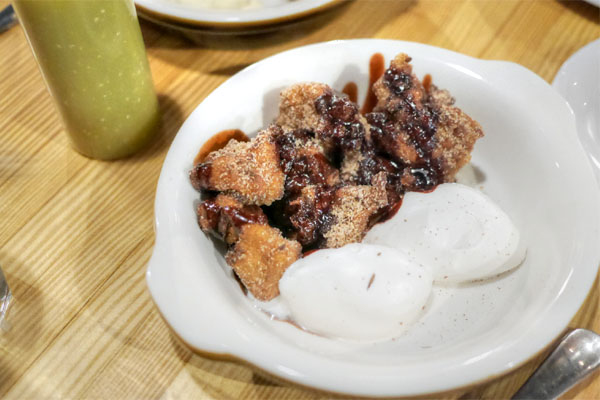 Yucca Churros [$7.00]
| Harris Family wild flower honey whipped cream
Cassava churros were dense little nuggets, with dark, sugary flavors and a sweet spice lightened up by the whipped cream.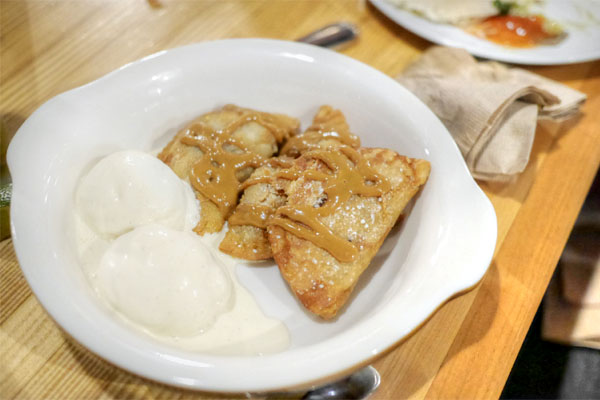 Apple Empanadas [$8.00]
| Fair Hill pink lady apples, cinnamon ice cream
Empanadas were heavy on the spicing, but in a good way. Even better with a dab of that cinnamon ice cream.
Unsurprisingly, the food and drink program's pretty similar to what's being put out at the original PettyCash, which isn't necessarily a bad thing. Bottom line: if you're a fan of the Beverly location, you should be well served here.