E.R.B. (Los Angeles, CA)
Everson Royce Bar / ERBar / ERB
1936 E 7th St, Los Angeles, CA 90021
213.335.6166
www.erbla.com
Thu 09/24/2015, 08:00p-09:50p

The Arts District-adjacent's latest drinking destination opened recently on September 18th. ERB comes to us from Randy Clement, who's best known around these parts as one of the co-owners of Silverlake Wine, which he opened back in '04 with wife April Langford and George Cossette (a former waiter and Wine Director at
Campanile
). In 2012, Clement and Langford teamed up with longtime SLW customer Joe Capella to debut wine and spirit shop Everson Royce in Pasadena, named after the couple's twin boys. This same threesome is present at Everson Royce
Bar
, and to complement the drink program here, they've brought on as chef/partner none other than
Mozza
alum Matt Molina, whom Clement met while working as a sommelier at Campanile back in '98.
About the Chef
: Born in 1978, Molina was raised in the SGV, and graduated from Bishop Amat Memorial High in 1995. Just a few weeks after finishing, he enrolled at Raimund Hofmeister's Los Angeles Culinary Institute in Burbank, a short-lived culinary school that opened in 1991 and closed abruptly in 2000. Following his studies there, he went to work at Mi Piace in Pasadena, and later at 2087 An American Bistro in Thousand Oaks (at the site of the current Mastro's). Cooking under Richie DeMane, it was here that Molina really fell in love with the craft. In 1998, he took a job at
Mark Peel
and Nancy Silverton's
Campanile
, where he started as a line cook before becoming Chef de Cuisine in 2003, replacing Chris Kidder. Molina left in 2005 to help Silverton write her cookbook
A Twist of the Wrist
, then went to New York for four months to open Mario Batali's Del Posto.
He was then tapped by Silverton, Batali, and Joe Bastianich to become Executive Chef of
Pizzeria Mozza
and
Osteria Mozza
. The Pizzeria debuted in November 2007, while its schmancier half dropped the following July. Both were well received, garnering dual three-star reviews from the
Times
and even a Michelin star for Osteria. In 2008, Osteria was nominated by James Beard for "Best New Restaurant," while Molina himself was a nominee for "Rising Star Chef." This was followed by a "Best Chef: Pacific" nod from Beard in 2010, which was repeated again in 2012, resulting in a win. And in 2011, Molina teamed with Silverton and Carolynn Carreno to author
The Mozza Cookbook
. However, despite all the fame and acclaim, he left the Mozzaplex in February this year to work on ERB, replaced at Osteria by Elizabeth Hong, a former sous and CdC at Pizzeria whose mother Jenee Kim, interestingly enough, is the owner of Parks BBQ.


ER Bar occupies the site of the old Senor Fish (and The French Garden before that), which closed at the start of 2015. The space was reworked by designer Rachel Hill, who cleaned things up and installed a banquette along one wall, though the marble bar's an original. In addition to the indoor space, there's also a large-ish, cozy patio out back that I suspect will be very popular. Right next door, meanwhile, is an outpost of Silverlake Wine, which opened in May.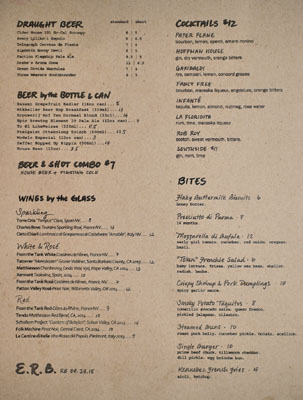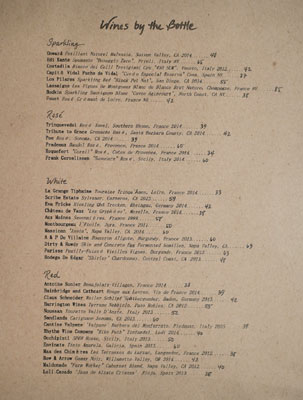 As for the menu, think eight beers on draught and some in bottles, as well as commendable wines by the glass joined by a well-chosen, well-priced bottle list. There's a sizable spirit selection, which means cocktails, crafted here by barman Chris Ojeda of
SMYC
, SoHo House, The Varnish, The Edison, and Osteria Mozza (where he assisted Eric Alperin with designing the bar program). Food-wise, think a handful of booze-friendly, finger-friendly dishes that are probably more straightforward than what you're used to from Molina. Click for larger versions.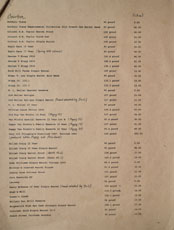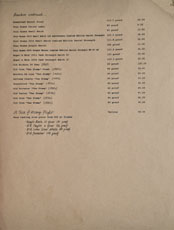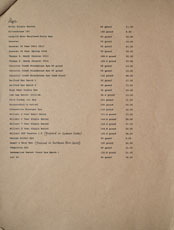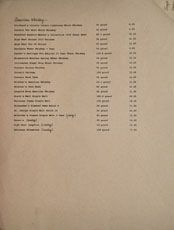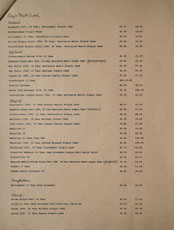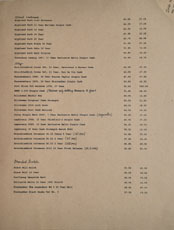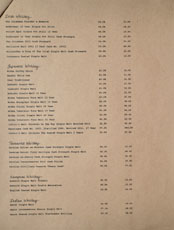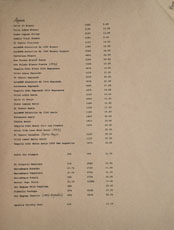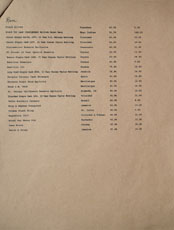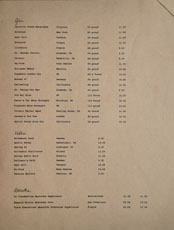 And speaking of that spirits list, it's impressive, easily one of the strongest I've seen when it comes to whiskey. Click for larger versions.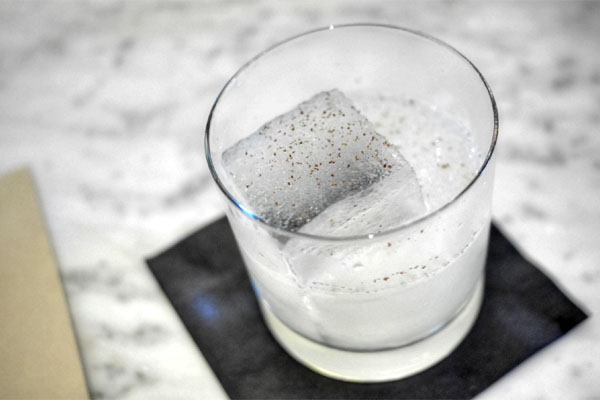 Infanté [$12.00]
| tequila, lemon, almond, nutmeg, rose water
I arrived early and thus took a seat at the bar, subsequently ordering this monochromatic number. It was more interesting than it looked: spicy-sweet and woody on the nose, while taste-wise, think sour, boozy, with a slight trace of rose. Nice!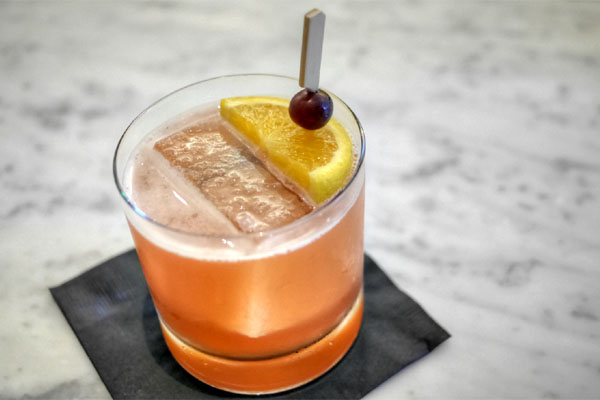 Garibaldi [$12.00]
| rye, campari, lemon, concord grapes
This next cocktail was probably my favorite of the night, a bittersweet, aromatic concoction with an overarching layer of grapiness finished with the spice of rye.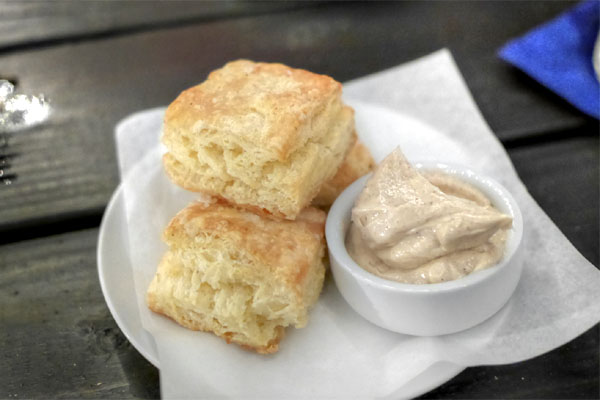 Flaky Buttermilk Biscuits [$6.00]
| honey butter.
Moving outside to the patio now, we ended up ordering everything off of the food menu. First were the biscuits, which I found outstanding: crisp, fluffy, and buttery. Even better with a dab of that sweet-spicy honey butter.
Prosciutto di Parma [$8.00]
| 16 months.
The prosciutto was as about as simple as you can get, but satisfying--a slick, salty ham with a nutty sweetness.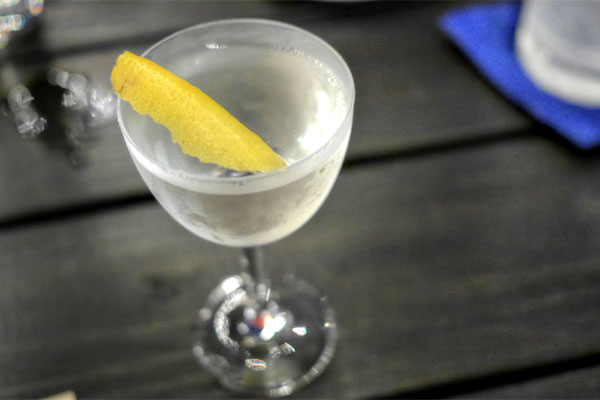 Hoffman House [$12.00]
| gin, dry vermouth, orange bitters
Coming out starkly clear, this martini-esque cocktail smelled of juicy citrus, but in terms of taste, I found it dry, botanical, with an almost savory, earthy quality.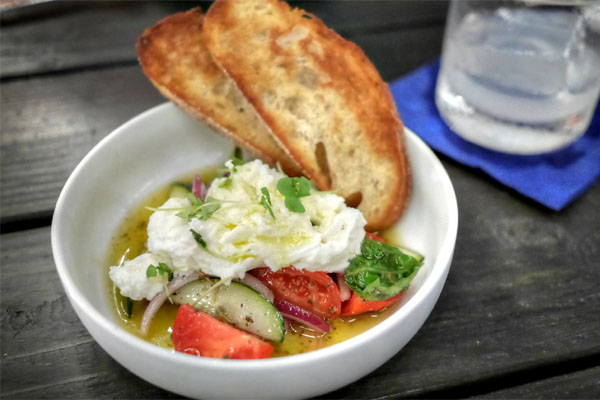 Mozzarella di Bufala [$12.00]
| early girl tomato. cucumber. red onion. oregano. basil.
Mozzarella was as creamy and luscious as I wanted, cut by the acidity in the dish while olive oil added the necessary richness. Great textures, and lovely aromatics from the basil.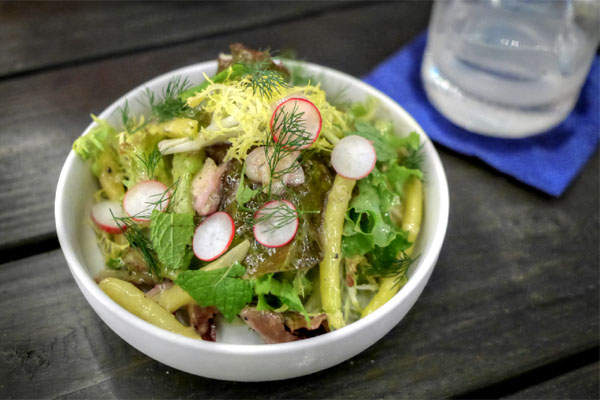 "Token" Frenchie Salad [$6.00]
| baby lettuce. frisee. yellow wax bean. shallot. radish. herbs.
The requisite salad turned out well. I really enjoyed the crunch from the wax beans and the general herbiness of the dish. Good tanginess from the dressing to tie it all together too.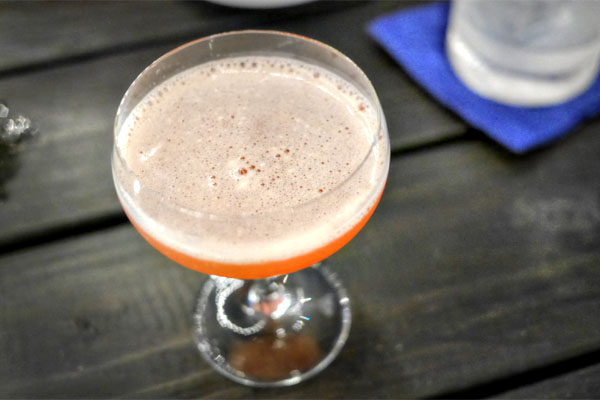 Paper Plane [$12.00]
| bourbon, lemon, aperol, amaro nonino
A Sam Ross creation. Juicy, citrusy, sweet, with a fruity bent to it and not much booze presence. Bright.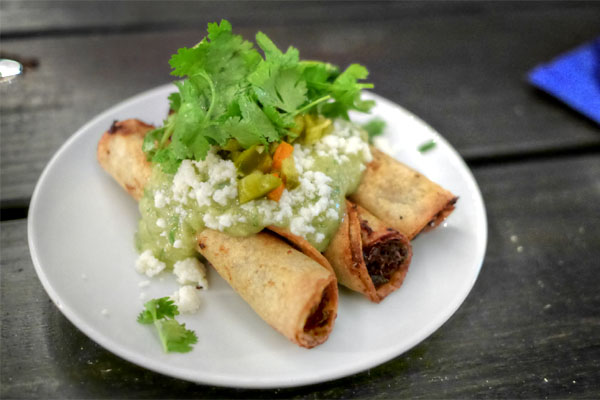 Smoky Potato Taquitos [$8.00]
| tomatillo avocado salsa. queso fresco. pickled jalapeno. cilantro.
Here we got smooth, silky, smoky potato encased in crunchy tortillas, the salsa-cilantro-jalapeno imparting the necessary zip to things.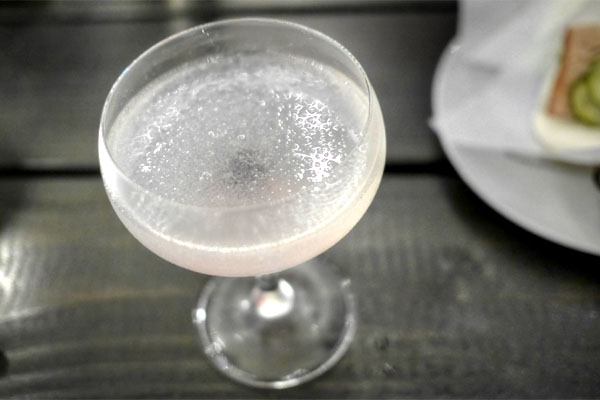 La Floridita [$12.00]
| rum, lime, maraska liqueur
I appreciated the richness, depth, and complexity made possible by the maraschino, which served as a counter to the juicy, fruit-forward nose of the cocktail.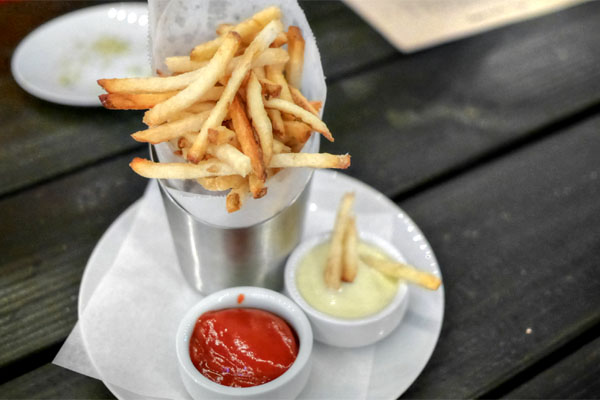 Kennebec French Fries [$4.00]
| aioli. ketchup.
Fires were appropriately crisp, tasty alone or with a dip of tangy ketchup or garlicky aioli.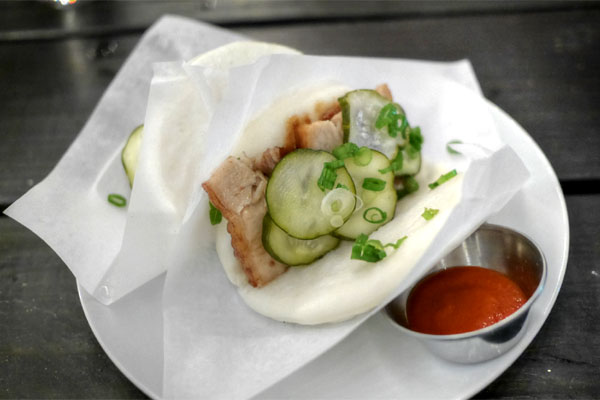 Steamed Buns [$10.00]
| roast pork belly. cucumber pickle. hoisin. scallion.
ERB's take on
gua bao
was prototypical, with the properly fatty pork belly making sense with the pickles while hot sauce gave up the right amount of heat.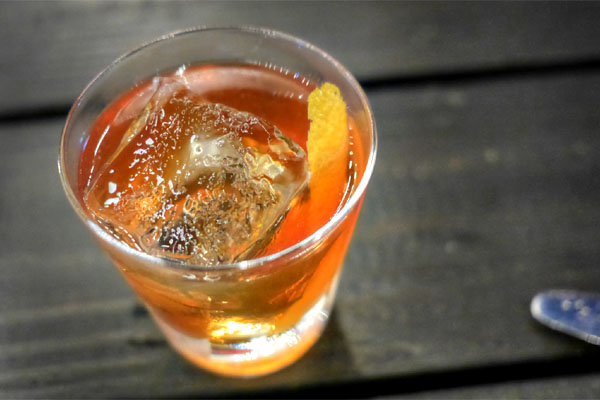 Fancy Free [$12.00]
| bourbon, maraska liqueur, angostura, orange bitters
Basically an Old Fashioned incorporating maraska, our final cocktail worked itself out for sure, a viscous, boozy, bittersweet drink with a spicy complexity.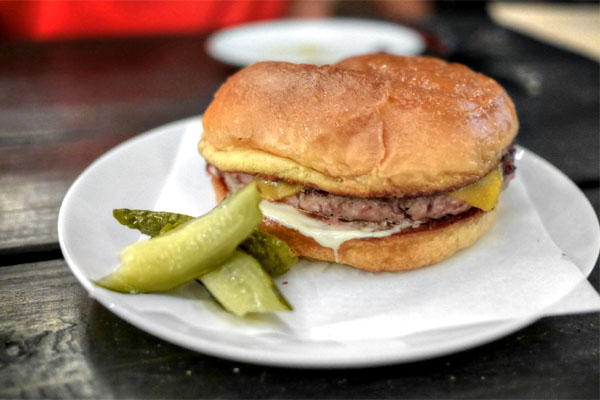 Single Burger [$10.00]
| prime beef chuck. tillamook cheddar. dill pickle. egg brioche bun.
Last up was the burger, which wasn't much to look at, coming out flat and floppy. It delivered with regard to taste though, a cheesy, salty, slightly trashy preparation that we found deeply gratifying.
Some of my dining companions left ERB feeling that Molina could've been more ambitious with the food program. Indeed he could have, though given the concept of the place, I'm not sure if that's absolutely necessary. I did enjoy all the dishes that we tried, and this is a bar first and foremost after all. Given that, I actually would like to see the team get more creative with the cocktails. Right now everything on the menu's a classic, modern or otherwise, so it'd be nice if they started pushing things more once the place gets established.