Beersnobbin Share for Rylee [2]
Beer Angel Share for Rylee at Sophie's Place
1708 S Catalina Ave, Redondo Beach, CA 90277
310.540.8484
www.sophiesplacerb.com
Sat 11/28/2015, 03:00p-06:20p
If you recall,
about five months ago
Scott from the
Beersnobbin
Instagram hosted a bottle share to benefit the cancer treatment of South Bay girl
Rylee Totman
. Given the success of that event, he held another recently, once more at
Sophie's Place
in Redondo. And again, in order to attend, you were asked to donate $30 and bring a 750mL bottle to share. Bites were provided by the restaurant as well.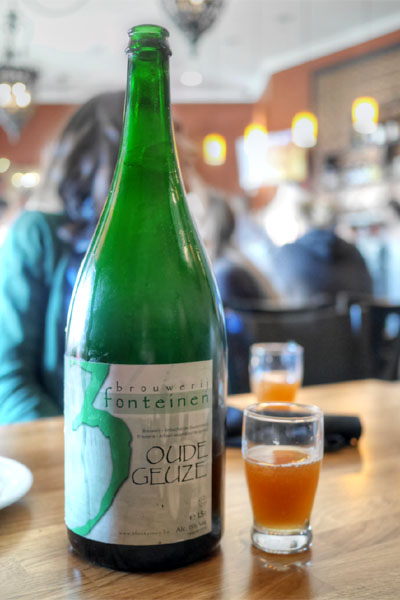 2004 3 Fonteinen Oude Geuze
: We commenced with a vintage magnum of 3F's core product, a blend of one, two, and three year-old lambics aged in oak barrels.
S: Quite oaky, funky, tart, with a distinct stone fruit juiciness.
T: Still tart, though with a softer sort of acidity and a persistent oxidative edge that showed off the maturity of the beer. Dignified and contemplative in its old age.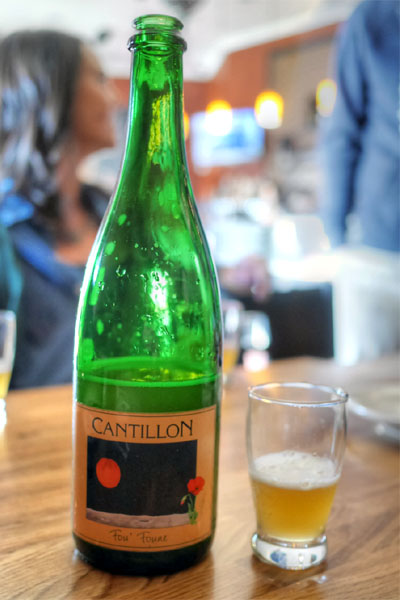 2015 Cantillon Fou' Foune
: The latest release of an iconic apricot lambic, which I'd had just recently at a tasting at
Playground
in Santa Ana.
S: Super bright, super juicy apricot peel; smelled great as always.
T: Robust and refreshing, with tangy stone fruit layered over a backbone of lambic funk.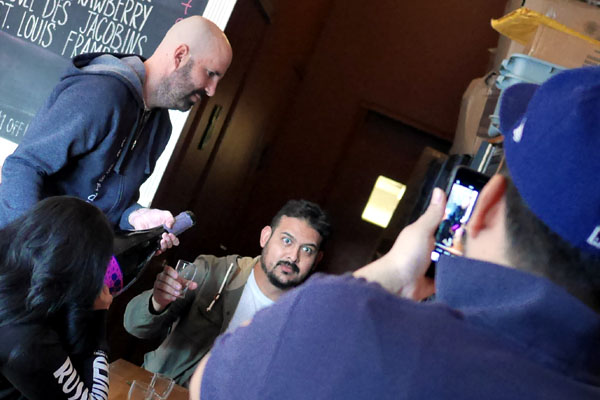 At this point, Scott proceeded to bust out a six liter bottle of Mikkeller. Dude looked excited to get the first pour.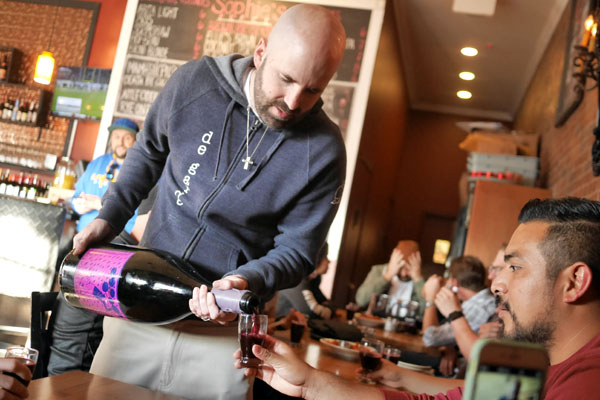 Thing was a beast, and a chore to handle. If you're feeling fancy, a bottle of this size is called a "Methuselah."
2015 Mikkeller Spontantripleblueberry
: A blueberry lambic with 1.5kg of fruit per liter apparently. That's
20 pounds
in one of the few six liter bottles extant in the world. No wonder this looked like straight up Welch's.
S: Subtle tartness and lacto commingled with dark fruit.
T: Loads of bright, juicy berry goodness leading to a lingering earthiness on the back end.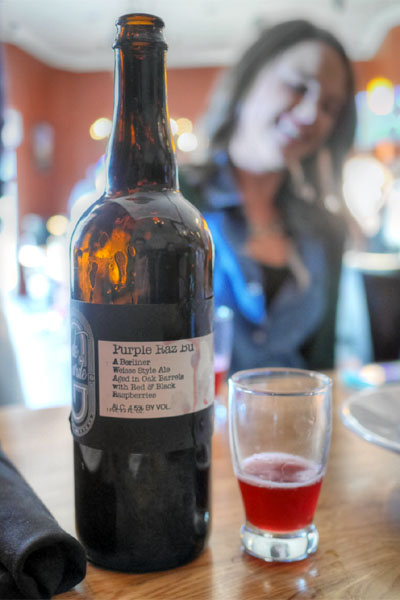 2015 de Garde Purple Raz Bu
: A Berliner Weisse style ale aged in oak barrels with red and black raspberries.
S: Tangy berry notes with that signature de Garde funk.
T: Super-duper floral initially, leading to delicate flavors of raspberry on the mid palate.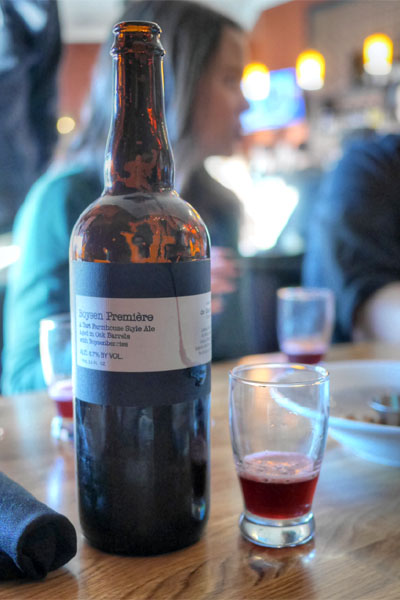 2015 de Garde Boysenberry Premiere
: A tart farmhouse style ale, fermented and aged in oak
foeders
, then transferred into oak tanks and refermented on Oregon boysenberries.
S: Wonderfully jammy with an underpinning of yeast and lacto notes.
T: Huge amounts of fruit, but balanced by the right amount of sour. One of my fellow tasters even exclaimed that she wanted to "put in on toast!"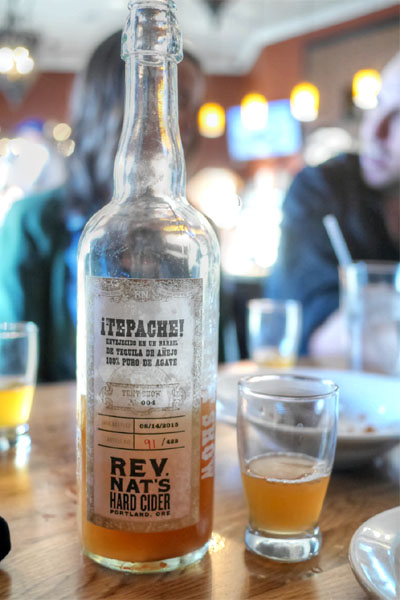 2015 Reverend Nat's Tepache Envejecido En Un Barrel De Tequila
: Pineapple cider with
piloncillo
and spices aged in añejo tequila barrels, a Tent Show bottle club special release of only 422 bottles.
S: Deep, rich pineapple doused with a liberal amount of sweet spicing and a little bit of funk.
T: Mounds of sweet, warming spices and fruit, finishing with a persistent agave-laced, boozy heat.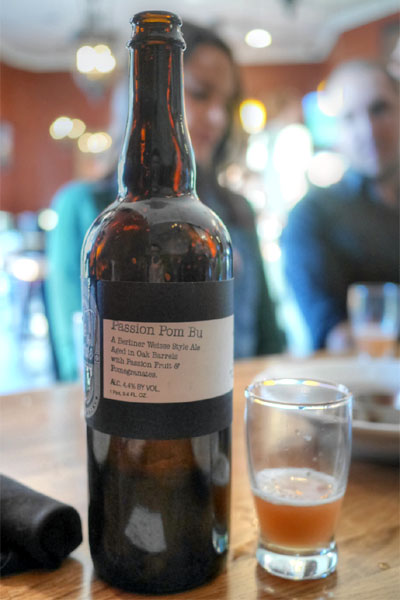 2015 de Garde Passion Pom Bu
: A Berliner Weisse style ale aged in oak barrels with passion fruit and pomegranate.
S:
Ridiculously
rich, sugary, tropical passion fruit; think Kern's Nectar.
T: Tart and acidic, with much more of the pomegranate shining through.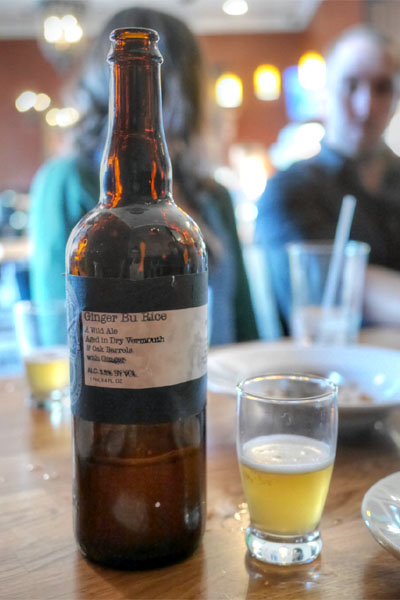 2015 de Garde Ginger Bu Rice
: A wild rice ale aged a year in dry vermouth and oak barrels with ginger, created in collabo with Brad Basile.
S: Sweet and spicy and gingery.
T: Crisp ginger spice leading to a surprisingly smooth, easy finish.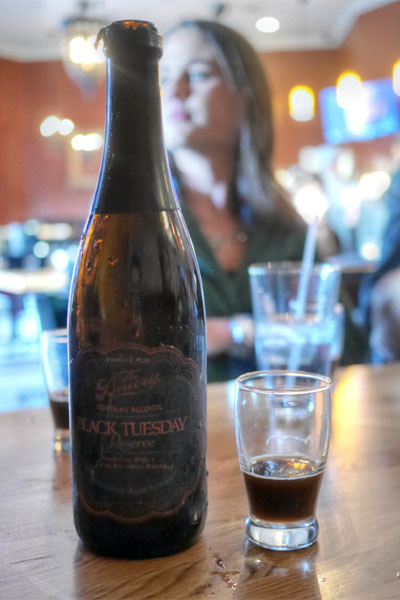 2015 The Bruery Black Tuesday Reserve
: A Hoarder's-exclusive imperial stout brewed in early 2014, aged for 10 months in bourbon barrels, then aged another eight months or so in another set of bourbon barrels.
S: Classic BT dark fruit character joined by malt and strong chocolate fudge.
T: Huge dark fruit again alongside brown sugar, vanilla, bourbon barrel, and a slight tart quality. Delightfully smooth and easy-drinking despite its
massive
20.5% ABV. A table favorite, and superior to the standard Black Tuesday, which I'd sampled recently at
Button Mash
.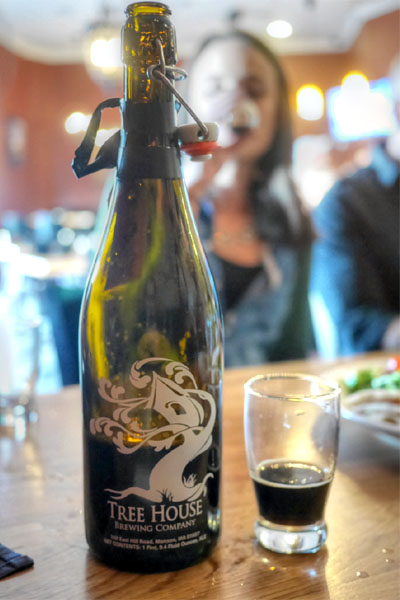 2015 Tree House Good Morning
: A much-hyped coffee stout with maple syrup.
S: Super coffee-forward; almost like smelling fresh-brewed coffee, but sweeter.
T: Smooth and creamy, with plenty of sweet, maple-y malt and cocoa to pair with the roasty coffee notes. Delicious and breakfast-y for sure.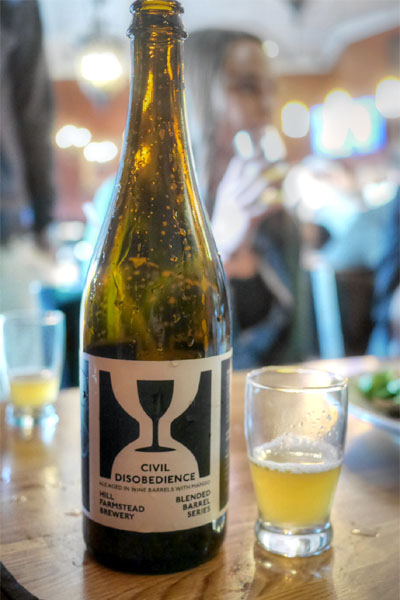 2015 Hill Farmstead Civil Disobedience #15
: A blend of beers from barrels ranging from 16 to 30 months in age, further aged on mangoes.
S: Sweet tropical fruit offset by a persistent sour quality.
T: Soft, but apparent mango on top of a base of counterbalancing tartness.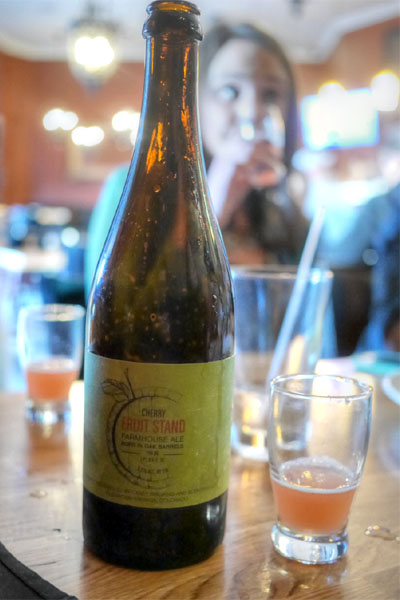 2015 Casey Montmorency Cherry Fruit Stand
: A farmhouse ale aged in oak barrels with sour cherries.
S: Quite zesty, with a mix of lacto and barnyard.
T: Puckering acidity leading to a sweet spice character, though not too much cherry.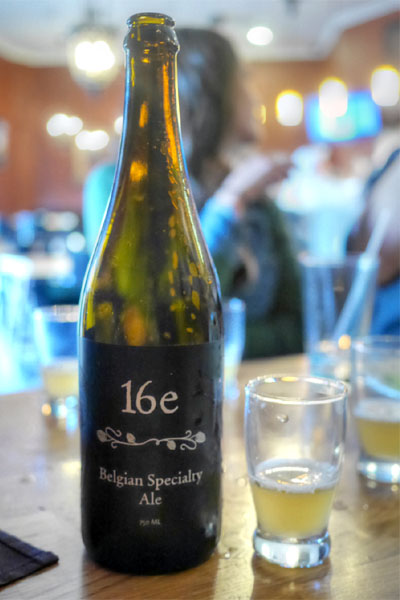 2015 Sante Adairius Nonna's Blend #10
: A blend of barrel-aged saisons.
S: Tart, grainy, with citrus and oak in there.
T: Smooth, but with a base of heady lacto and a finish that veered
very
funky.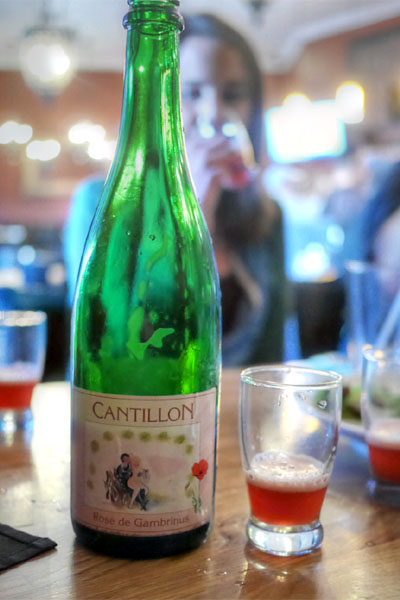 2015 Cantillon Rosé de Gambrinus
: The brewery's core raspberry lambic.
S: Musty fruit mixed with sourness and oak.
T: More sour fruit overarching a base of barnyard-y, wet hay notes.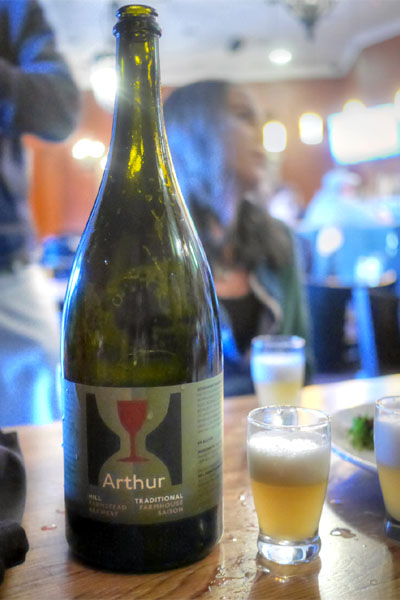 2015 Hill Farmstead Arthur
: One of the brewery's core saisons, in magnum format.
S: Utterly classic, with delicate nuances of grain, yeast, and citrus fruit.
T: Tropical fruit at first, leading to a tart mid palate, herbs, and a bready character on the close.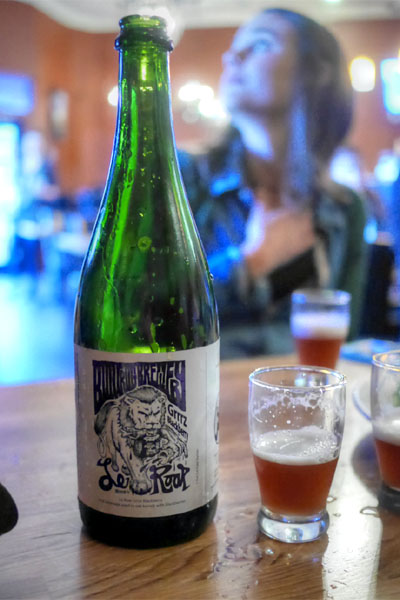 2015 Bullfrog Le Roar Grrrz Blackberry
: A wild ale aged in oak barrels with blackberries added.
S: Lacto-forward, with light oak and tart berry.
T: Juicy fruit, yet dry, with a yeastiness supporting it all.
2015 Firestone Walker Agrestic
: A Jeroboam (three-liter bottle) of blended American wild red ale, aged eight to 24 months in French and American oak barrels.
S: Lots of oak in the nose, along with sour citrus.
T: The taste followed, and I also got light fruit, spice, and a tannic character to round things out.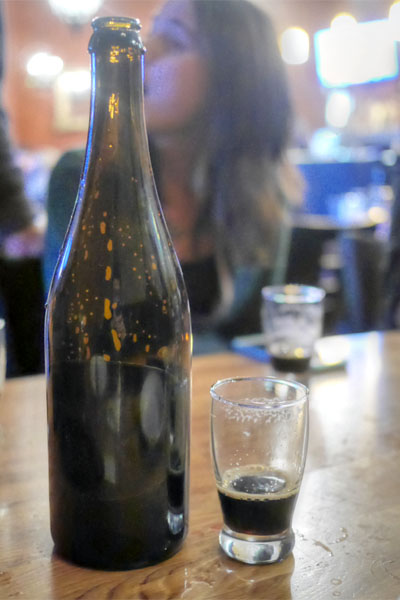 2015 Cigar City Endless Nameless
: My contribution to the tasting, an El Catador Club-only imperial stout aged in bourbon barrels, and winner of the "most difficult to read label" award.
S: Humongous sweet malt and dark fruit.
T: I believe my exact words were "chocolatey as fuck." In addition to said chocolate, I got some tempering spice and lots of brown sugar. Very nice.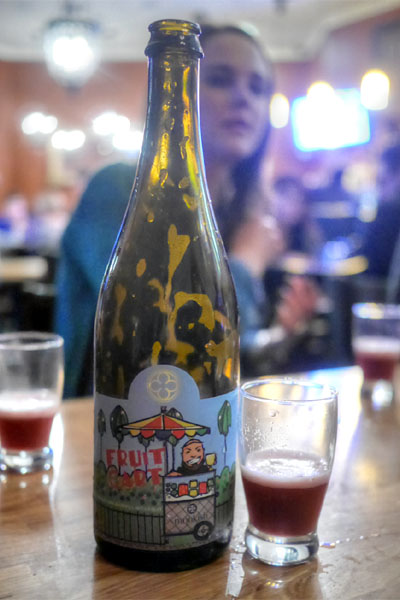 2015 Monkish Fruit Cart
: An unreleased barrel-aged saison with blackberries, boysenberries, and cherries.
S: Appealing nose of berry intertwined with lacto.
T: Fruit and sweet spice over a base of yeastiness. A lot of us found this reminiscent of a de Garde brew, which isn't a bad thing.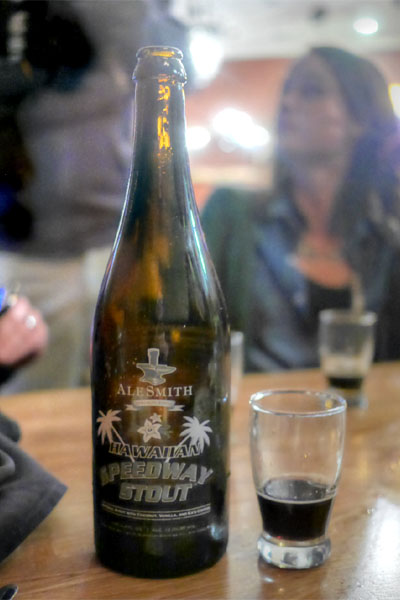 2015 AleSmith Hawaiian Speedway Stout
: The latest Speedway variant, an imperial stout with coconut, vanilla, and Ka'u coffee.
S: Toasty coconut all up in yo' face--damn.
T: A perfect marriage of chocolate and coconut, with just a smidge of roasty coffee and fragrant vanilla. Mounds bar, man.
2015 The Rare Barrel Another World
: A red sour beer aged in oak barrels, fermented with two strains of
Brettanomyces
and two strains
Lactobacillus
.
S: Definitely oaky at first blush, with a sweet spiciness.
T: More of that oaky sweet spice, with some light berry fruit thrown in. Thin in body.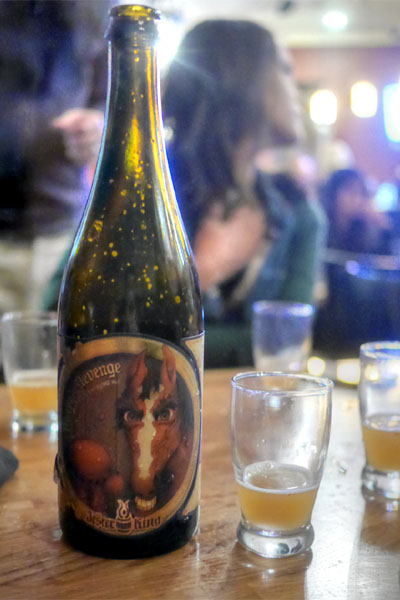 2012 Jester King Boxer's Revenge
: Blend 2 of JK's oak barrel-aged wild ale, dry-hopped with Cascade and Centennial.
S: Deep, earthy funk with juicy stone fruit and citrus.
T: Really rustic, with a sweet, oaky quality and a dry, somewhat vinous finish.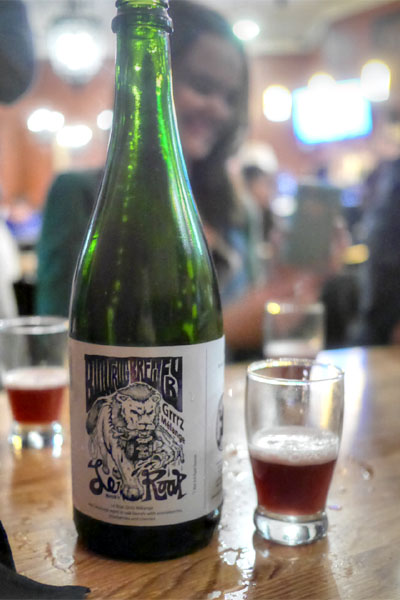 2015 Bullfrog Le Roar Grrrz Melange
: A sour ale aged in oak barrels with aroniaberries, blueberries, and cherries.
S: Tropical tart berry.
T: Fruit with an unexpected smoky component; very brief finish.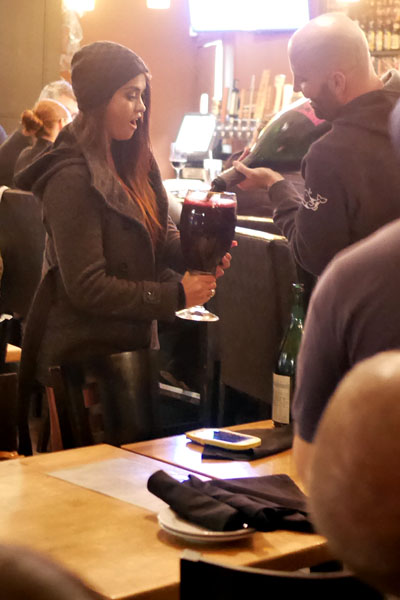 At this point, Scott decided that it was time to polish off that Mikkeller. She seemed surprised at its size.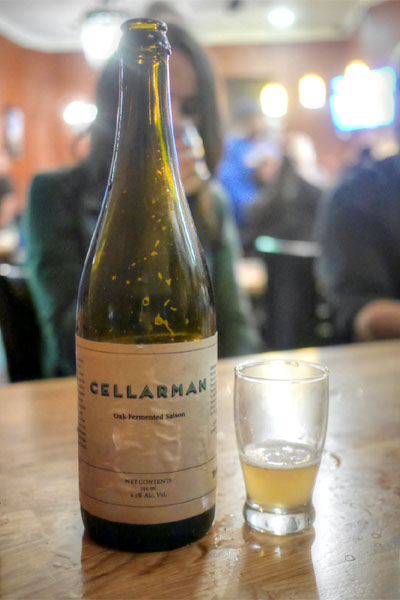 2015 Sante Adairius Cellarman
: An oak-fermented saison that I actually had at the last tasting here.
S: Light and bright, with lemony notes and a lot more funk than I remembered.
T: Very crisp, minerally, with more sour citrus and grain.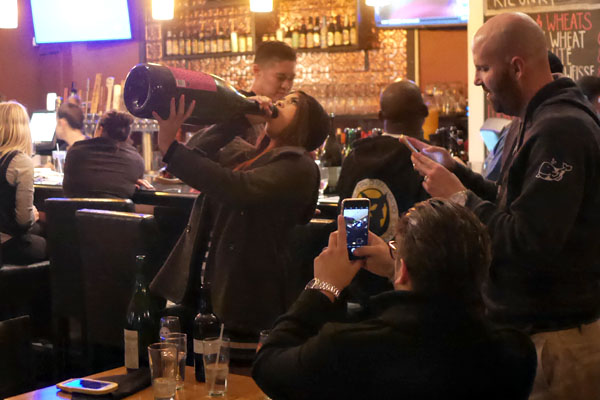 And it still wasn't empty.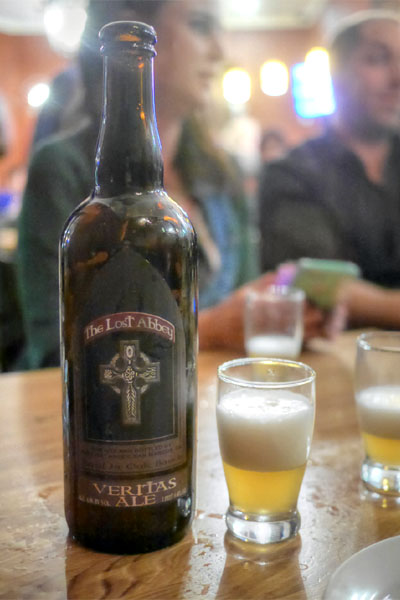 2015 The Lost Abbey Veritas 016
: A sour blonde ale oak-aged with white peaches, another bottle that I'd consumed recently at
Playground
.
S: Sour and oaky, with subtle stone fruit.
T: A bit more stone fruit skin on the palate, joined by light wood and a touch of an almost honeyed sweetness.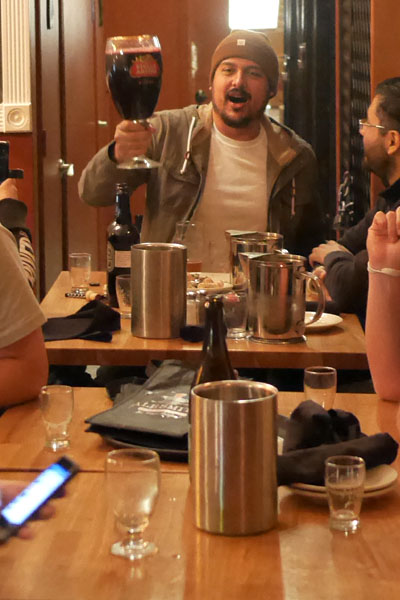 Tonight, we drink in hell!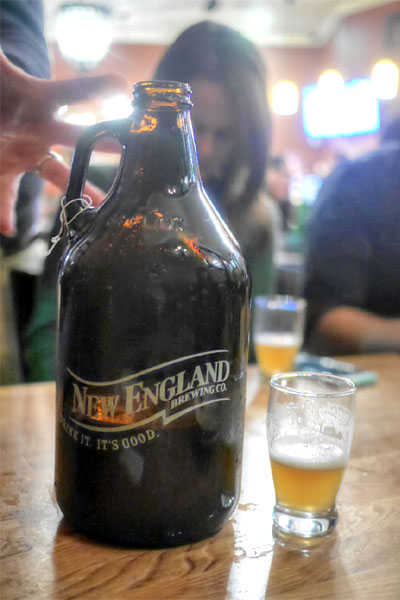 2015 New England Fuzzy Baby Ducks
: The lone IPA of the tasting, single-hopped with Citra.
S: Piney, hoppy, with slight citrus.
T: Again, really resinous, dank, with weed-y undertones. Not a huge fan.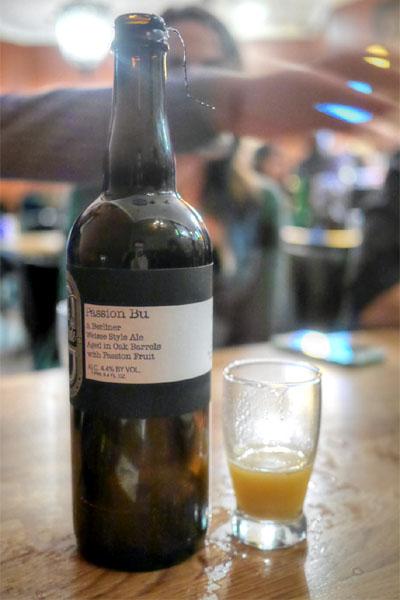 2015 de Garde Passion Bu
: A Berliner Weisse style ale aged in oak barrels with passion fruit.
S: Lots of vinegar-y aromas laced with tart fruit.
T: Really,
really
acidic. Scott likened it to "battery acid" while one of the people at my table described the beer as "heartburn in a bottle."
Overall, another successful tasting from Scott and Sophie's Place, and a rare opportunity to get into some of the larger format bottles. I'll be looking forward to the next one (assuming there is a next one).