Playground (Santa Ana, CA) [3]
Playground Restaurant
220 E 4th St, Santa Ana, CA 92701
714.560.4444
www.playgrounddtsa.com
Sat 11/21/2015, 08:00p-01:00a

If you recall, my last dinner here was a bit of a beer-focused affair, so when we were looking for a place to open some of our nicer bottles, Jason Quinn's
Playground
quickly came to mind. And given that this is probably my favorite restaurant in Orange County, I'm always looking for an excuse to return.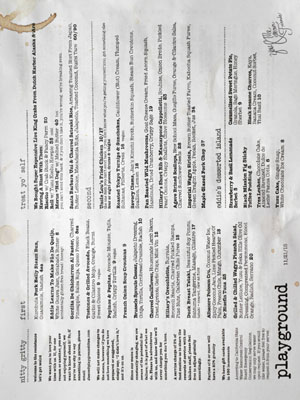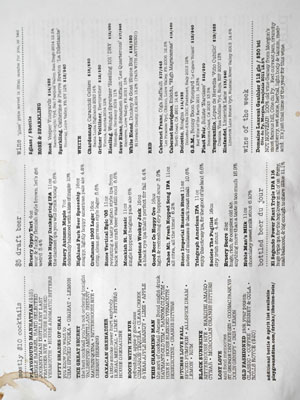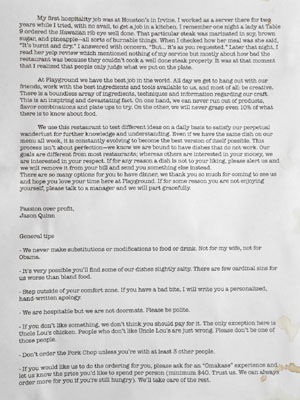 As for the menu, it's largely the work of Chef de Cuisine Carlo Guardado these days, but is still in the same format as before, still colorfully-described, and still daily-changing, which makes for excellent replay value. Drink-wise, Jarred Dooley's got 15 beers on tap, a few dozen more in the bottle, and craft-y cocktails, while Rhett Butler oversees an ever-expanding wine list (now much, much more legit than when the place opened). Click for larger versions.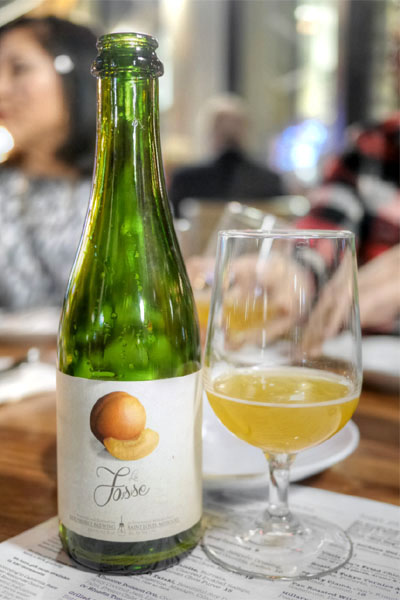 We had a lot of stone fruit sours this evening, so we got right into it with the
2015 Side Project La Fosse
, a Missouri wild ale aged with apricots. Aromas were deep, funky, oaky, sour, while its taste was puckering, dry, acidic, with an undercurrent of apricot that heightened as time went on.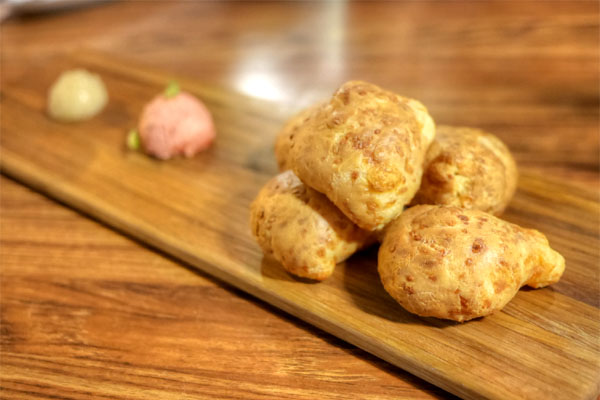 Eddie Learns To Make Pão De Queijo, White Guava Jam, Goiabada Butter [$8.00]
Food-wise, we got started with some delightful
pão se queijo
, which came out crisp 'n' cheesy on the outside, but still hot 'n' creamy on the inside. Tasty alone, or with a dab of the two fruity guava-based condiments.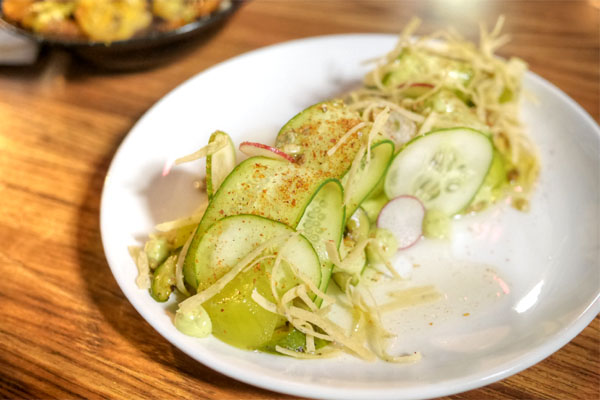 Pepinos & Pepitas, Avocado Mousse, Tajín, Radish, Crispy Tortilla [$9.00]
Cucumber was bright and bracing, spiced up a touch by the Tajín while the avocado added a cool, creamy component. My favorite part? Those savory, crunchy shards of tortilla.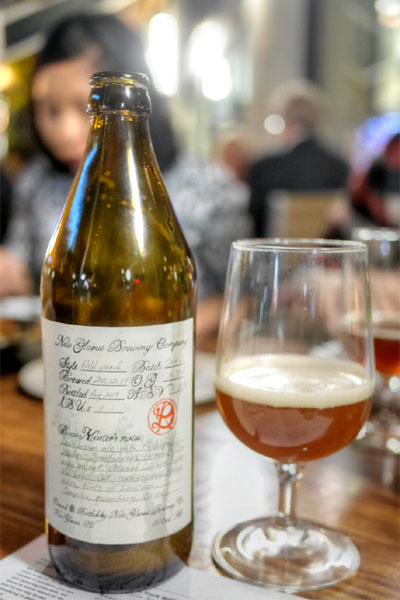 Next to imbibe came the
2014 New Glarus R&D Wild Peach
, a blend of 1/2/3-year-old sour brown ale, spontaneously fermented, aged on oak, with Michigan peaches. It was one of the highlights of the night for me no doubt, and one of the best smelling beers I've ever had, with a nose that was ridiculously redolent of candied peach rings. The palate was more subdued, with subtle notes of stone fruit joined by an oaky, leathery, smooth sort of tartness.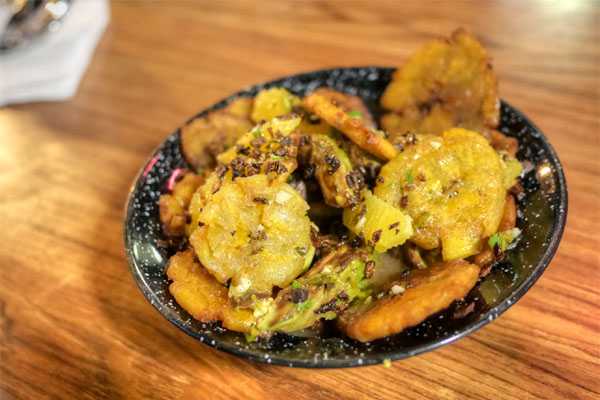 Tostones & Grilled Avocado, Black Beans, Garlic & Cilantro Mojo, Orange, Burnt Sweet Onions [$9.00]
Fried chunks of plantain came out salty and properly crunchy, perked up by the zing of the
mojo
with the orange adding a juicy, citrusy quality. I was a big fan of the beans as well--earthy, tangy, and key in providing the right amount of heft to the dish.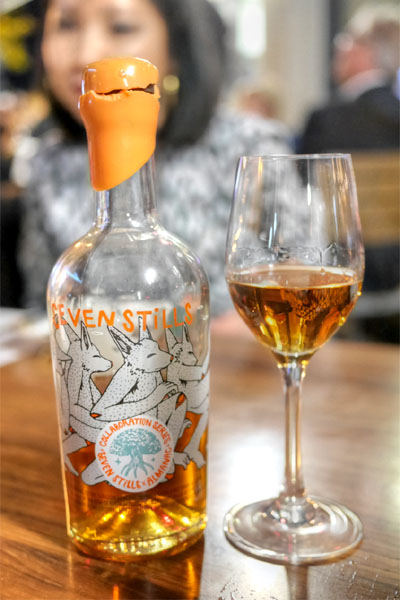 At this point, Josh and Jordan (the guys running the beverage program this evening) brought out the
Seven Stills Dogpatch Whiskey
to share. Now if you recall, I'd sampled the Almanac Dogpatch Grand Cru recently at
Hanjip
. This was actually a distillate of Almanac's Dogpatch Sour, aged in new American oak, finished in Dogpatch Sour and Dogpatch Sour Grand Cru barrels for up to three months. It was pretty wonderful, with a boozy, honeyed, sticky nose and a palate that was sweet, floral, candied almost, with notes of caramel and creeping stone fruit over a boozy backbone.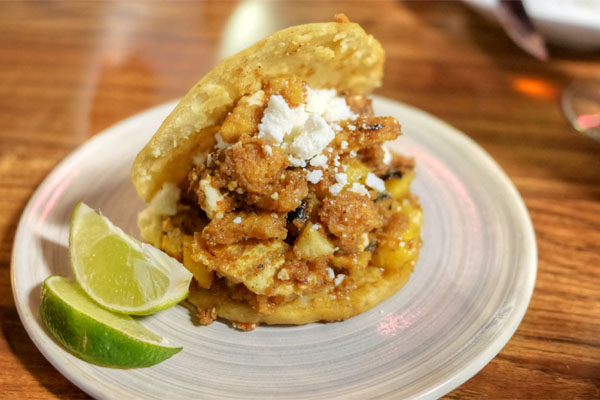 Gordita De Chicharron Al Pastor, Charred Pineapple, Salsa Roja, Queso Fresco [$8.00]
Chicharrones
were super porky and well spiced, offset by the presence of zesty lime and tart pineapple with the hefty
masa
cake moderating it all.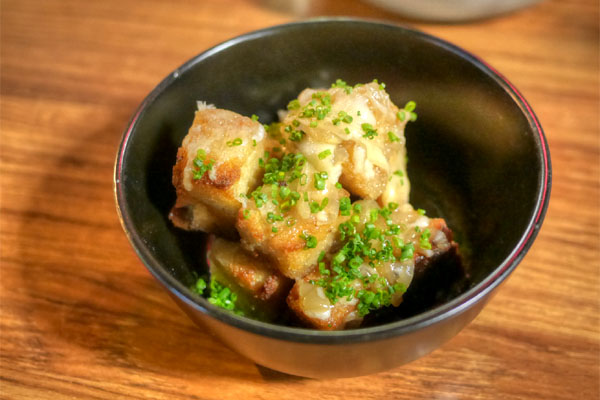 French Onion Soup Croutons [$9.00]
Utterly rich and cheesy, with loads of deep, dark, sweet & savory flavors--the essence of
soupe à l'oignon
captured in crouton form.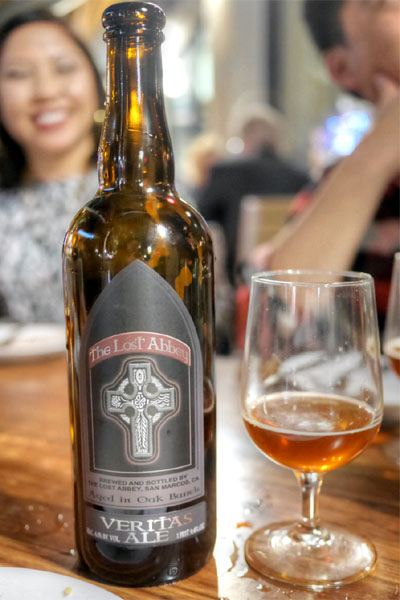 Next was the
2014 The Lost Abbey Veritas 013
, a sour Brett ale with peaches, nectarines, and honey, aged two years in French oak barrels. The aromas here definitely veered funky, with a slight honey accent, while the taste was tart, oaky, a bit barnyard-y, with very subtle stone fruit and a honeyed component that grew and lingered.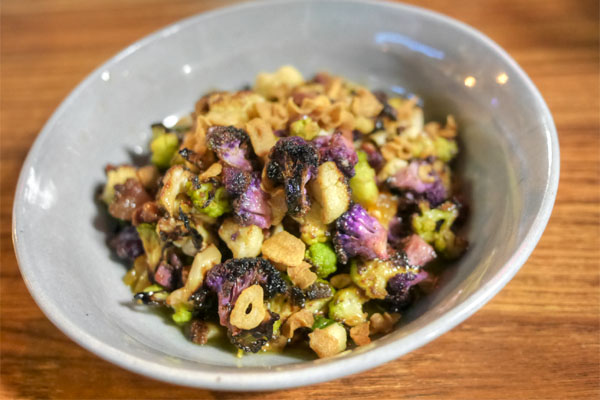 Charred Cauliflower, Housemade Lamb Bacon, Dried Apricots, Garlic Chips, Mint Vin [$12.00]
Cauliflower had a nice char going, with the lamb bacon adding an extra punch of salt and smoke to the mix. Lovely textures here too, as well as a hint of sweetness for the apricot.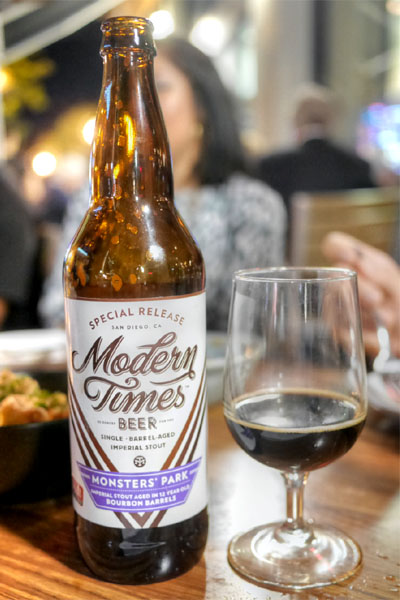 Time for a stouty interlude. The
2015 Modern Times Monsters' Park Aged in 12 Year Old Elijah Craig Bourbon Barrels
was the rarest beer of the night, a single-barrel, nine month-aged creation that yielded just 155 bottles. Huge dark fruit and equally massive amounts of cocoa powder in the bouquet. The palate, meanwhile, was super chocolate-y, with pervasive coffee notes and a hint of vanilla, but what struck me the most was how smooth this was. One of my dining companions described it as "buttery," and she was spot on.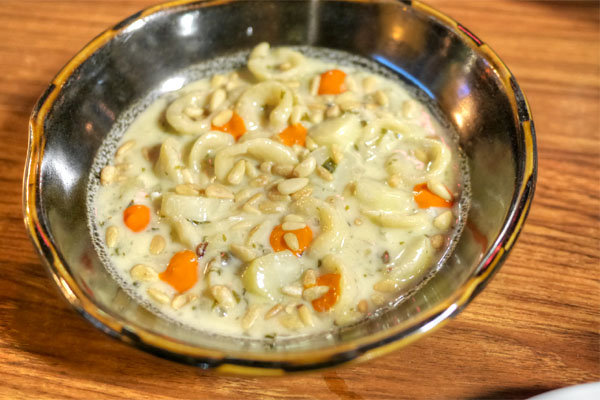 Hillary's Orecchiette, Burrata, Broccoli Hearts, Charred Pickles Ramps, Pine Nuts, Calabrian Chile Puree [$15.00]
Orecchiette came out substantial and firm to the bite, enrobed in a mélange of creamy, tangy, and spicy flavors. The crux for me was the pine nut, which lent crunch and a great nuttiness to the pasta.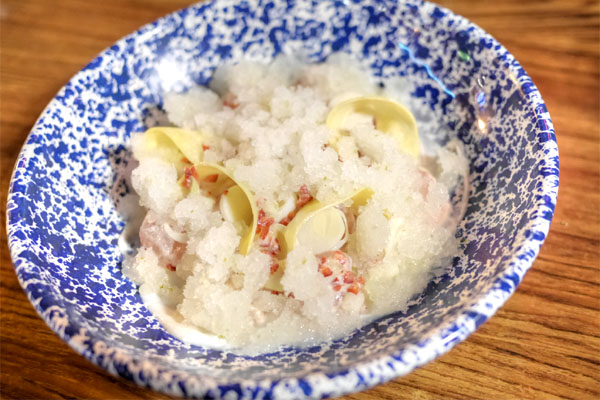 Albacore Poisson Cru, Coconut Water Ice, Spicy Coconut Jam, Lime Pickled Hearts Of Palm, Fresno Chile, Mango, Cucumber [$18.00]
I don't think I've had albacore quite like this before, with the fish serving as a clean, lean base for some sweet, fruity flavors going on. I got a pretty bracing temperature contrast from the coconut ice as well, and overall the textures were quite intriguing.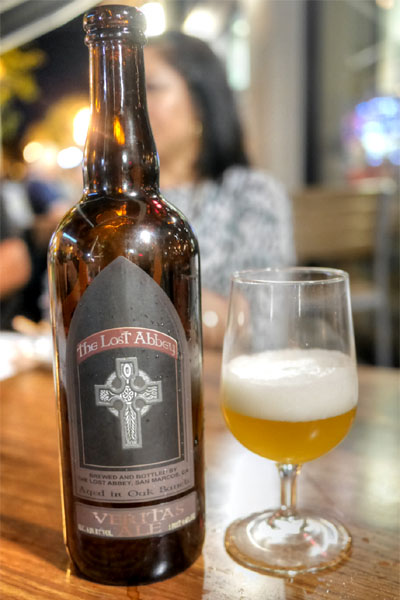 The newest beer of the bunch was the
2015 The Lost Abbey Veritas 016
, a blended oak-aged sour with white peaches that was just released earlier in November. This one smelled very tart, with a trace of juicy stone fruit sweetness. The taste, meanwhile, had even more tartness, joined by a persistent barnyard-y character, with the fruit becoming more and more apparent as time went on.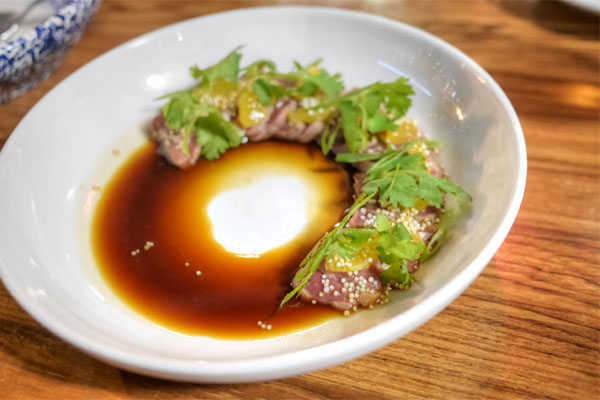 Duck Breast Tataki, Beautiful Soy Ponzu, Satsuma Tangerine, Masago, Cilantro [$17.00]
Duck was
super
"ducky," with boatloads of deep, earthy flavors further augmented by the richness of ponzu. At the same time, satsumas added some brightness to the mix, as did the cilantro.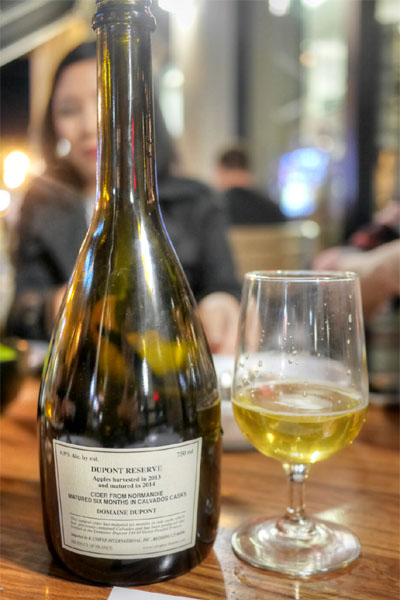 Given the amount of beer we were sharing, the guys at the restaurant contributed a bottle of
Domaine Dupont Cidre Reserve
to our tasting. It was a Normandie cider brewed with apples harvested in 2013, and then aged six months in Calvados casks. I found it a welcomed change of pace to the beer: lots of sweet, fruity apple notes initially, with a barnyard-y, funky complexity coming through on the midpalate and lingering long.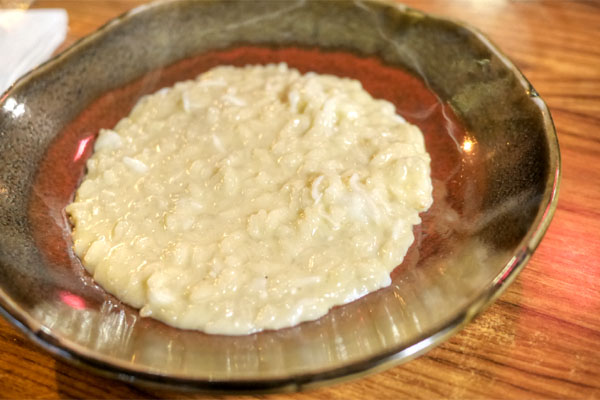 Risotto w/ Crab Stock & Fancy Parm [$30.00]
Made using live Alaskan king crab ($800 for two, apparently), the risotto was one of the tastiest I've had in a while: rich, creamy, cheesy, with a deep brine that I found completely satisfying.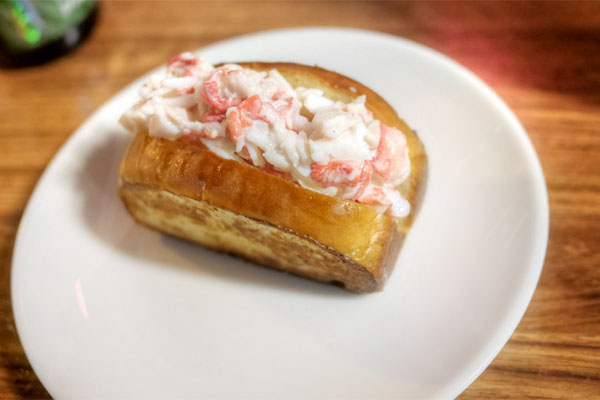 Roll w/ Yuzu Koshu Kewpie [$35.00]
A king crab roll delivered as well, putting the crustacean's sweetness front and center, enhanced delicately by the application of tangy, creamy Kewpie. Probably better than most any lobster roll out there.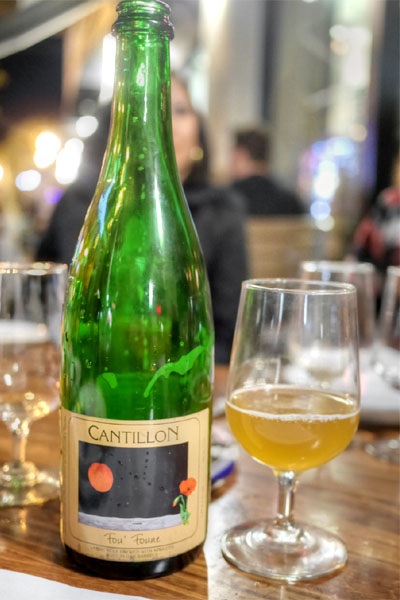 Next was perhaps the most iconic stone fruit sour out there, the
2015 Cantillon Fou' Foune
. I'd had last year's vintage of the apricot lambic not long ago at
Elite
, but tonight's was even better (probably because it was fresher). I got a ton of super aromatic, juicy, in-yo-face apricot on the nose, and the palate didn't let up, with more permeating, omnipresent fruit backed by a funky sourness. This one lives up to its reputation.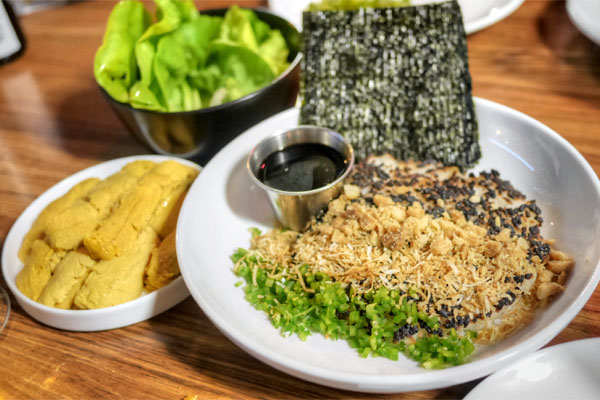 Santa Barbara Uni & Charred Satsuki Rice, Amazing Toasted Nori From Japan, Butter Lettuce, Macadamia Nuts, Jalapeño, Toasted Coconut, Sushi Tare [$90.00]
This large-format, interactive dish was one of the standouts for me. I wasn't exactly sure how to eat this, so I ended up rolling all the ingredients in nori, then wrapping that with lettuce. The end result was damn tasty fo' sure, with the creamy, sweet brine of the urchin at the forefront, offset by toasty umami notes from the seaweed while the rice imparted savoriness and a fantastic crunch. Super cohesive together, especially with the sugary-savory
tare
.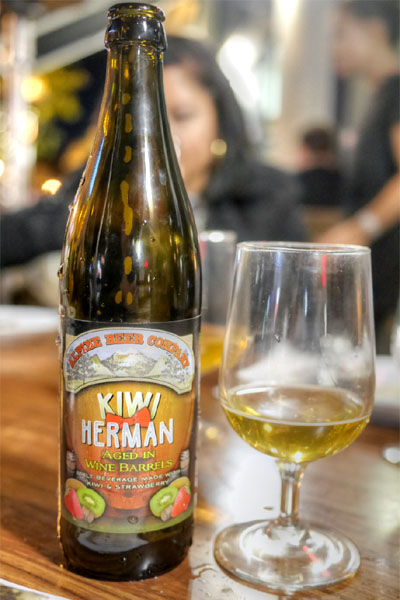 With the stone fruit sours drunk up, we moved on to the
2015 Alpine Kiwi Herman
, a kiwi and strawberry sour blonde aged in wine barrels. I also had this back at the
Elite
tasting in May, and the beer didn't seem quite as strong this time around. It was still tasty though. Nose was oaky, tangy, with what someone described as a "Capri Sun"-like quality to it. More fruit on the tongue, with more pronounced oak and seemingly less acidity compared to before.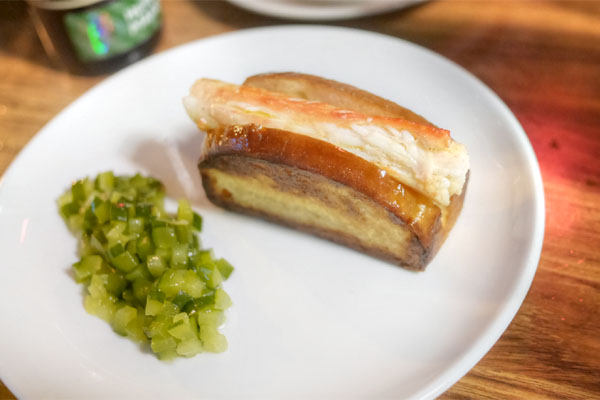 Merus "Hot Dog" w/ Melted Butter [$40.00]
This may have been the priciest "hot dog" ever, but it was also delicious. Taken alongside the cold prep above, this highlighted the briny, oceany aspect of the crab, a pure, focused sort of sensation enriched by the application of butter. That sweet, tangy relish on the side wasn't even necessary.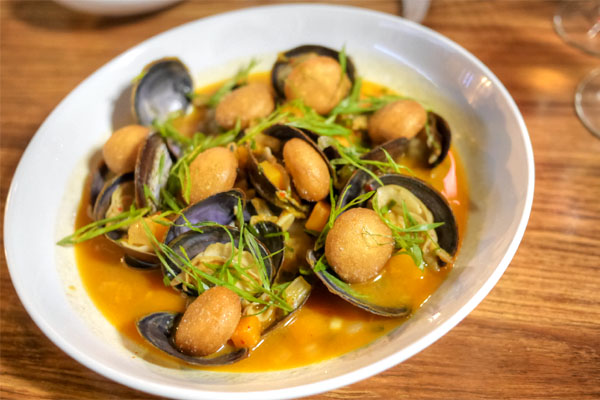 Savory Clams, Jan's Kimchi Broth, Butterkin Squash, Steam Bun Croutons, Scallion, Lemon [$18.00]
Clams were on point, supple and springy to the bite, with a mild, saline taste that was well-matched to the piquancy of the broth and astringent slivers of scallion. The steamed bun croutons were an unexpected, but effective addition, doing a good job mixing things up texturally.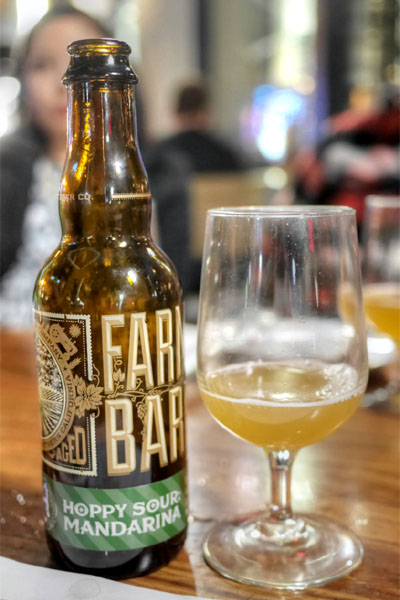 The staff dropped another freebie on us, the
2015 Almanac Hoppy Sour: Mandarina
, a sour blonde aged in wine barrels then dry-hopped with Mandarina Bavaria. Great smell to this one, with loads of super juicy citrus and pine. The taste showed some more of the same, along with a heightened acidity and a dank, almost musty underpinning.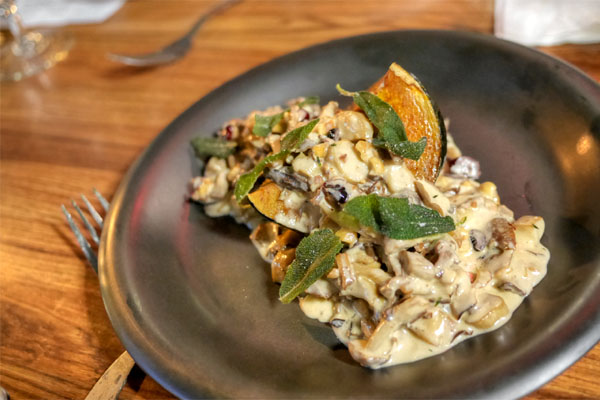 Pan Roasted Wild Mushrooms, Goat Cheese Cream, Fried Acorn Squash, Hazelnuts, Dried Cranberry, Crispy Sage [$19.00]
This next dish really tasted of the season, bringing together homey, hearty mushrooms in a creamy, cheesy sauce along with sweet squash and cranberry, the hazelnuts imparting a nutty finish to it all.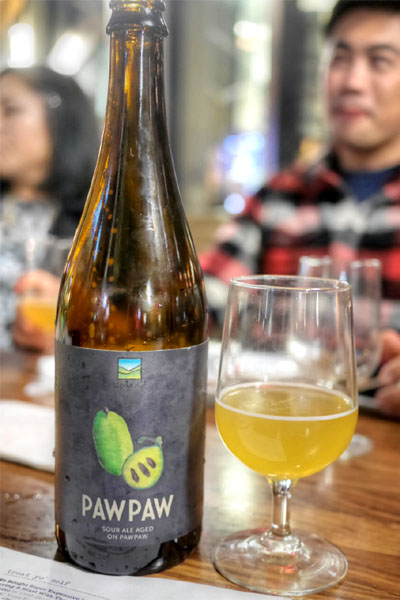 The most beguiling beer of the night was the
2015 Upland Pawpaw
, a gueuze-style ale aged on pawpaw, a fruit that I don't think I'd ever even tasted before. I got a nose of soft, tropical citrus notes. The taste was much more interesting, with the aforementioned tropicality joined by a funky, earthy, lactic quality that persisted.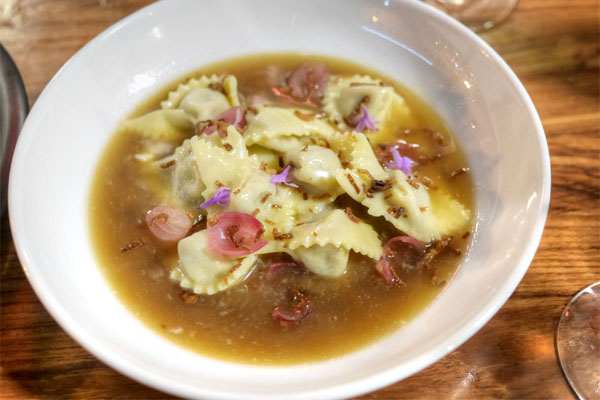 Hillary's Short Rib & Mascarpone Cappelletti, Soubise, Onion Brodo, Pickled Pearl Onions, Crispy Shallots, Chive Blossoms [$23.00]
Our second pasta dish was a cozy, comforting one, with the tender, savory bits of pasta-encased short rib set against the zip and tang of onion in multiple forms.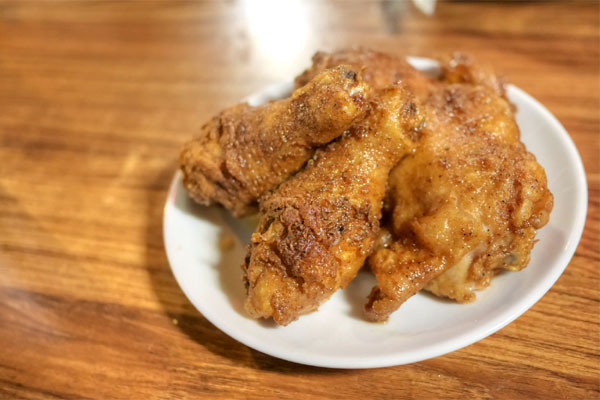 Uncle Lou's Fried Chicken [$10.00]
We closed out the savories with Playground's signature fried chicken. I'd had it before, so I actually didn't taste it tonight, instead giving up the pieces to those in my party who hadn't. They seemed pretty content with the bird.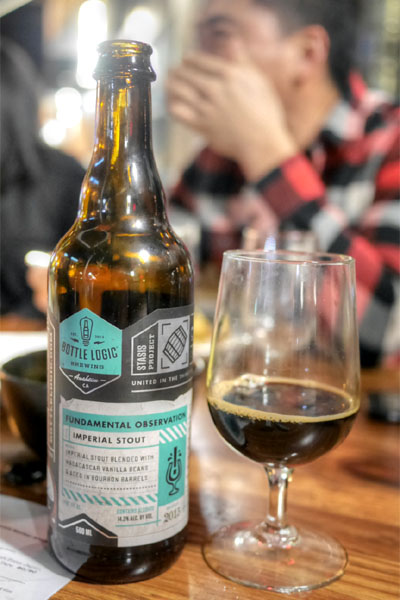 With desserts about to commence, we popped open the
2015 Bottle Logic Fundamental Observation
, an imperial stout aged with Madagascar vanilla beans in a blend of Buffalo Trace, Four Roses, and Heaven Hill bourbon barrels. It's easily the most hyped beer to come out of OC this year, but didn't quite live up to said hype for me. That being said, it was still great to drink. Aromas of dark, sweet, fruity malt and slight vanilla--one person at the table likened it to a Tootsie Roll. The taste offered up more malt along with lots of brown sugar and oak, with the vanilla presence subtle at first, but intensifying as the beer warmed.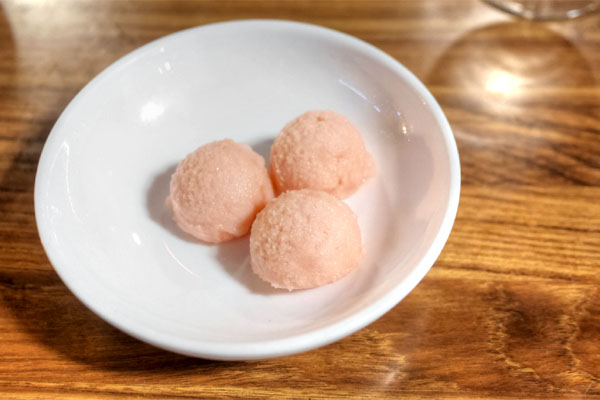 Strawberry & Basil Lemonade Sorbet [$5.00]
Pastry Chef Eddie Perez got us started with a refreshingly sweet, tangy, herby sorbet, a perfect intermezzo of sorts.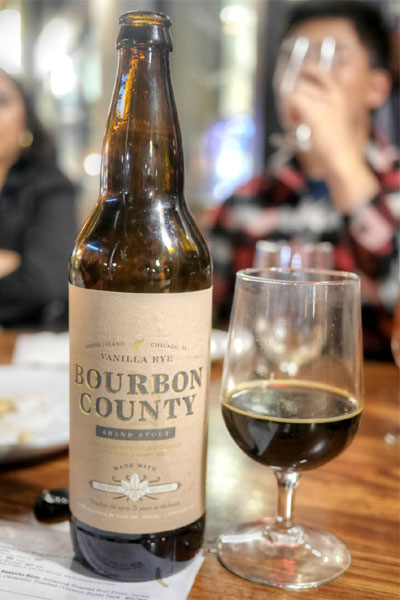 We did a back-to-back comparison with the
2015 Goose Island Bourbon County Vanilla Rye
, a rye whiskey barrel-aged stout with Mexican and Madagascar vanilla beans. It's sort of the benchmark for the style, and tonight I think it prevailed, though not by much. I got stronger vanilla on the nose, commingled with dark chocolate. The palate was definitely sweeter, and tangier, with a touch more vanilla that again really made itself apparent with time in the glass. I will say though that the beer has fallen off from the last time I had it, down at
Juniper & Ivy
in San Diego.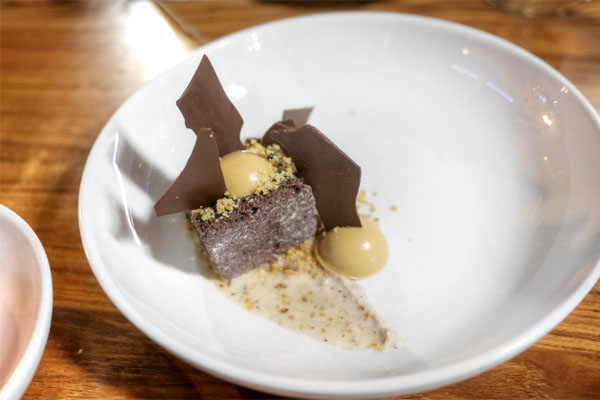 Tres Leches, Chocolate Cake, Almond Streusel, Dulce de Leche Panna Cotta [$8.00]
The two preceding stouts played nicely with the cake here. It didn't quite taste like a traditional
tres leches
to me, but was still delicious, with a balance of chocolatey flavors and sweet spice set off by the presence of that streusel.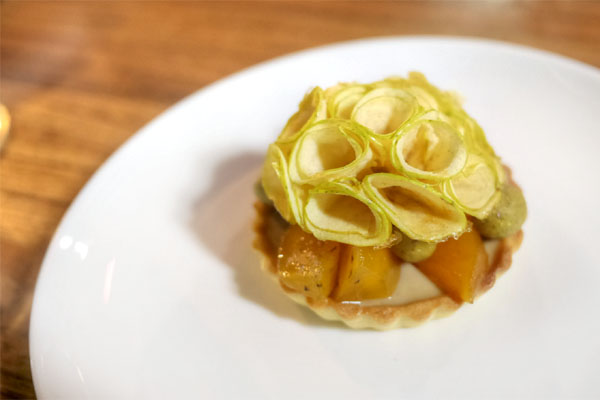 The best dessert of the bunch just may have been this little off-menu number, made with persimmon, housemade chai, pistachio marzipan, a fried apple-maltodextrin rose, and, amazingly, a black garlic custard inside that tart shell. Just a super smart back-and-forth of savory, sweet, spicy flavors, with an additional brightness from the juicy, almost glass-textured apple. A lot of confidence and complexity here.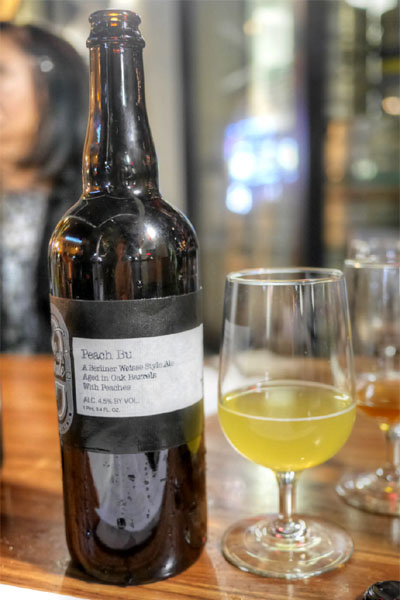 We seemingly forgot that we had one more stonefruit sour left, so we went back to it: the
2015 de Garde Peach Bu
, a Berliner Weisse style ale aged in oak with Oregon peaches. Fantastic tart peach skin aromas in the beer, and on the tongue there was a bit more of a funky, wheaty quality, but again more than enough lingering, sour peach peel.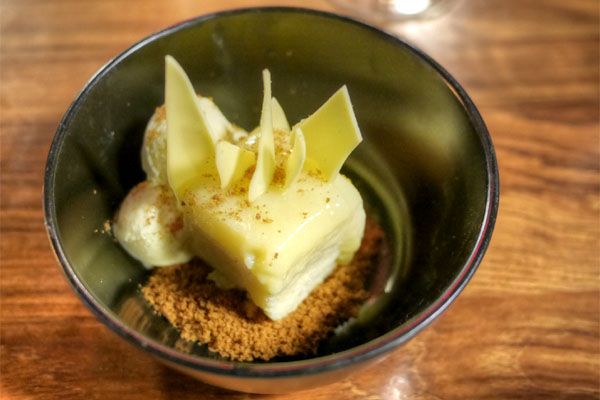 Yuzu Cake, Ginger Snap, White Chocolate Ice Cream [$8.00]
The yuzu cake was a winner as well, with zippy notes from the citrus playing off the sugary white chocolate in stellar fashion, the streusel-y bits providing a fitting accent to it all.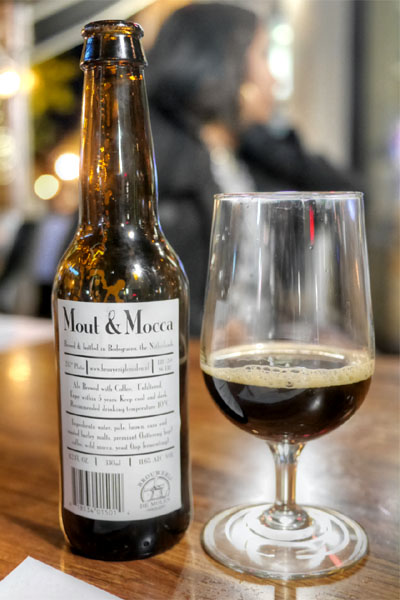 For our final beer, the staff offered up another complementary bottle, the
De Molen Mout & Mocca
, an imperial stout with coffee added. I found this quite smoky actually, both in the smell and taste, its chocolatey base layered with astringent coffee notes.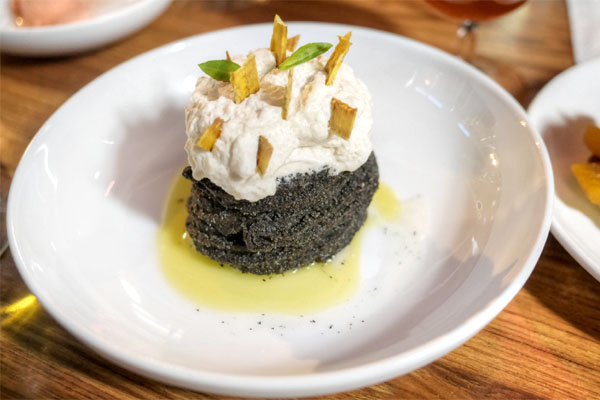 Black Sesame Churros, Kaya, Banana Cream, Coconut Sorbet, Thai Basil [$10.00]
Churros made for a fitting close to the meal, arriving beautifully-textured, their sesame-esque flavors meshing swimmingly with creamy-sweet elements of coconut and banana. Yum.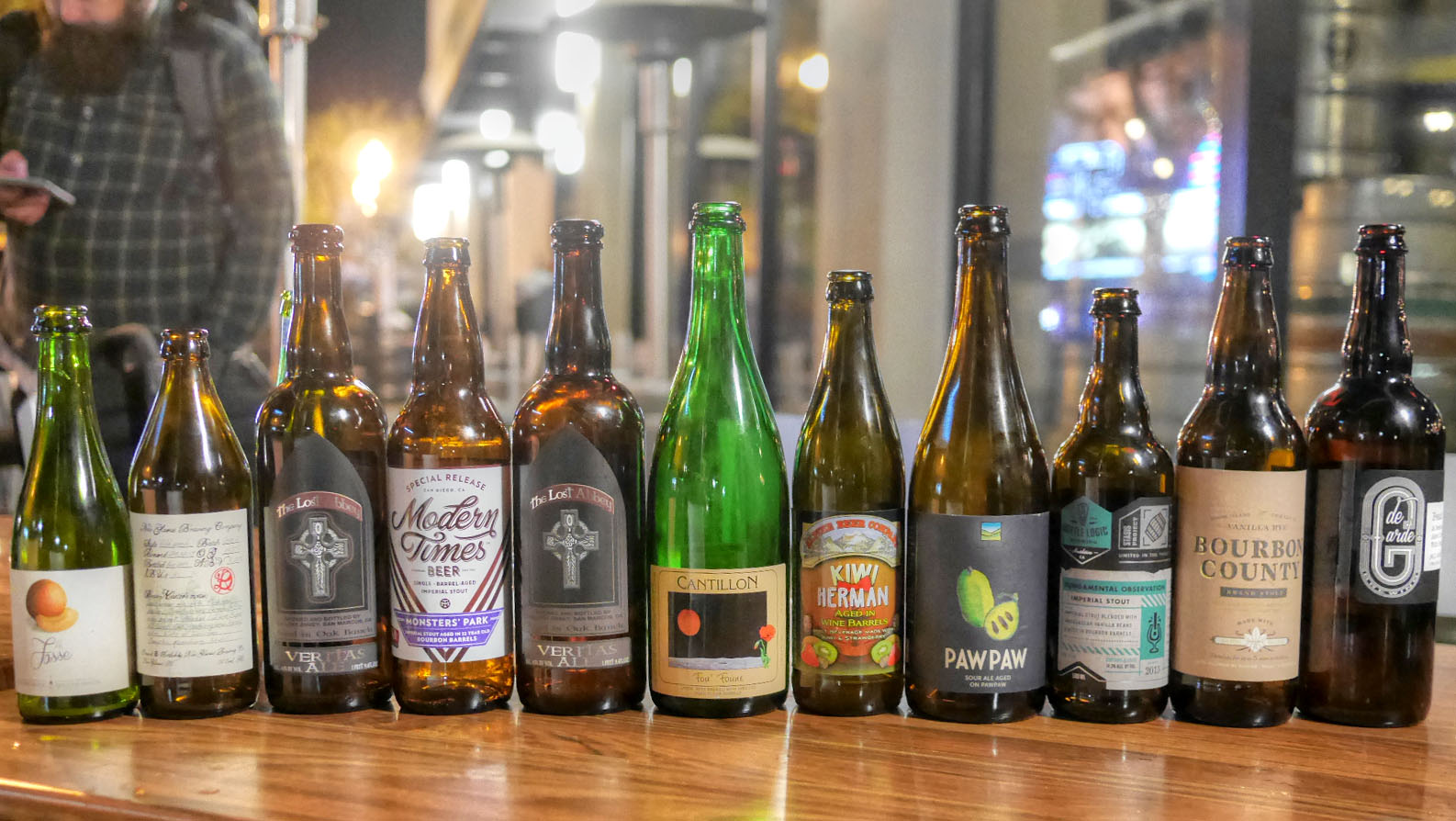 The requisite end of the night graveyard shot.
Another strong meal from the Playground team, across all fronts. True to the name, there continues to be just this element of fun, of amusement, of whimsy that pervades the food here (though that's not to say that the cooking's lacking in seriousness). This experience just reinforced why the restaurant's perpetually on the top of the heap in OC, and we left already thinking of our next meal here...