Tire Shop Taqueria (Los Angeles, CA)
Tire Shop Taqueria
4069 Avalon Blvd, Los Angeles, CA 90011
Mon 01/11/2016, 08:30p-09:40p

Tonight we dropped by South Central to pay a visit to one of the more celebrated taco vendors of the past couple years. As far as I know, it has no official name, but its popular moniker is a result of its location next to the El Jarocho tire shop (note that it's moved from its original spot to the right of the building to the left side now). The place has been operating since around 2012 from what I hear, and ostensibly specializes in Tijuana-style tacos, with a focus on carne asada grilled over Mesquite charcoal.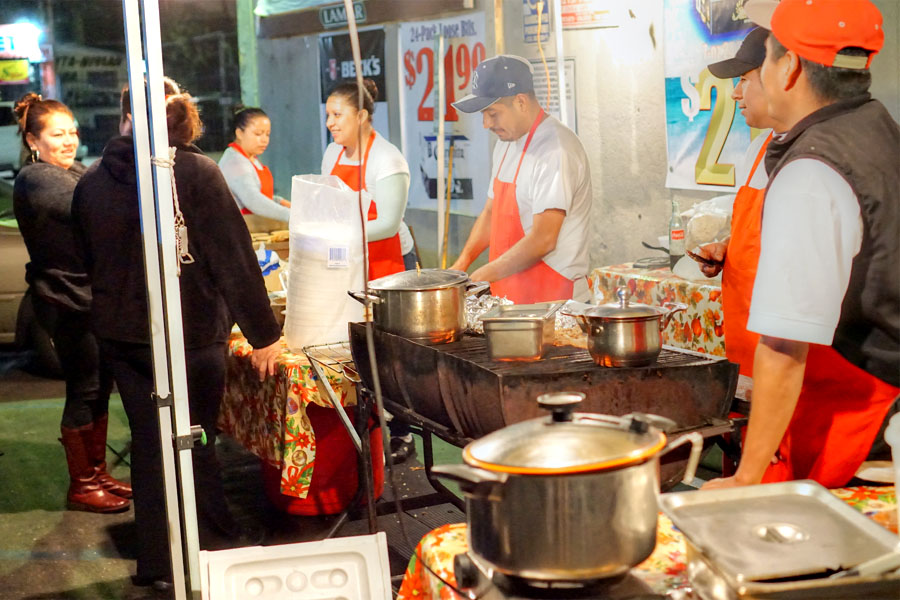 It was a five-person operation tonight. Going left to right, you had one person cooking the tortillas, making the tortillas, chopping the meat/constructing the food (order with him), manning the grill, and taking payment. There's no written menu, but basically you get your choice of meats--asada, chorizo, pollo, cabeza, al pastor--in taco ($1.50), vampiro ($2.50), quesadilla ($5.00), or mulita ($4.50) form. Drink-wise, horchata and jamaica are available.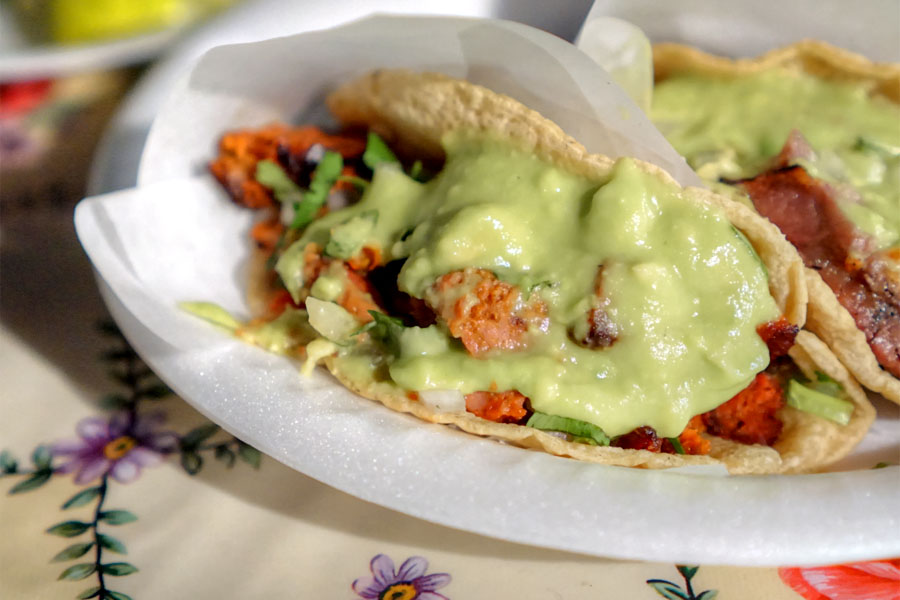 Chorizo Taco [$1.50]
Along with the asada, the chorizo was one of the original meats that they served back in the day. Makes sense, since it was top notch, a sharply spicy, smoky, savory, meaty-to-the-bite preparation that really sang with the tart, cooling
guacamole taquero
.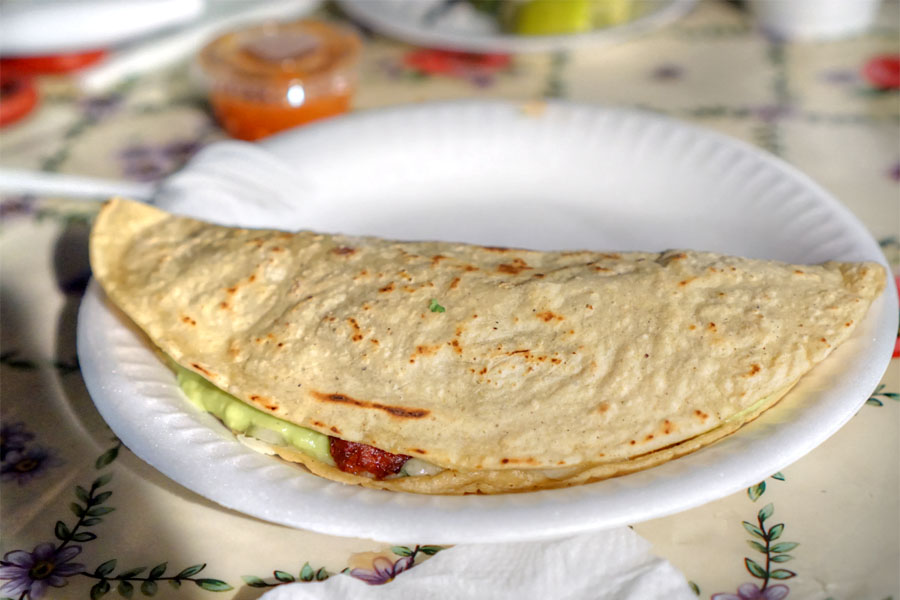 Chorizo Quesadilla [$5.00]
The chorizo worked perhaps even better in quesadilla form, pairing in stellar fashion with the cheese while the guac once again served as a welcomed counterpoint.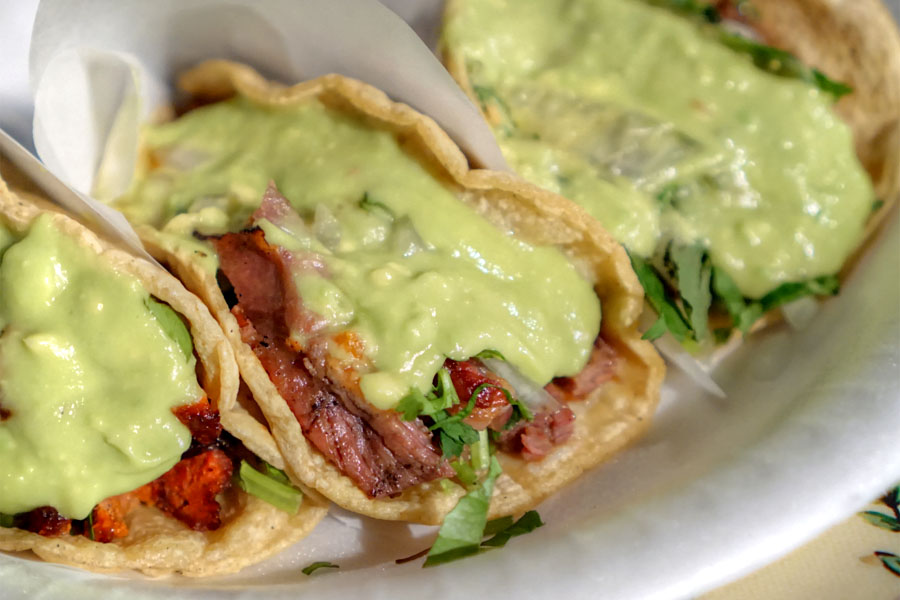 Carne Asada Taco [$1.50]
The signature asada worked itself out too. I found it noticeably more flavorful than your usual preparation, with bountiful amounts of smoke and char that made it a definite cut above.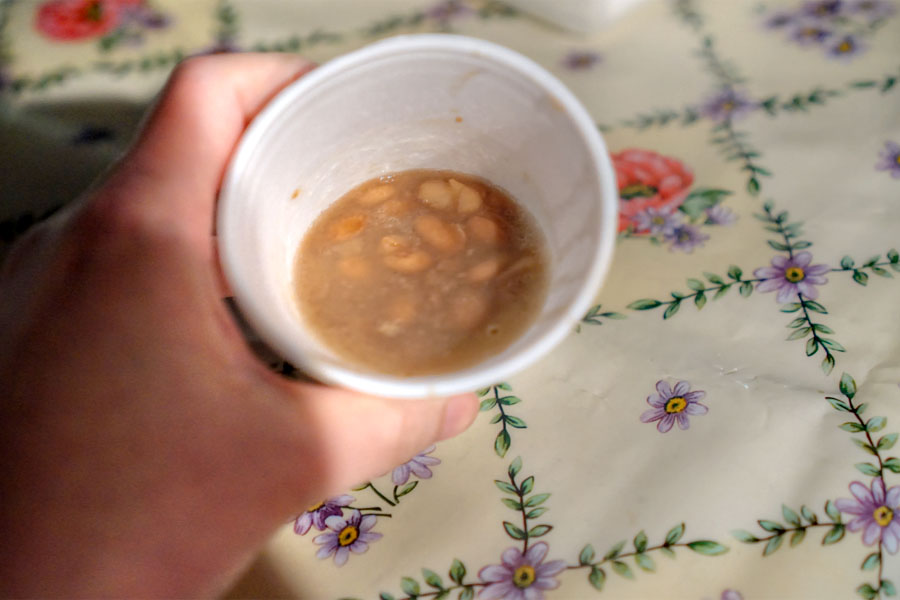 Homey
frijoles de la olla
were complementary.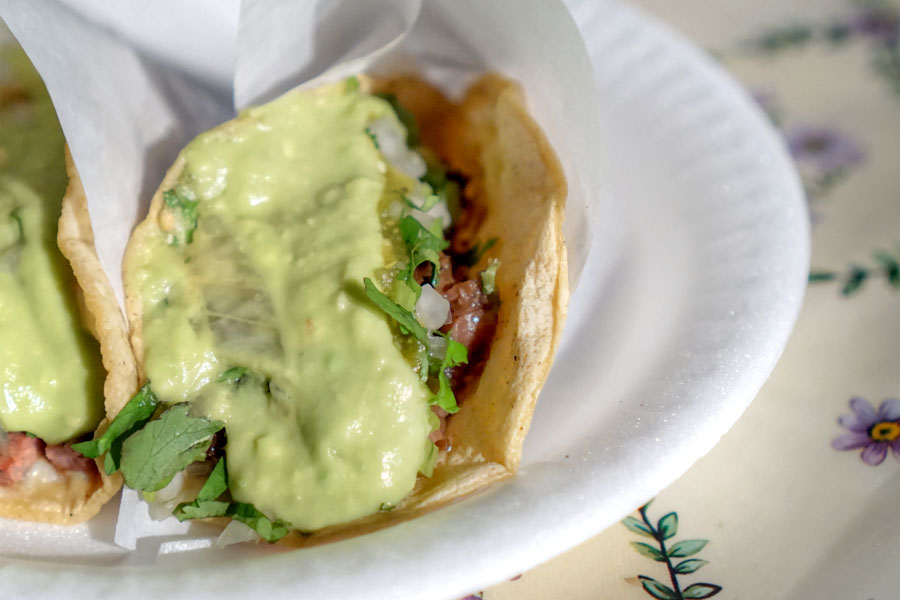 Cabeza Taco [$1.50]
The beef head conveyed a deeper, darker sort of flavor profile, while texturally it was near gelatinous--exactly what you'd expect from the slow-cooking.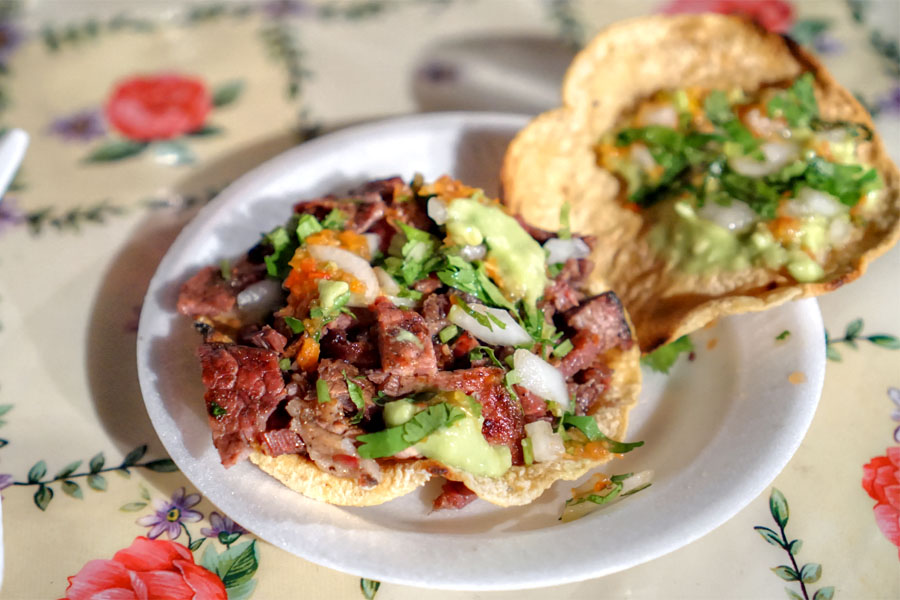 Carne Asada Vampiro [$2.50]
My favorite item of the night was probably the vampiro. Taken against the onions and cilantro, the beef really shined, but the crux for me was the tortilla, and how wonderfully crunchy it was.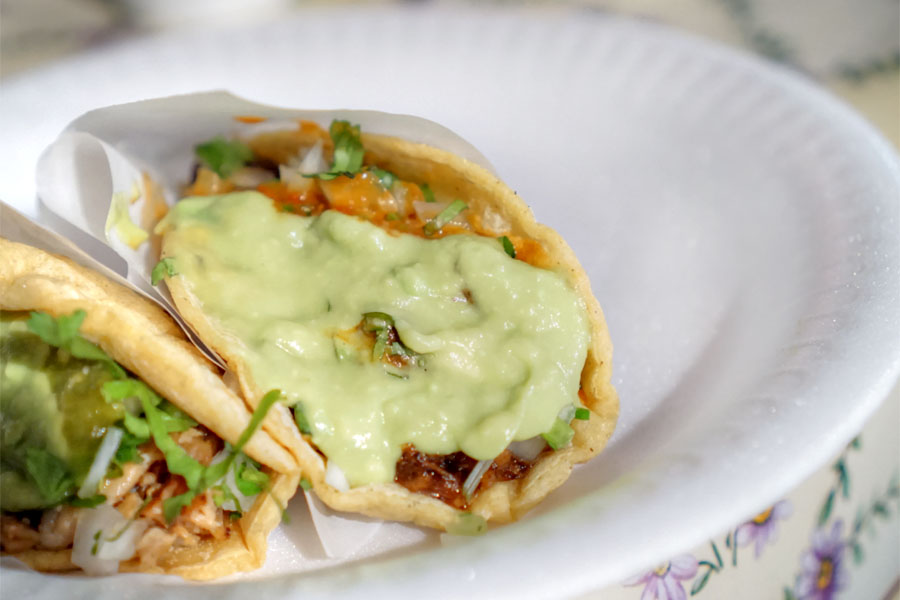 Al Pastor Taco [$1.50]
The pork showed off all the rich, spicy, multifaceted flavors that you'd want, evened out a touch by the guacamole once more.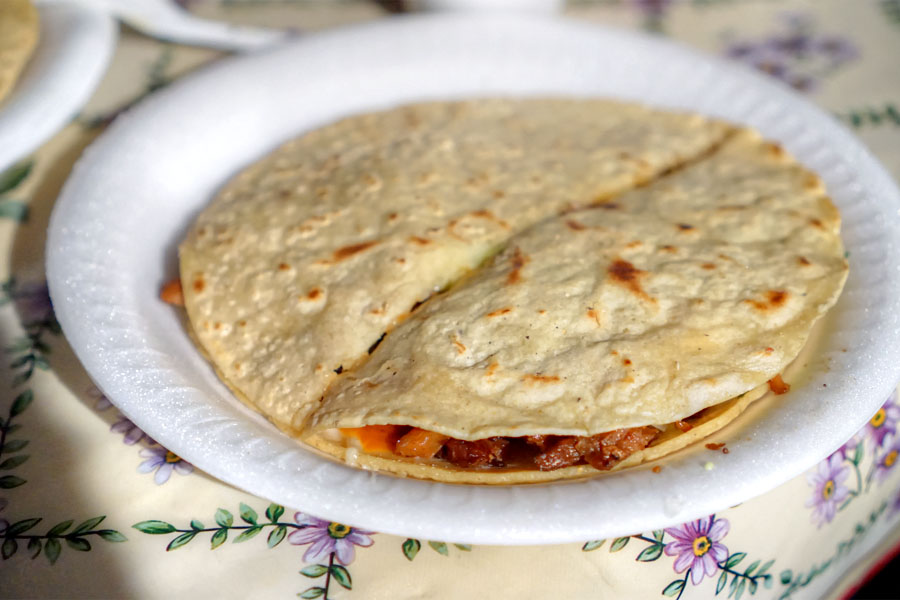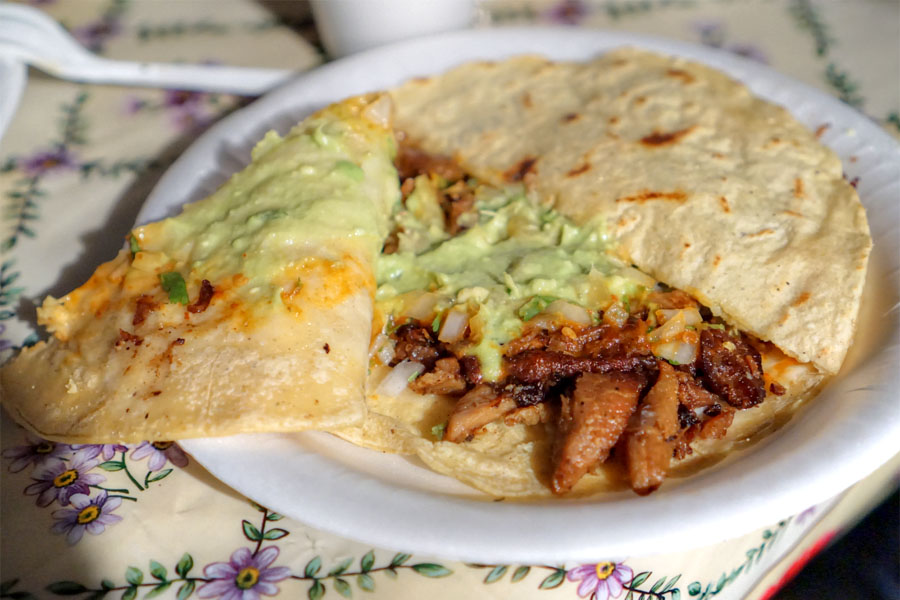 Al Pastor Mulita [$4.50]
The "little mule" is one of the lesser known items offered, but is certainly worth trying. Basically a large-ish taco in sandwich form, it allowed the al pastor to shine a bit more compared to the taco above.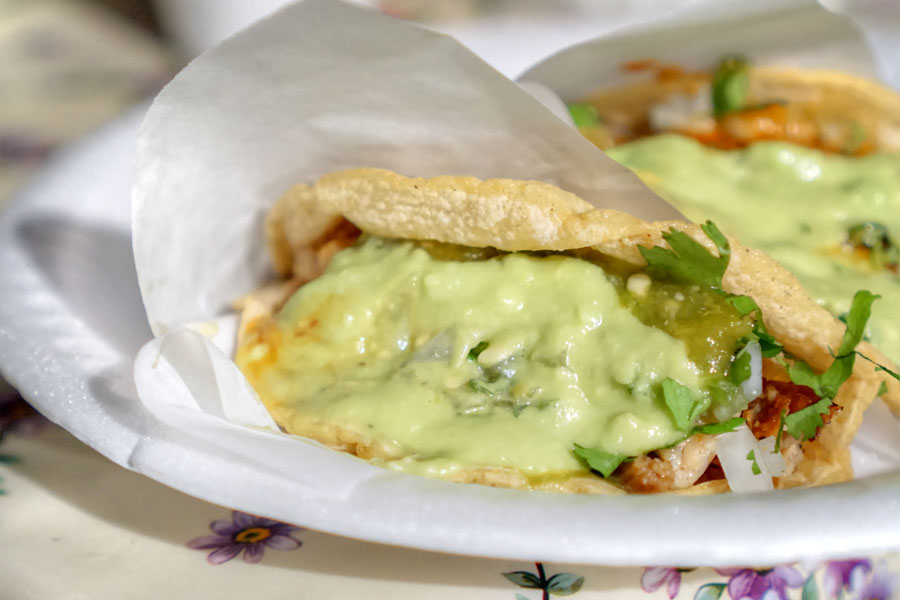 Pollo Taco [$1.50]
We concluded with the chicken, which I also found more flavorful than most, with that char character, that smoke coming through beautifully.
This place had been on my to-eat list for a while now, so I'm glad I finally made it out. The food didn't disappoint. The meats hit the mark, displaying some of the most depth of flavor, the most craveability that I've encountered, and worked beautifully alongside their various condiments and those housemade tortillas especially. An essential spot for street tacos.
---
Satiated, we headed over to one of my dining companions' Airbnb at the Met Lofts for beer time.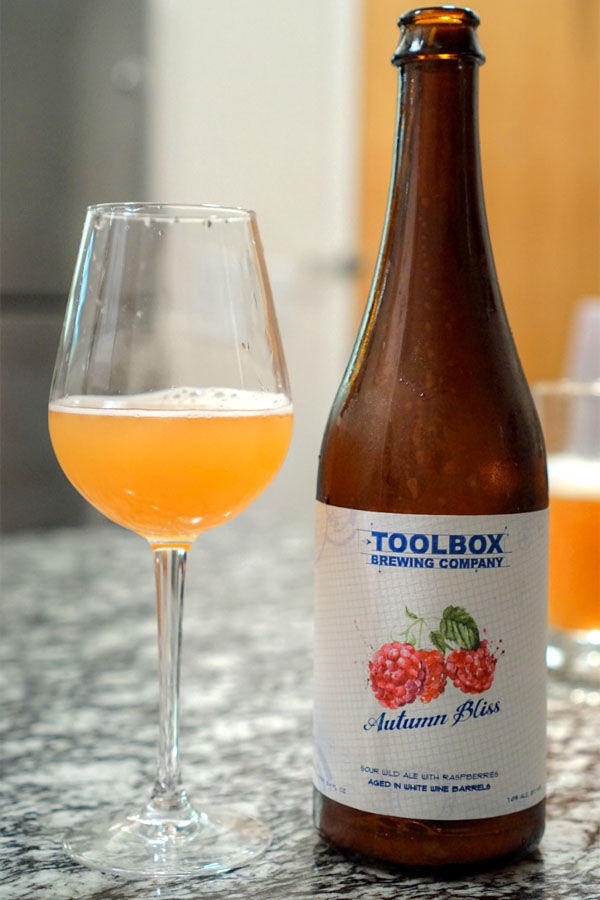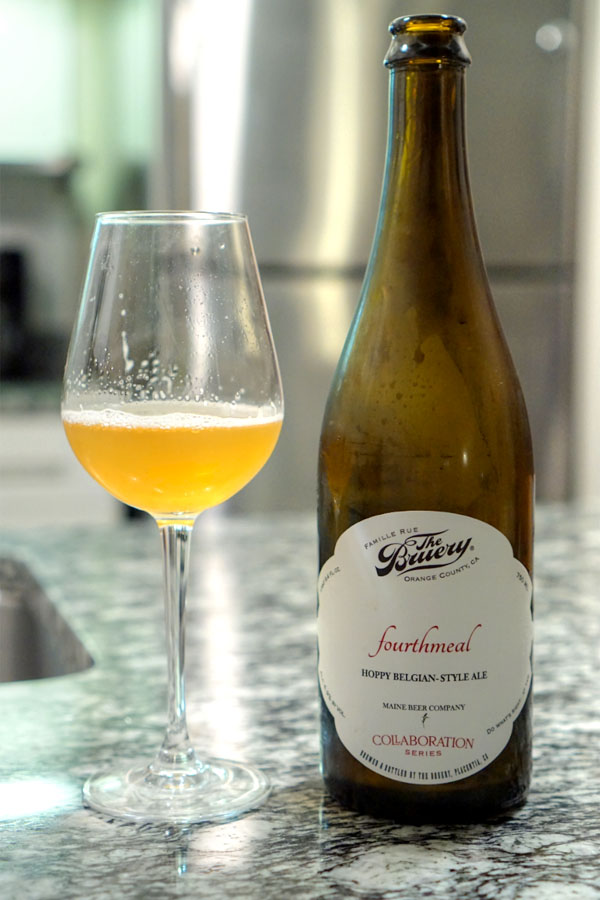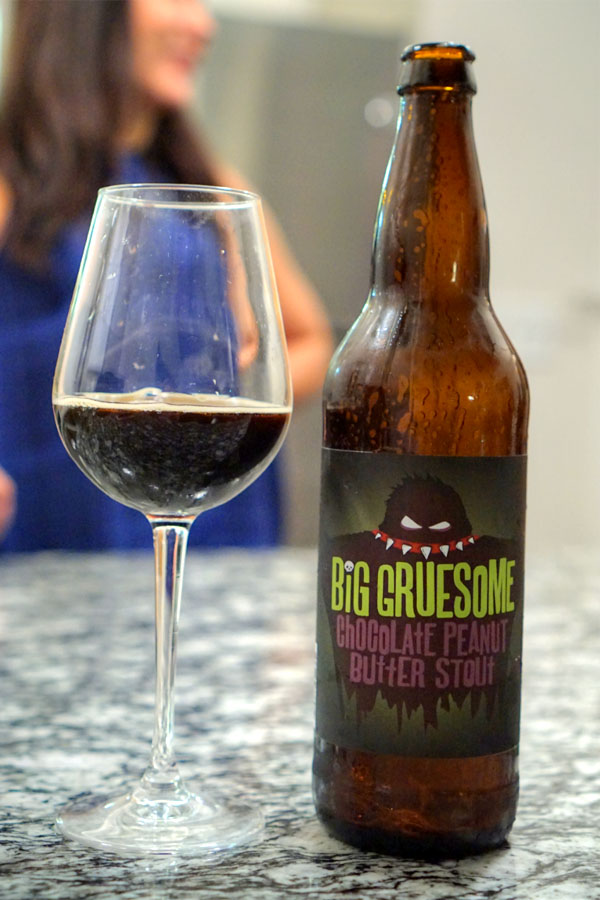 First up was the 2015 Toolbox Autumn Bliss, a barrel-aged sour with raspberries. Tart, acidic on the nose with slight berry. Puckering and dry on the palate, with some musty notes. I really would've liked more fruit.
A collabo with Maine Beer, the 2015 The Bruery Fourthmeal was a hoppy Belgian-style ale. Quite nice overall, with aromas highlighting citrusy, juicy hops and a taste that was piney and bitter at first, but with yeast and more of that citrus coming in toward the end. Another commendable hop-forward effort from the brewery.
Our most dessert-y beer of the night, the Spring House Big Gruesome was a stout with cocoa nibs, whole vanilla beans, and peanut butter added. It smelled pretty amazing, like a Butterfinger basically, and tasted much the same, with massive chocolate and PB notes meshing seamlessly. Yum.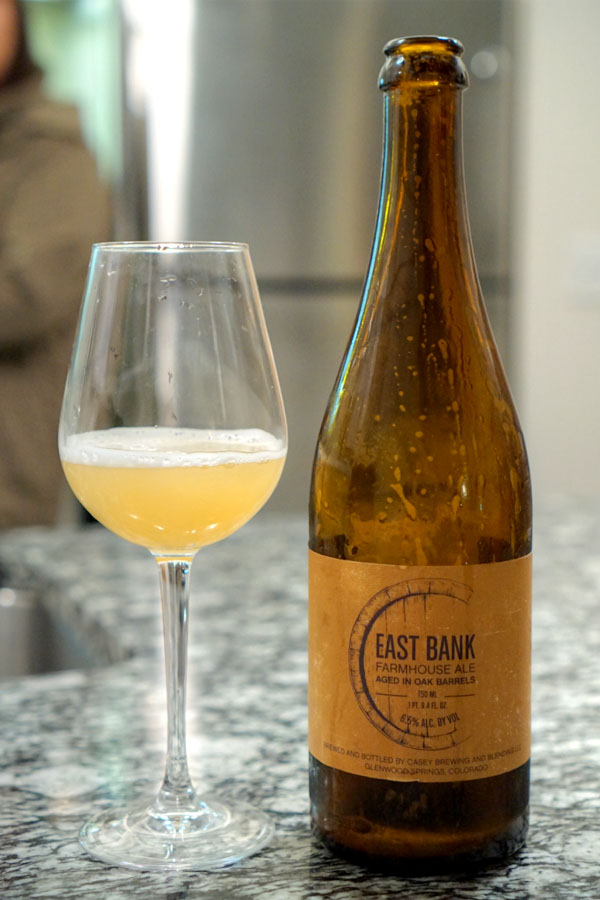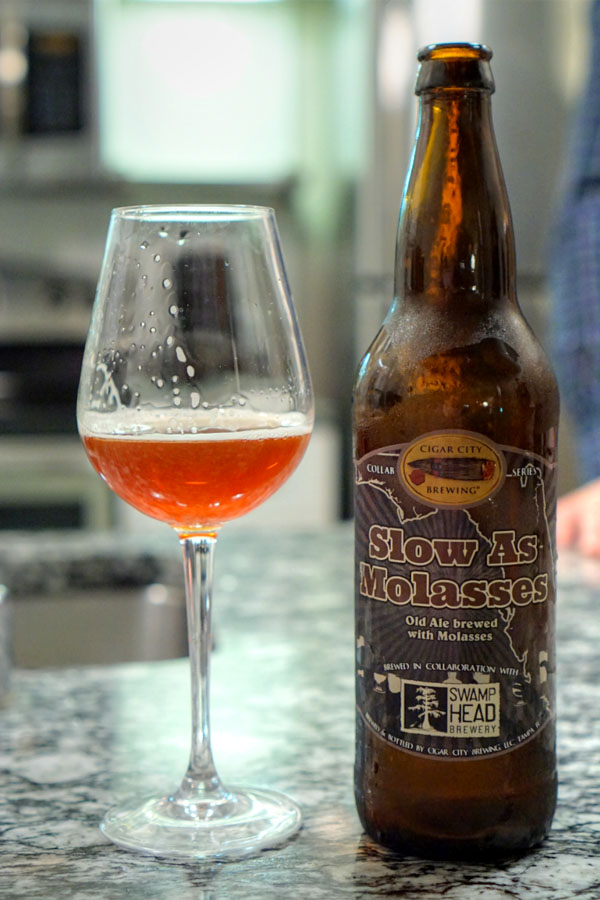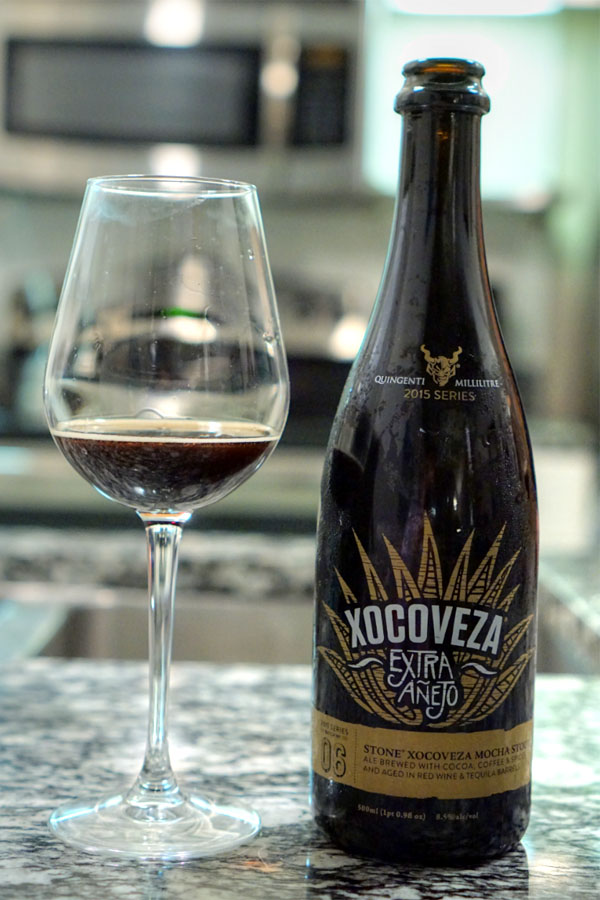 An oak-aged farmhouse ale with honey, the 2015 Casey East Bank delivered, with super tart, funky, grassy aromas leading to a tangy, lightly barnyard-y palate loaded with sweet notes of honey that only intensified toward the finish.
The 2015 Cigar City Slow As Molasses was an old ale with, unsurprisingly, molasses, brewed in collaboration with Gainesville's Swamp Head. Done in more of the English style, this was sugary and molasses-laden on the nose, with hints of nuttiness peeking through. On the palate, tartish yet sweet, toffee-ish, lightly hoppy, with a firm base of molasses throughout.
Here we had the second batch of the much-hyped 2015 Stone Xocoveza Extra Añejo, a Mexican hot chocolate-inspired milk stout with coffee, vanilla, pasilla peppers, nutmeg, cinnamon, and cocoa, aged in French oak tequila barrels that previously held Bordeaux. Smelled of rich chocolate and sweet spice, with a nutty component. Taste followed, with spicy brown sugar and red fruit joined by a slight boozy heat. Wished there was more barrel character.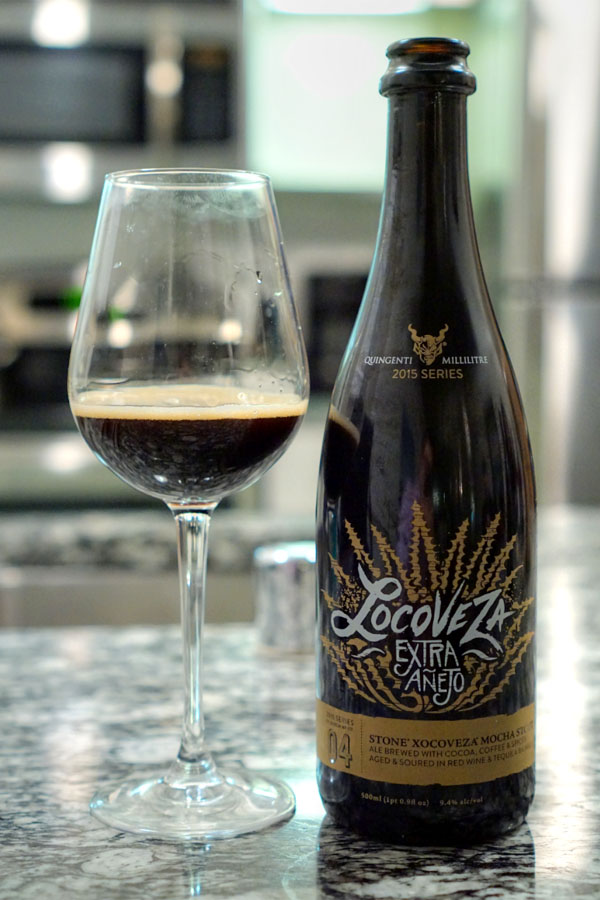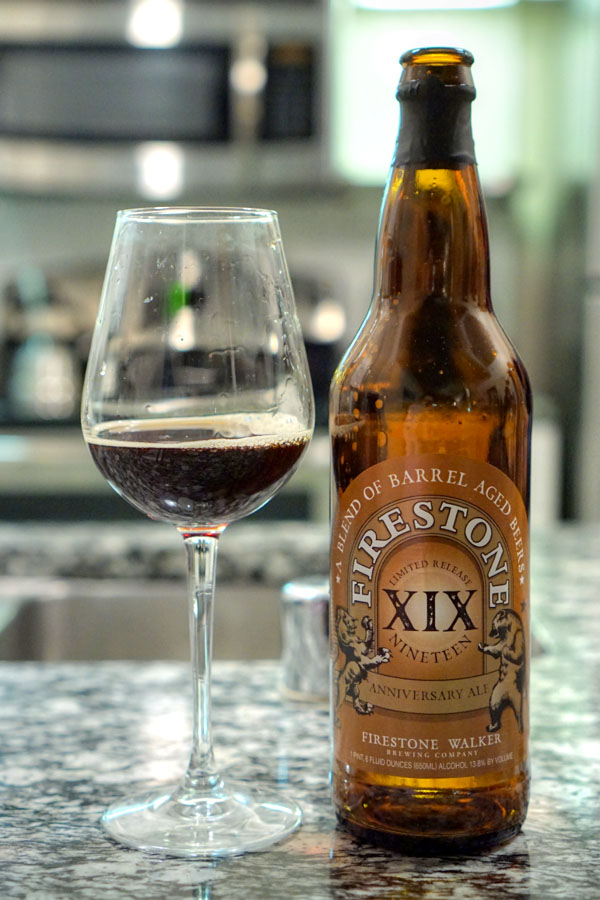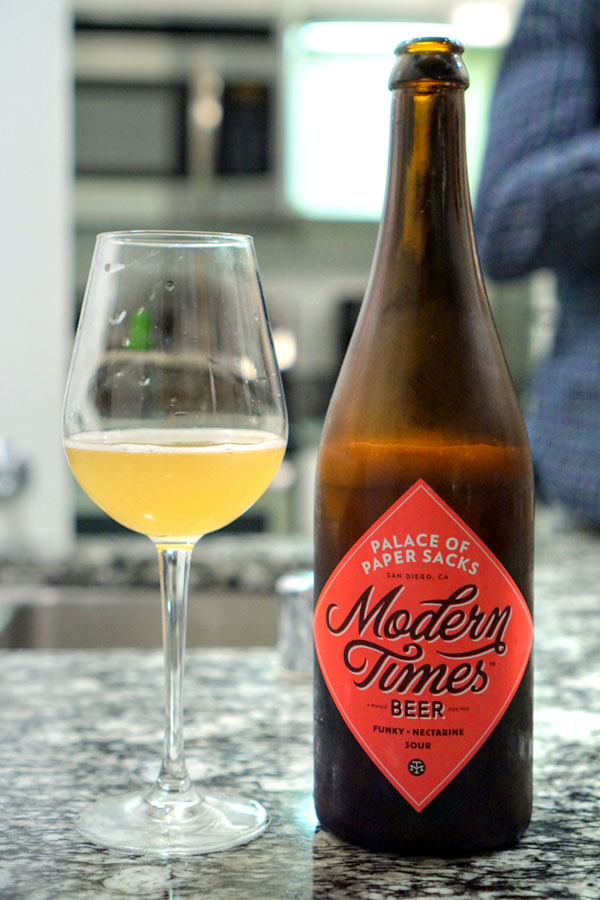 The 2015 Stone Locoveza Extra Añejo was the accidentally-infected version of the preceding beer. The bouquet was far less spicy, far less rich, giving up sour notes alongside traces of tequila. On the tongue I found it puckering at first, with slight spiciness coming in later, joined by expectedly stout-y qualities. Not a huge fan.
Next came the 2015 Firestone Walker 19, a blend of 1/3rd Parabola imperial stout, 1/3rd Stickee Monkee quad, 1/6th Bravo brown ale, and 1/6th Velvet Merkin oatmeal stout. Nose was smoky at first blush, and laced with persistent notes of brown sugar and caramel. Taste brought a spiciness and oakiness at first, transitioning to more brown sugar, chocolate, light berry fruit, and a whisper of heat near the end. I'd actually like to see this with a bit more age.
A wine-barrel aged nectarine sour with Lacto, Pedio, and Brett, the 2015 Modern Times Palace of Paper Sacks was our final beer this evening. Think juicy, tart, and dry to the smell. Palate gave up stone fruit and a puckering sourness, joined by a palpable funk and some bretty, lactic characteristics to round things out.