Playa Amor (Long Beach, CA)
Playa Amor Restaurant
6527 E Pacific Coast Hwy, Long Beach, CA 90803
562.430.2667
www.playaamorlb.com
Tue 04/19/2016, 07:35p-10:20p

The biggest Long Beach debut so far this year has to be
Thomas Ortega
's Playa Amor ("beach love"), which dropped at the end of January after being announced last August. As with his other restaurants, the Chef aims to present modern Mexican fare with a SoCal twist, though there's also an apparent focus on seafood at this particular spot.

The restaurant takes over the former home of Sababa and Haru Haru Sushi before that, right next door to a BevMo that I used to frequent when I worked in the area. It's an indoor-outdoor space that seats roughly 115, and is apropos for the concept, conveying as much of a beachy vibe as you can expect given its location inside the Marketplace shopping complex.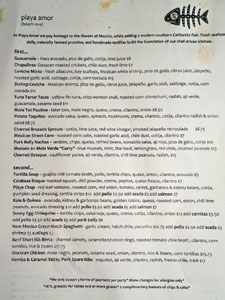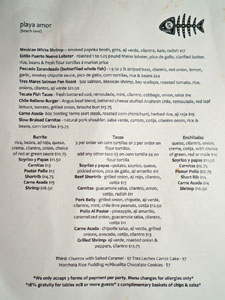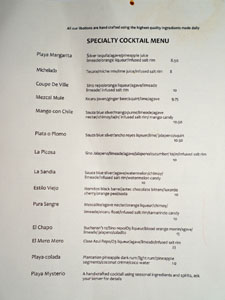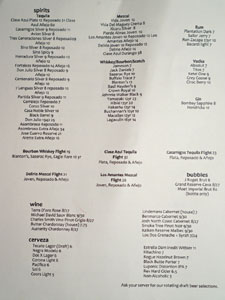 As for Playa Amor's menu, it's fairly large,
mariscos
-focused, and divided into first and second courses, mains, and the requisite burritos/tacos/enchiladas. Drink-wise, you get about a dozen reasonably-priced, theme-appropriate, agave-heavy cocktails, a handful of wines, and a decent selection of
cerveza
(though I would've liked to have seen Mexican craft beers represented). Corkage is $15 a pop, with no limit. Click for larger versions.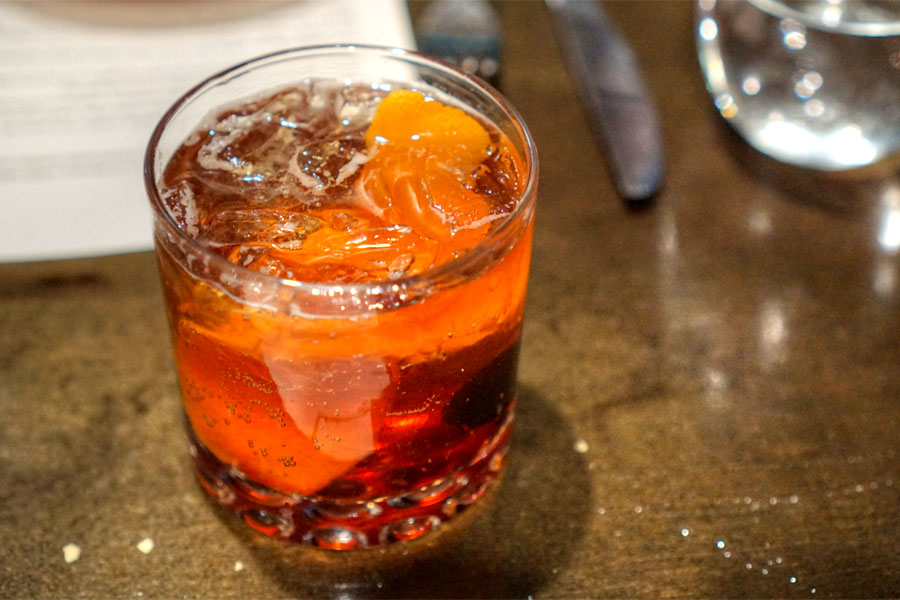 Estilo Viejo [$10.00]
| Hornitos black barrel / aztec chocolate bitters / luxardo cherry / orange peel / soda
Ostensibly a take on an Old Fashioned, our first cocktail brought out loads of bittersweet chocolate at first, with the weight of the tequila coming in later before things finished on even more sugary notes. I wasn't very keen on the inclusion of soda here though, as the added carbonation seemed to rob the drink of its appropriate seriousness.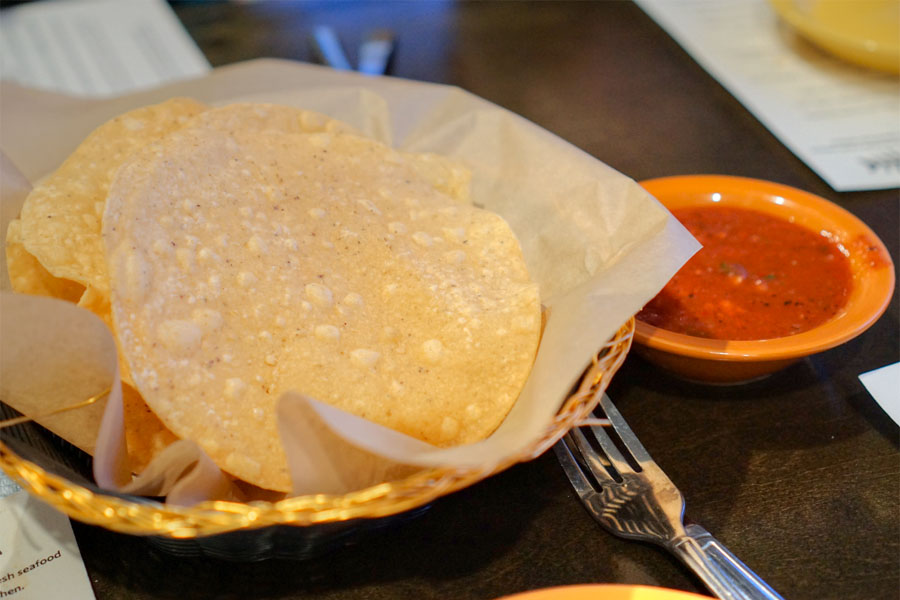 I appreciated the large format chips as well as the sweet-smoky-spicy salsa provided.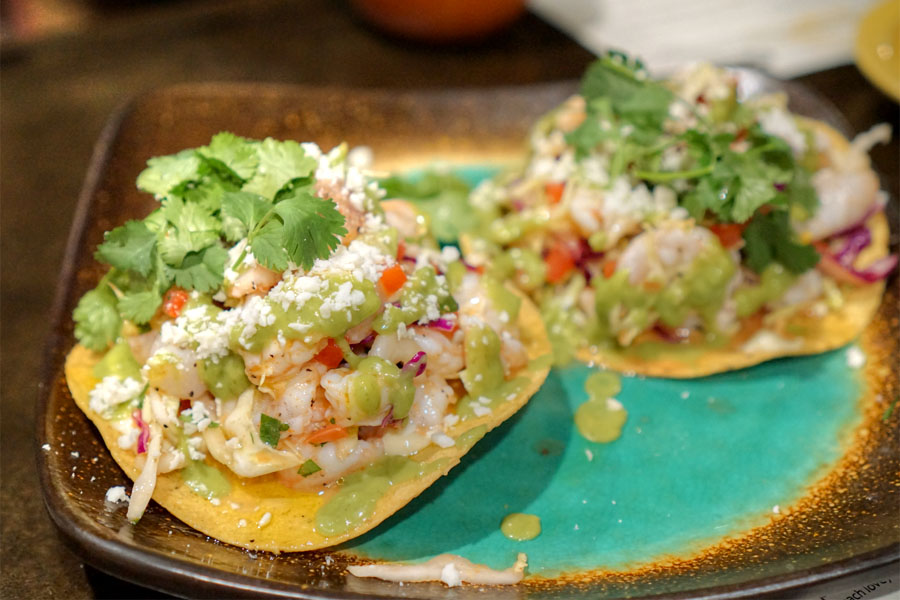 Ceviche Mixto [$15.00]
| fresh albacore, bay scallops, Mexican white shrimp, pico de gallo, citrus juice, jalapeño, roasted garlic aioli, cabbage, cotija, corn tostada
The ceviche was a standout. Each item of seafood came out clean and well-textured, the salsa verde and citrus imparting a necessary brightness to the dish while aioli and cotija gave things a weightier tone.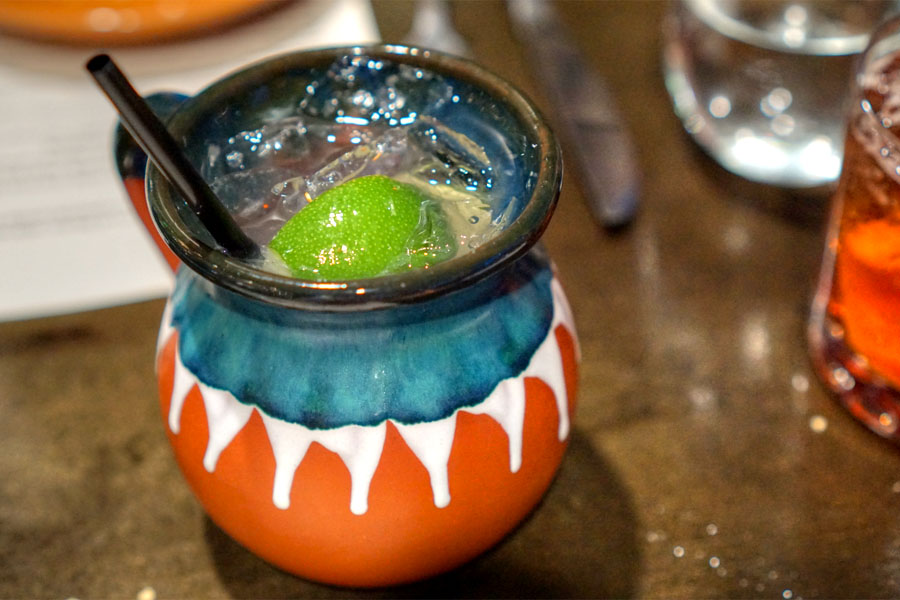 Mezcal Mule [$9.75]
| Xicaru joven / ginger beer / squirt / lime / agave
A take on the Moscow Mule blended the lingering smoke of the Xicaru with a very forceful ginger presence. Nice effervescence here.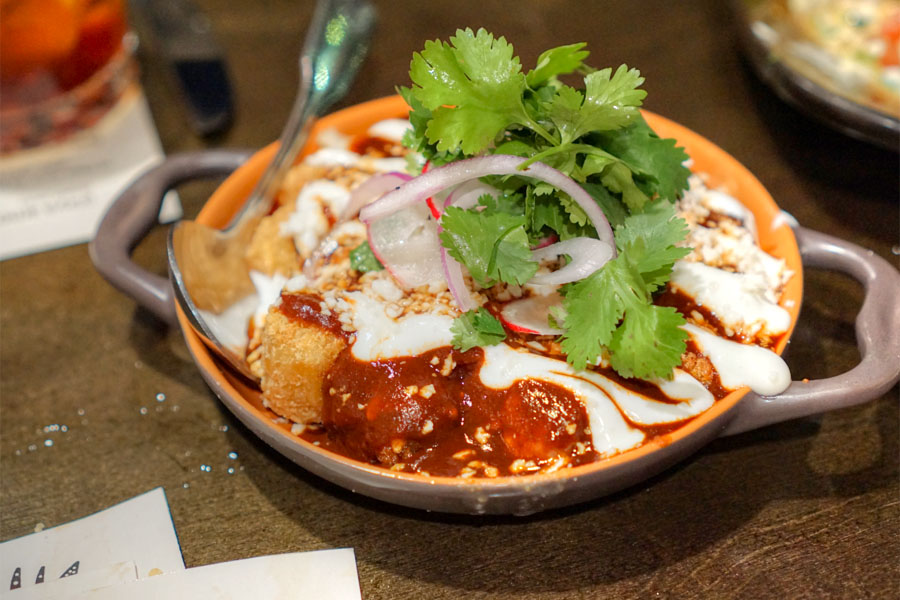 Mole Tot Poutine [$8.50]
| tater tots, mole negro, queso, crema, cilantro, onion
The tot poutine is one of the most popular dishes at Amor y Tacos, and didn't let us down tonight. It was even better than before in fact, with a perfect texture on the potatoes and plenty of deep, smoky mole flavors to pair with the sheer cheesiness of it all. I appreciated the zippy contrast from the cilantro and onion, too.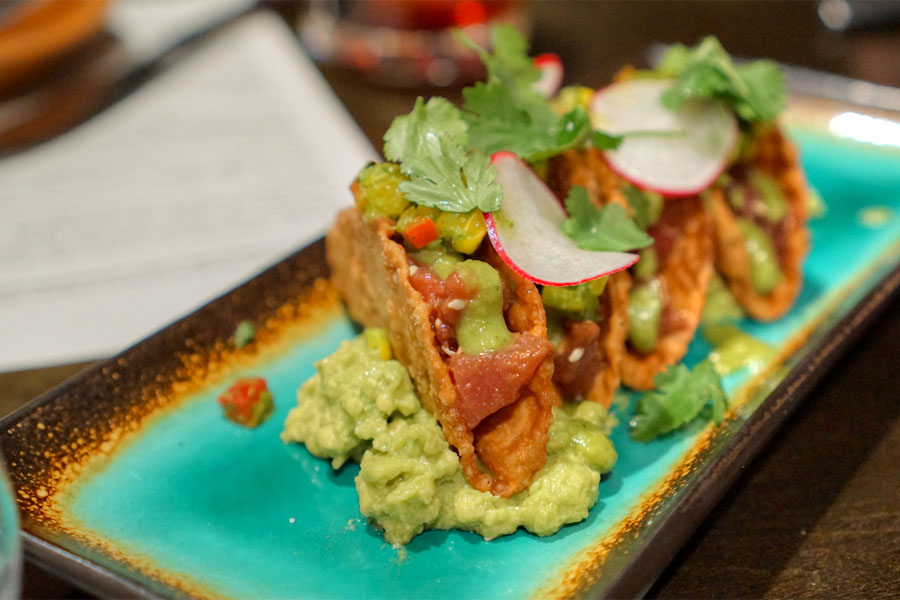 Tuna Tartar Tacos [$11.00]
| yellow fin tuna, crisp wonton shell, roasted corn chimichurri, radish, aji verde, guacamole, sesame seed
Speaking of carryovers, this next dish actually comes from the Chef's first restaurant, Ortega 120. Think mild, clean, lean tuna, set against the lushness of guac while the aji verde perked things up. Lovely crunch from the shells to boot.
Pura Sangre [$10.00]
| Mescalito / agave nectar / orange liqueur / chimoy / limeade / xicaru float / infused salt rim / tamarindo candy
This was probably my favorite cocktail of the bunch thanks to its tasty marriage of sweet, spicy, and savory flavors. The
dulce de tamarindo
was a fun touch.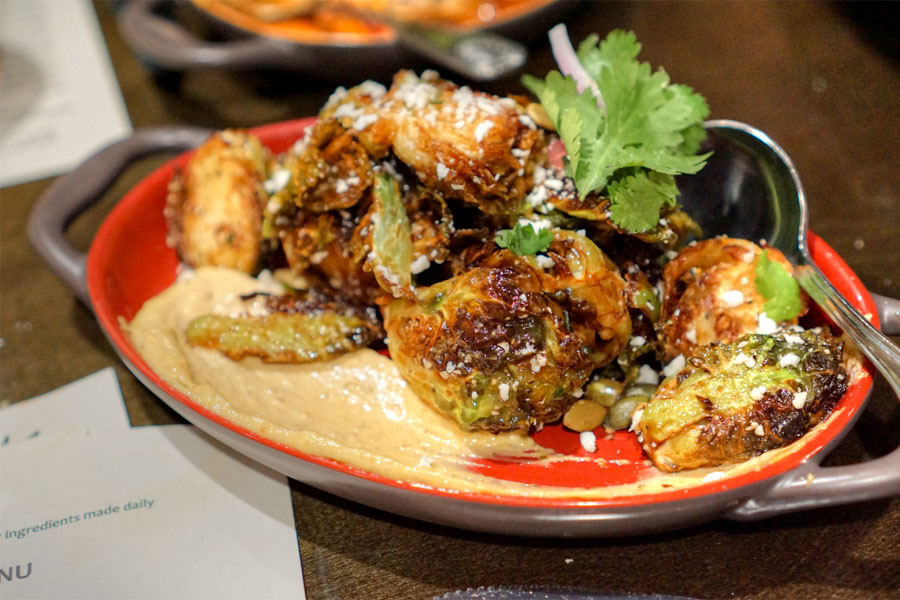 Charred Brussels Sprouts [$8.75]
| cotija, lime juice, red wine vinegar, smoked jalapeño rémoulade
Brussels were very good, wonderfully satisfying to the bite and loaded with bitterness and char. Great hit of acid too from the vinegar and lime, while the remoulade imparted a smokiness to it all.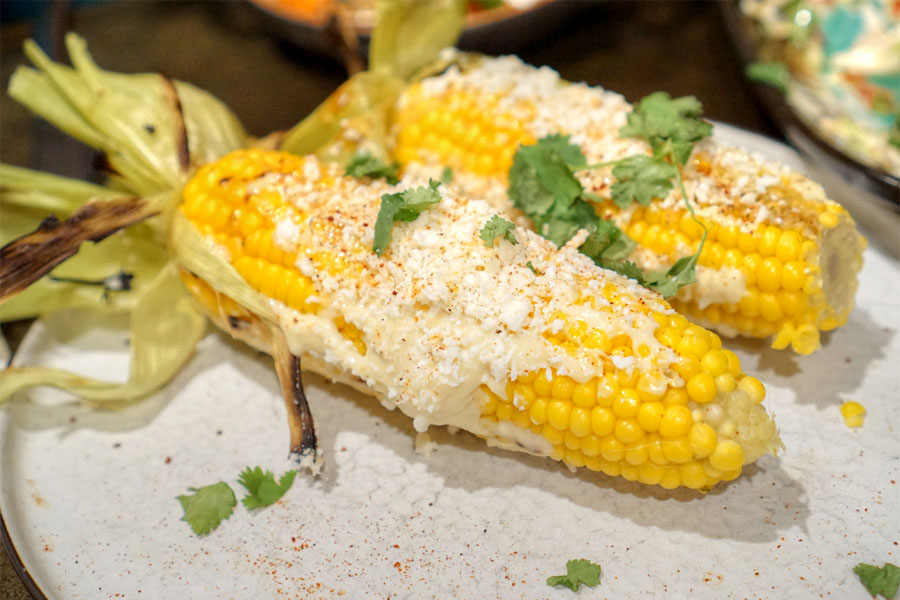 Mexican Street Corn [$7.00]
| roasted corn cobs, roasted garlic aioli, chile dust, cotija, cilantro
Ortega's version of
elote
met the mark for the most part, the well-textured kernels brimming with a sweetness that made sense with the creaminess of the aioli and cotija combo.
La Picosa [$10.00]
| Sino Jalapeno / limeade / agave / jalapeno / cucumber / tajin / infused salt rim
This next cocktail lived up to its name, with light, cool cucumber notes initially leading to a sharp, lingering spice and saltiness.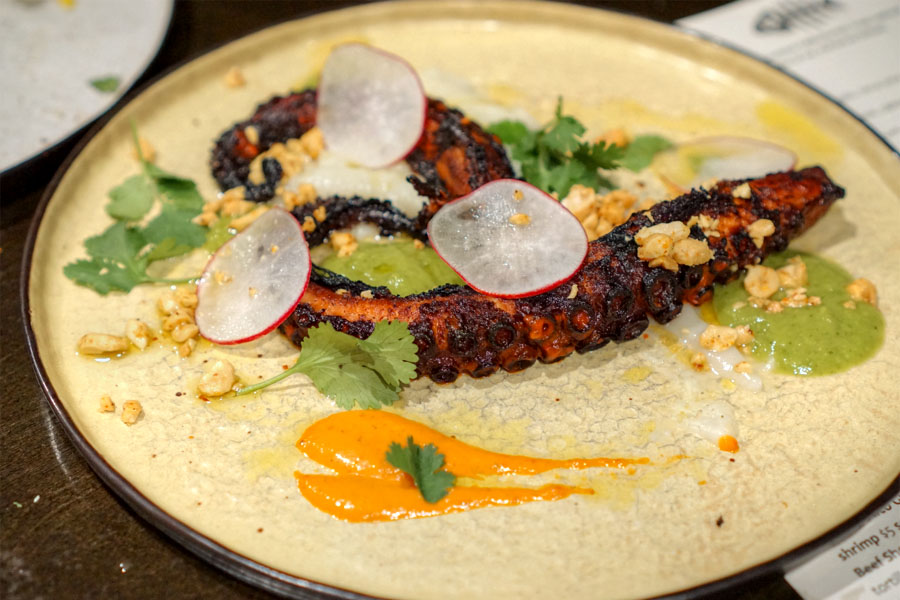 Charred Octopus [$13.00]
| cauliflower puree, aji verde, cilantro, chili lime peanuts, radish
Octo came out properly tender, with heavy char and heavy brine, and matched swimmingly with the zesty aji verde and peanuts. However, I wasn't sold on the cauliflower, which veered bland, unnecessary.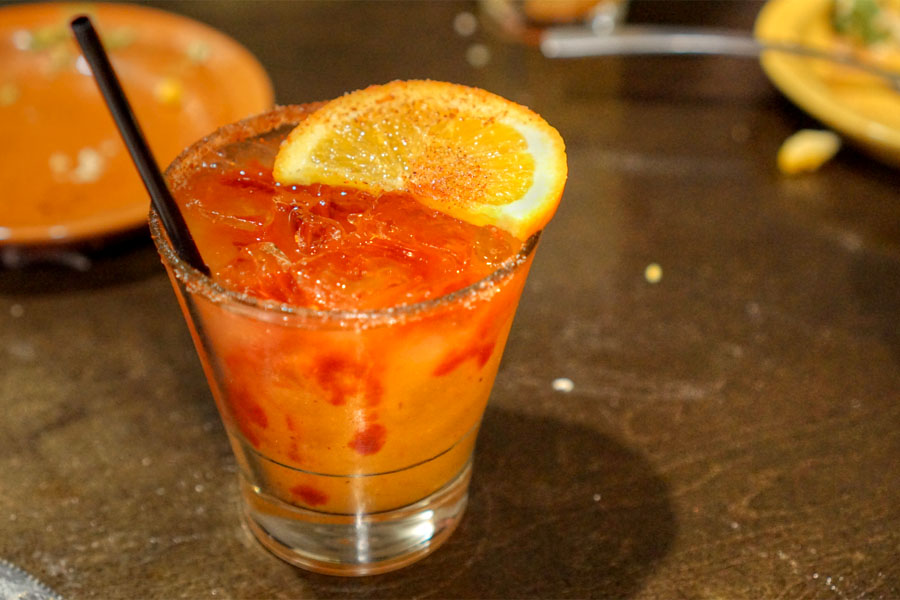 Mango con Chile [$10.50]
| Sauza blue silver / mango puree / limeade / agave nectar / chimoy / tajin / infused salt rim / mango candy
This was the sugariest cocktail of the night, easily. It was a bit much actually, though the Sauza, spice, and salt did help even things out.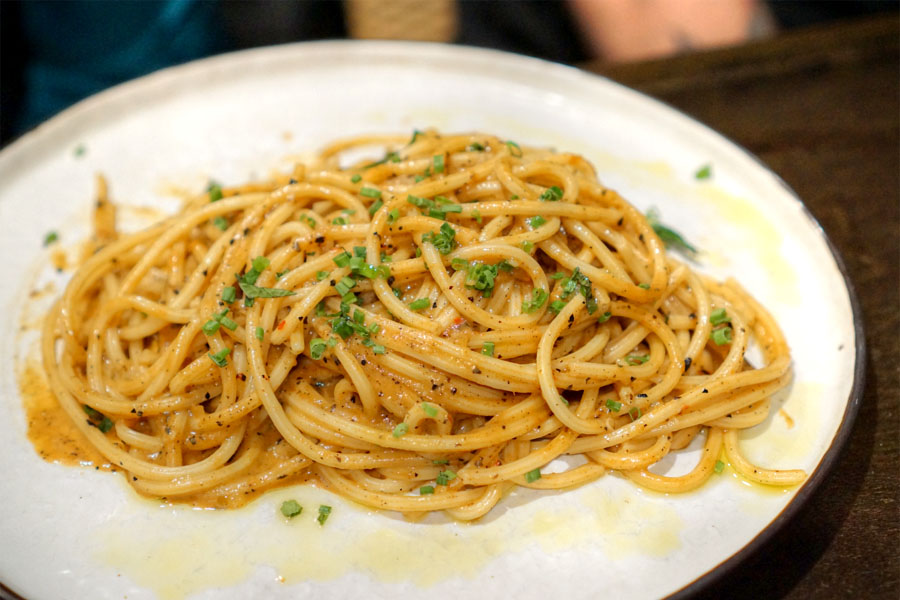 New Mexico Green Hatch Spaghetti [$12.75]
| garlic cream, hatch chile, pecorino
The spaghetti was sort of an unexpected sight on the menu, but turned out quite well. The pasta itself showed off a nice chew to it, while flavors were aggressively piquant, spicy, though the herby, minty bits on top provided some balance.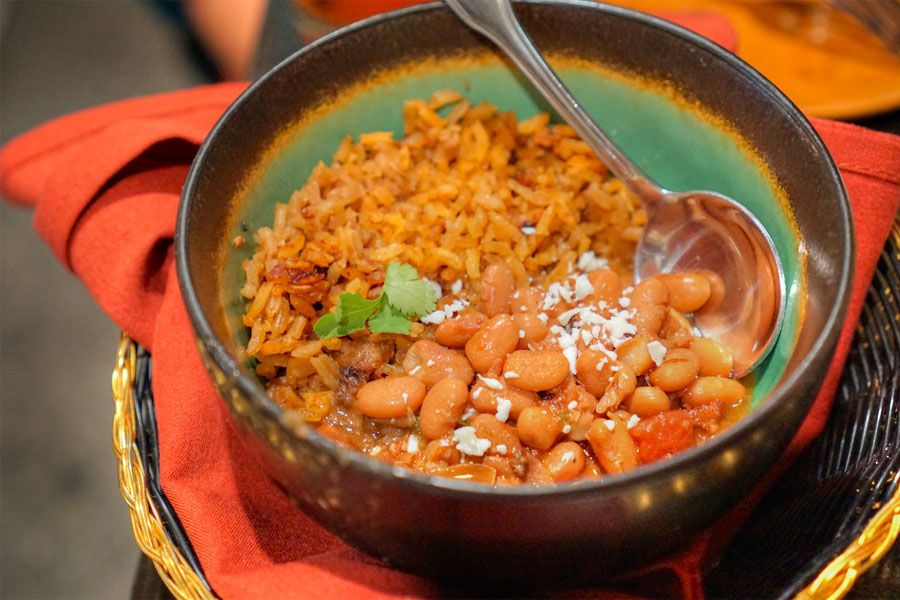 Your usual rice and beans, meant to accompany the whole striped bass below.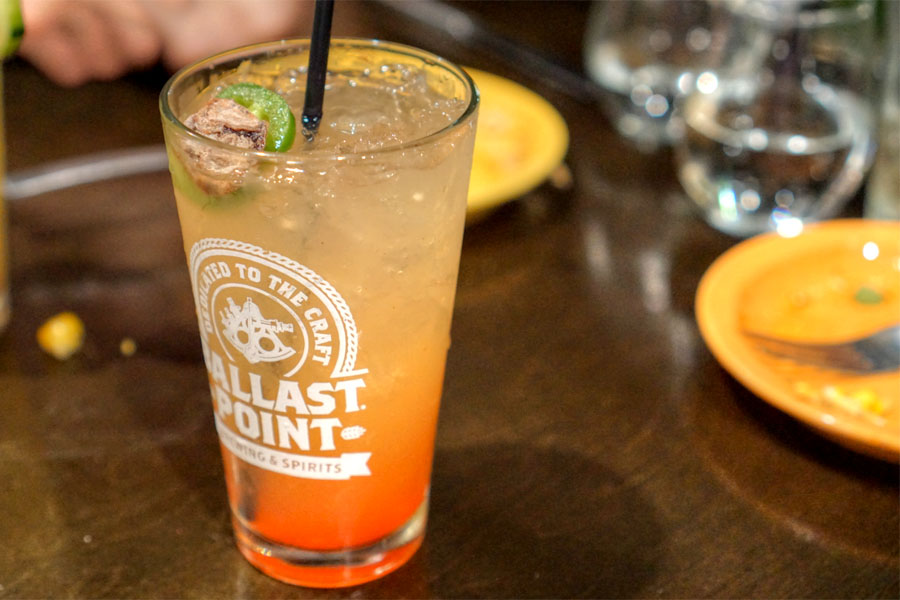 El Chapo [$15.00]
| Buchanan's 12 / Sino repo / O3 liqueur / blood orange monin / agave / limeade / jalapeno / saladito
Our final cocktail went boozy, bittersweet at first, but the sugariness of the O3 and Monin really made itself known later on, joined by a tart, slightly spicy character. I expected more gravitas from a cocktail named after Mexico's most notorious drug kingpin.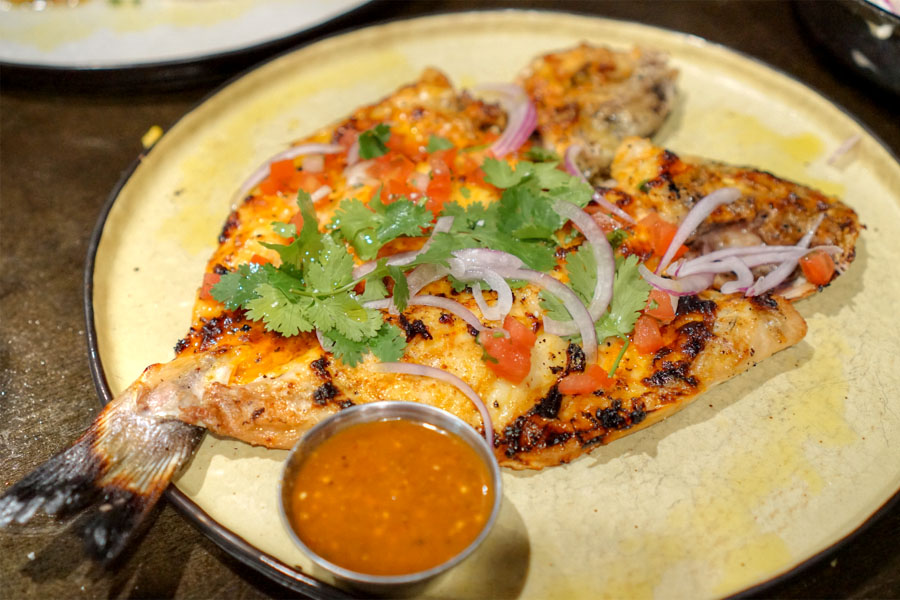 Pescado Zarandeado (butterflied whole fish) [$24.00]
| 1.5 to 2 lb striped bass, cilantro, red onion, lemon, garlic, smokey chipotle sauce, pico de gallo, corn tortillas, rice & beans
The meal's climax was of course the
pescado zarandeado
. The fish arrived juicy, tender, semi-flaky, with a pronounced salinity that meshed well with its rich, earthy marinade and smoke/char notes. Just a notch below the benchmark preparation at
Coni'Seafood
.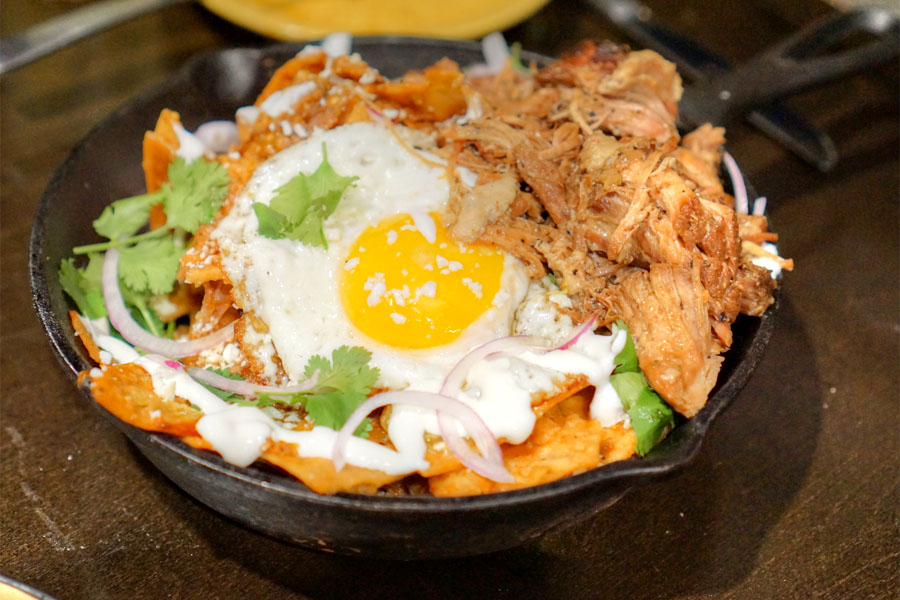 Sunny Egg Chilaquiles + Carnitas [$12.00 + $3.50]
| tortilla chips, salsa roja, queso, crema, cotija, cilantro, onion
Chilaquiles
made for a fitting end to the savories, a cozy, comforting course loaded with deep, spicy, porky flavors. Yum.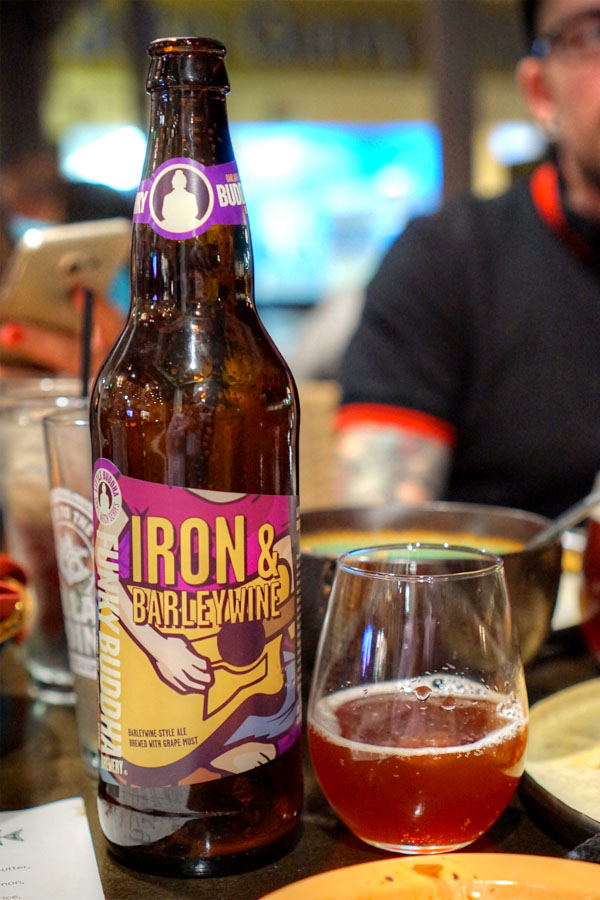 Last to drink was a bottle of the
2016 Funky Buddha Iron & Barleywine
, an English barleywine brewed with grape must. I found it quite tasty, smelling of sweet, aromatic malt and dark fruit, while the palate brought more luscious malt commingled with some distinctly vinous, even honeyed qualities.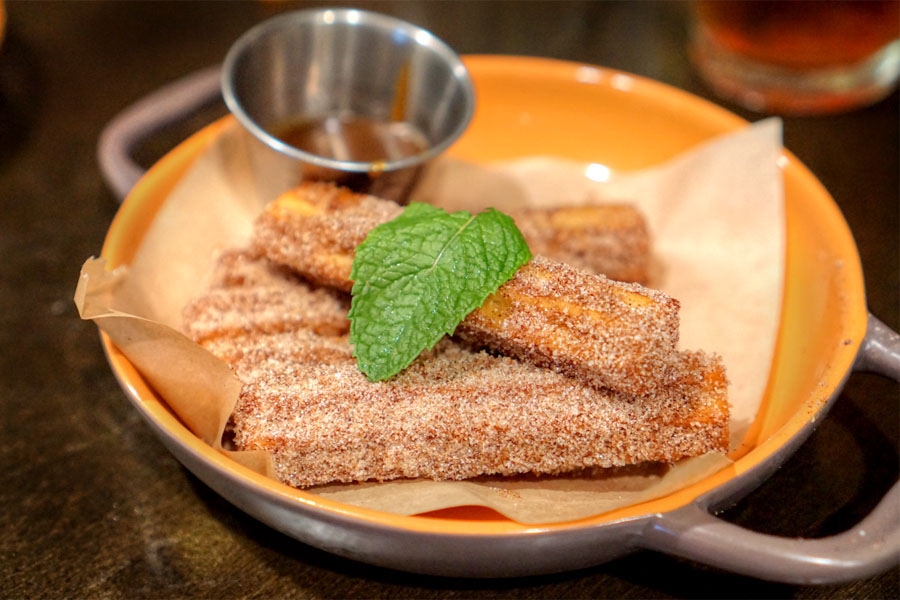 Churros with Salted Caramel [$7.00]
Churros seemed a tad undercooked, though they delivered in the taste department with tons of sweet spice all up in your face.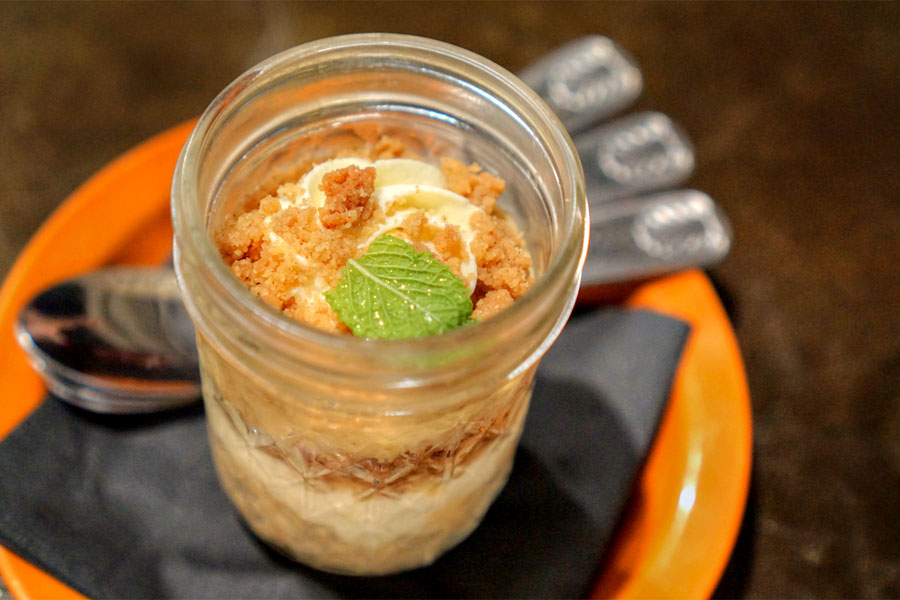 Tres Leches Carrot Cake [$7.00]
I preferred the
tres leches
and all its sweet, lactic notes, set against the nutty, classic flavors of carrot cake.
Playa Amor was meant to be a bit more sophisticated compared to Ortega's previous efforts, and it is. We enjoyed ourselves, and the place is a welcomed addition to the area. At the same time however, I would like to see the Chef push things further, to go a little more unexpected, a little more refined, a little more in the direction of a
Broken Spanish
let's say. But this
is
Long Beach, so we'll see.